This site is about the Big Brother 15 feeds and contains spoilers! It isn't necessarily thorough: it's what I catch and/or what interests me, and it isn't necessarily about who will win, who should win, who's cute or who's horrid. It's about watching hamsters: who's doing what and why. If they aren't entertaining, get rid of 'em! Thanks for encouraging my behavior. Your pal, dingo







POWER STATUS


Aaryn is Head of Household
Spencer used veto on himself
Howard, Amanda, Candice are nominated
Candice, Amanda, GinaMarie, Judd are Have-nots







UPCOMING EVENTS


Next show Thursday 9pm:
Candice's house meeting, live eviction, HOH comp (likely endurance) - east coast feed

Thursday: Have-nots eat at midnight
Friday: Nominations
Saturday: Veto comp







BB DRINKING GAME


Take a swig whenever they retell a convo or event









BIG BROTHER SEASONS



Amazon DVDs BB4 - BB3

Amazon Instant Video BB15
- BB14
- BB13
- BB12
- BB11
- BB10
- BB9
- BB8


iTunes BB15 -
BB14
- BB13
- BB12
- BB11
- BB10
- BB9
- BB7 All-Stars





BB15 FAQ


Feeds are streamed by CBS - sign up today


Call 877-211-4367 for account help including password reset or to cancel subscription.

CBS shows are Sundays 8pm, Wednesdays 8pm, eviction Thursdays 9pm (changed from Tuesdays, live Wednesdays, Sundays).

Big Brother After Dark is on TVGN for two hours every night starting at midnight/9pm BB time (1 hour later Thursdays), and is censored. Beginning July 19, BBAD runs three hours on Fridays.

Canada runs the TV episodes on Global, and After Dark on Slice, uncensored.

Weeks 1, 2, 3: The MVP (Elissa) selected the third nominee, privately, and she didn't have to tell anyone she was MVP. If the MVP's nominee won veto, MVP selected the replacement.

Weeks 4, 5: The MVP vote was to name the third nominee directly. If viewer nominee was HOH or and HOH nominee, the third nominee spot went to next highest vote getter.

BB15 prizes are the same: $500k for the winner and $50k for 2nd place. Stipend for the others is $1,000 per week (up from $750), including pre-show hotel and jury sequester. Recruits may get more.

The habitat has 65 cameras (up 12) and 98 microphones (same).

The recorded in-house announcements are the voice of producer Don Wollman.






>> >> >>
>>
ALL AMAZON.COM PURCHASES MADE THROUGH THIS LINK HELP SUPPORT THIS SITE
Jessie takes a dive (Wednesday 7/31)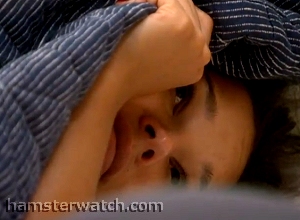 Nearly all of them slept til early afternoon, which is understandable since most were up til 5am.. it didn't take long to fall into their gametalk and paranoia patterns once they were awake

Tensions are increasing as well: Judd and Andy had a spat, but they seemed to work it out over the chessboard.. Jessie had a fit of silence, staying undercovers as one after the other popped in to try to get her to talk, and then reported back to the others that she wouldn't.. Andy made a bit of leeway, and Jessie finally poked her head out when it was Elissa's turn, and then Helen came along to do her usual peptalk (which I've been calling finals vote campaigning).. whatever the motive, it got Jessie up and out again, and laughing about the "intervention"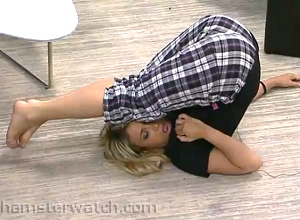 They had an impromptu group activity with all of them participating: they gathered in goofy costumes and did a semi-choreographed Harlem Shake lunatic dance in a series of rooms, without music or booze.. the lack of music made it a "laugh at them" thing but their giggling made it "laugh with them" - flashback 7/31 11.09pm

All signs still point to Howard leaving 8-0 or possibly 7-1 if someone throws a hinky vote to frame Spencer, despite an 11th hour plan hatched by Howard, Candice and Jessie to try to get Amanda evicted instead (add Jessie to that losing vote count if she sticks with this unlikely plan).. all signs also point to endurance Thursday night - get the feeds
for that: with as many shaky alliances as they've got going, they might not cut it short with deals this time - here's hoping anyway

Bottom line, a showmance will be broken up tomorrow.. we were spared the McCrae & Amanda bachelor/ette parties, although a quickie wedding did happen - flashback 8/1 1am.. Andy officiated, and Judd, Elissa, GinaMarie attended.. there were no trashbag outfits, and no camera on bride or groom



The great Sprite scandal (Tuesday 7/30)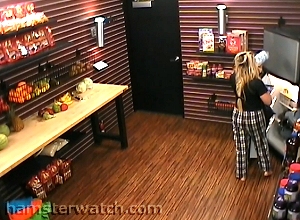 Early this morning, GinaMarie tumbled out of her airplane seat and wandered to the pantry, where she took a few giant swigs from a 2-liter bottle before heading back to bed, causing cries out here of Have-not cheating and demands for penalty noms.. it turns out it wasn't Sprite at all, but the much talked about seltzer water, so that one's a non-issue.. if there's any scandal here, it's the state of her bed hair - flashback 7/30 8.27am

A better show came along later, when Amanda and Spencer went at it with raised voices, name calling, accusations and denials - flashback 7/30 12.30pm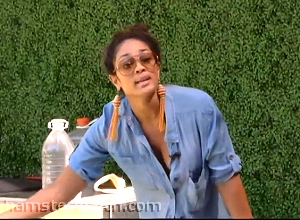 Things picked up again when Candice called a house meeting during HOH picture taking time - flashback 7/30 2.55pm.. she kicked it off by going after Spencer, then Howard said his piece, and then Amanda went after Spencer.. in the middle of it, Elissa stood up and started doing her bendy - no lie

GinaMarie did a bit of kumbaya windup as they scattered, and the retells began.. I don't think they got any pics taken other than a few in the pool before the Keepin' It Real with Candice Show began.. this could be the skimpiest and most awkward set of CBS pics since BB11 Ronnie's HOH

Update: yep it's skimpy all right



Still more scandals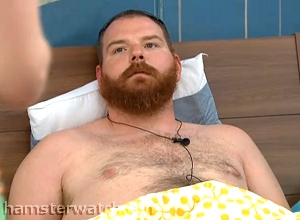 Scandals carried on when Amanda reported to several that Howard allegedly said inappropriate sexual things to her - flashback 7/30 5.10pm for the event, but it's super quick and inaudible, except for her laughing and saying "thank you".. according to her, Howard said he'd like to "fuck the shit out of her" after BB.. Amanda made rather a big deal of it and was called to Diary, twice.. feeds were kept off her & McCrae after each visit for the inevitable retells.. for the record, similar has come up before with Amanda and Howard.. also for the record, nearly all ensuing mentions of it by Amanda went instantly to fishies or a different room

The rest of the night was the usual psst pssting, parannoying, trashing, vote counting & waffling, but it was a banner day for Deathrace 2013 as well as scandals.. Aaryn managed to add adoptive families and adoptees to her hit parade of offensive and moronic comments, and most of them had yet another house meeting - flashback 7/31 12.15am.. followed by yet another huge round robin about who leaked the vote plans and how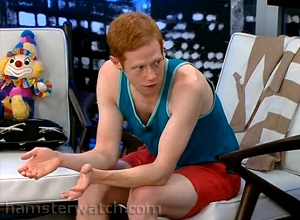 Meanwhile a few interesting tidbits have turned up: the basis for Candice's oft-repeated loop re Spencer saying Amanda should "choke on her own spit and die" was after Big Brother said "Amanda, please do not obstruct your microphone," Spencer said "but if you'd like to obstruct your air passage and choke to death.." - flashback 7/30 2.37am.. Howard was also present

As for the outrage from Candice and Amanda about such things, there's plenty of items in the Pot/Kettle Department, including Candice's "there's not one day that I look at [Aaryn] that I don't want to choke the shit out of her" - flashback 7/28 10.34pm, and Amanda's "I want to kill Candice, I'm gonna fuckin sharpen one of those butter knives" -cut to fishies - flashback 11.34pm



Switcheroos (Monday 7/29)
Spencer used his veto on himself and Aaryn put up Candice in his place, as planned.. most of them ran around like cock-a-roaches under a bright light afterwards, whispering here and there, as if the vote was imminent, before settling into nap mode

Amanda wore Judd's bear shirt for the meeting and Helen wore Andy's cat shirt.. Amanda & McCrae have been doubting Judd since late last night/early this morning, and Elissa has been buddying up to him.. she's also getting chummy with Aaryn, and has switched her subtle trashing target to GinaMarie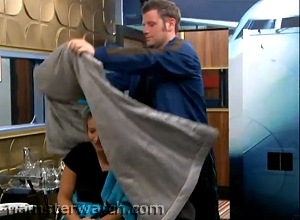 Post-naps gametalk revved up again to a fever pitch and switcheroos kept coming.. Judd has now become Public Enemy #1 largely due to Amanda's increasing paranoia, culminating with her, McCrae and Andy telling Aaryn about their Goof Troupe final four deal, and asking Aaryn to take Judd's place there

Spencer told various parties that if there's a tie vote Thursday, he'll stand up and threaten Aaryn to keep Howard or else her new allies will turn on her too - these live show threats rarely come to anything.. Elissa continued her new social rounds - either she was super relieved she didn't go on the block today or she got a battery charge and software upgrade.. she had long friendly chats with Jessie and Aaryn among others, and added Candice to her subtle digs target list.. all this and more, and it's only Monday

If this was Survivor, Day 39 would mean it's over, but we've still got 12 of them and miles to go yet.. as always, you don't have to take my word for any of this: get the feeds
to watch everything as it unfolds, Canadians too, for just $9.99 a month.. remember to click "previous Hamsterwatch episode" at the top of any page to see what came before, and feel free to click the Amazon.com banner up there for any of your Amazon purchases anytime



Ratings - Misfit Hamsters special edition
Ratings are based on Rudolph the Red-Nosed Reindeer, original characters by Rankin/Bass



Many don't remember the lion who rules the Island of Misfit Toys, let alone that his name is King Moonracer. That's kind of the job of our Powers That Be as well, to keep everyone and everything in line and running smoothly, without being noticed too much. And despite the annual cries of 'rigged' and the like, they usually succeed. Whether nominations or votes are 'guided' or not, or if various seeds are planted in Diary to grow paranoia, we'll never know, but their influence permeates every second of the thrice weekly air shows since they have total control over what's seen on CBS and what isn't. Even the most ardent feedsters tend to accept as fact whatever they see on the show, forevermore. It's pretty cool how that works really, and something Helen understands well with her background in politics. If you say it, with authority, they'll believe it. That's Helen's whole game, actually.






HEAD OF HOUSEHOLD
Is it an easy, cheap shot to assign her the Abominable Snowmonster? Of course it is, but she is the designated villain of our story, so what choice do I have? Like Bumble, Aaryn started off mean and scary but she's tempered herself somewhat of late. In her case, it wasn't due to David/Hermey removing her bitey, but the jaws of the media and ourselves have indirectly made their way in there to tone down her growl a bit.






NOMINATED
Amanda isn't really anything like Clarice the doe-eyed doe, other than her big doe eyes, but her attachment to the young hero has landed her here just the same. So far she hasn't sat around waiting while her guy goes out into the world to do big things, and she probably won't, but we're only a third of the way through. Okay, this one doesn't really fit at all.






Andy seems perfectly suited to the misfit toy bird who swims instead of flies, including his facial expression. Nevermind the fact that Andy probably actually can fly - he'd almost have to, considering the speed he travels from room to room.






NOMINATED
Like Howard, her character is talked about a lot but her role has turned out to be a minor one in reality, pretty much just being attached to Howard and repeating herself a lot, so Mrs Claus it is. 'Eat, eat!'






Won: Sit out 1 veto comp
Many would tag her as the toyshop worker known simply as Tall Elf because he doesn't have much of a role but he figured big in the early advertising. But I've made her the Elf Foreman instead because she's just as erratic, going from moody & grouchy to happy songleader in the blink of an eye, and back again.






She's the ultimate misfit hamster in every way, but she and her hair are so very random that only the squirt gun that shoots jelly applies. I don't know why, but it does.






Won: 2 night 8pm curfew
Who else but Santa's reindeer Comet, who doubles as the drill sergeant coach for the young trainees? I don't think Helen's been involved in a single conversation or activity that she didn't carefully orchestrate first, and she always makes sure everyone does it her way. Not to mention her exercise regime - brutal!






NOMINATED
Howard's probably as well suited to Sam the snowman but I assigned Santa Claus to him instead, since he seems to be an integral character in every way but in actuality, he pretty much just steps back and lets everyone else sort things out.






She's clearly Dolly, the spokesgirl for the misfit toys. Both are mostly cute, often smiling and sometimes teary, and there isn't really anything wrong with Dolly to explain why she's there. As always, it's easier to just blame Candice.






Won: 24 hour solitary
Sam the singing snowman might not be the most beloved character of his show but he's a constant and reassuring voice of reason, always there to fill us in on the story, wearing a grin and rarely playing favorites. I'm not 100% happy with him in this spot, but I can live with it unless Judd breaks out singing Burl Ives songs.






Won: $5,000
Rudolph applies for McCrae in every way: he's totally the young buck trying to find his way, distracted by love, blinded by blizzards, and torn between loyalties to various factions. Time will tell how our group of misfits lands at the end, but McCrae's still the star of my show.. even if I facepalm a lot about how he's playing it.






USED VETO ON SELF
Is there any doubt here? Along with David as Hermey, Spencer as Yukon Cornelius goes back to the initial cast release (first brought to my attention by @thoratkinson). Since then, we've come to know Spencer better and yep, licking random items and muttering 'nuttin' applies, as does 'butterscotch'.






Won: Nothing
The spotted pink elephant seems to be the best fit for her: rather odd, rather cute, and not all that memorable.






Won: Permanent Have-not pass
If Jeremy was a toy, he'd surely be a Charlie in the Box: all the parts seem correct but something isn't right. Plus he's grouchy a lot.





Won: Nothing
A misfit toy and an extra in the cast, check. The cowboy who rides an ostrich is about as random as it gets, and fits Nick in some weird way I can't explain, other than it's kind of sporty.





Won: Nothing
Evictees are included for a second time since David's half of the inspiration for today's theme, being the perfect hair model for Hermey, the misfit elf who'd rather be a dentist. The misfits part also fits but the similarities end there: Hermey was one of the stars of his show, David not so much.







Linking to any page here is fine but please do not repost any content from this site (or any other) without permission, and do not repost or hotlink to any images


!! THIS MEANS YOU !!




Feed signups help me
keep this site going
Thank you!






VIEWER VOTE


MVP polls are closed

What supplement should Have-nots get?
Mung beans & mackerel
Parsnips & pumpernickel
Figs & falafel
Polls are closed

Currently: raisins & ramen







RATINGS WATCH


Wednesday's show won the hour with 2.0 rating, 7 share, and 6.11 million viewers, ahead of America's Got Talent rerun on NBC with 1.5/5/6.60, Masterchef rerun on FOX with 1.0/4/2.62, and The Middle and Suburgatory reruns on ABC with 0.8/3/3.63 and 0.7/2/2.87 respectively.





I can't recommend this show highly enough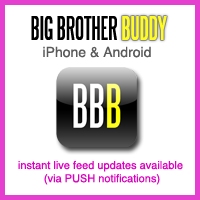 Big Brother Buddy mobile app
Available for Android or iPhone/iPad



Clicky: caps sorted by day - all caps







NEWS & UPDATES
HOHs: McCrae, Aaryn, Helen, Judd, Aaryn
MVPs: Elissa, Elissa, Elissa, viewers, viewers
Veto wins: McCrae, Jeremy, Kaitlin, Elissa, Spencer
Evictions: David 7-5-0; Nick 7-4-0; Jeremy 9-1-0; Kaitlin 9-0-0

Evictee Twitters: @davidgirton2, @nickuhas, @JeremyDMcG1, @twitRless_kb

Feeds are open for USA and Canada! Sign up now
to get up to date before things get even crazier! All subscriptions include flashback and mobile access for most smartphones and some tablets, including iPads.

Jeff Schroeder will be on The Bold and the Beautiful on August 27. Hayden Moss is on the next Survivor, and Rachel & Brendon will return to The Amazing Race.

Bigotgate oozed farther beyond our insulated BB world more than any prior scandal, going all the way to TMZ, CNN, The New York Times, and international news & media outlets. Aaryn Gries and GinaMarie Zimmerman were fired from real world jobs as a result of bigoted remarks on the BB15 feeds, Aaryn from a modeling contract and GinaMarie from her pageant company. Spencer's employer, Union Pacific, issued a statement about not condoning some of his remarks (he is a union employee).

Evel Dick Donato's Dick at Night show is back this summer on Vimeo, and he'll have special guests, former hamsters, plus a Catladies Corner segment with @Clio_the_Leo and @Catvanzyl!

Big Brother Australia started up again July 29.

Big Brother UK kicked off June 13 with Emma Willis hosting. This year had twins playing as one, a mother/daughter playing separately, and an actor/mole who's only there was to mess with the hamsters. Watch on YouTube.



Donations via Paypal are gratefully accepted!

If the button doesn't work, Paypal to hamster (at) neonpages (dot com)

Thanks for your support!



BBQ Smackdown Scorecard

Big Brother 14
Round 1: BBQ ½, Dan 0

Big Brother 13
Round 1: BBQ ½, Adam ½, Rachel 0
Round 2: BBQ ½, Adam 0
Round 3: BBQ 1, Rachel 0

Big Brother 12
Round 1: BBQ ½, Brendon 0
Round 2: BBQ 2, Britney 0, Lane 0
Round 3: BBQ 1, Lane 0, CBS 0

Big Brother 11
Round 1: BBQ 0, Jeff 0
Round 2: BBQ 0, Jeff ½
Round 3: BBQ ½, Kevin 0, Michele 0

Big Brother 10
No title events


Big Brother 9 Winter Edition
Round 1: BBQ ½, Ryan 0
Round 2, BBQ ½, Adam 0
Round 3, BBQ ½, Ryan 0

Big Brother 8
Round 1: BBQ 1, Dick 0
Round 2: BBQ ½, Zach 0
Round 3: BBQ 0, Dick 1

Big Brother 7 All-Stars
BBQ training sabbatical

Big Brother 6
Round 1: BBQ 1, Ivette 0
Round 2: BBQ 0, Howie 0

Big Brother 5
Round 1: BBQ 1, Cowboy 1, Drew 0
Round 2: BBQ 1, Drew 0, Diane ½
Round 3: BBQ 1, Cowboy 1, CBS 0, Nakomis 0



EXTRACURRICULAR TALLY
Major fights - 3
-7/1 12.22am Jeremy vs Have-nots, Jeremy vs Amanda, Jeremy vs Kaitlin, Jeremy vs Candice, Aaryn vs Candice
-7/11 9.20pm GinaMarie vs Jessie, Jessie vs Kaitlin/Aaryn, Amanda vs most
-7/30 12.30pm Amanda vs Spencer

House meetings - 4
-7/24 8.00pm
-7/26 11.26pm
-7/30 2.55pm
-7/31 12.15am

Blindside evictions - 2
David
Nick

Beyond BB scandals - 1
BigotGate

Literal asshats - 1
Jeremy 7/2 6.55pm

Makeout pairings - 4
Jeremy & Kaitlin
McCrae & Amanda
David & Aaryn
Howard & Candice

Sex events - 8+
(some subject to interpretation)
Jeremy & Kaitlin 6/28 3.21am
McCrae & Amanda 6/29 5.40am
McCrae & Amanda 6/30 1.11am
Jeremy & Kaitlin 7/3 1.20am
Jeremy & Kaitlin 7/8 12.01am
Jeremy & Kaitlin 7/9 11.15pm
McCrae & Amanda 7/18 2.55am and 3.40am
McCrae & Amanda 7/21 off feeds
Too many more to count

Pinkyswears - 12
GinaMarie & Andy 6/30 2:43am
GinaMarie & Nick 7/2 9.57pm
GinaMarie, Jeremy, Nick 7/5 1.02am
GinaMarie & Nick 7/5 8.16pm
GinaMarie & Aaryn 7/7 8.25pm
GinaMarie & Nick 7/8 approx 8pm
GinaMarie & Andy 7/9 6.47pm
GinaMarie & Nick 7/10 3.37am
Andy & Candice 7/11 11.28am
McCrae & Amanda 7/12 1.26am
GinaMarie & Helen 7/12 5.04pm
Judd & Elissa 7/29 2.19pm

Dingoisms used by McCrae - 9
- Feedsters
- HOHitis (on CBS)
- Fishies (on CBS)
- This is Big Brother, I'm here for the entertainment
- Slurpydurp
- BBQ Smackdown
- Willie's key-hos & corn-ho
- The parlor
- Revive-a-Hamster

The Soup mentions - 4 of 5 shows
- 7/3 Veto guest sarcasm plus McCrae about Howard on premiere
- 7/10 BigotGate
- 7/17 GinaMarie funeral plus Jeremy Diary rant
- 7/24 GinaMarie's froyo

CBS goofs - 22
- BB site shows two premiere times
- Jill? on feeds signup page
- Misspelled Judd's last name
- Feeds launch Y2K type midnight problem
- Peculiar trivia goof
- Misspelled Kaitlin
- Omitted GinaMarie
- Included GinaMarie, wrongly
- Wrong show time on trivia
- Forgot to update vote dates
- Julie said Helen's Chinese on The Talk racism segment
- Wrong show teaser pics
- Your/you're error
- Wrong day on MVP vote
- Typo in Help scroll
- Interesting grammar
- Still wrong day on MVP vote
- Wonky timestamps
- Help scroll still unresoved
- STILL wrong day on MVP vote
- No signal for 40 minutes 7/27
- Whose/who's error