This site is about the Big Brother 15 feeds and contains spoilers! It isn't necessarily thorough: it's what I catch and/or what interests me, and it isn't necessarily about who will win, who should win, who's cute or who's horrid. It's about watching hamsters: who's doing what and why. If they aren't entertaining, get rid of 'em! Thanks for encouraging my behavior. Your pal, dingo







POWER STATUS


Aaryn is Head of Household
Spencer & Howard are HOH nominees
Amanda is MVP nominee
Spencer holds veto
Candice, Amanda, GinaMarie, Judd are Have-nots







UPCOMING EVENTS


Next show Wednesday 8pm:
Veto comp, veto meeting, assorted drama - east coast feed

Monday: Veto meeting
Tuesday: HOH photos, blog, tweets







BB DRINKING GAME


Take a swig whenever one of them says 'don't tell anyone this'









BIG BROTHER SEASONS



Amazon DVDs BB4 - BB3

Amazon Instant Video BB15
- BB14
- BB13
- BB12
- BB11
- BB10
- BB9
- BB8


iTunes BB15 -
BB14
- BB13
- BB12
- BB11
- BB10
- BB9
- BB7 All-Stars





BB15 FAQ


Feeds are streamed by CBS - sign up today


Call 877-211-4367 for account help including password reset or to cancel subscription.

CBS shows are Sundays 8pm, Wednesdays 8pm, eviction Thursdays 9pm (changed from Tuesdays, live Wednesdays, Sundays).

Big Brother After Dark is on TVGN for two hours every night starting at midnight/9pm BB time (1 hour later Thursdays), and is censored. Beginning July 19, BBAD runs three hours on Fridays.

Canada runs the TV episodes on Global, and After Dark on Slice, uncensored.

Weeks 1, 2, 3: The MVP (Elissa) selected the third nominee, privately, and she didn't have to tell anyone she was MVP. If the MVP's nominee won veto, MVP selected the replacement.

Weeks 4, 5: The MVP vote was to name the third nominee directly. If viewer nominee was HOH or and HOH nominee, the third nominee spot went to next highest vote getter.

Jeremy's tattoo says 'Great spirits have always encountered violent opposition from mediocre minds' (Einstein).

Amanda's tattoo says 'No matter where you go there you are'.

BB15 prizes are the same: $500k for the winner and $50k for 2nd place. Stipend for the others is $1,000 per week (up from $750), including pre-show hotel and jury sequester. Recruits may get more.

The habitat has 65 cameras (up 12) and 98 microphones (same).

The recorded in-house announcements are the voice of producer Don Wollman.






>> >> >>
>>
ALL AMAZON.COM PURCHASES MADE THROUGH THIS LINK HELP SUPPORT THIS SITE
Snapshots and swimmies (Sunday 7/28)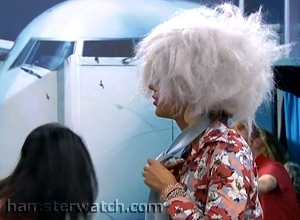 Gametalk was interrupted for the weekly photo booth event, which came with flower leis, water wings, and a mad scientist wig that sent Deathrace 2013 into the stratosphere

Slopsickness kept Judd in bed for too much of the day for my liking, but he showed up now and then to pop a funny or three.. Candice spent the entire day in her airplane bed, crying often, and Twitter went to town with a #BlameCandice hashtag game that followed the habitat's lead and blamed her for everything from missing socks to Kardashians to Red Wedding to world hunger.. later she retold Bedgate and her other woes yet again to Amanda, eavesdropped by Helen & Elissa, who eventually went into the room to listen in person and after a few more retell rounds, Candice actually got up and joined the others for a little while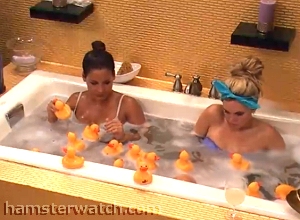 Also tonight, Helen and Aaryn co-hosted Nail Party 2.0, attended by all the girls except Candice, plus Andy.. most of them enjoyed some stashed wine, which gave them a headstart for the booze delivery that came a bit later.. hilarity ensued, with sippy Jessie, Andy, and Elissa plus sober Judd being especially funny.. Candice got heated with Howard again, probably as a result of her talking-to by Amanda plus Helen, and it'll probably take a very long for Howard to talk her down this time

It's sounding like Candice will still go up in Spencer's place tomorrow, even though Aaryn has realized it won't look good for her to nominate both Howard and Candice with the racism accusations going around about her.. she basically said oh well, her family and friends know who she is

Update: Meetings carried on and on, with Howard basically saying if Candice goes up against him, he'll campaign in her favor.. McCrae and Amanda had a spat in two or three emotional rounds about Andy, and Judd, and do they really trust each other or not? Each swore they do, but it carried on far too long anyway



#Cops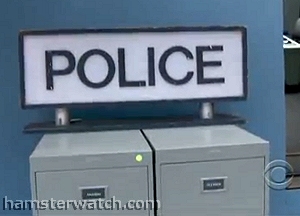 I haven't commented much on the CBS edits thus far this season, but tonight's was interesting in a few ways.. the narrator describing Aaryn as "the most hated person in the house" was surprising: hamsters sometimes use the word "hate" and viewers often do, but it's pretty rare for CBS to.. then when they showed Aaryn saying "you got me saying axed" to Candice, they pointedly edited out her saying "and you" to GinaMarie.. that was something of a milestone actually, since Aaryn had thus far overlooked GinaMarie's pronunciation of "asked" while she highlighted Candice's, but the omission for TV sure seems to indicate they're going to keep Aaryn propped out in front as the poster girl for Bigotgate

The Have-not comp was cute and different, as many have been this season, but you have to wonder why they're not showing the alliterative supplement reveals this year.. mostly I'm pleased to say that the sword-like SCHWINNGGGG sound effect for the plastic keys at nominations has now been surpassed by the inserted creaking of Elissa's saran wrap - actually it's pretty silent when she's wrapped in plastic to do her bendy



Amanda gets a shock (Saturday 7/27)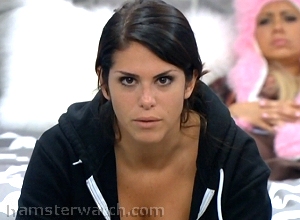 The third nominee was revealed to be Amanda, causing quite a commotion in the habitat.. she seemed "flabbergasted" that anyone would want her gone, and she proceeded to have something of a meltdown as she, McCrae, and others thought about the implications.. even Judd got heated

Jessie and Candice were picked to play for veto along with Aaryn and the nominees, with Helen hosting, and Amanda practically strong-armed Jessie by saying she had to let Amanda win as well as give up any potential prizes to make it so.. others were involved in that too, including McCrae, but he later approached Jessie and said that had been out of line, and he told Andy that he and Amanda play "good cop, bad cop"

Many of them suspect Howard of being MVP despite him denying it, and/or that he holds a coup d'etat or other special power.. GinaMarie wore Judd's bear shirt, Candice wore Andy's cat shirt, and Elissa's repercussion from last week that she can't play in the next veto comp was pointless.. more later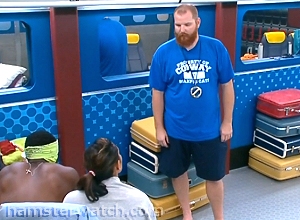 Feeds came back to Spencer wearing the veto, and telling mopey Howard & Candice that he'd told off McCrae.. all signs indicate that Aaryn will replace Spencer with Candice, but the veto meeting isn't until Monday and things can change quickly in there, as we know

The feeds went dark for about 40 minutes but they came back to the usual harangues that carried on through the night, like they do, many with sniffles and tears.. Helen and Candice had a talk that got a little bit heated - flashback 7/27 11.40pm.. it escalated with every retell, and there were several, until it seemed like Candice might end up being the one to walk the plank Thursday instead of Howard - but again, we have days to go.. tonight's retells even dredged up Bedgate again

You can fill in the gaps yourself for all the gametalk I gloss over: get the feeds
to watch everything as it unfolds, Canadians too, for just $9.99 a month.. remember to click "previous Hamsterwatch episode" at the top of any page to see what came before, and feel free to click the Amazon.com banner up there for any of your Amazon purchases anytime



Ratings - Social Media special edition
Ratings are pastes of their Twitter profiles, as of today - some are rather interesting



@CBSBigBrother
Welcome to the OFFICIAL #BB15 Twitter! Tune in Wed. 8/7c, Thur. 9/8c & Sun. 8/7c!
cbs.com/shows/big_brother






HEAD OF HOUSEHOLD
@aaryneliza
Model/Actress/Host
TX · facebook.com/aaryn.e.g

(her Twitter is now private - it wasn't previously)






NOMINATED
@RealtorAmandaZ
I am a Coldwell Banker agent in Los Angeles
Los Angeles

(the site linked in her profile is no longer alive)






@AndyHerren
This is BB15 Andy Herren's real Twitter, & tweets are coming from Andy's team until he is home from seclusion & filming in the Big Brother house!
Facebook.com/AndyHerrenBigBrother

(this is legit: his own tweets were here before the show)






@candiestewart
Loving and living life one day at a time!
Up In The Air!






Won: Sit out 1 veto comp
@ElissaReillyS
I am a Certified Fitness & Nutritional Specialist & RYT200 Yoga Instructor.Check out my fitness site elissercise.com and pet site adventures4pets.com
elissareilly.com






@ginamariez
Model/Make-Up Artist
new york






Won: 2 night 8pm curfew

(I don't have a Twitter for her)






NOMINATED
@howardoverby1
Official #bb15 Howard, currently ran by family #TeamHoward

(I'm not 100% sure this is his family but I believe it is)






@JessieClaire88
Let me show you a few things about love
San Antonio Tx

(the Facebook link in her profile is broken)






Won: 24 hour solitary
@JuddBB15

(he deleted his Twitter before the show - this one is legit, run by friends)






Won: $5,000
@mccraechum
-McCrae is one poor bastard, His pockets lined with candy wrappers and crumpled up receipts for purchases he never needed.
O.G. · loungetownpodcast.com






NOMINATED - HOLDS VETO

(I don't have a Twitter for him)






Won: Nothing
@twitRless_kb






Won: Permanent Have-not pass
@JeremyDMcG1
No matter what ill always have my head up, with a huge smile on my face. I can't wait to change the world.
Houston Texas





Won: Nothing
@nickuhas
Work Wild, Live Free
all over the U.S. · facebook.com/uhasbrand





Won: Nothing
@davidgirton2
SurferDude/Beach Life Guard/Skater Who would love for a second chance to go back on the Show!!!







Linking to any page here is fine but please do not repost any content from this site (or any other) without permission, and do not repost or hotlink to any images


!! THIS MEANS YOU !!




Feed signups help me
keep this site going
Thank you!






VIEWER VOTE


MVP polls are closed

What supplement should Have-nots get?
Mung beans & mackerel
Parsnips & pumpernickel
Figs & falafel
Polls close Monday 6pm Pacific

Currently: raisins & ramen







RATINGS WATCH


Sunday's show won the hour with 2.2 rating, 7 share, and 6.81 million viewers, ahead of The Simpsons and Bob's Burgers reruns on FOX with 1.5/5/3.00 and 1.3/4/2.58 respectively, Celebrity Wife Swap on ABC with 1.1/4/3.02, and America's Got Talent rerun on NBC with 0.7/2/3.08.





I can't recommend this show highly enough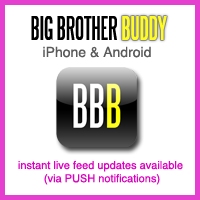 Big Brother Buddy mobile app
Available for Android or iPhone/iPad



Clicky: caps sorted by day - all caps







NEWS & UPDATES
HOHs: McCrae, Aaryn, Helen, Judd, Aaryn
MVPs: Elissa, Elissa, Elissa, viewers, viewers
Veto wins: McCrae, Jeremy, Kaitlin, Elissa, Spencer
Evictions: David 7-5-0; Nick 7-4-0; Jeremy 9-1-0; Kaitlin 9-0-0

Evictee Twitters: @davidgirton2, @nickuhas, @JeremyDMcG1, @twitRless_kb

Jeff Schroeder will be on The Bold and the Beautiful on August 27.

Feeds were opened for Canada on July 10! Sign up now
to get up to date before things get even crazier! All subscriptions include flashback and mobile access for most smartphones and some tablets, including iPads.

Bigotgate oozed farther beyond our insulated BB world more than any prior scandal, going all the way to TMZ, CNN, The New York Times, and international news & media outlets. Aaryn Gries and GinaMarie Zimmerman were fired from real world jobs as a result of bigoted remarks on the BB15 feeds, Aaryn from a modeling contract and GinaMarie from her pageant company. Spencer's employer, Union Pacific, issued a statement about not condoning some of his remarks (he is a union employee).

Evel Dick Donato's Dick at Night show is back this summer on Vimeo, and he'll have special guests, former hamsters, plus a Catladies Corner segment with @Clio_the_Leo and @Catvanzyl!

Big Brother Australia started up again July 29.

Big Brother UK kicked off June 13 with Emma Willis hosting. This year had twins playing as one, a mother/daughter playing separately, and an actor/mole who's only there was to mess with the hamsters. Watch on YouTube.



Donations via Paypal are gratefully accepted!

If the button doesn't work, Paypal to hamster (at) neonpages (dot com)

Thanks for your support!



BBQ Smackdown Scorecard

Big Brother 14
Round 1: BBQ ½, Dan 0

Big Brother 13
Round 1: BBQ ½, Adam ½, Rachel 0
Round 2: BBQ ½, Adam 0
Round 3: BBQ 1, Rachel 0

Big Brother 12
Round 1: BBQ ½, Brendon 0
Round 2: BBQ 2, Britney 0, Lane 0
Round 3: BBQ 1, Lane 0, CBS 0

Big Brother 11
Round 1: BBQ 0, Jeff 0
Round 2: BBQ 0, Jeff ½
Round 3: BBQ ½, Kevin 0, Michele 0

Big Brother 10
No title events


Big Brother 9 Winter Edition
Round 1: BBQ ½, Ryan 0
Round 2, BBQ ½, Adam 0
Round 3, BBQ ½, Ryan 0

Big Brother 8
Round 1: BBQ 1, Dick 0
Round 2: BBQ ½, Zach 0
Round 3: BBQ 0, Dick 1

Big Brother 7 All-Stars
BBQ training sabbatical

Big Brother 6
Round 1: BBQ 1, Ivette 0
Round 2: BBQ 0, Howie 0

Big Brother 5
Round 1: BBQ 1, Cowboy 1, Drew 0
Round 2: BBQ 1, Drew 0, Diane ½
Round 3: BBQ 1, Cowboy 1, CBS 0, Nakomis 0



EXTRACURRICULAR TALLY
Major fights - 2
-7/1 12.22am Jeremy vs Have-nots, Jeremy vs Amanda, Jeremy vs Kaitlin, Jeremy vs Candice, Aaryn vs Candice
-7/11 9.20pm GinaMarie vs Jessie, Jessie vs Kaitlin/Aaryn, Amanda vs most

House meetings - 2
-7/24 8.00pm
-7/26 11.26pm

Blindside evictions - 2
David
Nick

Beyond BB scandals - 1
BigotGate

Literal asshats - 1
Jeremy 7/2 6.55pm

Makeout pairings - 4
Jeremy & Kaitlin
McCrae & Amanda
David & Aaryn
Howard & Candice

Sex events - 8+
(some subject to interpretation)
Jeremy & Kaitlin 6/28 3.21am
McCrae & Amanda 6/29 5.40am
McCrae & Amanda 6/30 1.11am
Jeremy & Kaitlin 7/3 1.20am
Jeremy & Kaitlin 7/8 12.01am
Jeremy & Kaitlin 7/9 11.15pm
McCrae & Amanda 7/18 2.55am and 3.40am
McCrae & Amanda 7/21 off feeds
Too many more to count

Pinkyswears - 11
GinaMarie & Andy 6/30 2:43am
GinaMarie & Nick 7/2 9.57pm
GinaMarie, Jeremy, Nick 7/5 1.02am
GinaMarie & Nick 7/5 8.16pm
GinaMarie & Aaryn 7/7 8.25pm
GinaMarie & Nick 7/8 approx 8pm
GinaMarie & Andy 7/9 6.47pm
GinaMarie & Nick 7/10 3.37am
Andy & Candice 7/11 11.28am
McCrae & Amanda 7/12 1.26am
GinaMarie & Helen 7/12 5.04pm

Dingoisms used by McCrae - 9
- Feedsters
- HOHitis (on CBS)
- Fishies (on CBS)
- This is Big Brother, I'm here for the entertainment
- Slurpydurp
- BBQ Smackdown
- Willie's key-hos & corn-ho
- The parlor
- Revive-a-Hamster

The Soup mentions - 4
- 7/3 Veto guest sarcasm plus McCrae about Howard on premiere
- 7/10 BigotGate
- 7/17 GinaMarie funeral plus Jeremy Diary rant
- 7/24 GinaMarie's froyo

CBS goofs - 20
- BB site shows two premiere times
- Jill? on feeds signup page
- Misspelled Judd's last name
- Feeds launch Y2K type midnight problem
- Peculiar trivia goof
- Misspelled Kaitlin
- Omitted GinaMarie
- Included GinaMarie, wrongly
- Wrong show time on trivia
- Forgot to update vote dates
- Julie said Helen's Chinese on The Talk racism segment
- Wrong show teaser pics
- Your/you're error
- Wrong day on MVP vote
- Typo in Help scroll
- Interesting grammar
- Still wrong day on MVP vote
- Wonky timestamps
- Help scroll still unresoved
- STILL wrong day on MVP vote