This site is about the Big Brother 15 feeds and contains spoilers! It isn't necessarily thorough: it's what I catch and/or what interests me, and it isn't necessarily about who will win, who should win, who's cute or who's horrid. It's about watching hamsters: who's doing what and why. If they aren't entertaining, get rid of 'em! Thanks for encouraging my behavior. Your pal, dingo







POWER STATUS


Kaitlin evicted 9-0-0
Aaryn is Head of Household
Spencer & Howard are nominated
Candice, Amanda, GinaMarie, Judd are Have-nots







UPCOMING EVENTS


Next show Sunday 8pm:
Have-not comp, Aaryn's HOH room prank, nominations - east coast feed

Saturday: MVP nominee reveal, veto comp
Monday: Veto meeting







BB DRINKING GAME


Take a sip whenever one of them says 'like' (keep 911 on speed dial)









BIG BROTHER SEASONS



Amazon DVDs BB4 - BB3

Amazon Instant Video BB15
- BB14
- BB13
- BB12
- BB11
- BB10
- BB9
- BB8


iTunes BB15 -
BB14
- BB13
- BB12
- BB11
- BB10
- BB9
- BB7 All-Stars





BB15 FAQ


Feeds are streamed by CBS - sign up today


Call 877-211-4367 for account help including password reset or to cancel subscription.

CBS shows are Sundays 8pm, Wednesdays 8pm, eviction Thursdays 9pm (changed from Tuesdays, live Wednesdays, Sundays).

Big Brother After Dark is on TVGN for two hours every night starting at midnight/9pm BB time (1 hour later Thursdays), and is censored. Beginning July 19, BBAD runs three hours on Fridays.

Canada runs the TV episodes on Global, and After Dark on Slice, uncensored.

Weeks 1, 2, 3: The MVP (Elissa) selected the third nominee, privately, and she didn't have to tell anyone she was MVP. If the MVP's nominee won veto, MVP selected the replacement.

Weeks 4, 5: The MVP vote was to name the third nominee directly. If viewer nominee was HOH or and HOH nominee, the third nominee spot went to next highest vote getter.

Jeremy's tattoo says 'Great spirits have always encountered violent opposition from mediocre minds' (Einstein).

Amanda's tattoo says 'No matter where you go there you are'.

BB15 prizes are the same: $500k for the winner and $50k for 2nd place. Stipend for the others is $1,000 per week (up from $750), including pre-show hotel and jury sequester. Recruits may get more.

The habitat has 65 cameras (up 12) and 98 microphones (same).

The recorded in-house announcements are the voice of producer Don Wollman.






>> >> >>
>>
ALL AMAZON.COM PURCHASES MADE THROUGH THIS LINK HELP SUPPORT THIS SITE
Ramen, raisins, and rabies (Friday 7/26)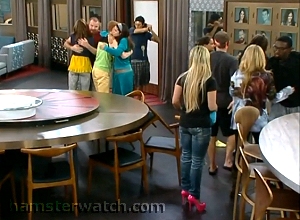 Their Have-not comp was a team balancing & building deal with a detectives/evidence theme, and snappy team shirts.. Candice, Amanda, Judd, and GinaMarie lost, and their supplement is ramen and raisins - not too shabby.. GinaMarie is the only first-timer

Aaryn wore the bear shirt for nominations, where she put up Howard & Spencer, as planned.. feeds returned before they'd even unhooked from the hugs that will end Sunday's show

Nothing much happened otherwise, beyond Howard holding an impromptu meeting about his ethics versus $500k - flashback 7/26 11.26pm.. Jessie didn't feel well and laid down on the HOH bathroom floor for awhile - it sounded like she had a migraine.. Judd helped her down to her bed and looked after her.. both McCrae/Amanda and Howard/Candice had side-by-side showers and makeout/cuddle sessions before separating for bed.. gametalk continued and MVP paranoia ran rampant again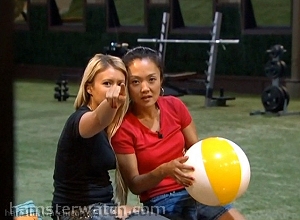 The inappropriate comments keep coming from them, along with the usual things hamsters always say that upset those not on their team, and the outrage and backlash about all that and anything/everything else keeps coming out here, along with cries of racism, bullying, bigotry, and a building frenzy of hate.. you can't protect anyone from their own idiocy, but it's not too late to get a rabies booster to protect yourself from the frothing madness - we definitely have an epidemic underway



Rabies (Thursday 7/25)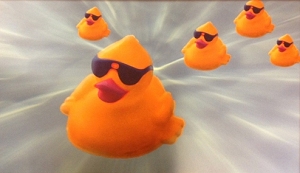 One third through, it's safe to say this is a most unusual season of Big Brother.. I don't follow many sports, but there's always been a kind of "my team rules, your team sucks" mentality among the feedsters about the hamsters, usually in relatively good fun.. lately things seem to be escalating more towards events like the SF Giants fan who was beaten almost to death or the Brazilian soccer referee who was recently beheaded and literally torn to pieces on the field

Maybe it's because several members of our cast keep saying things nobody should ever say, maybe it's because the gameplay is more random than strategic this year, or maybe it's because the funny, entertaining hamsters didn't show up, but whatever the cause, the result seems to be a global and growing epidemic of rabies among ourselves.. I might reread Chuck Palahniuk's Rant for some tips to turn rabies into an adventure rather than a problem but in the meantime, I'll be spending a bit less time than usual reading my social media replies and answering questions for awhile, and going back to trying to amuse myself and hopefully a few of you

Once again, you don't have to take my word for anything: get the feeds
to watch everything as it unfolds, Canadians too, for just $9.99 a month.. remember to click "previous Hamsterwatch episode" at the top of any page to see what came before, and feel free to click the Amazon.com banner up there for any of your Amazon purchases anytime



WHO WANTS TO SEE MY...?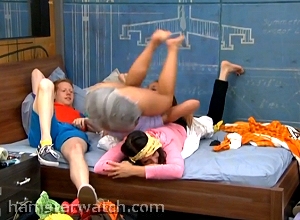 Kaitlin went out unanimously - even Elissa backed down, and Aaryn became the first repeat HOH this season on a rolly-ball roulette apparatus, aka a "crapshoot comp," which would theoretically let her off the hook from previously promising she wouldn't try to win this one if she was allowed to stay.. Deathrace 2013 fans were thrilled to see the key get stuck in her hair when Judd put it on her - it stayed stuck til Julie said buh-bye

After the show they all scurried to their corners to psst psst, the most notable psst being Helen telling Judd, Amanda and McCrae that she thinks it's time to "get Elissa out".. Elissa elissercized in front of gametalkers, like she does, and general silliness overtook most of them, especially Jessie, who popped out of a pillow nest to scare Helen and then randomly rolled over Amanda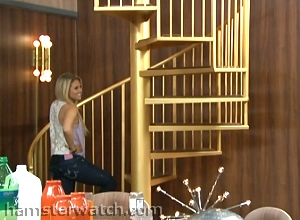 The rest of them decided to prank Aaryn for the weekly HOH room hollering: they all hid in the chess area on the balcony while she was in Diary, and they were silent when she came out hollering.. unlike prior years' pranks where the hollerer was pelted with pillows for instance, this group stayed pretty quiet other than a few muffled giggles.. Aaryn knew something was up but she had no idea where they were til she hit the stairs.. she was a good sport about it and it was a rare light & fun moment for all

After the dutiful showing off of the goods and reading of the letter, they scattered to carry on the psst psst until the midnight booze delivery and stuffing of the former Have-nots' faces

It seems like Howard and Spencer are the likely nominees as of now, and the viewers are voting for the third nominee again - Julie let Kaitlin in on that one, but not the rest of them.. bedtime got weird as Howard walked in on Andy telling Amanda & McCrae everything Howard had said upstairs.. when Howard went to update Candice, she got agitated and raised her voice, saying repeatedly "get off me, get off me!" Fortunately for all, he finally did, but he followed into the Have-not room to carry on their endless debate some more.. meanwhile Spencer mooned and Amanda romped through the habitat topless



Ratings - TBA edition
Ratings will be updated eventually - free neutrals for now
VTE = Voted to evict



To follow






No vote (nominee)
HEAD OF HOUSEHOLD
To follow






VTE Kaitlin
To follow






VTE Kaitlin
To follow






VTE Kaitlin
To follow






Won: Sit out 1 veto comp
VTE Kaitlin
To follow






No vote (nominee)
To follow






Won: 2 night 8pm curfew
VTE Kaitlin
To follow






VTE Kaitlin
NOMINATED
To follow






VTE Kaitlin
To follow






Won: 24 hour solitary
No vote (HOH)
To follow






Won: $5,000
VTE Kaitlin
To follow






VTE Kaitlin
NOMINATED
To follow






Won: Nothing
She was a caboose for the mean girl train and when she wasn't straddling Jeremy, she was laying around making out with him, including in her bestie's HOH bed whenever Aaryn stepped away. She took being widowed better than GinaMarie, but she had several days to prepare for it and seemed almost proud of making 'Big Brother history' by using her veto. Otherwise she brought eyebrow adventures, and apologies when she mouthed off, which is more than some.






Won: Permanent Have-not pass
He claimed 1/16 Cherokee but he besmirched that heritage regularly, along with many others. He caused and starred in the big Winegate fight, smooched with Kaitlin while laying his hand on Aaryn's leg, wore a diaper, and mistakenly boasted he'd win every comp. He was a boy in a man's body, but his tattoos were nicer looking than most heavily tatted hamsters' have been. He'll be most remembered for being the asshat of BB15.





Won: Nothing
He came in saying he hoped for stardom but it probably won't happen as a result of this show. Overnighters got to know his blue hoodie & cap well, and he was usually the last one to go to bed. That's usually good strategy but it didn't help him. The over-the-top character he played in pre-season interviews gave him a rough start with most, but he didn't stick long enough for us (me anyway) to get to know what he's really about.





Won: Nothing
He didn't bring much to the feeds and he seemed oblivious about how the show works, but those types are the ones who get blindsided and we always like to see that. The Aaryn & David Comedy Show was fun for a minute but all the controversy she fed took the fun out of that, so it's just as well he got gone early. Back to the beach and watching BB on the couch with mom.







Linking to any page here is fine but please do not repost any content from this site (or any other) without permission, and do not repost or hotlink to any images


!! THIS MEANS YOU !!




Feed signups help me
keep this site going
Thank you!






VIEWER VOTE


MVP polls are closed

What supplement should Have-nots get?
> Raisins & ramen







RATINGS WATCH


Thursday's eviction show won the hour with 2.4 rating, 8 share, and 6.83 million viewers, ahead of Hell's Kitchen finale on FOX with 2.2/7/5.43, The Winner Is... on NBC with 0.9/3/3.78, and Motive on ABC with 0.8/3/4.66.





I can't recommend this show highly enough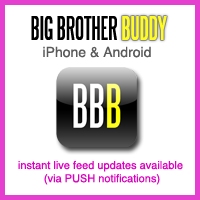 Big Brother Buddy mobile app
Available for Android or iPhone/iPad



Clicky: caps sorted by day - all caps







NEWS & UPDATES
HOHs: McCrae, Aaryn, Helen, Judd, Aaryn
MVPs: Elissa, Elissa, Elissa, viewers, viewers
Veto wins: McCrae, Jeremy, Kaitlin, Elissa
Evictions: David 7-5-0; Nick 7-4-0; Jeremy 9-1-0; Kaitlin 9-0-0

Evictee Twitters: @davidgirton2, @nickuhas, @JeremyDMcG1, @twitRless_kb

Jeff Schroeder will be on The Bold and the Beautiful on August 27.

Feeds were opened for Canada on July 10! Sign up now
to get up to date before things get even crazier! All subscriptions include flashback and mobile access for most smartphones and some tablets, including iPads.

Bigotgate oozed farther beyond our insulated BB world more than any prior scandal, going all the way to TMZ, CNN, The New York Times, and international news & media outlets. Aaryn Gries and GinaMarie Zimmerman were fired from real world jobs as a result of bigoted remarks on the BB15 feeds, Aaryn from a modeling contract and GinaMarie from her pageant company. Spencer's employer, Union Pacific, issued a statement about not condoning some of his remarks (he is a union employee).

Evel Dick Donato's Dick at Night show is back this summer on Vimeo, and he'll have special guests, former hamsters, plus a Catladies Corner segment with @Clio_the_Leo and @Catvanzyl!

Big Brother Australia starts up again July 28.

Big Brother UK kicked off June 13 with Emma Willis hosting. This year had twins playing as one, a mother/daughter playing separately, and an actor/mole who's only there was to mess with the hamsters. Watch on YouTube.



Donations via Paypal are gratefully accepted!

If the button doesn't work, Paypal to hamster (at) neonpages (dot com)

Thanks for your support!



BBQ Smackdown Scorecard

Big Brother 14
Round 1: BBQ ½, Dan 0

Big Brother 13
Round 1: BBQ ½, Adam ½, Rachel 0
Round 2: BBQ ½, Adam 0
Round 3: BBQ 1, Rachel 0

Big Brother 12
Round 1: BBQ ½, Brendon 0
Round 2: BBQ 2, Britney 0, Lane 0
Round 3: BBQ 1, Lane 0, CBS 0

Big Brother 11
Round 1: BBQ 0, Jeff 0
Round 2: BBQ 0, Jeff ½
Round 3: BBQ ½, Kevin 0, Michele 0

Big Brother 10
No title events


Big Brother 9 Winter Edition
Round 1: BBQ ½, Ryan 0
Round 2, BBQ ½, Adam 0
Round 3, BBQ ½, Ryan 0

Big Brother 8
Round 1: BBQ 1, Dick 0
Round 2: BBQ ½, Zach 0
Round 3: BBQ 0, Dick 1

Big Brother 7 All-Stars
BBQ training sabbatical

Big Brother 6
Round 1: BBQ 1, Ivette 0
Round 2: BBQ 0, Howie 0

Big Brother 5
Round 1: BBQ 1, Cowboy 1, Drew 0
Round 2: BBQ 1, Drew 0, Diane ½
Round 3: BBQ 1, Cowboy 1, CBS 0, Nakomis 0



EXTRACURRICULAR TALLY
Major fights - 2
-7/1 12.22am Jeremy vs Have-nots, Jeremy vs Amanda, Jeremy vs Kaitlin, Jeremy vs Candice, Aaryn vs Candice
-7/11 9.20pm GinaMarie vs Jessie, Jessie vs Kaitlin/Aaryn, Amanda vs most

House meetings - 2
-7/24 8.00pm
-7/26 11.26pm

Blindside evictions - 2
David
Nick

Beyond BB scandals - 1
BigotGate

Literal asshats - 1
Jeremy 7/2 6.55pm

Makeout pairings - 4
Jeremy & Kaitlin
McCrae & Amanda
David & Aaryn
Howard & Candice

Sex events - 8+
(some subject to interpretation)
Jeremy & Kaitlin 6/28 3.21am
McCrae & Amanda 6/29 5.40am
McCrae & Amanda 6/30 1.11am
Jeremy & Kaitlin 7/3 1.20am
Jeremy & Kaitlin 7/8 12.01am
Jeremy & Kaitlin 7/9 11.15pm
McCrae & Amanda 7/18 2.55am and 3.40am
McCrae & Amanda 7/21 off feeds
Too many more to count

Pinkyswears - 11
GinaMarie & Andy 6/30 2:43am
GinaMarie & Nick 7/2 9.57pm
GinaMarie, Jeremy, Nick 7/5 1.02am
GinaMarie & Nick 7/5 8.16pm
GinaMarie & Aaryn 7/7 8.25pm
GinaMarie & Nick 7/8 approx 8pm
GinaMarie & Andy 7/9 6.47pm
GinaMarie & Nick 7/10 3.37am
Andy & Candice 7/11 11.28am
McCrae & Amanda 7/12 1.26am
GinaMarie & Helen 7/12 5.04pm

Dingoisms used by McCrae - 9
- Feedsters
- HOHitis (on CBS)
- Fishies (on CBS)
- This is Big Brother, I'm here for the entertainment
- Slurpydurp
- BBQ Smackdown
- Willie's key-hos & corn-ho
- The parlor
- Revive-a-Hamster

The Soup mentions - 4
- 7/3 Veto guest sarcasm plus McCrae about Howard on premiere
- 7/10 BigotGate
- 7/17 GinaMarie funeral plus Jeremy Diary rant
- 7/24 GinaMarie's froyo

CBS goofs - 20
- BB site shows two premiere times
- Jill? on feeds signup page
- Misspelled Judd's last name
- Feeds launch Y2K type midnight problem
- Peculiar trivia goof
- Misspelled Kaitlin
- Omitted GinaMarie
- Included GinaMarie, wrongly
- Wrong show time on trivia
- Forgot to update vote dates
- Julie said Helen's Chinese on The Talk racism segment
- Wrong show teaser pics
- Your/you're error
- Wrong day on MVP vote
- Typo in Help scroll
- Interesting grammar
- Still wrong day on MVP vote
- Wonky timestamps
- Help scroll still unresoved
- STILL wrong day on MVP vote