This site is about the Big Brother 15 feeds and contains spoilers! It isn't necessarily thorough: it's what I catch and/or what interests me, and it isn't necessarily about who will win, who should win, who's cute or who's horrid. It's about watching hamsters: who's doing what and why. If they aren't entertaining, get rid of 'em! Thanks for encouraging my behavior. Your pal, dingo







POWER STATUS


Judd is Head of Household
Elissa used veto on herself
Aaryn, Kaitlin, GinaMarie are nominated
Spencer, Jessie, Candice, Andy are Have-nots







UPCOMING EVENTS


Next show Thursday 9pm:
Live eviction, HOH comp - east coast feed

Thursday: Have-nots end at midnight
Friday: Have-not comp? Nominations
Saturday: Veto comp







BB DRINKING GAME


Take a swig whenever Candice & Howard separate (we need to dry out a bit)









BIG BROTHER SEASONS



Amazon DVDs BB4 - BB3

Amazon Instant Video BB15
- BB14
- BB13
- BB12
- BB11
- BB10
- BB9
- BB8


iTunes BB15 -
BB14
- BB13
- BB12
- BB11
- BB10
- BB9
- BB7 All-Stars





BB15 FAQ


Feeds are streamed by CBS - sign up today


Call 877-211-4367 for account help including password reset or to cancel subscription.

CBS shows are Sundays 8pm, Wednesdays 8pm, eviction Thursdays 9pm (changed from Tuesdays, live Wednesdays, Sundays).

Big Brother After Dark is on TVGN for two hours every night starting at midnight/9pm BB time (1 hour later Thursdays), and is censored. Beginning July 19, BBAD runs three hours on Fridays.

Canada runs the TV episodes on Global, and After Dark on Slice, uncensored.

Weeks 1 thru 3: The MVP (Elissa) selected the third nominee, privately, and she didn't have to tell anyone she was MVP. If the MVP's nominee won veto, MVP selected the replacement.

Week 4: The MVP vote was to name the third nominee directly, and Elissa won (lost), again.

Jeremy's tattoo says 'Great spirits have always encountered violent opposition from mediocre minds' (Einstein).

Amanda's tattoo says 'No matter where you go there you are'.

BB15 prizes are the same: $500k for the winner and $50k for 2nd place. Stipend for the others is $1,000 per week (up from $750), including pre-show hotel and jury sequester. Recruits may get more.

The habitat has 65 cameras (up 12) and 98 microphones (same).

The recorded in-house announcements are the voice of producer Don Wollman.






>> >> >>
>>
ALL AMAZON.COM PURCHASES MADE THROUGH THIS LINK HELP SUPPORT THIS SITE
Waffles (Wednesday 7/24)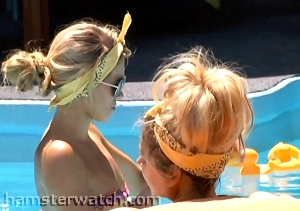 The day kicked off with more of the same: Helen having individual meetings, lots of nothing, and GinaMarie's hair still winning Deathrace 2013 over Aaryn's, barely.. Amanda and Candice made a truce til jury, which could last til then but I wouldn't put money on it

They got a rolly-ball practice apparatus for tomorrow's HOH comp, and I'm taking a little break



Jihad (Tuesday 7/23)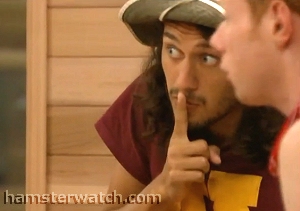 They've covered most every other controversial topic in there, so it was no surprise when religious war broke out today.. apparently Elissa was talking disparagingly about Howard and/or his beliefs, and Andy & McCrae were trying to let her know she was talking too loud.. Elissa developed that into her faith was being discounted or ridiculed, or something, and she started up her "I don't care what people think about me" and "I want to go home" loops again - flashback 7/23 3.15pm for the start of this extra kooky chain of events.. is this kind of bizarre behavior the real Elissa, or is she just trying way too hard to be a controversial and memorable hamster like her sister? We may never know

Also today, Helen told Aaryn she'll be safe this week (reminder: it's only Tuesday).. the camera came out and they took their posey pics, a flock of baby rubber duckies showed up in the pool, and Judd went on a frenzied search for his meds and/or an MVP card with Howard's name on it, depending who you listen to



Onward and upward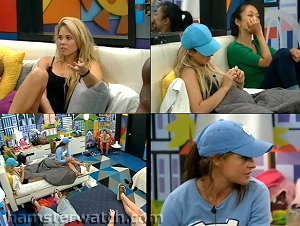 Things kicked up a notch when some of the stories that have been circulating were brought out into the open, sort of, resulting in a house meeting with all of them present except Candice, Amanda and McCrae - flashback 7/23 8.00pm (or earlier) for the buildup, and 8.09pm for the main event

It pretty much came down to Kaitlin (and secret cohorts Howard & Spencer), Elissa and Aaryn reporting various gossipy tidbits and calling each other out, with especially strong undertones of doom between Elissa and Aaryn.. GinaMarie became the voice of reason somehow, Helen seemed indignant that so much was flying around without her say-so, Andy seemed flabbergasted that so much was flying around without his participation, and Jessie changed clothes under a towel in the middle of it all.. the retells raged on and a booze delivery helped them keep raging, including Amanda getting in on it by confronting Candice, Kaitlin & Helen about bring her name into it, twice - flashback 7/23 11.11 and 11.15pm



Pink sneakers (Monday 7/22)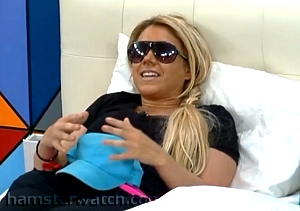 Elissa used her veto on herself, obviously, and GinaMarie went up on the block as the next highest vote-getter in the MVP unpopularity poll

GinaMarie, clutching Nick's cap, was full of indignant bravado when the feeds returned, saying she went there to play, she takes it as a compliment, she can't wait for her interview with Julie "to blow shit up", she's got a good life and good people at home to go back to, and she's got pink sneakers

The tailspin about who the MVP is will continue to spin, making for a fun few days for us.. in other news, Andy went in the pool for the first time, and the bear shirt went missing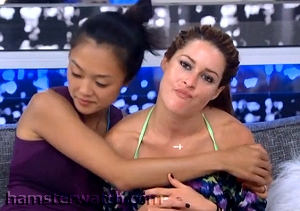 Elissa had a pity party for awhile over the possibility and/or realization that "America" voted her as a nominee.. she didn't seem to appreciate Helen's first comfort hug very much, but a bit later when Judd and Spencer joined Helen's comfort crew, she got sniffly and was a little more receptive - some think the sad and sniffly was actoring

Other than a marathon nap, McCrae and Amanda stayed mostly upright and mostly mingling, separately, until they took a bubblebath that was almost reminiscent of Boogie and Erika - bleah.. GinaMarie also slept most of the day & evening, waking up with more attitude, but Jessie talked her down and we didn't have any more pink sneakers moments.. the rest of the night was the usual alliance making, breaking, trashtalking, and waffling, until a late night spontaneous cinnamon challenge - Aaryn, Jessie and Judd spewed clouds, but GinaMarie completed it successfully, twice!

As always, you don't have to take my word for any of this: get the feeds
to watch everything as it unfolds, now open to Canadians too! The $26.99 season pass option ends Monday - after that the $9.99 per month plan will remain available.. remember to click "previous Hamsterwatch episode" at the top of any page to see what came before.. feel free to click the Amazon.com banner up there for any of your Amazon purchases anytime



Ratings - Holy Wacky Wars edition
Ratings are Tuesday's, based on entertainment value



They still aren't giving them much booze, but at least they're delivering it when needed. Bonus points for whoever picked out the chiming laundry machine. No matter how heated, loud, or confusing the discussion in the backyard, the little 'la la la la' song pops up without notice, making everything that much more comical. Most of us, including myself, still can't decide if we love or hate this cast and this season. If nothing else, it's unique - let us count the ways.
PS We could really use some real Diaries like the old days to help us sort out who's really planning what and who's really playing whom.






NOMINATED
I don't think any hamster has gone from ignore to ups before on this page, but watching her slow burn and frustration during the house meeting was the best of the best. Also, despite all the past horrors she's said, she does come up with some good lines. Saying that GinaMarie's burp smelled like Christmas after Monday night's cinnamon challenge was a line for the ages.






She's the last one I'd have expected to sit out a house meeting/argument, but she made up for it later by stomping up to the hammock group, mouthing off about balls, figuratively dropping her mic, and stomping off again. Only to return a couple minutes later and plopping down on the hammock for round 2! That's what you call an encore.






So much is going on lately that he's not a part of, I think it's making him lose his mind a bit more than the rest of them. Just a bit.






Like Amanda, she missed the main event but inserted herself into it after the fact anyway. She's gone from being Howard's drapery to being Public Enemy #1 for both Judd and Amanda? I missed something there, but we know she likes to stir things up so it's not surprising she's being targeted. Ups for showing up for afternoon bikini hour in winter-wear, especially since it was pink footie jammies, and for wearing them all day and all night.






Won: Sit out 1 veto comp
USED VETO ON SELF
In one short day, she went after Andy and McCrae, of all people, over a very obvious (and repeatedly explained) misunderstanding, and she started a holy war over it. Then she went after Judd, got them all running in circles, and pretty much sealed her fate out here as the resident wacko - and we have a lot to choose from this year! The prophecy has been fulfilled.






NOMINATED
Everlasting ups for the wonder that lives on top of her head, and the fluidity with which it completely changes its form every few minutes. Also for continuing to harp on how 'the pretty ones' are being targeted, and for being the voice of reason during all the various dramaramas - nobody saw that coming.






Won: 2 night 8pm curfew
I liked her better when she had to go to bed at 8pm.






I still can't listen to his know-it-all monotone for long, but I did catch a bit of Monday night's sermon for Candice when he was talking about how he believes a wife should be subservient to her husband. That's all well and good if that's how a couple chooses to live, consenting adults etc, but Candice wasn't so sure. I have to wonder if something like that came up before the feeds: it could explain a lot about Amanda's antagonism towards him. A very lot.






Easy ups for just happening to be in the midst of the action again, and for nonchalantly changing clothes under a towel while nearly all the hamsters were having their meeting around her. And it isn't even her room! She's a Have-not this week.






Won: 24 hour solitary
HEAD OF HOUSEHOLD
He's had a rough couple of days but that's what happens when the HOH doesn't decree who they should all vote for, and lets everyone else use his room. Amanda even wore his HOH robe out to the backyard Tuesday night - who does that? The poor guy has had to mingle with the panic-stricken hamsters who are all needing guidance, and he's not giving them much. You gotta love it.
PS He wrote a very nice blog, linked below, not counting the there/their/they're mixups. (That made me miss DogDave more.)






NOMINATED
Easy ups again for being one of the instigators of the house meeting, always a fan favorite, and for quickly reinforcing secret alliance secrecy with Spencer and Howard before facing everyone about secret alliance suspicions. If that wasn't enough, her line about Elissa going on a 'weird, comfortable rampage with everyone' summed it up perfectly.






Won: $5,000
Ups for nearly everyone but my buddy, what's wrong with this picture? As he well knows, I'm in it for the entertainment, and a house meeting and resulting frenzy is about as good as it gets. But he didn't participate and that's fine: it can't hurt his game to stay uninvolved in such things. Amanda can't stay uninvolved, and that's good for McCrae too: she's like his big mouthed shield in there. So in fairness, he's stuck at neutral for now, and he'll be the first to understand why.






Ups for his ridiculously bad poker face, and for his musical talent playing bass runs on the hammock strings. He and Ian Terry could form a hammocksong band, and a new musical trend.






Won: Permanent Have-not pass
He claimed 1/16 Cherokee but he besmirched that heritage regularly, along with many others. He caused and starred in the big Winegate fight, smooched with Kaitlin while laying his hand on Aaryn's leg, wore a diaper, and mistakenly boasted he'd win every comp. He was a boy in a man's body, but his tattoos were nicer looking than most heavily tatted hamsters' have been. He'll be most remembered for being the asshat of BB15.





Won: Nothing
He came in saying he hoped for stardom but it probably won't happen as a result of this show. Overnighters got to know his blue hoodie & cap well, and he was usually the last one to go to bed. That's usually good strategy but it didn't help him. The over-the-top character he played in pre-season interviews gave him a rough start with most, but he didn't stick long enough for us (me anyway) to get to know what he's really about.





Won: Nothing
He didn't bring much to the feeds and he seemed oblivious about how the show works, but those types are the ones who get blindsided and we always like to see that. The Aaryn & David Comedy Show was fun for a minute but all the controversy she fed took the fun out of that, so it's just as well he got gone early. Back to the beach and watching BB on the couch with mom.







Linking to any page here is fine but please do not repost any content from this site (or any other) without permission, and do not repost or hotlink to any images


!! THIS MEANS YOU !!




Feed signups help me
keep this site going
Thank you!






VIEWER VOTE


MVP polls are closed

What supplement should Have-nots get?
Brussel sprouts & bananas
Raisins & ramen
Mushrooms & marmalade
Polls are closed

Currently: Macaroni and mangoes







RATINGS WATCH


Wednesday's show won the hour with 2.2 rating, 8 share, and 6.30 million viewers, ahead of America's Got Talent recap show with 1.6/5/6.63, MasterChef rerun on FOX with 1.2/4/3.12, and The Middle and Suburgatory reruns on ABC with 0.8/3/3.54 and 0.6/2/2.52 respectively.





I can't recommend this show highly enough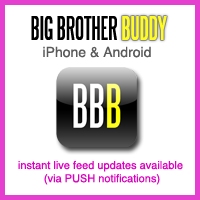 Big Brother Buddy mobile app
Available for Android or iPhone/iPad



Clicky: caps sorted by day - all caps







NEWS & UPDATES
HOHs: McCrae, Aaryn, Helen, Judd
MVPs: Elissa, Elissa, Elissa, viewers
Veto wins: McCrae, Jeremy, Kaitlin, Elissa
Evictions: David 7-5-0; Nick 7-4-0; Jeremy 9-1-0

Jeff Schroeder will be on The Bold and the Beautiful on August 27.

Feeds were opened for Canada on July 10! Sign up now
to get up to date before things get even crazier! All subscriptions include flashback and mobile access for most smartphones and some tablets, including iPads.

Bigotgate oozed farther beyond our insulated BB world more than any prior scandal, going all the way to TMZ, CNN, The New York Times, and international news & media outlets. Aaryn Gries and GinaMarie Zimmerman were fired from real world jobs as a result of bigoted remarks on the BB15 feeds, Aaryn from a modeling contract and GinaMarie from her pageant company. Spencer's employer, Union Pacific, issued a statement about not condoning some of his remarks (he is a union employee).

Evel Dick Donato's Dick at Night show is back this summer on Vimeo, and he'll have special guests, former hamsters, plus a Catladies Corner segment with @Clio_the_Leo and @Catvanzyl!

Big Brother Australia starts up again July 28.

Big Brother UK kicked off June 13 with Emma Willis hosting. This year had twins playing as one, a mother/daughter playing separately, and an actor/mole who's only there was to mess with the hamsters. Watch on YouTube.

Big Brother Africa is also underway - the official site has lots of video highlight clips.



Donations via Paypal are gratefully accepted!

If the button doesn't work, Paypal to hamster (at) neonpages (dot com)

Thanks for your support!



BBQ Smackdown Scorecard

Big Brother 14
Round 1: BBQ ½, Dan 0

Big Brother 13
Round 1: BBQ ½, Adam ½, Rachel 0
Round 2: BBQ ½, Adam 0
Round 3: BBQ 1, Rachel 0

Big Brother 12
Round 1: BBQ ½, Brendon 0
Round 2: BBQ 2, Britney 0, Lane 0
Round 3: BBQ 1, Lane 0, CBS 0

Big Brother 11
Round 1: BBQ 0, Jeff 0
Round 2: BBQ 0, Jeff ½
Round 3: BBQ ½, Kevin 0, Michele 0

Big Brother 10
No title events


Big Brother 9 Winter Edition
Round 1: BBQ ½, Ryan 0
Round 2, BBQ ½, Adam 0
Round 3, BBQ ½, Ryan 0

Big Brother 8
Round 1: BBQ 1, Dick 0
Round 2: BBQ ½, Zach 0
Round 3: BBQ 0, Dick 1

Big Brother 7 All-Stars
BBQ training sabbatical

Big Brother 6
Round 1: BBQ 1, Ivette 0
Round 2: BBQ 0, Howie 0

Big Brother 5
Round 1: BBQ 1, Cowboy 1, Drew 0
Round 2: BBQ 1, Drew 0, Diane ½
Round 3: BBQ 1, Cowboy 1, CBS 0, Nakomis 0



EXTRACURRICULAR TALLY
Major fights - 2
-7/1 12.22am Jeremy vs Have-nots, Jeremy vs Amanda, Jeremy vs Kaitlin, Jeremy vs Candice, Aaryn vs Candice
-7/11 9.20pm GinaMarie vs Jessie, Jessie vs Kaitlin/Aaryn, Amanda vs most

House meetings - 1
-7/24 8.00pm

Blindside evictions - 2
David
Nick

Beyond BB scandals - 1
BigotGate

Literal asshats - 1
Jeremy 7/2 6.55pm

Makeout pairings - 4
Jeremy & Kaitlin
McCrae & Amanda
David & Aaryn
Howard & Candice

Sex events - 8+
(some subject to interpretation)
Jeremy & Kaitlin 6/28 3.21am
McCrae & Amanda 6/29 5.40am
McCrae & Amanda 6/30 1.11am
Jeremy & Kaitlin 7/3 1.20am
Jeremy & Kaitlin 7/8 12.01am
Jeremy & Kaitlin 7/9 11.15pm
McCrae & Amanda 7/18 2.55am and 3.40am
McCrae & Amanda 7/21 off feeds
Too many more to count

Pinkyswears - 11
GinaMarie & Andy 6/30 2:43am
GinaMarie & Nick 7/2 9.57pm
GinaMarie, Jeremy, Nick 7/5 1.02am
GinaMarie & Nick 7/5 8.16pm
GinaMarie & Aaryn 7/7 8.25pm
GinaMarie & Nick 7/8 approx 8pm
GinaMarie & Andy 7/9 6.47pm
GinaMarie & Nick 7/10 3.37am
Andy & Candice 7/11 11.28am
McCrae & Amanda 7/12 1.26am
GinaMarie & Helen 7/12 5.04pm

Dingoisms used by McCrae - 9
- Feedsters
- HOHitis (on CBS)
- Fishies (on CBS)
- This is Big Brother, I'm here for the entertainment
- Slurpydurp
- BBQ Smackdown
- Willie's key-hos & corn-ho
- The parlor
- Revive-a-Hamster

The Soup mentions - 4
- 7/3 Veto guest sarcasm plus McCrae about Howard on premiere
- 7/10 BigotGate
- 7/17 GinaMarie funeral plus Jeremy Diary rant
- 7/24 GinaMarie's froyo

CBS goofs - 19
- BB site shows two premiere times
- Jill? on feeds signup page
- Misspelled Judd's last name
- Feeds launch Y2K type midnight problem
- Peculiar trivia goof
- Misspelled Kaitlin
- Omitted GinaMarie
- Included GinaMarie, wrongly
- Wrong show time on trivia
- Forgot to update vote dates
- Julie said Helen's Chinese on The Talk racism segment
- Wrong show teaser pics
- Your/you're error
- Wrong day on MVP vote
- Typo in Help scroll
- Interesting grammar
- Still wrong day on MVP vote
- Wonky timestamps
- Help scroll still unresoved