This site is about the Big Brother 15 feeds and contains spoilers! It isn't necessarily thorough: it's what I catch and/or what interests me, and it isn't necessarily about who will win, who should win, who's cute or who's horrid. It's about watching hamsters: who's doing what and why. If they aren't entertaining, get rid of 'em! Thanks for encouraging my behavior. Your pal, dingo







POWER STATUS


Howard evicted 7-1-0
GinaMarie is Head of Household
Candice and Jessie are nominated
Nobody is Have-not







UPCOMING EVENTS


Next show Sunday 8pm:
HOH comp, mega girlfight, nominations - east coast feed

Saturday: MVP nominee, veto comp
Sunday: Photo booth
Monday: Veto meeting







BB DRINKING GAME


Take a swig whenever McCrae says 'I dunno'









BIG BROTHER SEASONS



Amazon DVDs BB4 - BB3

Amazon Instant Video BB15
- BB14
- BB13
- BB12
- BB11
- BB10
- BB9
- BB8


iTunes BB15 -
BB14
- BB13
- BB12
- BB11
- BB10
- BB9
- BB7 All-Stars





BB15 FAQ


Feeds are streamed by CBS - sign up today


Call 877-211-4367 for account help including password reset or to cancel subscription.

CBS shows are Sundays 8pm, Wednesdays 8pm, eviction Thursdays 9pm (changed from Tuesdays, live Wednesdays, Sundays).

Big Brother After Dark is on TVGN for two hours every night starting at midnight/9pm BB time (1 hour later Thursdays), and is censored. Beginning July 19, BBAD runs three hours on Fridays.

Canada runs the TV episodes on Global, and After Dark on Slice, uncensored.

Weeks 1, 2, 3: The MVP (Elissa) selected the third nominee, privately, and she didn't have to tell anyone she was MVP. If the MVP's nominee won veto, MVP selected the replacement.

Weeks 4, 5, 6: The MVP vote was to name the third nominee directly. If the viewer pick was HOH or and HOH nominee, the third nominee spot went to next highest vote getter.

BB15 prizes are the same: $500k for the winner and $50k for 2nd place. Stipend for the others is $1,000 per week (up from $750), including pre-show hotel and jury sequester. Recruits may get more.

The habitat has 65 cameras (up 12) and 98 microphones (same).

The recorded in-house announcements are the voice of producer Don Wollman.






>> >> >>
>>
ALL AMAZON.COM PURCHASES MADE THROUGH THIS LINK HELP SUPPORT THIS SITE
Fight night hangover (Friday 8/2)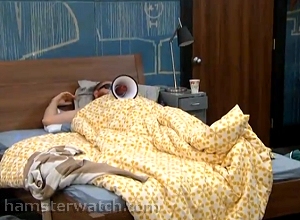 GinaMarie held her pre-nom meetings, even though she'd decided on Jessie & Candice even before last night's fights broke out.. Spencer brought and used his megaphone for his meeting, making it extra special.. once again, feeds returned as they were still giving each other their hugs, with Judd apologizing for laughing during the oh-so-serious ceremony, and then Spencer's megaphone was sadly put in the pantry with the key box.. Jessie & Candice were predictably bummed, and Helen took advantage of that by running her teary loops to Candice, who ended up comforting Helen, further illustrating how Helen is the master of the social game in there, as of now anyway

Many of them napped much of the day and evening and who's the MVP paranoia began to kick in on cue.. several activities were threatened including McCrae & Amanda bachelor/ette parties and GinaMarie's roots maintenance, but only the contest for the

highly

somewhat coveted fourth spot at Helen's BBQ party happened, and it was faboo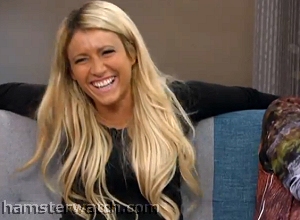 The assignment was to do the best GinaMarie impersonation, and the judges were GinaMarie, Candice, Andy, and Aaryn.. the contestants were Spencer, Amanda, Helen, McCrae, Jessie, and Elissa, and they were given a supply of GinaMarie's (and Nick's) gear to choose from.. between their generous use of fake hair, wardrobe, accents, and attitude, they all did a terrific job and a fun time was had by all, especially GinaMarie, who clearly knows how to laugh at herself more than many do - flashback 8/2 9.38pm and/or click to see them all

Titles were as follows: Spencer, most creative; Amanda, best accent; Helen, best hair; and Elissa, best attitude.. finalists McCrae and Jessie did rock/paper/scissors which McCrae won, but he opted for the runner-up prize of another night in HOH room (at Amanda's urging), so Jessie will attend Helen's BBQ party after all - ironic, since that's what set off all of last night's fights

They were told they'd be woken early in the morning so most turned in early.. they'll do the MVP reveal and name draws, and then they may sit around for hours again til the actual veto comp starts.. in other news, credible sources are saying Thursday's show was actually taped a few hours early with a stunt audience - that would explain the extended trivia all day and possibly the extended fishies during the overnight fights as well, if they were referring to the early taping between slime slinging



Roll another one (Thursday 8/1)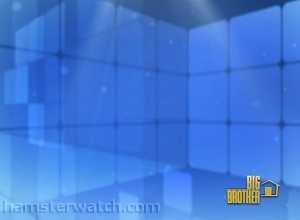 Trivia isn't unusual for a Thursday, but today had more than usual.. nothing came from last night's plot hatched by Howard, Candice and Jessie to get Amanda evicted, and Howard walked the plank on a 7-1-0 vote, with the 1 being Spencer voting to evict Candice

The CBS show included phrases like "Helen led a smear campaign," as well as Candice calling Aaryn a "redneck" and "grab your rebel flag, black people on the block".. they cleanly cut Candice's two "goddamns" from her house meeting, and they also deleted Elissa doing her bendy during that, sadly - it was the best part.. Judd's family and hometown segment were superb, Julie wore what looked like a 7th grade home ec project with Deathrace 2013 hair, and she offered up what were probably the first BB baby announcements on the air.. there are no Have-nots for the week even though they had a food vote, and next week is a double eviction with a full week's cycle in one show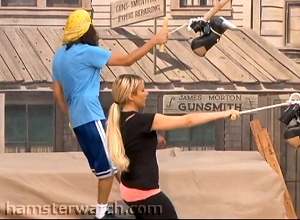 GinaMarie won the HOH log-rolly endurance comp after a week of being Have-not, beating McCrae at approx one hour and 10 minutes.. it was a tough comp and tough on the apparatus: the coating of the log peeled off where they walked.. most of the drops were good cheerleaders, so that's something.. the first three off each got a box: Spencer got a megaphone for 24 hours, Candice got $5,000, and Helen got a BBQ party for four

As always, you can get the feeds
to watch everything unfold as it happens.. remember to click "previous Hamsterwatch episode" at the top of any page to see what came before, and feel free to click the Amazon.com banner up there for any of your Amazon purchases anytime



Fight night galore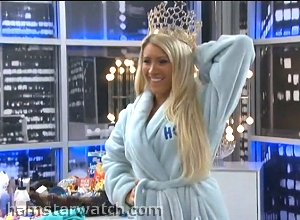 Everything was going along great, GinaMarie was reveling and retelling her victory as she read her letter and showed off her new sweat pants, her ultimate grand supreme pageant crown, fringed dance/pageant outfit, hair dye (no bleach - oops) and junk food, offering her room to McCrae & Amanda for the night, and then all hell broke loose

Helen invited Elissa and Aaryn to her BBQ party (she invited GinaMarie but she declined because she doesn't eat dinner), and announced that she'd hold a contest for the fourth spot.. next thing we know, Jessie's crying because it's unfair and everyone's against her.. that led to Amanda going off on her about last night's flipping plot, and then on Candice, and Amanda brought up the alleged "fuck the shit out of you" comment by Howard, which sent Candice into a tailspin

That was followed by a short round of Helen versus Candice, and then things really rolled into the sewer when the backyard opened and Amanda and Jessie went at it with lower blows than we've ever had before.. only one part of that was heard on feeds, and then we had either fishies or the HOH room as the two of them raged on for at least an hour, with only "you're a psychopath" heard from Amanda when someone opened the door.. at one point Candice went down to join the fight, wearing the fringe (Amanda, Aaryn, and GinaMarie had all tried it on already)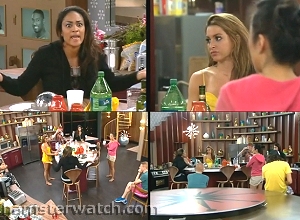 Through it all, Elissa was doing her loud loony character, talking about production people by name and similar fishies-bringing things, and getting involved in things that didn't concern her.. Helen did her Helen thing.. Spencer held his few convos with his megaphone, including whispering through it, which was hilarious.. Judd tried to enjoy his booze after coming off of Have-not.. and feedsters went ballistic over being blocked the biggest and longest fight we've ever had.. GinaMarie had settled on Jessie & Candice for her nominees before the whole thing even started, so it was all extra ridiculous

Most of the fight seemed to be about Candice and Jessie each denying their involvement in Howard's plan last night to flip the vote to evict Amanda, as well as Howard's alleged comments to Amanda.. once again, nobody knows what he said or what his intent was, but an interesting flashback turned up: 8/1 5.02am F2 he said to Candice "we gonna find a chick, we gonna fuck the shit out of her" and he laughs.. he seemed to be talking about him and his boys, and she didn't like it at all, but the fact that he used the same words as Amanda claims is rather interesting

Your fight flashbacks are all 8/2: 12.29am, 1.16am, and 1.55am



BBQ Smackdown Round 1: Victory Without Even Trying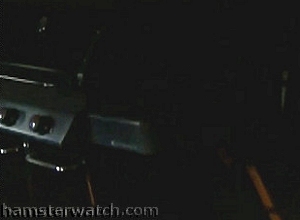 The upside of all this is an unprecedented entry onto the BBQ Smackdown scoreboard.. the metal monster hasn't even made its formal debut yet, but the mere mention of it set off the biggest fight we've ever seen on the feeds, thanks to Helen's careful orchestration

Final score: BBQ 1, Helen 1, Jessie 0

Note: please forgive the poor quality cap, it's a backstage candid snap of the clanking contraption lying in wait, caught by feedster paparazzi (me) awhile back when a camera operator happened to run past it.. we probably weren't supposed to see it, but I guess the growling grill was itching to tease us with the awesome power it's been storing up for this season.. BBQ Smackdown season ticket holders are going berserk after its stunning absentee victory



Ratings - Ultimate Grand Supreme edition
Ratings are Thursday's, based on entertainment value, sort of, except all participants in Friday's BBQ Party contest have received a complimentary upgrade
VTE = Voted to evict



The biggest, longest, dirtiest fight we've ever had, and most of it was blocked. Why? Also if there's no Have-nots, why did they have a food vote last week?






No vote (HOH)
For once, she's relatively blameless. That's different - it probably won't last. Also, she apologized to Candice at one point tonight for her derogatory comments. Maybe it wasn't heartfelt, maybe she didn't accept blame, but it's a start. Baby steps.






No vote (nominee)
Once again, she's not in jeopardy, but she raised a stinkier stink than GinaMarie's slop farts. Her points were valid, at least as far as last night's attempts to flip the vote, but her delivery is horrific.
Friday: Upgraded to neutral for a good showing in the GinaMarie impersonation contest, especially in the meow-meow division.






VTE Howard
Cumulative ups because as his pop-up skills have faded, his comedy value has increased. He had a few good lines amidst all the chaos tonight but alas, I lost them. My favorite Twitter hashtag lately is #AndyHoldingThings started by @IdolKnights. Once you start noticing how many things he holds, it'll freak you out.






Won: $5,000
No vote (nominee)
NOMINATED
She's not cut out for Big Brother and she doesn't understand how to play it, and she proves it a little more every day. It's fun at first but after 42 days, enough is enough. If she hadn't kept denying her involvement in Wednesday night's plotting, most of Thursday night's ugly could have been avoided, and acting like she's being victimized because of it is just asinine. She'll be targeted again this week and it'll likely get ugly again. Still.






Won: Sit out 1 veto comp
VTE Howard
I can almost appreciate her random looniness but she's got a nasty streak that keeps showing itself and taking some of the fun out of it. What's she doing here anyway? Figure Rachel's coaching probably wasn't about social game, but Elissa's equally lousy at comps.
Friday: Upgraded to ups for a good showing in the GinaMarie impersonation contest, especially in the fake-on-fake hair division.






VTE Howard
HEAD OF HOUSEHOLD
Ups for a winning a difficult comp, and especially for doing it after a week of Have-not. Her ongoing contributions to Bigotgate aside, she's a unique character who bring life into the habitat with her weird brand of zany and we kind of need that, especially this season.
Friday: She's already at ups, but she was an extra good sport as they impersonated her.






Won: 2 night curfew, BBQ party
VTE Howard
I'm not a fan of her wanting to orchestrate everything on the surface while manipulating them without their knowledge, mostly because she just talks too much as she's doing it. But I have to give her credit for launching BBQ Smackdown 2013 before the grill's even been lit.
Friday: Upgraded to ups for a good showing in the GinaMarie impersonation contest, especially in the dark roots division. Nevermind that she was competing for a spot at her own party - huh?






VTE Howard
NOMINATED
See Candice, with a PS upgrade to neutral because she lasted a lot longer on the rolly than most of them and it's true, she didn't get credit for that from them.
Friday: Upgraded again all the way to ups for a winning performance plus encore in the GinaMarie impersonation contest.






Won: 24 hour solitary
VTE Howard
I loved his hometown segment and all their support for Team Judd! The poor guy just wanted to enjoy his food and beer after a rough week, and World War 3 broke out around him. I think Helen's the one who's made him Public Enemy #1, likely because she knows he's a lot smarter than he appears and he's a real threat to her game, and I wish she'd stop that.






Won: $5,000
VTE Howard
He did a great job on the rolly but couldn't outlast GinaMarie, and who saw that coming? Still a valiant effort and I always like to reward the endurancers with an up arrow - I sure as hell couldn't do that. I really don't like the position he's let himself fall into thanks to Amanda, and now he's starting to pay the price both within the game and within their relationship, as the HOH room as honeymoon suite turned into a greenlight argument pit instead when they finally went to bed.
Friday: Already at ups, but a good showing in the GinaMarie impersonation contest, especially in the made-up words and wardrobe malfunction divisions.






Won: 24 hour megaphone
VTE Candice
How silly is that megaphone, especially when he's whispering into it? That one should have been more than a 24 hour deal, but it was a terrific idea by someone who values comic absurdity, as I do. Hopefully Elissa will stop trying to hog it on Friday before it ends at nominations.
Friday: He's already at ups, but a good showing in the GinaMarie impersonation contest, especially in the eating tea with a spoon division. We'll overlook the genital piercing division this time.






Won: Nothing
He was eloquent and animated in Diary but we didn't get that guy on the feeds. Instead he mostly laid around with Candice, held Bible study in the coach seats, and prayed in the photo booth. He isolated Candice and himself, killing both of their games, and their combined lack of awareness foiled any chance for his 11th hour save plan to succeed. He gave sudden speeches that few understood, but he wore Candice's tassel earrings and Judd's crown equally well.
My pre-season prediction:
Most likely to parannoy, eventually
Fail - others freaked out for no reason more than he did






Won: Nothing
She was a caboose for the mean girl train and when she wasn't straddling Jeremy, she was laying around making out with him, including in her bestie's HOH bed whenever Aaryn stepped away. She took being widowed better than GinaMarie, but she had several days to prepare for it and seemed almost proud of making 'Big Brother history' by using her veto. Otherwise she brought eyebrow adventures, and apologies when she mouthed off, which is more than some.
My pre-season prediction:
Most likely to be intimidated, taken advantage of, and blindsided
Fail, although Jeremy's eviction did blindside her. Taken advantage of is subjective.






Won: Permanent Have-not pass
He claimed 1/16 Cherokee but he besmirched that heritage regularly, along with many others. He caused and starred in the big Winegate fight, smooched with Kaitlin while laying his hand on Aaryn's leg, wore a diaper, and mistakenly boasted he'd win every comp. He was a boy in a man's body, but his tattoos were nicer looking than most heavily tatted hamsters' have been. He'll be most remembered for being the asshat of BB15.
My pre-season prediction:
Most likely to get in a fight
Check.





Won: Nothing
He came in saying he hoped for stardom but it probably won't happen as a result of this show. Overnighters got to know his blue hoodie & cap well, and he was usually the last one to go to bed. That's usually good strategy but it didn't help him. The over-the-top character he played in pre-season interviews gave him a rough start with most, but he didn't stick long enough for us (me anyway) to get to know what he's really about.
My pre-season prediction:
Most likely to namedrop and be generally annoying
Subjective, but I'll take it.





Won: Nothing
He didn't bring much to the feeds and he seemed oblivious about how the show works, but those types are the ones who get blindsided and we always like to see that. The Aaryn & David Comedy Show was fun for a minute but all the controversy she fed took the fun out of that, so it's just as well he got gone early. Back to the beach and watching BB on the couch with mom.
My pre-season prediction:
Most likely to climb on stuff and be told 'Stop that!'
Check, first night of feeds.







Linking to any page here is fine but please do not repost any content from this site (or any other) without permission, and do not repost or hotlink to any images


!! THIS MEANS YOU !!




Feed signups help me
keep this site going
Thank you!






VIEWER VOTE


MVP polls are closed

What supplement should Have-nots get?
Mung beans & mackerel
Parsnips & pumpernickel
Figs & falafel
Polls are closed







RATINGS WATCH


Thursday's live show won the hour with 2.5 rating, 8 share, and 7.04 million viewers, ahead of The Winner Is... on NBC with 0.9/3/4.15, Motive on ABC with 0.8/3/4.48, and New Girl and The Mindy Project reruns on FOX with 0.7/2/1.82 and 0.6/2/1.55 respectively.





I can't recommend this show highly enough

Click for exclusive interview with executive producer
J Holland Moore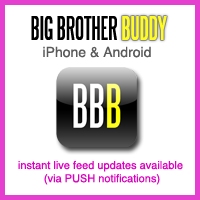 Big Brother Buddy mobile app
Available for Android or iPhone/iPad



Clicky: caps sorted by day - all caps







NEWS & UPDATES
HOHs: McCrae, Aaryn, Helen, Judd, Aaryn, GinaMarie
MVPs: Elissa, Elissa, Elissa, viewers, viewers, viewers
Veto wins: McCrae, Jeremy, Kaitlin, Elissa, Spencer
Evictions: David 7-5-0; Nick 7-4-0; Jeremy 9-1-0; Kaitlin 9-0-0; Howard 7-1-0

Evictee Twitters: @davidgirton2, @nickuhas, @JeremyDMcG1, @twitRless_kb, @howardoverby1

Congrats to BB11 Natalie (Martinez) Majeran & hubby on the August 1 birth of their son Christian Scott!

Feeds are open for USA and Canada! Sign up now
to get up to date before things get even crazier! All subscriptions include flashback and mobile access for most smartphones and some tablets, including iPads.

Jeff Schroeder will be on The Bold and the Beautiful on August 27. Hayden Moss is on the next Survivor, and Rachel & Brendon will return to The Amazing Race.

Bigotgate oozed farther beyond our insulated BB world more than any prior scandal, going all the way to TMZ, CNN, The New York Times, and international news & media outlets. Aaryn Gries and GinaMarie Zimmerman were fired from real world jobs as a result of bigoted remarks on the BB15 feeds, Aaryn from a modeling contract and GinaMarie from her pageant company. Spencer's employer, Union Pacific, issued a statement about not condoning some of his remarks (he is a union employee).

Evel Dick Donato's Dick at Night show is back this summer on Vimeo, and he'll have special guests, former hamsters, plus a Catladies Corner segment with @Clio_the_Leo and @Catvanzyl!

Big Brother Australia started up again July 29, and Big Brother UK kicked off June 13.



Donations via Paypal are gratefully accepted!

If the button doesn't work, Paypal to hamster (at) neonpages (dot com)

Thanks for your support!



BBQ Smackdown Scorecard

Big Brother 15
Round 1: BBQ 1, Helen 1, Jessie 0

Big Brother 14
Round 1: BBQ ½, Dan 0

Big Brother 13
Round 1: BBQ ½, Adam ½, Rachel 0
Round 2: BBQ ½, Adam 0
Round 3: BBQ 1, Rachel 0

Big Brother 12
Round 1: BBQ ½, Brendon 0
Round 2: BBQ 2, Britney 0, Lane 0
Round 3: BBQ 1, Lane 0, CBS 0

Big Brother 11
Round 1: BBQ 0, Jeff 0
Round 2: BBQ 0, Jeff ½
Round 3: BBQ ½, Kevin 0, Michele 0

Big Brother 10
No title events


Big Brother 9 Winter Edition
Round 1: BBQ ½, Ryan 0
Round 2, BBQ ½, Adam 0
Round 3, BBQ ½, Ryan 0

Big Brother 8
Round 1: BBQ 1, Dick 0
Round 2: BBQ ½, Zach 0
Round 3: BBQ 0, Dick 1

Big Brother 7 All-Stars
BBQ training sabbatical

Big Brother 6
Round 1: BBQ 1, Ivette 0
Round 2: BBQ 0, Howie 0

Big Brother 5
Round 1: BBQ 1, Cowboy 1, Drew 0
Round 2: BBQ 1, Drew 0, Diane ½
Round 3: BBQ 1, Cowboy 1, CBS 0, Nakomis 0



EXTRACURRICULAR TALLY
Major fights - 4
-7/1 12.22am Jeremy vs Have-nots, Jeremy vs Amanda, Jeremy vs Kaitlin, Jeremy vs Candice, Aaryn vs Candice
-7/11 9.20pm GinaMarie vs Jessie, Jessie vs Kaitlin/Aaryn, Amanda vs most
-7/30 12.30pm Amanda vs Spencer
-8/2 12.29am, 1.16am, 1.55am Amanda vs Jessie, Amanda vs Candice, Helen vs Candice, mega Amanda vs Jessie

House meetings - 4
-7/24 8.00pm
-7/26 11.26pm
-7/30 2.55pm
-7/31 12.15am

Blindside evictions - 2
David
Nick

Beyond BB scandals - 1
BigotGate

Literal asshats - 1
Jeremy 7/2 6.55pm

Makeout pairings - 4
Jeremy & Kaitlin
McCrae & Amanda
David & Aaryn
Howard & Candice

Sex events - 8+
(some subject to interpretation)
Jeremy & Kaitlin 6/28 3.21am
McCrae & Amanda 6/29 5.40am
McCrae & Amanda 6/30 1.11am
Jeremy & Kaitlin 7/3 1.20am
Jeremy & Kaitlin 7/8 12.01am
Jeremy & Kaitlin 7/9 11.15pm
McCrae & Amanda 7/18 2.55am and 3.40am
McCrae & Amanda 7/21 off feeds
Too many more to count

Pinkyswears - 12
GinaMarie & Andy 6/30 2:43am
GinaMarie & Nick 7/2 9.57pm
GinaMarie, Jeremy, Nick 7/5 1.02am
GinaMarie & Nick 7/5 8.16pm
GinaMarie & Aaryn 7/7 8.25pm
GinaMarie & Nick 7/8 approx 8pm
GinaMarie & Andy 7/9 6.47pm
GinaMarie & Nick 7/10 3.37am
Andy & Candice 7/11 11.28am
McCrae & Amanda 7/12 1.26am
GinaMarie & Helen 7/12 5.04pm
Judd & Elissa 7/29 2.19pm

Dingoisms used by McCrae - 9
- Feedsters
- HOHitis (on CBS)
- Fishies (on CBS)
- This is Big Brother, I'm here for the entertainment
- Slurpydurp
- BBQ Smackdown
- Willie's key-hos & corn-ho
- The parlor
- Revive-a-Hamster

The Soup mentions
- 7/3 Veto guest sarcasm plus McCrae about Howard on premiere
- 7/10 BigotGate
- 7/17 GinaMarie funeral plus Jeremy Diary rant
- 7/24 GinaMarie's froyo

CBS goofs - 25
- BB site shows two premiere times
- Jill? on feeds signup page
- Misspelled Judd's last name
- Feeds launch Y2K type midnight problem
- Peculiar trivia goof
- Misspelled Kaitlin
- Omitted GinaMarie
- Included GinaMarie, wrongly
- Wrong show time on trivia
- Forgot to update vote dates
- Julie said Helen's Chinese on The Talk racism segment
- Wrong show teaser pics
- Your/you're error
- Wrong day on MVP vote
- Typo in Help scroll
- Interesting grammar
- Still wrong day on MVP vote
- Wonky timestamps
- Help scroll still unresoved
- STILL wrong day on MVP vote
- No signal for 40 minutes 7/27
- Whose/who's error
- Forgot to update after Wednesday show
- 8/1 show: Julie's team forgot to tell her McCrae/Amanda got BB engaged (and BB married)
- Forgot to update after Thursday show