This site is about the Big Brother 14 feeds and contains spoilers! It isn't necessarily thorough: it's what I catch and/or what interests me, and it isn't necessarily about who will win, who should win, who's cute or who's horrid. It's about watching hamsters: who's doing what and why. If they aren't entertaining, get rid of 'em! Thanks for encouraging my behavior. Your pal, dingo







POWER STATUS


Shane is Head of Household
Shane veto'd Ashley
Joe & Frank are nominated
Joe, Ian are Have-not







BB14 DRINKING GAME


Take a swig whenever Dan interrogates someone

If you're on the wagon, try this Healthy alternative by @Staciedertinger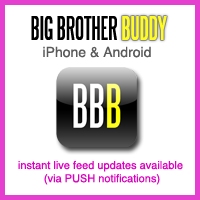 Get the Big Brother Buddy mobile app!
Available for Android or iPhone/iPad






BIG BROTHER PAST SEASONS



Amazon DVDs BB4 - BB3

Amazon Instant View BB14
- BB13
BB12
- BB11
- BB10
- BB9
- BB8


iTunes BB14
- BB13
- BB12
- BB11
BB10
- BB9
- BB7 All-Stars





BB14 FAQ


If you have SuperPass, access mobile feeds by going to real.com/bigbrother on your mobile device's browser. Log in (upper right), select Big Brother, and select Live Feeds from the drop menu. There is no app.

Willie was ejected for head-butting Joe. Threats & verbal attacks are legal - aggressive physical contact is not.

They're calling pre-show sequester 'convention' or 'knitting convention', and they're calling Diary 'the wizard' or 'dairy queen'.

Ashley revealed they wear earpieces for nominations, presumably in case prompting is needed for 'Hamster A, you are safe' and 'Thank you, Hamster B'.

CBS shows are Sundays and Wednesdays at 8pm, and live eviction Thursdays at 9pm.

Big Brother After Dark airs midnight to 3am nightly (1am to 4am Thursdays) on Showtime (SHO2) in USA, and on Slice in Canada at various times - check your local listings.

BB14 prizes are the same: $500k for the winner and $50k for 2nd place. The others still earn $750 a week including pre-show hotel and jury sequester.

The coach of the winner gets $100k. Returning veterans probably get more weekly stipend and/or a flat amount to show up (rumors say $25k).

The habitat has 53 cameras (up one) and 98 microphones (up three).

The recorded in-house announcements are the voice of producer Don Wollman.

All feeds stay on one 'scene' when someone's in Diary.

The Glass House premiered June 18 on ABC and will run for 10 episodes. The winner will get $250,000 - half the usual BB winning amount.

Apparently the glass hamsters go into hotel sequester on weekends - no, I don't know why.

Big Brother Canada premieres February 2013.



Get Team USA Olympics gear
Use code USABDAY for free shipping on orders over $50


>> >> >>
>>
ALL AMAZON.COM PURCHASES MADE THROUGH THIS LINK HELP SUPPORT THIS SITE
Baking with Block Buddies (Wednesday 8/1)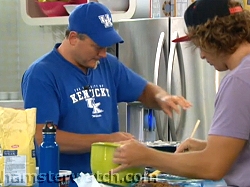 That's what Frank christened it when he helped Joe prepare avocado cheesecake.. he also helped nudge Frank into talking to us about what he was doing, which was helpful since Joe is here to get a cooking show.. Have-not Joe continued to sneak illegal food as he went, sampling each step of the way - @Poohbare93 caught a lick.. he was finally given a warning by Diary, possibly thanks to all of us for being so vigilant - good work, Hamsterwatchers

They were on lockdown all day for tomorrow's apparatus building, which smells like endurance to me.. word to the wise: this would be a very good time to get the feeds
if you haven't yet so you can watch it live, ass-uming they don't feed us fishies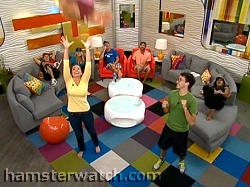 Frank was happy to find something to read this morning: he came out of the bathroom saying he's now an expert on toxic shock syndrome.. later he entertained the troops by carrying various hamsters around the habitat, tossing Ted the bear off the HOH balcony, and putting Danielle in a headlock - between various gametalk and voting conferences, obviously

Kara & JoJo have been sequestered since their evictions, so we could have a Revive-a-Hamster event along with tomorrow's evictee, but all signs point to the coaches having the option to join the game tomorrow for a shot at $500k or to continue coaching their team for $100k if one of their players wins.. Dan & Janelle are already making deals assuming it's a go - Flashback 7/30 11.38pm.. Janelle told Britney she has "negotiated" to be able to see her daughter Violet in the jury house, should she join the game and go there - Flashback 7/30 5.31pm, and see Reality Blurred's article in Links of the Day below.. both had said previously that their original coach contracts clearly said they would not be sent to the jury house to rot if they lost all their players

They got some Play-doh from the staffers who are still shopping the kiddie aisle.. Britney explained the quack scandal: Ashley was attempting to eavesdrop and asked whoever was there to shush, but Ian quacked, leading to speculation about a duck alliance.. they were informed that there'd be no nominee speeches tomorrow, leading them to run wild with the coach untwist - it's no secret to anyone anymore



As Danielle's world turns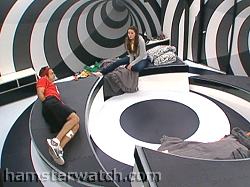 Danielle walked out of HOH in a huff after Janelle told Ashley she'll be good at endurance since she's small.. Wil went after her and she said she's just tired of "some people" not giving her any credit (she's been complaining about Janelle overlooking and/or insulting her for the past few days) - you'd think she'd remember her kindergarten teacher lie and realize they have to settle those types of hissyfits all day, not create them.. Shane stayed upstairs and said not to worry about her.. Dan replaced Wil and she told the story again - he replied that she should stay when trashtalking comes around and listen, face it, rather than running as that shows weakness.. thanks to Rissmeek in Hamsterwatch Chat for this section's title - I'll be using it again

The old Britney showed up for a second with a direct hit after Danielle ran a list of some of her medical problems, including acute renal failure: "So does that mean you're going to die young, or do you just have very expensive medical insurance?".. later Britney ran an interrogation about Danielle's real job, not believing she's a kindergarten teacher.. Danielle stuck with her stupid lie, but her grin gave away to Britney that she was on the right track.. Shane joined, then Frank.. Britney went into a drug rap about the meds she sells, and suddenly Danielle stopped covering up her medical knowledge - Flashback 8/1 10.24pm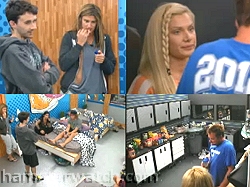 Meanwhile Joe made a pitch to Jenn, and told her that he had "vital info" (presumably reports that Boogie said he'd trade her for Wil if given the chance).. Wil was listening and didn't like what he heard.. the pantry became a conference room for Janelle & Dan, followed by Janelle & Joe, enter Wil who had a small spat with Joe, and then went on to report to Frank & Jenn and assorted others - Flashback 8/1 11.10pm-ish, go quads and stick with them - the habitat imploded, at last

This is why I don't count votes early, especially this season - I'll just wait for Julie.. on top all of that, Janelle had a nip slip - see my adults page if you're not a kid, not at work, and not a prude.. sorry Janelle, but you did try to trick me about going in there this season



Joe bites (Tuesday 7/31)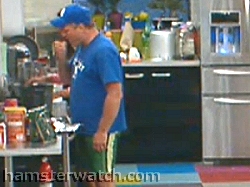 The Have-not chef helped Danielle make dinner and couldn't resist sampling a bit real quick-like - maybe it was force of habit, but he didn't cop to it to anyone.. maybe something will come of it or maybe it won't: in the past we've ranged from no repercussions to an extra day on slop to a penalty vote.. Flashback 7/31 6.53pm F3/4 - on one of those feeds, the camera operator missed the actual bite but definitely knew it happened: he or she jumped to follow Joe as soon as it happened

Shane wrote his tweets and blog and the camera came out for silly poses.. both Janelle and Dan continued planting seeds here and there in their very fertile gardens.. Frank continued campaigning all over town - not necessarily openly campaigning, but getting around a lot more and talking to a lot more of them than he did last week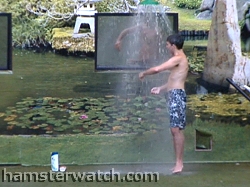 They had a scanty booze delivery but we were mostly fed the gametalk and whisper feeds rather than the sippy crowd.. Janelle and Wil made it up, complete with near-tears from Janelle - she'd announced the talk was going to happen first, and tucked a tissue in her pocket to pull out at the appropriate time

The four coaches continue talking about coming into the game, but most of the newbies don't seem to be hearing it.. all four keep alternating between buddying up with and subtly trashing each other to the newbies too, and they do hear some of that.. although the interest quota was low, it was a busy day and night, and Ian was the only who kept a low profile - even Jenn was spotted in a gametalk convo.. for the record, Ian still hasn't complained about being a Have-not after three weeks of it

Update: Ashley started a tirade later to anyone & everyone who would listen about "Ian was quacking," so he didn't escape scot-free today, after all



Suicide watch (Monday 7/30)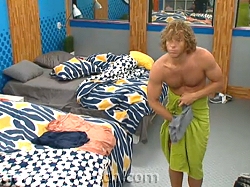 Shane went along with last night's

manipulation

plan and used the veto to save Ashley and put up Frank in her place.. apparently it took Boogie by surprise, but Shane had hinted to Frank that something of the sort could happen.. Shane, Britney, Ashley, Wil, Janelle all held various celebrations, and Frank, Boogie, Jenn held various conferences.. somehow Ian's becoming everyone's scapegoat, apparently due to something from Week 1? I don't know

Please note this is NOT a BB backdoor since Frank wasn't the original target, plus he played for veto - a technicality maybe, but these terms are used incorrectly too often and tossed around too freely these days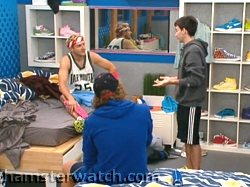 Suicide watch might be a bit extreme, but I have no doubt Danielle will crack a few times before this week is over, and Shane might as well, both from her clingy smothering as well as realizing that he's now utterly destroyed his own game.. Frank told Jenn he's pretty sure it was done to ensure Joe leaving, but that he'll work Danielle hard to make it so

It sounds like Joe gave quite a save-me speech at their meeting.. afterwards he went back to cooking for them, SHOUTING STORIES, and ANNOUNCING IT'S HIS & WIFE SARAH'S NINE YEAR ANNIVERSARY - he wants a media blitz

On Janelle's suggestion, Britney told Shane that he should keep up the fakemance for awhile for their side's sake, at least til the vote.. Shane replied that he's not interested in Danielle, that doesn't want to hurt her, and that she's way too attached to him - Flashback 7/30 5.15pm.. too bad for CBS, who already has them picking out silver patterns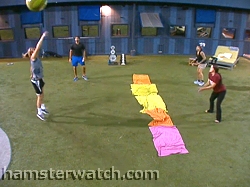 Britney went on a long tirade about her hubby giving her gripper socks once - apparently she didn't like them.. Jenn & Janelle made family dinner - you'd think Joe being on the block would be even more incentive for him to chef them, but I guess not.. volleyball broke out for Showtime after a meager booze delivery, using towels on the ground as a net.. nobody fell into the pool, but they all got crazy for a bit after that, complete with Dan & Janelle playing chase 'n wrestle after chess, Frank helicoptering Danielle and Britney, group modern dance, and whirlpools in the pool

All the coaches have mentioned being tipped off by Diary about coming into the game - as if they didn't know already, since every twist ends at Week 4, but they've made it as official as anything can be until Julie says so.. Janelle said they might let her have Violet in the jury house, since she can't spill any secrets - Flashback 7/30 5.31pm and/or 11.38am

Meanwhile there's unrest in the ranks: Wil had a fit when Janelle told him she'd saved him from certain nomination for two weeks, and Danielle crawled back into Shane's bed and exploded to him about Dan being "a super dick" among other things.. she then went on to spill to him that Ashley's Sunday night tears were fake and a mission from Janelle.. the question is do either of them have the combined brainpower to realize that was the start of the manipulation of Shane that ended with him putting up Frank? Time will tell.. Flashback 7/31 1.57am



Ratings - Dear Diary special edition
Ratings are based on entertainment value



Dear Diary,
Are you scrambling to include Wednesday night's implosion in Thursday's show, or is it too much work to re-edit with such short notice? We know you aren't big on accuracy for the CBS version, as proven by the fact that you're still pushing the Shane/Danielle nomance - don't you realize how much better and funnier the true one-way version is? Please download a clue at your earliest convenience. It's high time you fix the fishies situation as well: your staff and your hamsters are equally at fault yet you punish us. You can't afford to lose any more viewers, so STOP THAT.
your pal,
dingo
PS Please re-read The Emperor's New Clothes. It's not just me claiming wild conspiracy theories anymore - everyone's on to you now. Put some reality back into your reality tv show and all will be forgiven.
PPS You better give us our endurance comp on the feeds, without fishies or trivia, or there will be hell to pay.






TEAM JANELLE
Dear Ashley,
A flying demon came out of my fireplace once and dissolved into a vase of dead flowers. Has that ever happened to you?
your pal,
dingo





TEAMIES: Frank, Ian, Jenn
WON $6,000
Dear Boogie,
If you choose to enter the game, your goose will be cooked. You can't do this without Dr Will's diagrams and it's time to admit it. Remain a coach, and stay in the background. Better yet, just go back to sleep.
your pal,
dingo





TEAMIES: Shane,

Willie

,

JoJo


Dear Britney,
It was nice to see a bit of the old you again. The original Britney would have shredded Danielle to ribbons by now, but I know you're going for a kinder, gentler Britney 2.0, and that's okay. But your game skills & gullibility are as bad as last time so we need something from you, and I don't mean more gametalk. You've exceeded your limit there. The long-awaited second season of Just The Tip would be just the ticket.
your pal,
dingo





TEAMIES:

Kara

, Danielle

Jodi


WON sushi party
Dear Dan,
I don't know why they haven't noticed how you're always interrogating everyone and staying clear of the ruckus, but for some reason they haven't. I'm sorry you have to be saddled with Danielle for your tagalong, but you really need to stop trying to control her. She's a drip most of the time but she's an emotional trainwreck and a world class drunk girl, and we need you to stop stomping that stuff down. Don't make her choose between you and her sweet baboo because you'll lose.
your pal,
dingo
PS Kelly had nothing to do with you getting ups.





TEAM DAN
Dear Danielle,
I was going to start a new tally chart for your tragedies, but it grew so big it needed its own page and people don't like to click more than they have to. It's unfortunate that you aren't well versed in Big Brother history and that you've decided to hate Janelle. A couple glasses of wine and she will destroy you without even trying. Trust me on this one and select a different target to take out your frustration about Shane.
your pal,
dingo
PS He's not interested in you.





TEAM BOOGIE - NOMINATED
Dear Frank,
Nobody on the block has ever picked up and carried hamsters around the habitat or helicoptered them or tickled them to death the day before eviction. That alone makes you a keeper, and I'm sorry that it looks like we won't be keeping you. There is one thing you can do to save yourself and us: get the word to Danielle somehow that Joe said she's fat.
your pal,
dingo
PS Don't say it was my idea.





TEAM BOOGIE - WON $3,000
Dear Ian,
I've never rooted for a hamster before like I'm rooting for you, and I'm not alone. Please keep a low profile and let them forget about you. That means stop streaking. I'd say stop quacking too, but that was a nice touch. I'm sorry you had to be subjected to all that loony without having a chance to hammock it out, but you're doing well. Keep up the good work.
your pal,
dingo





TEAMIES: Wil, Ashley, Joe
Dear Janelle,
Yes, you have been driving this mess but be careful you don't get cocky about it because they're all on to you, even if they don't understand what you're doing and how you're doing it. And for heaven's sake, please stop overdoing it. The little hamsters will scurry around on their own without you having to draw them so many maps. I'm glad you're enjoying the ride and I hope you get more booze, especially if and when Danielle decides to come for you.
your pal,
dingo
PS You fibbed to me when you said you'd do some guest posts for me again this year, and you asked me not to tell the fans ahead of time, so I didn't. I have scruples like that. But I'm sorry about posting the nip slip.





TEAM BOOGIE - WON $1,000
Dear Jenn,
People keep asking me who you are when I post my Daily Jenn Sightings. I try to assure them that you really are one of our hamsters and that you do wear different clothes sometimes. I'm glad you helped to spark off a pivotal evening, but it confuses people when I try to explain it because they forget you're there. But not to worry: I posted Daily Porsche Sightings last year, and look where she ended up.
your pal,
dingo





TEAM JANELLE
DEAR JOE,
PERHAPS YOU'RE HARD OF HEARING AND THAT'S WHY YOU SHOUT, SO I'LL SPEAK UP. I DON'T KNOW ANYBODY WHO WANTS YOU TO STAY AND KEEP SHOUTING AT US, AND I'M HOPING YOUR BLUNDER TONIGHT MIGHT MAKE YOU LEAVE AND SAVE OUR SPEAKERS. IT WAS A GOOD BLUNDER THOUGH AND IT MADE A FUN NIGHT FOR US, SO THANKS FOR THAT. IT MIGHT HAVE BEEN ME WHO TIPPED THEM OFF THAT YOU KEEP SNEAKING BITES WHEN YOU AREN'T SUPPOSED TO. I'D SAY I'M SORRY YOU GOT A WARNING, BUT I'M NOT. I WAS HOPING FOR A PENALTY VOTE.
your pal,
dingo





TEAM BRITNEY - HEAD OF HOUSEHOLD
Dear Shane,
FYI, you made a goof in your blog. This is not the 'biggest twist in Big Brother history' - it's the smallest. You're the most easily manipulated HOH since Willie, and look what happened to him. Between your pink wardrobe, your combover, your arrogance, and your general idiocy, you're becoming quite the laughing stock out here so thanks for that. I don't usually say man up, but you need to man up and cut poor Danielle loose before it's too late. Haven't you seen Fatal Attraction?
your pal,
dingo
PS You're not going to enjoy the next few days. Recovery from a severe case of HOH-itis like you've got is a painful process. Again, refer to Willie.





TEAM JANELLE
Dear Wil,
Remember your birthday? All that dancing and kissing and streaking, wasn't that fun? It seems like weeks ago instead of days. Starting a house riot was good, but starting a house riot because you heard you might get traded for Jenn is ridiculous, especially since everybody knows coaches are over tomorrow. Boogie might choose to remain a coach but Janelle won't - she's here for the comps.
your pal,
dingo
PS Don't worry about all the complaints about your hair twiddling. Kaysar did it all the time too and he didn't even have extensions. Catladies love a hair twiddler.
PPS Please vote to evict Joe. You can blame it on Danielle if you want to. We heart hinky votes.





TEAM BRITNEY - WON nothing
She promised to bring it, but apparently she left it on Staten Island since she failed to fight even when confronted. She talked a lot but it was mostly the same loops over and over: she only gets along with East Coast girls, she's street-smart, she's loyal, and she's loyal, know what I mean? She was scouted via Facebook to get here, and that's where she should have stayed. Now she can get back to modeling and piloxing.





TEAM BRITNEY - WON nothing
(Possibly forfeited stipend)
He spent two weeks laying in HOH bed, parannoying his brains out even though he was perfectly safe, and his fall from HOH was the hardest we've ever seen. He head-butted himself out the door when he might have been saved by veto, so he'll go into the BB blunders pile. I didn't come in with Hantzophobia so I'm grateful for the cheap entertainment he brought, especially the Froot Loops war and Willieisms like 'key-hos', 'corn-ho', and 'totin' pole'. He's the first hamster to pose for his mug shot while his season was still underway.





TEAM DAN - WON nothing
She brought a big name and rep to the show but didn't live up to either. She seemed like a nice enough girl but she didn't bring much to the feeds, and her sister wife wardrobe greatly disappointed her pre-existing fanbase. She'll be remembered for extra shiny knees and little else - she didn't even campaign to stay.





TEAM DAN, for a minute - WON nothing
Most were looking forward to seeing what she'd bring, but she got a raw deal and was gone before the feeds even kicked on. She'd said she was worried about lack of privacy & sleep, missing her family, and slop, so maybe BB wasn't for her, and she got away without airing any dirty laundry. It had to be humiliating to go back in for the group bikini pic but that's how they do things.







Linking to any page here is fine but please do not repost any content from this site (or any other) without permission, and do not repost or hotlink to any images


!! THIS MEANS YOU !!








UPCOMING EVENTS


8/1: CBS 8pm: Veto comp, veto meeting, drunken sushi party - East coast stream
8/2: CBS 9pm: Live eviction, coach untwist, revive-a-hamster?, endurance comp?
8/3: Nominations
8/4: Veto comp

Fridays 7pm PT/10pm ET: Lance Bass Pop Ten BB show on Sirius Radio XM108 - call-in 866-305-6887

Get the feeds!
! This is already a crazy season - don't rely on CBS edits

SuperPass shows:
Tuesdays 3pm PT/6pm ET: Rants & Roars with Matt Hoffman & Adam Poch
Thursdays 3pm PT/6pm ET: Happy Hour with Ellen, Missy & Spicy
Mon-Wed-Fri 10am PT/1pm ET: Fan Recap

Finale is Wednesday September 19

The Glass House airs on ABC Mondays at 10pm. Feeds are 11pm-3am ET (8pm-midnight PT) Mondays, 3-4pm ET (noon-1pm PT), 9pm-midnight ET (6-9pm PT) Tuesdays & Wednesdays, and 3pm-4pm ET (noon-1pm PT) Thursdays. Watch free at the ABC site



THE REAL SHOW IS THE LIVE FEEDS

Includes Flashback, video clips, live talk shows, interviews, $10 of free music every month and more!
Sign up for a free trial





AMERICA'S VOTE


Should coaches be given the chance to join the game and play for $500k? Yes or no
> Voting has ended

Which supplement should Have-nots get?
> Cereal & salmon







RATINGS WATCH


Wednesday's show remained in second place with 5.271 million viewers, 1.9 rating and 6 share, still way behind Olympics on NBC with 30.560/9.7/28, and ahead of The Middle and Suburgatory reruns on ABC, and So You Think You Can Dance rerun on FOX.

Sunday's show remained in second place with 5.11 million viewers, 1.8 rating and 5 share, far behind Olympics on NBC with 35.45/11.4/31 share, and ahead of The Simpsons reruns on FOX and Secret Millionaire rerun on ABC.

Monday's 7/31 Glass House remained in third place with 1.67 million viewers, 0.6 rating and 2 share, behind Olympics on NBC and Hawaii Five-0 rerun on ABC.







Clicky: caps sorted by day - all caps