This site is about the Big Brother 14 feeds and contains spoilers! It isn't necessarily thorough: it's what I catch and/or what interests me, and it isn't necessarily about who will win, who should win, who's cute or who's horrid. It's about watching hamsters: who's doing what and why. If they aren't entertaining, get rid of 'em! Thanks for encouraging my behavior. Your pal, dingo







POWER STATUS


Shane is Head of Household
Ashley & Joe are nominated
Shane won veto
Joe, Ian are Have-not







BB14 DRINKING GAME


Take a swig whenever Joe pitches a deal, take two when he shouts - yep, I went there

If you're on the wagon, try this Healthy alternative by @Staciedertinger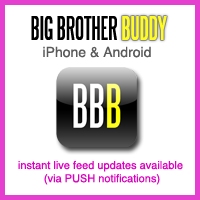 Get the Big Brother Buddy mobile app!
Available for Android or iPhone/iPad


Big Brother 14 at iTunes

BB7 All-Stars and seasons 9 through 13 are also available







BB14 FAQ


If you have SuperPass, access mobile feeds by going to real.com/bigbrother on your mobile device's browser. Log in (upper right), select Big Brother, and select Live Feeds from the drop menu. There is no app.

Willie was ejected for head-butting Joe. Threats & verbal attacks are legal - aggressive physical contact is not.

They're calling pre-show sequester 'convention' or 'knitting convention', and they're calling Diary 'the wizard' or 'dairy queen'.

Ashley revealed they wear earpieces for nominations, presumably in case prompting is needed for 'Hamster A, you are safe' and 'Thank you, Hamster B'.

CBS shows are Sundays and Wednesdays at 8pm, and live eviction Thursdays at 9pm.

Big Brother After Dark airs midnight to 3am nightly (1am to 4am Thursdays) on Showtime (SHO2) in USA, and on Slice and/or Global Reality in Canada at various times - check your local listings.

BB14 prizes are the same: $500k for the winner and $50k for 2nd place. The others still earn $750 a week including pre-show hotel and jury sequester.

The coach of the winner gets $100k. Returning veterans probably get more weekly stipend and/or a flat amount to show up (rumors say $25k).

The habitat has 53 cameras (up one) and 98 microphones (up three).

The recorded in-house announcements are the voice of producer Don Wollman.

All feeds stay on one 'scene' when someone's in Diary.

The Glass House premiered June 18 on ABC and will run for 10 episodes. The winner will get $250,000 - half the usual BB winning amount.

Apparently the glass hamsters go into hotel sequester on weekends - no, I don't know why.

Big Brother Canada premieres February 2013.



Get Team USA Olympics gear
Use code USABDAY for free shipping on orders over $50


>> >> >>
>>
ALL AMAZON.COM PURCHASES MADE THROUGH THIS LINK HELP SUPPORT THIS SITE
House flipping (Sunday 7/29)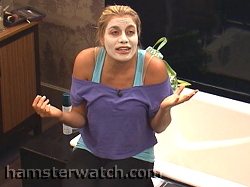 I didn't have much for today but then gametalk revved up an extra notch and things got comical again.. Ashley & Shane hatched a plot to replace her with Frank, then Ashley & Wil had a "we get another week" celebration, then Ashley told Britney about it over masques, then Britney told her all the reasons why it wouldn't work, which made Ashley cry.. Britney told Ashley to calm down, to sit with Dan & Ian over checkers because "they won't ask questions" (really, she said that).. Ashley instead told it all to Janelle, who looked like she was thoroughly enjoying the follies - a reasonable reaction, since she set them in motion.. the round robins and retells continued on and on and on

Shane's reason for thinking Frank's a threat is merely because "he's tried out three years [for the show] - he knows what he's doing" (really, he said that).. Danielle finally had a bit of a wakeup call when Shane refused to hug her on the grounds that he "doesn't want a showmance" - she toned down her look some after that and looked much better than her usual date-bait pancaked face

Most waffling usually comes to nothing, but Shane seriously seems to be considering changing his noms.. he doesn't realize there's no point in making three enemies when he's already made two, and he definitely doesn't realize that nominees never forget.. apparently he also forgot that he wanted Wil gone most of all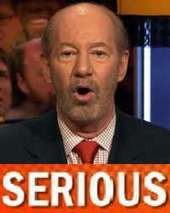 In an attempt to escape some of the waffling feeds, I poked around Survivor Sucks a bit to find Ian's posts there.. there aren't many and they're relatively recent but they do shed a bit of light on his gameplay, perhaps.. most are short replies in threads speculating on this year's casting and twists, and while they give none of his or BB's secrets away, the subtlety in his posts is masterful and very telling in its not telling, if you catch my drift.. it makes him even more one to watch closely in this cesspool he's in now, and I for one will try to read between whatever gametalk lines he puts out there

If you want to read the posts, his name there Flipbox - the avatar is scandalous sports dude Tony Kornheiser.. if you're new to Sucks, be warned: it's not for the faint of heart



Jenn makes an appearance (Saturday 7/28)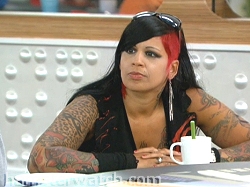 They sat and laid around until 2pm waiting for the veto comp, exchanging stories in some corners and gametalking in others.. it's Wil's 25th birthday - he said the best thing about it is his car insurance will go down now.. Danielle planked on Shane again: she talks and acts like they're really an item, and she remains oblivious to his oblivion

Jenn was featured for a few minutes, surprising many who'd forgotten she was there.. she schooled them on skinhead culture which was surprising since it's hardly a new phenomenon, but most of them seemed clueless.. she used more generalizations than I'd expect from someone representing as many counterculture types as she does, and more than I'm comfy with in general (albeit relatively deserved in this case - I'm saying this as one who's been in a UK skinhead riot)

Wil, Frank, Danielle joined veto players Shane, Joe, Ashley, and Jenn hosted, so Wednesday's CBS viewers will also be reminded she's there.. Shane won it again! I'd post the details but they all gametalked afterwards instead of describing the comp

Conversations all over the habitat keep coming back to alleged JoJo comments about Danielle, and whether that really happened or not: it did.. Flashback 7/15 4.15pm F3 - JoJo generally trashes Danielle to Janelle, including "she's not pretty" and "she has a weird body - square shaped" (that's the part Danielle's upset about).. thanks @mistermac56 for the Flashback



Sushi party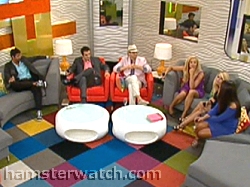 Deals broke out all over, or tried to: Janelle gave Shane & Britney her wedding ring as collateral on her word for three weeks safety, and also offered earrings - Britney returned it.. Joe pitched "ANYTHING" to Britney & Wil to stay a few more weeks - I'm sorry Joe, but this is Big Brother and not your cooking show audition.. later he established a new alliance with Frank & Danielle and christened it Three Amigos - sorry again Joe, but you're the only amigo in that alliance
Update: maybe the Amigos are Shane, Danielle, Frank - shows how much I'm paying attention.. apologies and lo siento

I think Britney won the sushi party in yesterday's comp or maybe it was Dan (update: it was Dan).. he picked the guests, and he and the other coaches dressed up along Danielle and Shane, and they sat around a long time waiting for it, discussing forbidden topics in order to let us watch the fishies some more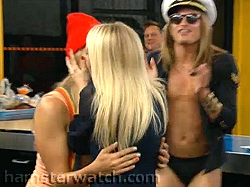 They finally opened the backyard for sushi on Showtime, but a booze delivery to those left behind turned out to be the better party by far.. Wil kicked it off, celebrating his birthday in style with captain's hat and no pants.. that led to dancing, Ashley doing handstands, and assorted silliness

When the sushis finally joined them, we had cake fights, cake being stuffed down Ian's undies, bodyshots on the kitchen counter, Ashley & Ian spanking each other, spin the bottle resulting in kisses between Boogie/Ashley, Wil/Janelle, Ashley/Britney, Shane/Danielle, Ian/Ashley, Jenn/Frank, Jenn/Janelle, Ashley/Frank, and possibly others.. Ian streaked his BB5 Cowboy hat trick again, and Wil streaked to the pool - Flashback 7/28 9.50pm for the start of the wild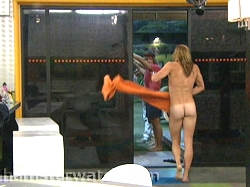 Joe was uncharacteristically quiet during all the shenanigans, but went back to SHOUTING ABOUT HIS RESTAURANT IDEAS as soon as the dust settled.. surprising absolutely no one, Danielle talked about her & Shane's smack too many times to count, including asking the girls about it like a pre-teen, and telling Shane that he didn't seem like he'd wanted to do it - he didn't argue.. most of them egged her on but Dan told her to chill, and Shane called him "dad" which ticked off Danielle who said that's her dad's name too.. the two unrequitedmancers laid in bed for awhile before Shane yawned loudly a few times - they exchanged another peck before she finally left

Wil's towel cap courtesy of @bbcnmsaga



Ratings - Good Grief special edition
Ratings are Saturday's with a few Sunday updates, based on entertainment value
Peanuts characters created by the immortal Charles Schulz and copyright © Peanuts Worldwide LLC



They get Charlie Brown because he's the star of the show and the one the storylines revolve around. He's a blockhead and a loser, but we love him anyway.

Saturday: Newbies kicking off the kitchen party with aplomb was just one more example of why all newbies are required for a good show. The veterans intimidate them with perceived coolidity and kill these spontaneous outbursts that we used to enjoy on a semi-regular basis. Cutting to fishies when they mention former seasons and former hamsters is ridiculous and the antithesis of good PR, but cutting to fishies music tonight when Ian started humming the fishies music was simply asinine.

Sunday: Naturally they're trying to turn the unrequitedmance into a showmance - I told you they would, even though the one-way real version is much funnier. I'm glad they spelled out the reason for cereal & salmon because a lot of people didn't catch it. I didn't think it was possible but they sunk to a new low with that coach comp.. booty scooty indeed. Boo for putting the kaibosh on Ian & Dan wanting to light a scented fireball with Axe spray in the backyard. I won't even mention how ridiculous it was for Dan to ask 'how did they know?'






TEAM JANELLE - NOMINATED
I had her as the clueless Marcie but then realized Woodstock was more appropriate. Is the little yellow bird even real or just Snoopy's imaginary friend? To top off the comparison, nobody including us can understand anything Woodstock says: '||||||' doesn't translate well to commonly accepted means of communication.

Saturday: She was one of the lives of the party but being willing to kiss anyone when sippy isn't all that impressive. Being willing to be tongued by Boogie is a whole nother category.

Sunday: She really has no idea what the words 'keep this to yourself' mean.. take note, future besties.





TEAMIES: Frank, Ian, Jenn
WON $6,000
Pig-pen, who else? I'm not saying he's dirty, but all these years later, he still makes people feel dirty. Peni wart removal by his best friend on national tv? Uncle Jerry? These are not appetizing topics.

Saturday: He looked dapper enough when he dressed up for sushi but his conversation out there wasn't very appetizing.

Sunday: No change. I don't think I saw him at all - maybe he had the day off.





TEAMIES: Shane,

Willie

,

JoJo


She left funny Britney behind in that other summer and now we've got scowling, grouchy, lecturing, know-it-all Lucy. Britney coaches the way Lucy plays baseball: she just stands out there in the outfield and hopes a ball doesn't come her way because she wouldn't know what to do if it did.

Saturday: For somebody who consistently says she hated being told she & Lane would have made a good couple, she sure does encourage Danielle to pursue her nomance.

Sunday: She's not going to be happy if/when she find out that she and her protege Shane got got, but that's how it goes.





TEAMIES:

Kara

, Danielle

Jodi


WON sushi party
The gender's wrong but Peppermint Patty isn't very feminine anyway, so close enough. Between the constant coaching, the unsolicited advice, and the fun times killjoy, the rest of it fits pretty well. Plus there's Danielle as Marcie following him around and taking his word as gospel.

Saturday: I'd like to know why he keeps reeling Danielle back in when she gets sippy or flirty? He's not her dad. I was never too keen on his Father Dan tag the last time around anyway. And meanwhile, he literally pushed Ian into the Ashley kiss.. seems like a bit of a double standard there.

Sunday: He tried his patented Dan's Mist interrogation on Ian but I don't think he got too far: he seemed completely stumped by anyone not leaving home for six weeks, as if what was physically impossible. Dan didn't seem to make much headway after that, but I could be wrong.





TEAM DAN
She's equal parts Sally, mooning over her sweet baboo with hearts flying out of her, and Marcie, following Dan's Peppermint Patty around and hanging on every word. Some think it's cruel to poke fun at her childish emotional state but it's cute when it's Sally, so I'm sticking to it with that in mind.

Saturday: It's a good thing all of tonight's kissers didn't talk about it for three hours afterwards, or it would have become worse than gametalk. She & Shane might actually hook up in there but it's doubtful. Anyway I hope it doesn't happen because they're my entire shtick for the season - I'd have to start from scratch and there's nothing else to work with. On the other hand, they're looking dangerously like we're headed toward a repeat of BB5 Drew & Diane, and nobody wants to see that happen again.

Sunday: Maybe Shane refusing a hug finally got through to her that he isn't interested, or maybe she'll be back to planking him tomorrow. She is back to insisting she's the swing vote this week, even though that plan blew up with Shane's wonky noms. If Frank goes indeed go up in place of Ashley, she'll be back on her little powertrip for the next few days, and that will be a problem. UPDATE: At 3am, she's already back in his bed and cooing at him.





TEAM BOOGIE
The wrong gender again, but appropriate. Not many remember Freida but she was an early Peanuts character who was known for two things: having a boneless cat, and for being excessively proud of her naturally curly hair.

Saturday: When he's talking, I'm usually on another feed so I miss a lot of his stuff. I realize he's getting a bit cocky but that's his shtick - look what he grew up with! I still like him, I think he's much smarter than he appears, and I hope he sticks a bit longer so I can get a chance to listen to him more.

Sunday: I can never tell if night-before waffling is something to take seriously or not, but he'll be sitting in a nominee chair on Thursday if tonight's crazy roundabout follows through. Personally, I think Joe would still get the boot if that happened, but maybe that's just wishful thinking on my part.





TEAM BOOGIE - WON $3,000
Who else but Linus: adorable but geeky, socially inept but wise, needy but independent, and the overwhelming favorite of many if not most.

Saturday: We've seen the hat trick streak (and as @attwx pointed out, BB5 Cowboy didn't need to use his hands to keep the hat on), but he's such a good sport and he joined in all the festivities with gusto when he wasn't even drinking. Gusto meaning dancing, kissing, spanking, and cake down the pants.

Sunday: He was really touched by that $3k and everybody said awww. Or he faked it really well - he's clearly working for (and winner over) the 'needs the money' finals voters.





TEAMIES: Wil, Ashley, Joe
I know more people are hating on her this time around but bear with me for a minute here. Like Snoopy, she's a chameleon in there, going from glamour girl to nerd to comedy to jedi drilling coach and back again. She's also the closest thing we've got to good Diary (even though hers is very pat and practiced), and she's willing to kickstart things to give us good feeds if only the others would cooperate. But wait til the coaches come into play and the various Red Barons take aim: then she'll kick into her WWI flying ace and win those comps again.

Saturday: It wasn't shocking or even unexpected to see her get into the kissing game or the overall party mood, but some are calling her a floozy for it while the other girls escaped the same scorn.

Sunday: See Wil.





TEAM BOOGIE - WON $1,000
Violet's another character from the early days of Peanuts, and nobody was quite sure what she was about either.

Saturday: She got into the fun and the kissing but she wore her comp host ringmaster coat for the second time in a day (not good costuming skills), and she wasn't one of the many lives of the party. I can't blame her though - she probably thought it was all just a bit immature, and she'd be right.

Sunday: No change. I didn't even post a Daily Jenn Sighting today, but I think I did catch a glimpse of her.





TEAM JANELLE - NOMINATED
You know how the Peanuts kids' teacher and parents are always offscreen, saying WAH WAH WAHHH? Nuff said.

Saturday: He can make his exit anytime now and I don't think anyone would miss him, least of all me.

Sunday: Shane told him the new plan at the hot tub, and after he left Joe sat there alone talking to himself about how thankful he is. At the same time, most of the others were howling with laughter in HOH about his SHOUTING, his grandiosity, and his ridiculous claims such as having invented I Can't Believe It's Not Butter.





TEAM BRITNEY - HEAD OF HOUSEHOLD
HOLDS VETO
Franklin was the token black kid in the neighborhood, like Token was years later in South Park. Shane's the token hot actormodel dude with a personality as memorable as Franklin's.

Saturday: I guess I have to give him credit for another win today, but he hasn't realized yet (and perhaps never will) that a lot of the others are throwing these comps because they don't need the wins yet. It's so painfully obvious to everyone but Danielle that he's not into her, but I wouldn't put it past him to let it develop further for his game's sake. See her section, and remember how Drew dumped Diane and broke her heart on live tv so he could win $500k, rather than give her any warning that their date was about to end.

Sunday: His head might explode before this week is over since he clearly has no clue what he's doing in there. Maybe we'll have another Froot Loops tantrum and premature exit.





TEAM JANELLE
He's Schroeder (no relation) because he marches to his own drummer and he doesn't care what others think about it. Britney's Lucy definitely doesn't have a crush on him but it's early and there's no telling who will end up being besties once the coaches are in the game.

Saturday: He kicked off the kids' party inside with his captain's hat pantless birthday dance, quick one-liners and skits, and he just kept it going until everyone was done, including a hatless streak into the pool. I know a lot of feedsters are hating on him too but like Wil, I don't care.

Sunday: He was one of Shane's original main targets but that seems to have been forgotten. I think he & Janelle are the only truly solid alliance in there and if the two of them happen to stick until F3, Janelle might finally get her win. Endurance is her weak spot and has left her vulnerable and ousted at the end twice before, but it's his biggest strength.





TEAM BRITNEY - WON nothing
She promised to bring it, but apparently she left it on Staten Island since she failed to fight even when confronted. She talked a lot but it was mostly the same loops over and over: she only gets along with East Coast girls, she's street-smart, she's loyal, and she's loyal, know what I mean? She was scouted via Facebook to get here, and that's where she should have stayed. Now she can get back to modeling and piloxing.





TEAM BRITNEY - WON nothing
(Possibly forfeited stipend)
He spent two weeks laying in HOH bed, parannoying his brains out even though he was perfectly safe, and his fall from HOH was the hardest we've ever seen. He head-butted himself out the door when he might have been saved by veto, so he'll go into the BB blunders pile. I didn't come in with Hantzophobia so I'm grateful for the cheap entertainment he brought, especially the Froot Loops war and Willieisms like 'key-hos', 'corn-ho', and 'totin' pole'. He's the first hamster to pose for his mug shot while his season was still underway.





TEAM DAN - WON nothing
She brought a big name and rep to the show but didn't live up to either. She seemed like a nice enough girl but she didn't bring much to the feeds, and her sister wife wardrobe greatly disappointed her pre-existing fanbase. She'll be remembered for extra shiny knees and little else - she didn't even campaign to stay.





TEAM DAN, for a minute - WON nothing
Most were looking forward to seeing what she'd bring, but she got a raw deal and was gone before the feeds even kicked on. She'd said she was worried about lack of privacy & sleep, missing her family, and slop, so maybe BB wasn't for her, and she got away without airing any dirty laundry. It had to be humiliating to go back in for the group bikini pic but that's how they do things.







Linking to any page here is fine but please do not repost any content from this site (or any other) without permission, and do not repost or hotlink to any images


!! THIS MEANS YOU !!








UPCOMING EVENTS


7/30: Veto meeting
7/31: HOH blog, tweets, picture-taking
8/1: CBS 8pm: Veto comp, veto meeting, drunken sushi party

Fridays 7pm PT/10pm ET: Lance Bass Pop Ten BB show on Sirius Radio XM108 - call-in 866-305-6887

Get the feeds!
! This is already a crazy season - don't rely on CBS edits

SuperPass shows:
Tuesdays 3pm PT/6pm ET: Rants & Roars with Matt Hoffman & Adam Poch
Thursdays 3pm PT/6pm ET: Happy Hour with Ellen, Missy & Spicy
Mon-Wed-Fri 10am PT/1pm ET: Fan Recap

Finale is Wednesday September 19

The Glass House airs on ABC Mondays at 10pm. Feeds are 11pm-3am ET (8pm-midnight PT) Mondays, 3-4pm ET (noon-1pm PT), 9pm-midnight ET (6-9pm PT) Tuesdays & Wednesdays, and 3pm-4pm ET (noon-1pm PT) Thursdays. Watch free at the ABC site



THE REAL SHOW IS THE LIVE FEEDS

Includes Flashback, video clips, live talk shows, interviews, $10 of free music every month and more!
Sign up for a free trial





AMERICA'S VOTE


Should coaches be given the chance to join the game and play for $500k? Yes or no
I strongly urge a boycott but if you must vote, vote NO

Which supplement should Have-nots get?
> Cereal & salmon







RATINGS WATCH


Thursday's live show remained lower than recent seasons: 5.995 million viewers, 2.2 rating and 7 share, just behind a 2nd hour of Wipeout on ABC with 6.740/2.2/7, and ahead of Glee rerun on FOX, and Saving Hope on NBC.

Monday's 7/23 Glass House dropped to third place with 2.28 million viewers, 0.8 rating and 2 share, behind American Ninja Warrior finale on NBC and Hawaii Five-0 rerun on CBS.







Clicky: caps sorted by day - all caps