This site is about the Big Brother 14 feeds and contains spoilers! It isn't necessarily thorough: it's what I catch and/or what interests me, and it isn't necessarily about who will win, who should win, who's cute or who's horrid. It's about watching hamsters: who's doing what and why. If they aren't entertaining, get rid of 'em! Thanks for encouraging my behavior. Your pal, dingo







POWER STATUS


JoJo evicted 5-1
Shane is Head of Household
Ashley & Joe are nominated
Janelle won coach comp
Joe, Ian are Have-not







BB14 DRINKING GAME


Take a swig whenever someone tweets or posts 'Free Willie' - see you under the table

Healthy alternative by @Staciedertinger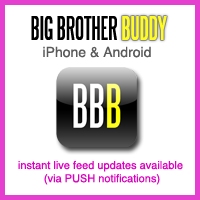 Get the Big Brother Buddy mobile app!
Available for Android or iPhone/iPad


Big Brother 14 at iTunes

BB7 All-Stars and seasons 9 through 13 are also available







BB14 FAQ


If you have SuperPass, access mobile feeds by going to real.com/bigbrother on your mobile device's browser. Log in (upper right), select Big Brother, and select Live Feeds from the drop menu. There is no app.

Willie was ejected for head-butting Joe. Threats & verbal attacks are legal - aggressive physical contact is not.

They're calling pre-show sequester 'convention' or 'knitting convention', and they're calling Diary 'the wizard' or 'dairy queen'.

Ashley revealed they wear earpieces for nominations, presumably in case prompting is needed for 'Hamster A, you are safe' and 'Thank you, Hamster B'.

CBS shows are Sundays and Wednesdays at 8pm, and live eviction Thursdays at 9pm.

Big Brother After Dark airs midnight to 3am nightly (1am to 4am Thursdays) on Showtime (SHO2) in USA, and on Global Reality and/or Slice in Canada at various times - check your local listings.

BB14 prizes are the same: $500k for the winner and $50k for 2nd place. The others still earn $750 a week including pre-show hotel and jury sequester.

The coach of the winner gets $100k. Returning veterans probably get more weekly stipend and/or a flat amount to show up (rumors say $25k).

The habitat has 53 cameras (up one) and 98 microphones (up three).

The recorded in-house announcements are the voice of producer Don Wollman.

All feeds stay on one 'scene' when someone's in Diary.

The Glass House premiered June 18 on ABC and will run for 10 episodes. The winner will get $250,000 - half the usual BB winning amount.

Apparently the glass hamsters go into hotel sequester on weekends - no, I don't know why.

Big Brother Canada premieres February 2013.



Get Team USA Olympics gear
Use code USABDAY for free shipping on orders over $50


>> >> >>
>>
ALL AMAZON.COM PURCHASES MADE THROUGH THIS LINK HELP SUPPORT THIS SITE
A bigger, better show begins (Friday 7/27)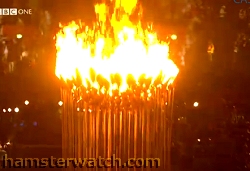 Across the pond, London went all out for the 2012 Summer Olympics opening ceremonies, put together by Danny "Slumdog Millionaire" Boyle.. thanks to some kind folks over there, we were able to watch it live from BBC1 online, thus avoiding NBC commentary as well as commercials

It was a beautiful ceremony but of course, Brits do that stuff better than anyone.. they began with sylized modern British history tableaux and paid tribute to children's literature giants Peter Pan, Harry Potter and Mary Poppins.. the show was heavy on pop music, ranging from Mike Oldfield's "Tubular Bells" (which begat Virgin Records) to Sex Pistols "Pretty Vacant" to a full orchestra version of "Chariots of Fire" featuring Rowan Atkinson as Mr Bean, and culminating with Sir Paul McCartney who had a backing track looping problem, but that was the only glitch in the very long show that I noticed (and it was fixed for the US airing, so maybe just a BBC broadcast glitch)

The lighting of the cauldron wasn't as spectacular as it sometimes is, but it was definitely one of the most beautiful I've seen.. Muhammed Ali made his now traditional appearance, but the poor guy can't even stand on his own now.. instead of superstar athletes doing the final leg and lighting, the big sports names handed off to seven up-and-comers in a really nice touch, literally passing the torch to the next generation.. I posted a few screencaps on my personal Twitpic.. why NBC didn't run it live and repeat tonight, I'll never know - they seem to be stuck in 1974 like CBS.. I've posted a handy Olympics schedule in Links of the Day below, and will keep it there for the duration



Back to our program, again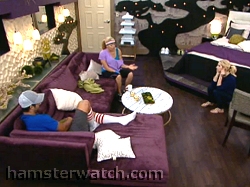 Janelle won the coach's comp and declared Wil safe.. Britney opened a box or something to choose the Have-nots: she picked Joe, and Ian volunteered (again).. their supplement is cereal & salmon.. clearly most voters confuse the question "what should Have-nots get" with "what would you like" (that's ass-uming these votes are valid - they likely aren't).. Frank's hometown buddies at @teamfrankBB reminded me that salmon also figured in the Froot Loops fight, so it's a fitting combo.. Boogie ended up with $6,000 after giving $3,000 to Ian and $1,000 to Jenn.. Britney won a sushi party, rumored to take place tomorrow, which is also Wil's birthday

Shane held meetings with all the coaches and players before noms, even Jenn, even though that's all any of them talk about all the time - you'd think a done deal is a done deal, but not this year.. signs of HOH-itis are beginning to appear in Shane

He nominated Ashley and Joe - so much for the agreed-upon plan to put up one each from Janelle's and Boogie's team.. Shane was ready to mutiny himself off of Team Britney before he won HOH - she might go back into lecture mode, which could be good for us as he's advertised having a temper.. Danielle could have a meltdown too, since she was all pumped over having (indirect) power this week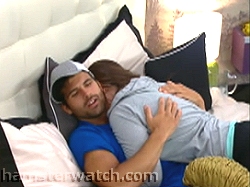 Noms fallout continued through the evening and into the late night.. if Shane went against all the plans intentionally, he's keeping it to himself.. Janelle's back to villifying both Joe & Frank and trashing Britney, Britney's back to trashing Janelle and discussing indelicate topics, Dan's back to his interrogation sessions, Ashley's back to babytalk whining and being spacey, Jenn's back to being mostly invisible, and Boogie's back to sleep.. Joe's already fed up with being a Have-not after just a few hours, even though he ate salmon dinner and hasn't even tried to sleep in there yet.. Ian's still not complained about it a bit

Danielle got over feeling rejected (from the vote last night and the failed noms plan today) and did what's becoming her daily planking onto Shane - his reaction was "I touched boob" and off she rolled.. later she laid next to him and tried to flirt (I think?) but he clearly wasn't into it again, twisting his neck to keep his face away from hers and sniping back at her with snotty brother type remarks.. the poor girl's desperation is palpable and she has no idea everyone wants to be in finals with her for a sure win, including him.. Britney encouraged her after he left, and CBS will play up this unrequitedmance into something it isn't, and she'll keep on making herself look foolish - so it goes in the hamster habitat



Another mug shot, already (Thursday 7/26)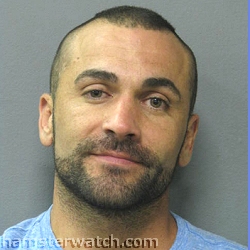 Shocking almost no one, Willie was arrested Wednesday night for OWI (operating while intoxicated = stationary but running vehicle), after previously announcing he'd be out at a bar: "Lafayette downtown at bootleggers tonight. Walk up with your dukes up and I'll headbutt you for free." According to CBS News, brother Russell used to own the bar - local news says he doesn't any longer

The jokes started rolling in, like they do, everything from "Free Willie" to my favorite, "Well, he at least has a shot now of getting in front of a jury" from Trixiego at Sucks.. we've had a lot of hamster arrests, but I think he's the first one to pose for a mug shot while his season was underway - see Links of the Day below for more

Meanwhile the hamsters still in custody in Studio City had their HOH lockdown while the crew did live show prep and/or rehearsal, and they were forced to listen to fishies music like we are, which is fitting punishment for having gotten as dull as they have



Back to our program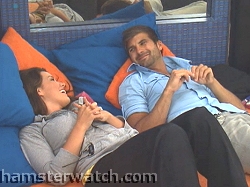 JoJo was evicted 5-1, with Shane being the 1.. he then went on to win the hockey comp and we have another HOH who had been everyone's target just a few hours earlier

Danielle was a bit crushed, suspecting and/or knowing that her crush was the sole vote against her, but she rebounded when she finally spread the story around that JoJo had called her fat, and she rebounded even more when Shane told her he'd turned down JoJo's offer to make out with him.. don't tell the shmucks who write the promos for this show since they insist on calling this a showmance, but our unrequitedmance could be back on - here's hoping, since there's not much else of interest to watch in there

They all went up see Shane's goodies and listen to his letter from mom and Britney's from hubby, and gawk at the pics - see today's Twitpics for a few that weren't there.. when Ian asked who a girl in one pic was, Shane said it's his sister Shannon, and to back off - what's up with that?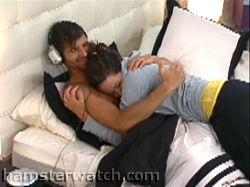 Gametalk revved up again, like it does, with the resulting consensus being Britney/Shane teaming up with Dan/Danielle and planning to nominate one each from Janelle's & Boogie's teams, including veto replacement if applicable: that way they would control the eviction through Danielle's swing vote.. Joe had a quick campaign chat with Shane - I don't know what was said but Dan was hiding out in the bathroom and heard it - he came out after they left saying "They don't know what's going to hit them" - does he know? It has seemed plausible since his team picks, and everything he's done since

Wil, Janelle, Britney, and assorted others hung around the hot tub reviving hemorrhoid chat for a bit over a small booze delivery - it was the topic before HOH room too.. all sorts of delicate subjects were discussed tonight including sex and birth control in great detail.. Dan & Danielle finally had a celebratory jumpy-dancey hug and high-five in the pantry, and he warned her against getting too cocky.. later she literally dove onto Shane for a minute, squealing how excited she was - they separated quickly



Ratings - Mid-season Review special edition
VTE = Voted to evict
Ratings are Wednesday's but I'll stick with them, based on cumulative entertainment value thus far and potential for the rest of the season - we're only a few weeks in but it feels like months



Has-beens are not a good idea for this format - ever - and now it's going to get worse. Putting the coaches in the game might help their scheduling problem but it won't help their failing ratings: rerun hamsters are the reason they lost 1 million viewers after the TV audience found out about them on the premiere, and the rest of the lackluster cast has lost them another 1/2 millon viewers since. Do they learn from their mistakes and dump the coaches ASAP so we can get on with a proper Big Brother season? Nope, they're going to make it worse by rotating the coaches in, and they'll likely Revive-a-Dull-Hamster on top of that. The good news is the London Olympics kick off Friday night! See Links of the Day below for a handy viewing schedule.

P.S. Don't think it was lost on me that almost all the 'what's going on' scenes on Thursday's show featured the Lines of the Day I post here daily. Gametalk is forgotten by most as soon as the show wraps, but that stuff lives on forever. I know how to pick 'em out of the slop and perhaps they don't.. so where's my editor's credit and accompanying paycheck?





TEAM JANELLE - NOMINATED
VTE JoJo
Apart from being easy fodder for cheap shot ditz segments, I don't really see what she's brought to the table other than a lot of confusion about whether she's brilliant and playing dumb or is really as dumb as she seems. Her ditz could and should be good entertainment but her delivery is just boring.





TEAMIES: Frank, Ian, Jenn - WON $6,000
Apart from waiting to see what new hat he'll bring out next, there isn't much more to him feeds-wise than there was the first time around, or the second. He's always been second banana to Dr Will and without him around to take the lead and set the bar, Boogie's just a chair filler on the live shows.





TEAMIES: Shane,

Willie

,

JoJo

- WON sushi party
I liked Britney on her first run but she was funny then. She isn't now, and to make it worse, she's always lecturing her players. Shane was totally off her team Wednesday night in all but name and if he hadn't won HOH, he might have gone after her with the green plastic knife. But he did win, and we know how fickle hamsters are about things like that.





TEAMIES:

Kara

, Danielle

Jodi


His manipulation tactics are much clearer this time around and rather fascinating to watch, but he's in a position of power so he can exploit things like that. I never gave him full credit for his season's win as he had the temporary America's Player gig going for him, plus I've always suspected he had further Diary assistance to get him through. His coaching tactics so far have been all for himself and not his players, and on top of his 'They don't know what's coming' comment tonight, I have to wonder if he's been tipped off about the twist untwisting.





TEAM DAN
No vote (nominee)
Don't get me wrong: she's a total drip on the feeds, but I still have a morbid fascination with her and her tragedies and her unrequitedmance. This girl seems to be back to crushing on Shane even though he was the only vote against her - hello, doormat syndrome? Everyone there wants to go to finals with her because they know it's a guaranteed win, including Shane, and that would get ugly if it were to happen - but of course it won't. It'll be at least one veteran at the end, if not two. That makes me feel as pewky as her godawful dress did tonight.





TEAM BOOGIE
No vote (HOH)
He's got potential but he's not living up to it. This guy is extremely intelligent plus he grew up with a larger-than-life theatrical figure for a dad: he should know how to bring it! But alas, he doesn't. Even his hair is settling into a routine instead of inspiring the anarchy it could.





TEAM BOOGIE - WON $3,000
VTE JoJo
First, he's been a Have-not for 2+ weeks and hasn't complained a bit - compare to Shane. (He's in there all alone tonight.) Never mind the streaking and the face-kicking and all the little cheap shot CBS clown music segments - that's not what people like him for. We like him because he's always fresh and always has something to say that we haven't heard before, plus he's brilliant, and many feel protective of him. Money cannot buy a better hamster than Ian, and he's living proof that ordinary people and true BB fans are 100% better for this show than all the endless actormodels they keep throwing at us. Even Dr Will is on Team Ian: I rest my case.





TEAMIES: Wil, Ashley, Joe
She's got her diehard fans and she's got her haters, but I have to hand it to her for at least trying to make good tv for us. It's not her fault none of the big mouth girls will catfight as promised, and it's not her fault the feedmasters stayed off her when she was super sippy the other night. If they do get rotated in, she'll blow away the other coaches with her comp skills and probably most of the newbies too, and then they'll all hate her, and then she'll really bring it.





TEAM BOOGIE - WON $1,000
VTE JoJo
She's definitely in the Who? category. She openly admitted she came on this show to promote her band but we don't even see enough of her for that to happen. It's a good thing she's not living up to any of the stereotypes expected of her, but it's our loss that she's not replacing those stereotypes with anything else.





TEAM JANELLE - NOMINATED
VTE JoJo Dancer
ENOUGH! SEND HIM AND HIS STUPID CHIN GROWTH ON HIS WAY! I CAN'T TAKE ANYMORE OF HIM AND NEITHER CAN MY SPEAKERS!





TEAM BRITNEY - HEAD OF HOUSEHOLD
VTE Danielle
I'm not a fan but I have to keep him at neutral since I have a bit of a mean streak when it comes to hamsters and I like seeing Danielle throwing herself at him again, knowing he's not interested in her like that. I've had it with his girlish wardrobe and cocksure ways, and I'm expecting him to develop a raging case of HOH-itis this week. While three comp wins definitely isn't shabby, his cockiness about them sure is. He'd never heard of Big Brother a few months ago - take that, auditioning fans of the show! Shane is what they think of you.





TEAM JANELLE
VTE JoJo
Have you seen his YouTube channel? He's got potential to be the most entertaining hamster since BB5 Marvin Latimer but does he indulge us? No, he does not. He does a good Sharon Osbourne regularly and he brought out Craig the hillbilly boyband dancer, and that's it beyond a few one-liners or a quick little dance here & there. He needs to stop fiddling with his extensions non-stop, and he needs to step it up in a big way. He's got it in him, and we deserve to see it.





TEAM BRITNEY - WON nothing
She promised to bring it, but apparently she left it on Staten Island since she failed to fight even when confronted. She talked a lot but it was mostly the same loops over and over: she only gets along with East Coast girls, she's street-smart, she's loyal, and she's loyal, know what I mean? She was scouted via Facebook to get here, and that's where she should have stayed. Now she can get back to modeling and piloxing.





TEAM BRITNEY - WON nothing
(Possibly forfeited stipend)
He spent two weeks laying in HOH bed, parannoying his brains out even though he was perfectly safe, and his fall from HOH was the hardest we've ever seen. He head-butted himself out the door when he might have been saved by veto, so he'll go into the BB blunders pile. I didn't come in with Hantzophobia so I'm grateful for the cheap entertainment he brought, especially the Froot Loops war and Willieisms like 'key-hos', 'corn-ho', and 'totin' pole'. He's the first hamster to pose for his mug shot while his season was still underway.





TEAM DAN - WON nothing
She brought a big name and rep to the show but didn't live up to either. She seemed like a nice enough girl but she didn't bring much to the feeds, and her sister wife wardrobe greatly disappointed her pre-existing fanbase. She'll be remembered for extra shiny knees and little else - she didn't even campaign to stay.





TEAM DAN, for a minute - WON nothing
Most were looking forward to seeing what she'd bring, but she got a raw deal and was gone before the feeds even kicked on. She'd said she was worried about lack of privacy & sleep, missing her family, and slop, so maybe BB wasn't for her, and she got away without airing any dirty laundry. It had to be humiliating to go back in for the group bikini pic but that's how they do things.







Linking to any page here is fine but please do not repost any content from this site (or any other) without permission, and do not repost or hotlink to any images


!! THIS MEANS YOU !!








UPCOMING EVENTS


7/28: Wil's birthday
7/28: Veto comp
7/29: CBS 8pm: Coach/have-not comp, assorted drama, nominations
7/30: Veto meeting

Fridays 7pm PT/10pm ET: Lance Bass Pop Ten on Sirius Radio XM108 - call-in 866-305-6887

Get the feeds!
! This is already a crazy season - don't rely on CBS edits

SuperPass shows:
Tuesdays 3pm PT/6pm ET: Rants & Roars with Matt Hoffman & Adam Poch
Thursdays 3pm PT/6pm ET: Happy Hour with Ellen, Missy & Spicy
Mon-Wed-Fri 10am PT/1pm ET: Fan Recap

Finale is Wednesday September 19

The Glass House airs on ABC Mondays at 10pm. Glass House feeds are 11pm-3am ET (8pm-midnight PT) Mondays, 3-4pm ET (noon-1pm PT) and 9pm-midnight ET (6-9pm PT) Tuesdays & Wednesdays, and 3pm-4pm ET (noon-1pm PT) Thursdays. Watch free at the ABC site



THE REAL SHOW IS THE LIVE FEEDS

Includes Flashback, video clips, live talk shows, interviews, $10 of free music every month and more!
Sign up for a free trial





AMERICA'S VOTE


Should coaches be given the chance to join the game and play for $500k? Yes or no
I strongly urge a boycott but if you must vote, vote NO

Which supplement should Have-nots get?
> Cereal & salmon







RATINGS WATCH


Thursday's live show remained lower than recent seasons: 5.995 million viewers, 2.2 rating and 7 share, just behind a 2nd hour of Wipeout on ABC with 6.740/2.2/7, and ahead of Glee rerun on FOX, and Saving Hope on NBC.

Monday's 7/23 Glass House dropped to third place with 2.28 million viewers, 0.8 rating and 2 share, behind American Ninja Warrior finale on NBC and Hawaii Five-0 rerun on CBS.







Clicky: caps sorted by day - all caps