This site is about the Big Brother 14 feeds and contains spoilers! It isn't necessarily thorough: it's what I catch and/or what interests me, and it isn't necessarily about who will win, who should win, who's cute or who's horrid. It's about watching hamsters: who's doing what and why. If they aren't entertaining, get rid of 'em! Thanks for encouraging my behavior. Your pal, dingo







CANADA POWER STATUS


Emmett won Part 1
Gary won Part 2
Gary won Part 3 and final HOH, and evicted Emmett
Jillian won BB Canada 4-3







BB CANADA DRINKING GAME


Take a swig whenever someone asks when BB15 starts (June 26)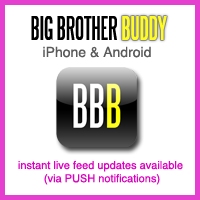 Get the Big Brother Buddy mobile app!
Available for Android or iPhone/iPad






BIG BROTHER PAST SEASONS



Amazon DVDs BB4 - BB3

Amazon Instant View BB14
- BB13
BB12
- BB11
- BB10
- BB9
- BB8


iTunes BB14
- BB13
- BB12
- BB11
BB10
- BB9
- BB7 All-Stars





BB14 FAQ


If you have SuperPass, access mobile feeds by going to real.com/bigbrother on your mobile device's browser. Log in (upper right), select Big Brother, and select Live Feeds from the drop menu. There is no app.

The BB14 untwist resulted in no eviction, and all coaches entering the game. Boogie was the only one who didn't vote to enter. If all had said no, there would have been a hamster revival.

Willie was ejected for head-butting Joe. Threats & verbal attacks are legal - aggressive physical contact is not.

They called pre-show sequester 'convention' or 'knitting convention', and they're calling Diary 'the wizard' or 'dairy queen'.

Ashley revealed they wear earpieces for nominations, at least early on.

CBS shows were Sundays and Wednesdays at 8pm, and live eviction Thursdays at 9pm.

Big Brother After Dark aired midnight to 3am nightly (1am to 4am Thursdays) on Showtime (SHO2) in USA, and on Slice in Canada at various times - check your local listings.

BB14 prizes are the same: $500k for the winner and $50k for 2nd place. The others still earn $750 a week including pre-show hotel and jury sequester. Kara and Jenn may have gotten more.

The coach of the winner would have gotten $100k without the untwist. Returning veterans got $20k to show up, and/or a higher stipend after the untwist.

The habitat has 53 cameras (up one) and 98 microphones (up three).

The recorded in-house announcements are the voice of producer Don Wollman.

All feeds stay on one 'scene' when someone's in Diary.

The Glass House premiered June 18 on ABC and ran for 10 episodes. The winner got $250,000 - half the usual BB winning amount. The glass hamsters went into hotel sequester on weekends.

Big Brother Canada premieres February 2013.





Most external links will open a new browser window

Hamsterwatch sections
Big Brother 14 - Daily Hamsterwatch latest episode
Big Brother 14 - Daily Index of episodes
Hamsterwatch Forum reopening soon
Hamsterwatch Chatroom
SuperPass live feeds free trial

Big Brother adult links - explicit! Over 18 only - updated with Kara, Lane, Brendon, Nick

Site help, info, privacy policy
Hamsterwatch Twitter
Hamsterwatch Twitpic screencaps from the feeds
Hamsterwatch Facebook
Hamsterwatch Swag - shirts, mugs, undies, etc
Hamsterwatch MySpace inactive but some blog posts remain

Big Brother 13 daily index
Big Brother 12 daily index
Big Brother 11 daily index
Big Brother 10 daily index
Big Brother 9 daily index
Big Brother 8 daily index
Big Brother 7 All Stars daily index
Big Brother 6 daily index
Big Brother 5 daily index
Cowboyisms (BB5)
Hollyisms (BB5)
Lisaisms (BB3)





Official Big Brother sites

On Camera Audiences live show tickets - free but very limited availability
SuperPass Big Brother feeds, Flashback, video clips, chat, live shows, iPhone/iPad viewing - sign up for free trial for full access


CBS Big Brother 14
CBS Big Brother 13
CBS Big Brother 12
CBS Big Brother 11
CBS Big Brother 10
CBS Big Brother 9
CBS Big Brother 8
CBS Big Brother 7 All Stars
CBS Big Brother 6
CBS Big Brother 5
CBS Big Brother 4
CBS Big Brother 3
CBS Big Brother 2
The Big Brother 1 official site was on AOL and has been removed

Big Brother Canada





Official Big Brother on Twitter - see all on my Twitter list

Big Brother HOH
Big Brother Watch
CBS Big Brother
Julie Chen
Alison Grodner
CBS Tweet
SuperPass Big Brother Live Feeds





Former hamsters on Twitter - see all on my Twitter list
BB1 Will Collins (Will Mega)
BB1 Jamie Kern Lima
BB1 Brittany Petros
BB2 Sheryl Braxton
BB2 Hardy Hill
BB2 Dr. Will Kirby
BB2 Nicole Nilson Schaffrich
BB2 Krista Stegall
BB3 Chiara Berti
BB3 Amy Crews
BB3 Lisa Donahue
BB3 Jason Guy
BB3 Danielle Reyes
BB3/7 Marcellas Reynolds
BB4 Erika Landin
BB4 Jun Song

BB5 Holly King
BB5 Marvin Latimer
BB5 Scott Long
BB5 Adria Okins & Natalie Montgomery
BB5 Will Wikle
BB6 Beau Beasley
BB6 Ashlea Evans
BB6/7 Howie Gordon
BB6 Sarah Hrejsa
BB6/7/14 Janelle Pierzina
BB6/7 James Rhine
BB6/7 Kaysar Ridha

BB8 Joe Barber
BB8 Daniele Donato
BB8 Evel Dick Donato
BB8 Mike Dutz
BB8 Dustin Erikstrup
BB8 Kail Harbick
BB8 Carol Journey
BB8 Jen Johnson
BB8 Amber Siyavus

BB9 Alex Coladonato
BB9 Natalie Cunial
BB9 Jen DiTurno
BB9 Neil Garcia
BB9 Amanda Hansen
BB8 Chelsia Hart
BB9 Sheila Kennedy
BB9 Matt McDonald - yes, from prison
BB9 Parker Somerville aka Parker Delon
BB9 James Zinkand

BB10 Michelle Costa
BB10 Steven Daigle
BB10 Memphis Bob Garrett
BB10/14 Dan Gheesling
BB10 Brian Hart
BB10 Renny Martyn
BB10 Libra Thompson

BB11 Chima Simone Benson
BB11 Kevin Campbell
BB11 Laura Crosby Stein
BB11 Jessie Godderz
BB11 Russell Kairouz
BB11 Jordan Lloyd
BB11 Natalie Martinez
BB11 Michele Noonan - also @DoctorMichele
BB11 Jeff Schroeder
BB11 Ronnie Talbott
BB11 Lydia Tavera
BB11 Casey Turner

BB12 Kristen Bitting
BB12 Lane Elenburg
BB12 Ragan Fox
BB12 Andrew Gordon
BB12/14 Britney Haynes
BB12 Kathy Hillis
BB12 Matt Hoffman
BB12 Hayden Moss
BB12 Enzo Palumbo
BB12 Rachel Reilly
BB12 Brendon Villegas
BB12 Annie Whittington

BB13 Kalia Booker
BB13 Porsche Briggs
BB13 Dominic Briones
BB13 Cassi Colvin
BB13 Exum
BB13 Shelly Moore
BB13 Adam Poch

BB14 Ashley Iocco
BB14 Danielle Murphree
BB14 Frank Eudy
BB14 Ian Terry
BB14 Jenn Arroyo
BB14 Jodi Rollins
BB14 Joe Arvin
BB14 JoJo Spatafora
BB14 Kara Monaco
BB14 Shane Meaney
BB14 Wil Heuser

Big Brother merchandise

Hamsterwatch Swag - hats, shirts, mugs, more
Big Brother 13 at iTunes
Season Pass or individual episodes
Official Big Brother merchandise
available from the CBS Store
Wireless headphones with charging cradle or AAA batteries invaluable feedster tool

Devil duckies
as used so creatively by Dr. Will Kirby and Matt Hoffman
Their superplush throw blankies available from Amazon.com
Duckie and dolphin pool chlorine dispensers available from Amazon.com
Big Brother Slop available from Bill Pearl Enterprises
Muscle Milk protein drink available from Amazon.com

Ragan Fox's books: Heterophobia - Exile in Gayville - Gays in (Cyber-)Space
Matt Hoffman's band Shooting Blanks: You're Not Gonna Want To Hear This (CD) - MP3s
Reality TV Chicks Bye Bye Bitches t-shirts and official Howie stuff
C=Venus store Buxom blonde/Beefcake t-shirts, BB6 chops signed by Janelle
Dr. Will's own t-shirts Chill Town, Julie's Favorite, Showmance, The Real HOH, etc
Kirby Dermaceuticals Dr. Will's skincare products





Unique & recommended Big Brother sites
Attwx Remembers Big Brother videos, quotes, pics, trivia from all seasons by BB's #1 fan
B-Side Blog hilarious recaps of the CBS shows
Big Brother Buddy BB14 mobile app - Android - iPhone/iPad
by AimX Labs
DogDave first to find big news plus all the edgy stuff
BB East Coast Live Feed watch the show live when it airs in the East
Pick a Homepage - Big Brother one-stop shop to make your daily BB site rounds
Reality Blurred all reality TV with a good selection of Big Brother articles
Reality TV Links emphasis on BB14 individuals' sites
Reality Wanted reality TV casting info
Sir LinksALot all the BB14 links
Wikipedia Big Brother and Big Brother USA





Big Brother 14 photochops
ArtMaggot chops Twitpic - Facebook
EarthdogBB chops Twitpic - Facebook
CVenus BB Chops
Survivor Sucks BB14 Photochops





Big Brother 14 sites, blogs, updates - if you want to exchange links, send me a tweet
BB13 Blogger by Kinzie
BB Canada Insider
BB Dish by Carolyn & the Dish Chicks
BB Insider
BB Rantiness
BB Spy USA UK-based site
Because You're Addicted
Big Brother Access
Big Brother Anonymous
Big Brother Archive
Big Brother Archives by Quirkydude
Big Brother Chatter
Big Brother Diaries by Big Pauly
Big Brother Fans Blog
Big Brother Fans Canada
Big Brother Fanatics
Big Brother Game
Big Brother Gossip with HamsterDame
Big Brother Junkies
Big Brother Leak
Big Brother Lounge
Big Brother Network
Big Brother Rants
Big Brother Twister
Bitchy Big Brother by Colette Lala
Buddy TV
Cat Lady Gazette funny, no holds barred look at BB & its fans
DumbScreen.com
FunBB Yahoo! Group - Chill Town
I Hate Big Brother irreverent, funny, and spot on
I Love Reality
Jeff and Jordan Fan Site
Jokers Updates
Morty's TV
Odd and Stupid by G-man
Online Big Brother
Reality BBQ
Reality TV Fans
Reality TV Lounge
RTV Zone
Shows Before Ho's
Spy Hollywood
Survivor Sucks
The (TV) Show Must Go On by Jackie
TV Fishbowl
We Love Big Brother
Yakkity Yaks






Linking to any page here is fine but please do not repost any content from this site (or any other) without permission, and do not repost or hotlink to any images


!! THIS MEANS YOU !!








UPCOMING EVENTS


June 26: US Big Brother 15
Will air Tuesdays 9pm, live Wednesdays 9pm (8pm starting July 17), and Sundays 8pm







LIVE FEEDS ARE CHANGING



For the first time since BB1, the BB15 feeds will be available via CBS and not SuperPass. Nothing else is known at this point except that signups will continue to help the site you get them through, so thanks in advance for getting yours here! Details will follow as far as cost, delivery method, Flashback, and whether or not they'll be available to Canada and other countries, so stay tuned - I'll post and tweet the info as it becomes available.







AMERICA'S VOTE


Which hamster should win $25k?
> Frank







RATINGS WATCH


Thursday's live finale remained in second place with 7.42 million viewers, 2.5 rating and 7 share, behind The X Factor on FOX with 9.38/3.5/10, and ahead of Modern Family & Revenge reruns on ABC, Law & Order SVU & Revolution reruns on NBC.







Clicky: caps sorted by day - all caps