This site is about the Big Brother 14 feeds and contains spoilers! It isn't necessarily thorough: it's what I catch and/or what interests me, and it isn't necessarily about who will win, who should win, who's cute or who's horrid. It's about watching hamsters: who's doing what and why. If they aren't entertaining, get rid of 'em! Thanks for encouraging my behavior. Your pal, dingo







CANADA POWER STATUS


Emmett won Part 1
Gary won Part 2
Gary won Part 3 and final HOH, and evicted Emmett
Jillian won BB Canada 4-3







BB CANADA DRINKING GAME


Take a swig whenever someone asks when BB15 starts (June 26)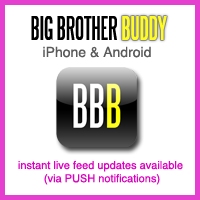 Get the Big Brother Buddy mobile app!
Available for Android or iPhone/iPad






BIG BROTHER PAST SEASONS



Amazon DVDs BB4 - BB3

Amazon Instant View BB14
- BB13
BB12
- BB11
- BB10
- BB9
- BB8


iTunes BB14
- BB13
- BB12
- BB11
BB10
- BB9
- BB7 All-Stars





BB14 FAQ


If you have SuperPass, access mobile feeds by going to real.com/bigbrother on your mobile device's browser. Log in (upper right), select Big Brother, and select Live Feeds from the drop menu. There is no app.

The BB14 untwist resulted in no eviction, and all coaches entering the game. Boogie was the only one who didn't vote to enter. If all had said no, there would have been a hamster revival.

Willie was ejected for head-butting Joe. Threats & verbal attacks are legal - aggressive physical contact is not.

They called pre-show sequester 'convention' or 'knitting convention', and they're calling Diary 'the wizard' or 'dairy queen'.

Ashley revealed they wear earpieces for nominations, at least early on.

CBS shows were Sundays and Wednesdays at 8pm, and live eviction Thursdays at 9pm.

Big Brother After Dark aired midnight to 3am nightly (1am to 4am Thursdays) on Showtime (SHO2) in USA, and on Slice in Canada at various times - check your local listings.

BB14 prizes are the same: $500k for the winner and $50k for 2nd place. The others still earn $750 a week including pre-show hotel and jury sequester. Kara and Jenn may have gotten more.

The coach of the winner would have gotten $100k without the untwist. Returning veterans got $20k to show up, and/or a higher stipend after the untwist.

The habitat has 53 cameras (up one) and 98 microphones (up three).

The recorded in-house announcements are the voice of producer Don Wollman.

All feeds stay on one 'scene' when someone's in Diary.

The Glass House premiered June 18 on ABC and ran for 10 episodes. The winner got $250,000 - half the usual BB winning amount. The glass hamsters went into hotel sequester on weekends.

Big Brother Canada premieres February 2013.





>> >>
>>
ALL AMAZON.COM PURCHASES MADE THROUGH THIS LINK HELP SUPPORT THIS SITE
Big Brother Canada (February thru May 2013)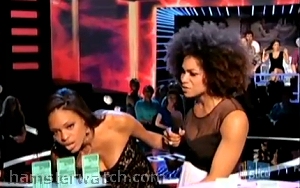 BB Canada premiered Wednesday, February 27.. the hamsters moved into the habitat February 21, making that Day 1 of a

75

71 day season that wrapped up in a two-hour finale on May 2

Jillian MacLaughlin won the first Canadian season in a 4-3 voting fiasco, since Topaz Brady claimed to have made a mistake by voting for Jillian over runner-up Gary Levy - watch the video for a "150%" snafu that won't soon be forgotten, and that qualifies Topaz as the new and undisputed winner of the ever-updating Dumbest Move in BB History award

Air shows ran on Slice TV Sundays, Wednesdays, and

live

taped eviction Thursdays, with BB After Dark running on Slice every night for three hours starting at 2am ET, taped from earlier the same night.. archives of the air shows are available to Canadians at the official site, and for the rest of us on YouTube, courtesy of both BigBrotherArchive and BigBrotherCA2013

Free live feeds were viewable at the official BB Canada site, and restreamed by various kind folks for the rest of us outside Canada.. unfortunately they cut the feeds officially down from 24/7 midway through the season, and cut them off completely several days before the finale, including the almost always enjoyable final endurance comp.. caps of some of the feed highlights are on my Twitpic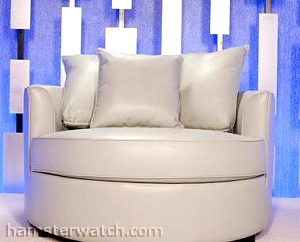 Winnings: Jillian $100k, Chevy Trax, $25k at The Brick; Gary $20k; Alec $10k; Andrew $10k at The Brick; Emmett $1k.. hamster stipend was $75 a day.. figures are Canadian dollars.. winnings are not taxable in Canada, making the prizes quite a bit fatter than they might appear, but I don't know if prizes or stipend would be classed game show winnings or earnings - consult your local Canadian tax attorney

Evictions: Kat 11-1; Danielle 8-3; Aneal 8-2; Tom 8-1; Liza 8-0; Suzette 6-1; AJ 4-2; Gary 5-0; Alec 3-1; Topaz 3-0; Peter 2-0; Andrew 2-0; Talla 1-0, Emmett 1-0

Heads of Household, in order: Suzette, Jillian, Tom, (Emmett/DQ'd), Gary, Andrew, Alec, Topaz, Andrew, Jillian, Emmett, Jillian, Emmett, Jillian, Gary

Revive-a-Hamster returnee: Gary

Thanks to BB Canada for an overall decent debut season (especially the first half or so), to all the Canadian hamsters, to the streamers, and to everyone who visited this site and/or followed me on Twitter or Facebook - see you again in June for Big Brother 15!



We got Canadian hamsters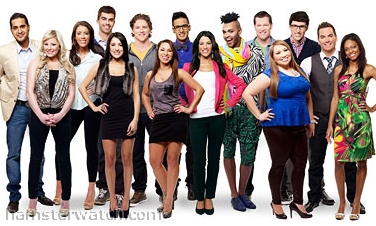 With one week to go, BB Canada has released 15 names, pics and stats on February 20.. at first glance, they seem to be a relatively diverse group of individuals - time will tell if that's true, or if they were selected to conform to Robyn Kass's cookie-cutter casting formula

The fresh meat is as follows:

Jillian MacLaughlin - 27 - New Glasgow, NS - Teacher
Thomas Plant - 24 - Edmonton, AB, orig. Calgary, AB - Bartender/firefighter
Peter Brown - 26 - Surrey, BC, orig. Millville, NB - Web content curator
Talla Rejaei - 26 - Edmonton, AB - Independent living support worker/social work student
Suzette Amaya - 36 - East Vancouver, BC - Support worker/radio producer & host/motivational speaker
Danielle Alexander - 20 - Calgary, AB, orig. Fort McMurray, AB - Student/aspiring actress
Aneal Joshua Ramkissoon - 21 - Richmond Hill, ON - Communications major
Emerald "Topaz" Brady - 27 - Scarborough, ON - Part-time dental hygienist/full-time student
Liza Stinton - 29 - Toronto, ON - Tanning salon owner
Anuj "AJ" Burman - 32 - Scarborough, ON - Director of business development
Emmett Blois - 24 - Gore, Hants County, NS - Dairy farmer
Kat Yee - 27 - Toronto, ON - Bartender
Andrew Monaghan - 38 - Halifax, NS, orig. Corner Brook, NL - Insurance sales trainer
Alec Beall - 26 - Vancouver, BC - Social psychological research/doctoral student
Gary Levy - 21 - Toronto, ON - Bartender/artist/fashion stylist assistant

See pics and read more about them at Slice's BB site.. teasers/rumors have suggested one of them might be gone before the premiere, also there is a live eviction the next day

Cast interview videos are trickling in from 99.9 Virgin Radio, and we've got house pics plus a house tour with host Arisa Cox.. you can also watch a mock mini BB with journalists: part 1 - part 2



Joe Schmo very special edition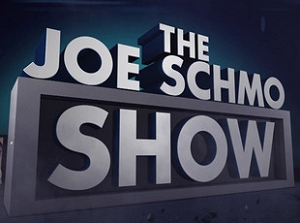 If you haven't caught Spike TV's The Joe Schmo Show: The Full Bounty yet, you're missing out on a show that seems like it was custom-made with Hamsterwatchers in mind. This preposterous reality parody/hoax/comedy uses a team of talented improv actors, writers, and staff to throw every reality cliche (and then some) at one guy who thinks he's on a real competition elimination show. For this third Joe Schmo outing, the victim is Chase Rogan, an incredibly nice, bright, and likable guy who thinks he's competing for $100,000 and his own bounty hunter show reality show. The premise is good enough on its own but the real treat is how far everyone takes it: Joe Schmo has the very best point 'n laugh stuff that we love without being cruel, it's ribald without being raunchy, and it's utterly hilarious - especially if you're aware of all the reality staples they lampoon each week, and you know you are.

The many laugh-out-loud delights of Joe Schmo 3 include a deaf ventriloquist and her interpreter, attack dogs and tasers (!!), challenges like Bring Your Convict to Work Day, an "immunity vest" that weighs about 50 pounds, and eviction ceremonies with guest animals and an exploding cauldron. The cast includes Ralph Garman as host once again, this time as Jake Montrose, not-quite-superstar bounty hunter; Lorenzo Lamas, often seen flaunting a banana hammock (the "European Casual Pouch") and pointing to his crotch; Rob Belushi (Jim's son), who plays "the buddy"; and of course Chase Rogan as himself.

Executive Producer J. Holland Moore graciously agreed to answer a few questions about the ins and outs of the show for us, and his comments show how much heart this show really has. Interestingly, Mr Moore worked on Big Brother 2 and is actually the person who came up with the idea of the nominations key box! Talk about staples...

While I can't wait to see the big reveal, I'm also dreading the end of the season. Are there plans for another season?

Right now there are no plans for another season. But if there were, I couldn't tell you. The secrecy that goes into the show is unparalleled. It would be easier to get the President's cellphone number than to get me to spill any plans. It is TV, so if the numbers are there...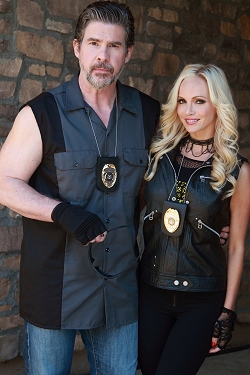 I haven't seen a lot of advertising for the show. Does Spike not realize what a goldmine they have here, or is it a budget thing? The buzz is terrific but I'd love to see some well-placed ads on other reality shows so folks know about the show.

Spike has been great. As a producer, you never think the network is doing enough to promote your show, but Spike has been better than most. It's very expensive to advertise off network and they put a lot of cash into doing that. The problem is, there are so many options these days, it's really tough to get the word out. I have friends that saw commercials on The Biggest Loser and some in the NFL Playoffs. That's not too shabby.

Still, it's so hard to get real awareness out there. I still see tweets every day that say, "What? The Schmo Show is back? That's my favorite show." We're coming up on episode six. It's a real struggle to get the info out there. There are shows that I love that I miss simply because I don't hear about a new season. It's such a tough thing to get eyeballs on a show. I wonder how many great shows I miss simply because I don't hear about it.

We've seen several occasions of control room angst when Chase gets suspicious about this or that. What if he had figured it out? Everyone could deny, call him paranoid - we've seen that on BB, and often. Did you have a Plan B in place?

Rhett Reese and Paul Wernick created the Joe Schmo concept years ago and Rhett used to always have this mantra of "Deny, deny, deny." And that's a big tool. If something goes wrong, we can just deny everything until we've bought enough time to distract the mark and move on to something else. Now, there were certain scenes that we had back-up plans for in case Chase didn't go the route we expected. We plan for as much as we can, but we can't plan for everything.

If the jig was really up, did you ever think about just playing it out with Chase in on everything, and we the viewers become the Schmo? (like most every other "reality" show these days...)

Never. That wouldn't be the Joe Schmo Show. I think it would be incredibly unsatisfying as a producer to trick the audience like that. And as an audience member, I would be super pissed if a show did that to me. As writers, producers, and actors, we all took this amazing journey together. We want the viewers to take that same journey. I would never want to disrespect the good people that tune in every week and then say, "Gotcha!" That kind of TV holds no interest for me. I want the audience to feel they are a part of the show, not made to feel stupid.

A lot of people say we make fun of Chase because it's an easy concept to grasp, but, if you really watch the show, we never make fun of Chase. We are the weird ones. We give him an opportunity to make good decisions and he does. That's one of the really unique aspects of this show.

Lorenzo Lamas is such a superb parody of himself, how did that come about? Did you have other celebs in mind to play themselves? And will he and his European Casual Pouch be back, hopefully?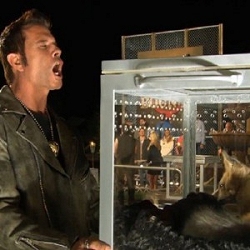 I wanted to have a celebrity on the show. I just thought it was funny to have this pretentious, self-absorbed celebrity disrupting the house. I'm also a big Celebrity Apprentice fan and that was on when I was coming up with the characters and story lines for this show. We did have some other celebrities in mind. I won't say who those others were. My first choice on paper would have been great, but in reality, would probably have been uncontrollable and blown the show the first day. My partners in this show, Zoo Productions, had done a show with Lorenzo before and his history with the show "Renegade" was perfect for this season's concept.

I was initially a little worried about Lorenzo because I had never seen him do comedy. I thought, if he gives me 50% of what I have on the page, he'll be fine. When we gathered everyone for the first table read, Lorenzo blew me away. That guy is such a pro and so talented. It really is amazing to me how he hasn't done more comedy in the past. I wish everyone could see all the great stuff Lorenzo did on the show, but we are limited by time. I could put together three more episodes with just Lorenzo scenes. The guy is brilliant. I have nothing but love for Lorenzo Lamas. As to whether or not he returns, all I can say is reality shows have twists all the time. Keep watching. You may be surprised.

Was Skylar's husband's "tragic cement pouring accident" inspired by the old Roseanne storyline?

I wasn't aware of Roseanne having a similar storyline. It was actually inspired by a real story in the news. One of our writers Michael Curtis heard about it and it was perfect. We added a ton of details, that simply for time got cut in the edit, but the full story was her husband was working a construction site and decided to take a nap on his break in a ditch. They accidentally poured cement in the hole while he was napping. By the time they figured out what had happened, the cement was already dried. Instead of digging him up, they just continued with the project as a memorial. That's why Skylar's husband has an overpass named for him.

I would like to take a second to sing the praises for my fellow writers on the show. Trevor Dellecave was the first to come in after I had come up with the story. He's super talented and brought a ton to the show. The Montrose Bail Bonds commercial with Jake and Wanda was his. I know I spelled his last name wrong, but I always do and he shouldn't have such a hard name to spell. Then we brought in Michael Curtis and his writing partner, Roger Schulman. Two of the funniest writers I've ever worked with. Michael was a show runner on "Friends," but more importantly, he was a writer on Season 1 of "The Joe Schmo Show." I wanted someone like me who had been there and knew what to expect. I was actually shocked he and Roger were available, but Michael had so much fun on the first show, he and Roger put things on hold to help out. I will forever be grateful for that.

The show is so deliciously over the top in every way, I assume you had more freedom at Spike than you might have had at major networks. What's the most outrageous thing that you got away with?

Spike gave us tremendous liberty. Sharon Levy, Executive VP of Original Programming at Spike was on the production company side of the original show 10 years ago. She knows the show inside and out. More importantly, she loves the show. To get that kind of support from a network is invaluable.

As far as the most outrageous thing we got away with, well, I can't tell you that yet. There's a lot of craziness still to come.

Were there things they simply said no can do? And if so, can you share?

Spike was unbelievably generous with the story line I was creating. I had purposely written the eviction ceremony crazy because I was sure they would say "no" to something, but they didn't. They were supportive of everything. I killed one idea. I like to push things and see things on TV I've never seen before, so I was going to have Randy get killed on a hunt. For the finale when the cast returns, we would roll out a coffin. When it came time to reveal the show, he would pop out of the coffin. Now, on paper, that could be very funny. It's completely absurd.

But, I decided against it because even though these people are fake, to Chase they are real. If he had been close with Randy, having him die is just too mean. To make someone start the grieving process and then say, "Guess what?" is just cruel. I couldn't do it. And something tells me the network would have eventually said "no" to that. When you start the process you throw out all of these crazy ideas. It's sometimes easy to forget that although these characters and scenarios are ridiculous and fake, Chase is a real person. Our number 1 goal is to create a show that allows him to shine. We don't want someone going into a depression or a dark place for a laugh. No joke is worth hurting another person.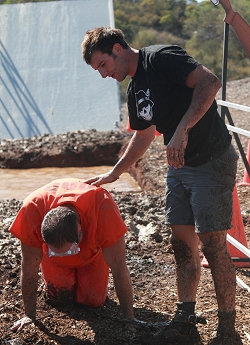 The idea of tie votes being settled by a fist fight was another stroke of genius! Do you think ideas like that or other gags you came up will trickle down to other shows? In diluted form of course.. or not.

It might. It wouldn't surprise me. Who wouldn't want to see a couple women on "The Bachelor" scrap it out for that final rose? Some of the stuff we did on Joe 1 at the time that were considered to be over-the-top would be tame by today's standards. We had to amp up our game. I think we did.

Unlike the previous Joe Schmo seasons, everyone's connected now and watches TV together. Do you think your premise will have any effect on the reality genre overall, either from a production standpoint or from contestants fearing they're being Schmo'd when things go loony?

Social media makes this show super hard to do. It makes the secrecy aspect that much tougher. If one person had tweeted, "I hear they are doing another Joe Schmo Show," we may not have been able to pull it off. That being said, once the show is on the air, I love the interaction with the fans. I literally read every tweet about the show. If someone asks a question I try to answer. I live tweet the episodes. It's fun to hear what people like. Some people are shocked the EP of a show they are watching would respond to them, but my philosophy is if you took the time to watch my show, I can at the very least answer a question. I know I strayed from your question but I did want everyone to know, how much I appreciate your comments and questions. It means the world to me that you are watching. The actors love it too. We may have the most social media friendly show ever.

I would love to see elements of the show trickle into reality TV. Nothing would make me happier than for every contestant on every new show to think they are on the Joe Schmo Show. To me, that would be hysterical. Productions shutting down so producers can assure everyone they are not on the Joe Schmo Show would really make me chuckle.

I was surprised to see the staff go in on a recent episode to "de-mic" everyone. Were they only mic'd and taped for X hours a day? What if something fabulous were to happen when they weren't?

When we sent them to their rooms for the night we would de-mic them. One of the reasons Chase got the Top Dog Suite is that we needed to keep him separate from the cast at night. It gives them time to decompress, plus it is cost prohibitive to keep actors on the clock 24 hours a day. We weren't afraid of missing anything since they were instructed to stay in their rooms until morning. We had cameras in Chase's room so he was monitored 24-7. We have lots of footage of him sleeping.

Which leads to whether Joe Schmo is classed as a reality or scripted show? The 2008 writers' strike took scripted shows off the air, but reality shows like American Idol and Big Brother 9 crews were allowed to work.

We are a hybrid. Those shows were allowed because they are unscripted. Kind of. I can speak for Big Brother, (I worked on Season 2), and when I was there, none of the competitors were scripted. Ever. However, Julie Chen is when she does her evictions. These are written by a writer, but in reality TV, they call them Producers. It's a sneaky way of getting around the rules. I'm guessing American Idol does the same thing. Ryan Seacrest isn't ad-libbing all of the intros up there. Although, having worked with Ryan on his Oscar Red Carpet show, he probably could. That guy really knows the ins-and-outs of television production. He is not just a pretty face who's given a producer title just to stroke his ego. Ryan knows his stuff.

Since our show is so heavily scripted and the writers and I are all members of the Writers' Guild, we would have had to shut down during a strike. Our approach is to treat this show like a sitcom and we write it as such. The problem is, it's a sitcom where one character can change your storyline at any time. It's really a unique show.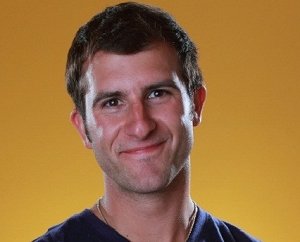 All three seasons' hapless victims have been from Pittsburgh. Is there something to that, or just happy coincidence?

Some of that is happy coincidence but I think a lot of it has to with the type of people who live in Pittsburgh. We look for good people with strong morals, a solid work ethic, who you would want to see win some cash. That's Pittsburgh. I'm no psychiatrist, but my theory is the weather has something to do with it. Those tough winters force you to stay inside with your family. You learn values. You work hard. And everyone in town has to go through the same brutal winter. It brings them together as a community. There are just good people in Pittsburgh.

One thing I do want to address is people that say, "Oh you got three people from Pittsburgh. They must be really stupid." Comments like that really upset me. We don't find "stupid" Joes. There's no fun or challenge in that and frankly, it's mean. Chase Rogan is a smart guy with a Masters degree. It's easy to look at Karlee at home and say, "I'd never fall for that." Well, I bet you would. Chase is just going by all the info he's given. He has no reason to believe Karlee isn't deaf. He's in a world we created and he's going by the information we've given him. Karlee was such a strong competitor, it's not like she was failing at physical challenges. Sure, she has an obstacle to overcome, but why can't she be a Bounty Hunter? All of our craziness is based in a shred of plausibility. If you are sizing up your competition based on all of the info you have (info we've given him) you have no reason not to believe.

Can we look forward to lots of juicy out-takes and DVD extras when the season's over?

There are so many scenes I would love for people to see. The material is there. Now, whether the money and time are there to include them are another thing. I'd like to think there will be.

Do you have other shows you're working on now that we can look forward to? Do you think the uniqueness and the kooky setup of Joe Schmo will make it harder or easier to get "legit" work in future?

I'm still finishing up putting this show together. It takes a long time to cut all that footage down to 42 minutes a week. I would hope my uniqueness will make it easier to find "legit" work. I have experience doing an innovative show. I'd like to think that counts for something. I'm actually pretty picky about what I work on these days. I only want to do good shows that I can be proud of. I'm not interested in exploitative shows, shows about kids partying, or shows that are obviously faked, but claim not to be. I think some people have gotten off track. We're celebrating the worst in people and making them celebrities and role models. The number of celebrities who are famous for being famous is staggering these days. I want to see actual talent.

I have done the last two Comedy Central Roasts and I'll do those until they tell me not to. Those are so fun to do. Just being in a writers' room of that caliber for those shows is a priceless experience. They make me better. Writers like Mike Ferrucci, Chris McGuire, Tom Johnston, Kevin Schini, Frank Sebastiano, Tess Rafferty, Blaine Capatch, David Feldman, Jessie Joyce, Ray James, Mike Rowe, Vanessa Ramos. I could go on and on and I certainly missed some people. When you surround yourself with good talented people, it makes everything better.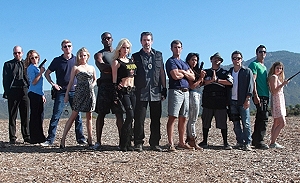 I would also like to take a second and brag about the cast. We had a casting team led by Pat Melton, Will Levine, and Ted Hann. These people are the best at finding comedic actors with strong improv skills. The actors they found us were unbelievable. Every one of them brought so much to this show. They are the most immensely talented group I've ever seen. I remember how surreal the first table read felt when everyone arrived. 6 months ago these characters only existed in my head and now they are right here in front me, just as I imagined. Actually, better than I imagined. They all brought the funny. I know Kristin Wiig broke out from the first season, but I could see any of these actors breaking out. Their talent made a really grueling shoot much easier. I would go to war with any of them. We'd probably be shot fairly quickly, but it would be funny and well acted.

HUGE thanks to Mr Moore for taking the time to "chat" with us about this wonderful show (and for showing us how cool it can be when a production team really cares about its fans, ahem). Follow him on Twitter where he live-tweets each episode for both the East and West Coast airings, answers questions, and goofs with the cast.

And if you haven't seen Joe Schmo yet, not to worry! It airs Tuesday nights at 10pm on Spike, and the season's only halfway through. You can catch up much of what you've missed at Spike.com and/or your cable's on-demand service, or watch every episode at Amazon.com or iTunes
. Tag your tweets #JoeSchmo, tell your friends, and spread the word!



Big Brother Canada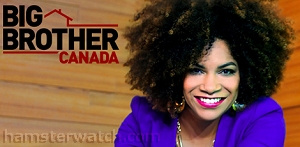 February 27 marks the premiere of Big Brother Canada - here's what we know:

The show will air Sundays & Wednesdays at 9pm and live eviction Thursdays at 10pm on the Slice channel, with the first eviction on the second show, February 28! Arisa Cox will host.. Slice will also carry Big Brother After Dark for three hours live every night starting at 2am ET/11pm PT.. Shaw Media says they will offer a Slice free preview in time for the premiere

There will be a 24/7 live feed from the habitat in Mississauga, Ontario that will begin after the premiere, and it will be free at the official BBCA site.. unfortunately the feed, the shows, BBAD, and even highlight video clips will only be (legally) available to Canadians, but not to worry, there are sure to be a number of helpful folks who will restream it all for the rest of us

Interestingly, The Northern Powers That Be keep saying this is the first Canadian Big Brother but that isn't actually true: while it's the first nationwide version, Quebec ran a French language Big Brother in 2010, which was adapted from a French BB spinoff called Loft Story.. that Quebec version used the USA format of hamsters evicting their own rather than viewer votes like most international BBs.. as far as I know, the upcoming BB Canada will also use the USA format, since most everything else so far is lining up to be similar to ours



Big Brother baby boom
Congrats to Janelle Pierzina, who's expecting again, and to Natalie Cunial who has a baby boy arriving this month, and to Enzo Meow-Meow Palumbo who welcomed a new baby boy January 29! Britney Haynes and Natalie Martinez are also expecting little ones

When you add the new kidlets to Janelle and Enzo's firstborns Violet and Gia, Dr Will Kirby's Cash and Scarlett, Boogie's Brady, Jun Song's Noah, Julie's Charlie, and the various other second generation hamsters that have come along, it's looking like we'll have enough to form the cast of Big Brother 2035: The Next Generation - that's an All-Stars that even I'd watch



Celebrity Big Brother (January 2013)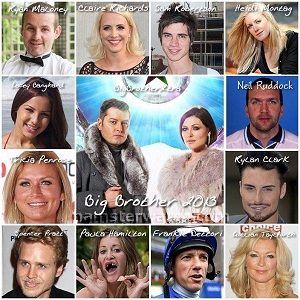 The 11th installment of UK Celebrity Big Brother launched on January 3, to run about three weeks and featuring the usual group of models, has-beens, and reality staples.. there are no 24/7 feeds, but well-edited shows air daily on UK's Channel 5 with "Bit on the Side" talk show following.. watch live at VIPbox - no downloads are required, despite what the page ads say.. follow @vipbox_tv for link updates, and/or follow @Ermmmmmmm for quick YouTubes

This season's cast was leaked before the show, accurately, by @BigBrotherXtra - click the pic for larger version.. Lindsay Lohan was rumored by some but isn't on the show.. comedian Jim Davidson was scheduled but was recently arrested on sex charges.. the house has an equivalent to the USA Have-not room this year, termed The Basement, and its residents have no hot water, no showers, and no access to their luggage.. half of the hamsters were sent there by the first two into the house, Frankie & Rylan

The full cast by order of entry and their claim to fame is as follows - Google them for further info.. initial Basement hamsters are marked with an asterisk:

Frankie Dettori - 5th out - Former jockey, had a drug scandal
Rylan Clark - Winner - Flamboyant X Factor UK sensation
Paula Hamilton* - 1st out - Aging supermodel, Simon Cowell ex, teeth knocked out in a recent DUI
Tricia Penrose - 6th out - Soap actress (Heartbeat), often seen on worst dressed lists
Ryan Moloney* - 9th out - Soap actor (Neighbours)
Gillian Taylforth - 4th out - Soap actress (EastEnders)
Sam Robertson* - 2nd out - Soap actor (Coronation Street)
Lacey Banghard - 3rd out - Topless model
Claire Richards - 8th out - Former pop star (Steps)
Neil "Razor" Ruddock* - 7th out - Former footballer, reality staple
Spencer Pratt* - 2nd place - Reality has-been, married to Heidi
Heidi Montag* - 2nd place - Reality has-been, known for lots of plastic surgery, married to Spencer







Linking to any page here is fine but please do not repost any content from this site (or any other) without permission, and do not repost or hotlink to any images


!! THIS MEANS YOU !!









UPCOMING EVENTS


June 26: US Big Brother 15
Will air Tuesdays 9pm, live Wednesdays 9pm (8pm starting July 17), and Sundays 8pm







LIVE FEEDS ARE CHANGING



For the first time since BB1, the BB15 feeds will be available via CBS and not SuperPass. Nothing else is known at this point except that signups will continue to help the site you get them through, so thanks in advance for getting yours here! Details will follow as far as cost, delivery method, Flashback, and whether or not they'll be available to Canada and other countries, so stay tuned - I'll post and tweet the info as it becomes available.







AMERICA'S VOTE


Which hamster should win $25k?
> Frank







RATINGS WATCH


Thursday's live finale remained in second place with 7.42 million viewers, 2.5 rating and 7 share, behind The X Factor on FOX with 9.38/3.5/10, and ahead of Modern Family & Revenge reruns on ABC, Law & Order SVU & Revolution reruns on NBC.







Clicky: caps sorted by day - all caps