This site is about the Big Brother 14 feeds and contains spoilers! It isn't necessarily thorough: it's what I catch and/or what interests me, and it isn't necessarily about who will win, who should win, who's cute or who's horrid. It's about watching hamsters: who's doing what and why. If they aren't entertaining, get rid of 'em! Thanks for encouraging my behavior. Your pal, dingo







POWER STATUS


Frank is Head of Household
Shane used veto
JoJo & Danielle are nominated
Shane, JoJo, Ian are Have-nots







BB14 DRINKING GAME


Take a swig whenever they leave the audio on when someone pees #peecam

Healthy alternative by @Staciedertinger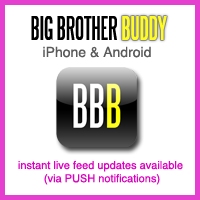 Get the Big Brother Buddy mobile app!
Available for Android or iPhone/iPad


Big Brother 14 at iTunes

BB7 All-Stars and seasons 9 through 13 are also available







BB14 FAQ


If you have SuperPass, access mobile feeds by going to real.com/bigbrother on your mobile device's browser. Log in (upper right), select Big Brother, and select Live Feeds from the drop menu. There is no app.

Willie was ejected for head-butting Joe. Threats & verbal attacks are legal - aggressive physical contact is not.

They're calling pre-show sequester 'convention' or 'knitting convention'.

Ashley revealed they wear earpieces for nominations, presumably in case prompting is needed for 'Hamster A, you are safe' and 'Thank you, Hamster B'.

CBS shows are Sundays and Wednesdays at 8pm, and live eviction Thursdays at 9pm.

Big Brother After Dark airs midnight to 3am nightly (1am to 4am Thursdays) on Showtime (SHO2) in USA, and on Global Reality and/or Slice in Canada at various times - check your local listings.

BB14 prizes are the same: $500k for the winner and $50k for 2nd place. The others still earn $750 a week including pre-show hotel and jury sequester.

The coach of the winner gets $100k. Returning veterans probably get more weekly stipend and/or a flat amount to show up (rumors say $25k).

The habitat has 53 cameras (up one) and 98 microphones (up three).

The recorded in-house announcements are the voice of producer Don Wollman.

All feeds stay on one 'scene' when someone's in Diary.

The Glass House premiered June 18 on ABC and will run for 10 episodes. The winner will get $250,000 - half the usual BB winning amount.

Apparently the glass hamsters go into hotel sequester on weekends - no, I don't know why.

Big Brother Canada premieres February 2013.



Get Team USA Olympics gear
Use code USABDAY for free shipping on orders over $50


>> >> >>
>>
ALL AMAZON.COM PURCHASES MADE THROUGH THIS LINK HELP SUPPORT THIS SITE
Pucked up (Wednesday 7/25)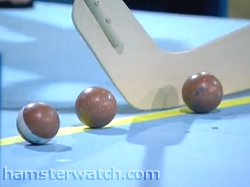 They got a hockey apparatus to practice on, presumably for tomorrow's HOH comp.. note, this is not a crapshoot as they like to call these kinds of comps, since they get to practice as much as they want - a crapshoot is simply what the losers of this type of comp like to call it

It was a very dull day in the habitat today, and I've got nothing.. things threatened to rev up when Janelle told Danielle that JoJo was trashing her and calling her fat.. Janelle told Danielle to call her out and said she'd back her up, but it wasn't her fight so she couldn't do it alone.. unfortunately for us, Danielle crumbled and said she couldn't do that, and Frank entered to play peacemaker.. later Danielle was dumbfounded when Janelle told her Joe was voting to keep JoJo for two packs of cigs, but she still didn't do or say anything to anyone.. meanwhile JoJo told Ashley that she'd "fuckin get in Janelle's face!" but she didn't follow through even when Janelle confronted her about the gossip, so we were left with Joe shouting and Shane grumbling, and that was our evening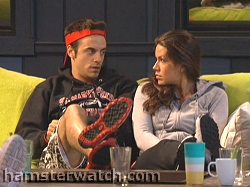 Wednesday's show was duller than usual but one thing I found interesting was Dan's Diary shout: "if Danielle leaves, I'm leaving with her" - that may or may not happen, but I believe it's the first time the scenario that a coach leaves with his or her last teamie has been mentioned on the air.. tonight's Showtime crawl reinforced that by saying "Dan will be walking out of the house" if Danielle goes - not that accuracy is the news crawl's strong suit, but it does make it somewhat official.. it also doesn't say he'd be gone for good if Danielle goes tomorrow (and anyway, she probably won't).. the two of them looked rather showmancy as he whispered hockey tips to her while the others practiced, but looks can be deceiving: he's a happily married man



Happy faces and a new face (Tuesday 7/24)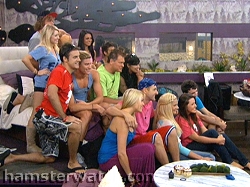 The camera came out and they posed their cheesy poses, acting like one big happy family even though we're moving beyond that now.. let's hope CBS doesn't spam the hashtag again with their stupid "Flock to Unlock" campaign - talk about a social media fail, crikey! The point of Twitter etc is not to (further) piss off your fans

Dan, Danielle and Ian were throwing lemons in and around the pool (don't ask me why), taking them from a glass bowl they had floating around - naturally it broke, resulting in a long lockdown for staff to clean up the glass.. is it the same staffers who go in the pool to pick out glass fragments as do all the junk food shopping and stacking of the Have-not supplement food towers? These are the things I wonder about.. also how would they word that stuff on their resumés?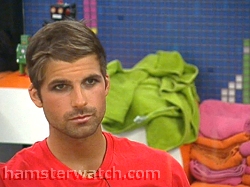 Britney had a long whine about missing her hubby and other things, occasionally reverting to old funny Britney.. Jenn & Ashley had a meeting to discuss yesterday's fiasco - I don't know if it cleared anything up or not

The high point of the day (so far) was JoJo making up Shane, complete with Staten Island smoky eye, bronzer/blush, lip gloss and hairspray.. he was a good sport about it for the most part, but I hope she isn't planning a career as a makeup artist as it sounded like she was getting as much in his eyes as on them - Flashback 7/24 3.55pm.. when he emerged to show the others, Danielle had the best reaction by far: she was clearly shocked at first, and then creeped out in a big way - she even dodged his faux advances



Three girls, one cup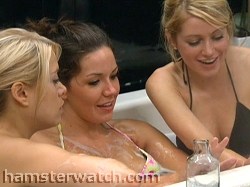 HEY that's not what I meant! They had a booze delivery for Showtime and Danielle got extra sippy, which helped counteract Joe becoming louder than ever

Britney & Danielle decided to have a drunken bubblebath and Ashley joined them, since she joins everything like that.. Dan had counseled Danielle to ease up on the booze but it was too late: the three girls passed around one cup of wine in the bath (hence the title), and proceeded to talk sex in detail, led by Danielle - Flashback 7/24 10.05pm

Somehow Showtime missed the boat for most of the suds, but that's why I keep telling you guys to get the feeds
- yes there's a lot of fishies and downtime, but there's a lot to see too.. the rest of the night was a lot of gametalk, twist speculation, and more gametalk, plus JoJo bartering cigarettes for Joe's vote - a BB first, I believe



Girltalk (Monday 7/23)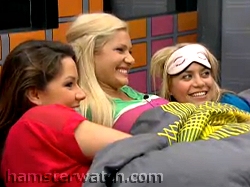 Shane used the veto on himself "obvi" and Danielle went up in his place, as planned.. Danielle was a bit mopey at the post-meeting food frenzy but perked up when she bedded down with Janelle & Ashley for a nap.. they gossipped and compared notes about current and former hamster boys, and giggled like tweens at a slumber party

Britney scolded JoJo for teasing Ian about sex last night, and lectured her about being nice this week since Danielle's tough competition on that score, and Janelle's got a built-in tie vote block of 3.. she also warned against any more sex talk or catty

Ratings for last night's Hantzing on CBS were not great: BB dropped to second place behind The Bachelorette finale - not surprising - but what is surprising is BB had only 5.36 million viewers, down 1 million from last Sunday's show and down almost 2 million from the premiere.. I believe overnight ratings do include DVR tapings, so it's not a matter of people watching one show live and watching BB later; it's a matter of Big Brother's constant core audience of 7 to 8 million definitely dwindling

Big ups to Eddie L! for supplying the text I accidentally deleted here



Chit chatter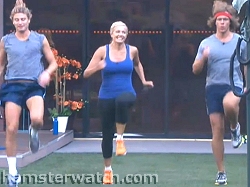 It was mostly a nothing day but I like those, especially when goony little stuff comes up, plus it's a good chance to continue investigating what makes them tick - that stuff tells far more about how the game's playing out than all the gametalk whispers and deal making & breaking, in my opinion

Wil, Janelle & Frank worked out by crossing the yard with high knees, butt kicks, and other silly walks, laughing the whole time.. following Dan's advice, Danielle dug her fake teacher story deeper & deeper with long stories and unnecessary details.. I don't know if anyone will notice or care if/when that one comes out, but honestly, why? Shane strategized alone at the kitchen counter with M&Ms for awhile, looking confused - later he dumped Danielle out of the hammock, intentionally

Britney & JoJo put makeup on Ian - everyone saw that coming sooner or later.. Ashley started crying out of nowhere, telling JoJo, Shane, Danielle, Jenn that she felt she made a mistake evicting Kara.. she got lots of comforting, and went on to say Frank &amp Ian have a Final 2 deal - she's got the babytalk whiney thing down pat, and they bought it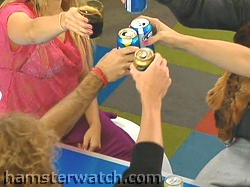 They finally got a booze delivery and decided to split it down different lines: Ashley, Janelle, Frank, Dan, Wil were the drinkers tonight.. Janelle in particular got quite sippy and loud, her Minnesota came out, and she made cookies.. feedmasters didn't show us much of the good tv that is drunken Janelle, but we could hear her in the background

Ashley's story got around fast, getting repeated, analyzed, debunked and defended in various corners.. Jenn asked her about it directly, which I can respect.. later Ashley said she never cried



Ratings - Dropping Like Flies edition
Ratings are still Monday's, based on entertainment value - they just aren't giving me much to work with



Same fishies, different day. My little missives are clearly going astray, so let's review it one more time. First name stories are ok. Public figures are ok. Not-their-real-name stories are ok, and extra ok if they're Danielle's pretend kindergarteners. Former hamsters and former seasons are ok. Maybe their manual's been upgraded this year to revise some of these longstanding rules, but I suspect it's more a case of new staffers trembling under threats of death should something verboten go out on the feeds. I suggested shock collars for the hamsters who break the rules rather than fishies for us, but I haven't seen them show up yet. Meanwhile, you can follow the fishies to keep up with their storylines.





TEAM JANELLE
Nobody can agree whether she's brilliant acting ditzy or just plain ditzy - I certainly can't read her. She seems to have burned a lot of her carefully built bridges tonight but it seemed that way last week too, and she came out of that clean. Hers is the only name that never comes up in the many futurechat plans, and I'm afraid she's got 2nd place written all over her. I won't be able to listen to her monotone for that long.





TEAMIES: Frank, Ian, Jenn
I have to admit it, he's not so bad this time. Plus he gave this site props tonight and I was anything but kind to him during BB7.. maybe he had me mixed up with another site.





TEAMIES: Shane,

Willie

, JoJo
She lectured JoJo after the veto meeting about talking sex to Ian and other scandals, and told her to reel it in this week or she'd get the boot. Britney's lectures didn't work so well with Willie - you'd think she'd try a different tactic. I wish we had our funny Britney back - this coachy one's no fun at all.





TEAMIES:

Kara

, Danielle

Jodi


His interrogation techniques are CIA caliber, and he spread them around to more victims today. He gets them talking about themselves, he figures out what they're about, and he files it away for later - meanwhile his victims have no idea and think he's their best friend. Much more effective than bamboo shoots under the fingernails. He joined in tonight with kudos for this site which I appreciate, and he noted that he didn't get many negatives his first season. He didn't mention that I kept him neutral most of the time for being rather dull on the feeds.





TEAM DAN - NOMINATED
I still like watching the trainwreck she is but I might not like it for long. She's still puppy-dogging Shane around (and I'm kind of wishing somebody would do a Fatal Attraction chop of that), but I have a scary idea that she might switch her crushing to Dan. UPDATE: @MissCleoBB14 did it - see Links of the Day below.





TEAM BOOGIE - HEAD OF HOUSEHOLD
He's playing hard and seems to be in a pretty good spot, except that he's targeted by half of them - I know that doesn't make sense but it's that kind of season. I just like the guy and I don't even know why. His dad made an appearance on a WWE show tonight - I wondered at first if TPTB hired him to shout out their failing show, but he didn't.





TEAM BOOGIE
'The fact that I was one bed over from a Playboy Playmate.. what the fuck'





TEAMIES: Wil, Ashley, Joe
Those who go back to BB6 will remember what fun drunken Janelle can be and how she holds nothing back. Unfortunately those who don't go back that far are still in the dark, thanks to the feedmasters keeping her mostly off the feeds during her sippy, even after Boogie gave her a couple extra beers he had stashed away. What I like about her, especially this season, is she's having fun in there, and you can't say that about most of them.





TEAM BOOGIE
Ups for confronting Ashley directly about her Ian/Frank story - I wish more would do that more of the time. She's still hard to find on the feeds though - so much so that I've had to start posting a Daily Jenn Sighting cap to remind people she's still there, and I can't get a good cap of her for these little Ratings pics.





TEAM JANELLE
I'm over him and his LOUD and his cocky. If he doesn't stop telling embarrassing stories about his kids, they're going to pack up and move away before he gets home, with no forwarding address.





TEAM BRITNEY - NOMINATED
After studying herself in the mirror and consulting Shane, she announced that she is too tan.. like that was some sort of epiphany. Sure, she's annoying but if she goes next, we'll be in for a month-long snooze.





TEAM BRITNEY
He won two vetos and that's nothing to scoff at, but I'm scoffing at everything else about him. The guy auditioned for The Bachelorette but failed and now we're stuck with him. He can walk around in his pink tank top and play with his M&Ms and it's all good, but when he starts talking like he's the mastermind of BB, well, what else can you do but scoff?





TEAM JANELLE
He's also getting a bit full of himself in certain gametalks but to be fair, he has been in on more scheming & planning than say, Shane. I still like him a lot including his catty - like Britney 1.0, it's funny - and he brings a lot more to the feeds than most of them.





TEAM BRITNEY
He spent two weeks laying in HOH bed, parannoying his brains out even though he was perfectly safe, and his fall from HOH was the hardest we've ever seen. He head-butted himself out the door when he might have been saved by veto, so he'll go into the BB blunders pile. I didn't come in with Hantzophobia so I'm grateful for the cheap entertainment he brought, especially the Froot Loops war and Willieisms like 'key-hos', 'corn-ho', and 'totin' pole'.





TEAM DAN
She brought a big name and rep to the show but didn't live up to either. She seemed like a nice enough girl but she didn't bring much to the feeds, and her sister wife wardrobe greatly disappointed her fanbase. She'll be remembered for extra shiny knees and little else - she didn't even campaign to stay.





TEAM DAN, for a minute
Most were looking forward to seeing what she'd bring, but she got a raw deal and was gone before the feeds even kicked on. She'd said she was worried about lack of privacy & sleep, missing her family, and slop so maybe BB wasn't for her, and she got away without airing any dirty laundry. It had to be humiliating to go back in for the group bikini pic but that's how they do things.







Linking to any page here is fine but please do not repost any content from this site (or any other) without permission, and do not repost or hotlink to any images


!! THIS MEANS YOU !!








UPCOMING EVENTS


7/26: CBS 9pm: Assorted drama, live eviction, HOH comp - East coast stream
7/27: Nominations
7/28: Coach/Have-not comp, veto comp

Fridays 7pm PT/10pm ET: Lance Bass Pop Ten on Sirius Radio XM108 - call-in 866-305-6887

Get the feeds!
! This is already a crazy season - don't rely on CBS edits

SuperPass shows:
Tuesdays 3pm PT/6pm ET: Rants & Roars with Matt Hoffman & Adam Poch
Thursdays 3pm PT/6pm ET: Happy Hour with Ellen, Missy & Spicy
Mon-Wed-Fri 10am PT/1pm ET: Fan Recap

Finale is Wednesday September 19

The Glass House airs on ABC Mondays at 10pm. Glass House feeds are 11pm-3am ET (8pm-midnight PT) Mondays, 3-4pm ET (noon-1pm PT) and 9pm-midnight ET (6-9pm PT) Tuesdays & Wednesdays, and 3pm-4pm ET (noon-1pm PT) Thursdays. Watch free at the ABC site



THE REAL SHOW IS THE LIVE FEEDS

Includes Flashback, video clips, live talk shows, interviews, $10 of free music every month and more!
Sign up for a free trial





AMERICA'S VOTE


Which supplement should Have-nots get?
Cereal & salmon
Garbanzo beans & giblets
Lima beans & lemons







RATINGS WATCH


Wednesday's show led the timeslot but their numbers continue to drop: 5.674 million viewers, 1.9 rating (season low) and 7 share, slightly ahead of So You Think You Can Dance on FOX with 5.107/1.7/5, as well as CLIOS Best Commercials on NBC, and The Middle and Suburgatory reruns on ABC.

Monday's 7/23 Glass House dropped to third place with 2.28 million viewers, 0.8 rating and 2 share, behind American Ninja Warrior finale on NBC and Hawaii Five-0 rerun on CBS.







Clicky: caps sorted by day - all caps