This site is about the Big Brother 14 feeds and contains spoilers! It isn't necessarily thorough: it's what I catch and/or what interests me, and it isn't necessarily about who will win, who should win, who's cute or who's horrid. It's about watching hamsters: who's doing what and why. If they aren't entertaining, get rid of 'em! Thanks for encouraging my behavior. Your pal, dingo







POWER STATUS


Frank is Head of Household
Shane & JoJo are nominated
Shane won veto
Shane, JoJo, Ian are Have-nots







BB14 DRINKING GAME


Take a swig whenever they mention Willie

Healthy alternative by @Staciedertinger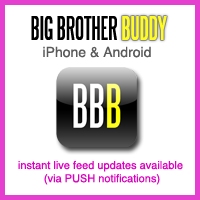 Get the Big Brother Buddy mobile app!
Available for Android or iPhone/iPad


Big Brother 14 at iTunes

BB7 All-Stars and seasons 9 through 13 are also available







BB14 FAQ


If you have SuperPass, access mobile feeds by going to real.com/bigbrother on your mobile device's browser. Log in (upper right), select Big Brother, and select Live Feeds from the drop menu. There is no app.

Willie was ejected for head-butting Joe. Threats & verbal attacks are legal - aggressive physical contact is not.

They're calling pre-show sequester 'convention'.

Ashley revealed they wear earpieces for nominations, presumably in case prompting is needed for 'Hamster A, you are safe' and 'Thank you, Hamster B'.

CBS shows are Sundays and Wednesdays at 8pm, and live eviction Thursdays at 9pm.

Big Brother After Dark airs midnight to 3am nightly (1am to 4am Thursdays) on Showtime (SHO2) in USA, and on Global Reality and/or Slice in Canada at various times - check your local listings.

BB14 prizes are the same: $500k for the winner and $50k for 2nd place. The others probably still earn $750 a week including pre-show hotel and jury sequester.

The coach of the winner gets $100k. Returning veterans probably get more weekly stipend and/or a flat amount to show up.

The habitat has 53 cameras (up one) and 98 microphones (up three).

The recorded in-house announcements are the voice of producer Don Wollman.

All feeds stay on one 'scene' when someone's in Diary.

The Glass House premiered June 18 on ABC and will run for 10 episodes. The winner will get $250,000 - half the usual BB winning amount.

Apparently the glass hamsters go into hotel sequester on weekends - no, I don't know why.

Big Brother Canada premieres February 2013.



Get Team USA Olympics gear
Use code USABDAY for free shipping on orders over $50


>> >> >>
>>
ALL AMAZON.COM PURCHASES MADE THROUGH THIS LINK HELP SUPPORT THIS SITE
A long afternoon (Sunday 7/22)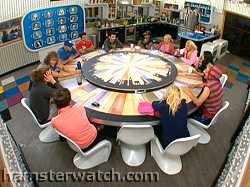 I fired up the feeds to find them on lockdown, likely due to a charity event being held on the CBS lot, with bands.. most of them were gathered around the table as if they were waiting for something, but eventually they broke off into their twos and threes to whisper, gossip, and speculate

Ian told Boogie & Frank that he'll volunteer to eat slop indefinitely, shave his head, or wear a bunny suit for the how-far-will-you-go-to-win-veto comp.. Frank called him a bruiser for that, and said no way he'll shave his head - personally, I'd love the bunny suits to come back.. Britney interrogated Janelle about her apparent lack of emotion and visible lack of tears in a funny convo - Flashback 7/22 3.05pm



A peculiar evening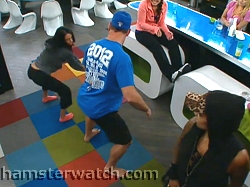 Plotting and scheming carried on, like it does.. among other things, Boogie & Frank are planning to turn Ashley against Janelle and Shane against Britney, and Janelle, Wil & Ashley are planning to get cozy with JoJo and Shane for future use

In an unrequitedmance update, Shane told them he's talked in Diary about all the female eye candy this year - Danielle perked up at that, and how he named each one of the girls - Danielle's face crashed at that.. she slipped during science trivia game and let fly a few medical terms most kindergarten teachers wouldn't know.. good ol' Ian asked "how do you know that?" but she side-stepped.. she got a helping of Dan's Mist at bedtime, in which he talked all about her, and once again did not encourage her to campaign

Joe made dinner again including a gourmet presentation of pudding cups, plus pork rind stir-fry slop balls for the Have-nots that were good enough that the Haves dug in too.. Ashley & Janelle took a Showtime bubblebath.. Joe SHOUTED more humiliating stories about his kids, loud enough for the folks across the canal to hear, and later he had a booty dance lesson from JoJo with Jenn's help.. JoJo went on to do a lap dance demo with an empty chair, and joined Ian for a cigarette.. she told him she's bisexual and questioned him about masturbation



Unrequitedmance (Saturday 7/21)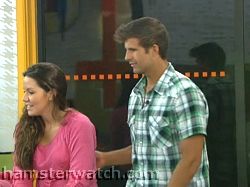 Yes, all these showmance, bromance, homance words get overused, but I think this is the first time we've had a one-way schoolgirl-type crush that everyone knows about, so I'm adding a new if clunky one to the list

Danielle's horror stories of past boyfriends would be enough to put off most potential new ones but with Shane, it appears to be simply a case of he's just not into her.. still she crushes on, and that makes for an interesting side story to watch.. her job lie didn't help her today when he talked about having been a physical therapist in a rehab hospital - she works in one and wasn't able to swap stories with him.. oops

Shane won another veto.. Wil, Ashley and Ian also played in what they described as a fun comp, involving goo, cheese-like stuff, guacamole, unitards, and BOOZE! By the way, if you've been away and need to catch up on Willie's departure or Miss Cleo's twist speculation, click the "previous Hamsterwatch episode" link up top



Craig & the Hamsterettes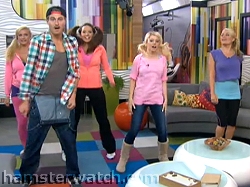 The rest of the day didn't bring much and I was hoping they'd liven things up for Showtime with a booze delivery, but no such luck.. Danielle & Britney's Dixie & Bixie joined Ashley & Janelle's pool hall girls Trixie & Pixie for a hair and makeup party, but then Wil kicked it into high gear by showing up as Craig.. he taught the girls a little boy band type dance which they then performed for the backyard, and a good time was had by most - Flashback 7/21 10.20pm

Gametalk started up again in different corners, including Shane making a similar pitch to Frank & Boogie as he did to Willie.. it sounds like the current plan has already flipped from Danielle being the target to JoJo, but it's only Saturday: use pencil for any notes or diagrams



Ratings - Side-eye edition
Ratings are based on entertainment value, and are mostly leftover from Saturday - Producers rating is fresh though



After immense buildup to the highly anticipated Willie ejection episode, they strung us along with ancient history like Ian & Ashley's date and nonsense like implying Shane & Danielle's showmance is a two-way street. Hurricane Willie made landfall at 44 minutes into the show and it was a lot faster and a lot less explosive than the many hamster retells made it sound, even allowing for some after-the-fact exaggeration. CBS really must love their Hantzes since they had many viewers convinced that the fault was equally distributed between Willie, Joe, and Britney, but that's why their writers and editors get paid the big bucks.

I've noticed they're no longer pushing the feeds using the word 'uncensored' but they added insult to injury with Allison Grodner's tweet about watching the show for 'unseen footage' - excuse me, but we have paid hard-earned dollars to see it. Their current tagline for feeds is 'see what's happening inside the Big Brother house whenever you want' but that's also a misnomer since we can only see what's happening when they want. But all that said, they've got a new guy on the fishies button who doesn't forget about us while he goes on break, so that's something and enough to neutralize them, even if he does keep blocking talk about former seasons & hamsters. Also, see Ian.





TEAM JANELLE
I just can't get a read on her. She's up to her old tricks of shmoozing both sides, cozying up to Janelle for two days and then crying to Britney over 'poor Willie' and saying she thinks 'Janelle will fuck up my game'. She's either a brilliant mastermind or she's just as flakey as she seems.. I can't figure it out.





TEAMIES: Frank, Ian, Jenn
I posted one of his lines about childhood field trips to a living history park as being 'like history class but you walk' and realized I was laughing with rather than at him, a first. It was nice also to see him kiss the photo of his little baby boy - I might be getting soft, or maybe I'm just having an off day. However, I am over his lectury tone when he goes into coaching mode, and his blingy $ necklace was right out of 1985.





TEAMIES: Shane,

Willie

, JoJo
She was quite sippy after the comp and it was nice to see her finally loosen up a bit. She joined in the makeup team and the dance, and it would have been the perfect opportunity for her to do a Britneyesque rendition of Willie's expulsion, but alas, she went to bed instead.





TEAMIES:

Kara

, Danielle

Jodi


He laid in that hammock and listened to Danielle prattle on for a solid hour, and then he listened to Joe for another hour when he took over. He barely said a word and didn't interject his own stuff into their monologues at all, and that's the secret of Dan's Mist. It doesn't seem like he's going to fight to keep Danielle or encourage her to campaign any more than he did Kara, and that puzzles me. He's either confident of entering the game or he's ready to go home.





TEAM DAN
She's my study project du jour and what a gold mine she is! She cried when she realized she'd be going up and probably home, and her thick makeup didn't even smudge even though there were real tears. You know she's kicking herself since she works at the same type of facility as Shane did for a time, and her stupid job lie killed her chance to swap stories and get a date for the prom. Dan got her talking about nursing and she talked for 45 minutes about medical jargon and her importance at work. It's a stupid lie yes, but trust me, we don't want to listen to that all the time. Then when Joe arrived to take over the monologue, she clammed up and sulked.





TEAM BOOGIE - HEAD OF HOUSEHOLD
I don't necessarily like the company he keeps, but I'm enjoying him in general. He's got some empathy going on and that's a very good trait for this game. He felt bad for Willie being ostracized even while acknowledging it was his own fault, and he feels bad about having to put up Danielle even before he's done it. I also like that he's not isolating himself upstairs as much as some of them do when they're HOH, and that he's aware that he's being shmoozed when he's being shmoozed.





TEAM BOOGIE
Catladies all over are diagnosing him with this, that and the other thing, but I'm pretty sure none of them are medical or mental health professionals, as professionals would not diagnose someone from watching them on a tv show. That said, I'd very much hate for Ian to crash and burn as a result of BB stress & paranoia but if he does, there will be such an uproar that it would very possibly kill this show once and for all. I'd be leading that charge, and I'll start now by demanding they stop using him for their cheap shot clown music segments.





TEAMIES: Wil, Ashley, Joe
She's working Ashley and Britney, and seems to have lowered her sights on Boogie and Dan just a bit, which is interesting. I think she's playing a good game this time around and I like watching her friendship with Wil (and their laughter together) but while some of her previous BB friendships have outlasted her time in the habitat, they've also contributed to her downfall inside it.





TEAM BOOGIE
She's back to barely being seen on the feeds.





TEAM JANELLE
It sounds like he's tried out for every cooking reality show out there, and he landed here. When he had his turn with Dan, he started off by saying that the most important thing he's learned about women was that you have to listen. And then he didn't stop talking for an hour, even to the point of talking over the jets overhead. He's told a few embarrassing stories about his kids and tonight he named at least one of their schools. This guy's like the drunk uncle who always ruins Thanksgiving.





TEAM BRITNEY
NOMINATED
I don't see enough of her but I think she's a good character to have in there, mostly in a point 'n laugh kind of way. That will escalate if she remains the eviction target, but that's likely to flip-flop a few more times before Thursday. I wanted to have a 'JoJo says she's loyal' drinking game but rethought that as I don't want anyone to die. Funny thing about her loyalty: she went from being '100% loyal to Willie' to 'fuck you Willie' and back to 'I'm so loyal' without even skipping a beat.





TEAM BRITNEY
NOMINATED - HOLDS VETO
My other study project, I still can't get enough of his goony expressions or awkward social skills, let alone his being aware of Danielle's crush on him and totally ignoring it. I didn't follow the details but I'm pretty sure his long shmooze on Frank & Boogie was the same one he pitched to Willie - was it just the other day? He's two for two on vetos, but the tv-only audience and even some feedsters are still wondering who he is.





TEAM JANELLE
We know he's got some characters up his sleeve but when he came out as Craig, complete with plaid flannel shirt, flap-down overalls and mustache, it made them howl as well as us. Breaking into a dance team from there was simply dessert.





TEAM BRITNEY
He spent two weeks laying in HOH bed, parannoying his brains out even though he was perfectly safe, and his fall from HOH was the hardest we've ever seen. He head-butted himself out the door when he might have been saved by veto, so he'll go into the BB blunders pile. I didn't come in with Hantzophobia so I'm grateful for the cheap entertainment he brought, especially the Froot Loops war and Willieisms like 'key-hos', 'corn-ho', and 'totin' pole'.





TEAM DAN
She brought a big name and rep to the show but didn't live up to either. She seemed like a nice enough girl but she didn't bring much to the feeds, and her sister wife wardrobe greatly disappointed her fanbase. She'll be remembered for extra shiny knees and little else - she didn't even campaign to stay.





TEAM DAN, for a minute
Most were looking forward to seeing what she'd bring, but she got a raw deal and was gone before the feeds even kicked on. She'd said she was worried about lack of privacy & sleep, missing her family, and slop so maybe BB wasn't for her, and she got away without airing any dirty laundry. It had to be humiliating to go back in for the group bikini pic but that's how they do things.







Linking to any page here is fine but please do not repost any content from this site (or any other) without permission, and do not repost or hotlink to any images


!! THIS MEANS YOU !!








PERSPECTIVE


My thoughts go out to the families & friends in Aurora. Let's use this as a reminder not to take this little summer tv show too seriously.







UPCOMING EVENTS


7/23: Veto meeting
7/25: CBS 8pm: Nominations, Veto comp, veto meeting

Fridays 7pm PT/10pm ET: Lance Bass Pop Ten on Sirius Radio XM108 - call-in 866-305-6887

Get the feeds!
! This is already a crazy season - don't rely on CBS edits

SuperPass shows:
Tuesdays 3pm PT/6pm ET: Rants & Roars with Matt Hoffman & Adam Poch
Thursdays 3pm PT/6pm ET: Happy Hour with Ellen, Missy & Spicy
Mon-Wed-Fri 10am PT/1pm ET: Fan Recap

Finale is Wednesday September 19

The Glass House airs on ABC Mondays at 10pm. Glass House feeds are 11pm-3am ET (8pm-midnight PT) Mondays, 3-4pm ET (noon-1pm PT) and 9pm-midnight ET (6-9pm PT) Tuesdays & Wednesdays, and 3pm-4pm ET (noon-1pm PT) Thursdays. Watch free at the ABC site



THE REAL SHOW IS THE LIVE FEEDS

Includes Flashback, video clips, live talk shows, interviews, $10 of free music every month and more!
Sign up for a free trial





AMERICA'S VOTE


Which supplement should Have-nots get?
> Pork rinds & pudding







RATINGS WATCH


Sunday's show dropped to 2nd place with 5.36 million viewers, 1.9 rating and 6 share, behind The Bachelorette finale on ABC with 8.58/3.0/9, and ahead of Teen Choice 2012 on FOX with 2.96/1.1/3.

Monday's Glass House remained in second place with 2.8 million viewers, 1.9 rating and 3 share, behind Hawaii Five-0 rerun on CBS and ahead of Grimm rerun on NBC.







Clicky: caps sorted by day - all caps