This site is about the Big Brother 14 feeds and contains spoilers! It isn't necessarily thorough: it's what I catch and/or what interests me, and it isn't necessarily about who will win, who should win, who's cute or who's horrid. It's about watching hamsters: who's doing what and why. If they aren't entertaining, get rid of 'em! Thanks for encouraging my behavior. Your pal, dingo







POWER STATUS


Kara evicted 5-3
Willie is gone
Frank is Head of Household
Shane & JoJo are nominated
Janelle won coach challenge


Willie

Shane, JoJo, Ian are Have-nots







BB14 DRINKING GAME


Take a swig whenever a new alliance is formed

Healthy alternative by @Staciedertinger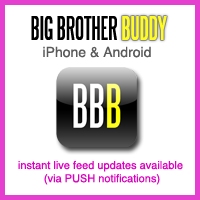 Get the Big Brother Buddy mobile app!
Available for Android or iPhone/iPad


Big Brother 13 at iTunes

BB7 All-Stars and seasons 9 through 12 are also available







BB14 FAQ


If you have SuperPass, access mobile feeds by going to real.com/bigbrother on your mobile device's browser. Log in (upper right), select Big Brother, and select Live Feeds from the drop menu. There is no app.

Willie was ejected for head-butting Joe. Threats are legal - aggressive physical contact is not.

They're calling pre-show sequester 'convention'.

Ashley revealed they wear earpieces for nominations, presumably in case prompting is needed for 'Hamster A, you are safe' and 'Thank you, Hamster B'.

CBS shows are Sundays and Wednesdays at 8pm, and live eviction Thursdays at 9pm.

Big Brother After Dark airs midnight to 3am nightly (1am to 4am Thursdays) on Showtime (SHO2) in USA, and on Global Reality and/or Slice in Canada at various times - check your local listings.

BB14 prizes are the same: $500k for the winner and $50k for 2nd place. The others probably still earn $750 a week including pre-show hotel and jury sequester.

The coach of the winner gets $100k. Returning veterans probably get more weekly stipend and/or a flat amount to show up.

The habitat has 53 cameras (up one) and 98 microphones (up three).

The recorded in-house announcements are the voice of producer Don Wollman.

All feeds stay on one 'scene' when someone's in Diary.

The Glass House premiered June 18 on ABC and will run for 10 episodes. The winner will get $250,000 - half the usual BB winning amount.

Apparently the glass hamsters go into hotel sequester on weekends - no, I don't know why.

Big Brother Canada premieres February 2013.



Get Team USA Olympics gear
Use code USABDAY for free shipping on orders over $50


>> >> >>
>>
ALL AMAZON.COM PURCHASES MADE THROUGH THIS LINK HELP SUPPORT THIS SITE
Tropical Storm Willie (Friday 7/20)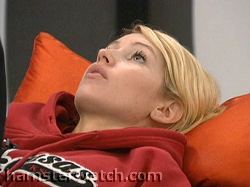 Janelle won the coach comp, and put Willie, JoJo and Shane on slop - Ian volunteered to join them.. their slop supplement is pudding & pork rinds.. she said Dan threw it, and she declared Ashley safe from noms, so there won't be any player trading - that was an either/or option, per Julie

Willie clearly was not happy as he moved his things into Have-not room, and Joe ran around telling everyone he was slamming doors and losing his temper.. Willie headed into HOH to tell them he would get himself evicted (meaning violence), and then the trivia took them away again.. Flashback 7/20 3.35pm to see their return from the comp

The feeds were down close to four hours and when they came back, Willie was gone! History, thrown off the show.. Shane & JoJo were nominated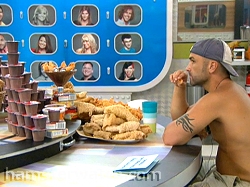 Ian retold the story, with Ashley, Britney and Dan's help, to fill us in when Showtime started, saying Willie was banging doors (we heard about that), he called Joe and the rest of them pussies, he face-bumped Joe twice, shoulder-bumped him once.. Big Brother sent Joe to the bathroom and told him to stay there, and called Willie to Diary.. Willie was also calling Janelle a bitch and c-word, and threw pork rinds at her - she replied "bye-bye Willie!"

A couple hours later Allison Grodner informed them via house speakers that Willie wasn't coming back and that the game will go on.. all this happened before nominations, but it's possible they'll just tease it on Sunday's show and drag out the expulsion for Wednesday's show - we'll see.. Flashback 7/20 9.10pm for the retell, with additional color from Janelle & Frank 7/20 9:50pm

They all got pizza delivery, including the Have-nots, and they all hollered out "Thank you Willie!" So Tropical Storm Willie has been downgraded to a tropical depression, and is no longer a problem for anyone (except maybe himself)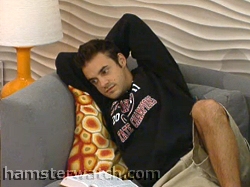 Not much else happened after that - and how could they top that anyway? Britney spent a very long time in Diary and came out with puffy eyes - she seems defeated, and went to bed early.. gametalk finally settled down to a dull roar and we even had a few get to know you stories, including one from Joe about how he came up with I Can't Believe It's Not Butter - never mind that he's 41 and it was developed in 1979 when he was eight.. JoJo talked about kicking a serious addiction (Rx pain meds per her sister in an interview) and she wants to write a book about it, à la BB9 Sheila.. Frank spent time downstairs among the citizens, and both Shane & JoJo handled their nominations well, at least so far.. the random Dan cap is just here because I forgot how he folds himself up



Guest post: Miss Cleo breaks down the twist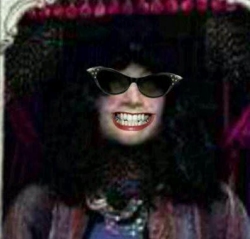 I'm pleased to present another guest post by the incomparable Miss Cleo for your reading enjoyment and rumor spreading.. take it away, Cleo!

The Biggest Game-Changing Twist in Big Brother History*
by Miss Cleo

Greetings Hamsterwatchers! The hamsters and we watchers are abuzz right now amid speculation of an impending twist in which the coaches will enter the game and compete against the newbies for the $500,000 grand prize. Willie, in particular, has not only convinced himself beyond a shadow of a doubt that this will happen, he is hell-bent on making sure the other newbies know to expect it. Willie and the others are onto the twist that the coaches may be entering the game because they know the Big Brother motto is "expect the unexpected" and expecting twists like this is, well, expected. However, they've missed the mark by not thinking like Big Brother, and accordingly have failed to anticipate the unexpected part of the equation.

Willie's suspicions, however, aren't without merit. Ever since the twists were introduced, many lingering questions about this season remain unanswered: why was there an eviction on the first night, leaving 11 players when there's still 10 more weeks to go, since the coaches apparently aren't playing? Aren't there usually 13-14 HGs playing the game each year? Will all but the next two evictees make up this year's jury? And like many other fans and most of the HGs, you've probably also made a few (incorrect) assumptions about this season's big coach's twist. The players all seem to know about the next twist, but ironically they have it all twisted. That's all about to change - at least for us, it is.

Prepare yourself for the most unexpected twist of the season that will not only be unprecedented, but perhaps the biggest game-changing twist in Big Brother history. But first... I will explain the twist, how it will work, and present some scenarios to showcase the diabolically fantastic ways in which this will turn the house upside-down and throw even the most seasoned returning players for a loop. Let's begin:

- On the premiere episode, Julie introduced the coach's twist to the viewers and then to the hamsters. What she said shocked the house, but more importantly it's what she didn't say. Most of the hamsters and coaches (and audience) have assumed that once the coaches lose their three players, they're out of the game. You assumed wrong.

- The coach is out of the running for the $100K prize, but never did Julie say they are out of the game. In fact, that will be their ticket into the game.

- Once the first coach loses all three of his players (which could be as early as next week in Dan's case), that's when you can expect Julie to drop a grenade into the house. With a little trickery, she will remind them that she never said anything about the coach leaving the game, and the midseason big twist will then be revealed: "the coach is now entering the game, and will now be competing against you for the $500K prize."

Uh-oh.

And that's when it will be revealed that all the coaches will have a chance to enter the game, and there's the catch. The coach's twist will still be in play, meaning that as long as a coach has their players in the house, they are only eligible for the $100K prize and can't participate in HOH and POV comps, nor cast any eviction votes, thus severely limiting their power. On the other hand, they will also remain safe from the threat of eviction, and will not have to suffer as a have-not.

- Yes, there will be outrage and people will cry foul when the coaches are given the opportunity to enter the game because it will seem inherently unfair. This is a legitimate criticism, but it is highly unlikely that all four coaches will get the chance to play. Production may have attempted to level the playing field a bit by letting them be responsible for choosing the have-nots and who to protect by winning the coach's comp, which may cause resentment among HGs who feel burned by their coach and give them reasons to retaliate. Alternatively, this could be one of the few powers that a coach does have and can be used as a bargaining chip later in the game.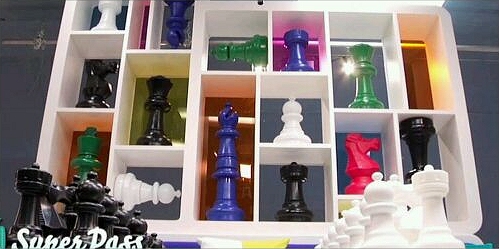 - It should now make sense that the extra-large chess set and giant chess pieces, along with the multi-colored floor tiles that resemble a life-sized chess board, were not placed in the house by accident. In fact, they are a metaphor for this season's "super-sized" twist. You may not know the rules of chess (hell, I don't), but the word "pawn" is part of any BB fan's vocabulary, and all you need to know for the purpose of understanding this season's twist is the relationship between pawns (the newbies) and kings (the coaches) in the game of chess. Pawns outnumber kings. The pawns protect the king, and the king is invulnerable to attack as long as his pawns are still in the game. However, the king can't make any moves himself until he loses (or sacrifices) his pawns. And most importantly, a single pawn can work with its king to take down another king and win the game.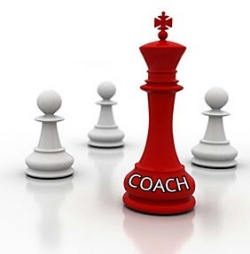 And alas, here lies the beauty and complexity of the twist. The coaches and their players will likely immediately turn on each other, for the coaches know that their only hope of entering the game is by getting rid of their players. The newbies will need to alternate between playing defensively to protect themselves from being their coach's next target to aggressively going after the coaches who have just entered the game and have a track record of either making it very far or winning. There will probably be more opportunities for coaches to swap players by winning coach's comps to stack the deck in their favor, but otherwise they will be severely limited by their inability to compete for the power to nominate or vote. The newbies may form unlikely alliances and employ strategies to keep certain newbies in the game to ensure that their coach is blocked from having the opportunity to enter the game. Maybe a coach will choose to play it safe and make every effort to getting one or more of his/her players to the end for a guaranteed $100K prize rather than risk it all for the chance to play for $500K.

So many new layers, so many possible targets, so many possible strategic game moves to play. The coaches may have experience from previous seasons, but no one in the house has ever played the game like this before, and even the most skilled BB "all-star" players will need to come up with new ways of maneuvering their way to the end and winning the whole thing. There will be many opportunities for players and viewers alike to expect the unexpected.

A few lyrics from "Nobody's Side", a song in the musical Chess, sums it up quite nicely: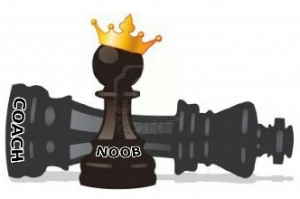 Everybody's playing the game
But nobody's rules are the same
Nobody's on nobody's side

Never take a stranger's advice
Never let a friend fool you twice
Nobody's on nobody's side

Better learn to go it alone
Recognize you're out on your own
Nobody's on nobody's side

Indeed. What do you think? Be sure to follow me on twitter as we watch it unfold!

* Note: The statements above are not official. They are, however, officially not entirely implausible. In the event of the twist playing out exactly as described above I will gladly take all the credit, and in the event it doesn't I will blame Allison Grodner for rigging it that way to sabotage me.



Thanks to Miss Cleo for a very interesting explanation that plugs many of gaps most of us have wondered about, including why Dan picked such seemingly crappy players





Boogie and the Bear (Thursday 7/19)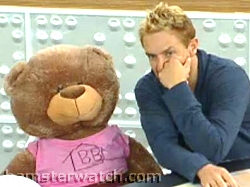 I don't see much of Boogie as we keep opposite hours, but this morning he had a strategy chat with Ted the bear around 9.50am - thanks @lizardkingvw for the cap

Wednesday's ratings put BB in first place again, but they lost another half million viewers since the premiere.. this is especially interesting and really unrelated to what they're up against or fewer network tv viewers in general.. since I've been tracking the overnight ratings on this site, most Big Brother episodes on CBS have been fairly consistent to each other within each week and season, with the same 7 to 8 million core audience.. last week's premiere had 7.1 million and last night they were down to 5.6 million, compared to last year's 7.7 million for the premiere and 7.25 million for the following Sunday show.. they might have had a few more for Wednesday if Hef had tweeted before the show rather than after.. it'll be interesting to see what tonight's live show numbers are, but this isn't looking like a good trend for them

Update Thursday's eviction show was back up to 6.3 million viewers, a bit more than Sunday's but still down from the 7.1 million who watched the premiere.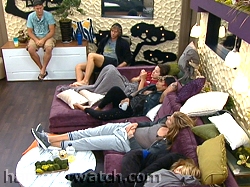 They did an HOH lockdown after all for the techies to prep for tonight, and then the primping commenced, along with stealth vote chats here & there.. Jenn met with Willie, both of them mentioning how they'd rarely even spoken before.. Dan rehearsed a speech while ironing about voting out bigger threats and then delivered it to Ashley.. Dan & Joe had a quick conference, and then Joe asked Wil to break the news to Kara that she'd be leaving, so she wouldn't be blindsided - Dan sat in on that one too

And then the trivia took them away, with a flash here & there that included Willie unsuccessfully attempting to pressure Ian, and wholesome married Dan helping get Kara adjusted

Kara was evicted 5-3, but live interviews have been cancelled, leading to speculation about sequester.. Frank won the HOH comp in a Q&A based on last night's wakeups.. Julie said the next coach comp winner can either keep one player safe or choose to trade one player - as HOH, Frank can't be traded.. maybe they put Kara on ice to give her a chance to rotate back in via that route



Start the cycle over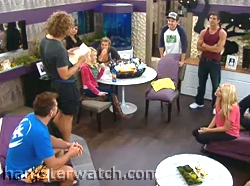 They all went up for Frank's HOH room, even though Willie had said earlier he wouldn't.. he stayed around long enough to hear the letter from home and as promised, he skipped the fake oohing & ahhing, and left first.. Britney went off to bed and the rest of them trickled out until it was just the three coaches and Frank

They did the usual gametalk, dump Willie, funny stories about past BBs & tangent experiences, and said they'll wear eye black for the coach comp - Dan had brought it for his team but lost 2/3 of them before he had a chance to use it.. they may or may not bring Britney in on it.. Dan swore to God that he'd never trade Danielle, and shook hands with Janelle on it

Downstairs Danielle ran some of her loops about crushing on Shane, bad past boyfriends, her family, and she got good advice from Jenn, Ashley and Wil.. Ian was rocking the hammock like crazy and talking to himself/us about the game, and said "I can't stop stimming" which was perhaps telling.. Janelle came out to play corn-ho with him and he calmed down



Ratings - Eviction/Ejection double edition
VTE = Voted to evict
Ratings are based on entertainment value



Fishies, trivia. Rewind, repeat. Enough already. They could have (and should have) let us watch the whole Willie meltdown and we would all still watch it on CBS when they play it over and over. Why don't they understand this?





TEAM JANELLE
VTE Kara
She's just kind of there, like the air. Janelle's keeping her close lately, maybe to prevent another week of Ashley running sides and confusing everyone's vote counts.





TEAMIES: Frank, Ian, Jenn
I have to admit he's not as bad this year as I was expecting, but it's still early. He's popping a few funnies here & there and it was nice to see him get his pic of little Brady, but I'm over his teenager wardrobe. He said Friday that he wants to keep Dan around awhile - why? In every scenario, they're still competing against each other.





TEAMIES: Shane,

Willie

, JoJo
She railed on Willie to settle down and she should have changed her tactics when it was obvious he wasn't listening. She's blaming Janelle for all this, but Britney's the one who spilled their key-ho theory to Willie that set him off. She needs to stop moping and stop gaming so hard (since her game isn't all that great), and just get on with being at summer camp.





TEAMIES:

Kara

, Danielle

Jodi


He's talking to us fairly regularly in late night but he's not really saying anything to explain his odd choices in this game. It's sweet to hear him send his love to wife Chelsea, and he asked that she send his glasses.





TEAM DAN
VTE Frank
I don't know how or why she was cast for this show. She's a generic pretty Southern girl who brings very little to the feeds, other than her endless victim stories that get a little worse with each retelling. She's this close to being that Kristen Wiig character who one-ups everything, and things could get very bad out here for her if she sticks around for long.





TEAM BOOGIE - HEAD OF HOUSEHOLD
No vote (nominee)
Big ups for winning a difficult comp and for keeping his cool with Willie when many would have risen to the bait. It was good to see him circulate around the habitat a bit, but he's a smart guy who saw first-hand what isolation in the ivory tower does to a hamster.





TEAM BOOGIE
VTE Kara
His hammock rant was spooky but he seems to have a good handle on how to deal with his stress, and that's a good thing because I don't think any of us want to see him crash and burn. Volunteering to be a Have-not was a stroke of genius as it will get him off the hook in future, and it's given him a new set of roomies to cozy up to. He's also close with the various coaches and he seems to be sitting prettiest of all the newbies at this point.





TEAMIES: Wil, Ashley, Joe
CBS overlooked, Britney forgot and Willie never noticed that she's the one who set all this chaos in place by suggesting a 4-4 tiebreaker vote last week 'for good tv' rather than the agreed-upon unanimous 8-0 so that was very well played, even if it was too early. Her retells of Hurricane Willie were funny and I'm hoping she said 'Bye bye Willie' in the same tone as her famous 'Bye bye bitches'.





TEAM BOOGIE
VTE Kara
She's coming out more and more and while I'm not sure if she's got any game or not, she's definitely got some interesting family history and life stories. I just don't want to hear any more tattoo explanations.





TEAM JANELLE
VTE Kara
Qualified ups because he's becoming annoying, but not punching Willie's lights out after the bumpings is admirable. After hearing he came up with either the product or the name I Can't Believe It's Not Butter (he would have been 8), I think we could have a good time debunking his stories. Think of it as a play along at home game.





TEAM BRITNEY
VTE Frank
NOMINATED
She too has the potential to become an irritation but she comes up with some outrageous stuff that gets us all saying 'did you hear THAT?!' Those are good hamsters to keep around, but I fear the BB interwebs will get pretty ugly about her if she lasts for long.





TEAM BRITNEY
VTE Frank
NOMINATED
Ups for the guy with a personality so bland that even Dan calls him milquetoast? Yep. I don't know what it is about this guy but I find him hilarious in a very non-intentional way. From his befuddled expressions to his short burst attempts to join a conversation, he's a big puka shell of fun on the feeds.





TEAM JANELLE
VTE Kara
He's witty and he's quick, and he's in a good spot right now. He did very well in the burglar comp so he's sharp and he pays attention, and he seems to be liked by them all. His Sharon Osbourne is probably grating on some, but I still like it every time.





TEAM BRITNEY
No vote (HOH)
He spent two weeks laying in HOH bed, parannoying his brains out even though he was perfectly safe, and his fall from HOH was the hardest we've ever seen. He head-butted himself out the door when he might have been saved by veto, so he'll go into the BB blunders pile. I didn't come in with Hantzophobia so I'm grateful for the cheap entertainment he brought, especially the Froot Loops war and Willieisms like 'key-hos', 'corn-ho', and 'totin' pole'.





TEAM DAN
She brought a big name and rep to the show but didn't live up to either. She seemed like a nice enough girl but she didn't bring much to the feeds, and her sister wife wardrobe greatly disappointed her fanbase. She'll be remembered for extra shiny knees and little else - she didn't even campaign to stay.





TEAM DAN, for a minute
Most were looking forward to seeing what she'd bring, but she got a raw deal and was gone before the feeds even kicked on. She'd said she was worried about lack of privacy & sleep, missing her family, and slop so maybe BB wasn't for her, and she got away without airing any dirty laundry. It had to be humiliating to go back in for the group bikini pic but that's how they do things.







Linking to any page here is fine but please do not repost any content from this site (or any other) without permission, and do not repost or hotlink to any images


!! THIS MEANS YOU !!








PERSPECTIVE


My thoughts go out to the families & friends in Aurora. Let's use this as a reminder not to take this little summer tv show too seriously.







UPCOMING EVENTS


7/20: Coach comp
7/21: Nominations
7/21: Veto comp
7/22: CBS 8pm: Nominations, Coach comp, Hurricane Willie

Fridays 7pm PT/10pm ET: Lance Bass Pop Ten on Sirius Radio XM108 - call-in 866-305-6887

Get the feeds!
! This is already a crazy season
SuperPass shows:
Tuesdays 3pm PT/6pm ET: Rants & Roars with Matt Hoffman & Adam Poch
Thursdays 3pm PT/6pm ET: Happy Hour with Ellen, Missy & Spicy
Mon-Wed-Fri 10am PT/1pm ET: Fan Recap

Finale is Wednesday September 19

The Glass House airs on ABC Mondays at 10pm. Glass House feeds are 11pm-3am ET (8pm-midnight PT) Mondays, 3-4pm ET (noon-1pm PT) and 9pm-midnight ET (6-9pm PT) Tuesdays & Wednesdays, and 3pm-4pm ET (noon-1pm PT) Thursdays. Watch free at the ABC site



THE REAL SHOW IS THE LIVE FEEDS

Includes Flashback, video clips, live talk shows, interviews, $10 of free music every month and more!
Sign up for a free trial





AMERICA'S VOTE


Which supplement should Have-nots get?
> Pork rinds & pudding







RATINGS WATCH


Thursday's live show won the timeslot with 6.3 million viewers, 3.8 rating and 6 share, ahead of Wipeout on ABC with 5/3.0/5, Saving Hope on NBC with 3/2.1/4, and New Girl reruns on FOX with 2.3/1.5/2.

Monday's Glass House remained in second place with 2.8 million viewers, 1.9 rating and 3 share, behind Hawaii Five-0 rerun on CBS and ahead of Grimm rerun on NBC.







Clicky: caps sorted by day - all caps