This site is about the Big Brother 14 feeds and contains spoilers! It isn't necessarily thorough: it's what I catch and/or what interests me, and it isn't necessarily about who will win, who should win, who's cute or who's horrid. It's about watching hamsters: who's doing what and why. If they aren't entertaining, get rid of 'em! Thanks for encouraging my behavior. Your pal, dingo







POWER STATUS


Willie is HOH
Kara & Frank are nominated
Nobody is Have-not







BB14 DRINKING GAME


Take a swig whenever Willie gets out of bed (we need to dry out a bit)

Healthy alternative by @Staciedertinger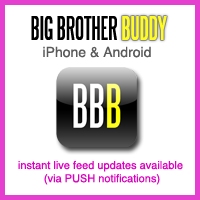 Get the Big Brother Buddy mobile app!
Available for Android or iPhone/iPad


Big Brother 13 at iTunes

BB7 All-Stars and seasons 9 through 12 are also available







BB14 FAQ


If you have SuperPass, access mobile feeds by going to real.com/bigbrother on your mobile device's browser. Log in (upper right), select Big Brother, and select Live Feeds from the drop menu. There is no app.

They're calling Diary 'the wizard' and 'convention' is pre-show sequester.

Ashley revealed they wear earpieces for nominations, presumably in case prompting is needed for 'Hamster A, you are safe' and 'Thank you, Hamster B'.

CBS shows are Sundays and Wednesdays at 8pm, and live eviction Thursdays at 9pm.

Big Brother After Dark airs midnight to 3am nightly (1am to 4am Thursdays) on Showtime (SHO2) in USA, and on Global Reality and/or Slice in Canada at various times - check your local listings.

BB14 prizes are the same: $500k for the winner and $50k for 2nd place. The others probably still earn $750 a week including pre-show hotel and jury sequester.

The coach of the winner gets $100k. Returning veterans probably get more weekly stipend and/or a flat amount to show up.

The habitat has 53 cameras (up one) and 98 microphones (up three).

The recorded in-house announcements are the voice of producer Don Wollman.

All feeds stay on one 'scene' when someone's in Diary.

The Glass House premiered June 18 on ABC and will run for 10 episodes. The winner will get $250,000 - half the usual BB winning amount.

Apparently the glass hamsters go into hotel sequester on weekends - no, I don't know why.

Big Brother Canada premieres February 2013.



Get Team USA Olympics gear
Use code USABDAY for free shipping on orders over $50


>> >> >>
>>
ALL AMAZON.COM PURCHASES MADE THROUGH THIS LINK HELP SUPPORT THIS SITE
Corn-ho (Wednesday 7/18)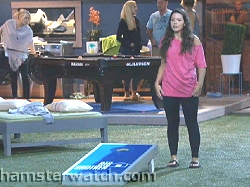 The waffles & whispers continued unchecked, and I had to put out a request for diagrams to keep track of the various alliances - luckily several good people responded, see Links of the Day below.. I think we're finally at a point where we can safely predict Kara will go 5-3, unless Ashley makes it a 4-4 tie, in which Frank will go - but don't hold me to it, especially after the all-night study sessions shifted the teams around again

We had a long fishies segment during which it sounds like they had their HOH lockdown that usually happens Thursday mornings for live show staff preparations downstairs.. the fishies swam right up till 6pm BB time, ending conveniently when the East coast airing on CBS ended.. maybe it was coincidence, or maybe it was an attempt to force us all to watch the show and bring the viewer numbers come back up.. what they don't realize is a) most everyone watches the CBS version anyway; b) some Westies and Middles got ripped off and had nothing to watch for the hour; and c) the other Westies and Middles are all watching via two or three Eastern tvs, which won't help their ratings at all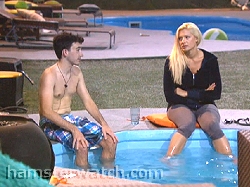 Britney gave Willie a long talking-to about running his mouth everywhere, and she kept at it even after he acknowledged and apologized - Flashback 7/18 8.36pm.. then he kept at it afterwards anyway when she wasn't looking.. they started up a skit over pool about Trixie, the sleazy girl at the pool hall, confusing my papillon who didn't know why the little voices kept calling her name

They got their cornhole game back ("corn-ho" per Willie) and some thought that might be tomorrow's HOH comp, but around 1.30am they had a loud alarm and announcement from "BBTV" that a burgler had entered the house (see below).. they had 60 seconds to get to the tv each time the alarm went off, and were shown short video clips of the masked man going around the house and moving things, gesturing, falling over the sofa, etc so it's likely going to be a memory comp about that - sayings were also involved

Flashback times for the alerts, short fishies while they watched their videos, and discussion after are 7/19 at approximately 1.30am, 1.58am, 2.01am, 2.29am, 3.19am, 4.01am, 4.05am, 4.10am, 4.31am, 4.35am, 5.18am - remember to adjust Flashback for your timezone if you aren't Pacific.. teams were studying as teams at first, but merged later to Team Boogie with Team Janelle, and Team Dan with Team Britney.. Boogie slept through it all

I also posted today a chat transcript with BB13 Adam Poch answering questions from Hamsterwatchers - many thanks to the Heavy Metal Teddy for his time!



Burglars (Tuesday 7/17)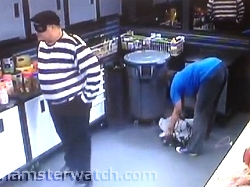 Willie's house meeting happened as planned: he assembled the newbie cast around his HOH bed and told them they should play for themselves and each other and not their coaches.. it wasn't as dramatic as hoped for, in my opinion anyway - Flashback 7/17 10:54am to decide for yourself.. the coaches (sans Boogie who slept through it all) hung out in the backyard acting like bemused parents whose kids decided to have a secret No Parents Allowed club in their bedroom, which isn't far off from the truth

We had a peculiar leak from the pantry: two non-hamsters were in there, one of them moving things around and the other standing around in a burglar suit.. maybe they were setting up a cutesy burglary segment for an HOH Q&A about missing items, or maybe one of the staffers just likes to wear costumes.. that was followed by a very long fishies interlude, making us think they were having a super fun secret activity we'd hear about later, but no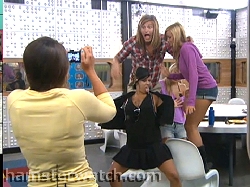 Instead, Willie was locked in his HOH room, leaving them to wonder if they had a super fun secret activity coming up, but no.. when Willie walked through to Diary carrying a little bag, they thought he was going on a field trip, but no.. he went back to HOH and emerged shortly after saying he'd written his blog and gotten the camera - that usually happens Wednesday afternoons, but primetimers got to share in the frivolity this time.. maybe TPTB thought it was a little reward for putting up with all the fishies, but no



War of the Froot Loops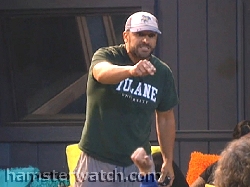 The habitat simmered all day with gametalk here, gossip there, parannoying everywhere, with some of it leaning toward trashtalk.. there was a non-incident in HOH where Willie impersonated Wil for a minute while talking to Frank, using a high voice to do so - Flashback 7/17 2.13pm

Out of everything that's being thrown around in there, that's the one grew legs until it had turned into Willie was gaybashing Wil and using homophobic slurs about him.. that got back to Wil who had a mini meltdown and a few tears, but later said it was as much a pressure release as anything.. it also got back to Willie (naturally), who was not at all amused and demanded to have people brought to his room to clear it all up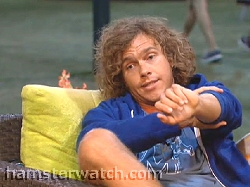 When that didn't happen, he actually got out of bed and descended the staircase, stormed into the backyard and laid into Frank, who he saw as responsible for the Telephone game gone bad.. it was great fun for all of us and probably for Frank, who grew up watching his dad play a phenomenal wrestling villain on tv - he didn't seem fazed by any of it tonight

For some reason Boogie showed up and jumped into it, and it devolved into the three of them yelling about Froot Loops - really, I couldn't make this up if I tried.. Willie, HOH and Fruit Loops all trended USA on Twitter for a bit, it was that good and that bizarre.. Flashback 7/17 10.25pm for the main event

Meanwhile, Ian was pacing the kitchen, sighing and muttering about wanting to lock himself in the arcade and that he came here for fun.. that might be my tagline but I stay safely on this side of the two-way mirrors.. he lost a notch of superfan cred with that one, but I'm still pulling for him



Ratings - BBTV edition, sponsored by the Hamburglar
Ratings are based on entertainment value



These fish have got to go, and they need to treat their remaining loyal viewers & feedsters better.. a little bit of gratitude and respect would go a long way. Would it kill them to let us see the BBTV alerts? No it wouldn't, and the same holds true for all the other things they block from us.





TEAM JANELLE
I don't know how she came to be so pivotal here when she mostly just flutters around saying new age-y catchphrases.





TEAM DAN
She's quickly approaching 'Who?' status.





TEAMIES: Frank, Ian, Jenn
I was prepared to put him on ignore but I have to admit he's not been as bad as anticipated, so far. It helps that he goes to bed early and is up & around in the morning when I'm asleep. But he keeps abandoning his teamies for his bed, and that's not cool. He'd be negative for that, but pointlessly jumping into the Willie vs Frank fight gives him an upgrade to neutral.





TEAMIES: Shane, Willie, JoJo
This is the problem with bringing people back. She was sparkling on her season with endless wit, one-liners and laughter, but like Jordan last year, she's trying too hard to up her game and in doing so, she's losing what made her fans like her in the first place. I was hoping for a 2nd season of Just the Tip and instead we get mopey, erratic and irrational.





TEAMIES: Kara, Danielle

Jodi


He's shouting in Diary again and he needs to be reminded that that's Joe's job this year. He left some memos for his wife Chelsea to entertain us while he's in there - see Links of the Day below.





TEAM BOOGIE - NOMINATED
I hope he stays because he brings a lot more to the feeds than Kara, and the potential of another line like 'Eat your fuckin Froot Loops, I'm not worried about it!' is too great to be wasted.





TEAM BOOGIE
As odd as he is, he's become most feedsters' favorite pet. Depending on the setup, he's got the news alerts comp in the bag, but he could also be most likely to choke under pressure of being on live national tv.





TEAMIES: Wil, Ashley, Joe
She set the whole flip the house thing in motion a few days ago, far too early, and now it's gotten so tangled up, nobody knows what's going on. She's got former late night besties Britney & Willie slamming her for being unemotional and fake, and her attempts to keep Ashley in line have just ticked her off. We might be headed toward a third round of Janelle vs the rest of them but if that comes to pass, at least it brings good fights with it.





TEAM BOOGIE
As loud as her appearance is, she's been hardly there until now. She got fired up at Frank for a fart and/or for defecting to study with Team Janelle, and at Boogie for abandoning his charges while the other coaches were studying with theirs. But she's got Ian on her team so she probably doesn't need to worry.





TEAM JANELLE
A strong negative for pushing alliance names already, especially 'Diversity' - this isn't The Apprentice. He had a lot to do with the bad feelings that are beginning to ooze everywhere and that's okay with me, but his delivery leaves a lot to be desired.





TEAM BRITNEY
She's the only one I strongly hope doesn't win HOH tomorrow, as I couldn't take another week of seeing Willie laid out in that bed.





TEAM DAN - NOMINATED
She seems nice enough and she is indeed very photogenic - nearly all her caps come out looking better than she does in motion - but she's a rock in there and brings nothing to the feeds. They may have paid extra to get her name & reputation on the show but if so, they got cheated.





TEAM BRITNEY
I don't know what it is with this guy but he's unintentionally hilarious. Just his endless variety of confused expressions are worth the price of admission. The last time we saw consistently befuddled faces like that, they were from BB5 Drew.. uh oh.





TEAM JANELLE
He's the only one who bothers to be fun and entertaining and he does it well. His Sharon Osbourne impression is spot on and could land him a visit to The Talk if Julie finds out about it.





TEAM BRITNEY - HEAD OF HOUSEHOLD
I didn't come into this season with Hantzophobia so I'm enjoying his manic ways and Willieisms. Granted he's been a pain these last few days but tomorrow he'll descend to the ground floor for the first time and we'll find out what he's really about. Those who keep saying he's relying on his famous name should note that he introduced his blog with 'this is willie', leaving off the Hantz.





TEAM DAN, for a minute
Most were looking forward to seeing what she'd bring, but she got a raw deal and was gone before the feeds even kicked on. She'd said she was worried about lack of privacy & sleep, missing her family, and slop so maybe BB wasn't for her, and she got away without airing any dirty laundry. It had to be humiliating to go back in for the group bikini pic but that's how they do things.







Linking to any page here is fine but please do not repost any content from this site (or any other) without permission, and do not repost or hotlink to any images


!! THIS MEANS YOU !!




UPCOMING EVENTS
Get the feeds
! This is looking like a good season.

Next show is Thursday July 19 9pm: Froot Loops fight, eviction, HOH comp - East coast stream

Fridays 7pm PT/10pm ET: Lance Bass Pop Ten on Sirius Radio XM108 - call-in 866-305-6887

SuperPass shows:
Tuesdays 3pm PT/6pm ET: Rants & Roars with Matt Hoffman & Adam Poch
Thursdays 3pm PT/6pm ET: Happy Hour with Ellen, Missy & Spicy
Mon-Wed-Fri 10am PT/1pm ET: Fan Recap

Finale is Wednesday September 19

The Glass House airs on ABC Mondays at 10pm. Glass House feeds are 11pm-3am ET (8pm-midnight PT) Mondays, 3-4pm ET (noon-1pm PT) and 9pm-midnight ET (6-9pm PT) Tuesdays & Wednesdays, and 3pm-4pm ET (noon-1pm PT) Thursdays. Watch free at the ABC site



THE REAL SHOW IS THE LIVE FEEDS

Includes Flashback, video clips, live talk shows, interviews, $10 of free music every month and more!
Sign up for a free trial





AMERICA'S VOTE


Which supplement should Have-nots get?
Liverwurst & licorice
Pork rinds & pudding
Tofu & taffy







RATINGS WATCH


Wednesday's show won the timeslot with 5.6 million viewers (down .5 from Sunday and 1.5 from premiere), 1.9 rating and 7 share, ahead of So You Think You Can Dance on Fox with 5.1/1.8/6, Off Their Rockers rerun on NBC with 4.7/1.1/4, and The Middle rerun on ABC with 3.9/0.8/3.

Monday's Glass House remained in second place with 2.8 million viewers, 1.9 rating and 3 share, behind Hawaii Five-0 rerun on CBS and ahead of Grimm rerun on NBC.







Clicky: caps sorted by day - all caps