This site is about the Big Brother 14 feeds and contains spoilers! It isn't necessarily thorough: it's what I catch and/or what interests me, and it isn't necessarily about who will win, who should win, who's cute or who's horrid. It's about watching hamsters: who's doing what and why. If they aren't entertaining, get rid of 'em! Thanks for encouraging my behavior. Your pal, dingo







POWER STATUS


Willie is HOH
Kara & Frank are nominated
Shane did not use veto
Ashley, Danielle, Shane, Ian are Have-not







BB14 DRINKING GAME


Take a swig whenever there's a gametalk convo lasting more than five minutes - be sure you have 911 on speed dial)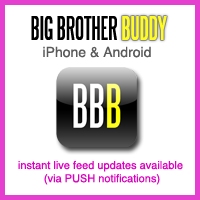 Get the Big Brother Buddy mobile app!
Available for Android or iPhone/iPad


Big Brother 13 at iTunes

BB7 All-Stars and seasons 9 through 12 are also available







BB14 FAQ


If you have SuperPass, access mobile feeds by going to real.com/bigbrother on your mobile device's browser. Log in (upper right), select Big Brother, and select Live Feeds from the drop menu. There is no app.

They're calling Diary 'the wizard' and 'convention' is pre-show sequester.

Ashley revealed they wear earpieces for nominations, presumably in case prompting is needed for 'Hamster A, you are safe' and 'Thank you, Hamster B'.

CBS shows are Sundays and Wednesdays at 8pm, and live eviction Thursdays at 9pm.

Big Brother After Dark airs midnight to 3am nightly (1am to 4am Thursdays) on Showtime (SHO2) in USA, and on Global Reality and/or Slice in Canada at various times - check your local listings.

BB14 prizes are the same: $500k for the winner and $50k for 2nd place. The others probably still earn $750 a week including pre-show hotel and jury sequester.

The coach of the winner gets $100k. Returning veterans probably get more weekly stipend and/or a flat amount to show up.

The habitat has 53 cameras (up one) and 98 microphones (up three).

The recorded in-house announcements are the voice of producer Don Wollman.

All feeds stay on one 'scene' when someone's in Diary.

The Glass House premiered June 18 on ABC and will run for 10 episodes. The winner will get $250,000 - half the usual BB winning amount.

Apparently the glass hamsters go into hotel sequester on weekends - no, I don't know why.

Big Brother Canada premieres February 2013.



Get Team USA Olympics gear
Use code USABDAY for free shipping on orders over $50


>> >> >>
>>
ALL AMAZON.COM PURCHASES MADE THROUGH THIS LINK HELP SUPPORT THIS SITE
Pineapple waffles (Monday 7/16)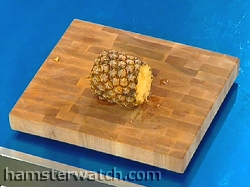 Yesterday everything was all nice and tidy with a 4-4 vote, tiebreaker TBW (to be waffled), and an eight-person pact to get along for two weeks that only lasted a few hours.. today the entire day was gametalk, with the exception of the Showtime block - maybe they're under orders to be bland from 9 to 12.. they gametalked in various hamster combinations, in various rooms, with healthy doses of lies, paranoia, and of course, lots & lots of waffles

Sorry but I'm not about to provide gavel-to-gavel coverage for those who couldn't face it: there's no way I'm keeping track of all that.. but the peculiar thing about all of it was the two nominees were barely mentioned and hardly involved.. Frank had a meeting or two, but Kara was hardly there all day again.. for some inexplicable reason, her coach Dan told her not to gametalk with anyone, and stunt mentor Willie told Frank to lay low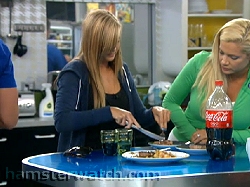 The only non-gametalk tidbits I've got are a bee approached Ian in the hammock and scared him, he dumped out, and hurt himself a little - don't worry, there wasn't enough blood to earn a spot on my Extracurricular Tally.. Have-nots were allowed to eat at midnight.. Frank made steak dinner for them and most of the Haves swooped in for some too.. stupidly, Have-nots have to stay in the room until Thursday

CBS touted their Sunday night ratings win but they were down 1 million viewers from the premiere - it looks like even CBS-onlies don't want has-beens.. many of the BB sites' traffic is also down, including mine: I had more of you peeking in here before the premiere than since, a first, and not a little discouraging since I've been staying up til 5am each night to get it slapped up here.. maybe those who said they wouldn't watch if we got more retreads carried out the threats this time



Key-hos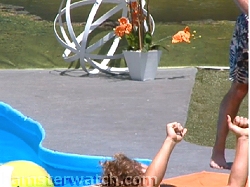 I don't know what this cap's about but it's kind of kooky and dada so I thought I'd share.. think of it as "art"

They've already recorded their farewells to Frank or Kara, but the Diary calls kept coming and the lunacy got loonier.. by the end of the night, yesterday's pact is shattered, Britney hates her former bestie Janelle, and she told Willie about their theory that coaches will enter the game - said theory based largely on the fact that the coaches have key slots on the photo wall (not to mention the fact that this show gets un-twisted every season around Week 4 or 5)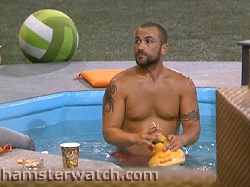 Willie thought hard about it for awhile and then chased down Britney to say he wants a house meeting to get it all out there.. said meeting may or may not happen but if it does, it'll be a don't-miss event, sure to provide fireworks along with hilarity every time Willie says "key-hos"

In the midst of all this, Britney said to Willie "If I don't win it, do you know who I want to win it? You.. I want you to win the game".. it's almost 4am as I write this, the two of them are still parannoying their brains out, moving from one room to the next

At one point, there was a quick Diary leak where we heard Britney pleading for Xanax - if she got some (it would be from her own Rx), she didn't get enough.. throughout all of this long, long day and night, the fishies swam and swam and swam



Glass shards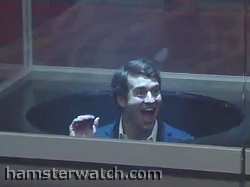 Meanwhile in the other habitat, they revived Alex back into the Glass House for a minute in a desperate attempt to save their dying show - I think he was gone again by the end of the air show.. I don't know why they'd bring back this clown who claims he's "the Worst Villian (sic) in the history of reality tv" on his Twitter profile - I know, you've never heard of him but he thinks he's the shit

Their Powers That Be failed once again to learn from their mistakes by wasting their four-hour Monday night feed block with more orchestrated crap - this time it was a toga party, and more predictable Q&A about over-analyzed dead horse issues at a time when BB14 feedsters were chewing glass over all the circular gametalk.. loads of us would have hopped back to the glass hamsters for a few hours if they were letting them be hamsters, but no

But a few of our greater BB family regulars got their questions posted and onscreen, so that was nice.. I'd like to know what happened to the original tagline "you tell them what to wear, what to eat, and what to do"? That's an appealing premise for us voyeuristic types, but it's a world apart from offering up two silly options selected by former BB producers.. but no matter: in a couple weeks, the Olympics will slaughter both shows



Snow White and the Seven Slaves? (Sunday 7/15)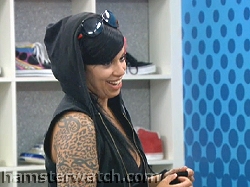 This time it's Ashley: she turned up having a past today, as reported by New York Post.. apparently her ex and agent is Anthony Marini, former owner of The Vault S&M club in Manhattan, and he is suing her for $820,000 for ditching out on a film contract to be on Big Brother instead.. when I say film contract, considering his past, chances are good it's a bondage porn flick, but the Post doesn't go into detail.. it does say she completed eight scenes for a trailer before she bailed to move into our little hamster habitat

The mock Ian/Ashley date is still scheduled to happen sometime today, and between that and her Snow White shtick, new mental images of Ashley (and probably chops) are popping out all over.. my Extracurricular Tally below has been duly updated

Back to our program, Shane did not use the veto, launching enough meetings you'd think they're voting before dinner - I'm rethinking the gametalk drinking game, I don't want any of you to die of alcohol poisoning this early in the season

Apparently Boogie talked to himself and/or us this morning about wanting to stir things up, and later he tried to cause an uproar about Britney's messy causing the ants invasion.. I was catching a nap but apparently it didn't really catch on.. Boogie's clearly got his sights set on Britney though: he's also talking about starting up Brigade 2.0 with Shane, Frank, and Willie.. Jenn's pic is here because we rarely see her



The season is officially underway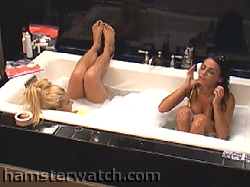 Boogie hit on Kara about getting together after all this, and then the season kicked into high gear.. Janelle pitched a plan to Willie about working for a 4-4 vote rather than the agreed-upon 8-0 plan (7-0 per Willie), in order to make good tv for us.. she knows we don't like unanimous votes, but she also knows Willie breaking a tie would sabotage him with either Boogie or Dan, whichever one loses their teamie, when it was unnecessary for him to do so

Then she went to bubble bath with JoJo, encouraging her to showmance Shane if she wanted to, again on the premise that we like that and it'd be good for JoJo overall and fun, if she likes him.. earlier Janelle suggested the same to Danielle, who already seems a little interested in Shane.. all these setups are making it look like Janelle's social game has caught up to her comp skills in a big way, other than the fact that it might be too early in the week to put all her ducks in their rows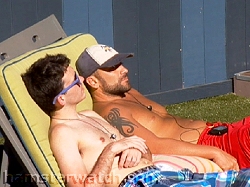 Willie got wind of how many whisperings were going on everywhere (and perhaps realized his power is now gone), and he started parannoying (© BB5 Diane) to Team Britney about it.. Janelle joined and was confronted about it, skated through it easily, and they all assured Willie that everything was fine.. eventually all members of Team Britney & Team Janelle filled up the HOH room, and made a pact that none of them would nominate any of the others until all the others were gone - we'll see how that plays out

Most of this went on while the show was on in the East - I think it was the best feeds hour during the CBS show we've ever had.. Ian & Ashley's date is scheduled for Showtime, because they like to have skits and activities for that.. I got a nice shoutout from Janelle around 7:35pm BB time when they were talking about BB sites.. Dan and Britney said they read me too - it made my day



Date night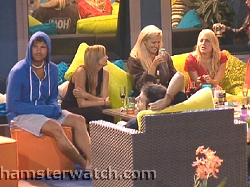 Ian & Ashley's date started right on schedule, approximately 9:15pm Pacific for your Flashback, with both of them dressed in their hamster best and several of the others handling all the arrangements.. they held it in the parlor/arcade with the door closed, Britney popping in & out for table service.. it was cute and the awkward gradually passed - then it turned to gametalk before they didn't kiss good night

They attempted drunken charades in the backyard, but the Feedmasters decided we weren't worthy of seeing that, so we watched the fishies play charades instead.. Britney took her turn in the bubble bath and Wil joined her, which disturbed a lot of the BB bubble bath fans.. Kara watched them - I don't think that's what they were hoping when they cast a Playmate of the Year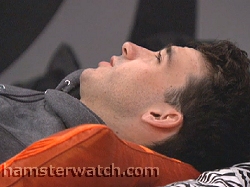 Ian talked to us for awhile as he tried to detangle the threads of the mess he's gotten himself into.. he gave a shoutout to Sucks and Digital Spy, and sounded like he's leaning towards all the wrong people for his own good.. JoJo told stories about her gold-digging past, and later crawled into bed with Willie to gametalk and strip down to her bra

Ashley came along after that and pulled Willie into the bathroom where they gametalked on the floor for awhile before taking it outside.. they talk like they're tight (don't they all?) but they are on to the fact that the coaches are playing for themselves.. to use the old BB chess analogy, it's like we've got four knights & bishops and eleven dispensable pawns*

Dan talked to us for awhile too, or tried to - he needs to work on his monologue skills.. oddly, both he and Ian wondered aloud why anyone would be watching them talk to themselves - odd because a) they both know we like that to find out what they're really thinking, and b) they both signed up for (up to) 71 days of being on camera 24/7

* To flesh out that chess analogy a bit more, @MissCleoBB14 and @idolknights may have solved the riddle of how the coaches twist will end (because BB twists ALWAYS end): apparently Julie never said the coaches would go out when their last teamie's evicted, as most of us have assumed.. so rather than just put an end to coaching at Week 5 or whenever, maybe a teamless coach stays to become a regular player when they lose their last member, like a chess king must do.. that would be unexpected, as they could have been sabotaging their own teamies all along to play for $500k again rather than the comparatively chintzy $100k coach's prize



Ratings - The Game's Afoot edition
Ratings are Sunday's, based on entertainment value - on Monday, they sucked the life out of me



I wonder if they're getting my little Twitter missives? I'm annoying my followers with them which doesn't sit well on top of everyone's general annoyance with all the fishies. I hope they slap the new interns around so they'll get things straightened out before we all go postal. Naturally all that deserves a resounding negative but I understand tonight's show wasn't bad (I may watch it later) and the comp was Wipeouty - it's about time! I believe the guy who did the BB comps for years was one of the defectors to Glass House. It's nice to finally have some new ideas here and that earns an upgrade to neutral.





TEAM JANELLE
She's the big story today between her big news story, being the designated hair braider for Britney & Wil, her dream date with Ian, and making rounds all over town to start forming her side alliances. She's not bringing much of the wacky that was promised but I'll give her a pass today since she did more than most.





TEAM DAN
About the only thing I saw of her today were some impressions of the other hamsters and the BB announcer, and they weren't very good. I'm convinced she and her fellow noob Kara don't know what show they're on or what they're doing here, but at least she's stopped counting her bruises for everyone.





TEAMIES: Frank, Ian, Jenn
He grouched around this morning and picked a fight over cleanliness and ants, but everyone knows the ants always win in that house. He asked Kara if they could meet up after the show and being the professional that she is, she politely agreed in a vague sort of way. He turns 42 Monday but I kind of doubt he'll get a trampoline. Flashback 7/15 1:54pm (Pacific) if you want to watch him bonk his head.





TEAMIES: Shane, Willie, JoJo
She's usually good for a couple dozen cracks that are Lines of the Day worthy but she seemed to be a bit off her wit today. Maybe she's tired of 24/7 gametalk too - everyone out here is.





TEAMIES: Kara, Danielle

Jodi


I gave him a hard time on his season for being less than entertaining most of the time, but he's stepping up his game on that score. It needs work, but his dopey hat and inability to get them to guess his charade were a funny combo, plus he made an attempt at talking to us and hey, it's the thought that counts. Being stuck with Kara & Danielle doesn't give him much Team Dan news to talk about, but if the chess theory above is correct, he'll have plenty of material before long.





TEAM BOOGIE - NOMINATED
I don't see him much but that's the hazard of being a new face when The Powers That Be have veterans to focus on. I'm not following any of the Frank/Kara/Frank/Kara back & forth debate and won't for awhile because I'll never make it till Thursday if I start now. Being a nominee, you'd think he'd be a bit more visible though.. maybe a little campaign or deal pitch here or there would be a good idea.





TEAM BOOGIE
I hear he was the star of the CBS show, albeit in an easy target kind of way, and he certainly was the star of primetime with his date and later analytical conversation with himself. Being the ultimate superfan, I'm not buying that he's as green as he seems, but he got a demerit from me when he muttered 'It's harder than I thought' to himself. True BB superfans know how hard it is in there - maybe he's just having trouble thinking clearly without pot.





TEAMIES: Wil, Ashley, Joe
She went all out putting her plan in place and it all seemed to go beautifully, with everyone doing her bidding while believing they were doing their own. There's just one small problem: she did it all too soon.. it's only Monday! By the end of the night, Ashley & Willie were already talking about mutiny.





TEAM BOOGIE
I saw her for a total of about five minutes today, again.





TEAM JANELLE
If he didn't cook dinner every night, I'd barely see him either. I'm pretty sure I predicted he'd be a Diary shouter and now we know he is.





TEAM BRITNEY
She's coming out a little bit and getting a few more minutes of face-time than most of her fellow noobs, and if she keeps delivering stories like tonight's about being a gold-digging hussy, she'll get a lot more. She keeps bragging about her street smarts and how important they are in this game, but then she goes on to announce she's not good about thinking too far ahead, so I'm now totally convinced she doesn't know what show she's on. Climbing into Willie's bed was another sign of that - she might not realize his power is all used up for now.





TEAM DAN - NOMINATED
It's mind-boggling that a Playmate of the Year is one baggy shirt away from having a rating here that says 'Who?' but that's what kind of hamster she's turned out to be. If she doesn't get gone Thursday, she'll probably stick until the unitard comp and then go on her merry way, wearing it.





TEAM BRITNEY
This guy has reached non-houseguest status (© BB6/7 Howie) but I'm still on my love to hate him kick. His puka shells came out again today but his personality's still AWOL. I really hope Janelle's proposed triangle involving him, Danielle and JoJo comes to fruition, but I doubt he'd even notice if they ended up scratching each other's eyes out over him.





TEAM JANELLE
Easy ups for his pigtails and gin comment - see Lines of the Day below.





TEAM BRITNEY - HEAD OF HOUSEHOLD
I don't know if he realizes his week at the top is effectively over or not, but most of the others don't. He seems to have become the get-around guy who everyone wants on their side, but he doesn't even know how many votes there are. Like Cowboy before him, he's starting to show some potential for

making up

introducing us to words & phrases that will live on long after his BB career comes to an end.





TEAM DAN, for a minute
Most were looking forward to seeing what she'd bring, but she got a raw deal and was gone before the feeds even kicked on. She'd said she was worried about lack of privacy & sleep, missing her family, and slop so maybe BB wasn't for her, and she got away without airing any dirty laundry. It had to be humiliating to go back in for the group bikini pic but that's how they do things.







Linking to any page here is fine but please do not repost any content from this site (or any other) without permission, and do not repost or hotlink to any images


!! THIS MEANS YOU !!




UPCOMING EVENTS
Get the feeds
! This is looking like a good season.

Next show is Wednesday July 18 8pm: Veto comp, veto meeting, live eviction, HOH comp

Monday July 16: Boogie's birthday

Monday July 16: Julie on the Late Late Show with Craig Ferguson

Tuesday July 17: Adam Poch & Matt Hoffman live Rants & Roars show on SuperPass 3pm PT/6pm ET

Wednesday Sept. 19: BB14 finale

The Glass House airs on ABC Mondays at 10pm. Glass House feeds are 11pm-3am ET (8pm-midnight PT) Mondays, 3-4pm ET (noon-1pm PT) and 9pm-midnight ET (6-9pm PT) Tuesdays & Wednesdays, and 3pm-4pm ET (noon-1pm PT) Thursdays. Watch free at the ABC site



THE REAL SHOW IS THE LIVE FEEDS

Includes Flashback, video clips, live talk shows, interviews, $10 of free music every month and more!
Sign up for a free trial





RATINGS WATCH


Sunday's show won the timeslot with 6.2 million viewers (down 1 million from premiere), 3.7 rating and 7 share, ahead of Dateline on NBC with 5.7/3.8/7, Secret Millionaire on ABC with 5.6/3.5/6, and The Simpsons reruns on Fox with 3.5/1.9/3.

Last Monday's Glass House remained in second place with 3.33 million viewers, 1.1 rating and 3 share, behind Hawaii Five-0 rerun on CBS and ahead of Grimm rerun on NBC.







Clicky: caps sorted by day - all caps