This site is about the Big Brother feeds and contains spoilers! It isn't necessarily thorough: it's what I catch and/or what interests me. It also isn't necessarily about who will win, who should win, who's cute or who's horrid. It's about watching hamsters: who's doing what and why, who's fun and who's dull. If they aren't entertaining, get rid of 'em! Thanks for encouraging my behavior.




GOT VIDEOS?
WHERE'S JERRY'S BLOG?
I have no idea, but he wrote one
BB10 DRINKING GAME ALIVE/WELL
Take a swig every time Jessie mentions his body.. now that he's HOH, stock up the bar
BB SITES ARE HURTING
Sign-ups
are slow this season for many of the sites - be sure to get your feeds through a site you want to support. Big up to those of you who have already gotten them here, and thanks very much!
No time-out feed links
are posted and ready for Hamsterwatchers to grab





NEXT SHOW


Sunday, July 20 at 8pm: Nominations, assorted dramas







RATINGS WATCH


Wednesday's live show placed second for the hour with a 4.0 rating and 7 share, behind 'So You Think You Can Dance' on Fox with 5.3/10.




Donations are gratefully accepted through Paypal using the button above or direct by email. Please support other BB10 sites that you like, too. Many thanks!







UPCOMING EVENTS


Veto comp is Friday






FAQ
Libra, April, Keesha, Jerry and Memphis are on slop

Jerry is being called 'The Colonel'

The winner will once again receive $500k. Second place will probably be $50k again, and the weekly stipend for the others will probably remain at $750, including sequester weeks.

The habitat has 52 cameras and 95 mics this season

Finale is scheduled for September 17 so it'll be a slightly shorter season than usual, by about 10 days





July 17, 2008 - Day 10

>> past >> present >> future

>> Jessie is Head of Household - Dan & Steven are nominated <<



Food comp meltdown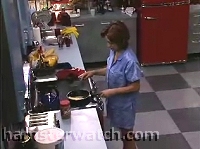 Renny got up a few hours after the others crashed and made herself breakfast in the twilight of the kitchen.. Big Brother didn't turn the lights on for her for quite awhile

They did their food comp and it sounds like it was a messy one.. Libra, April & Keesha are on slop (again) and weren't happy about it at all.. Memphis Bob is too but says he doesn't mind, and so is Jerry.. they made it sound as if the winners celebrated a bit too heartily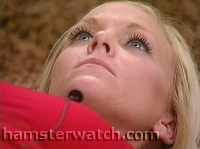 April was especially torn up about another week of slop and looks like she might be our designated whiner this season, and possibly our CSI auditioner too.. Libra had a major rant about not wanting to tell Diary how she feels about going on slop and how she didn't want to describe the comp to them.. bad news for her, as that's about 80% of her summer job description

Dan hung out in HOH alone for awhile flipping through the spyscreen channels, rapidly.. he freaked out Jessie by being there when he & Ollie showed up, but they all small-talked awhile, rating the girls and so forth.. a bit later the fishies came & went, and then Dan was pleading his case to Jessie, right on cue, then Jessie nominated him anyway along with Steven.. one of the pricey koi fishies has died, by the way

Michelle talked about her former job of boxing (til 3am on weekends.. koff) a few times, but she didn't mention that it was at a strip club and none of them caught on.. Hamsterwatchers with good reading comprehension skills have known about it for 10 days

Creepy is as creepy does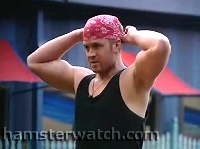 Those who lost sleep worrying when the dreaded BB mandana would make its appearance can rest easy now: Memphis Bob arranged the debut, which isn't really all that surprising since he's a card-carrying member of the 500 Hats alliance

Showtime came and went, like it does, but they didn't put on much of a show this time.. now that Brian's gone, the feeds have turned into the kind of comedy show that you have to supply your own comedy for - and that's okay, we're up to the challenge

But then creepy came to town and overstayed its welcome, when Michelle crashed Jerry & Jessie's boring* backyard convo in much the same way Amber used to crash BB8 Dick & Eric's boring backyard convos.. the three of them yukked it up awhile, and then this happened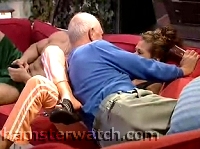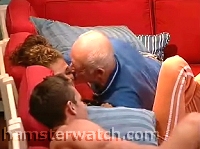 I know, I know: he's being fatherly/grandfatherly, he's being friendly, the kindly older gentleman is getting in touch with the young people, etc etc etc - I've heard it all, but I can only go along with it so far and that's a few seconds.. this lasted about two minutes or more, and included him calling her "baby"

*Seriously, it was about Minwax.. oh, and The Jury According to Jerry, and how he wants to bang pots 'n pans through the habitat to piss off Renny and the misery girls

Daily ratings - It's a comedy show edition




Ratings are based on entertainment value.. it's there, but you have to dig for it



Trivia, fishies, bubbles: we got it all now, and plenty of each. And that music that goes with them.. wowie! You can't beat it with a stick. I'm not particularly Renny's champion, but you'd think they could turn on the lights for her to cook her eggs. Well, I suppose she could have asked them to, but the other day she was feeling down and was hoping she'd get called to Diary: she didn't know she could request to go in. Ding dong!



No fun at all. She's making a lot of comments about having learned some major life lessons and so forth in the last week and that's great for her (even if she's a bit late in learning some of them), but it's not good tv. This is a trashy reality show, not a Lifetime movie of the week.





She got properly pissy at losing to slop for a 2nd week, and the feedmasters took advantage of her anguish with a slow, loving, pervy pan across her post-comp bikini'd body while she cried. She pops a few good lines here & there but I think they're accidental. When she tries, she comes up with junk like 'I'm so OCD that my cat matches everything in my house - he's tan & black.' That's not OCD: that's just decorating with neutrals. What we've been waiting for is what we were promised: a crazed night stalker who gets up to rearrange the fridge and alphabetize the pantry on a regular basis.





NOMINATED
He wore a startled look most of the day and speed-clicked thru the spyscreen channels like he was afraid he'd miss something on channel 3 if he didn't hurry back to it. Point for making Jessie freak out by being in there when he went up to plot with Ollie, but Dan's pre-nom plea to Jessie lacked oomph and his post-nom acceptance of getting no key was flat and, well.. too accepting. We want drama! Fights, threats, tears, tantrums, anything!





This guy is a real piece of work. He's okay with being a brand new citizen since he shmoozed Jessie to safety and he's setting up post-BB barbecues with the others to keep himself safe. He's even comfortable enough to start bitching about some of the less mature hamsters. He's got the BB virgins looking to him as the Grand Master of the Game (even though he's clueless about some aspects of it) and he sprinkles in vacation tales and doggie stories like he's reading from his annual Christmas letter. He knows his role (© Dr. Will Kirby) and fulfills it by doing things like asking Ollie what he's going to do with his life and Michelle if she made any money boxing (he hasn't figured out the strip club part). But amidst all this crap he's delivering a bounty of Jerryisms that may put Cowboyisms, Hollyisms, and Lisaisms to shame by the time he's done.





HEAD OF HOUSEHOLD
He's feeling his all-natural oats now that he's wielded the power the way he was instructed to wield it, but he thinks it was all his doing so it'll be fun when it comes back to bite him - it always does. Like Jerry, he often forgets the others' names and also like Jerry, his entertainment value is strong in a point 'n laugh kind of way, but he's really an ass and it wears off fast. He's real useful if you want to cop a buzz though.





She wasn't on my feeds much today other than whining after losing to slop again, but she rallied quick and took advantage of the fact that April was acting a lot more miserable about it than she was. She's now adopted BB8 Daniele's method of pulling her knees up when she sits in her/their perch. Other than that, she needs to give us more stuff like the other night's Barbie Battle, and soon.





Entertainment value, remember? She's gotten way too big for her britches so it was very satisfying to watch her major meltdown over having to tell Diary about losing another comp.. she clearly does not know her role.





Won: Classic Camaro
He keeps being overlooked by all parties but gloating about his stellar career modelling for construction equipment catalogs, and boasting to the misery girls about how much he likes slop won't let him stay invisible forever. Neither will his perpetually perplexed expression. The mandana moment really wasn't necessary, but it never is and it always shows up anyway.





I first told you about her career as a 'Knockout Girl' at the strip club way back on July 8 (with possible pic) and again on July 13 so you knew when she started telling them about her boxing days that she wasn't telling the whole story. None of them picked up on any of her (major) hints like 'guys would pay to be my manager - they'd wipe me down with a towel', 'there's a lot more to my story than I'm telling', that she got a 'movie' offer from it, or that she quit when she met her boyfriend because he didn't like it. Angie, Jerry and Jessie in particular took it all as serious sports boxing with no extracurriculars but we knew better, didn't we? It was like being in on inside joke that she didn't realize she was sharing with us.





He's almost as absent on everyone's radar as Memphis Bob but he didn't participate in Sock Puppet Theater so he might be in a better spot. When April was explaining the ins & outs of car sales to him, he said 'Car dealers aren't open on Sundays!' That's definitely worthy for a Line of the Day mention where I live (where the majority of cars are probably sold on Sunday), but I'll just tuck it here in case it's a regional thing.





She was seen a few times today - that was new. First she was making a solo breakfast in the dark, then she was almost bonding with the misery girls about the slop she isn't on, and she even joined a convo or two - without being dressed up like a little girl and/or Mrs. Roper! (©Supes414) Probationary ups for finally showing up on the feeds now that she's not nom'd for the first time, and for her most excellent tie-dye camouflage arrangement.





NOMINATED
DUDE! Wake up - you're Public Enemy #1! Diary better step in fast and peptalk him before the veto comp (like they've peptalked too many far less worthy hamsters than him) because he's one of our last hopes of laughing-with-not-at, and he seems about ready to throw in the towel. He's the strongest all-around mental & physical competitor of all of them, by far - at least on paper - and we can't afford another big loss so soon. Save us, Steven.. you're our only hope.






He made more of an impact than most who get voted out first and he had the potential to be a fan fave but he over-allied and betrayed too early and had a very negative edit to boot. He was smart, funny, and a good ringleader for the guys - time will tell if they can be as fun without him. Sock Puppet Theater on only the second night of feeds, under his direction, could be the highlight of the season.


Please do not repost any content from this site (or any other) without permission, and do not repost or hotlink to any images
!! THIS MEANS YOU !!

* THE FEEDS ARE BIZARRE *
It's oddly surreal this time
- maybe it's the 60s room

14 day free trial
Choose monthly or quarterly billing

Your subscription will include
BB8 Evel Dick Donato's live show
on eviction days






GET TWITTERED! FREE TEXT ALERTS
Get free Hamsterwatch updates to your cell phone! Text 'follow hamsterwatch' to 40404 to sign up (21212 in Canada; 5566511 in India; +44 7624 801423 anywhere else). my tweets - more info





Click to see my full list of BB10 links. These are some of my favorites:


24/7 feeds - 14 day free trial see everything that happens before it gets edited into something else for tv

No time-out feed links including set-up how-to, plus Real contact info

Hamsterwatch Chatroom

Hamsterwatch Forum

BB9 adult/explicit links - might get updated for BB10 if we have hamsters with naughty pasts

CBS Big Brother 10 the official site

DogDave BB10 aka Aldav scouts all the BB sites so you don't have to: all the news, edgy stuff & the best mini-recaps in town

Attw x's houseguest tributes all seasons fun & reference by BB's number one fan

BuddyTV - Big Brother 10 TV supersite with news, articles, discussions

Sir LinksALot Big Brother 10 all the links, once again



LINES OF THE DAY
Angie (age 29): 'One thing I learned yesterday is that perceptions sometimes overtake what's going on'
[about Dan/Steven Bible class]:
April: They'll be making macaroni art next
Libra: God makes crafts all over the world
Libra: I'm gonna be a pickle-eatin', salsa-eatin' fool
Libra: I'm not gonna put on any makeup, it's my day of mourning
Dan (looking in cereal box): I hope they didn't take the toy out
Jessie (to mirror): R2D2, ready and reporting for action

DAILY JERRYISMS
'I liked it up there [in HOH]! I was isolated.. noisy, noisy people!'
'I wonder what they'd do if I just poured all the slop down the toilet? Ha ha ha ha!'
'What a man won't do for a piece of ass'
'Keesha told me I had chicken legs.. I work on my legs'
'Can Pepe hear me?'



EXTRACURRICULAR TALLY

Makeout pairings: April/Ollie
Major fights: 1 (Keesha/April)




GET $10 CASH BACK
when you sign up with
your PayPal account
Limited time offer!


Greatest American Dog Store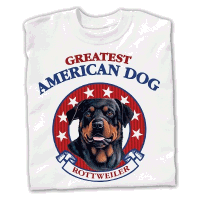 Get 10% off anything at the CBS Store including Big Brother swag!
Enter code AFFDA at checkout