This site is about the Big Brother feeds and contains spoilers! It isn't necessarily thorough: it's what I catch and/or what interests me. It also isn't necessarily about who will win, who should win, who's cute or who's horrid. It's about watching hamsters: who's doing what and why, who's fun and who's dull. If they aren't entertaining, get rid of 'em! Thanks for encouraging my behavior.




FEED REPLAY UNDERWAY
To relive the glory days of the Extracurricular Tally and see how the game unfolded,
get the URLs
NO MORE DRINKING GAMES
Thanks for playing, and sorry about the alcohol poisoning





RATINGS WATCH


Tuesday's finale dropped to third place with a 4.9 rating and 8 share, behind 'Fringe' on Fox with 8.2/13, and 'The Biggest Loser' on NBC with 5.3/8.




Donations are gratefully accepted through Paypal using the button above or direct by email. Please support other BB10 sites that you like, too. Many thanks!







BIG BROTHER 11


It's been announced as a midseason replacement which doesn't mean definite, but it may come back for another winter/spring edition.. they need some kind of filler to go against 'American Idol'. eligibility - application







FAQ


The winner once again received $500k, and second place got $50k. The weekly stipend for the others remained $750, including sequester weeks.

The habitat had 52 cameras and 95 mics this season

The recorded Big Brother in-house announcements are the voice of producer Don Wollman



AMERICA'S PLAYER

Task 1: Who should Dan get nominated? Jessie/successful

Task 2: Who should Dan hug for 10 seconds? Jessie/successful

Task 3: Who should Dan vote to evict? Jessie/successful

Dan got $20k if successful and not discovered. The previously-announced 4th task evaporated. Apparently all the 'Dan is America's Player' suspicions did not invalidate him.



Site Help and Info



>> latest Hamsterwatch episode

>>

Jump to a help section:


>> disclaimers >> privacy policy >> Twitter >> chat help >> forum help >> contact

>>

Latest Twitter, posted :







Disclaimers






THIS SITE WILL CONTAIN SPOILERS! The outcomes of nominations, evictions, competitions and other info is likely to be posted here before CBS airs the same.. be warned.

I make no claims to report everything that happens on the Big Brother 10 live feeds, and while I strive to be accurate with what I report and to be clear about what's fact and what's opinion, I make no guarantees as to accuracy or thoroughness.

Hamsterwatch.com takes no responsibility for any damages resulting from using this site or any of its features, nor as a result of visitors providing personal information in the Hamsterwatch chatroom or forum, both of which are accessible to the public.

This site has various advertisements from third party sponsors and partners, all of which are selected carefully, but Hamsterwatch.com takes no responsibility for problems or damages arising from visits to or purchases made from these sponsor/partner sites.

Most ads and links to other sites will open a new browser window but not all. Use your browser's "back" button to return here, or save Hamsterwatch.com to your bookmarks. Hamsterwatch.com takes no responsibility for any content on any linked sites or pages, including ads.

back to top




Privacy policy






Hamsterwatch.com collects no information about you when you visit and read the site. A valid email address is required to register and participate in the forum and chatroom, or to send a donation through Paypal. Your IP may be recorded and/or posted when using the forum or chatroom, and you may need to accept cookies to use these areas or when clicking on sponsor links.

Your email address will never be sold, rented, shared with third parties or otherwise distributed. You may receive occasional emails from me if you've sent a donation or registered for the forum and/or chatroom, but as of this time I haven't sent any bulk emails to all donators or registered users.

If you wish to receive bulletins from me with news and/or special offers, please sign me up as a friend at my MySpace (linked at the top & bottom of each page).

Take care when providing any personal information in the forum or chat. These areas are accessible to the public. Remember too that not everyone online is who or what they appear to be.

back to top




Twitter






Get Hamsterwatch live feed updates to your cell phone by texting follow hamsterwatch to 40404 (or 21212 in Canada, 5566511 in India, or +44 7624 801423 in other countries). You'll receive a response asking for a user name, and confirmation after you've done so. Alternately, you can sign up at the Twitter website, or add me to your follow list if you're already signed up. My Twitter username is hamsterwatch.

My latest Twitter message will usually be shown on the top of each page. You can see recent updates I've sent at my Twitter page.

These updates are free but you may be charged by your cell service provider to receive text messages so check your service plan. To stop receiving updates, text leave hamsterwatch to the same number. I can't remove you from my follow list: you must opt out.

If you're signed up but not receiving my text alerts, log in to your Twitter account at www.twitter.com/yourusername, then go to my Twitter page at www.twitter.com/hamsterwatch. If it doesn't say you're following me, click Follow, then make sure it says device updates are on. Alternately, if you want to stay on my list but not get my alerts on your phone, you can turn device updates off here.

You can also receive my updates at the Twitter website, or via AIM, Gtalk, Jabber or LiveJournal instant message; temporarily turn updates off or on; or set times to block updates by completing your account if you're already receiving my text updates, or by creating a Twitter account if you aren't. Twitter accounts are free and they don't sell or distribute phone numbers or email addresses.

Please don't hit Reply to my Twitter text updates! Your message will go out to all of your own Twitter followers, and I may not even receive it.

MY TEXT UPDATES WILL CONTAIN SPOILERS so don't sign up for them if you want to wait for the air show to see what happens. I can't promise to send every bit of news as soon as it happens but will do my best to send updates about nominations, evictions, competition outcomes, and so forth. I'll also keep you updated about endurance comps and other "big stuff" as it happens.

back to top




Chat help






Please read and abide the guidelines posted on the chat page.

If you're having problems registering or joining the chatroom, be sure you have Java installed. It's free and can be downloaded here. Also you may need to disable your pop-up blocker, especially to register or retrieve a lost password. Holding the Ctrl key while clicking either link will usually do the trick.

The chat should work with all browsers but if you have problems using Vista or Firefox, try using MSIE.

Right-click a user name in the room list to ignore that person. Please do not announce to the room when you've ignored someone as that defeats the purpose of the ignore function.

Click another chatroom to move to it. User names in the room list will show when that person is typing or when they are on Away status.

The chatroom is intuitive and easy to use. With the toolbar you can add emoticons, change font size, clear the chat screen, toggle timestamps, launch this help page, or log out.

Right-click anywhere in the chat area to access the toolbar commands, change the font face, or toggle audio.

Click another person's nick in the chat area to copy that nick to the typing area. When someone else types your nick, it will show in red to get your attention and may make a sound depending on your audio settings.

The chatroom has a copy/paste function but it doesn't always work properly.. check that what you've pasted is what you wanted before hitting Enter. Alternately you can also use Ctrl+c to copy and Ctrl+v to paste.

Please use the "screenname rule" when chatting: refer to people by their chat nick even if you know their real name, as they have chosen to use a nick instead.

back to top




Forum help






Please read and abide the guidelines posted in the forum as well as any board-specific guidelines. Follow the same common sense guidelines posted above for the chatroom.

You have to register to use the forum, and you'll have to respond to an email that your registration request generates before you can post.. please check your spam folder if you don't receive it. If you have problems registering or receive "Access forbidden" messages during the registration process, send me an email from the address you registered with and include your username, and I can activate your registration manually. Send this notice to hamster(at)neonpages(dot)com.

The forum is intuitive to use and works like most other message boards. You have a number of options to set up boards, threads, and so forth according to your preferences. Instructions to do all these things are in the forum.

If you have questions, please ask them in the Off Topic/Help section of the forum itself.

back to top




Contact






For donations, link requests, and advertising info you can email hamster(at)neonpages(dot)com or send a private message to dingo in the forum.

While I greatly appreciate the many nice emails and kind words I've received over the years, I just don't have the time to respond to them all when the season's underway.

As much as I'd like to, I can't get involved in one-on-one email exchanges about the hamsters or happenings on the feeds. Please use the chat and/or forum - that's what they're there for :)

I gladly add friends to my MySpace provided the requesting profile doesn't suggest spam will follow. If I don't accept your friend request, please send me a MySpace message and let me know you're a Hamsterwatcher.


Please do not repost any content from this site (or any other) without permission, and do not repost or hotlink to any images
!! THIS MEANS YOU !!

Use the Daily Index for the replay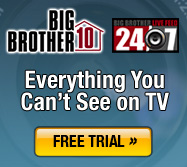 14 day free trial
Monthly or quarterly billing






GET TWITTERED! FREE TEXT ALERTS
Get free Hamsterwatch updates to your cell phone! Text 'follow hamsterwatch' to 40404 to sign up (21212 in Canada; 5566511 in India; +44 7624 801423 anywhere else). my tweets - more info.






Click to see my full list of BB10 links. These are some of my favorites:


24/7 feeds - 14 day free trial see everything that happens before it gets edited into something else for tv

No time-out feed links including set-up how-to, plus Real contact info

Hamsterwatch Chatroom

Hamsterwatch Forum

BB9 adult/explicit links - might get updated for BB10 if we have hamsters with naughty pasts

CBS Big Brother 10 the official site

DogDave BB10 aka Aldav scouts all the BB sites so you don't have to: all the news, edgy stuff & the best mini-recaps in town

Attw x's houseguest tributes all seasons fun & reference by BB's number one fan

BuddyTV - Big Brother 10 TV supersite with news, articles, discussions

Sir LinksALot Big Brother 10 all the links, once again






EXTRACURRICULAR TALLY



Sex: April/Ollie (12x)

Makeout pairings: 2
April/Ollie, Angie/Steven

Major fights: 10
· Jessie vs Renny (pre-feeds)
· April vs Keesha
· Jerry vs Libra, plus Renny
· Jerry vs Michelle
· Jerry vs Memphis Bob (not on feeds)
· April, Keesha, Libra, Jessie free-for-all
· April vs Ollie
· Jessie post-eviction free-for-all
· April vs Keesha + Libra vs Michelle
· Ollie vs the habitat

Impressive party tricks: 2
Renny's fist, Renny's headstands

'The Soup' mentions: 13
· Meet April's boobies plus Jerry's affirmation
· Jessie's HOH pics of himself
· Jessie's farewell to Angie plus Michelle's 'whore slut skank' catsuit rant
· Renny's dirty mouth
· 'Dumbest HGs in history' vs has-beens food comp
· Michelle & Jase 'two fax machines mating' noises (5x!)
· 'Dumbest in history' again plus M-Bob on Michelle being a friend and a bitch
· Renny's time zones
· Jessie's finale speech & noise

'Best Week Ever' mentions: 2
· Ollie/April sex with the lights on
· Dan's unanimous win loses to news crashers for the best week ever
(BWE wasn't on during August)