This site is about the Big Brother feeds and contains spoilers! It isn't necessarily thorough: it's what I catch and/or what interests me. It also isn't necessarily about who will win, who should win, who's cute or who's horrid. It's about watching hamsters: who's doing what and why, who's fun and who's dull. If they aren't entertaining, get rid of 'em! Thanks for encouraging my behavior.




GOT VIDEOS?
WHERE'S JERRY'S BLOG?
I have no idea, but he wrote one
BB10 DRINKING GAME ALIVE/WELL
Take a swig every time Jessie mentions his body.. now that he's HOH, stock up the bar
BB SITES ARE HURTING
Sign-ups
are slow this season for many of the sites - be sure to get your feeds through a site you want to support. Big up to those of you who have already gotten them here, and thanks very much!
No time-out feed links
are posted and ready for Hamsterwatchers to grab





NEXT SHOW


Sunday, July 20 at 8pm: Food comp, nominations, assorted dramas







RATINGS WATCH


Wednesday's live show placed second for the hour with a 4.0 rating and 7 share, behind 'So You Think You Can Dance' on Fox with 5.3/10.




Donations are gratefully accepted through Paypal using the button above or direct by email. Please support other BB10 sites that you like, too. Many thanks!







UPCOMING EVENTS


Drama breaking out all over town

Veto meeting is coming: Saturday or Sunday?






FAQ
Libra, April, Keesha, Jerry and Memphis are on slop

Jerry is being called 'The Colonel'

The winner will once again receive $500k. Second place will probably be $50k again, and the weekly stipend for the others will probably remain at $750, including sequester weeks.

The habitat has 52 cameras and 95 mics this season

Finale is scheduled for September 17 so it'll be a slightly shorter season than usual, by about 10 days





July 18, 2008 - Day 11

>> past >> present >> future

>> Jessie is Head of Household - Dan & Steven are nominated - Michelle won veto <<

Veto comp meltdown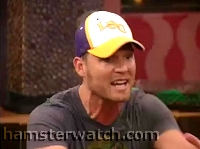 Michelle won it, in what sounds like a "select your options" and/or gambling for consequences comp.. Keesha got a slop pass and seems guilty about that, since Libra expected all of her kiddies to her to play for "The Team" (i.e. her)

Steven & Jessie had a long and very heated convo after the comp (note Steven's neck), in which Jessie explained that Steven was friends with Brian and therefore must die.. to Jessie's credit, he used some psychobabble catch-phrases correctly, having learned them at an early age from his dad, the shrink

Jessie: I can sympathize with that, but I can't empathize
Jessie: I'll use a Jerry line right now: it's not my shit
Jessie: When somebody gets force-fed something, it's a hard pill to swallow
Jessie: Guilty by association (many times)
....
Steven: What do I have to do to stay?
Steven: He [Brian] had already figured out the whole game
Jessie: You have four days - Brian about did it in less than 36 hours.. and the two blond girls with big boobs started going at each other's throat
....
Steven: I refuse to take part in this - they're drama queens!

Jerry's lost his voice (I know, it's hard to tell).. many are on a regular nap schedule already and it's only day 11 - it's going to be a long summer

Alliance roll call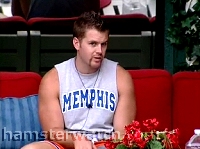 It's all very complex at this time but not to worry, all will become clear soon enough.. here's a rundown to help and/or amuse for now but meanwhile, keep reminding yourself it's a comedy show - the punchlines just keep coming

I'll Wear My Phony Name 'Cuz Nobody Can Remember Who I Am alliance: Memphis Bob
The Mob (aka "The Team"): Libra, April, Ollie, Keesha, Angie, Memphis, Michelle, Renny
The Real "Team": Libra
Rock Solid Secret alliance: Michelle, Jessie
We Just Think We're In With Michelle/Jessie alliance: Jerry, Memphis Bob
I Think I Own Everyone alliance: Libra, Jerry, Michelle
I Do Own Everyone alliance: Michelle
Rocking Chair on the Front Porch alliance: Jerry

Don't Think I'm Dumb alliance: April, Keesha, Jessie
Can I Get Laid In Here? alliance: Ollie, April
Doomed Friends of Brian alliance: Steven, Dan, Angie
I Don't Like My Alliance, Let's Talk alliance: Keesha, Renny
500 Hats alliance: Renny, Ollie, Memphis Bob
500 Hats Honorary Members (1 hat 500 times): Angie, Jerry, Steven - he may get full membership if cowboy hats come out

Sick/Injured/Slop Misery Girls alliance: April, Keesha, Libra, Michelle
Invisible Cloaking Device alliance: Ollie, Renny, Memphis Bob, Dan
Help, I'm Lost! alliance: Angie, Dan, Renny
Battling Barbies Turned BFF alliance: Keesha, April
Hide Under/Behind Pillows alliance: Angie, Dan
In Every Alliance alliance: Michelle, Memphis Bob

Who's on first?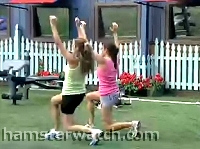 In a nicely surprising turn of events, whispers started springing up around the habitat about booting Libra and possibly doing so this next week - instead of Public Enemy #1 Steven

Libra sensed a shift in the wind and said "Something's going down, I just can't put my finger on it" to Keesha - who's in on it

It's too soon to call what will or won't happen, and the sheer numbers of alliance combo possibilities as of now make it pointless to try.. wait 'n see

Lots of caps in the forum today.. please to enjoy

Daily ratings - Diagrams needed edition




Ratings are based on entertainment value



Sports bras instead of bikinis for comps, no enforced bikinis when 9pm rolls around, and other niceties such as April saying 'Sorry, Showtime' after cussing indicates that they are really trying to clean this thing up. Last season's horrid CBS edits and resulting ratings fiasco on top of BB8's huge PR scandal, plus the rumored directive from on high to 'Put some perfume on that pig!' last time all seem to have had some effect. But despite the promising start, things are already going downhill into the kind of draining 24/7 hate-fest we don't usually get til the final weeks. We'll see what happens but they need to realize it isn't necessarily the raunch that turns off viewers - after all, CBS runs trashy sex all day in soaps and all night in scripted dramas. The problem is more about faulty storylines and their obsession with all backstabbing, all the time. It is funny watching some of this group trying to play based solely on CBS edits though: as usual, there doesn't seem to be a feedster in the bunch. In a chat about the frustration of cabin fever (so soon!) some of them said now they understand why BB8 Dick went around banging pots 'n pans.. hello? He did that by design - and it worked.



She still seems mostly lost but she got on board with the Dump Libra plan and started spreading it around.. unfortunately for her, if the whole thing backfires she'll probably take the heat for it. Oh well, so it goes. She displayed some boobage for awhile when talking with Jerry which he probably liked, along with many feedsters. Her green knitted helmet/hat is already making many hope they'll do a Burn a Piece of Clothing comp/event this time, and that she'll lose it.





We know way more details now than we need to know about her pubes, thanks to a descriptive commentary to Ollie and us, followed by 'I'm really, really shy'. Apparently the new, sanitized Showtime version tried to divert their audience from it by switching to the excitement of Renny making slop cookies but they didn't switch in time to avoid much of April's pubes and Ollie's preferences.





NOMINATED
He's in several fringe alliances and still in a lot of crosshairs due to his association with (and vote for) Brian, but he's not doing much that's interesting when he isn't hiding behind pillows.





He still thinks he's king of heap and gets around a lot planting seeds of hate & distrust, but I think he's slowing down and I don't think he has a clue how many are now gunning for him. Talking to Angie's boobies for awhile revived him enough to dictate a pool championship, but Jerry Rules activities are as distasteful to them & us as anything done according to Libra Rules. He didn't even contribute any new Jerryisms good enough for the sidebar today.





HEAD OF HOUSEHOLD
Jessie-isms took over today and they just kept coming. He seems to be holding his own as far as keeping up with everyone's over-strategizing but he does come up with some doozies when he joins the fray. He's very obsessed with personal wrongs (as he perceives them) and it's hard for Michelle to keep him focused on the bigger picture. He has some very peculiar bedtime grooming habits including powdering his toes (and rubbing the fall-off powder into the floor); and rinsing his mouth, then spitting it onto his toothbrush before brushing.. bleah.





I kind of like the new Keesha: she's showing some individuality and self-assertiveness instead of just being a pack blonde. She seems to be on board with the plan to dump Libra even though she sobbed to Libra for awhile tonight in the greenlight over Steven leaving.. well, maybe that was actoring (© BB5 Cowboy). If so, it was a very smart plan, but I have my doubts. Time will tell.





Today we learned that she won't sit on a public toilet: she 'hovers'. And also that she thinks Dr. Will saying things like 'You think I'm cute' all the time is to make people eventually believe it. (No, it's to intimidate by promoting his confidence and gradually eroding that of his opponents, at least in BB, at least in my opinion.) She knows something's up, so she's started to work the girls versus boys angle by pointing out to her girls that they'll be 1 up over the guys after Dan or Steven goes. Unfortunately for her, most everyone in there and out here is already sick of her Bossy Bessy routine and it's almost a certainty that her time in there is very limited.





Won: Classic Camaro
He seems to be in nearly every alliance and with good standing in each, and he says a lot of the right things at the right times to each of them. That's all well and good, but he's lost his sparkle and I need more than an ongoing series of new hats and name reminder shirts to hold my interest.





HOLDS VETO
She's impressive as all get-out when it comes to getting around and infiltrating every group, and she seems to know what's going on with all of them. I really think she's making the decisions for most of them right now and that she's controlling Jessie 100%. However, see Memphis Bob as far as holding my interest.





Lots of them are calling him All-LEE now (which I've been informed is how he pronounces his [last] name), but that won't help them look any brighter on CBS where he's going by ALL-lee. His assortment of hats is really getting out of hand, and we're learning far more about his pubes preferences than we need to know.





She came out a bit again tonight, making slop cookies in her motherly apron and comforting a crying Libra in the greenlight, but she really needs to step it up to perk anyone's interest - and I don't mean going back to the kooky costumes and glitter wigs! All we've got to go by is Jessie's hatred for her and a promise of personality galore.. some interaction with her fellow hamsters on our feeds is required.





NOMINATED
Well, he didn't win when he had to and things aren't looking good for him. And he wasn't looking good when he spent a couple hours in a loud argument/discussion with Jessie after the comp, as Jessie really can't do anything about him at this point. The plan to dump Libra might not even save him if it comes to pass, as there's no guarantee who Michelle would veto off to get Libra nom'd, or who'd be voted out. Things got worse when I caught Steven spitting his chaw for the first time, and it was as bad as I'd feared. Still, for some reason I hope he'll stay.. somehow.






He made more of an impact than most who get voted out first and he had the potential to be a fan fave but he over-allied and betrayed too early and had a very negative edit to boot. He was smart, funny, and a good ringleader for the guys - time will tell if they can be as fun without him. Sock Puppet Theater on only the second night of feeds, under his direction, could be the highlight of the season.


Please do not repost any content from this site (or any other) without permission, and do not repost or hotlink to any images
!! THIS MEANS YOU !!

* SAVE $2 A MONTH, EVERY MONTH *
Use coupon code BB10E0722
good thru Tuesday, July 22
New customers only

14 day free trial
Choose monthly or quarterly billing

Your subscription will include
BB8 Evel Dick Donato's live show
on eviction days






GET TWITTERED! FREE TEXT ALERTS
Get free Hamsterwatch updates to your cell phone! Text 'follow hamsterwatch' to 40404 to sign up (21212 in Canada; 5566511 in India; +44 7624 801423 anywhere else). my tweets - more info






LINKS OF THE DAY

Dream a Little Dream

Save 20% off everything thru Sunday: use coupon code

summer08

at checkout

Janelle's blankies, robes, sweats, etc plus loads of cozy-soft baby stuff

Big Brother Slop

available from Bill Pearl Enterprises

Free tickets for BB live shows

currently 'sold out' thru August 13 but tickets will become available for the remaining shows so check it daily if you want to attend one


Click to see my full list of BB10 links. These are some of my favorites:


24/7 feeds - 14 day free trial see everything that happens before it gets edited into something else for tv

No time-out feed links including set-up how-to, plus Real contact info

Hamsterwatch Chatroom

Hamsterwatch Forum

BB9 adult/explicit links - might get updated for BB10 if we have hamsters with naughty pasts

CBS Big Brother 10 the official site

DogDave BB10 aka Aldav scouts all the BB sites so you don't have to: all the news, edgy stuff & the best mini-recaps in town

Attw x's houseguest tributes all seasons fun & reference by BB's number one fan

BuddyTV - Big Brother 10 TV supersite with news, articles, discussions

Sir LinksALot Big Brother 10 all the links, once again



LINES OF THE DAY
Libra (about comps): On tv, doesn't it seem like it goes by so quick?
April: I'm very, very clean down there, always
April: I'm really, really shy
Ollie: Steve, have you jacked off yet since you been here?
Angie: Oh my god
Steven: No.. what am I supposed to do, jack off and try not to hit Renny?

DAILY JESSIE-ISMS
Jessie (about a doggie): His name was Coke.. C-O-K-E
Michelle: How else would you spell that?
Jessie: I dunno, maybe with a K?
I'm gonna go to sleep, and then I'm gonna wake up
I can sleep thru Ollie snoring away but I can't sleep thru Renny screaming
You can say it repeatedly until I turn blue in the face
I wasn't in the loophole
And the thing that you have to be repetitive & repetitive, and then you say the same thing.. well it doesn't frustrate me, it just takes so much time
..and then Old Girl rips my ball sack off and then hands them to me in a black paper bag



EXTRACURRICULAR TALLY

Makeout pairings: April/Ollie

Major fights: 1 (Keesha/April)

'The Soup' mentions: 1 (meet April's boobies & Jerry's affirmation)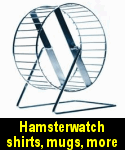 GET $10 CASH BACK
when you sign up with
your PayPal account
Limited time offer!


Greatest American Dog Store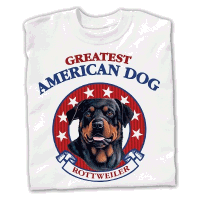 Get 10% off anything at the CBS Store including Big Brother gear!
Enter code AFFDA at checkout