This site is about the Big Brother 24 feeds and contains spoilers! It isn't necessarily thorough: it's what I catch and/or what interests me. It's about watching hamsters: who's doing what and why. Thanks for encouraging my behavior.
Your pal, dingo





Donations via Paypal are gratefully accepted!



BB24 DRINKING GAME

Take a swig whenever Jasmine mentions her birthday





VIEWER VOTES

Who should get Week 1 Backstage safety?
> Brittany but it didn't play out as anything





QUICK LINKS & BOOKMARKS

-SIGN UP FOR FEEDS

-WATCH THE FEEDS
after signing up - disable ad blockers

Official site and socials:
-BB24 official CBS site
-Twitter
-TikTok
-Instagram
-YouTube
-Facebook

-Live show tickets are back

-Donate via Paypal - thank you!

-My Twitter - my screencaps

-Amazon Canada portal

-Dick at Night with @EvelDick

-BB Viewer Chrome or Firefox Extension by @liquid8d
-Requires Paramount Plus account

-BB24 Wiki

-Hamster Twitters
BB USA: chron - members
BB Canada: chron - members
BB USA Celebs: chron - members

-Advice for cast friends/family

-VPN to protect your online privacy





EAST COAST AIR SHOWS

East coast air show live streams:
- 1 - 2

USE THESE LINKS AT YOUR OWN RISK
I can only vouch for #1
-NO DOWNLOADS OR SIGN-INS NEEDED
-BEWARE OF CLICKING POPUP ADS OR WARNINGS




Get Paramount Plus
to watch Big Brother
all seasons
Plus tons more CBS and Viacom content




Big Brother 24 SEASON FAQ
-Pre-season July 5: Cast reveal
-Day 1 July 6: CBS premiere
-Kyle was first to enter
-Day 82 Sept 25: 2 hour finale

Feeds are streamed by Paramount Plus, with Flashback included, with a Paramount Plus subscription. Call 888-274-5343 for account help, including cancellation.

BB24 finalist prizes are $750k for the winner, $75k for 2nd place, $10k for 3rd place.
All except finalists probably receive $1k stipend per week again, including pre-season sequester.

The habitat has 94 HD cameras (no change) and 113 microphones (no change).

The recorded in-house announcements are the voice of producer Don Wollman. He and Julie Chen are the only senior staffers who have been there since Big Brother 1.





BIG BROTHER LIVE FEEDS EXCLUSIVELY ON PARAMOUNT PLUS
All Big Brother USA seasons plus most CBS/BET/Comedy Central/MTV/Nickelodeon shows
past or present are included, plus originals!
GET A FREE TRIAL
COMPUTER - MOBILE - ROKU - CHROMECAST - APPLE TV - ANDROID TV - FIRE TV - XBOX 1/360


>> >> >>

>> >> >> >> >> >>

>>

Power Status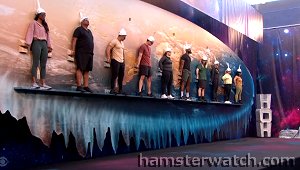 Head of Household: Taylor
Taylor & Joseph are punks 48 hours (completed)
Indy is in punkitard 1 week
Terrance is Ink 182 1 week
Original noms: Indy, Terrance
Veto winner/outcome: Kyle/did not use
Final noms: Indy, Terrance
Evicted: TBA


Alliance charts by @89razorskate20

Alliance maps by @Dolffica

Diary segment tallies by @clamperls4

Ratings Watch
Sunday's show won the hour with 0.7 rating and 3.838 million viewers, ahead of Celebrity Family Feud on ABC with 0.5/4.311, Password rerun on NBC with 0.1/1.705, and The Simpsons and Great North reruns on FOX with 0.1/0.628 and 0.2/0.566.

Overnight rating: adults 18-49, percent of all TV households



Upcoming Events
CBS shows are Sundays 8pm, Wednesdays 8pm, Thursdays 9pm

Thursday, August 18 will be two hours 9-11pm
Thursday, August 25 will be double eviction
Sunday, August 28 show starts 8.30pm
Thursday, September 8 will be two hours 9-11pm
Sunday, September 11 show starts 8.30pm
Sunday, September 18 show starts 8.30pm
Sunday, September 25 finale will be two hours 8-10pm

Usual feeds schedule, times are Pacific
Mondays noonish: Veto meeting*
Tuesdays: COVID tests
Wednesdays midnight: Have-nots end
Thursdays: Eviction run-thru afternoon*, live eviction show 6pm*, HOH room late evening
Fridays: Nominations late afternoon*
Saturdays morning: Veto player draw*
Saturdays afternoon/evening: Veto comp*
*Feeds blocked - adoptable anipals on feeds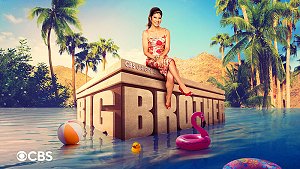 GET THE FEEDS to see the real show!

Paramount Plus plans are as follows:
-$4.99/month or $49.99/year includes feeds, does not have live local CBS, does have commercials for shows/movies
-$9.99/month or $99.99/year includes feeds, does have live local CBS, does not have commercials for shows/movies
-If you get the $4.99 'Essential' plan and want to dump the ads, you can upgrade to $9.99 'Premium' plan at any time
-$5.99/month plan is no longer available for new subscribers, but former All Access accounts will stay as they were, including feeds and live local CBS



Daily Feeds Recaps
Day 43 - Wednesday - August 17, 2022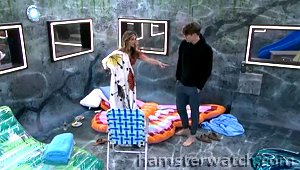 Picking up from last night, Kyle and Alyssa headed back to their Have-not sex lair (currently not Brittany's office). As they arranged their floaties and blankets Kyle said "get that camera out of here guys, come on America," so he is aware the cameras aren't just decor props. Feeds did cut away but returned an hour or so later which would indicate progress on his part, except he told her "we just had sexual intercourse for ten seconds, sorry I don't last very long, I'm not very good at sex. But I like you, I like having sex with you, if you want to stop having sex we can" before it devolved into how much they like and like-like each other. Alyssa later sent a message to Kyle's mom saying she's a good girlfriend and would be a good spouse. (And no, I am not making any of this up: if I could do that, I'd be writing novels and not this weird site to track BB feeds.)

Also, Leftovers discussed the Indy vote with split wishes about whether to make it a split vote or not. Taylor again said she'd like it to be unanimous. And Brittany told Kyle the optics of what he wants to do as far as splitting away from Joseph/Monte/Taylor are not good, repercussions could/would follow out here, and she can't do that. Kyle said "it's a fine line after last year."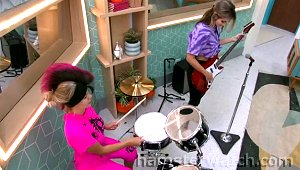 Several of them refused to get out of bed this morning but they finally all did. We saw a bit of an Indy Punkaroo performance on feeds, the first time I believe? before they cut it off to WBRB. She was on drums and Alyssa on guitar for this one, and it wasn't good. Brittany sat in her Have-not office (currently not Kylyssa's sex lair) to do some affirmations and practice her farewell messages. Taylor and Joseph continued their public - breakup isn't the right word since they haven't been together that way, but the end of their fauxmance for others' benefit. Feeds went to WBRB often like the old days. Most of the first half of this season was refreshingly free of that but for whatever reasons we seem to be back to the Oversensitive Skippy status quo. Michael and Brittany met in the pantry to discuss how they can get Monte, Turner, Joseph, Kyle to work against each other so they can slide through with Taylor. Brittany said they "don't need to get locked into anyone else's narrative, whether it be Joseph's or Kyle's" but it's valuable for them to know what those narratives are.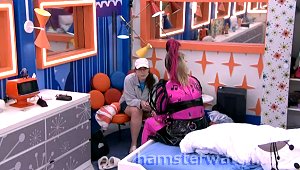 Brittany and Indy had a very angsty convo, with extra angst plus tears on Brittany's side. She said she now doesn't know how to vote because she suspected Alyssa and Jasmine might be lying to her about their votes. Indy said she was sure both are keeping her, but it seemed Brittany might have been looking for a way to pin her and maybe Michael's votes on Alyssa and Jasmine. That likely won't end well. Brittany stressed she loves Indy but she's "still deciding," and said she thought there must be an alliance she's not aware of. Maybe she was fishing for Indy to tell her about Five Swatters, or maybe this was part of the setup she discussed with Michael to get Monte, Turner, Kyle, Joseph to turn on each other? I don't see how that would work with Indy going off to jury, but I often don't understand Brittany's moves or intentions. Maybe it was as simple as trying to appear empathetic and sympathetic in hopes of getting Indy's jury vote in a few weeks. Alyssa, Jasmine, Michael, Monte played Chinese checkers - a first for Jasmine, I believe. Birthday activities when you don't get any balloons or any sky to release them to.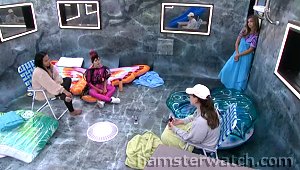 Indy met with Alyssa and Brittany in Brittany's office/Have-not sex lair about the vote, saying "you guys are all I have" plus Jasmine. She said she'll talk to Taylor because she'd promised Indy she'd break a tie in her favor so another girl doesn't go. (Taylor would probably evict Indy but recall her original target was actually Terrance, so who knows at this point?) Indy went to fetch Jasmine and Brittany told Alyssa she thought Jasmine might be being sketchy. Jasmine joined and said she was leaning towards keeping Indy but she hadn't fully decided yet and needs to talk to Terrance. Alyssa said she'd already voted to evict Terrance once and doing it again would lose any potential support from him in future. Jasmine said she didn't think anyone's fully decided yet (but no, it was just the usual Wednesday situation when everyone knows what's going on except the Convenience Store). Jasmine also said Joseph probably wouldn't vote to keep Indy, and she laughed about the idea of him talking game at all. (Joseph, the guy who arguably talks more game than anyone else.) Michael joined and also said he wasn't sure and had to talk to Terrance. Indy later approached Turner who also said he wasn't sure and had to talk to Terrance. Brittany and Michael checked in and Brittany said Jasmine and Alyssa are voting to evict Indy.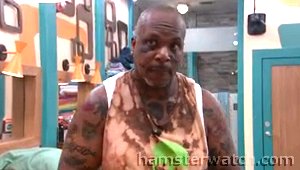 Meanwhile Terrance hit 180 tattoos so he had just two to go, unless he miscounted and was already done. Nobody approached him to talk votes as they'd told Indy they would, as least not right away. Then he was called to the pantry to pick up his final tats. It turned out he did miscount as he got three. They're all over his body but between the many tats on his face and the spatter pattern of his tie-dye shirt, he ended up looking more like a victim in a horror flick than a festival goer. This task has proven to be a definite life lesson for those who haven't yet caught on that Less is in fact More. Meanwhile Indy said "I look like a dead bird" about her fourth day in her costume.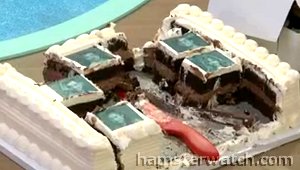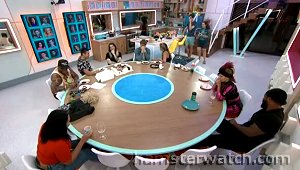 Taylor and Joseph were freed from their costumes and each other while the veto show was on. Feeds went to adoptable anipals a little after 6pm for their halfway party, and they came back around 8.15pm. Everyone was still gathered at the table and the kitchen, and most were sippy-loud and in good spirits. Only the pre-jury evictee faces were left intact on the photocake - that could be a first? Usually they don't even eat much of the cake at the party, and often they'll cut off faces to store in the fridge for later (or to get tossed at a later fridge cleanout), but the entire pieces for each of the current eleven were gone. I don't know if they all ate them or tucked them away for later. Or for the ants. Jasmine said there's a few more hours of her birthday "but really it's my birthday week." Turner said "it's your birthday month, it's your birthday year.. it's your birthday lifetime." Jasmine went sarcastic, "this boy is just.. Turner I'm so ecstatic you were able to celebrate my birthday with me, I really can't compose myself." From there they all started to separate into their groups, and change back to their usual comfy/sloppy clothes. Turner and Joseph were each snoring in no time.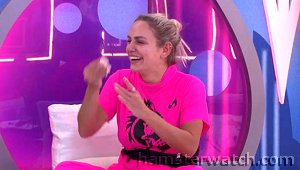 Things slowed and quieted down a lot. Taylor, Michael, Monte had a check-in about the day's convos and the vote. Michael said he'd like to give Indy a sympathy vote so she doesn't go out unanimously but he wouldn't want that to force a tie to put Taylor in that position. Taylor said she didn't think there would be a tie, she was expecting 6-2 or 7-1 so it shouldn't be a problem, so they decided to go with Michael giving her a vote unless things change tomorrow. Monte said he'd been having a low stress week, and he reported Terrance seemed confident about staying. There was some talk about Alyssa deleting pics of Kyle and Taylor together from the camera they were given for the party but they looked through the camera and found there were some pics of Kyle and Taylor in it. (Apparently it was Kyle who'd been upset Alyssa took pics with Joseph, so she deleted pics of her and Kyle? Middle school messy.) They also talked a bit about Alyssa's jealousy in general, and agreed her and Kyle's long-term chances after this didn't seem promising due to that. But Taylor said she liked them together and hoped they last. Kyle and Brittany joined, and later Joseph did as well. Vote talks carried on, pointlessly.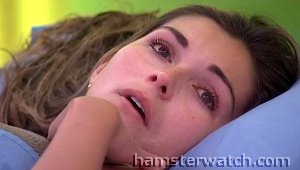 Alyssa had a little cry with Indy, and later a lengthy one alone in her bed when Indy went up to HOH. She was all kinds of angst, and later told Jasmine she didn't know what to do, and the game is too hard. Jasmine said as tight as they both were with Indy, she was having second thoughts about voting out another Black player. She said her votes were about game and the individual players but thought it would make her look bad, especially after Cookout's season. Jasmine also told Alyssa that she'd win if it was Alyssa versus Indy at the end. (I can't see any path that would lead to that, but you never can tell with hamsters.)

Many if not most of them were expecting a double eviction tomorrow and they'll be surprised when it isn't. They'll be floored when they find out what the new twist actually is, especially since it's a first. I just hope they split the teams by some method other than playground picks or some other way of choosing among themselves: if things are going to be shaken up, let's shake 'em good!

IF YOU MISSED what came before, check my previous episode, always linked up top or from my season index, and get the feeds to catch anything you missed with Flashback!

A big thank you for continuing to visit Hamsterwatch.com! And big ups to everyone who has or will get their feeds through me, and/or has or will make donations! I couldn't do this without you guys ♥



Day 42 - Tuesday - August 16, 2022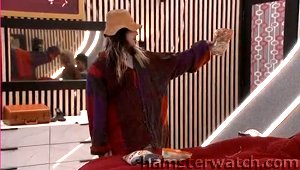 In overnight Leftovers news, Jasmine's various stashed snacks were found and moved or removed. Brittany hid her prized flyswatter, and Turner brought a bunch of previously-hidden snacks to HOH to pass around. They were hoping Jasmine discovers the losses tomorrow for her birthday but whether it's today or tomorrow, it's likely to be a major event.

Also about her birthday, today starts the second half of the season and their halfway party is due, likely tonight or tomorrow since they'll be split up Thursday. That's usually one to two hours without feeds since they get music, and pizza, and photo cake, and booze. Remember they stashed Sunday's booze delivery for Jasmine's birthday kickoff tonight, along with her cake mix and party hats. So we could have extra sippy hamsters if they down two deliveries' worth. And she might try to make the photo cake her own to celebrate her 30th.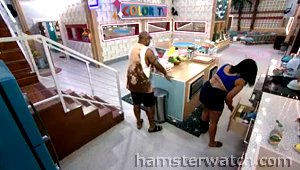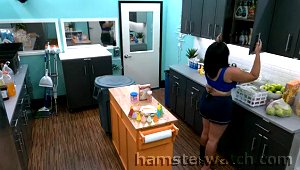 Well, that didn't take long. Alyssa first discovered some stashed granola was gone and she may have told Jasmine, or Jasmine may have discovered it herself. Either way, she went on a hunt through the kitchen and pantry drawers and cupboards, and she discovered some stashed baked barbecue Lay's were also gone. She wasn't pleased, but said somebody ate her stash - she didn't decide somebody had taken it (yet). Monte did his morning workout but nobody joined him. Alyssa's and Terrance's backs were still sore from Monte's Sunday morning workout, but both were better. Taylor and Joseph studied comps in the HOH bed. Neither did too great with the details, so either or both may have been faking, or they just don't know the details. Indy did another round of shoutouts. Terrance hit 100 tattoos. Joseph and Taylor discussed separating a bit after their tethering, along with Taylor and Brittany separating a bit, so the other Leftovers don't target either as a duo when it's time to turn on each other.


Alyssa asked Brittany for a private

hypno

relaxation session because she had physical tension due to her wrenched back and emotional tension due to Kyle. Brittany happily agreed and they went off to the Have-not room which doubles as Brittany's office and Kylyssa's sex lair. Alyssa settled in on the now-infamous butterfly floatie and Brittany did her thing. I'm pretty sure Brittany wasn't aware of what's happened in there. Michael asked everyone if they had any shopping requests to bring to Diary and Jasmine rattled off her list that included chicken wings (twice), and granola and chips to replace those "missing" items. Taylor and Joseph went out to the yard but avoided the sun since they didn't get punky swimwear and they didn't want their outfits to get sweaty. There has been some gametalk here and there but most of them are expecting a double on Thursday and a normal week to follow, so I figure all those plans will be moot when Julie splits them into two groups.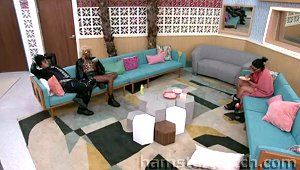 Brittany's expressed frustration about not feeling able to be fully herself since she's hiding her profession, but she once again got very animated talking about her techniques and mind/body experiences talking to Monte after her session with Alyssa. She passed it off as being a hobbyist/enthusiast again, but I don't think any of them will be surprised when they learn she's actually a hypnotherapist. Joseph and Taylor still struggled with their accents but played up their relationship for Alyssa's and Jasmine's benefits, goofing and flirting with each other (things like Joseph saying "I miss the queen" and Taylor replying "I am the queen." Jasmine didn't seem too pleased about their banter, and she reported to Joseph that Alyssa wasn't either. Later Joseph and Taylor agreed it was time to tone down the fauxmance before it makes them a target, and both said they didn't want to play an Alyssa/Kyle game, it's not what they're there for. Joseph (still working both sides) suggested they orchestrate a tie this week, but Taylor said she'd rather it be unanimous. Turner and Kyle rehearsed birthday greetings for Jasmine, without much enthusiasm, and Turner decided he wanted Michael to be the first Leftover to go, rather than Kyle's Joseph/Monte/Taylor agenda.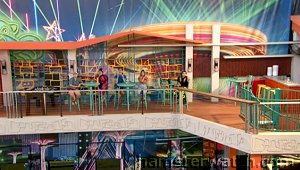 They did their weekly COVID tests, and Brittany got her knee stitches removed and replaced by steri-stitches that will fall off on their own. Alyssa started making Jasmine's birthday cake for the midnight kickoff of that epic event. Cupcakes were also happening. There was no sign of their halfway party. Taylor and Joseph started the end of their fauxmance show with Taylor saying she came in with and still has a crush on somebody out here. Brittany, Indy, Michael, Alyssa, Turner sat on the beautiful balcony (aka Dr Will's porch) to watch the sunset and play What's That Cloud Look Like, before the yard is closed again tomorrow morning. Kyle did another marathon camera talk in HOH rehashing the week, his frustrations about Alyssa's lousy gameplay and her jealousy, his annoyance about how Taylor's HOH unfolded, and a lot about his anti-Monte/Joseph/Taylor stance going forward. He didn't mention his escapades with Alyssa on the Have-not floatie or his ten seconds in Alyssa's bed. He wrapped up by saying he hoped he hasn't come across like a jerk or said anything to get cancelled. Yeah, about that..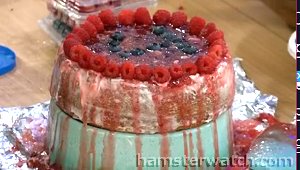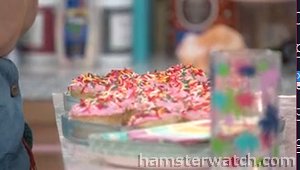 Indy hollered "IT'S PERFECT" about the cake, then she slashed it, poured Sprite onto/into it, and decorated it. Jasmine frosted the cupcakes with pink frosting and sprinkles. Brittany and Michael met to discuss the optics of Kyle's plan to split Leftovers along color lines, saying they weren't comfortable with that. Kyle joined, and suggested they bring Terrance with them going forward. Terrance continued getting occasional tattoos, narrating their application each time using his Diary voice, and he also had occasional campaign chats. Indy, Brittany, Michael made a birthday card for Jasmine from a cereal box and decorated it with nail polish or makeup, and fingerprints. Taylor and Joseph continued struggling with their accents.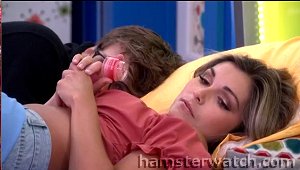 Kyle told Alyssa, in bed, "just be honest with me, is all I ask" about telling Turner they did the sexy and denying she'd told him. She was still denying it, but finally either acknowledged it or her silence did. He asked if she's mad at Turner, she said yes, and he said "no, things like that can affect our game! You can't be mad at Turner." He worked on her a bit more, she stayed silent, he said he could tell she's upset, and she finally said she's not mad at Turner when asked again. Indy came along, like she does, and when she left Kyle said "I feel like I messed up." Toxic Relationships 101: she told their business, lied to Kyle about it, he confronted her about it poorly, she got busted, became the victim, and neither of them have the skills or experience or desire to talk it through properly. Alyssa then turned it back on Kyle by saying she didn't understand why he said "this is concerning to me" when she went silent, and denying she was currently upset, and she said she'd told Turner because she felt she needed someone to talk to about it. (Recall she told Turner about it quickly, in a giddy happy way.) (Recall too Kyle's been lying to her all season.) Round and round they went, straying from the real issue of honesty, and etc etc etc.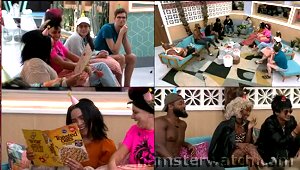 Midnight finally rolled around and Jasmine's 30th birthday with it. Everyone was gathered in the living room with their party hats except Kyle and Alyssa. Jasmine hollered "ALYSSA! ALYSSA!" quite a few times, unaware they were involved in a relationship crisis and moody moods. (And maybe another round of quickie makeup sex? No idea.) They finally joined the others, Monte counted down the digits, they all cheered, and they all sang the song. Jasmine loved her cereal box card, they all dug into the cakes, the booze was poured, and Turner looked fairly miserable. He did perk up and smile when it was his turn to say something nice to Jasmine, and she said he hates her. He said no, and "I love that we were Festie Besties, and I love your -- how you are." Feedmasters kept a dedicated feed on Turner throughout. He was easily the star of this party, with body language and facial expressions running from bored to irritated to Can I Go To Bed Yet to Get Me TF Out Of Here.

IF YOU MISSED what came before, check my previous episode, always linked up top or from my season index, and get the feeds to catch anything you missed with Flashback!

A big thank you for continuing to visit Hamsterwatch.com! And big ups to everyone who has or will get their feeds through me, and/or has or will make donations! I couldn't do this without you guys ♥



Day 41 - Monday - August 15, 2022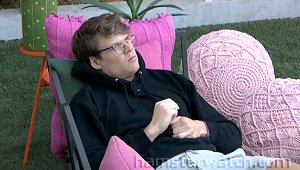 Kyle was in visible turmoil this morning, likely debating with himself whether to use his veto or not, after getting the whole house riled up over it all day yesterday and most of the night. He got his way and wasn't going to use it, but shortly before the meeting he asked Alyssa point blank if she'd told anyone about their sexytime in Have-not. She lied and said no, including Turner when Kyle asked specifically if she'd told him. (She did tell Turner yesterday, and Turner told Kyle. Turner also told Joseph last night.) Jasmine told Alyssa Kyle wasn't using veto, adding "Taylor's pissed!" and Alyssa/Kyle will be targeted next. Indy stomped around getting ready in her Punkaroo punkitard, saying "I'm done America, I'm done!" Monte and Taylor met to discuss Kyle's obstinance, and how they'd wanted to keep Leftovers secret, and Taylor said "I'll just sit there and watch Kyle fuck me."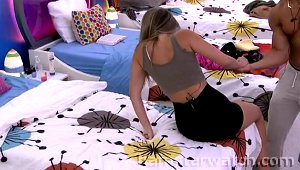 Despite that lie-to-his-face, Kyle did not use his veto. Alyssa asked Joseph for help getting up, which he did, and he told her "Kyle did that to protect you." It sounded like Taylor had some sort of outburst at the veto meeting - possibly calculated in advance? Kyle later told Jasmine that Taylor knew he wasn't using it, so she wasn't blindsided as she'd acted. And Taylor told Jasmine ahead of time anyway. Indy asked Michael and Brittany for their votes, in front of Jasmine and Taylor, they said yes. And she asked Taylor for hers if it's a tie, and Taylor said "I got you." Indy said she won't be campaigning, and she asked that she not be blindsided if she will be evicted. Terrance had previously told Taylor, Michael, Brittany that Indy would be going crazy every few minutes.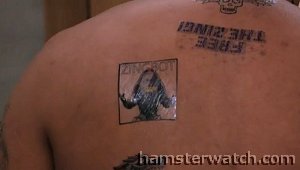 There's still no sign of Taylor's tethering but Terrance got Wackstreet Boys and Zingbot tattoos added to his growing collection. Indy installed a FREE THE ZING one upside down. Terrance seemed to be enjoying it overall, especially since he's had nothing and nobody for awhile. That tune might change when the girls get tired of applying them for him. I assume Indy's still doing Punkaroo performances here and there but they aren't on feeds, so it's hard to be sure. Alyssa and Terrance continued having back pain. A drone was spotted over the yard so they were sent inside and they griped about that. I don't think it had any messages. Michael and Brittany continued to meet and plan for post-Leftovers, with no decisions reached. Taylor and Kyle met and confirmed they had pre-planned her veto meeting outburst. Kyle told her Michael, Brittany, Turner hadn't backed him up at last night's pool table meeting as they'd led him to believe they would. Taylor said she's letting people think she believes Kyle and Monte are working together, and Kyle said he was asked about that and didn't deny it since they were both in Po's Pack. Indy asked Monte for his vote and he said he didn't want to confirm either way and then maybe have to change it later.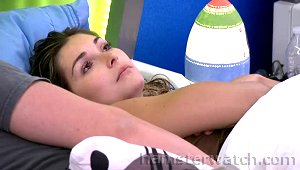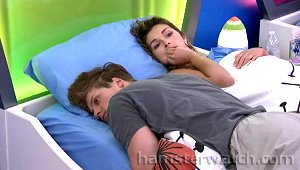 Kyle tried to break up with Alyssa again, in bed. He said showmancing was hard to balance with playing the game, and all his usual stuff. He said he wasn't good at this kind of situation, and she said "you're 29, you need to figure it out." She looked hurt, then she shifted to wheedling, and sticking her hand under his shirt, and he was done. Indy came along at one point talking about a special spray available to keep Doc Martens fresh. The Gruesome Twosome ended with smackyface slurpydurp and agreeing to be officially boyfriend/girlfriend. Be glad I spared you more of the gory details. Terrance's tattoos kept coming. And apparently so did Kyle: feeds went back to them for Alyssa saying "I'm in a way better mood now, thanks" and Kyle said "I'm in a way worse mood since I only lasted ten seconds."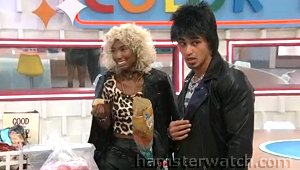 Taylor's task finally started a little after 7pm. She was indeed tethered to Joseph (for 48 hours), and they were indeed Skid and Fancy, a parody of Sid and Nancy. (See my Producers rating below if you're unfamiliar with them.) Their punky outfits and wigs actually looked pretty good and authentic, but they started trying out the dreaded bad British accents, something we've been lucky to avoid this season before now. Their bad British accents were worse than most hamster bad British accents of the past. As it turned out, they're required to use the accents: British for him and New York for her (even though Nancy was from Philly). It might be a long week.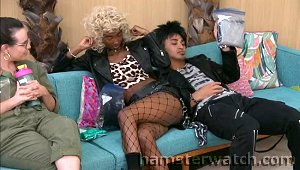 It was a very, very quiet evening. Various combos of Turner, Kyle, Michael griped about Jasmine, and Indy, with Turner in particular dreading Jasmine's birthday due to the emphasis she kept putting on it. Jasmine tried to show Alyssa and Kyle her light roots but they said they couldn't see them. Kyle told Michael that the four guys came together first on the night of Joseph's birthday, and then they brought in Michael and Brittany, and finally Taylor. That could work in Kyle's favor with Michael and Brittany, or it could backfire. And Kyle seemed to be feeling out Turner's loyalties, asking him if he thought anyone would turn on the alliance. Turner said no, whoever did that would get clipped the following week. Kyle also reported that to Michael. Terrance kept getting new batches of tattoos, applying most of them himself as the girls were over it. One of them was Kyland's Club Sandwiches. Taylor and Joseph managed to shower somehow - whether together or alone wasn't shown on feeds. And they were given sleepwear because everyone knows real punks wear jammies. Indy told Brittany and Michael she won't hold this week against Taylor, and said they had a rough start but they're friends now.

IF YOU MISSED what came before, check my previous episode, always linked up top or from my season index, and get the feeds to catch anything you missed with Flashback!

A big thank you for continuing to visit Hamsterwatch.com! And big ups to everyone who has or will get their feeds through me, and/or has or will make donations! I couldn't do this without you guys ♥



Ratings - Retro Song Fest partial edition
Ratings are Monday's, based on entertainment value and random connections



Noms count: original/renom






Costume tasks should be on feeds. We haven't seen a single Indy Punkaroo performance and they might be fun.

Taylor and Joseph's outfits were Skid and Fancy, a takeoff on Sid Vicious and Nancy Spungen. Sid was of course famous for being in Sex Pistols, but Sid and Nancy weren't really known for anything as a couple besides addiction, heroin, suicide pacts, a murder, and an overdose death. They famously holed up in a hotel room for several months doing heroin and other drugs. She was stabbed and bled to death and he was charged, but he overdosed before trial. She was just 20, he was just 21. Yes it's been a long time, but I'm having issues about making a gag out of a tragedy. I'm trying to work through them. They could and should have just gone with unnamed, generic punk outfits.

Retro Song Fest late add: Anarchy in the UK by Sex Pistols, in happier times





Won: $5,000; Week 1 Backstage Pass

HOH 0 - Veto 0 - Noms 1/0
Have-not 1



So many Retro Song Fest choices for her but My Boy Lollipop by Millie Small might be the best choice because it's so poppy and fluffy. It's cute and fun, with no depth whatsoever.





Won: Week 1 Backstage Pass; Week 1 viewer safety vote; Week 5 immunity (HOH Bestie)

HOH 0 - Co-veto 1 - Noms 1/0
Have-not 0



I don't have a Retro Song Fest link for her (or several others). She alternates between savvy gamer and sloppy mess. I'm disappointed that she and Michael have considered throwing their post-Leftovers lot in with Kyle since he's a mess and a child, but mostly because he has actually referenced Cookout to them when pitching the idea of going against the hamsters of color. Maybe she and Michael aren't thinking about it like that but you have to question why they haven't questioned that.





Won: Punkaroo 1 week concerts

HOH 0 - Veto 0 - Noms 2/0
Have-not 1



Even at this late date, I'm not sure she understands how this format differs from BB Brasil yet. Maybe once she gets to jury house she'll have some time to reflect. She's alternated between being happy and being pissy about her Punkaroo task, and it's too bad we haven't seen how she handles the performance part. If I were doing Retro Song Fest ratings, hers would absolutely be Personal Jesus by Depeche Mode, obviously. She's literally made the phone calls.





Won: Week 3 immunity (HOH Bestie); London trip

HOH 1 - Veto 0 - Noms 0/0
Have-not 1



You'd think some song about lies or liars would be her Retro Song Fest idea but as it happens, a lot of #JasmineStories have proven to have some basis in fact according to her 10-year-old tweets, including volleyball, pageants, homecoming court and queen, working for USGS, and blonde hair. Well the links to pics on that last one are dead but she did mention it a lot. No, her song is for the most talked about and most anticipated event of the summer: Birthday by Beatles. This version's dubbed, but fun. Like Jasmine. Balloons not included.





Won: Week 4 immunity (HOH Bestie); 48 hr Skid tied to Taylor

HOH 0 - Veto 0 - Noms 1/0
Have-not 1



I don't have a song for him either, but anything by Talk Talk would apply, especially this week. Remember when he talked Leftovers into letting him go up as renom pawn? That was two or three days of solid talk and whispers that came to nothing. That all feels like a year ago but no, it was just a few days back. BTW remember back at the start he said he didn't want to walk around shirtless in case that was offensive to anyone? He's barely worn a shirt since, other than comp outfits and show days, until his costume came along.





Won: TBA

HOH 0 - Veto 1 - Co-veto 1 - Noms 0/1
Have-not 1



He inspired the Retro Song Fest ratings idea because his would so definitely be Til I Kissed You by Everly Brothers. That's when he first started giving Alyssa priority over his game, and his game went further downhill (into the dumper) after they did the pool floatie bop.





Won: TBA

HOH 1 - Veto 3 - Co-veto 1 - Noms 2/0
Have-not 1



See Brittany.





Won: TBA

HOH 1 - Veto 0 - Noms 1/0
Have-not 1



There are a ton of workout song suggestions but not too many songs about working out itself, unless you go down the ear worm route with something like Eye of the Tiger that'll stick with you for a week. I wouldn't do that to you.





Won: Week 5 surviving Bestie pick; 48 hr Fancy tied to Joseph

HOH 1 - Veto 0 - Noms 1/2
Have-not 0



I don't have a song for her either - too many options to choose just one. Her HOH has been a shambles but she pulled it off and without too much lasting damage. That's the kind of popcorn we like to see.





Won: Week 4 surviving Bestie pick; Week 4 immunity (HOH Bestie); 1 week Ink 182 temp tats

HOH 0 - Veto 0 - Noms 3/1
Have-not 1



I don't know why his Retro Song Fest selection is Come and Get Your Love by Redbone (Midnight Special version). It just is. I don't make the rules.





Won: TBA

HOH 1 - Veto 0 - Noms 0/0
Have-not 1



You'd think his song would be something modern, edgy, and obscure but no, he gets Control by Janet Jackson. Why, you ask? Because he'd never heard Janet before but he went in with an open mind - a rarity among hamsters and humans anymore. He not only liked it, he loved it. Nevermind that he was astounded they were able to come up with such great beats all those eons ago, or that he had to ask if she was related to Michael. Just a friendly reminder we're all getting older every day.





Won: Nothing

HOH 1 - Veto 0 - Co-veto 1 - Noms 0/1
Have-not 1

4th evicted - Day 37



Day 18 to Taylor: 'Don't speak to me until finale. The thing you did to Paloma you're trying to do to [Nicole], you can fuck right off. You don't think America's watching all that? You don't think so? From here on out do not speak to me. I will never forget what you did to Paloma. You think she didn't spiral because of you? You didn't add to that? And now you're trying to do it to Nicole, mind game. Do not speak to Nicole like that ever again.'
Don't get it twisted. First, mental illness doesn't work that way. Second, Terrance first suggested all that, Nicole planted it in Daniel's head, and he's the one who ran rabid with it, with her urging and blessing. They were peas from the same rotten pod and each fed off the other's vileness. I hope I never hear about either of these Toxic Twins again.





Won: Nothing

HOH 0 - Veto 0 - Noms 0/1
Have-not 1

3rd evicted - Day 30



Arrogant, aggressive, entitled, overbearing, self-serving and self-centered. She took over the Taylor hate train when Paloma left and ran it off the rails. She had no redeemable watchable qualities, least of all being entertaining in the slightest. I thought about doing Ozark ratings some week but I lost my Wendy Byrde with her exit. Verbatim quote from this 'superfan': 'They've done something that no other alliance has ever done in this game, in Big Brother history, they created a pact of people to make you think you're safe and say I got your back, and then this [betrayal] happens.' Hello? Welcome to BB.





Won: Nothing

HOH 0 - Veto 0 - Noms 0/1
Have-not 0

2nd evicted - Day 23



She was one of the Taylor haters under Paloma's direction, but she kept it up after Paloma's exit, even after Turner referred to it in his noms speech. That was one reason she went on the block as backdoor target and eventual exit, along with Michael and Kyle stressing her general smarts. She pushed for Pooch to go after he volunteered himself, and then she was blindsided when it was her own turn to meet Julie.





Won: Week 1 Backstage Boss/immunity

HOH 0 - Veto 0 - Noms 1/0
Have-not 1

1st evicted - Day 16



Volunteering to go on the block is always dicey, but especially as early as he did before any real trust is formed. And now he knows why. He's lucky Julie was COVID-distanced or she might have whacked him. He put all his eggs in a broken Oasis basket, and he irritated a lot of them with his antics and touchy-feely. When Joseph tried to help and warn him about that, he just got mad at Joseph. Like Paloma, he talked constantly and very, very fast. He seems like he's got a good heart so good luck to him from here.





Won: Week 1 Backstage Pass

HOH 0 - Veto 0 - Noms 0/0
Have-not 0

Left the game - Day 8



She drove the game at the start, and she ignited and fueled the unjustified Taylor hate which continued to thrive even after she left. When she started to spiral, her conspiracy theories and delusions would have been comical if they weren't indicative of something more serious going on. It was probably best for her to go when she did, and for me - her nonstop superfast talking was stressing me out.





Won: Nothing

HOH 0 - Veto 0 - Noms 0/0
Have-not 0



He was replaced pre-season by Joseph, but you can catch him on America's Got Talent and The Circle.






Lines and Links of the Day

Tally Items

Season Stats
HOHs in order: Daniel; Jasmine; Turner; Monte; Michael; Taylor

Veto winners in order: Michael; Michael; Brittany/Michael; Daniel/Kyle; Michael; Kyle

Evictions in order: [Paloma left]; [Nobody]; Pooch 12-0; Ameerah 7-4; Nicole 9-1; Daniel 8-1

Cast Twitters: @poochie_maneee; @DowntownDurston

Cast Instagrams: @paloma.angeliki; @poochie_maneee; @ameerous; @thebutchergoddess11; @danieldurston







Linking to any page here is fine. Please don't repost content from this site (or any other) without permission, and don't repost or hotlink images.







988 CRISIS LINE 988



The national mental health hotline has launched nationwide. Call or text 988 if you or a loved one is in crisis - help is out there.



THE REAL SHOW IS THE FEEDS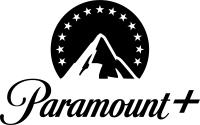 CBS All Access is now
Paramount Plus

Live air shows with ad-free plan
(live TV will have some commercial breaks)
BB1 thru BB24 plus Celebs and OTT, and loads of other shows from CBS, BET, Comedy Central, Nickelodeon, MTV, Smithsonian, plus originals




GAME TWISTS

Weeks 4-5 FESTIE BESTIES
-Surviving nominee chose another set of Besties to join
-Same rules applied as before for trios

Week 3 FESTIE BESTIES
-Everyone was paired with another
-Besties nominated and compete as duos
-Have-nots are also in pairs
-HOH determines noms but their pair has safety
-One duo to play veto with HOH duo and nominated duo
-Anyone on veto winning team can choose to use it
-Both nominees come off if veto used

Week 1 BACKSTAGE PASS
-Pooch picked Backstage Boss card at move-in
-He had Week 1 immunity, couldn't compete or vote
-He picked Alyssa, Brittany, Paloma for Backstage
-They couldn't compete, be nominated, or vote
-They weren't guaranteed safety
-Twist was cancelled when Paloma left, with no repercussions



HAMSTERWATCH SWAG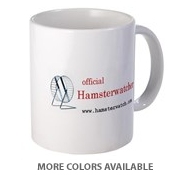 Mugs, shirts, more
Visit my Cafe Press shop

PROTECT YOUR ONLINE PRIVACY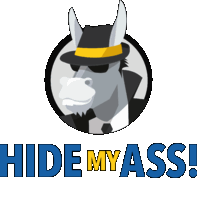 Anonymously secure your internet connection with HMA! Pro VPN - connect to our VPN service to anonymously encrypt your internet activity from prying eyes