This site is about the Big Brother 22 feeds and contains spoilers! It isn't necessarily thorough: it's what I catch and/or what interests me. It's about watching hamsters: who's doing what and why. Thanks for encouraging my behavior.
Your pal, dingo





BB22 DRINKING GAME

Take a swig whenever David's $10k is mentioned





BB BASEMENT Weeks 5-6-7

Everyone competed. Each power can be used once.
Week 5: All three unused
Week 6: David used Disruptor on himself, Dani replaced him with Tyler
Blocker and Replay unused
Week 7: Blocker expired unused,
Dani used Replay power on Memphis

Disruptor David could secretly save one nominee and force HOH to replace them. The person he designates can't be renom either.
To be used at noms ceremony, after initial nominations are made.

Blocker Christmas could block herself or someone else from being renom.
To be used at veto meeting after veto is used, before HOH names renom.

Replay Dani could designate one outgoing HOH to play in next HOH comp.
She has to let Diary know by 10am on that Thursday.





SAFETY SUITE Weeks 1-2-3

Optional pre-noms comp for safety, one time each, +1 guest got safety plus one week punishment, current HOH ineligible

Week 1 Don't Miss a Beat
Competed: Janelle, Kaysar
Winner: Kaysar
Guest: Janelle/star suit

Week 2 Getting Tipsy
Competed: Bayleigh, Christmas, Cody, David, Da'Vonne, Ian, Kevin
Winner: Christmas
Guest: Ian/'BB All Star Wars' scenes

Week 3 Stealing Safety
Competed: Dani, Enzo, Memphis, Nicole F
Winner: Enzo
Guest: Christmas/star babies care





QUICK LINKS & BOOKMARKS

-SIGN UP for feeds
-WATCH the feeds after signing up - disable ad blockers

-Feeds updates by @UGotBronx

Official site and socials:
-BB22 official CBS site
-Twitter
-TikTok
-Instagram
-YouTube
-Facebook

-Live show tickets - never mind, no audiences

-My Twitter - my screencaps

-Amazon Canada portal

-Dick at Night with @EvelDick

-BB Viewer Chrome Extension by @liquid8d
-Info/FAQ
-Requires All Access account

-BB22 Wiki

-Hamster Twitters
BB22 incl tweets from inside
BB USA: chron - members
BB Canada: chron - members
BB USA Celebs: chron - members

-Advice for cast friends/family

-VPN to protect your online privacy




Donations via Paypal are gratefully accepted!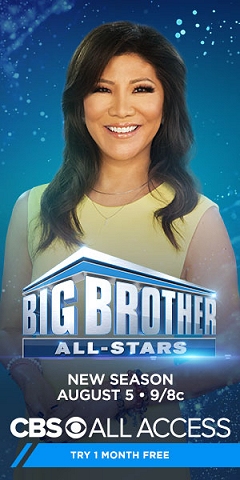 Watch Big Brother
Seasons 1 thru 22
Plus tons more CBS and Viacom content




BIG BROTHER 22 FEEDS EXCLUSIVELY ON CBS ALL ACCESS
FEEDS ARE THE REAL SHOW
All Big Brother USA seasons + most CBS shows past or present are included
$5.99 PER MONTH INCLUDING 1 WEEK FREE TRIAL or $9.99 AD FREE
COMPUTER - MOBILE - ROKU - CHROMECAST - APPLE TV - ANDROID TV - FIRE TV - XBOX 1/360


>> >> >>

>> >> >> >> >> >>

>>

Power Status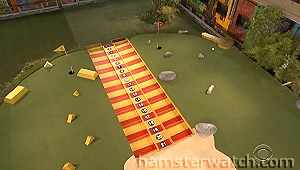 Head of Household: Cody
Original noms: David, Kevin
Veto winner/outcome: Cody/TBA
Final noms: TBA
Have-nots: Enzo, Kevin
Evicted: TBA

Latest alliance charts by @89razorskate20 and @Dolffica

Latest Diary segment tally by @clamperls4

Ratings Watch Sunday's show placed second with 0.9 rating, 5 share, 4.123 million viewers, behind NFL pre-game and football on NBC, and ahead of $ellebrity: The Go-To Girls on ABC, and The Simpsons and Bless the Harts on FOX.

Overnight rating & share: adults 18-49; Rating: % of all TV households; Share: % of households watching TV



Upcoming Events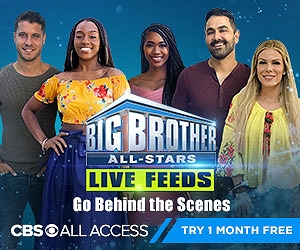 GET THE FEEDS to see the real show!

Monday: Veto meeting
Tuesday: Weekly virus testing
Wednesday night: Have-nots ends

CBS schedule
NEW Mondays 8pm - Wednesdays 8pm - live Thursdays 8pm
-Thursday 10/1 triple eviction, two hours



Daily Feeds Recaps
Day 53 - Saturday - September 26, 2020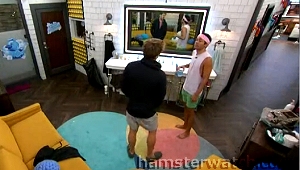 BB let them sleep til after 11am, making for a later than usual veto pick, as well as giving many of them a full 12 hours catch-up nap. Memphis told Kevin his odds would be good if Tyler and/or Enzo play as they'd likely opt for prizes rather than veto. Kevin asked about himself and he said he didn't know, but there's "a lot more money than 10 grand" at stake, big picture-wise.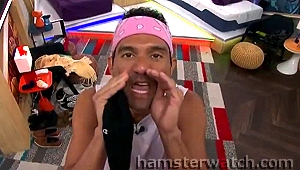 They didn't pick players until 1.40pm: Cody, David, Kevin plus Enzo (David's Houseguest Choice), Nicole, Tyler, and Memphis hosting - but it's OTEV so he won't have much to do. Christmas had a moment about not being picked again and later apologized for her "temper tantrum." (Wait til she find out it's OTEV: that's exactly the kind of comp she'd like to play, but it's probably best she won't or someone could end up with a "harm.") Kevin pointed to the room where Cody and Nicole were playing backgammon and whispered to us "they're fake, they're cheat--" feeds cut to starfishies before we heard if he was going to say cheaters or cheating, re pre-gaming. Many convos took place about who might use the veto, who might throw the comp, what comp it might be, and what prizes it might have. Cody reaffirmed again with Enzo that Christmas would replace Kevin if he comes down. You might say Kevin has no chance to win but nobody thought BB18 Meech did either.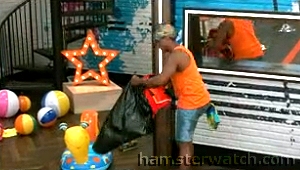 Feeds were down approx 5.30pm to 11pm, and Cody won the veto. It was a different layout or format for OTEV but I didn't catch many details other than it was a Psychedelic Salamander this time, they had to wade through beach balls, and pull or climb up a Crisco-coated rope. They did say it was great fun both to play and to watch. They had to hunt tie-dye shirts with captions like TIE-DYE TYLER WITH THE MEMPHIS BLUES, CODE RED CODY AND THE CHRISTMAS LIGHTS, DOCTOR DAVID AND DANI BOYS. There were dozens of beach balls and pool floaties they herded in with them as they came inside, including blowup vetos, sharks, and wearable animals. David got $10k, which highly irritated Memphis, Dani, Christmas that he took that rather than go for veto. Dani said she wouldn't vote for him to stay because of that, and she said "we vote!" when Christmas said it wasn't their decision. Cody told David that he's safe and Kevin will go. Enzo was perturbed he didn't defend his OTEV win, but Tyler told him about the OTEV curse, that no OTEV winner has won the season. Christmas confessed her Blocker power to Cody, and she wigged out here and there, dancing at the cameras and becoming intense in various convos. Nicole ranted about losing. Kevin did his usual Eeyore, but this time he has cause to be gloomy. Frenzied chats about what to do next kicked off everywhere, like they do.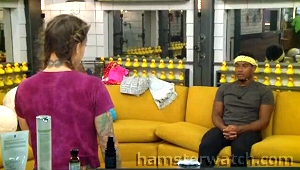 Griping about David taking the cash carried on and on, and on. Christmas lectured David in a very condescending tone about it, saying "it looks like you gave up - no matter what, you fight for your life!" He said he knows how it looks in the house, and started to say he didn't care, he has a bigger goal for that cash, but she cut him off "but you're a Crossfitter!" He said he knows he has been and will remain a target, and he saw an opportunity to help a bigger cause and he took it. And he again explained his plans to donate any extra winnings to BLM causes. Christmas then griped to Tyler "we should have kept Nicole A" and "I love that he wants to do something significant with the money, love that, love it! but.." - she caught herself with that, and possibly even heard herself (gasp!) because she eased up, sought out David, gave him a hug, and transparently tried to make nice again. Dani ranted about David taking the cash in HOH for awhile, with Cody and Enzo playing along and participating. She brought up how he'd cried to her one night missing his mom, and hoping he could help her financially, but she didn't seem to hear herself say that. And she occasionally said "but I like him as a person," and they replied "oh of course, me too." They're all so very pressed about it, it's beyond ridiculous. Triple eviction can't come soon enough.

Reminder, if you missed what came before, check my previous episode, always linked up top or from my season index, and get the feeds to catch anything you missed with Flashback!



Day 54 - Sunday - September 27, 2020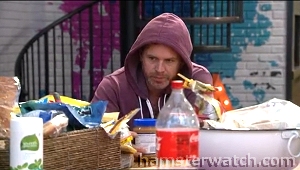 BB let them sleep til after 11am again, and even Memphis took advantage of it. Most of them had a long night bitching about David's cash so they needed their rest. The backyard was open again so they'll have some sunshine and fresh air for today's bitching. First gametalk of the day that I heard didn't happen til almost 1pm, with Christmas yammering at Tyler and yep, she brought up "that freaking stunt" (David taking the cash) within a few minutes. She said "Nicole's on Cody's radar" and Tyler said no, he's certain they're F2. She didn't ask for any further info but said "well let's fix that." She also pointed out when Dani wants to keep someone, she just campaigns hard against the other person. Since vilification is also Christmas's main strategy, it was kind of surprising she recognized it in Dani. Maybe she doesn't realize how vindictive a player she really is.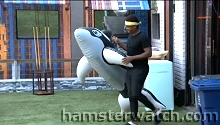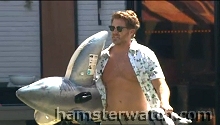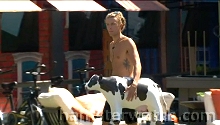 The deflated giant pool duckie was finally replaced by a giant traditional bathtub-style duckie with sunglasses. David, Memphis, Tyler all trotted their floaties out to the pool, and there was talk both last night and today about bringing all the floaties to the pool for a fun afternoon. A convo started up about soccer, bobsledding, Paulie, and The Challenge, in which Christmas one-upped to new heights of extremes, even for her. But Kevin saved those of us watching on quads from having to hear all of it as he loudly crunched pickle and slurped his drink directly into his mic.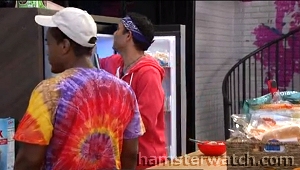 It was another very long day of not much: a lot of chit chat, a few gametalk gasps with nothing new to offer, and no pool party with all the floaties. There were a few attempts at ball games but then Nicole ended that. We did learn from the final Sunday show that Dani got the other $5k in the HOH comp, so that explains her (faux) outrage about David taking cash in the veto, and trying to get everyone else stirred up about it. Enzo also went for cash but failed. Feeds went to starfishies at 6.05pm for 10 minutes or so, then back for a quick flash with David saying "because the show's airing" and Kevin replying "I think they figured out a pattern" and they were locked inside again, so it sounded like they had yet another yeller. Then they were gone, then back again, and it felt like they weren't going to withhold feeds from us for hours on end due to someone hollering at them. But then they went to adoptable anipals at 6.42pm for as yet unknown reasons.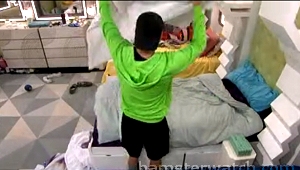 Feeds came back at 11.07pm, with no indication anything was unusual, other than Cody was making up a bed and going through clothes - downstairs. Most of the others were chatting and eating cereal. David said he'd had cereal "an hour ago." Memphis was up late, for him, and he grouched in the shower about running out of hot water. Dani said maybe Cody's using his - so he didn't lose his room. David said "what's up feeds, welcome back" so they know they were without us. They had the camera out and took pics and videos that Kevin and Dani looked over. I have no idea.

Reminder, if you missed what came before, check my previous episode, always linked up top or from my season index, and get the feeds to catch anything you missed with Flashback!



Ratings - Bring On the Triple edition
Ratings are normally based on entertainment value, but these are difficult times
See full bios in cast folder at
Hamsterwatch Forum
Noms count: original/renom/twist


No explanation on the shows at all for the 22 missing hours and what went down. No surprising powers or twists, and hardly any Dr Will, in the promoted Neighbor event. At this point, they really need to get this triple behind them, then do another triple, and then we could go straight to finale and home. Dr Will's a legend and BB icon yes, but this season needs a Dr Kevorkian.

My permanent gripe/comment remains as long as slop does: They need to do away with slop in general, but especially during pandemic plague season when good nutrition should be a major priority on their highly-touted list of safety concerns.





Won: $5,000; Safety Suite #2; Safety Suit #3 (Enzo's win)/1 week star babies; Basement Blocker power/unused
HOH 1 - Veto 1 - Noms 0/1/0 - HN 2

She's constantly talking team team team, when this is a game with only one winner, and that's annoying enough. But then you stop to realize all her often-repeated stories star only herself. And her one-upping on any topic will also be about her, even if originally she jumps into a convo with an anecdote about someone she knows. She could have been gone this week if only Kevin had won that veto but with any luck, she'll go out second or third on Thursday.





Won: Nothing yet
HOH 2 - Veto 2 - Noms 0/0/0 - HN 2

Kevin's right. The world doesn't revolve around him, and at 29 years old, it's probably time he realizes that. It's probably time he started keeping his tongue inside his mouth more often too.





Won: $5,000; Slop pass, home gym; Basement Replay power/used on Memphis
HOH 1 - Veto 0 - Noms 0/0/0 - HN 1

She's pulling some manipulation moves but they aren't accomplishing a lot, except to make her a target. She complains about everything almost as much as she did her last two rounds, and I didn't think that was possible, and I really didn't think she could overuse and misuse the word 'literally' more than she did before, but here we are. The only time she laughs is when it's at someone else's expense but at least she does laugh sometimes - she and Enzo are about the only one who do.





Won: $10,000; Basement Disruptor/gave himself immunity Week 6
HOH 0 - Veto 0 - Noms 3/0/0 - HN 2

I LOVE how worked up they got about him taking the cash instead of the veto, and how unbothered he was about that. Several of them would prefer he stay over some of their supposed allies, so despite him being targeted since Day 1 this year and last, I hope he squeaks through the triple and two of the others go instead.





Won: Safety Suite #3
HOH 1 - Veto 1 - Noms 0/0/0 - HN 2

I know he's problematic in a lot of ways but I like how he shmoozes so effortlessly, especially when he's doing it to Cody or Memphis. Shmoozing is about all he has done all season but unlike Nicole, he at least has a couple wins under his belt and he doesn't go on and on about how hard it all is.





Won: Nothing yet
HOH 0 - Veto 1 - Noms 5/0/0 - HN 2

His fifth time on the block and they'll finally put Eeyore out of his misery this week. He's often said he went far last time because he socialized with the people who stuck, but his social game is a disaster this time. He brought out Anita Veto only once, during the first week and for only two of them. He's clearly depressed, yet he perks right up in Diary with snappy lines and comical expressions. That guy wasn't on the feeds once all season.





Won: Replay power (from Dani)
HOH 2 - Veto 1 - Noms 0/0/0 - HN 1

With any luck, he'll be gone Thursday. However, we haven't had much luck this season so I'm not counting on it.





Won: 1 week SLOPPIES box
HOH 0 - Veto 0 - Noms 0/0/0 - HN 1

She's still whining and complaining about how hard everything is, but what has she done in there? She's backed up every HOH and stayed safely tucked in their pocket week after week. That's it. THAT'S IT.





Won: $5,000
HOH 1 - Veto 1 - Noms 0/0/1 - HN 1

He remains just there, but slightly less problematic than most of them. The only time he really comes alive is when the topic of nasty fans or Twitter comes up, and then he's all over that.





Won: $5,000
HOH 0 - Veto 1 - Noms 2/0/0 - HN 2

2nd juror, 7th evicted, Day 51

Winning was one goal she didn't achieve, but she was highly successful with her other goal, to raise awareness of the extra challenges Black hamsters face in this game. Those goals conflicted when David tattled a confidence and again when she believed Nicole's lie blaming her vote on David. She made some messy game choices, but she made eloquent, impassioned block speeches, she had compelling in-depth convos, particularly with Kaysar, and she pointed out the frustrating facts when her point was repeatedly proven. She won a huge but teeny tiny veto, and she once again provided endless reaction memes and gifs. She was the heart and soul, and most of the entertainment, of this season.





Won: Safety Suit #2 (Christmas's win)/1 week space skits
HOH 0 - Veto 0 - Noms 0/1/0 - HN 2

1st juror, 6th evicted, Day 44

His plan to lay low at first was foiled by the ones who started gaming long before move-in, and his F2 with Nicole was only insurance on her part since she was tighter with the power group. Learning that broke him and it was downhill from there. He showed some entitlement about deserving to win but talked about his struggles learning to lose, which proved him vulnerable and human. He did a superb job with his skits, and talked openly about being on the spectrum, and it was so good to see him again. As before, I wish him well in all he does.





Won: 500 tricycle laps
HOH 0 - Veto 0 - Noms 1/0 - HN 1

5th evicted, Day 37

She and Tyler had their ups and downs, repairing their relationship from last time and breaking it up again, and that affected the game in various ways. Her friendship with Janelle was fun to watch, and her friendship with Da'Vonne was golden, the type that will likely last long after this season's forgotten. She gave yoga classes, and she rode 500 backyard laps on a tricycle as a veto repercussion, 40 with only one pedal, and BB didn't even put it on the show. Her great attitude riding those laps, mostly to spite her haters, was a joy to behold.





Won: Safety Suite #1
HOH 0 - Veto 0 - Noms 2/0 - HN 1

4th evicted, Day 30

His BB strategy plans have always held promise but implementing them, not so much. But no matter: he was and is a class act, and he always brings the kind of much-needed humanity our feeds are usually lacking in a big way. It's too bad things didn't work out differently this time but it was great to see him on our feeds again, both for himself and for his fun friendship with Janelle.





Won: Safety Suit #1 (Kaysar's win)/1 week star
HOH 0 - Veto 0 - Noms 1/0 - HN 1

3rd evicted, Day 23

It was great to see her on feeds again, especially her easy friendship with Kaysar. She was BB6 Janelle again but without the in-your-face name-calling that would have made things more fun for us, but props to her for not going there. It's astounding how hard she was targeted just for showing up, proof that Janellousy is still real.





Won: Nothing
HOH 0 - Veto 0 - Noms 1/0 - HN 1

2nd evicted, Day 16

Imagine going on BB and not wanting to work with Janelle and Kaysar. Having them to go bat for you, hard, and then throwing it back in their faces. It's mind-boggling. She was in way over her head this season, made one bad decision after another, and she repeatedly promised us a house meeting that she never delivered.





Won: Nothing
HOH 0 - Veto 0 - Noms 1/0 - HN 0

1st evicted, Day 9

She was feisty her first time around but like all of them, she's older and more mature now, and her birthday happened before they moved in, so we didn't get any new memorable Keesha scenes. But it was good to see her again and she got a nice check for two weeks isolation and one week of summer camp.



Lines and Links of the Day

Tally Items
Extracurricular Tally

Major fights: 1
Christmas vs Da'Vonne plus Christmas vs Bayleigh
9/7 10.00pm

Minor fights: 3
-Janelle vs Nicole F
8/20 (not on feeds) - 8/23 show
-Ian vs Dani
9/15 (not on feeds or show)
-David vs Da'Vonne
9/17 (not on feeds) - 9/20 show (partial)

Nominee speech scorchers: 2
Kaysar eviction Day 30 - 9/3
Da'Vonne veto meeting Day 48 - 9/21 (9/23 show)

Booze deliveries: 10
(Day 1 move-in - 8/5 nothing)
Day 7 - 8/11 2 wine, 6 beer
Day 9 - 8/13 2 wine, 4 beer
Day 18 - 8/22 2 wine, 6 beer
Day 21 - 8/25 2 wine, 6 beer
Day 34 - 9/7 Labor Day party, not on feeds
Day 40 - 9/13 not on feeds
Day 42 - 9/15 2 wine, 6 beer
Day 43 - 9/16 halfway party, not on feeds
Day 47 - 9/20 2 wine, 6 beer
Day 49 - 9/22 2 wine, 6 beer

Plus HOH baskets: 7
Day 9 - 8/13 Memphis wine, 6 beer
Day 16 - 8/20 Tyler 12 Vizzy
Day 23 - 8/27 Enzo 6 White Claw
Day 30 - 9/3 Christmas kombucha
Day 37 - 9/10 Dani kombucha
Day 44 - 9/17 Memphis wine, 4 tallboy beer
Day 51 - 9/24 Cody wine?

Possibly booze showed up at some veto comps as well

Pinkyswears: 10
8/7 11.58pm Ian/Nicole F
8/9 2.35am Kevin/Nicole A
8/18 12.21am Bayleigh/Cody/Dani/Da'Vonne/Enzo/Tyler
9/4 3.23pm Dani/Da'Vonne/Nicole
9/4 11.24pm Kevin/Da'Vonne
9/8 11.49am Dani/Da'Vonne
9/9 4.08pm Dani/Da'Vonne
9/12 4.17pm Dani/Da'Vonne
9/16 2.46pm Christmas/Nicole
9/21 5.53pm Christmas/David

Injuries, illnesses, etc: 43
-Cody's broken glass/cut hand washing dishes
-Ian's slop sick day
-Enzo's sore foot/leg from backyard bicycle
-Nicole A's slop sick day
-David's cut hand from a decor star
-Nicole F's low potassium levels
-Da'Vonne's low iron sick day
-Da'Vonne's banged heel getting off the bed
-Enzo's pulled muscle from laser Safety comp
-Janelle's cut finger chopping veggies
-David's burned finger from pizza
-Dani's finger blister from 8/27 rollyball HOH comp
-Cody's burned finger from making breakfast
-Tyler's slop sick day
-Bayleigh's, David's, Kevin's, Tyler's sore legs from 8/29 veto comp
-Memphis's sore back from workout+8/29 veto host
-Nicole's shoulder problem
-Nicole's low potassium again
-Dani's bonked heel from hammock frame
-Nicole's cut thumb from a razor in a drawer
-Dani, Da'Vonne, Kevin, Tyler banged up in 9/4 Basement comp
-Ian's sit-out-veto sick day
-Memphis's cut finger washing dishes
-Bayleigh's burned finger from breakfast prep
-David's, Memphis's, Enzo's sore hands from 9/10 wall comp
-Dani's sore shoulder from 9/10 wall comp
-Nicole's sore arm from 9/10 wall comp
-Memphis's burned finger from cooking
-David's hurt fingernail doing pullups on the stairs
-David's sore neck from Have-not bed
-Enzo's banged shin looking for a hiding spot
-Cody's banged knuckle hitting a wall after a jump-scare
-Da'Vonne's inner nostril sore
-Cody's shooting pain behind his eye
-Enzo's hemorrhoids

Broken habitat items: 13
-Broken awning attacked Ian
-Mirror/window light frame went out
-Another broken awning
-Broken pantry drawer
-Bayleigh's 500 lap tricycle kept breaking
-Backyard camera partially melted from excessive heat
-Sinks and showers keep backing up
-Washer was shooting out water
-Yet another broken awning
-And another broken awning
-Their cups don't drop well
-Broken deck chair
-HOH spyscreen stopped working

Scandals outside our BB world: 3
-Tyler's BLM renom pitch
-Dani/Memphis/Nicole/Christmas griping about and mocking Ian
-Memphis n-word or not

Bigger BB stories than BB22: 2
-The Amazing Race, BB/Survivor season 31
-BB21 leaked group text

Pre-season cockamamie rumors/events: 5
-Kaycee and Josh contracted COVID-19 partying together
-Nicole Franzel masterminded casting
-Public sour grapes from various uninvited alums
-Danielle Reyes will/won't/will/won't show up
-Nicole Anthony's potato salad recipe



Production Goofs

1 Premature All-stars merchandise in CBS Store
2 Promoted interviews didn't happen
3 TV Guide posted a cast list prematurely
4 Forgot to update winners list for BB21
5+6 Wrong 8/9 show time, wrong BB1 premiere
7 Unfinished spots in house pics
8 Julie interview that mentioned 'some' failing virus test was deleted
9 Prematurely released half the cast
10 Have-nots locked out of HN room on premiere
11 Wrong season for Janelle winning first AFH
12 Misspelled Tyler's last name
13 Feeds window has wrong show days
14 Da'Vonne misspelled in press pics
15 Cody in Diary visual leak on their monitor
16 Referenced Orwell in BB Rewind promo
17 Switched BB Rewind host's accent é è
18 Staffer left a walkie talkie in the house
19 Wrong Day count for noms on 8/12 show
20 Kevin's comp shirt backwards on 8/12 show Diary
21 Alliance name errors in Twitter poll
22 Julie said wrong Day number on 8/13 show
23 Forgot to update Julie's twitter
24 Misspelled Cody's last name in press pics
25 Forgot Kaysar was on BB6 and BB7
26 Official site still showing BBAD on Pop
27 Wrong Day count for noms on 8/19 show
28 Lockdown recording bleed in feeds block music
29 Wrong Nicole in press pics caption
30 Posted 8/26 veto show pics a day early
31 Wrong Day count for noms on 8/26 show
32 Control room views + wakeup music on feeds
33 Safety Suite sign still up a week after it ended
34 Wrong date for Dan's Funeral (by EW)
35 Air shows omitted a Christmas star baby
36 Left out a Meow
37 Staffer seen on feeds
38 BB called the wrong Nicole
39 Short Ian Diary audio leak
40 Lockdown signal, while on lockdown
41 9/9 show mistakenly included Enzo in The Committee
42 Didn't include Bayleigh's 500 laps on veto or her eviction shows
43 CBS site crash when 9/10 HOH endurance started
44 Press pic captions got Bayleigh's name wrong
45 Very glitchy feeds on 9/11
46 Missing wood piece on wall
47 Staffer's feet reflection
48 Julie 'corrected' BB1 Cassandra Waldon's name wrongly on 9/24 show
49 Julie heard saying 'we're still on time' 9/24 show
50 Short Dani Diary audio leak



Season Stats
HOHs in order: Cody; Memphis; Tyler; Enzo; Christmas; Dani; Memphis; Cody

Veto winners in order: Enzo; Memphis; Cody; Kevin; Christmas; Da'Vonne; Tyler; Cody

Evictions in order: Keesha 13-0; Nicole A 10-2; Janelle 9-2; Kaysar 10-0; Bayleigh 9-0; Ian 5-3; Da'Vonne 5-2

Cast Twitters: @BayleighDaily; @christmasabbott; @Cody_Calafiore; @danidONAT0; @davjalex; @DayDaVonne_; (Enzo deleted @the_Meow_Meow_); @TulaneTerry; @JanellePierzina; @KaysarRidha; @KeeshaSmith0801; @kcampbellicious; @MemphisGarrett; @Strongislandni2; @nicole_franzel; @TylerCrispen2







Linking to any page here is fine. Please don't repost content from this site (or any other) without permission, and don't repost or hotlink images.



THE REAL SHOW IS THE FEEDS

Live air shows in many areas
BB1 thru BB21 plus Celebs and OTT, and many other CBS shows

PROTECT YOUR ONLINE PRIVACY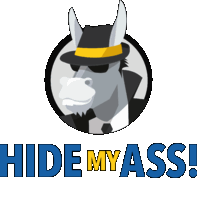 Anonymously secure your internet connection with HMA! Pro VPN - connect to our VPN service to anonymously encrypt your internet activity from prying eyes



HAMSTERWATCH SWAG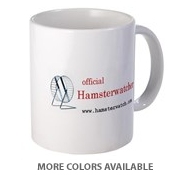 Mugs, shirts, more
Visit my Cafe Press shop





Big Brother 22 SEASON FAQ


-Day 1 move-in and CBS premiere was August 5
-Christmas was first to enter
-Day 58 2-hour double eviction is October 1
-Day 85 2-hour finale is October 28

Feeds are streamed by CBS, and Flashback is accessible via All Access subscription. Call 888-274-5343 for account help, including cancellation.

The CBS app (by CBS Interactive) plays BB air shows and other CBS shows, as well as feeds, or you can use your browser to watch feeds on mobile devices. The same All Access link used to subscribe will lead to the feeds viewing page if you're already signed up.

BB22 finalist prizes are $500k for the winner and $50k for 2nd place. 3rd place gets $25k bonus, 4th place gets $15k, 5th place gets $10k. All got $40k for showing up, plus $1k stipend per week.

The habitat has 94 HD cameras (no change) and 113 microphones (no change).

The recorded in-house announcements are the voice of producer Don Wollman. He and Julie Chen are the only staffers who have been there since Big Brother 1.