This site is about the Big Brother 21 feeds and contains spoilers! It isn't necessarily thorough: it's what I catch and/or what interests me. It's about watching hamsters: who's doing what and why. Thanks for encouraging my behavior.
Your pal, dingo



WIN CASH PRIZES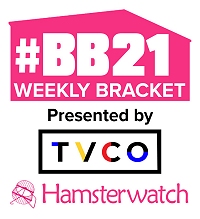 Click for more info
and to enter!



BB21 DRINKING GAME

Take a swig whenever Jackson eats watermelon - take two when he carves one up





AMERICA'S PRANKSTER VOTE

Prank Week power
Voting is closed

-Nick
Secretly named 2nd nominee (Christie), and would have selected renom if she was veto'd off.





FIELD TRIP VOTE

Top three vote-getters competed.
Voting is closed

-1st place: Jackson
Immunity for the week
-2nd place: Analyse
One week chicken suit
-3rd place: Christie
Go OTB as 3rd nominee





WHACKTIVITY COMP RESULTS

Week 1 Nightmare - not used
Bella, Cliff, Kat, Nicole, Ovi
-Ovi could secretly force HOH to name two new nominees after one of first six noms ceremonies, excluding his Camp Comeback weeks

Week 2 Chaos - used Day 32
Holly, Jack, Jackson, Sam, Tommy
-Jack could stand up and force a redraw of veto players, one time, until final six

Week 3 Panic - not used
Analyse, Christie, Jessica,

Kemi

, Nick
-Christie could secretly activate so veto winner would name renom if they used veto, at one of 3rd, 4th, 5th or 6th veto meetings





FINALE SWEEPSTAKES

Win a trip for two to Sept 25 finale including airfare, hotel and $500
Sweepstakes is closed





QUICK LINKS & BOOKMARKS

-SIGN UP for feeds
-WATCH the feeds after signing up - disable ad blockers

-BB21 official site
-Live show tickets

-Feeds updates by @UGotBronx

-My Twitter - my screencaps

-Dick at Night with @EvelDick

-BB Viewer by @liquid8d
Requires All Access account

-BB21 Wiki

-Hamster Twitters
BB USA: chron - members
BB Canada: chron - members
BB USA Celebs: chron - members

-Advice for cast friends/family

-VPN to protect your online privacy





EAST COAST AIR SHOWS

Unfortunately, CanadaTV channel for Roku has been removed


East coast air show live streams:
- 1 - 2 - 3
NO DOWNLOADS OR SIGN-INS NEEDED - BEWARE OF CLICKING POPUP ADS OR WARNINGS




Donations via Paypal are gratefully accepted!


Watch Big Brother
Seasons 1 thru 21
Plus tons more CBS content






BIG BROTHER SEASONS



CBS All Access
Seasons 1 thru 21





BIG BROTHER 21 FEEDS EXCLUSIVELY ON CBS ALL ACCESS
All Big Brother USA seasons + most CBS shows past or present are included
$5.99 PER MONTH INCLUDING 1 WEEK FREE TRIAL or $9.99 AD FREE
COMPUTER - MOBILE - ROKU - CHROMECAST - APPLE TV - ANDROID TV - FIRE TV - XBOX 1/360 - PS4


>> >> >>

>> >> >> >> >> >>

>>

Power Status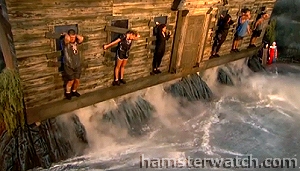 Evicted: Nick 5-0
Head of Household: Jackson
Original noms: Christie, Jessica
Veto winner/outcome: Tommy/used on Christie
Final noms: Cliff, Jessica
Evicted: Jessica 4-0

Alliance charts by @89razorskate20: Day 78 - Day 71

Diary segment tallies by @clamperls4: Latest

Ratings Watch Sunday's show placed second with 0.9 rating, 5 share, 4.10 million viewers, behind college football on ABC with 1.5/7/5.34, and ahead of America's Got Talent rerun on NBC with 0.3/2/2.39, and The Simpsons and Bob's Burgers reruns on FOX with 0.3/2/0.89 and 0.3/2/0.77.

Wednesday's show remained second with 1.1 rating, 6 share, 4.40 million viewers, behind America's Got Talent on NBC with 1.2/7/8.38, and ahead of MasterChef on FOX with 0.8/4/3.07, and The Goldbergs and Schooled reruns on ABC with 0.5/3/2.60 and 0.4/3/2.00.

Overnight rating & share: adults 18-49; Rating: % of all TV households; Share: % of households watching TV


Upcoming Events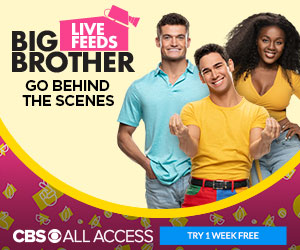 GET THE FEEDS to see the real show!

Through Thursday: waffling, angsting, laying around, eating
Thursday night: Second HOH comp, basket and letter for quickie HOH, room and letter for second HOH

CBS schedule:
Sundays 8pm - Wednesdays 8pm - Thursdays 9pm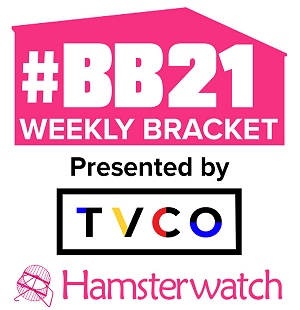 TVCO #BB21 WEEKLY BRACKET

Make predictions and win cash! The #BB21 Weekly Bracket will run all summer long!

Download the TVCO app to watch the TVCO live show, chat, and enter the weekly bracket.

Three chances to play this week:
Wednesday 9pm ET/6pm PT
Thursday 2pm ET/11am PT
Thursday 8pm ET/5pm PT
Good luck! - Click for more info

Congrats to 'Fonda' and 'Salvador' who split $200 last week!



Daily Feeds Recaps
Day 75 - Sunday 9/1/19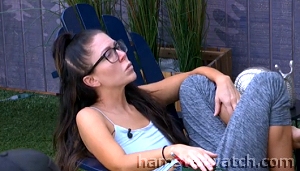 They had late wakeup music and most rolled out to the backyard in seemingly good moods, including Holly and Jackson. I don't know how long they kept up the bickering last night after I shut them off around 3am, or how that ended, but she chatted with the group and talked about her safari job, again, like nothing unusual had happened. While doing the awnings, Christie told Tommy that maybe Holly and Jackson fighting could work to their advantage? He said no.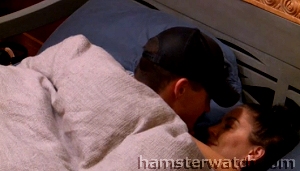 It was an excruciatingly slow afternoon, with Jackson and Holly gradually getting back to where they were before, until eventually they were back to their usual late afternoon/pre-dinner slurpydurp and related bed activities. Others wondered from time to time if they were getting along or not, with various others reporting they'd seen them cuddling and caressing around the habitat. The rest of the day was mostly repetitious chit-chat, repetitious talk about their former roomies, and repetitious marveling at how far they'd come and how close to the end they were.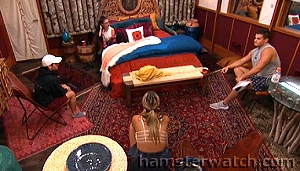 Jackson told Holly and Tommy that Jessica had been giving him "weird vibes" and "looks" and "dirty side-eye looks" like somebody had said something to her about him. Tommy said he'd just spent a few hours in the hammock with her and she was fine, nothing was said about him. The three of them plus Christie "on her way to shower" had a meeting where Jackson reported the "looks" to Christie, who also said Jessica seemed fine to him. Tommy said he had decided to veto Christie off the block after all, and Jackson reiterated his fear of Jessica if she stayed, especially for BB Comics because "she's a model and knows photography." Tommy and Christie both said Jessica had already expressed fears that she'd do poorly in BB Comics, and Jackson said "he hates to say it but Jessica has brought gender into it." He then said Cliff had to go, but he needed Jessica out first. Cliff came along, like he does, and Christie headed off for the shower. Afterwards, Christie told Cliff that Jackson was working both sides, and Cliff said he suspected as much. Later Jackson and Holly said it felt like they were juggling two relationships (with each of them inserting "but I've never cheated!" of course). Then they said they should probably throw the next two HOHs.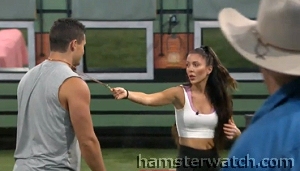 Tommy and Holly had planned their talent show for tonight when they got the Snapchat goggles but earlier today they couldn't remember why they's planned it for Sunday, and they postponed it again. When the goggles came out, they all decided to re-enact their intros for the show, and getting their BB keys. Tommy said he'd gotten permission from Diary to do that, but they couldn't talk about the various poses they'd done or the shooting sessions, etc so they kept getting "talking about production" warnings. Jackson was freaking out about how many they got, like he was afraid his HOH would be taken away. When Holly re-enacted leading a horse around to find her key, Jackson played the horse.. he seemed to enjoy that. All seven continued to herd together afterwards, snacking outside and sharing stories that had mostly been shared before.

Nothing's changed: Tommy will veto Christie, and Cliff will go up in her place. They might get the grill and fixings tomorrow for Labor Day.

Get the feeds to see it all unfold live and/or with flashback!
If you missed what's come before, click the ever-present "previous Hamsterwatch episode" link way up top for my previous recaps and/or check the feeds updates in Hamsterwatch Forum by @UGotBronx.



Day 76 - Monday 9/2/19 Labor Day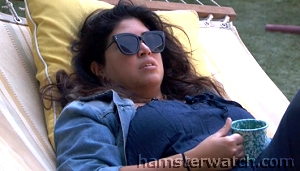 Jessica had a little talk to us from the hammock, a first as far as I know. She said she'd been blindsided by her nomination, and she didn't want Jackson to win, and she wondered if anybody was working with him besides Holly. Not wanting him to win follows up her convo with Nicole last night where they both acknowledged that coming in, if they were jurors, they'd vote for the best player rather than being bitter and voting personal. They both said that looks good on paper but they now have a whole different perspective. The other statement, about being (blissfully?) unaware that Jackson's working with literally everyone but her follows up from her post-noms sobbing marathon to Nicole on Friday, where she cried that Nicole hadn't kept her in the loop, she never knew they weren't mad at Nick anymore, and etc etc etc. Most hamsters would keep a Jessica around for a guaranteed win at the end, but this is a different kind of season.. let us count the ways.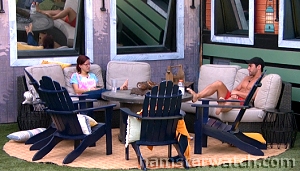 Tommy used his veto on Christie, and Jackson put up Cliff in her place, as planned. Tommy joined Nicole to assure her Cliff wasn't going anywhere, and he also assured her that if by some fluke Cliff does go, "you do have me." He added that he'd forgotten to say that the other night when they talked about the veto/renom plans. Cliff took his fourth time on the block well (he did volunteer for it), and they all returned to pranks and chit-chat. Holly and Jackson made out at the pool some, congratulating themselves that nobody knew they were working with both sides (oops, spoiler: everybody knows). Holly told him she didn't come here for sixth or fifth place, which reminded me that she didn't react last night when he repeatedly told her he'd only accept first. She also might not realize how the endgame works, or that he might cut her then, depending who else is still around.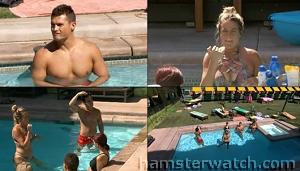 Cliff told Nicole that Tommy had promised him his vote, and that Jackson had again told him he'll be fine. Nicole assured him of course he'd have hers also, but that she didn't have the heart to tell Jessica yet. They realized Tommy pulling off Christie again proved that they were still as tight as they once were, despite attempts to appear otherwise, and they wondered if there was a plan afoot to boot Cliff, but realized it wouldn't help Jackson to be that shady this close to the end. Overall it was another excruciatingly dull afternoon, for them and for us. A little before 5pm they were told not to prep dinner as they'd be getting a "surprise." They got excited, then impatient, as nothing has arrived by 9pm. Like last Labor Day, BB waited until After Dark to deliver the goods.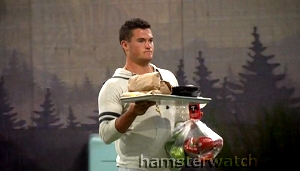 The yard finally reopened around 9.15pm and they found the grill and beer, plus burgers, fixings, packaged snacky desserts (no Cheesecake Factory this year), no games, and a watermelon. They were all happy to see it but Jackson in particular was thrilled. He took ownership of the grill immediately, and carted out half the kitchen to get started, along with all the steaks, hot dogs, and assorted meats and fish in the kitchen and pantry for later snacking. He turned out to be a meticulous griller, twisting the peppermill umpteen hundred times per minute, and arranging the burger patties just so, with uniform space between each one. He was also big on big flames. Lots of big flames.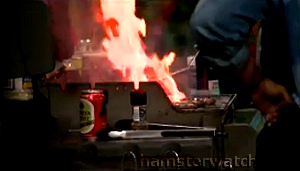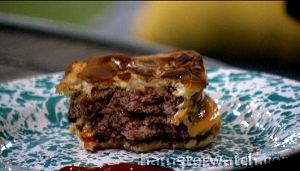 Most out here had written off the metal monster, thinking it had gone soft in peaceful semi-perm retirement, away from annoying hamster handling. But once those flames started roaring up, the anticipation in the crowd began to build, and before you knew it, the clanking contraption was back in the game! Jackson dropped not one but two onion bits, one of which was noticed by Holly, who shrieked "oh no!" Of course Jackson said he hadn't wanted that one anyway, like the uninitiated rookie he was. And then came the Main Event! *Drumroll*

BBQ Smackdown Round 1: The Singe and Trash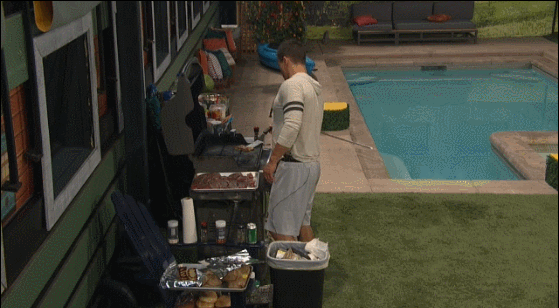 While Jackson attempted to rearrange his third or fourth load of meat and move it to join its neatly stacked brethen on half a roll of foil, the grill chuckled deep in its galvanized belly, then suddenly leaped to searing life. It heated up Jackson's unsuspecting finger and made him jump, which in turn made him then drop his little meaty tidbit straight into the trash. Make no mistake, this grill is still in its prime, ready to take on all comers, and not slowing down one bit.

Final score: BBQ 1, Jackson 0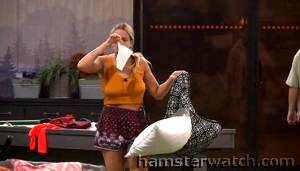 After the charred dust settled, pranks carried on. Jackson and Cliff hid each other's things, and Jackson installed whipped cream baggies in the RV room pillows to retaliate for Nicole and Christie putting worcestershire sauce in his chocolate milk. Christie found that when it splooched into her hair when she went to bed (he didn't zip the baggies). Christie told Jessica she thought she could get Nicole's vote (nope); Cliff told Holly and Jackson that Christie said everyone thinks they're working together; and Holly told Jackson that Christie was "toxic" and they decided they shouldn't throw the next two HOHs after all.

Get the feeds to see it all unfold live and/or with flashback!
If you missed what's come before, click the ever-present "previous Hamsterwatch episode" link way up top for my previous recaps and/or check the feeds updates in Hamsterwatch Forum by @UGotBronx.



Day 77 - Tuesday 9/3/19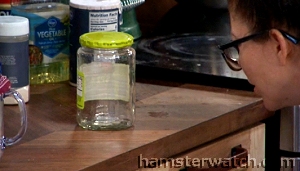 Holly found a centipede-type bug and made a production of catching it in a jar, with Tommy's coaching. She named it Frederick, and of course retold the trapping tale multiple times. Cliff and Jessica pointed it out to Nicole over her yogurt. She was surprised and not pleased to meet Frederick. Tommy and Christie had a check-in, wondering if there was a way they could keep Jessica over Cliff. Tommy said Jessica might stay if she could plant a seed of doubt with Jackson that Cliff, Nicole, Tommy, Christie were working together. Christie said she didn't think Jessica would lie, and she'd suggested Jessica try to strike a deal with Jackson. (Since both ideas involve Jessica negotiating, it's a fair guess they won't happen.) They said maybe they could try to get Nicole with them for real, with Tommy adding that she [Nicole] likes when people come to her with pitches.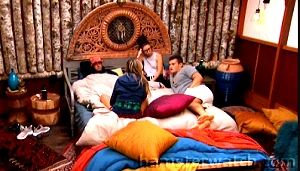 Feeds went to Kittycam at 11.42am for a half hour or so, but when they came back there was no indication why, which means it was nothing major. Maybe they did some fishie tank maintenance, or one needed scooping out - that would require fishies cam to go off. Jackson complained of a headache and he and Holly did some of their bed games. Tommy arrived to lay groundwork with Jackson for Jessica's pitch that she didn't know about yet, Holly rejoined, then Christie arrived and they all had a bed meeting to shmooze each other. Jackson made some noises about maybe he made the wrong decision, but he kept going back to Jessica being anti-male hamster. Cliff arrived, like he does, and chat turned general, like it does.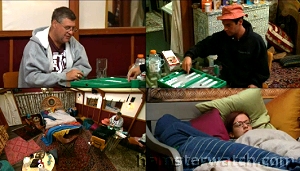 Jessica told Nicole she wanted to talk to her at some point. Nicole then told us one of her two best remaining allies would be leaving, and she said Cliff was "adamant about navigating forward with Michie and Holly, and I don't know if that's the best plan." She then joined the HOH group which turned into an eating/backgammon/napping party with everyone. Time will tell if Nicole's able to avoid Jessica's pitch and for how long, and whether or not Christie and/or Tommy will provide Jessica some boards for her platform beforehand or not. Either way, have the popcorn ready? Sloppy or downright lousy pitches are probably about all #TeamFunFeeds have got anymore, other than Holly continually saying or doing random things with no context. AKA #Bething. Christie started to pitch to Nicole, swearing on her sister. Nicole said she wasn't part of the Eight, or the Six, so.. Cliff showed up to put an end to that gametalk and they shifted to kumbaya, shock and gratitude that they're in the Big Brother house.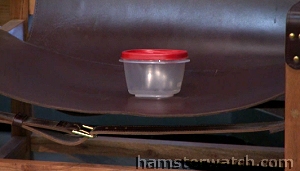 When they were all snacking in the kitchen, Nicole said "I think it's great how we're all migrating from room to room together." Christie said it was great that they like each other that much. (Actually it was about ongoing talk-blocking by several, which some of them realized and some probably didn't.) They noticed Holly's bug wasn't doing well and was "crumpled up" in its little airtight container. They couldn't set it free as they were on lockdown, and they debated whether to turn it into the pantry or not. Talking about it wasn't enough: Holly called a house meeting, they put its little container on a nominee chair, and each of them went into Diary to vote to evict or not. Eviction to the pantry won so they all screamed as Jackson carried the little container in there like the stray lizard and the last captive bug that died, for some poor intern to dispose of rather than just oh, I don't know, putting in the trash? That's hamsters for you.


Jessica finally made her pitch to Nicole, after talking with Christie for a little while. She whispered very, very quietly but was very, very animated for much of it. She said she'd always been loyal to Nicole (no) and she was always her number one (no), and she said this was the only time to get Cliff out or he'd go to final four with Jackson and Holly. Jessica suggested they make a final four with Christie and Tommy (ahem, see the first part of today's episode), and she said she'd go up as renom if needed to get Jackson or Holly out. Cliff, Christie, Tommy each wandered up to the game area at various times, since it was obvious what was going on, but only Tommy lingered and the pitch drew to a close. Nicole finally told Jessica she hadn't made up her mind yet, and Jessica said that's why she pitched today, so Nicole would have all of tomorrow to think about it.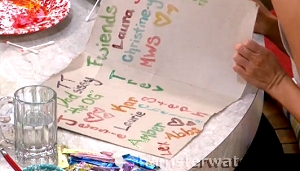 Cliff rejoined the game area and began to teach chess to Jessica, Nicole, Tommy. He didn't mention that it's a long-time analogy for the game of Big Brother. Holly painted shoutouts to family and "fwiends" (her spelling) with Q-tips and Koolaid. Any kind of writing by hamsters used to be strictly forbidden but I guess those days are gone, along with the no shoutouts rule for live shows. Later she met with Jackson to cuddle and tell him about it, and he said they should put in work with Tommy and Christie to make them think they'd disassociated themselves from Cliff and Nicole. Jessica reported to Christie that her pitch to Nicole went well, adding Nicole thought Christie and Tommy were working with Jackson and Holly, and Christie swore again (on her sister) she'd put them up if she wins HOH, and she said she'd talk to Nicole later. Nicole talked to herself/us after a blissfully uneventful Taco Tuesday (with no table banging yay!), saying if she keeps Cliff she'd have three happy people and two okay people, but if she kept Jessica she'd have three happy people plus two very pissed off people. And she said she knew Jessica's "you've always been my number one" wasn't true, and she said "I can't do it." Christie then joined for her follow-up pitch, and she spewed a lot of words and a lot of past history that she hadn't told Nicole about before.

Get the feeds to see it all unfold live and/or with flashback!
If you missed what's come before, click the ever-present "previous Hamsterwatch episode" link way up top for my previous recaps and/or check the feeds updates in Hamsterwatch Forum by @UGotBronx.



Day 78 - Wednesday 9/4/19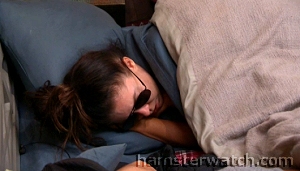 Holly had a sick day. She didn't feel well and said she threw up a couple times. Theories ran from everyone using a crusty old dish sponge to eating Jackson's leftover grilled fish and meats yesterday. (I've noted that it seems like she has medical martyr aspirations? That isn't the right word as it's probably not a conscious wish, but the bottom line is she's no Raven.) At one point she said "I think my body's just shutting down, I can't handle this anymore" - reminder, she hasn't lived downstairs/in jeopardy for three straight weeks, and never been on the block. And she told Jackson "on a purely game level, it'd probably be smarter to get Cliff out" but she'll vote to evict Jessica anyway. Nicole studied comps and discussed her predicament some more, aloud and alone. Jessica sighed about hearing there were deals to be made but being unable to navigate everything, not to mention asking "how do you campaign to someone who looks like they're about to throw up?" Cliff played backgammon with Tommy, who had of course provided his trademark sincere look and stance to visit Holly.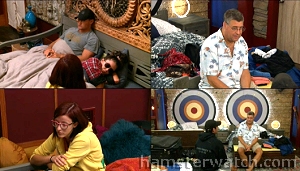 Meetings finally got underway, with Nicole confirming to Cliff (again) she'll vote to keep him, and they agreed to use careful wording so as not to make any going-forward promises to Tommy and Christie. Cliff and Tommy met, apparently having forgotten Tommy already promised his vote to Cliff, and Cliff said nobody really knows what Jackson and Holly are about anymore since they've been upstairs three straight weeks, and he said he thought people saw him and Nicole as "easy pickings." They compared notes about Holly and Jackson making both duos think they're working with them (something everyone knows, but Holly and Jackson think they don't). Nicole met with Jackson and Holly, who was still sickly in bed. Jackson swore loyalty to Nicole and Cliff, and he rattled a vast past history of Christie crimes. Cliff met with Christie, who said it'll "break her heart" to evict Jessica but she had to do it, and she went on an anti-Jackson rant. She told Cliff "you have my word on the Bible, on my sister, I'm putting both [Jackson and Holly] up." Jessica went to meet with Jackson and Holly but both left temporarily. I think she finally did campaign to them and to Nicole again, but like, I didn't like follow that, sorry.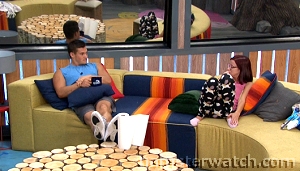 Everyone came together for dinner: homemade chicken soup by Tommy and Christie they'd worked on all day, for whatever was ailing Holly. She and Jackson even descended their ivory staircase eventually to have some. Evening ground on with the click of the backgammon dice and discs the only excitement, and Jessica made teary, rambly, complimentary pitches to Tommy and Holly. Nicole told Jackson and Holly about Christie swearing on her sister and Bible that she'd put them up if she won HOH and that she was going to try hard to do so. Jackson and Holly didn't like that at all since Christie had told them the opposite, but Nicole laughed and said it was hysterical, as a viewer she'd find it hysterical. I agree, and now I'm hoping for Jackson versus Christie open warfare. That's how it would go in any other season, but this being BB21 they'll probably disappoint again. Cliff later confirmed to Jackson that Christie had been saying that, and meanwhile Christie ranted to Tommy about Jackson, and they said they didn't think Holly was really ill.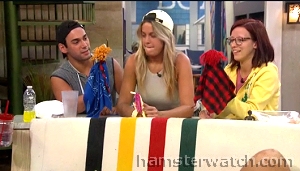 As luck would have it, instead of open warfare we got puppets. Christie's new puppet Ariel got a callout for napping on the counter, and Christie cried because "that was so nice." Holly had planned her much-delayed talent show with Tommy for tonight, but I figured that wouldn't happen since there are other priorities on Waffle Wednesday, and then she ended up taking a sick day. She missed a songwriting session earlier, and now she missed a puppet show. Poor Holly.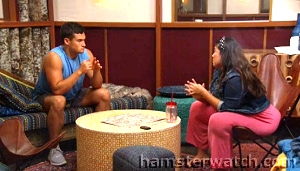 Holly had a long talk to the camera "in case the live feeds are on," showing off her shoutout to "fwiends" message board again, and repeating most of the things she says regularly including she's from Wyoming, in case anyone missed that. The other six were in Camp Have-not with backgammon to escape the overheated bedrooms. Christie had another round shmoozing Jackson, and later Cliff reported she was still bashing him after that. Barring any highly unlikely, extraordinary event(s), Jessica will be the first to walk the plank tomorrow to shake Julie's hand, and Jackson told her he'd give her that push if it's a tie vote. After that, we have dueling duos and it's anyone's guess but one thing's for sure: double eviction shows are always exciting and that's one thing that's been lacking. So at least we'll have a fun hour of TV and then we'll see what we've got left. Hard to believe, but there are still three weeks to go.

Get the feeds to see it all unfold live and/or with flashback!
If you missed what's come before, click the ever-present "previous Hamsterwatch episode" link way up top for my previous recaps and/or check the feeds updates in Hamsterwatch Forum by @UGotBronx.



Ratings - Still Stuck in Neutral edition
Ratings are based based on entertainment value, and there hasn't been much
See full bios and social links in cast folder at
Hamsterwatch Forum
Noms count: original/renom/twist


For years on these pages I'd point out big and small ways they'd 'fiddle' with things (along with the fact that it's their show and they can), and for years I was called a conspiracy wacko. Now most everyone has apparently decided pretty much everything is 'rigged.' We all know common sense isn't very common anymore, but I wonder if people stop to wonder why The Powers That Be would want to save Christie when their viewers voted to get her on the block twice. That and other misunderstandings and faulty interpretations have now turned everyone into a 'conspiracy wacko.' So while some have gone overboard and forgotten to employ logic with their theories, many are now questioning authority where BB is concerned (and hopefully everywhere in life), so I guess my work here is done.





Won: Whacktivity 3 Panic; 4 days Poison Ivy; Field Trip nominee
HOH 1 - Veto 0 - Noms 2/0/2 - HN 1

She's now been on the block four weeks in a row and hasn't been evicted. Tommy pulled her off twice, but she was a much bigger target than Analyse and arguably a bigger target than Nick, and still she's stuck. Her only comp wins were way back on Day 1 and Day 24, and she has a huge advantage with her Tommy ties, but she's still driven this game pretty much all along and a good speech could get her a win over any of the others. From out here she seems way too talkative and often obnoxious, but somehow she has swayed her roomies time and again to do her bidding. If not for the Tommy ties, she'd probably have more fans than she does as she's earned her way to this point, but for me (and many), she's just not very pleasant to watch.





Won: Revival to Camp Comeback Day 30; Full revival to BB21; 1 week pie smashing
HOH 1 - Veto 0 - Noms 3/1/0 - HN 0

He too hasn't won much and his impressive back-to-back Camp Comeback and HOH wins were way back on Day 30. Most of them don't see him as much of a threat at this point but he's hung in there, and well, and is very aware of what's going on around him. The fact that he doesn't do much about it, and still volunteered to go on the block at this late date, is risky and unimpressive. But like Christie, this is his fourth time on the block. He was only veto'd off for one of those, so he's also got a good jury argument for that (if he avoids the fact that he was evicted once). His friendly manner has won most if not all of them over, but some viewers are over it.





Won: Nothing yet
HOH 2 - Veto 0 - Noms 0/0/0 - HN 0

She's usually the easiest to poke at because most everything she says is poke-worthy, and she seems to ask for the #Bething hashtag several times an hour. Her fight with Jackson was not funny though, partly because he was such a controlling pig and partly because she didn't seem to care about that as much as she was afraid he might want to dump her. His main gripe was that she'd called him 'fuckin asshole' on feeds and potentially on TV, and she apologized profusely for that, even though she'd happily retold that to others various times that day, and added she'd called him that because he was being that. There are some real issues here on both sides, and the whole thing was a mini reflection of the textbook 'cycle of abuse.' And completing that cycle, they seem fine together again and are back to their regular slurpydurp sessions. Yuck.





Won: Camp Director 1st eviction immunity; Field Trip 7th eviction immunity; 24 hrs Alien Doctor
HOH 2 - Veto 3 - Noms 2/0/0 - HN 1

He thinks the other two duos don't know he and Holly are working with both, but the joke's on him since everyone knows (except Jessica). The joke's also on him that his two big power plays were to get out Analyse and Jessica. Sitting next to either of them would guarantee a win at finals and big boy badly wants to win the season, but he wants to go against friends and 'competitors' to do accomplish that. Okay then. His browbeating Holly during their 24-hour fight was cringeworthy but coming from him, that wasn't surprising. Neither was his admission Monday that he's got 'some bad commentary' about David in the archives, and 'those first two weeks he was lighting a fire under my ass' (we noticed). And of course he added that his comments were misconstrued.





Won: 1 week pie smashing
HOH 1 - Veto 1 - Noms 3/0/0 - HN 1

I get that she's a fan of the show, but I wonder how she watched it. Did she clap her hands with glee about the colorful comps or tear up when friends were torn apart? Was she a showmance fan? Did she think the whole thing is actually a summer camp popularity contest, where not making people angry is all it takes? Yes she's left out of virtually all the gametalk loops but she doesn't inject herself into them either, let alone initiate anything, even when her BB life is on the line. That's all fine, and in fact it's often enough to get second place and an easy $50k, but she's not even going to get that because Jackson thinks she's a huge threat to his game. Oh well, 'it is what it is' and we have no say in any of it. Her epic bounce off the wall comp with its accompanying scream have joined her Taco Tuesday fight faces to become the memes of the season.





Won: 1 week pie smashing
HOH 0 - Veto 0 - Noms 0/1/0 - HN 1

She's still the least problematic of them, and she's very aware of what's going on most of the time, and while keeping a low profile is good for the early weeks, now is the time she could/should be stepping it up if she hopes to get votes at the end. But nobody's more disappointed that she hasn't won any comps than she is, so no need to go there. Her humor and sarcasm are coming out more as she's finally comfortable with her roomies (having fewer of them probably helps), and she's usually very quick on the draw with that stuff.





Won: 4 days Poison Ivy;

1 week

6 days BB Explorer
HOH 1 - Veto 2 - Noms 0/0/0 - HN 1

He may be in the best spot of all, especially if the jury votes personal and bitter, since he's been everyone's confidante and comforter. Sure, we get tired of his compliments, 'obsessions,' sincere gazes, and shmooze, but we see him doing it for everyone so it seems insincere. In their shoes, it's like the old adage 'you might not remember what someone said, but you remember how they made you feel,' and he makes them feel good. Game-wise he's done okay too, with one HOH and two vetos, and outlasting many alliance members. However that kind of subtle game has proven at times to be too subtle in the past, and it would require a killer speech to make it count. Currently it seems like he's tired of being saddled with Christie and would rather have her in the jury (and voting for him) than continually messing up his game in favor of hers. Only he and Holly haven't touched the block yet, and he didn't accomplish that from spending three straight weeks in HOH like she did.





Won: $5,000; 1 week America's Prankster
HOH 1 - Veto 1 - Noms 2/0/0 - HN 0

Juror

He came in looking good, being a mental health therapist and bashing Matt and his cereal, but it didn't take long for us to forget all that. He talked way too much and way too fast, and he seemed intent on turning against allies for no reason. All that got him targeted relatively early but he won a veto and worked his way back into the good graces of most of them. He was often highly inappropriate, between regularly humping Tommy, ogling and cuddling Analyse while showmancing Bella, rubbing his feet on both of them, and talking in explicit detail about anything sexual. He was shocked to get zinged about his hair when he'd been singing his barber's praises all season, but he was usually able to laugh at himself, including his famous '30 seconds' story about his first time doing the deed with Bella.





Won: 1 week chicken/3 days eggs
HOH 0 - Veto 0 - Noms 1/0/0 - HN 0

Juror

She literally griped about Ovi when feeds started and planned to do makeup tutorials with Holly. That never happened but soon she shared her big news about doing the deed with Jack, and that's about all she did from then on, so she featured big on the sex tally (with and without their sex stool). She didn't win comps and she didn't gametalk much, but she griped a lot and made lots of threats to go off on whoever she was mad at on a given day. She was literally horizontal a lot so #LeaningSis became a fun hashtag game. One day Jack made an effort to spend time with her outside of bed and they screamed around playing pranks and hiding, including several rounds in the pantry trash can, once with the ultimate lean. When Jack left she socialized a little more, and she didn't complain too much about being a chicken or making eggs, but she literally never made them again.





Won: Hawaii trip
HOH 0 - Veto 1 - Noms 2/1/0 - HN 1

Juror

She came in confusing, telling one interview she'd watched for years and another that she just heard of the show. Then on the pre-season audio leak, Christie said she'd put Kat OTB because she was paranoid and annoying. Then feeds started and Kat was a basketcase, crying and freaking out. We found out some of that was due to Jackson's hump 'n dump, and when she wasn't evicted she settled into being the most entertaining of this bunch. She was random and funny, often using self-deprecating humor and making it work, along with ongoing gags about 'conspiring bitches' and Brett. She played a rat floater game but she didn't do it well, and there were a half dozen other rat floaters to maneuver around. She was outside most alliances but infiltrated with the best of them, and her game was great fun to watch, though very, very messy.





Won: Whacktivity 2 Chaos; 24 hrs Angry Alien
HOH 1 - Veto 0 - Noms 2/0 - HN 0

Juror

He was cocky and arrogant, and he and Jackson didn't want to talk to anyone who wasn't cool or pretty enough for them. He had a vendetta against Kemi for no apparent reason and he made more than a few racially charged comments about her and David. Julie grilled him about some of those as well as a comment about Bella, like she hasn't done to anyone since BB15 Aaryn. His HOH letter was from his dogsitter, and he called a house meeting to announce nobody could gametalk with the three Camp Comebackers (but everyone did, including him). He referred to bedmate Analyse as his 'game piece' early on to Jackson, and he had a multi-way attraction thing going with Christie and Tommy. He was tipped off about some of his behavior and tried to do better but it was a transparent effort.





Won: Fiji trip
HOH 0 - Veto 2 - Noms 1/0 - HN 1

He was the first outsider to learn the Eight (and the Six) were things, and he seemed content to be their ninth (and seventh) rather than taking that info to the rest of the strays so they could organize and counter. He started strong, winning the first two vetos, but his luck went downhill after that. He planned a nominee speech outing Christie's shady dealings but he blabbed and it got back to Christie and the rest. But that then led to the huge fight before his eviction show that tore the Jacks apart and blew up the Six, so kudos for that. Never mind he could have used that mess to his advantage and maybe stayed. He was a DIARY SHOUTER, he had lots of goofy (sometimes inappropriate) stories, and he was liked by most, most of the time.





Won: Nothing
HOH 0 - Veto 0 - Noms 0/1 - HN 0

She seemed promising in her pre-season interviews but it turned out she hadn't really done the homework recruits should do, and she was quickly in over her head. She blabbed about most every convo she had, and she blew up alliances almost as soon as they were formed. But along the way she mixed and drank gross concoctions including hot dog water and mayo, she told some funny stories and some sad ones, and she and Nick fell in love (once she finally got him to stop lusting for Analyse).





Won: Revival to Camp Comeback Day 23
HOH 0 - Veto 0 - Noms 1/0 - HN 0

She was targeted by Jack and Jackson for no reason we know of, other than naming them as potential nominees in the first days. From then on they were obsessed with her, spreading that obsessive hate to their teamies, and it was so stupid it would have been comical if it weren't so ugly. She kept it classy despite all that, and it's good she had Nicole as a sounding board (and genuine friend) to vent her frustrations. I just wish she and Kat didn't hate each other as they would have made a superb comedy duo.





Won: Whacktivity 1 Nightmare (unused); Revival to Camp Comeback Day 15
HOH 0 - Veto 0 - Noms 0/1 - HN 0

He was a prime example of BB book smarts not necessarily equating to BB street smarts, and he didn't help himself any by being too loud and busy, nor by snitching on alliances to those same alliance members. Analyse accused him of being creepy with her but there was no evidence of that. He's done great things out here and will undoubtedly do more, so it was probably for the best that he got out of that snakepit sooner than later.





Won: First 2 weeks in sequester; Revival to Camp Comeback Day 15
HOH 0 - Veto 0 - Noms 0/0 - HN 0

He got the rawest of BB deals, the first night boot, and then he was locked in a hotel room for two more weeks. He showed a quick and accurate read on everything when he re-entered the habitat and was probably the only one of the Comebackers with potential to do some real damage if he'd won the comp to re-enter the game, but it wasn't to be. His and Kat's flirtation was fun to watch. He could and should have been a contender but instead he got the boot twice, and without any noms or votes to evict.



Lines and Links of the Day
Lines

Holly: [something about crows feet]
Jackson: You don't have crows feet
Nicole: They're called buzzards feet actually

Holly: OMG did I have black olives in my teeth while I was telling the story about pooping my pants?!

Holly: I feel like feeds are off

Jessica: I played a very impressive game, in my eyes, to myself

Jessica: I haven't been paired up with anybody

Nicole: I'm telling you, I have a showmance with practically everybody here

Cliff: You know all of America's judging each and every one of us, and I'm sure we're all coming up lacking



Links

GET YOUR FEEDS includes a free one-week trial

#BB21 Weekly Bracket in partnership with @TVCO - enter online and/or download their app

Julie extended interview with Nick

Use my link for any Amazon Canada shopping, anytime, at no extra cost - just start your shopping trip by clicking Amazon Canada



Tally Items
Extracurricular Tally

Booze deliveries: 9
-Move-in champagne
-July 1
-July 4
-July 6
-July 30
-August 7 halfway party
-August 12
-August 30
-September 2 Labor Day

Major fights: 2
-Christie, Jackson, Holly, Kat, Jack plus Tommy, Analyse 8/1 before live show (leaked video/not on feeds)
-Nick vs Christie 8/20 7.52pm

Minor fights: 7
-Bella vs Kemi 7/11 7.24pm
-Jackson vs Kat 7/14 approx 7.45pm (not on feeds)
-Bella vs Jack 7/21 show (not on feeds)
-Analyse vs Holly 8/15 2.12am
-Analyse vs Jackson 8/22 2.33pm + 2.36pm
-Nick vs Christie 8/23 3.55pm (set up by Holly/Jackson)
-Holly vs Jackson 8/31 11.29pm + 9/1 2.13am

House meetings: 7
7/3 6.37pm called by Jack
7/22 8.25pm called by Sam
7/24 12.49pm called by Tommy
8/20 7.52pm called by Nick and Christie
8/25 11.18pm called by Nick, Nicole, Cliff
8/29 11.28am called by Jessica, Christie (fail)
9/3 5.09pm called by Holly

Prank Week pie smashings: 19
-8/22 9.30pm
-8/22 11.40pm
-8/22 11.45pm
-8/23 1.02am
-8/23 3.17am
-8/23 10.48am (not on feeds)
-8/23 7.31pm
-8/23 11.31pm Nicole solo
-8/23 11.34pm Cliff solo
-8/24 1.23am Jessica solo
-8/24 11.06pm plus ongoing pie war
-8/25 10.33am
-8/25 10.24pm plus ongoing pie war
-8/26 12.44am for HOH/Holly
-8/26 Veto meeting for veto winner/Jackson (not on feeds)
-8/26 12.50pm for veto winner/Jackson
-8/27 1.15pm (not on feeds)
-8/29 2.27am two each
-8/29 2.36am

Revive-a-Hamster full returns: 1
Cliff

Revive-a-Hamster Camp Comebackers: 4
-David
-Ovi
-Kemi
-Cliff

Nominee speech scorchers: 3
Kemi 7/11
Bella 7/25
Kat 8/15

Blindside evictions: 1
Cliff

Unorthodox peeing incidents: 1
Jackson 7/25 HOH comp

Planned veto hosts bumped for alums: 4
-Tommy, bumped for Kaycee
-Nick, bumped for Tyler
-Holly, bumped for Kaitlyn
-Analyse, bumped for OTEV

Pinkyswears: 12
-7/12 11.54pm Cliff/Nicole
-7/14 4.26pm Kat/Jessica
-7/16 4.05pm Kat/Holly
-7/18 12.29am Kat/David
-7/18 1:04am Nicole/Kemi (retell by Nicole)
-7/20 10.11pm Sam/Holly
-7/26 12.01am Jackson/Holly
-7/26 10.21pm Kat/Holly
-7/29 8.00pm Sam/Nicole
-8/8 2:02pm Kat/Nicole
-8/9 2.49am Tommy/Nicole
-8/9 8.42pm Kat/Nicole

Broken habitat parts: 9
-Tommy broke the backyard boat lounge chair
-Jack broke the lounge door
-Cliff and Christie broke an awning
-Cliff broke the living room platform floor
-Julie broke her stool at Kat's eviction
-Analyse, Christie, Jessica broke another backyard lounge
-Nicole broke HOH chair after everyone pranked her
-Bent RV door from 8/31 hide and go veto
-Broken mirror by Jackson cleaning up 8/31 hide and go veto

Injuries, illnesses etc: 26
-Sam's hemorrhoids
-Analyse broken glass in her foot
-Jackson's hurt ankle in 7/6 veto (and subsequent flareups)
-Nick's back zit/cyst
-Jackson's chipped teeth from grinding
-Holly's mysterious rash
-Cliff's hurt calf in 7/20 veto (and subsequent flareups)
-Christie's bleeding butt
-Jackson's bleeding butt
-Jackson's oozing infected thumb
-Jackson's food poisoning
-Nick's motion sickness from 8/3 veto
-Kat's jammed pinky toe
-Tommy's sore neck from his Space Explorer hat
-Jackson's rolled foot
-Cliff's sore elbow, forearm, back from 8/10 OTEV veto
-Nick's sore knuckles from 8/10 OTEV veto
-Holly's banged head while piggybacking Jackson
-Jackson's stubbed 'ring finger toe'
-Tommy's accidental protein bar bite (nut allergy)
-Holly's sore groin after 8/24 Zingbot veto
-Cliff's cut finger from bananas
-Nicole's sore back/butt from slipping on the floor
-Holly's issues with 8/29 HOH comp mist
-Nicole's banged up knees from 8/31 Hide 'n Go veto
-Holly's mysterious nausea

Scandals outside our BB world: 7
-Jack
-Selective editing of the Jacks + racial optics
-Jackson's [alleged/likely faked] domestic violence record
-Jack's 'rice pudding' comment
-Jackson
-Kemi asked by Diary to talk like a stereotype rather than herself
-Sheep used for 7/27 veto comp

Funerals: 1
6/29 12.05pm For the fishies

Hamster birthday parties: 2
-Kemi and Jack
-Tommy

Non-hamster birthday parties: 4
-Cliff's son
-Nicole's dad
-Tommy's dad
-Jackson's dad

Makeout pairings: 3
-Bella/Nick
-Analyse/Jack
-Holly/Jackson

Sex events (minimum): 17
-Pre-feeds Jackson/Kathryn (3x)
-7/6 11.48pm Jack/Analyse
-7/7 2.33am Nick/Bella
-7/8 3.29am Jack/Analyse
-7/10 1.56am Nick/Bella
-7/16 1.43pm Jackson/Holly (Holly retell)
-7/19 5.56pm Jackson/Holly
-7/21 10.33am Jack/Analyse
-7/21 1.33am Jackson/Holly
-7/29 8.17pm Jack/Analyse (Analyse retell)
-8/3 2.28am Jack/Analyse
-8/4 11.33pm Jackson/Holly
-8/5 11.11pm Jackson/Holly
-8/12 3.03am Jackson/Holly
-9/1 5.57pm Jackson/Holly

Breakups: 4
-Jackson dumped Kat
-Jackson dumped Holly (didn't take)
-Jack and Jackson dumped each other
-Bella dumped Nick? maybe (from home)

Premature exits: 1
David

Pre-existing relationships: 3 confirmed/discussed
-Christie/Tommy (longtime friends + she dated his aunt 7 years)
-Holly/Kat (acquaintances, with numerous mutual friends)
-Holly/Jackson (Instagram + mutual friends)

Pre-season cast leaks: 1
Sam was seen getting his key with his truck

Pre-season fanbase + alum dramas: Too many to list


Production Goofs

1 Wrong URL for Ovi's dog's Instagram in official bio
2 Misspelled Kemi's last name
3 Misspelled Jack's first name in press pics
4 Misspelled Holly's last name in press pics
5 Julie misspelled Orwell
6 Multiple veto history errors, plus misspelled 'introductions'
7 Misspelled 'houseguests,' and Nick's and Kemi's (again) last names
8 Sloppy photoshop job pasting in David
9 Misspelled 'brushing'
10 Timestamps on 6/25 feeds peek were wrong/screwy
11 Bad spacing for Ovi's home town, should be two words: Oak Ridge
12 Random Celebs 1 finale shot popped up on feeds
13 Gave Holly wrong last name in press pics
14 Mixed up veto draw with veto meeting on highlights caption
15 Misspelled Nick's last name in press pics
16 Misspelled Analyse's first & last names in press pics
17 Misspelled Ovi's first name in press pics
18 Misspelled Christie's first name in press pics
19 Misspelled 'winning' on Instagram post
20 HOH info still not updated from Battle of the Block era
21 Diary name label mixed up Jack and Jackson
22 Misspelled BB20 Brett's name
23 Press pics posted/spoiled veto results the morning of the show
24 Misspelled Isabella's first name and omitted her last in press pics
25 Gave Nicole wrong last name in press pics
26 Tweeted the show starts 'now' an hour early
27 Panic comp roaches and staffers seen on feeds
28 Mislabeled Sam and Kat in press pics
29 Mislabeled Kat three times in press pics
30 Posted a BB tweet from Amazing Race account
31 Misspelled Big Brother plus a new Ovi variation in press pics
32 Narrator made Jackson and Michie separate people, on 7/21 show
33 Gave Cliff's parents the wrong names, on Facebook
34 Episode description repeats narrator's names goof
35 Mixed up nominees with evictees
36 Faulty math
37 Misspelled Christie's name on her Poison Ivy outfit
38 Cliff's timer went backwards on 7/24 veto show
39 Field Trip ballot had Bella as an option (a week after her eviction)
40 Mixed up 'going home' with 'going to jury'
41 Mislabeled Jack in press pics
42 Misspelled Jack's last name in press pics
43 Series of feeds glitches 8/8-8/9 around midnight
44 Forgot to change to new Wednesday time
45 Feeds timestamp off by 27 minutes + severe freezing all day
46 Staffer reflection seen on feeds
47 Posted the wrong show on BB's Youtube
48 Mixed up Kat & Christie, misspelled evictee, wrong show time
49 Misspelled Analyse's name again/still, two different ways
50 Short Diary audio leak with Nicole
51 Misspellings in edited horror movie captions
52 Posted wrong week for Jack's eviction
53 Forgot to update Field Trip vote to Prankster vote
54 Nick said Diary had slipped and mentioned the Six
55 Short Diary audio leak with Nick
56 Feed 3 failed on quads, came back, then audio failed on quads
57 Julie teased wrong show time
58 Short Diary audio leak with Jessica
59 Short Diary audio leak with Tommy



Season Stats
HOHs in order: Christie; Jack; Nick; Cliff; Holly; Jessica; Tommy; Jackson; Holly; Jackson

Veto winners in order: Sam; Sam; Kat; Jackson; Nick; Jessica; Tommy; Jackson; Jackson; Tommy

Evictions in order: David via twist; Ovi 12-0; Kemi 10-1;

Cliff 6-4

; Bella 8-2; Sam 9-0; Jack 6-2; Kat 6-1; Analyse 5-1; Nick 5-0

Cast Twitters: @analysetalaver; [Christie TBC]; @cliff_hogg; @davjalex; @MissHollyAllen; @BellaWang21; [Jack TBC]; [Jackson TBC]; @jmilagrosplus; @itskathryndunn; @kisseskemi; @N_Maccarone; [Nicole TBC]; @TheOviKabir; @bb21_sam; @TommyBracco







Linking to any page here is fine. Please don't repost content from this site (or any other) without permission, and don't repost or hotlink images.



THE REAL SHOW IS THE FEEDS

Live air shows in many areas
BB1 thru BB21 plus Celebs and OTT, and many other CBS shows

PROTECT YOUR ONLINE PRIVACY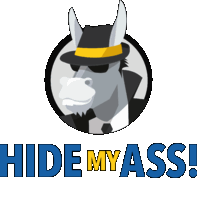 Anonymously secure your internet connection with HMA! Pro VPN - connect to our VPN service to anonymously encrypt your internet activity from prying eyes



HAMSTERWATCH SWAG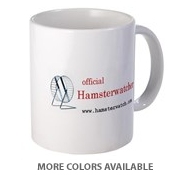 Mugs, shirts, more
Visit my Cafe Press shop






Big Brother 21 SEASON FAQ


Day 1 Move-in was June 19
Day 7 CBS premiere was June 25
Day 8 Feeds began June 26
Day 99 Finale is September 25

Feeds are streamed by CBS, and Flashback is accessible via All Access subscription. Call 888-274-5343 for account help, including cancellation.

*Effective July 10* Air shows on CBS (Global in Canada) are Sundays 8pm, Wednesdays 9pm, eviction Thursdays 9pm.

Big Brother After Dark on Pop TV will be every night midnight to 3am (an hour later on Wednesdays and Thursdays). The aired blocks are live (or recorded earlier the same night, depending on your cable provider).

The CBS app (by CBS Interactive) plays BB air shows and other CBS shows, as well as feeds, or you can use your browser to watch feeds on mobile devices. The same All Access link used to subscribe will lead to the feeds viewing page if you're already signed up.

BB21 finalist prizes are the same: $500k for the winner and $50k for 2nd place. Stipend for the others to be confirmed if/when they mention it on feeds, likely $1,000 per week again. Top finishers get bonuses again this season: $10,000 for 3rd place, $7,500 for 4th, $5,000 for 5th.

The habitat has 94 HD cameras (no change) and 113 microphones (no change).

The recorded in-house announcements are the voice of producer Don Wollman. He and Julie Chen are the only staffers who have been there since Big Brother 1.