This site is about the Big Brother 21 feeds and contains spoilers! It isn't necessarily thorough: it's what I catch and/or what interests me. It's about watching hamsters: who's doing what and why. Thanks for encouraging my behavior.
Your pal, dingo



WIN CASH PRIZES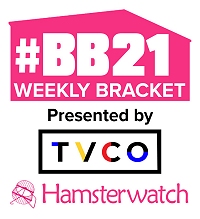 Click for more info
and to enter!





BB21 DRINKING GAME


Take a swig whenever someone says '100%' - take two if they make it more than 100







FINALE SWEEPSTAKES


Win a trip for two to Sept 25 finale including airfare, hotel and $500
Enter at CBS site







WHACKTIVITY COMP RESULTS



Week 1 Nightmare - not used
Bella, Cliff, Kat, Nicole, Ovi
-Ovi can secretly force HOH to name two new nominees after one of first six noms ceremonies, excluding his Camp Comeback weeks

Week 2 Chaos - used Day 32
Holly, Jack, Jackson, Sam, Tommy
-Jack can stand up and force a redraw of veto players, one time, until final six

Week 3 Panic
Analyse, Christie, Jessica,

Kemi

, Nick
-Christie can secretly activate so veto winner can name renom if they use veto, at one of 3rd, 4th, 5th or 6th veto meetings







QUICK LINKS & BOOKMARKS



-SIGN UP for feeds
-WATCH the feeds after signing up - disable ad blockers

-BB21 official site
-Live show tickets

-Feeds updates by @UGotBronx

-My Twitter - my screencaps

-Dick at Night with @EvelDick

-BB Viewer by @liquid8d
Requires All Access account

-BB21 Wiki

-Hamster Twitters
BB USA: chron - members
BB Canada: chron - members
BB USA Celebs: chron - members

-Advice for cast friends/family

-VPN to protect your online privacy







EAST COAST AIR SHOWS



Unfortunately, CanadaTV channel for Roku has been removed


East coast air show live streams:
- 1 - 2 - 3
NO DOWNLOADS OR SIGN-INS NEEDED - BEWARE OF CLICKING POPUP ADS OR WARNINGS




Donations via Paypal are gratefully accepted!


Watch Big Brother
Seasons 1 thru 21
Plus tons more CBS content






BIG BROTHER SEASONS



CBS All Access
Seasons 1 thru 20





BIG BROTHER 21 FEEDS EXCLUSIVELY ON CBS ALL ACCESS
All Big Brother USA seasons + most CBS shows past or present are included
$5.99 PER MONTH INCLUDING 1 WEEK FREE TRIAL or $9.99 AD FREE
COMPUTER - MOBILE - ROKU - CHROMECAST - APPLE TV - ANDROID TV - FIRE TV - XBOX 1/360 - PS4


>> >> >>

>> >> >> >> >> >>

>>

Power Status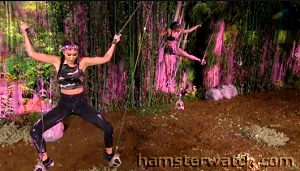 Evicted: Bella 8-2
Head of Household: Holly
Original noms: Nick, Sam
Veto winner/outcome: Nick/used on self
Final noms: Kat, Sam
Poison Ivy: Christie, Tommy (four days)
Have-nots: Jessica, Nicole, Sam
Evicted: Sam 9-0

-Christie has Whack Panic power: secretly activate and veto winner can name the renom if veto is used, at one of next four veto meetings (one to go)

Alliance charts by @89razorskate20: Day 38 - Day 35

Diary segment tallies by @clamperls4: Latest

Ratings Watch Sunday's show won the hour with 1.0 rating, 6 share, 4.39 million viewers, ahead of Celebrity Family Feud on ABC with 0.8/5/5.58, Track and Field special on NBC with 0.3/1/1.54, and The Simpsons and Bob's Burgers reruns on FOX with 0.3/2/0.89 each.

Wednesday's show won the hour with 1.0 rating, 6 share, 3.79 million viewers, ahead of Ellen's Game of Games rerun on NBC with 0.6/3/2.92, Card Sharks on ABC with 0.5/3/2.79, and First Responders Live on FOX with 0.5/2/2.07.

Overnight rating & share: adults 18-49; Rating: % of all TV households; Share: % of households watching TV



Upcoming Events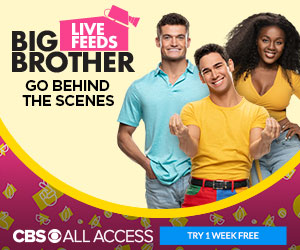 GET THE FEEDS to see the real show!

Through Thursday: Waffling, gossiping, scheming, eating
Thursday night: Have-nots end, HOH room and letter
Friday: Nominations
Saturday: Veto comp

CBS schedule:
Sundays 8pm - Wednesdays 9pm - Thursdays 9pm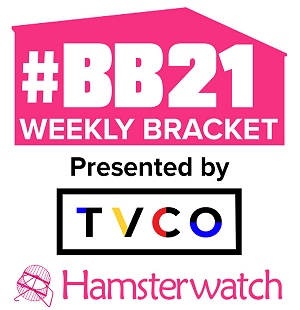 TVCO #BB21 WEEKLY BRACKET

Make predictions and win cash! The #BB21 Weekly Bracket will run all summer long!

Download the TVCO app to watch the TVCO live show, chat, and enter the weekly bracket for extra points 10pm ET/7pm PT Wednesday OR Thursday 8pm ET/5pm PT

Or play online between 10pm ET/7pm PT Wednesday and 5pm ET/2pm PT Thursday. Good luck!

Congrats to @BBDish who won $200 last week!



Daily Feeds Recaps
Day 41 - Monday 7/29/19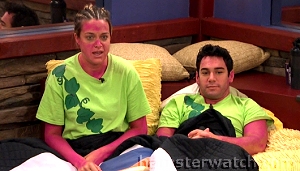 Overnight there were some confrontations about Sixers going against each other, including stories about Jackson and Holly working with Nick and Sam (Tommy said that must have come from Kat); Christie asking Sam in front of others if he'd ever campaigned against Jack, with Jessica telling Sam not to lie; and Jessica versus Sam about things the other had said about them. That one almost got heated enough to land on the fights tally but as with most things this season, it didn't quite make the cut. This morning Tommy told Jack he'd finally talked with Holly last night but hadn't gotten a clear answer about her renom choice. He said Nicole's name had come up, and he said that confused him as Holly had been adamant about targeting Sam. Unlike Jackson, Jack stressed the importance of getting the outsiders gone before they start eliminating from the Six. Christie arrived and announced "Jack, I had my first sexual dream with you last night," to which Jack replied "Yes!"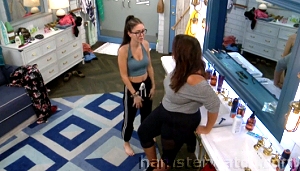 Holly told Kat she'd talk to Jessica and others to see if they're okay with Kat going up as a pawn. Jessica said "yeah, of course!" and then gasped when Holly showed her rash, which she was now calling hives. She said it wasn't from the HOH hay as it wasn't going away, and she thought it was "from the HOH room." Holly then got an okay from Cliff, and they agreed they'd reassure Kat she'd be safe.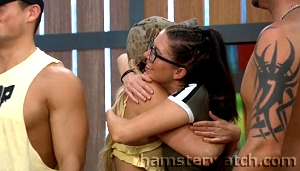 Nick used his veto on himself obviously, and Holly put up Kat in his place. Christie did not invoke her power so she's got just one more chance to use that or it will be retired unused. Feeds came back to hugs all around, and then most of them adjourned to the backyard for the laying around portion of the week. Sam wasted no time and got started on gossip rounds right away, rehashing past history and telling Analyse about shady things Christie had done. He swore her to secrecy, so she immediately reported to Holly to retell. That didn't go so well as Analyse got confused a lot, and forgot a lot, and they ended up wondering if Christie was still working with Sam and Nick. Analyse also said Kat was flirting more with Jack, and that annoyed her. She repeated her annoyance about Kat later to Jack, who told her to chill and not dwell on or keep talking about that or other things, as it could make her a target.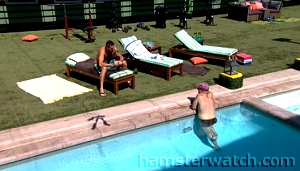 Holly retold her pre-noms talk with Sam to Christie, Tommy, Analyse, and Sam told Nick he wants to blow up Christie's game in his nominee speech. Sam gave his anti-Christie spiel to Cliff, who repeated that and his speech plans to Jackson and Holly. Many saw that as another chance to call Cliff a rat (again), which maybe it was (again), but don't forget Jackson and Cliff agreed to ally last night, with Holly by proxy via Jackson.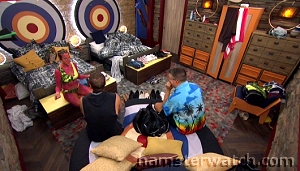 Things were looking up for a minute, action-wise, when it sounded like Nick was going to call out Christie based on the day's Sam stories. As Nick headed off, Jackson told Tommy Christie had been "doing a lot of shady things recently" but said he didn't think it was his place to say when Tommy asked what. Cut to Nick and Christie, with Cliff present, and Nick just told her what Sam had been saying and that he was planning to give a scorcher nominee speech Thursday. Christie sputtered and denied, like she does, and the only part that was popcorn-worthy was Nick and Christie trying to get a word in edgewise with each other. When they left, Cliff said to himself/us it was all "so unnecessary." He repeated that to Kat and assured her she'd stay, probably unanimously, despite both Jackson's and Analyse's personal issues with her. As you'd expect, retell rounds took off all over, with damage control segments included with Christie's.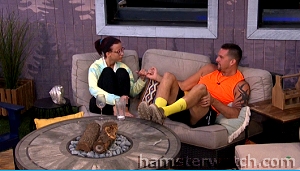 Oblivious to everything going on around him, Sam happily ran his anti-Christie campaign to Nicole as well as his speech, and asked her to pinkyswear she wouldn't tell anyone as only Nick and Cliff knew. He couldn't be more wrong there. Analyse told Christie how much she likes sex with Jack, then added she hasn't orgasmed with him or anyone else. Christie gave her some positioning tips for the HOH shower. The big news of the evening was they discovered the hot tub was finally hot (unlike the HOH shower sex, is the obvious joke here). Team Ants also congregated around the hot tub, as well as the workout equipment wall, and they also made it into the kitchen today. Jackson complained of not feeling well several times today, and said he saw the medic. Holly told Jessica he puked upstairs, and said he thought he had food poisoning.

Get the feeds to watch it all unfold live and/or with flashback!
If you missed what's come before, check the feeds updates in Hamsterwatch Forum by @UGotBronx, and/or the ever-present "previous Hamsterwatch episode" link way up top for my previous recaps.



Day 42 - Tuesday 7/30/19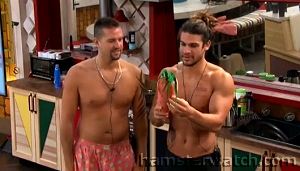 The pantry was a treasure trove of goodies they discovered when they started rattling around for the day. Along with a selection of new BB promo mugs, they also found their beloved stuffed carrot had been repaired. I didn't know the carrot was ill but apparently it was. Christie and Tommy's Poison Ivy pinkness should end today, assuming the "four days" they mentioned was accurate for that. Jessica suggested Cliff use the rolling pin to ease his still-sore calf, and viewers collectively screamed NO DON'T DO IT! They don't know that rolling pin was used on Holly's rashy sore thighs, therapeutically and erotically a couple days ago, then kissed by Jackson and returned to the kitchen. Sam ran his anti-Christie nominee speech for Cliff and Nicole, again, and asked them to nudge him into doing it in case he gets "cold feet" before then. (Best scenario for #TeamFunFeeds #AndShows would be if Kat went first and gave his speech, but she probably wouldn't want to do that.)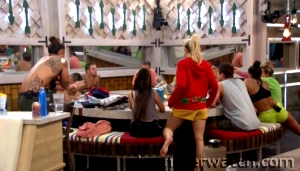 All of them gathered at the dining table around noon and got very, very loud. I had to check a couple times to be sure my feeds hadn't timewarped back to some booze delivery past, but no. They shared stories about peed and pooped pants and the like, like hamsters do, with much shouting and laughter, and a few table bangs. Nick had been saying for awhile he had zings for everyone but they were too bad to say aloud. But he ran a few for them today, including "Jackson, monkey see, monkey do, your BB body count is up to two!" Kat gave a world class side-eye plus tea sip for that one, and Jackson reacted as well. In return, some of them zinged Nick about his infamous "quickie" with Bella.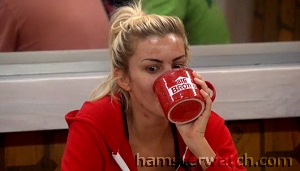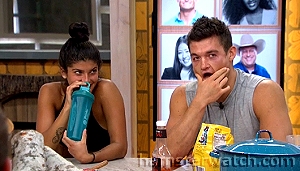 Sam asked Analyse to swear she wouldn't tell anyone he was planning to roast Christie on his way out, and she told him that Nick told Christie yesterday that he (Sam) was upset with her. Sam said he could tell Christie was "being fake" with him yesterday, and it sounded like he was still planning to run the speech. Analyse asked Sam not to mention her name, then Sam told Nick she'd told him that. He asked Nick if Christie knew about his speech plans and Nick swore she didn't.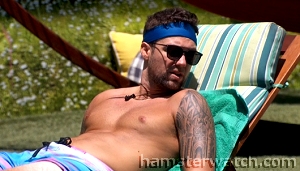 Nick then suggested to Sam that his speech as planned would look petty, and it wouldn't help him, Cliff, or Nicole, and it wouldn't accomplish anything with the other side anyway. Sam told Cliff he'd decided not give his scorcher speech because of what Analyse and Nick each told him. (We just can't have nice things this season.) The backyard shower head attacked Analyse. Poison Ivy was officially ended for Tommy and Christie, which of course they shouted as they exited Diary. Kat and Holly agreed they didn't think Nick's zing was funny, and they wondered how everyone knew. They were annoyed at Nick but Spoiler Alert: Jackson's the one who told everyone. Jack continued jump-scares, like he was vying for AFP. Christie approached Cliff to work with him going forward, two days after Jackson made the same offer to Cliff. There was a short, eyebrow raising, hidden meanings convo about the HOH shower (sex) stool between Christie, Jackson, Holly, Cliff, Tommy, and how it was "a game changer."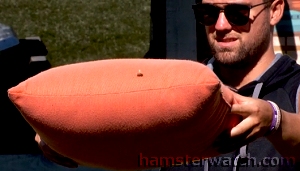 Nick and Tommy spent a good while trying to rescue a suicidal bee. They kept saving it and it kept flying into the pool. It was like a metaphor for the season. Holly and Jackson had an entwined convo about Analyse flirting with Jackson, Analyse telling Jackson that she has a girlfriend for him if Holly doesn't work out, Jackson worried about being blamed when he gets out for things others have said about him, and their usual anti-Kat and anti-Christie agendas. Nick and Cliff talked about next week and both said they still needed to "play it safe" and it was "too early" to take a shot at the Six. Jack and Analyse kept attempting jump-scares on each other and others, with Analyse going into the pantry trashcan for a few rounds, tipping over in it at one point. Holly again bemoaned her rash to Kat, who again joked about the sex shower and added "crabs are no joke.. just kidding!" Analyse told Christie and Tommy she thought Jack would go back to ex after this, and "we both know we're hot and we can get anyone we want." Holly told Kat she didn't know if she'd be with Jackson after this, saying they're liking each other more and more but real life is totally different and "he has a lot of growing up to do."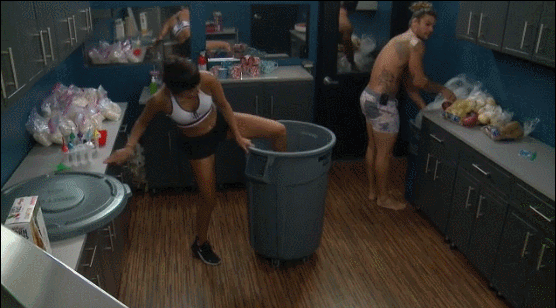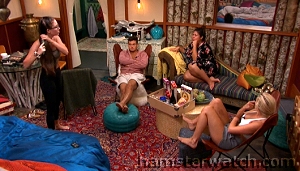 Holly, Kat, Jessica did facial masks in HOH and gossiped about Analyse. Nicole joined and was invited to do a mask, but she declined. Jessica found what she thought was an ant in the bed, but they decided it wasn't an ant and Holly said it had to be a bedbug due to her rash, and she took it to Diary. Jackson joined and Kat brought up Nick's zing, saying it was disrespectful. They bashed Nick for awhile, and then Jackson turned things back to himself, saying he'd never be disrespectful to women. He also said he wouldn't bring up anyone's heritage, race, sexual orientation, or sexual activity. And he repeated his loops about not wanting anyone to believe something about him because of what someone in there said, and he said yes he's aggressive, he embraces it, but he's not proud of it. (So somehow Nick's zing about Jackson boinking two girls in there turned into Jackson doing a goodwill apology tour, and a group therapy session for Jackson, as victim. Go figure.)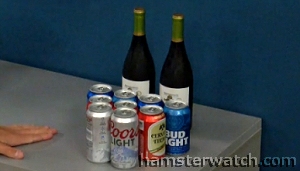 They got a booze delivery around 9pm, the first in 24 days. They got two bottles of wine and nine beers for the nine non-sloppers. They squealed of course, and Have-not/nominee Sam's week got a little bit worse. Most of them sat around the hot tub being loud, telling stories of cockfights and a reprisal of poopy pants tales. Christie tried a couple times to trick people into thinking Cliff lost $15k America's Player cash when they kidnaped Orwell, and they again stressed that was all in fun at the time. (It wasn't: they did it to be mean.) Sam ran his revised, watered-down speech many more times for himself and for Nicole, and he told Christie he'd be okay going home to his wife and boys if that's what happens. She said it was weird nobody was even talking about votes, and he said he'd probably do some campaigning tomorrow.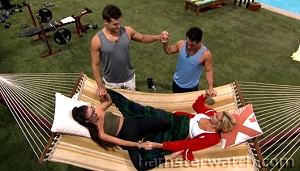 Kat made some great sippy zingers about the HOH shower activity, and she, Holly, Tommy, Jackson did a random hand-holding thing at the hammock, under Jackson's direction. Kat and Tommy both joked "did we just form an alliance?" Christie planted a little wedge-seed with Analyse about Jack, telling her if it's just sex fine, "but if you are feeling like you're starting to like him and you're feeling stupid, played, it's time to re-evaluate it." And later Christie sat down with Jack to rebuild their partnership. He acknowledged he'd been "incredibly annoying" today with all the hiding and jump-scares with Analyse, and said he was trying to be more social with her and figure out what she likes, but he still felt closest in the game to Christie.

I'll be out for some of tomorrow but there won't be much waffling: Sam's on his way home.

Get the feeds to watch it all unfold live and/or with flashback!
If you missed what's come before, check the feeds updates in Hamsterwatch Forum by @UGotBronx, and/or the ever-present "previous Hamsterwatch episode" link way up top for my previous recaps.



Day 43 - Wednesday 7/31/19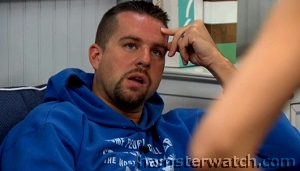 Jackson's goodwill tour yesterday came to a screeching halt when he told Jack, re eggs, "what is your definition of a lot? Enough for a Jessica-sized portion of egg scramble?" Sam told Nicole "safe to say you're gonna go with the majority so you don't look guilty," and he asked her how she'd know what the majority wants. She said nobody's talked to her about votes yet, and he said if the majority decides to flip "then I've got a problem." Sam then counted, realized, and said "they have six, they could run this, they don't need you, Jess, or Nick." Ding ding ding. He then talked with Jessica, who said she thought "relationships formed the first couple weeks." One ding for that, as they formed earlier than that, but she's catching on a little anyway. Tommy's flash mob dance was rescheduled due to his pink paint/makeup, and is now planned for today at 6pm, same time as the veto show airs in the east. He interrupted Sam campaigning to Jackson for a rehearsal, even tho neither Sam nor Jackson participated.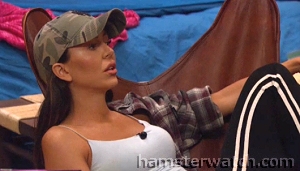 Sam's pitch made some headway with Jackson, who reported it to Holly. I missed the actual pitch but the retell was Sam's basic anti-Christie platform he'd been planning to use for his speech. Holly interrupted Jackson's retell because she said she didn't think they were in a good position for the cameras. Jackson told her Sam had said Christie had wanted Jack to be evicted during Cliff's HOH with Jackson as backup, and she tried to pin Jack and Jackson for being "bullies" but when Jackson won the veto that week, she switched to "Nick and Sam are bullies," and she made a deal with Cliff about her power and his renom. Holly didn't like hearing any of that and second-guessed her noms, and she said "Kat had to go volunteer" like that made it binding that she put up Kat as renom. It's all probably just typical Wednesday waffles, but we'll see. Jackson told Holly he'll vote however she wants and she asked him to keep Kat as their "best secret weapon" going forward. Retell rounds ensued all over town of course, and all this is pending further developments, of course.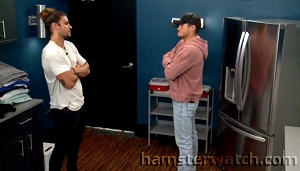 The flash mob dance happened a little after 6pm, almost on schedule, and it went pretty much like all the rehearsals did except Tommy was a lot louder. Afterwards they scattered to their psst-psst corners and continued rehashing about who knew what, who told whom, and who didn't tell what they knew. The Jacks finally faced off about it all in the pantry, and Jackson opened with "What are you thinking? I need you to let me be inside your head, now more than ever." It was a dramatic opening line and you could almost hear "The Good, the Bad, and the Ugly" theme in the background. They exchanged info with flailing arms, fist bumps, a bro hug, and more flailing arms. You have to hand it to Sam, he got everyone stirred up today and while it isn't likely to save him, it made for a whole lot of nervousing hamsters and popcorn-filled feedsters. Kat kept playing her role well also, with occasional "conspiring bitches" and still wondering if Brett would be showing up to host something and/or greeting her at the door if she's evicted.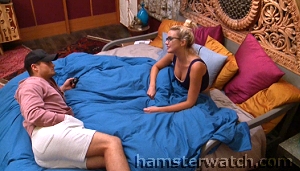 Kat joined Tommy and Jackson in HOH, where they'd been talking about all the he said/she said scandals, and said she didn't feel well. Jackson ran his list of symptoms from the other day, Tommy left, and Kat shifted gears and said she wanted to ask Jackson something. She said "it might not be a live feed thing" and maybe she should ask him tomorrow during lockdown, but she went ahead anyway, cryptically. She said "are you reading my mind?" and he said "is it something that happened before the feeds started?" She nodded, and said don't say anything, but.. and he said "am I sure that I did?" She said "yeah, yeah" and he said "yeah." It should be pointed out that Kat's said several times lately she's PMSing and like Christie, seemed stuck there. It's unclear what he acknowledged he's sure he did, but reasonable guesses would be condom or interruptus. And on the opposite end of the spectrum, Jessica made maracas by putting beans or something inside glasses and sealing them with plastic wrap, and Nicole and Kat had fun shaking those around.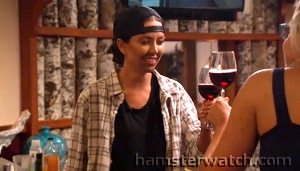 Tommy told Christie that Sam's campaign involved her and he was trying to blow up her game before he goes. Christie of course wanted to know the details but Tommy said he'd sworn not to say, but she'd find out after Sam's gone. Later Christie tried to find out from Jack, but he wasn't saying either. Holly put on guys clothes and Jessica gave her a makeup goatee, and she went up to ding-dong HOH for her wine date with Kat. They both busted up laughing and doubled over at the door for a good few minutes before they were able to crack open the wine. They joked about Holly being a stand-in for Brett, and Holly went out to the balcony to say "that HOH shower is just what I thought it'd be!" Tommy, Jack, Jackson debated whether Jackson should confront Christie before Sam goes or after, and later Jackson rattled off a series of alleged Christie crimes and witnesses to Jack, stressing that Christie was working against them. Jack wasn't very receptive, and asked what Jackson wanted to do about it. They agreed to wait til tomorrow to decide. Meanwhile Christie cried to Jessica about not knowing what's going on, and feeling alone in there.

Get the feeds to watch it all unfold live and/or with flashback!
If you missed what's come before, check the feeds updates in Hamsterwatch Forum by @UGotBronx, and/or the ever-present "previous Hamsterwatch episode" link way up top for my previous recaps.



Ratings - Summer Camp edition
Ratings are based on entertainment value - everone's stuck in neutral
See full bios and social links in cast folder at
Hamsterwatch Forum
Noms count: original/renom


Sunday's show had a segment with Jackson being an ass to Kat, but didn't point out some or all of that was weeks ago, nor that the two of them had been an item before he dumped her to get a second notch on his BB belt with Holly. I don't know why they omitted him peeing on the HOH apparatus. They wouldn't have had to show the stream itself - his whining about having to pee and then the peanut gallery going nuts when he did would have been enough. That's the kind of thing that's memorable and talked about. Baby steps though, baby steps.





Won: Nothing yet
HOH 0 - Veto 0 - Noms 0/0 - HN 0

She's at sex summer camp.





Won: Whacktivity 3 Panic; 4 days Poison Ivy
HOH 1 - Veto 0 - Noms 0/0 - HN 1

She's at talk-talk summer camp.





Won: Revival to Camp Comeback Day 30; Full revival to BB21
HOH 1 - Veto 0 - Noms 2/0 - HN 0

He's at pleasant relaxing summer camp, with storytelling circle.





Won: Nothing yet
HOH 1 - Veto 0 - Noms 0/0 - HN 0

She's at cut-rate sex summer camp, the one that gives you a rash.





Won: Whacktivity 2 Chaos
HOH 1 - Veto 0 - Noms 1/0 - HN 0

He's at horny pig boy summer camp.





Won: Camp Director + 1st eviction immunity
HOH 0 - Veto 1 - Noms 1/0 - HN 1

He's at horny pig boy summer camp.





Won: Nothing yet
HOH 0 - Veto 0 - Noms 2/0 - HN 1

She's at happy days summer camp.





Won: Nothing yet
HOH 0 - Veto 1 - Noms 1/1 - HN 1

She's at comedy summer camp.





Won: Nothing yet
HOH 1 - Veto 1 - Noms 1/0 - HN 0

He thinks he's at acting summer camp, but really he's at not-fooling-anyone summer camp.





Won: Nothing yet
HOH 0 - Veto 0 - Noms 0/1 - HN 1

She's at self-discovery summer camp.





Won: Fiji trip
HOH 0 - Veto 2 - Noms 1/0 - HN 1

He's at loud and boisterous summer camp, but he should have gone to pay better attention summer camp.





Won: 4 days Poison Ivy
HOH 0 - Veto 0 - Noms 0/0 - HN 1

He's at musical theater summer camp.





Won: Nothing
HOH 0 - Veto 0 - Noms 0/1 - HN 0

She seemed promising in her pre-season interviews but it turned out she hadn't really done the homework recruits should do, and she was quickly in over her head. She blabbed about most every convo she had, and she blew up alliances almost as soon as they were formed. But along the way she mixed and drank gross concoctions including hot dog water and mayo, she told some funny stories and some sad ones, and she and Nick fell in love (once she finally got him to stop lusting for Analyse).





Won: Revival to Camp Comeback Day 23
HOH 0 - Veto 0 - Noms 1/0 - HN 0

She was targeted by Jack and Jackson for no reason we know of, other than naming them as potential nominees in the first days. From then on they were obsessed with her, spreading that obsessive hate to their teamies, and it was so stupid it would have been comical if it weren't so ugly. She kept it classy despite all that, and it's good she had Nicole as a sounding board (and genuine friend) to vent her frustrations. I just wish she and Kat didn't hate each other as they would have made a superb comedy duo.





Won: Whacktivity 1 Nightmare (unused); Revival to Camp Comeback Day 15
HOH 0 - Veto 0 - Noms 0/1 - HN 0

He was a prime example of BB book smarts not necessarily equating to BB street smarts, and he didn't help himself any by being too loud and busy, nor by snitching on alliances to those same alliance members. Analyse accused him of being creepy with her but there was no evidence of that. He's done great things out here and will undoubtedly do more, so it was probably for the best that he got out of that snakepit sooner than later.





Won: First 2 weeks in sequester; Revival to Camp Comeback Day 15
HOH 0 - Veto 0 - Noms 0/0 - HN 0

He got the rawest of BB deals, the first night boot, and then he was locked in a hotel room for two more weeks. He showed a quick and accurate read on everything when he re-entered the habitat and was probably the only one of the Comebackers with potential to do some real damage if he'd won the comp to re-enter the game, but it wasn't to be. His and Kat's flirtation was fun to watch. He could and should have been a contender but instead he got the boot twice, and without any noms or votes to evict.



Lines and Links of the Day
Lines

Jack: The stress alone.. we don't even know what people are saying, and like I get stressed out about being like have I said something that's controversial?

Holly about Kat: I feel she's like Sweden, she's so neutral

Jackson about his mom: We're literally the same person

Jackson: Wow, I have ants all over my feet!



Links

GET YOUR FEEDS includes a free one-week trial

#BB21 Weekly Bracket in partnership with @TVCO - enter online and/or download their app

Use my link for any Amazon Canada shopping, anytime, at no extra cost - just start your shopping trip by clicking Amazon Canada



Tally Items

Season Stats
HOHs in order: Christie; Jack; Nick; Cliff; Holly

Veto winners in order: Sam; Sam; Kat; Jackson; Nick

Evictions in order: David via twist; Ovi 12-0; Kemi 10-1;

Cliff 6-4

; Bella 8-2

Cast Twitters: @analysetalaver; [Christie TBC]; @cliff_hogg; @davjalex; @MissHollyAllen; @BellaWang21; [Jack TBC]; [Jackson TBC]; @jmilagrosplus; @itskathryndunn; @kisseskemi; @N_Maccarone; [Nicole TBC]; @TheOviKabir; [Sam TBC]; @TommyBracco







Linking to any page here is fine. Please don't repost content from this site (or any other) without permission, and don't repost or hotlink images.



THE REAL SHOW IS THE FEEDS

Live air shows in many areas
BB1 thru BB21 plus Celebs and OTT, and many other CBS shows

PROTECT YOUR ONLINE PRIVACY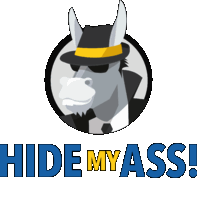 Anonymously secure your internet connection with HMA! Pro VPN - connect to our VPN service to anonymously encrypt your internet activity from prying eyes



HAMSTERWATCH SWAG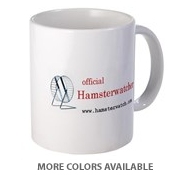 Mugs, shirts, more
Visit my Cafe Press shop






Big Brother 21 SEASON FAQ


Day 1 Move-in was June 19
Day 7 CBS premiere was June 25
Day 8 Feeds began June 26
Day 99 Finale is September 25

Feeds are streamed by CBS, and Flashback is accessible via All Access subscription. Call 888-274-5343 for account help, including cancellation.

*Effective July 10* Air shows on CBS (Global in Canada) are Sundays 8pm, Wednesdays 9pm, eviction Thursdays 9pm.

Big Brother After Dark on Pop TV will be every night midnight to 3am (an hour later on Wednesdays and Thursdays). The aired blocks are live (or recorded earlier the same night, depending on your cable provider).

The CBS app (by CBS Interactive) plays BB air shows and other CBS shows, as well as feeds, or you can use your browser to watch feeds on mobile devices. The same All Access link used to subscribe will lead to the feeds viewing page if you're already signed up.

BB21 finalist prizes are the same: $500k for the winner and (probably still) $50k for 2nd place. Stipend for the others to be confirmed if/when they mention it on feeds.

The habitat has 94 HD cameras (no change) and 113 microphones (no change).

The recorded in-house announcements are the voice of producer Don Wollman. He and Julie Chen are the only staffers who have been there since Big Brother 1.