This site is about the Big Brother 21 feeds and contains spoilers! It isn't necessarily thorough: it's what I catch and/or what interests me. It's about watching hamsters: who's doing what and why. Thanks for encouraging my behavior.
Your pal, dingo



WIN CASH PRIZES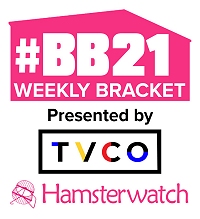 Click for more info
and to enter!





BB21 DRINKING GAME


Take a swig whenever Christie retells a convo - take two whenever she embellishes it







FINALE SWEEPSTAKES


Win a trip for two to Sept 25 finale including airfare, hotel and $500
Enter at CBS site







WHACKTIVITY COMP RESULTS



Week 1 Nightmare - not used
Bella, Cliff, Kat, Nicole, Ovi
-Ovi can secretly force HOH to name two new nominees after one of first six noms ceremonies, excluding his Camp Comeback weeks

Week 2 Chaos - used Day 32
Holly, Jack, Jackson, Sam, Tommy
-Jack can stand up and force a redraw of veto players, one time, until final six

Week 3 Panic
Analyse, Christie, Jessica,

Kemi

, Nick
-Christie can secretly activate so veto winner can name renom if they use veto, at one of 3rd, 4th, 5th or 6th veto meetings







QUICK LINKS & BOOKMARKS



-SIGN UP for feeds
-WATCH the feeds after signing up - disable ad blockers

-BB21 official site
-Live show tickets

-Feeds updates by @UGotBronx

-My Twitter - my screencaps

-Dick at Night with @EvelDick

-BB Viewer by @liquid8d
Requires All Access account

-BB21 Wiki

-Hamster Twitters
BB USA: chron - members
BB Canada: chron - members
BB USA Celebs: chron - members

-Advice for cast friends/family

-VPN to protect your online privacy







EAST COAST AIR SHOWS



Unfortunately, CanadaTV channel for Roku has been removed


East coast air show live streams:
- 1 - 2 - 3
NO DOWNLOADS OR SIGN-INS NEEDED - BEWARE OF CLICKING POPUP ADS OR WARNINGS




Donations via Paypal are gratefully accepted!


Watch Big Brother
Seasons 1 thru 21
Plus tons more CBS content






BIG BROTHER SEASONS



CBS All Access
Seasons 1 thru 20





BIG BROTHER 21 FEEDS EXCLUSIVELY ON CBS ALL ACCESS
All Big Brother USA seasons + most CBS shows past or present are included
$5.99 PER MONTH INCLUDING 1 WEEK FREE TRIAL or $9.99 AD FREE
COMPUTER - MOBILE - ROKU - CHROMECAST - APPLE TV - ANDROID TV - FIRE TV - XBOX 1/360 - PS4


>> >> >>

>> >> >> >> >> >>

>>

Power Status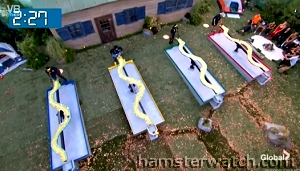 Evicted to Camp Comeback: Cliff 6-4
Won Comeback Comp and revived: Cliff
Evicted: David, Kemi, Ovi
Head of Household: Cliff
Original noms: Jack, Jackson
Veto winner/outcome: Jackson/used on self
Final noms: Jack, Bella
Have-nots: Christie, Jackson, Kat, Tommy
Evicted: Bella 8-2

-Christie has Whack Panic power: secretly activate and veto winner can name the renom if veto is used, at one of next four veto meetings (two to go)
-Jack had Whack Chaos power: openly force a redraw of veto players, one time, until Final Six - used Day 32
-Ovi had Whack Nightmare power: secretly force HOH to select two new nominees after one of the first six noms ceremonies - unused and out of play

Alliance charts by @89razorskate20: Day 35 - Day 34 - Day 29 - Day 24

Diary segment tallies by @clamperls4: Latest

Ratings Watch Sunday's show remained in first with 1.1 rating, 6 share, 4.36 million viewers, ahead of Celebrity Family Feud on ABC with 0.9/5/5.50, America's Got Talent rerun on NBC with 0.5/2/2.93, and The Simpsons and Bob's Burgers reruns on FOX with 0.4/2/1.12 and 0.4/2/1.00.

Wednesday's show won the hour with 1.0 rating, 6 share, 3.82 million viewers, ahead of Card Sharks on ABC with 0.6/3/3.32, Songland rerun on NBC with 0.5/3/1.93, and First Responders Live on FOX with 0.4/2/2.00.

Overnight rating & share: adults 18-49; Rating: % of all TV households; Share: % of households watching TV



Upcoming Events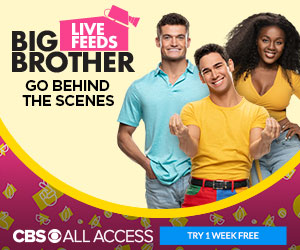 GET THE FEEDS to see the real show!

Thursday night: HOH endurance comp on the feeds - click to sign up and watch live!

Thursday night: HOH room and letter
Thursday midnight: Have-nots end (probably)
Friday: Nominations
Saturday: Veto comp

CBS schedule:
Sundays 8pm - Wednesdays 9pm - Thursdays 9pm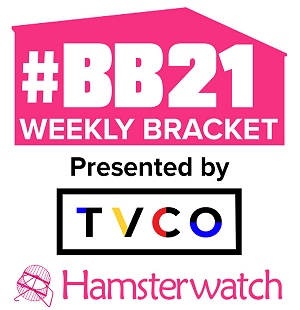 TVCO #BB21 WEEKLY BRACKET

Make predictions and win cash! The #BB21 Weekly Bracket will run all summer long!

Download the TVCO app to watch the TVCO live show, chat, and enter the weekly bracket for extra points 10pm ET/7pm PT Wednesdays, or play online between 10pm ET/7pm PT Wednesdays and 5pm ET/2pm PT Thursdays. Good luck!

Congrats to @honestlyhonaker who won $250 last week!



Daily Feeds Recaps
Day 34 - Monday 7/22/19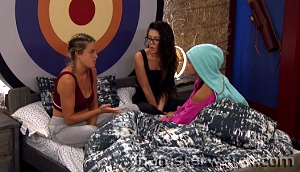 Christie went on the warpath early, telling Holly and Analyse that Nick had told Kat he could get Cliff to lie to Christie and promise to renom Bella so she wouldn't use her power, then he'd put up Holly or Analyse or Christie. They griped about Nick and Bella, and Christie said "after the veto meeting, we can fuckin light it up." Holly said Nick's a sociopath, and Analyse said "I wanna fucking rip [Bella]'s face off, I hate that bitch." As Christie was ready to retell to the Jacks, Cliff joined them and proactively covered his bases by telling them Bella had approached him with the backstab plan. Cliff later told Sam "it kills me, I put my balls on the line this week" but the Whack powers thwarted him, along with Kat who wouldn't agree to Cliff to be the fifth vote to evict Jack.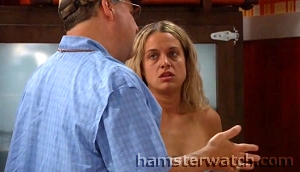 Christie told Cliff she won't use it, and she appreciated him doing their bidding [my words/not hers]. She then told Holly it'll be "amazing" when Cliff puts up Bella anyway, and "she's gonna lose her shit - unless it all backfires" and Cliff double-crosses them, but she added that she trusts Cliff. Meanwhile Sam gave Bella a heads up on what was going to happen, and asked her not to tell Nick. Holly told Tommy about Jackson breaking up with her and then freaking out last night, and said she thought he's losing it and might crack this week. She also said Kat told her he might have been using her, but Tommy said he didn't think so, that Jackson's just "aggressive and runs hot." Jackson told Sam he's feeling weak and "hasn't eaten in four days." Nick, Bella, Sam griped about their plight, and Nick said "this is BB19 all over again." Nick made a last minute pitch to Cliff, who asked if he knew Bella had approached him at 2am with the same pitch, but he decided he had to keep his word to the others, for his own game going forward. Later Nick cried about losing Bella, and Cliff told Kat he'd made his decision, he didn't want to drop her, Nicole, Jessica into it, and he'd fight with them going forward.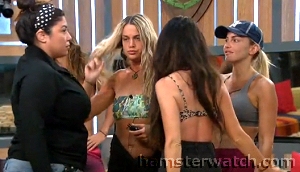 Feeds came back their veto meeting to the usual hugs and fake sad faces. Jackson veto'd himself, Christie did not invoke her power, and Cliff put up Bella as renom. And a great sadness permeated the majority of the fanbase.

I've been doing the site this year for you folks who come here and read it, and donators and GFM angels ♥ I don't really want to listen to the next few days of campaigning and everlasting retells, but will check back in and post if anything more interesting breaks out.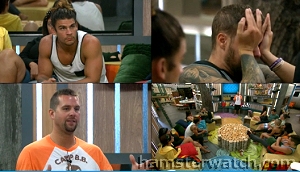 Oh, here's something interesting. Sam was perturbed at being implicated in the potential backstab plan and decided to hold a house meeting to clear himself. He ran this past several of them, including Nick who said he'd clear Sam's name. But first, eating machine Jackson had been seen many times on feeds ducking down in his many showers, and possibly chewing when he rose up. This evening after another ducking shower he was seen pulling a wadded up napkin or something from his pocket and stashing it deep into the kitchen trash. So they had to wait for him to come out of Diary, which he did, but without any announcements about being caught. Sam's meeting officially began at 8.25pm, where he referred to Analyse as having tipped him off, and he said "I had nothing to do with the Nick and Bella conspiracy" and "this all happened when Sam Smith was nestled safely under his covers." Nick and Cliff both said Sam was in the clear, all references were to 2am last night and nobody mentioned Nick, Cliff, Bella talking over the idea of tricking Christie on Saturday morning. Nick started crying about his game being in the dumper and losing Bella, Jackson gave him a peptalk/motivation/coach spiel, and the whole thing turned into a kumbaya love fest/therapy group.

Get the feeds to watch it all unfold live and/or with flashback!
If you missed what's come before, check the feeds updates in Hamsterwatch Forum by @UGotBronx, and/or the ever-present "previous Hamsterwatch episode" link way up top for my previous recaps.



Day 35 - Tuesday 7/23/19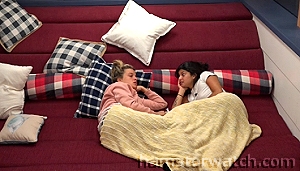 Jackson's grumpy face settled in to near-permanent as his Have-not week raged on, and Jack had an egg-like lump on his collarbone, apparently a weightlifting side effect, per him. Nick said he had "visual snow syndrome" making him see static when looking at dark colors, along with having faulty depth perception. He said Abraham Lincoln was standing in his room the day he woke up with it in seventh grade. (It's a real thing, and rare, though I'm guessing most who have it didn't have it delivered by Mr Lincoln.) Bella started campaigning to Kat, and Christie started an anti-Jackson campaign with Analyse, saying she didn't want Holly to get a bad rap and appear guilty by association with him. She added that she wouldn't be surprised if Jackson cast another hinky vote this week, against Jack. She also planted the seeds of an anti-Jack campaign, which Analyse didn't need much encouragement to join in on.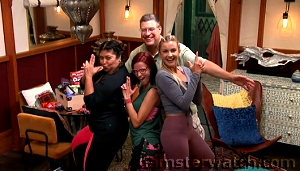 Jack and Tommy discussed Jack's "rice pudding" comment (see Lines of the Day below), referring to Bella, and it sounded like they'd been asked about it in Diary. Jack said he was "so relieved about yesterday's dilemma, the misconception, oh gosh" and Tommy confused the issue by saying he'd told them he hadn't changed the subject to protect Jack "but no, I was just going back to the convo," and added that he hadn't noticed or gotten it at the time. Kat and Nicole tidied up Cliff's cluttery HOH room, and did some gametalking. Jessica joined, and then Cliff, and they shared around the news tidbit that Jackson was the hinky vote for those who weren't previously aware (if any of them). The four of them formed a new alliance, Cliff's Angels, and posed accordingly. That theme hasn't usually had a happy ending in prior seasons, but they thought it was cute. Also they agreed to evict Bella (but it's only Tuesday). Bella and Nick continued isolating themselves in bed, with her running her list of errands asked by Nick and Sam, and working on campaign and speech ideas, with Nick alternately participating in those topics and speed-reading the Bible aloud.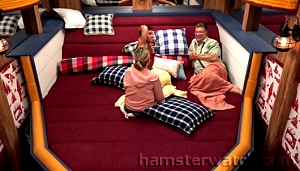 Jackson was noticeably absent from feeds for much of the day, with reports of him spending a lot of time in Diary. Speculation and ass-umptions about that ran wild out here of course but until we have a Diary feed or a retell from him, that's all it is: speculation and ass-umptions. Holly alluded to it to Kat, saying "in the real world, I'd be like boy, bye" followed by "he's going through a lot more than we realize, other stuff, personal." She and Kat also agreed they're "unapologetically and unconditionally here for each other." Tommy and Christie confessed to Cliff that they'd hidden Orwell from him a couple weeks ago, and stressed that it was "strategy based, it wasn't personal." They did mention they thought he might have been doing America's Player tasks, but other than that, it was all personal and not strategy whatsoever at the time. Cliff took it well and thought it was funny.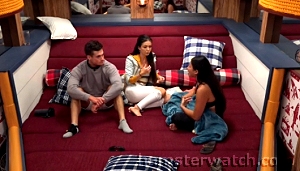 Nick told Nicole, and later Sam, that he was ready to go after Christie and "blow up her game" (making my Christie rating below obsolete, after just one day). Jackson joined the bleeding butt club, according to him, and Christie's stopped bleeding. He and Holly were cuddling again, and kissing here and there. Bella campaigned to them for a long time. She pushed reasons why Jack going would benefit them more than her going, and it actually got their attention a little bit, or at least Holly's. She brought it to Kat and Christie, and Christie said there was no way there'd be enough votes to boot Jack. Christie also gave Holly a script to throw back to Bella about respecting her hustle etc, but there was no point to waste her breath anymore as she was going home.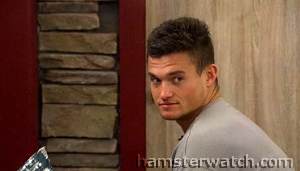 Cliff, Nicole, Jessica, Sam sat at the game boards upstairs for wholesome family game night, putting all the talk about bleeding butts and mysterious rashes on the back burner for a bit. But then Bella moved her hustle to Jessica, who earlier said she'd had a dream about being on BB All-Stars, but it was Hunger Games style, and Nicole. Bella had told Nick she'd tell Nicole about her talk with Jackson and Holly but I don't know if she did or not, and Jack and Tommy told Christie they were considering bringing Cliff and Kat into their circle. Jackson reported Bella's campaign to Jack, Tommy, Analyse and said "Nicole's gotta go, she ain't gonna be on our side." He said Bella told him they could flip the vote with him and Holly added to Nick, Sam, Nicole, and if they decided to do so he should say "blueberry pancakes" as a codeword to let Nicole know the flip was on. He added "that's my safeword."

Get the feeds to watch it all unfold live and/or with flashback!
If you missed what's come before, check the feeds updates in Hamsterwatch Forum by @UGotBronx, and/or the ever-present "previous Hamsterwatch episode" link way up top for my previous recaps.



Day 36 - Wednesday 7/24/19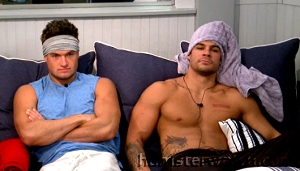 They had some groceries delivered, including a lot of both full and "personal" size watermelons, and frozen bagged vegetables. Jackson was annoyed because he'd been requesting those things for a long time and they finally arrived when he was still a Have-not. Jack was in a kind of bad morning mood as well. He didn't "talk about his Diary Room session" but maybe he was nudged in there about words and behavior, like Jackson was a couple weeks ago, because Jack's "rice comment" pudding hit TMZ. Yesterday he did what definitely seemed like intentional damage control about that. I'm not saying Diary delivers any real news to them, as I don't have a Diary feed, but sometimes things just seem like they seem. I believe this was the first TMZ article of the season - they put out the prior incidents on a gossip subsidiary. Last year they'd posted several articles by this time.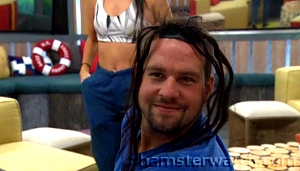 Sam put in a surprise #Deathrace2019 entry overnight when he tried on a sprig of Holly's stunt hair. I expect today will be a lot of pointless and tedious campaigning - pointless as Bella's going - and a lot of retells of those campaigns, plus continued setup and vilification of Christie's next target(s) and the trickle-down effects of that. The vilification method of playing BB is often effective, especially with certain hamsters who believe whatever they hear. But it's difficult to watch, and it creates its own problems out here, especially with certain viewers who believe whatever they hear.. and then bitch to me about it.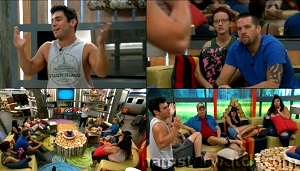 Tommy called a house meeting to assign roles for his group activity for the day: America's Next Top Model, rebranded as BB's Next Top Look. He'd checked with Diary and relayed the go-ahead to do it, but they'd need to be prepared for quick changes if they got called in. The volunteered roles were Tommy as host; Jackson, Nicole, Sam as judges; models Analyse, Christie, Nick, Jessica, Holly, Cliff; and designers Bella, Holly, Jack.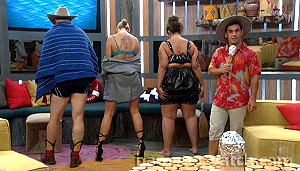 The fashion show parody kicked off at 3.16pm with Tommy doing a relatively professional job hosting and keeping his patter going. They modeled in pairs with results as follows: round 1 Christie beat Analyse, round 2 Jessica beat Holly, Round 3 Cliff and Nick tied, but Cliff won a twerk-off. The three finalists then did a silent interpretative dance, and Jessica was crowned the winner and received her tinfoil-covered iced tea container trophy. See my pics and gifs thread for the highlights.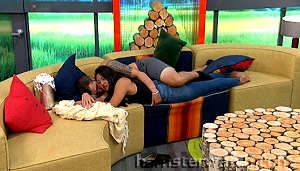 Afterwards they went back to psst-pssting, and Nicole told Christie about Jackson telling her if she didn't pick their side, there'd be five against her going forward, which gave Christie more ammo for her new anti-Jackson campaign. Nicole remained worried about another hinky vote being pinned on her, and Christie said she'd openly accuse Jackson if it happens again. Nick kept working on his anti-Christie campaign, but mostly he was just planning if he wins HOH tomorrow than anything imminent. He and Bella stayed mostly entwined for most of their last day together.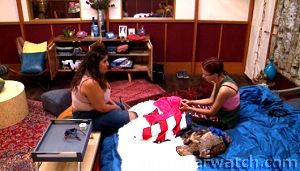 They did a few more rounds of Waffle Wednesday in various combos, for no reason. Nicole and Jessica had a long talk sharing retells and discussing the state of things, but with little clarity. Later Christie talked at Nicole with Jessica and Cliff present, and again said she wouldn't let a hinky vote be pinned on her. Both Sam and Jack discovered there are not only people who watch feeds, but many who report on them and the various things they say and do. Both of them were surprised. Jackson was again noticeably absent from feeds for most of the evening. Christie told Nicole, Jessica, Cliff "he's apparently going through some other stuff that he might be in trouble for, and he was freaking out about it. I don't know what it is" --cut to fishies.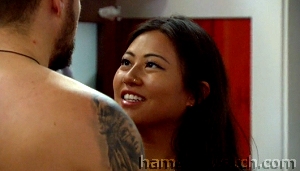 Nick told Bella he "literally" loves her and wants her to be his girlfriend. She squealed. After that Nick told Bella he heard Christie saying he'll be a mess tomorrow after Bella goes, so he reported to Kat and Jackson that he didn't want "personal jabs" anymore, and he also said he'd told Jackson that Christie was saying she was ready to go after him. Jessica and Kat discussed their votes, and Kat said she didn't think she should put herself on the line before a double eviction (they think that will be next week). Kat also said she'd like to win HOH and backdoor Jackson, and she also told her Jackson knew Christie was coming for him.

Bottom line, barring anything major between now and then, there will probably be no blueberry pancakes, and Bella will be shaking Julie's hand tomorrow night.

Get the feeds to watch it all unfold live and/or with flashback!
If you missed what's come before, check the feeds updates in Hamsterwatch Forum by @UGotBronx, and/or the ever-present "previous Hamsterwatch episode" link way up top for my previous recaps.



Ratings - Slop Twist edition
Ratings are Monday's, based on entertainment value
See full bios and social links in cast folder at
Hamsterwatch Forum
Noms count: original/renom


They're getting flak from all over the BB interwebs, and beyond. I don't have anything new to contribute.





Won: Nothing yet
HOH 0 - Veto 0 - Noms 0/0 - HN 0

She gets very mouthy about what she'll do or say to whoever she's mad at at any given time, but she never does or says it. She talks like she's everyone's target but I think most of them forget she's there half the time.





Won: Whacktivity 3 Panic
HOH 1 - Veto 0 - Noms 0/0 - HN 1

People in there and out here think Jack's driving but no, Christie is. And she lets them think (and say) that it's Jack. She's annoying and she's exhausting, but she's driving this game and driving it hard. And well. She's plugged in everywhere, she spreads the stories that become issues and eventual Reasons for nominations and evictions, she follows up with damage control wherever needed, and she's the only one whose name never comes up as a potential nominee.





Won: Revival to Camp Comeback Day 30; Full revival to BB21
HOH 1 - Veto 0 - Noms 2/0 - HN 0

Monday's veto meeting was a huge, hard crash after his tremendous comeback win Thursday, glorious nominations Friday, and his sweet and heartfelt moon landing Saturday. We win some, we lose some.





Won: Nothing yet
HOH 0 - Veto 0 - Noms 0/0 - HN 0

See Analyse, with the addition that she's suddenly worried about boinking on camera. Oops, too late for that. Wait til she finds out her mysterious rash is one of the season's lasting memes, with people either joking or believing she has crabs.. while calling her Beth.





Won: Nothing yet
HOH 0 - Veto 0 - Noms 0/1 - HN 0

If she'd done some homework, she might have been a force to reckon with. But she didn't, so she's blown it a dozen times and it caught up with her a lot earlier than it should have. Her exit will be a loss to the feeds because her mere existence gets them all so riled up.





Won: Whacktivity 2 Chaos
HOH 1 - Veto 0 - Noms 1/0 - HN 0

Just no.





Won: Camp Director + 1st eviction immunity
HOH 0 - Veto 1 - Noms 1/0 - HN 1

See Jack, with the addition that he achieved his stated goal of boinking two girls in one season for a super-tacky claim to fame, and his Have-not food sneaking and weird ducking showers have become the show to watch this week. Hamster justice warriors are screaming and spamming production about it (and updaters, like we can do anything about it). If people put that kind of passion into issues that matter, maybe the world wouldn't be such a mess.





Won: Nothing yet
HOH 0 - Veto 0 - Noms 2/0 - HN 0

When she's not talking about herself, her life, her modeling, her husband, her daughter, her wedding, and other aspects of her life, she's unwittingly dropping all kinds of useful intel on whoever's smart enough to draw it out of her.





Won: Nothing yet
HOH 0 - Veto 1 - Noms 1/0 - HN 1

She's still the only one bringing entertainment to our feeds. Her game seems messy and random, and maybe it is, but maybe she knows what she's doing.





Won: Nothing yet
HOH 1 - Veto 0 - Noms 0/0 - HN 0

Let's review. He came in bashing BB19 Matt and said he's here to play hard and win. Instead he tanked his game, fell in love, and they all want him gone. Cereal, anyone?





Won: Nothing yet
HOH 0 - Veto 0 - Noms 0/1 - HN 0

She's still the most genuine and overall likable one in there. Her game is nebulous and ethereal, and that's okay as she's no longer a target, at least not more than any of her fellow outsiders. BB is ultimately a game of sticking, and she might be able to do that for quite awhile longer.





Won: Fiji trip
HOH 0 - Veto 2 - Noms 0/0 - HN 0

He's a goon, and a wildcard, and a double veto winner, and he had to call a house meeting to announce that he's not a threat. All that should alert them to keep an eye on him, but they usually forget he's there.





Won: Nothing yet
HOH 0 - Veto 0 - Noms 0/0 - HN 1

Christie may be driving the game but Tommy's doing more than his fair share too. His get-around game is stronger than hers, and he doesn't annoy them like she does with her continual yack yack yack. He made a comment about people who often claim honesty often aren't honest at all, which may have been a little seed bomb to get ahead of Christie in the future, since she's forever touting her own honesty and integrity.. cough.





Won: Revival to Camp Comeback Day 23
HOH 0 - Veto 0 - Noms 1/0 - HN 0

She was targeted by Jack and Jackson for no reason we know of, other than naming them as potential nominees in the first days. From then on they were obsessed with her, spreading that obsessive hate to their teamies, and it was so stupid it would have been comical if it weren't so ugly. She kept it classy despite all that, and it's good she had Nicole as a sounding board (and genuine friend) to vent her frustrations. I just wish she and Kat didn't hate each other as they would have made a superb comedy duo.





Won: Whacktivity 1 Nightmare (unused); Revival to Camp Comeback Day 15
HOH 0 - Veto 0 - Noms 0/1 - HN 0

He was a prime example of BB book smarts not necessarily equating to BB street smarts, and he didn't help himself any by being too loud and busy, nor by snitching on alliances to those same alliance members. Analyse accused him of being creepy with her but there was no evidence of that. He's done great things out here and will undoubtedly do more, so it was probably for the best that he got out of that snakepit sooner than later.





Won: First 2 weeks in sequester; Revival to Camp Comeback Day 15
HOH 0 - Veto 0 - Noms 0/0 - HN 0

He got the rawest of BB deals, the first night boot, and then he was locked in a hotel room for two more weeks. He showed a quick and accurate read on everything when he re-entered the habitat and was probably the only one of the Comebackers with potential to do some real damage if he'd won the comp to re-enter the game, but it wasn't to be. His and Kat's flirtation was fun to watch. He could and should have been a contender but instead he got the boot twice, and without any noms or votes to evict.



Lines and Links of the Day
Lines

Kat: I vote to evict Nicole, BUT don't think I don't know what's going on

Jack: None of this situation is what we planned!

Jackson: I'm coming out scrappy

Cliff, pre-noms: If you see a hippo walking on a highwire, that's how I feel right now

Bella to Sam: Are we a FOUTTE?

Holly: I'm not very damn relevant in any storyline, and I haven't been for weeks

Christie to Jack: You all had to get fuckin in showmances, you couldn't fuckin keep your dicks in your pants and you had to get in showmances, sorry but it's true and that's why we're in this position.. I'm sorry, that was mean

Christie to Jack: Am I the best Big Brother player ever?!

Tommy about Bella: The proof is in the pudding
Jack: Uh huh, the rice pudding
Tommy: The slop pudding
Kat: The slop pudding
Christie: The slop pudding

Nick: This is BB19 all over again

Sam: This meeting is adjourned.. THAT WAS A SHIT SHOW!

Analyse: I don't know.. I say I don't know a lot



Links

GET YOUR FEEDS includes a free one-week trial

#BB21 Weekly Bracket in partnership with @TVCO - enter online and/or download their app

Rob Cesternino/RHAP with David, Kemi, Ovi

Julie's extended QA with David, Kemi, Ovi

Use my link for any Amazon Canada shopping, anytime, at no extra cost - just start your shopping trip by clicking Amazon Canada



Tally Items

Season Stats
HOHs in order: Christie; Jack; Nick; Cliff

Veto winners in order: Sam; Sam; Kat; Jackson

Evictions in order: David via twist; Ovi 12-0; Kemi 10-1;

Cliff 6-4



Cast Twitters: @analysetalaver; [Christie TBC]; @cliff_hogg; @davjalex; @MissHollyAllen; [Isabella TBC]; [Jack TBC]; [Jackson TBC]; @jmilagrosplus; @itskathryndunn; @kisseskemi; @N_Maccarone; [Nicole TBC]; @TheOviKabir; [Sam TBC]; @TommyBracco







Linking to any page here is fine. Please don't repost content from this site (or any other) without permission, and don't repost or hotlink images.



THE REAL SHOW IS THE FEEDS

Live air shows in many areas
BB1 thru BB21 plus Celebs and OTT, and many other CBS shows

PROTECT YOUR ONLINE PRIVACY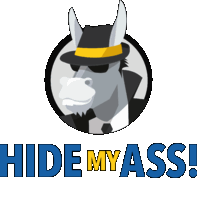 Anonymously secure your internet connection with HMA! Pro VPN - connect to our VPN service to anonymously encrypt your internet activity from prying eyes



HAMSTERWATCH SWAG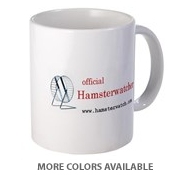 Mugs, shirts, more
Visit my Cafe Press shop






Big Brother 21 SEASON FAQ


Day 1 Move-in was June 19
Day 7 CBS premiere was June 25
Day 8 Feeds began June 26
Day 99 Finale is September 25

Feeds are streamed by CBS, and Flashback is accessible via All Access subscription. Call 888-274-5343 for account help, including cancellation.

*Effective July 10* Air shows on CBS (Global in Canada) are Sundays 8pm, Wednesdays 9pm, eviction Thursdays 9pm.

Big Brother After Dark on Pop TV will be every night midnight to 3am (an hour later on Wednesdays and Thursdays). The aired blocks are live (or recorded earlier the same night, depending on your cable provider).

The CBS app (by CBS Interactive) plays BB air shows and other CBS shows, as well as feeds, or you can use your browser to watch feeds on mobile devices. The same All Access link used to subscribe will lead to the feeds viewing page if you're already signed up.

BB21 finalist prizes are the same: $500k for the winner and (probably still) $50k for 2nd place. Stipend for the others to be confirmed if/when they mention it on feeds.

The habitat has 94 HD cameras (no change) and 113 microphones (no change).

The recorded in-house announcements are the voice of producer Don Wollman. He and Julie Chen are the only staffers who have been there since Big Brother 1.