This site is about the Big Brother Celebrity Edition feeds and contains spoilers! It isn't necessarily thorough: it's what I catch and/or what interests me. It's about watching hamsters: who's doing what and why. Thanks for encouraging my behavior.
Your pal, dingo





CELEB BB DRINKING GAME
Take a swig because we've got celebs in the house - make it champagne!





VIEWER VOTE
Should veto winner get Diamond, VIP, or Spotlight veto?
> VIP, winner can use it twice



USE HMA for BB CANADA FEEDS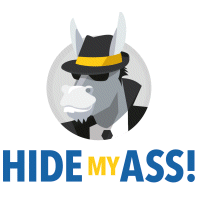 Safe - Secure - Easy to use



CELEB BB CBS AIR SHOWS

All times are Eastern and/or local TV (1 hour earlier for Central)

Weds 2/7 8-9pm Premiere
Thurs 2/8 8-9pm
Fri 2/9 8-10pm Live eviction
Sun 2/11 8-9pm
Mon 2/12 8-9pm Live eviction
Weds 2/14 8-9pm
Fri 2/16 8-10pm Live eviction
Sun 2/18 8-9pm
Mon 2/19 8-9pm Live eviction
Weds 2/21 8-9pm
Fri 2/23 8-10pm Live eviction
Sat 2/24 8-9pm
Sun 2/25 8-10pm Live finale





EAST COAST AIR SHOWS

CanadaTV for Roku $2/month
(Private channel) watch East Coast airing on Global

Online streams: 1 - 2 - 3 - 4
NO DOWNLOADS NEEDED
BEWARE OF CLICKING POPUP ADS OR WARNINGS





QUICK LINKS & BOOKMARKS

-Get the feeds

-Watch the feeds here after you've signed up

-BB Celebrity official site
-Live show tickets

-Feeds updates by @UGotBronx
-My Twitter - my screencaps
-Amazon portal USA or Canada

-Dick at Night with @EvelDick

-BB Viewer by @liquid8d
Requires All Access account

-CBBUS page at Big Brother Wiki
(RIP Attwx.com)

-Hamster Twitters
BB USA - BB Canada

-Advice for cast friends/family

-VPN to watch BB UK and/or to protect your online privacy




Donations via Paypal are gratefully accepted!

Click for weather forecast

Watch Big Brother
Seasons 1 thru 19
plus OTT and Celeb
and tons more CBS content




BIG BROTHER SEASONS

CBS All Access
Seasons 1 thru 19

Amazon DVDs BB4 - BB3

Amazon Instant Video
BB19 - BB18 - BB17
- BB16
- BB15
- BB14
- BB13
- BB12
- BB11
- BB10
- BB9
- BB8
- BB7





BIG BROTHER CELEBRITY EDITION FEEDS EXCLUSIVELY ON CBS ALL ACCESS
BIG BROTHER CELEBRITY EDITION PREMIERES FEBRUARY 7
All Big Brother USA seasons + most CBS shows past or present are included
$5.99 PER MONTH INCLUDING 1 WEEK FREE TRIAL or $9.99 AD FREE
COMPUTER - MOBILE - ROKU - CHROMECAST - APPLE TV - ANDROID TV - FIRE TV - XBOX 1/360 - PS4

>> >> >>

>> >> >> >> >> >>

>>

ANY AMAZON.COM PURCHASE CAN BE MADE THROUGH THESE LINKS - NO EXTRA COST TO YOU
Amazon USA
- Amazon Canada
February 2018
Upcoming Events
Wednesday: Veto comp

Remaining shows:
Wed 2/21 8pm ET/5pm PT - HOH comp, nominations
Fri 2/23 8pm ET/5pm PT 2 hours - Live double eviction
Sat 2/24 8pm ET/5pm PT - Season review?
Sun 2/25 8pm ET/5pm PT 2 hours - Live finale

March 7 - Big Brother Canada 6 premiere


Power Status
Ariadna was Head of Household
James, Shannon were nominated
James won veto/used on self
Shannon, Mark were nominated
Shannon evicted 5-1

Omarosa was Head of Household
Brandi, Ross were nominated
Ross won VIP Veto, used on self
Omarosa nominated Metta, Ross didn't use 2nd veto
Brandi, Metta were nominated
Metta evicted 5-0

Mark is Head of Household
Ariadna, Brandi are nominated


Other News and Weekly Info
Big Brother Canada 6 premieres March 7. Air shows will be Mondays 9pm, Wednesdays 7pm, and eviction Thursdays 8pm. Feeds will probably be geoblocked again: outside Canada, watch feeds and archive air shows with HMA - it's safe, secure, and easy to use. On Roku, you can watch the shows when they air in the East on private channel CanadaTV.

More good news for Canada CEO Les Moonves said on the February 18 CBS earnings call that All Access will open to Canada in June, which would be in time for Canadians to watch BB20 feeds without jumping through hoops. Previously they'd announced "early 2018" but obviously that got delayed. He also said All Access will later be available to Australia, Europe, and beyond.

Real-time feeds updates and air show recaps are at Hamsterwatch Forum by @UGotBronxd, plus cast bios/photos/links and house tour video and pics.

Many thanks to those who have gotten feeds with my links or at Hamsterwatch Forum where @UGotBronxd updates her brains out, and/or shopped Amazon with my portal, and/or made donations!

Alliance charts by @89razorskate20: Day 16 - Day 19 - Day 21

Diary segment tallies by @clamperls: Thru February 19 show

Ratings Watch Wednesday's show placed second with 1.3 rating, 5 share, 5.19 million viewers, behind Olympics on NBC with 4.0/16/17.12, and ahead of The Goldbergs and Speechless reruns on ABC with 0.6/3/3.22 and 0.5/2/2.35, and The Resident rerun on FOX with 0.5/2/2.33.

Friday's two-hour eviction show remained in second with 1.0 rating, 4 share, 4.33 million viewers, behind Olympics on NBC with 3.9/12/16.91, and ahead of A Bug's Life on ABC with 0.6/3/2.4, and two The X-Files reruns on FOX with 0.3/1/1.48 and 0.3/1/1.25.

Sunday's show remained in second with 1.2 rating, 5 share, 4.86 million viewers, behind Olympics on NBC with 3.6/13/15.69, and ahead of Celebrity Family Feud rerun on ABC with 0.7/3/3.44, and The Simpsons and Ghosted reruns on FOX with 0.5/2/1.51 and 0.4/1/1.03.

Monday's live veto & eviction show dropped to third with 1.2 rating, 5 share, 5.09 million viewers, behind Olympics on NBC with 3.7/13/15.71 and The Bachelor on ABC with 1.7/6/6.24, and ahead of Lucifer rerun on FOX with 0.4/2/1.90.

Rating & share: adults 18-49 - Rating: % of all TV households - Share: % of households watching TV



Week 3 - Days 15 thru 21 - February 14 thru 20, 2018
Daily and Noteworthy Events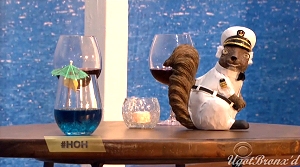 Third cycle
Head of Household: Ariadna
Original noms: James, Shannon
Veto winner/outcome: James/used on self
Final noms: Shannon, Mark
Evicted: Shannon 5-1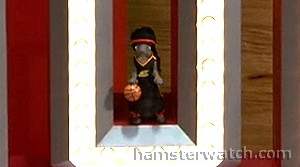 Fourth cycle
Viewer vote: Diamond, VIP, or Spotlight veto? VIP
Head of Household: Omarosa
Original noms: Brandi, Ross
Veto winner/outcome: Ross/used on self/didn't use 2nd VIP
Final noms: Brandi, Metta
Evicted: Metta 5-0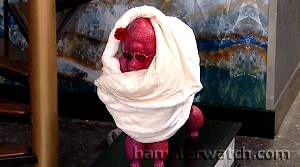 Fifth cycle
Head of Household: Mark
Original noms: Ariana, Brandi
Veto winner/outcome: TBA
Final noms: TBA
Evicted: TBA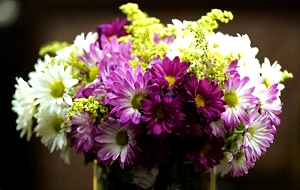 Day 15 Wednesday 2/14

This is pretty much a placeholder until the day's activities start to roll in, but also a sincere wish for a happy Valentine's Day to you folks who return here each day to catch up on the shenanigans in the habitat.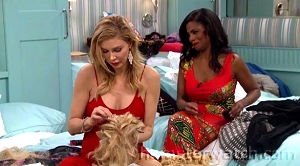 Ariadna, James, Shannon plus Brandi, Omarosa, Ross will play for veto, with Marissa hosting. Shannon and Omarosa shared a hug and apology, and a spat broke out between James and Omarosa over first week flip and various alliances then and since, as Brandi went through her bag of stunt hair, adding a surreal but typical BB touch to it all. Shannon listened at the door, and pretty much everyone was drawn into it before long in various groupings as the fallout spread through the habitat. Shannon cried, Ross and Marissa each ran their get-around damage control rounds, Metta and Mark philosophized, Brandi and Ariadna did their offside analysis, and a good time was had by most, particularly popcorn fans.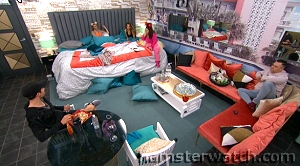 Before the veto comp Brandi, Ross, Ariadna, Marissa pitched to James they'd keep him safe if he stays on the block, if he'll help go after Omarosa next week, and that he can't tell anyone including Mark. Brandi made the actual pitch, and added she'd bury the hatchet with him if he agrees to all that. James made a counter-proposal asking them to renom Omarosa if Shannon takes herself off with veto, and he asked for protection until final five. Brandi said that was iffy as James is closer to Mark than to the four of them. James agreed and Ross recapped the terms: first priority is to get Shannon out, they'd use veto on James if they win it, and they'd work together to get Omarosa out next. Ross suggested Brandi and James keep up their spat for appearance's sake, and both happily agreed. After James left, they said they wouldn't use veto on James but they'd assure him he's safe regardless, and Brandi said if Shannon wins veto, James is going home. They also amended the preferred boot order they told James of Shannon, Omarosa, Mark, Metta to Shannon, Omarosa, Metta, Mark.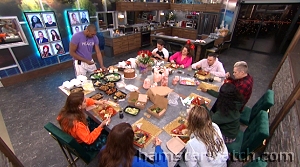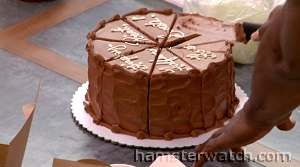 Feeds came back almost 7.5 hours later around 11pm, and James had won the veto. It was the Black Box comp, individually timed runs, with honey, confetti, some person inside in the dark, and assorted other hazards. They talked about waiting around for 5 or 6 hours so it probably took most of the blockage time, including resets between runs. Ariadna told Brandi she'd like to put up Mark as renom as he'd volunteered (again), and Ross and Marissa told him later he'd be safe if does go up, but of course that could change when Renom Roulette rounds start up. They had a combo Valentine/halfway party with sushi, won tons, vegan cupcakes, a cake that said "Happy Halfway Point, House Guests", fortune cookies, roses, and booze, and they all ate together around the big table to eat.

Get the feeds - there's still a lot of game to play! Catch up what you missed on my previous page, as well as Hamsterwatch Forum where you'll find all the convos and a ton of screencaps thanks to @UGotBronxd.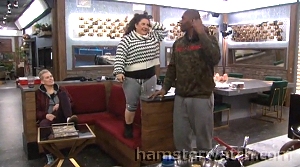 Day 16 Thursday 2/15

The plan to put up Mark in James's place and evict Shannon stayed pretty solid, but Renom Roulette talks kicked in anyway, like they do, along with double eviction plans. They expect a double Friday night since it's two hours, but both Julie and the show narrator said Friday will have an eviction (singular). Everyone in there and out here is wondering how and when they'll eliminate enough of them to wrap this thing up February 25. The good news is Friday will have an endurance comp on the feeds! Sign up now to watch it play out live.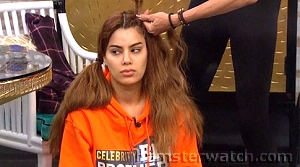 Mark told James that Shannon hadn't approached him about his vote, but she was making a pitch to Ariadna and Brandi at the same moment. She told them everyone else wants to split them up and the survivor would have no one, but she'd work with them if she stays. Ross swore on Salvador to the HOH group that he doesn't have any deals with James and Mark, and Marissa said Omarosa shouldn't go up as renom because she'd stir things up enough that they'd vote her out, rather than Shannon.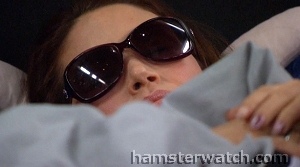 James used his veto on himself and Ariadna put up Mark in his place as planned. Shannon told James to break up pairs, wished him good luck in the game, and said she's going to Starbucks (she went back to her bed, for now). Ross told Ari that was easier than if she'd put up Omarosa because she'd cause fallout, and he said Shannon will be dropping atomic bombs until the vote. James told Ross he didn't have a final two in their final five alliance so knew he'd be at the bottom when numbers thin, and he kind of hinted for an F2 with Ross, but Ross side-stepped that. Later Ross told Brandi and Marissa about the chat and James's doubts about their five (because James had said "can we talk game?" in front of Shannon), but he left out James hinting for F2 with Ross.

It was a VERY quiet afternoon with lots of napping and cleaning. Snapchat goggles came out for a bit, Ross gave Brandi's squash a makeover, various hamsters bashed Shannon behind her back as she called them "dooces - you can figure out what I mean" behind theirs, and Marissa talked throughout.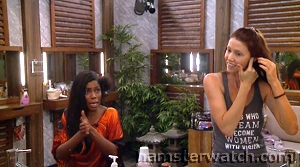 They had a delivery of candy, marshmallows, and wine just before After Dark, so that livened things up a little. James and Brandi had a bonding-type convo about cars, and Omarosa and Shannon compared some notes, including Shannon telling Omarosa to go after Ross and Marissa. Brandi, who'd expressed some remorse to Ariadna last night about booting Shannon, told Shannon she felt bad, and "that's the game, we're here to lie to people's faces, be the best that we could be, and be shady as fuck."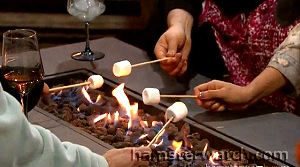 They discovered a dead fishie at feeding time and an attempt to scoop it out led instead to the little corpse drifting down from the top of the tank slowly to the bottom, where it was eaten. They finally got the backyard corridor, and most of them chatted and roasted marshmallows. Most of them turned in early but Shannon and Metta had a long convo that was part pity party on her part and part peptalk on his part. Shannon also told him she won't vote for Ariadna, Brandi, Marissa or Ross at the end (unless two of them are finalists and she has to), and she shared a very lot of info with him about the first week events.

Get the feeds - there's still a lot of game to play! Catch up what you missed on my previous page, as well as Hamsterwatch Forum where you'll find all the convos and a ton of screencaps thanks to @UGotBronxd.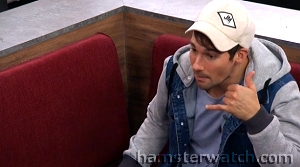 Day 17 Friday 2/16

Metta told James and Mark about his long convo with Shannon and some of the intel she'd dropped, and that they'd done a Chilltown-esque dual Diary. James said his assistant had showed him a Dr Will/Boogie phone call pre-season, and he recreated it for Mark.

Most of them are expecting a double eviction tonight, but we still don't know what's coming other than a viewer vote for something is opening and, importantly, that they'll be doing an endurance HOH comp on the feeds! Be sure to sign up and get set up before that starts approx 7pm Pacific/9pm Eastern.

The two hour show wasn't much different than an ordinary eviction show, though there were a lot more gametalk scenes in the edit, and Julie showed them each a video message from home. Shannon was evicted 5-1, with Brandi the dissenting vote. The viewer vote opened asking if the next veto should be Diamond (veto winner selects renom if veto used), VIP (if winner uses veto, he or she can use it a second time after renom is named), or Spotlight (veto winner must use it).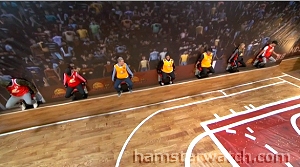 The HOH comp was Courtside Seats, a basketball theme wall comp in BB Arena, with BLINDSIDERS team jerseys and their birthdays as their numbers. They had little seats to sit and hang on to, with various things being occasionally thrown at them: popcorn, "player sweat", t-shirts, and balls. The wall tilted a bit at first, then more as it went on. The first three drops will go on slop. It began a little before 7pm BBT, with drop times as follows:

7.29pm Metta
7.36pm Ross
8.00pm Mark
8.02pm Marissa
8.25pm Brandi
8.28pm James - jumped, after getting a safety deal from Omarosa
Omarosa won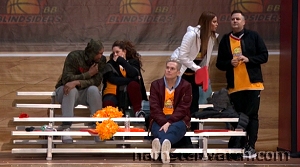 There was a lot of psst-pssting in the peanut gallery as the drops joined Ariadna one by one. Ari said Brandi had told her she was going to cast a hinky vote, and Ari said that upset her as it should have been a team decision. Metta said Brandi asked him to take the blame/credit for the vote, and Ariadna told him he shouldn't. Brandi later apologized for her vote to Ariadna, Ross, Metta, Marissa, saying she felt bad for Shannon and she only decided to do it as she sat down to vote. A bit later Ross told Mark that Brandi was the vote to evict him. More will come out on this but as of now we don't know if the Brandi/Ariadna duo will separate over this, or if they planned it to appear that way so they aren't targeted as a pair.

Ross made slop biscuits ("sliscuits") that everyone loved and he shared a lot of ideas for more slop concoctions to make, so the slop guys should be fine for a couple days. Ariadna said she'll go on slop with them voluntarily.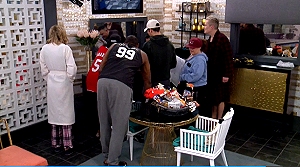 Omarosa got her room a little after midnight BBT, the first time the HOH reveal was on feeds this season. Her letter was from husband John and her music was Chuck Brown.

More did come out from the hinky vote, and it didn't seem like it was a plot between Ari and Brandi after all. Brandi got emotional explaining to various groups that she knew her vote wouldn't change the outcome, and she just felt bad for Shannon. She was also sad that she didn't get to see her boys in the home videos. She'd previously told Ariadna she didn't want pics of them if she won HOH because it'd be too hard and emotional, but it was difficult when everyone else saw their families and she got Andy Cohen. (Apparently Brandi's ex doesn't want the boys to be on TV.) Brandi and Ariadna separated to mingle with others, after being mostly inseparable most of the season. They finally caught up with each other late, with Brandi saying she expects to be a target this cycle and she didn't think Ariadna would be.

Get the feeds - there's still a lot of game to play! Catch up what you missed on my previous page, as well as Hamsterwatch Forum where you'll find all the convos and a ton of screencaps thanks to @UGotBronxd.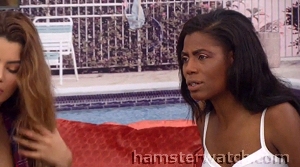 Day 18 Saturday 2/17

Omarosa told Marissa she'd probably put up Ross and Mark, and asked her not to tell Ross. That may have been a test to see if Marissa or the other girls would warn Ross, and/or setting up Marissa as a backdoor to avenge Shannon (and get her jury vote). Later Marissa didn't outright tell Ross, but she gave him enough puzzle pieces that he probably picked it up. Brandi and Marissa went through their bags of stunt hair, working on various arrangements, and Marissa helped sort out the mess that Brandi's currently installed stunt hair had become. Metta spent most of the day sleeping, Ariadna spent most of the day in HOH, as others came and went, and Marissa spent most of the day talking. Ross and Brandi discussed nomination scenarios, with both saying they thought they were Omarosa's target.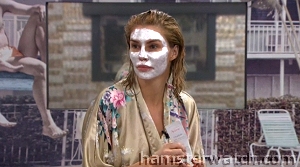 They were given a heads up that veto comp and meeting will be live on Monday's show, and that "the POV will change the game as they know it" and that it's a viewer vote - so much for a total blindside. But they won't know how the veto twist will play out until then, and neither will we. They did some speculation of course. Omarosa said she might switch to Mark and Brandi for her original noms after they got the news, but then she went back to Ross and Mark "and see what happens with the twist."

Ross's "sliscuits" were a huge hit with James and the slop guys, and Mark said they taste like churros. Mark liked Ross's next recipe even more. Omarosa talked about reviving the girlpower agenda, but we have no way of knowing whether that's genuine, game, or lip service as she doesn't have a confidante in there, and of course she's well versed in spin tactics. There was some talk about putting up Metta as renom when the twist news came out, as there usually is.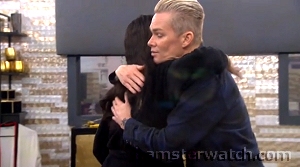 HOLD THE PRESSES Mark told Omarosa he'd appreciate not being nominated, and she said she didn't want to put him up. She asked him for safety if he wins next HOH, and for his support to evict Ross if she puts up Ross with Brandi. Mark agreed and they sealed it with a handshake and a hug. Omarosa said she'd put up Marissa for renom if needed, and she hoped Brandi has a meltdown when she puts her on the block. Then Omarosa went to Metta and asked if he'd vote out Ross if she puts him up with Brandi, and Metta agreed.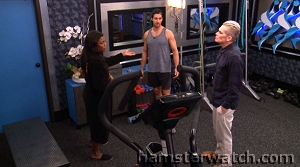 Next Omarosa met with James, who told her about the Ross/Marissa/Shannon F4 deal, and also that he'd orchestrated the house flip (wut). Omarosa asked him if they could extend their deal of last night, and would James help evict Ross. James said he had to think about it, and that he'd need more people than just her on his side, especially for finals vote. She gave him her word she won't vote to evict him if veto twist lands him on the block, if he'll help boot Ross. James asked who her ideal final four would be, and she said the two of them plus Mark and Metta. She then presented that to Mark and the three of them talked it through. James said he'd rather Brandi go before Ross "but this does work," and they agreed not to let Metta know he's part of their formal foursome since he's too erratic.

Omarosa nominated Brandi and Ross, and feeds came back to hugs and accusations. Apparently Omarosa called out Ross on his many deals in her speech, and possibly Brandi as well. Most of them began a pool tournament on the skybridge, with Ross and Brandi noticeably trying to appear calm and "normal". Ariadna and Marissa figured out that Mark must have made a deal with Omarosa, and they suspected James was in on it too. Marissa took that to Ross, who said he'll follow up with Mark. Ross made olive tapenade and slop pizza ("slizza"), which were also big hits with the sloppers and non-sloppers alike.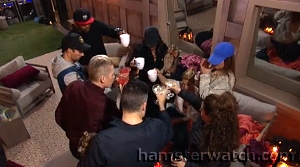 After Dark had a Twitter vote to send them wine or margaritas, and the margaritas arrived around 10.40pm BBT, along with chips and salsa, POP mugs, and two fresh stuffed Orwells. The sloppers were given a "short reprieve" to partake, but they only had one pre-made drink each. They did their fake Twitter QA game and amid the fluff, Brandi asked James if he'd made a deal with Omarosa and Mark. James said he'd made a deal with everyone (a dig at Ross), and Mark said thanks for letting him know about the alliance he didn't know he was in. Then they split into two groups: James and Omarosa griping about Brandi plus a bit from Mark, and Metta sitting in; and Brandi goofing with Ariadna and Ross.

Get the feeds - there's still a lot of game to play! Catch up what you missed on my previous page, as well as Hamsterwatch Forum where you'll find all the convos and a ton of screencaps thanks to @UGotBronxd.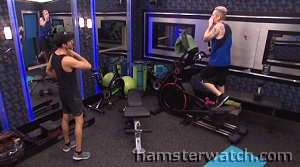 Day 19 Sunday 2/18

BB let them sleep late, til around 10.30am, a rarity this season and they appreciated it. James and Mark debated their votes and thought it would be better for them if Brandi goes instead of Ross, if noms stay the same. Mark said he wasn't afraid of going against Omarosa, but he hasn't been as big a target as James has been. James suggested they propose yet another final four, with Ross and Marissa. Earlier James told him there were only two people who are playing the game, meaning himself and Mark, but Mark had to ask who he meant. Later they pitched the idea to Ross who agreed, but when James pitched it to Marissa she said she'd have to think about it.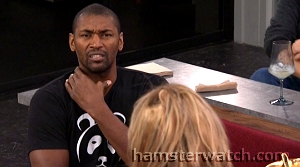 Ariadna and Marissa did silver face masks, and several of them attempted to repair Brandi's stunt hair situation. Ariadna did okay with it, and then Ross fixed it up to look pretty good. He also installed some blonde bits on Ariadna, which she loved. Marissa took a turn on Brandi's hair later and while Metta couldn't see this angle from where he was, his expression pretty much sums up the "finished" product.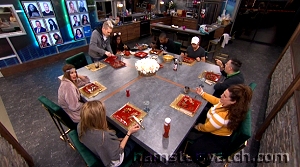 Slop was ended for Mark, Ross, Metta at 7pm BBT, and they dove into snacks before all eight sat down to family dinner that several of them had prepared earlier. Veto speculation, voting scenarios and plans for the next cycle convos happened here and there, but overall it was another very, very quiet day with most of them getting along nicely. They had a booze delivery with dinner but it didn't liven up the evening very much. Metta let some extra random one-liners fly, and otherwise they hung out, laughed, got along, and did an impromptu sound effects orchestra. Omarosa told Ariadna she needs to cut a deal with the guys, and later the two of them and Metta agreed to work together, targeting Ross first and then James.

Get the feeds - there's still a lot of game to play! Catch up what you missed on my previous page, as well as Hamsterwatch Forum where you'll find all the convos and a ton of screencaps thanks to @UGotBronxd.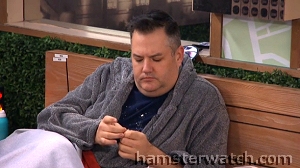 Day 20 Monday 2/19

Metta began making noise again about wanting to go home tonight as he made his morning cereal rounds. That put all of them into more of a frenzy than they already were about the various veto scenarios they've speculated about, and doubly so for Ross when Metta told him he'd vote to evict him tonight, if noms stay the same. They all proceeded to scurry, scramble, and talk deals but between the unknown veto and unknown Metta, they didn't really get anywhere. Omarosa asked Marissa what her son Zev would want her to do, and Marissa said he'd probably tell her to vote out Ross. Omarosa then asked Marissa if she'd rather disappoint Ross or her son.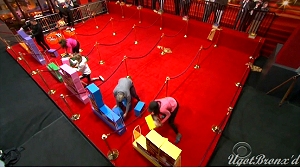 After the recap and highlights, Julie announced the veto players would be Omarosa, Ross, Brandi plus Mark, Metta, Marissa, and that VIP Veto had won the vote. That option said if veto winner used veto and a renom went up, veto winner could then use veto a second time. The veto comp was Invitation Only: they had to run puzzle pieces down a velvet-roped red carpet and assemble them into a photo puzzle. Ross won, although the show's director was apparently expecting Omarosa as the camera was on her nearing completion when Julie announced Ross. He used it on himself, Omarosa put up Metta in his place (by his request), and Ross didn't use his VIP veto a second time. Metta was evicted unanimously (by his request), and then there were seven.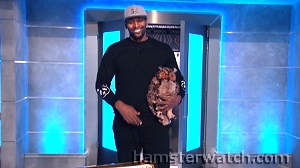 Metta took one of the Orwells out the door with him, Julie announced a double eviction for Friday, and that they'd bring five to finale on Sunday. Also, it should be noted when Metta made his latest "evict me" rounds earlier today, he asked that nobody nominate Omarosa in the next cycle. Time will tell if anything comes from that. HOH comp began around 7pm BBT and once again feeds weren't back in time for After Dark, so they reran Sunday's and Monday's CBS shows. Hamsters were given athletic body suits for their comp, presumably for warmth.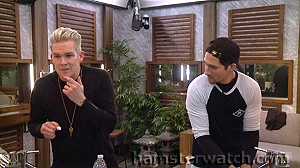 Feeds came back a little before 11pm BBT and Mark had the HOH key around his neck. James said he/they did it by "teamwork" and said it was "weak" that Brandi "gave up." He also said "it's kind of a fun FU to the girls" if he sleeps upstairs, as Mark offered. It was hard to figure out what type of comp it was: balance beams, crawling on bellies, and wobbly platforms were mentioned. Mark told Ross he'll probably put up Brandi and Ariadna, with Omarosa as renom as needed.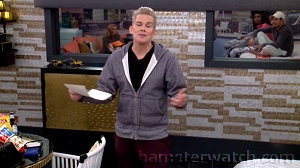 Brandi asked Mark if he and James planned for James to give him this HOH so he could play in the next HOH (apparently James finished first but didn't push his button). Mark said he hadn't thought of that, but there was no plan. James wasn't there and the others said they thought it was just James being nice, but Mark and Ross each said maybe they were being naive. Retells will ensue.

Mark finally got his room around 1.30am, with Bob Marley music and a lovely letter from wife Carin. He said he'd get through it without crying and he did, but with a pause or two to compose himself.

Get the feeds - there's still a lot of game to play! Catch up what you missed on my previous page, as well as Hamsterwatch Forum where you'll find all the convos and a ton of screencaps thanks to @UGotBronxd.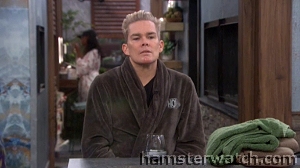 Day 21 Tuesday 2/20

The day began like most others, with Mark in place on his perch at the kitchen counter, but in a new robe now. James and Ariadna had a long convo about the game. Later James told Mark about it, adding that he'd wanted to tell her she'd be going up but she wasn't the target, but he didn't. Marissa kept talking and talking, including a comment that she was happy "James's coffee and a nice piece of ass" were in there. Hearing a retell, James replied "hashtag me too, okay? Hashtag men too," Ross said "that's what she said" and Omarosa added from down the hall "that was totally 'me too'". Mark was still planning to put up Ariadna and Brandi, with Brandi the target, and Omarosa as renom if needed. I'm still hoping for a Brandi vs James showdown at some point and I hope they don't disappoint.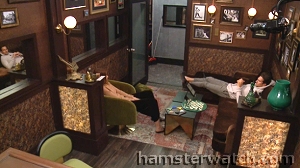 Mark nominated Brandi and Ariadna, as planned. Maybe we'll get some fallout or drama as a result, maybe we won't. There wasn't any immediately: both nominees took it well and weren't surprised. They realized Ross may have known ahead of time (he did), and that their own F4 with him and Marissa may have been replaced. Ross gave them both some post-noms encouragement, like he does, and Ariadna chatted with James in the Club Fifi lounge. James told her she should be safe, and Omarosa would be renom if needed. Meanwhile Brandi made some comments about people not being their own person to Mark and Omarosa. She was talking Real Housewives but it was a nice zing to Mark just the same. She also said she hoped Ari wouldn't think she's on the block because she's Brandi's friend.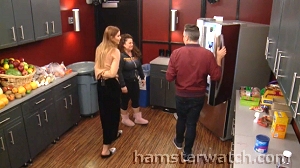 Marissa told Ariadna she'd "overheard" Mark and James say Brandi's the target, and Ari said James had told her that too. Ariadna told Ross that Brandi had said Ross told her "you don't want to be next to a beauty queen [at the end] because you'll lose" and she asked if he had indeed said that. Ari had also asked James about that earlier, but he didn't know anything about it. Ross told her he hadn't said that, he thinks she can win, and it hurt his feelings that Brandi's saying that. (I didn't hear it but apparently Ross did say something like that to Brandi the other day.)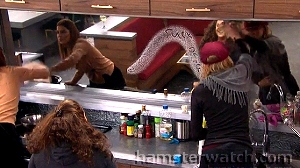 They drew players for tomorrow's veto comp, and all of them will play except Ross. Brandi made tacos for everyone and Ariadna did the dishes instead of Mark, but she didn't know they don't have a garbage disposal so the girls had to dig the plate scrapings out of the sink. Ariadna and Brandi cleaned the kitchen, and Brandi (who'd gotten some wine) finger-wrote FUCK OFF OMAROSA in glass cleaner. Big Brother gave her a "stop that."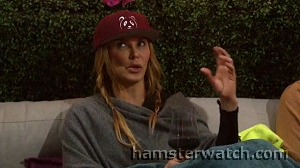 Omarosa had made some digs to Brandi about their comparative educations earlier and Brandi made a few snipes about that. They had another wine delivery and when the back corridor opened they all went out for marshmallows. Brandi started up a couple games, one of which ended with her shredding the game prop rose into the firepit. She tried charades, and when she dared everyone to say something bad about Julie is when Ross, Omarosa, Marissa left to go inside.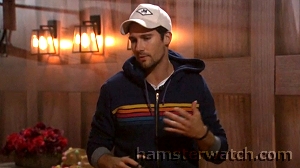 Brandi then told James she knew she wouldn't get his vote but she did save him twice. He said "Did you really? You could have saved me from a lot more, just socially, heh heh" and they were off. She said she didn't like him when he's super-cocky, he said he hasn't been, but he's excited to send her home - Flashback 2/20 10.56pm BBT. James got up and went inside, where he retold at 100 mph, and then went to Diary. Mark told Ross he's tired of this every night, Brandi's got to go, and James doesn't deserve it, but he's young and doesn't know how to handle it. James later made the rounds and repeated his word-for-word passive-aggressive retells to each of them. Brandi had a further mini spat with Marissa later because she didn't stand up for her and for commiserating with James, which Marissa later retold as Brandi yelling at her for merely listening to James complain.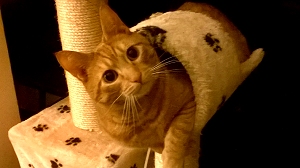 Off topic, some sad news today, @UGotBronxd lost her able assistant Chevy. He was a noble and honorary member of the microscopic Hamsterwatch staff, and a good kitty. He died painlessly but far too young, and he will be very missed. Sincere condolences and thanks to Michele for sharing Chevy's adventures with her Twitter followers over the years.

Get the feeds - there's still a lot of game to play! Catch up what you missed on my previous page, as well as Hamsterwatch Forum where you'll find all the convos and a ton of screencaps thanks to @UGotBronxd.



Ratings - Stop Talking, Marissa edition
Ratings are Monday's, based on entertainment value
VTE = Voted to evict




The accelerated schedule is good in many ways and while more frequent feeds blocks for comps were expected, they remain annoying. OTT proved they could put comps on the feeds but we've only had one so far. There have been a lot of complaints about Keshia and Metta basically quitting, and that's a problem. Some celebs on the reality TV circuit probably just show up for the paycheck (and others don't need it), but I guess it's not that much different than summer campers who lay around til they get the bonus jury bucks.

Taking five to finale is a curious decision. We normally have one juror, third place, who doesn't get a crack at background info at jury house and deliberation, with fourth place not having much time to decompress and assess. Letting the celebs go home to catch up pre-BB3 style, if they want to, is interesting but potentially problematic. Three of nine voters will be in that evicted-on-finale position, plus two more going out just a couple days earlier. Yes, they often know who they'll vote for regardless of information they pick up after eviction and yes, BB is unfair by definition, but it just seems weird to have half the jury being able to catch up the air shows, Diaries, and feeds/sites/social media if they choose, not to mention hearsay from fans with agendas, while the other half will be voting more or less blind. Total opposite ends of the info spectrum.





Won: 48 hours as a baby
HOH 1 - Veto 0 - Noms 1

#1 No vote (HOH)
#2 VTE Metta
#3 NOMINATED
She's playing a good game and doing well, but she doesn't bring a lot to the feeds other than putting on makeup. She was more fun goofing with Brandi before that hinky vote gone wrong, and I hope she can get back to that.





Won: Nothing yet
HOH 0 - Veto 0 - Noms 2

#1 VTE Mark
#2 No vote (nominee)
#3 NOMINATED
See Ariadna. I'm still holding out hope for a Brandi smackdown or two, but it turns out she's here to play the game of BB, and not make Real Housewives memes. She still pops some good lines most days and I'm expecting a lot more before we're done.





Won: 48 hours as a baby
HOH 0 - Veto 1 - Noms 2

#1 Won veto/used on self
#1 VTE Shannon
#2 VTE Metta
Julie and the producers talk a lot about 'love to hate' in regular seasons. I didn't really get it before, and now I do.





Won: Nothing yet
HOH 0 - Veto 1 - Noms 0

#1 VTE Shannon
#2 VTE Metta
We've had some chatterboxes before but never like this. She can be fun and funny, and generally likeable, but all that gets buried under the continual verbal diarrhea. UNCLE!





Won: 48 hours slop
HOH 1 - Veto 0 - Noms 1

#1 No vote (nominee)
#2 VTE Metta
#3 HEAD OF HOUSEHOLD
Now that he's won an HOH he's not a total do-nothing summer camper, but he and his bananas are still reminiscent of Matt and his cereal.





Won: 1st eviction immunity
HOH 1 - Veto 0 - Noms 1

#1 VTE Shannon
#2 No vote (HOH)
I didn't think I'd like her but she's pretty much kept the second half of this short season from being a snooze, especially with the regularly broken momentum due to long feeds blocks. She's snarky, controlling, and surprisingly human, at least when she isn't making digs and planting seed bombs, or over-dramatizing ceremonies or Diaries, but those are so over the top they're funny in their own way. It's tiresome having the headlines about her DC doings overshadow the fact that this is BB, but that's why they brought her in and they're getting their money's worth.





Won: 48 hours slop; VIP veto
HOH 1 - Veto 1 - Noms 1

#1 VTE Shannon
#2 Won veto/used on self
Some are getting tired of him but I blame most of that on the company he keeps. Bottom line, he was a certain goner and he won a veto when he had to, and he's kept his head above water somehow even though he over-allied himself like a maniac, and they all know it.





Won: 48 hours slop
HOH 0 - Veto 0 - Noms 1

#1 VTE Shannon
#2 EVICTED 5-0
He didn't know the show and didn't watch his sequester DVDs, and he voted wrong at the first eviction. He asked to go home several times including at least once with anger and cussing (not on feeds) and apparently he actually escaped twice, and he finally went out unanimously because he asked to. But he caught on and got into the game at times, and was considered to be in several alliances, although some of them didn't let him know he was one of their numbers as he was so erratic. But for Team Fun Feeds he was a delightful addition to this cast, coming up with funny one-liners and random of all kinds, along with topical and serious convos, especially at night. Genuine, kind, funny, and unpredictable, I'm really pleased he was part of this season.





Won: Nothing
HOH

1

0 - Veto 1 - Noms 1

EVICTED 5-1
Her alliance with Omarosa was promising and they could have wiped the floor with the rest of them, but she won the first endurance and first veto with RESPONSIBILITIES, and those put a big bull's eye on her back. She and Omarosa split and Shannon started double-dipping way too soon. She didn't know she'd have gone sooner, but for Keshia's milk supply, and she spent her last few days miserable rather than acknowledging she got got. She's followed me for years (though maybe not as actively as Ross) and that's almost as big a curse as entering first. It was interesting hearing about her life in South Africa and her Animal Avengers project, and I'm glad she got the chance to play the game.





Won: HOH takeover
HOH 1 - Veto 0 - Noms 1

She got first week HOH via twist but multiple agendas by others effectively took it out of her hands. She bonded with Omarosa in what might be a lasting friendship, but that tie helped break up the first-day Omarosa/Shannon alliance, which affected everything else. She was accused of a deal with Chuck, which she denied. (She did agree to break a tie in his favor but since she never expected a tie, she may have forgotten.) She was our first actively lactating mother, and also the first to beg to be voted out due to a milk shortage.





Won: Nothing
HOH 0 - Veto 0 - Noms 1

We only saw him on feeds for two nights, but at least that's better than a pre-feeds boot. He seemed like a nice guy and well-liked by his roomies. He was new to BB and unaware of the maneuvering happening around him, until he fell victim to it. He was a good sport and let the girls play cosmetics games with him, and he did some campaigning for himself rather than laying down to die like many non-fan first boots.






Lines and Links of the Day
Lines

Wednesday
Ross, on why they haven't had political debates with Omarosa: There's a reason there's an elephant in the room, because we're living in the circus

Brandi: We're getting punished with the red wine?

Omarosa: Does anyone want to have a cake fight?

Thursday
Marissa, re multiple alliances: I'm not Ross, I'm my own person

Omarosa: Brandi's got the only showmance in the house, a squashmance

Ross about "Naked and Afraid": I'm afraid to be naked, is there a show like that?

Shannon to James: Good fucking luck in here, I'm going to Starbucks

Brandi to Shannon: That's the game: we're here to lie to people's faces, be the best that we could be, and be shady as fuck

Friday
Brandi: It's a game you guys, why are you acting like this? Fuck it, it's a fucking game
Ariadna: You're taking things too personal, you voted with your feelings

James: You think Trump is watching this?
Omarosa: [shrug]
Ross: What if he tweets congrats to you for winning HOH
[all erupt in laughter]

Metta about slop: It's not bad, but sometimes you want a cookie

James: We have it real cushy compared to the real show

Saturday
James: These slop biscuits are damn good
Mark: Tastes like churros

Mark: It's kind of amazing to have a front row seat to the Omarosa show

Mark: I'm kind of like Metta in this game, except I know how the game's played

Omarosa re Brandi: I'll just put her on the block and hope she has a meltdown

Brandi to Marissa: Can you drink with me tonight because I don't want to drink alone

Sunday
James, about watching BB: The douchier ones are often funnier in the DR, I will say

James to Ross about the latest F4 plan: This needs to be an actual no-fuck-around deal

Metta: For POP TV, it should have music, right? It's pop

Metta: When do you stop mooning the camera, what age?

Metta: Do you think if we look, we could find a bag of marijuana?

Omarosa to Marissa: What's the longest you've gone without talking in this house?

Monday
Brandi nominee speech: I just want to say thank you Metta for wanting to go home

Mark: You're the veto king!
Ross: That's my only veto I won

Marissa about Omarosa: Just shut the noise down

Brandi: I want a man with a bigger dick than me

@JessicaNFrey: Tomorrow's headline: Omarosa eliminated World Peace

Tuesday
Marissa: You guys want to see the three most comedic things in the storage room? sunblock, sunblock, afterburn
Mark: That's insulting
Omarosa: Big Brother is trolling us

Brandi: Don't fuck with my wine

James: Poor Pop, I wonder if they've lost viewers
Mark: That's not our fault

James to Brandi: If you say it, it must be true, just like Omarosa



Links

GET YOUR FEEDS

Use my links for any Amazon shopping, anytime - just start your shopping trip by clicking Amazon USA or Amazon Canada

Books by our Big Brother celebrities
Man Up by Ross Mathews
Drinking and Tweeting by Brandi Glanville
Drinking and Dating by Brandi Glanville
No Malice: My Life in Basketball by Metta World Peace
Metta: Trip to the African Heritage Museum by Metta World Peace
Metta: The Panda's Friend by Metta World Peace
Metta's Fatherhood Stories by Metta World Peace
Metta's World Peace and Love Stories by Metta World Peace
Metta's Bedtime Stores by Metta World Peace

Hamsterwatch Forum house tour & pics, plus cast pics, bios, social media, interviews, plus real-time feeds updates all season

Twitter thread with some fixes for common sign-up problems



BB Celeb Tally Items

BB Celeb Season Stats
HOHs in order:

Shannon

Keshia; Ross; Ariadna; Omarosa; Mark

Veto winners in order: Shannon; Marissa; James; Ross

Evictions in order: Chuck 7-1; Keshia 7-0; Shannon 5-1; Metta 5-0

Cast Twitters: @gutierrezary, @BrandiGlanville, @ChuckLiddell, @jamesmaslow, @peachespulliam, @MarissaJWinokur, @mark_mcgrath, @MettaWorldPeace, @OMAROSA, @helloross, @ShannonElizab







Linking to any page here is fine. Please don't repost content from this site (or any other) without permission, and don't repost or hotlink images.



THE REAL SHOW IS THE FEEDS

NEXT-DAY AIR SHOWS
Live air shows in most areas
BB1 thru BB19, plus OTT and Celeb, and many other CBS shows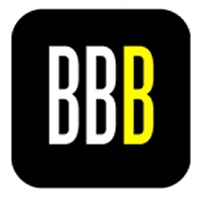 BIG BROTHER BUDDY
Get push notifications for all the big feeds events - iOS or Android



Protect your online privacy with HMA
Watch Big Brother Canada, Celebrity BB UK, and other non-USA shows


HAMSTERWATCH SWAG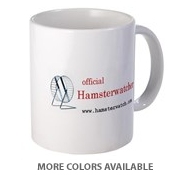 Mugs, shirts, more
Visit my Cafe Press shop




BIG BROTHER CELEB SEASON FAQ
Day 1 Move-in was January 31
Day 8 CBS premiere was February 7
Day 8 Feeds began February 7
Day 26 Finale is February 25

Ariadna was first to enter

Feeds are streamed by CBS, and Flashback is accessible via All Access subscription. Call 888-274-5343 for account help, including cancellation.

Multiple shows per week will air on CBS (Global in Canada).

Big Brother After Dark on Pop TV is every night midnight to 3am. The aired blocks are live (or recorded earlier the same night, depending on your cable provider).

The CBS app (by CBS Interactive) plays BB air shows and other CBS shows, as well as feeds, or you can use your browser to watch feeds on mobile devices. The same All Access link used to subscribe will lead to the feeds viewing page if you're already signed up.

Evictees will go home rather than sequester, and all will return for the finale to vote for the winner.

The winner will get $250k, second place will get $50k, and we'll probably never know how much the others got for showing up, but we learned they get a $5k bonus for each eviction they survive, up to five.

The habitat has 94 HD cameras (up 7) and over 100 microphones.

The recorded in-house announcements are the voice of producer Don Wollman. He and Julie Chen are the only staffers who have been there since Big Brother 1.