This site is about the Big Brother 18 feeds and contains spoilers! It isn't necessarily thorough: it's what I catch and/or what interests me. It's about watching hamsters: who's doing what and why. Thanks for encouraging my behavior.
Your pal, dingo







VIEWER FAVORITE VOTE


Who should win $25k AFP prize?
All 16 are eligible
Vote at CBS.com
Hamsterwatch endorses Victor
Voting closes Sept 19 10am PT







VIEWER CARE PACKAGE VOTE


Who should get a prize or power? One win per hamster
Vote at CBS.com

#1 Never-not Pass
> Natalie
#2 Nullify two votes
> James
#3 1 week immunity + costume
> Nicole
#4 Co-HOH select 1 nominee
> Michelle
#5 $5k to bribe someone
> Corey - given to Victor







COREY COUNTDOWN


[42] nights without a sleepwalking incident
See Extracurricular Tally for sleepwalking events







BB18 DRINKING GAME


Due to the lack of booze deliveries, you're on your own for now




Watch Australian Survivor
Or BBUK live or archive shows
Or any geoblocked content





QUICK LINKS & BOOKMARKS



-Get the feeds
-Watch the feeds
-Feeds updates by @UGotBronx
-My Twitter - my screencaps
-Amazon portal USA or Canada
purchases help me a bit

-BB Viewer by @liquid8d
Requires All Access

-Hamster Twitters
BB USA - BB Canada

-On The Block with McCrae Olson

-Attwx.com all seasons by @attwx
-Dick at Night with @EvelDick
-Latest alliance chart by @89razorskate20
-Diary tally by @clamperls

-VPN to watch BBUK and other international Big Brother shows

-Big Brother 18 official site
-Live show tickets

-Feeds devices & system req
-Shop Roku or Chromecast







EAST COAST STREAMS



The CanadaTV Roku channel is no longer working

NO DOWNLOADS NEEDED:
1 - 2 - 3 - 4 - 5
6 - 7 - 8 - 9 - 10




Donations via Paypal are gratefully accepted!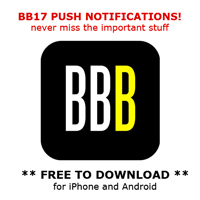 Get Big Brother Buddy app!
Get all the BB18 news plus push notifications of key events as they happen

Watch Big Brother
Seasons 1 thru 18
Plus tons more CBS content






BIG BROTHER SEASONS



CBS All Access
Seasons 1 thru 18

Amazon DVDs BB4 - BB3

Amazon Instant Video
BB18 - BB17
- BB16
- BB15
- BB14
- BB13
- BB12
- BB11
- BB10
- BB9
- BB8
- BB7




>> >> >>

>> >> >> >>

>>





ANY AMAZON.COM PURCHASE CAN BE MADE THROUGH THESE LINKS - NO EXTRA COST TO YOU
Amazon USA
- Amazon Canada

GET THE FEEDS - NO PROMO CODE NEEDED - $5.99 PER MONTH - $9.99 AD FREE
COMPUTER - MOBILE - ROKU - CHROMECAST - APPLE TV - ANDROID TV - FIRE TV - XBOX 1/360
>>> EXCLUSIVE ONLINE SEASON BEGINS SEPTEMBER 28 <<<
FAQ and season stats

Victor evicted 2-0

Paul was Head of Household
Corey and Nicole were nominated
Paul won/did not use veto
Corey evicted 1-0

Paul won Part 1


Tiny table is overdue
Thursday or Friday: Guided memories champagne breakfast
Friday or Saturday: Part 2 final HOH

Remaining shows:
Friday, September 16 8pm: Season highlights, start of Part 1
Wednesday, September 21 9.30pm Finale: Final HOH Parts 1 & 2 taped, live Part 3, taped jury deliberation, live jury questions, live winner vote

September 28: New Big Brother season exclusively on All Access


Sunday 8pm, Wednesday 8pm, and live eviction Thursday 9pm on CBS (Global in Canada)


Monday, Wednesday, Friday, Saturday, Sunday midnight to 3am, Tuesday 11pm to 3am, Thursday 1am to 3am on Pop (Slice in Canada)


Nicole; Paulie; Bridgette; Paulie; James; Paul; Victor; Corey; Victor; Natalie/won + Michelle/awarded; Nicole; Victor; Corey; Paul


Paul; Paulie; Bridgette; Corey; Michelle; Paulie; Paulie; Corey; Victor; Paul; Nicole; Corey; Nicole; Paul


Jozea; Victor; Victor; Victor


Frank; Victor; Frank; Tiffany


Glenn (no vote); Jozea 7-4-0;

Victor 9-1-0;

Bronte 5-4-0; Tiffany 8-0-0; Frank 9-0; Da'Vonne 6-2; Zakiyah 3-2; Bridgette 5-1; Paulie 5-0;

Victor 2-1

; Michelle 3-2; Natalie 3-0; Victor 2-0; Corey 1-0


@GLENNNBX, @jossie_flores, @bbbronte18, @TiffanyAlexis04, @Frankeudy



Day 92 - Wednesday, September 14
Corey eviction party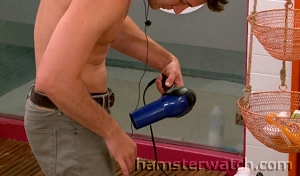 Corey and Nicole practiced their nominee speeches, and Nicole did some boo-hooing to him that she wants to go home, she can't win, she doesn't want to be stuck with the other two.. Corey said he'll plant a kiss on her with a reference to Paul's "can't get to first base" comment - feedsters know better but who's counting at this point.. Paul could still pull a fast one and psst to James to boot Nicole, but James isn't likely to do that anyway because of his (alleged) pre-season deal with Nicole, so I'm starting #CoreyEvictionParty early and beginning my celebration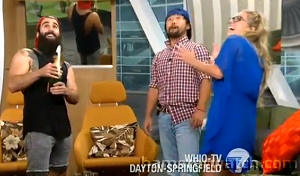 Julie showed us the final veto comp and the major jury house fight between Paulie and Da'Vonne, complete with rare crew appearance(s).. Paul didn't use his veto, and James sent Corey out to Julie's boudoir.. Paul popped the champagne for the Final Three to toast over the credits, and feeds came back a little while later to them alternately laying around, discussing the show and outcome, and whispering in pairs whenever the third wandered off, like Final Threes do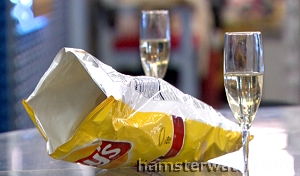 I checked last year's corresponding Hamsterwatch episode and the Part 1 endurance comp came on the feeds at approx 8.40pm on this night.. not so this year, and After Dark ran last Sunday's CBS show in an unfortunate and very disappointing turn of events

Feeds returned approx 10.40pm and the comp was over - they were wearing surf suits with cat-face makeup.. Paul won Part 1 of the final HOH, meaning Nicole and James will go against each other for Part 2, and the winner of that will face Paul in Part 3 live on finale.. Nicole came off their standing ledge and was swinging around on her rope, making the others laugh.. she couldn't regain her footing and came off, and James came off a few seconds later.. James was disappointed in himself, and Paul and Nicole talked about how they've got it in the bag.. time will tell if either's tone changes when they talk with James.. Nicole told James later she'd take him to finals, but she said it without a lot of enthusiasm

Paul coached Nicole for a potential "know your house" comp, even though they haven't done that for ages.. he seemed to know every detail - she, not so much - but it was fun when one feed jumped to zoom in on whatever item they were talking about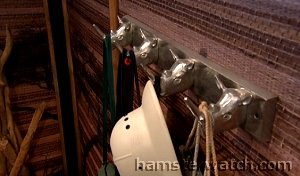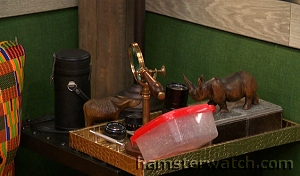 GET YOUR FEEDS so you can watch it unfold for yourself - use promo code FALLACCESS thru September 16 to get one month free, click Previous Hamsterwatch episode up top to see what's come before, and click Feeds Updates way up top for detailed play-by-play with tons of screencaps by @UGotBronx



Day 91 - Tuesday, September 13
Tick tock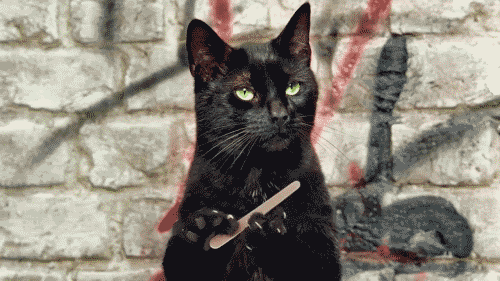 Jeffish loops ran all day Monday and all night, and will keep running most of Tuesday, but they would have run much of today anyway for their final veto comp.. Monday night's After Dark that was taped Monday morning was a shambles: most of them were asleep for most of it, and very few words were exchanged.. Nicole finally brought some Play-doh to HOH in the last half hour and putzed around with it a bit, and nobody bothered with the tie-dye.. they should have gone back to giving them mimosas - that used to get them up and at 'em for this taped show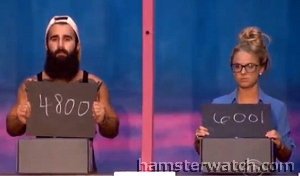 Julie made it official that Victor was evicted 2-0, and Paul won the final four HOH on a tiebreaker against Nicole after seven "What The Bleep" questions.. reminder for day-count purists: this show with Victor's eviction and Paul's HOH was taped yesterday, Day 90.. feeds came back and we got back on track for these last days

Meanwhile if you've enjoyed this site and/or my tweets, or gotten some use from either this season, you can use this downtime to do some Amazon shopping and help me a bit without costing you anything extra.. start your shopping trip from my Amazon portal for Amazon USA or Canada anytime - thank you!



Another breakup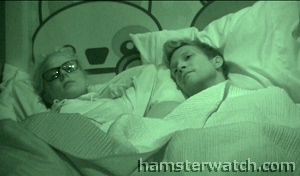 Feeds came back at 9pm as I kind of expected, rather than the 10pm they'd announced.. Paul had nominated Corey and Nicole, and then he won today's veto, making this penultimate act a bit more interesting and a lot more angsty than it often is.. James was wearing a shirt that said PRANKSTERS with a cartoony Groucho glasses/mustache on it, and Paul's said PELICANS with a perfect likeness of Pablo.. the comp involved running/racing and stepping on proper areas, math, and day numbers of season events.. they said it was difficult, and also it was paused for two hours after it was underway

The angst was everywhere, as Nicole and Corey talked about sacrificing themselves for the other, and James told them he was torn over which of them to vote out.. he also told them he'd vote how Paul wants since he was spared a nomination, otherwise he'd like Nicole and Corey to decide between themselves.. Nicole told Corey that'd be "disgusting, it'd be like Hunger Games".. James went to ask Paul in HOH what he should do, and Paul thanked him for the retell of Nicole/Corey's convo, and said to tell them he hadn't decided yet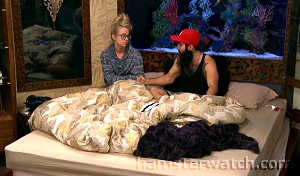 Next Nicole went to visit Paul, who told him he'd feel better/safer if Corey goes but they should play up the angst so James doesn't know they're working together now.. Paul pitched a Final Two deal to her, which they shook on.. Nicole talked to Corey and told him much of her convo with Paul, omitting the F2 agreement/handshake part but adding that she'd take James over Paul if she gets the choice.. Corey seemed relatively resigned to going (he has no choice really), but it sounded like he'd been questioning Paul's performance at the comp with production - maybe the two-hour pause was something to do with that? We'll never know, but when Nicole asked him about his speech, he said he might say something about losing "on a technicality" - Nicole suggested he not say that

Paul offered them his room for their last night but Corey prefers anime over HOH.. after their various whispered pairings and Diary comp retells, all four settled in for some cards to play us out.. veto meeting will be live on Wednesday's show just before the vote and eviction

GET YOUR FEEDS so you can watch it unfold for yourself - use promo code FALLACCESS thru September 16 to get one month free, click Previous Hamsterwatch episode up top to see what's come before, and click Feeds Updates way up top for detailed play-by-play with tons of screencaps by @UGotBronx



Big Brother OTT, Australian Survivor, BB Australia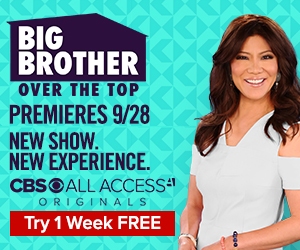 We now have more info on the fall season: it will be called Big Brother Over The Top and it will premiere September 28 at 7pm PT/10pm ET.. the press release says the new hamsters will move in that same day, and promises we'll be able to "see everything play out live, including ceremonies and competitions" and that there will be viewer voting power - that might mean fluff votes or it might be something substantial

Of course it'll have 24/7 live feeds, plus a weekly one-hour episode with live evictions on Wednesdays, hosted by Julie.. it's scheduled to run 10 weeks, grand prize will be $250,000, and it'll be exclusively on All Access.. sign up now and you'll be set to watch the rest of BB18 play out plus Flashback to replay anything on the feeds all season as well as the new fall season, along with zillions of CBS shows including BB1 thru BB18.. use promo code FALLACCESS thru September 16 to get one month free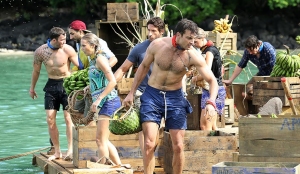 Photo: tenplay.com.au

Australia's premiere season of Survivor is underway, and is getting good reviews and positive comparisons to early USA seasons.. you can watch online at Australian Survivor official site.. outside Australia, use HideMyAss and connect to an Australian server

Unfortunately, Big Brother Australia is on hiatus, possibly permanently, but they used to do the hamsters-in-a-house concept better than most.. their 2013 season is my all-time favorite BB ever, and I can't recommend it highly enough.. here's the premiere to get you

hooked

started.. all episodes are on YouTube but from a few different uploaders.. there is a playlist but it skips a few episodes, so just YouTube search: Big Brother Australia 2013 and remember which ep you're on.. I promise you won't regret it



LINES OF THE DAY

Tuesday
Julie: We have to stop meeting like this, Victor

Nicole to Corey about deciding themselves: That's Hunger Games, that's like both of us eat the berries at the same time

Corey to Nicole: It doesn't matter, go final three, you want your family to come.. just let me go

Paul to Nicole:
- This isn't a dating show, this is a game show
- If you fuck me over, I will cut your bun off and sell it on eBay
- Your ride or die died, basically

Corey to Paul: If you take me, then that's stupid

Corey to Nicole, about Diary: I hit a wall in there, I just couldn't talk anymore.. just the lines I was supposed to say

Corey about post-finale partying: Sunday? Blackout Corey



LINKS OF THE DAY

Get the feeds to see the real show, and to watch the new BB fall edition

Missing teen, San Diego area please take a look, and retweet/repost, for one of our own

Mini Nicole by @thepreppymommy

'Twas the Night Before Eviction by @ItsMeJamiee

On The Block McCrae with Jason Roy

Australian Survivor
Hide My Ass to watch from outside Australia
Air shows live stream
Air show schedule (Australia time/Sydney default)
Archive shows and extras

Available from Amazon:
National parks fabric
Top hat hanging lap Derby hanging lamp
Dick at Nite with Evel Dick Donato, new season is underway

Attwx.com all seasons stats, comps, factoids, and fun stuff by @attwx

Differences between BB Canada and USA and Confessions of a BB feed watcher articles by me, for Reality Blurred



Ratings - Final Four to Final Three edition
Ratings are Tuesday's for now, based on entertainment value
VTE = Voted to evict




Tuesday: I can never understand why they do this taped show/feeds blackout but they always do. But nobody seemed to really care this year, so that's something. But where's the tiny table for four? I don't care if the last four are fire-breathing demons, milestones are milestones and traditions are traditions. They certainly kept up the traditions of stuntcasting, scripted Diaries, pointless twists, highly inaccurate edits and the like, so they should have kept up this one too.

Wednesday: I'm beyond disappointed at not seeing the Part 1 endurance, as it's one of the things I actually look forward to in these final days. As far as I know, BB12 was the only other time they withheld Part 1 from the feeds. Why Big Brother, why?






Won: $5,000.25; Care Package #2 nullify 2 votes; Immunity 1st 2 evictions


TEAM UNICORN



#1 VTE Victor
#2 VTE Corey
He's still 'voting with the house' or HOH in this case and at this stage of the game, that's beyond ridiculous. But he'll have to single-handedly vote someone out tomorrow, and on live TV, getting the dreaded bloodied hands even if he can and does blame it on Paul. Unless Paul pulls a fast one, James and Nicole are both going into finale when they allegedly and likely had a pre-season deal with each other. Nice summer camp if you can get it.






Won: $2,507.50; Trip to Anywhere USA; Care Package #3 1 week immunity plus safety costume


TEAM FREAKAZOID



#1 VTE Victor
#2 No vote (nominee)
She's sad about losing Corey and her bedmate/greenlight [whatever] partner, but she also knows this is Big Brother and she wants to win. Maybe the other guys will tell her Corey kept saying he just isn't into her like that after he goes - nearly all the other secrets came out after their keepers got the boot. I don't like vets showing up ever, and I don't like them outlasting rookies, but Nicole has done more gaming to get to the end than James or Corey, by a lot. I'm glad she's (probably) sticking around because a full week of just three guys rattling around on feeds always gets ugly, and a week of Corey/James/Paul has potential to be uglier than most.






Won: $500; 1 week secret service; Outback dinner (guest)


TEAM BIG SISTER



#1 No vote (nominee)
#2 WON/DID NOT USE VETO
#2 No vote (HOH)
WON PART 1
He won HOH when he had to, and then he won the final veto when he didn't have to. These two wins on top of his priors will go a long ways for those jurors who vote based on comps. For those who vote strategy, his sheer survival, shimmying out of being targeted, befriending most of them, and good old social game/manipulation, he's got this in the bag. I won't be a bit surprised if he turns out to be a closet BB fan/scholar; and if he isn't, he's one of the few rookies who truly figured it out as he went.






Won: $2,500; Care Package #5 $5k bribe (to Victor); Trip to Atlanta MacGyver set; 1 week patriotard


TEAM FREAKAZOID



#1 No vote (HOH)
#2 EVICTED 1-0
'Our buddy Denny, he did some shit with Four Lokos, but he went and bought a goat and put it in their backyard, in our - it was our baseball house. And he got fucked up one night and he got some lighter fluid and sprayed it on it, and went and tried to light that motherfucker on fire! He was so drunk. Yeah, and this goat, it was so - it was scared to death, and it was right by the fireplace like this [walks off-cam]. It was just like - it wouldn't even move. Like dude, he wasn't gonna move, he was so scared. We wouldn't - dude, he tried to light this motherfucker on fire! He was blackout, dude.'
- Flashback 6/25/16 11.04pm, told with big smiles and laughter






Won: $5,500*; TV/tablet/phone; 2 Revivals; Immunity 1st 2 evictions
* includes $5k bribe from Corey


TEAM UNICORN



EVICTED 2-0
He went out early after a failed pre-feeds showmance with Natalie and the disastrous Revolution (buffoons) alliance with Jozea and Paul, but those three were hilarious together, not necessarily intentionally. He battled back like a champ and stuck longer than most revivals. They evicted him again but he battled back again the same night, and almost stuck to the end. He was a comp beast and socialized well, but his bestie Paul drove their social game. He'd have been hated some seasons for his bravado and obsession with Instagram followers, but he stood out easily with this year's slim pickings. He didn't take it too seriously, he had an infectious laugh, and his puppet routines with Baldwin the eagle were a comedy highlight, as were his impersonations.






Won: $0.25; Care Package #1: Never-not; Immunity 1st 2 evictions


TEAM UNICORN



She was an interesting hamster, all fluff on the surface but with more substance and smarts than she let on. She was a better sport than most about James's pranks even when they left her covered in mess, and her showmance with him was unexpected and refreshing, at least at first, before their spat/makeup cycles sped up and became repetitious and predictable. She managed her self-esteem issues well but the BB habitat has a way of magnifying things like that and allowing them to take over. She knew more about what was going on than many, she was a champ on the spinny endurance, she won the Black Box HOH, and along with Bridgette and Michelle, she was instrumental in ending Paulie's reign of terror and BB career. She was a breath of fresh air, especially early on, and she'll be missed.






Won: $0.25; Care Package #4 co-HOH; Black Box 30-second bonus; 8 days pixel suit; Outback dinner


TEAM CATEGORY 4



She was equal parts volatile, boring, unpredictable at least til the end, when she slept up to 20 hours a day. She said 'superfan' way too often but her BB knowledge was often faulty. Her feuds with Bridgette and Nicole were childish and tiresome, as were her self-esteem issues and crying, but she embraced Paul's #VomitCrybaby tag after the spinny endurance. She had some great moments like Drunken Big Meech, winning OTEV against Frank, and making pew-pew explosion sounds behind Paulie when she 'blew up his game'. Some of her nasty online posts preceded her, and her sisters' Twitters were a show of their own. She earned a #Deathrace2016 honorable mention when she put her stunt hair through the wash. She's the 22nd USA/Canada first-in to not win.






Won: $1,000*; TV/tablet/phone*; Make apple pies (6); 8 days pixel suit; Outback dinner
*Per feeds/not shown on CBS


TEAM CATEGORY 4



He gave Cody & Derrick more airtime than they had on BB16, and had the most raging case of HOHitis we've seen in ages, never mind most of them just let him think he was driving so they didn't have to. His smugness was out of control, he was obsessed with saying Tiffany was Vanessa and had issues with Bridgette being a feminist, and he self-directed a World's Worst Haircut to launch his mini-me Paul era. He cuddled and more with Zakiyah while plotting against her, berated her when she asked what's up, and bragged that he 'boned' her all over the habitat. He peed in the hot tub, refused to make pie, cussed non-stop, cried when he lost, and he picked up Julie a foot off the ground. Good riddance 'type thing'.






Won: 8 days pixel suit; Outback dinner


TEAM CATEGORY 4



She was super perky and upbeat, with a dark side that was fun and fascinating. She was in a pixel bikini when feeds began, and she formed a solid friendship/alliance with Bronte and Natalie. She baked cookies nonstop and gathered intel for the Spygirls as everyone overlooked her and gametalked around her in the kitchen. Michelle hated her over a misunderstood eyebrows comment, and then Bridgette became everyone's target when she buddied up with Frank and won an HOH and veto the same week. But she survived two evictions after his, and openly confronted Michelle about their drama, eventually winning her over. She embraced Tiffany's Cabbage Patch tag, and she'll be missed.






Won: Outback dinner (guest)


TEAM BIG SISTER



Stunningly gorgeous plus photogenic, she came in as a fan since BB3 but said she was up for a showmance. She focused on the latter when she took a shine to Paulie, and that progressed from awkward overlong hugs to bumping in bumpercars. He gave her several verbal beatdowns but she kept going back for more, even as he plotted her demise with his boys. She also took a shine to a stuffed giraffe and gave it a birthday party, and she formed a couple friendships that might last beyond BB, notably with Da'Vonne and Michelle. Game-wise she didn't do much and she went eight consecutive shows with no Diaries. She had a Murphree-esque mirror routine but she avoided #Deathrace2016 - best stunt hair to date.






Won: Outback dinner (guest)


TEAM BIG SISTER



She lasted longer than last time, but not as long as she hoped. Like Frank and Nicole, she started gaming too hard and turning on her fellow vets, when the four of them could have steamrolled the eejit noobs and gone all the way. Da'Vonne played better than some, planting little poison seedbombs against others that took root and grew, but they came back to bite her. She gave us good Diaries again, creative turns of phrase, hair flips, deadly if-looks-could-kill glares, reaction faces deluxe, and occasional belly laughs. Now and then she dropped her game face and gave us a funny, relaxed one instead, and it was always good to see.






Won: 8 days pixel suit; Outback dinner


TEAM CATEGORY 4



He made a rookie mistake by playing too hard and fast, way too early, when he should have laid low and enjoyed the safety that was handed to him. But he played for his life last time, and he was mentored by the sidekick rather than the master. His social game was the best of the bunch till he got in trouble for slapping asses and being mouthy, but he's not a bad guy overall and his exit was a fatal hit for the feeds. Pixels were his third costume, a hamster record (until Nicole tied it). His friendship with Bridgette was fun to watch, with funky movie retells and baking, and every random topic under the sun.






Won: $2,500
TEAM FREAKAZOID

She came in looking and sounding so much like Vanessa it was spooky, but it didn't take long to realize her game was more Audrey-style chaos and sabotage than poker-faced strategy. Paulie's the only one who didn't get that memo but that's Paulie for you. Two weeks in a row she didn't campaign to save herself nearly as much as others campaigned for her, but when she transformed into Free Agent IDGAF Tiffany it was a joy to behold. I'm surprised #They let one of the six stuntcasts go before jury, but it just goes to show the whole thing isn't as rigged as some believe.






Won: Immunity 1st 2 evictions
TEAM UNICORN

She went in saying she'd use behavioral sciences to maneuver her way to the win but she spent most of her time with Bridgette and Natalie who were barely playing BB. Her huge confession to them about being the 'secret nerd' and aspiring mathematician was just silly, and she'll always be remembered for not knowing what 9x9 is. She didn't bring much to the table beyond her abnormally high voice and hair bows, and even the hair bows didn't stick around. She seems like a pleasant enough person but like so many others, she should have gone on a dating show instead.






Won: Nothing
TEAM BIG SISTER

One of the most delusional hamsters ever (and that's saying something), he was convinced he owned the house, he was the messiah of the newbies, the savior, the sanctuary, and the next Mario Lopez. He wore his doggie comp suit for days, but mostly he just wore underpants. His gametalks with Paul and Victor were pure comedy since they had no clue whatsoever how far out of every loop they were, and The Jozea and Paul Talk Show concluded with the two of them roaming the house looking for a camera that worked. Jozea's shtick got old fast for many, but he was feeds gold for trainwreck fans like myself.






Won: $2,500
TEAM FREAKAZOID

I didn't like having to combine an intro with an obit, but that's how the dog biscuit crumbles. He seemed like a fun guy with potential for fun feeds, especially his admission that he'd be 'willing to flirt if necessary' but he also might have gotten into heated political discussions, and BB is not the place for that. He didn't technically get Jodi'd since he got to compete twice, but gone before feeds is never good, and neither is trial by combat. Too bad the token older/regular person/fan got the first boot but young, pretty, hormonal hamsters are all the rage anymore.




EXTRACURRICULAR TALLY

Revivals: 2
Victor 7/21
Victor 8/25

Fights: 9
7/14 7.08pm Frank vs Da'Vonne
7/25 4.51am Frank vs Paul
7/25 9.58am Bridgette vs Michelle
7/30 3.05am Paulie vs Zakiyah
8/13 9.32am Paulie vs Paul, Natalie, Michelle, Victor, James
8/19 7.16pm Paul vs Natalie, Michelle
8/20 12.12am Paul vs Nicole plus Corey
8/25 2.08pm Paul vs Michelle, Natalie plus James
9/14 show Paulie vs Da'Vonne jury house

House meetings: 3
6/24 8.54pm - Jozea owns the house
7/25 3.11am - Frank's veto plea
8/11 1.46am - Paulie hates Natalie

Paul Secret Service RED ALERTS: 17

Paulie apple pies: 6

Hot tub pee incidents: 1
Paulie 8/8 8.55pm

Nominee speech scorchers: 3
7/14 Tiffany's gassy dictator & Cabbage Patch Kid
8/11 Michelle anti-Paulie on 1st eviction
8/11 Michelle anti-Paulie and Nicole on 2nd eviction

Sex events: 9
Subject to interpretation/selected from among many
7/18 8.47am Corey and Nicole
7/19 3.38am Corey and Nicole
7/25 7.25am Corey and Nicole
7/30 4.04am Corey and Nicole
8/22 3.40am Corey and Nicole
..and pretty much every night after
8/1 6.19am Paulie and Zakiyah
8/3 11.02pm Paulie and Zakiyah
plus Corey self-service
8/4 6.22am Paulie and Zakiyah
8/11 4.57am Paulie and Zakiyah

Uncanny coincidences: 1
8/20 12.37am Nicole and Paul say 'jacuzzi' in different rooms at the exact same time

Corey sleepwalk incidents: 2½
7/17 3.14am
8/3 10.11am - discussed 10.17am, 2.50pm
9/2 7.34am no walking/just talking and flicking

Pinkyswears: 7
Pre-feeds/premiere #1: Michelle, Tiffany
Pre-feeds/premiere #2: Corey, Nicole, Tiffany
6/29 8.29pm Natalie, Tiffany
7/8 9.55pm Bridgette, Bronte, Natalie
7/13 show Bridgette, Bronte
7/17 3.23pm Tiffany, Bridgette
7/25 10.01pm Corey, Nicole

Injuries: 10
Paul's head lump from crashing the headboard
Bridgette's sprained ankle celebrating veto win
Paul's nose infected piercing + awning attack
James's nerve trauma from endurance HOH
Paul's welt & bruise from Michelle's thrown apple
Bridgette's sore knee from rolly ball HOH
Victor's cut up hands from hanging spinny HOH
Natalie's pulled neck from showering
Nicole's sliced finger from chopping onions
Paul's burned arm from hot potato water splash

Deaths: 11
Michelle's laundered stunt hair
2 fishies on Nicole's 1st HOH
1 fishie on Paulie's 1st HOH
1 fishie on Bridgette's HOH
2 fishies on Paulie's 2nd HOH
1 fishie on James's HOH
Ernest the fly
1 fishie on Victor's 1st HOH
1 fishie on Nicole's 2nd HOH

Stuntcasts: 6
Paulie, Tiffany plus Da'Vonne, Frank, James, Nicole

Scandals outside BB world: 2
Corey's old tweets
Corey's goat story 6/25 11.05pm

RIP The Soup



CBS GOOFS

1 Mixed up James and Da'Vonne
2 Highly promoted cast reveal postponed
3 PopTV shows BBAD starting a day early
4 3 days? 4 days? Close enough
5 Whose/who's error
6 Omitted Boogie's winning season BB7
7 Mixed up Michelle and Nicole
8 Wrong dates/links in feeds highlights
9 Tech adjustments on feeds
10 Julie's intern made up a new hamster
11 Wrong show time on Jeffish
12 7/3 3.19pm BB called last year's cast names
13 7/11 Only 1 feed worked for hours (computer)
14 Wrong date for Battle Back show
15 Mixed up Kaysar's name and season
16 Wrong date for Battle Back, again
17 Mixed up Corey and Frank
18 Battle Back was four rounds, not five
19 Julie forgot BB9 Sharon in THR Q&A
20 Another apostrophe problem + typo
21 'All OTEVs' article omitted three
22 Allison forgot BB1 in another THR Q&A
23 Mixed up Frank and Paulie
24 Tweeted 'now' but show's delayed 40 mins
25 Maintenance staffer seen on feeds
26 Voting auto-tweet links go to wrong show
27 Non-other
28 Beefcakes caught swapping tables
29 Beefcakes caught cleaning fishtank again
30 Premature blocked feeds announcement
31 Baseball not basketball, sight not site
32 Fishies on 8/25 CBS show
33 Corey's pic prematurely black/white
34 Care package bribe rules were changed
35 Problems counting to 9
36 Problems trying to fix counting to 9
37 Leaked noms control room prep on feeds
38 #33 again, now posted on CBS main site
39 BB Youtube said begging for beginning
40 Different shoes in Black Box edit
41 Beefcakes caught tearing down skating comp







Linking to any page here is fine. Please don't repost content from this site (or any other) without permission, and don't repost or hotlink images.



THE REAL SHOW IS THE FEEDS


NEXT-DAY AIR SHOWS
BB1 THRU BB18 AND LOADS MORE CBS CONTENT


HAMSTERWATCH SWAG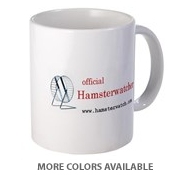 Mugs, shirts, more
Visit my Cafe Press shop





RATINGS WATCH


Wednesday's live show remained second for the hour with 1.7 rating, 7 share, 5.97 million viewer, behind America's Got Talent finale on NBC with 2.8/10/14.14, and ahead of MasterChef finale on FOX with 1.4/5/4.26, and two The Goldbergs reruns on ABC with 0.7/3/3.14 and 0.8/3/2.89.

Tuesday's taped eviction show was second for the hour with 1.8 rating, 7 share, 6.36 million viewers, behind America's Got Talent on NBC with 2.7/10/13.66, and ahead of two The Middle reruns on ABC with 0.9/4/3.97 and 0.9/4/3.79, and Brooklyn Nine-Nine and New Girl reruns on FOX with 0.5/2/1.51 and 0.4/1/1.15 respectively.









Big Brother 18 FAQ


Day 1 Move-in was June 15
Day 8 CBS premiere was June 22
Day 9 Feeds began June 23
Day 99 Finale is September 21

Feeds are streamed by CBS, and Flashback remains accessible via All Access subscription. Call 888-274-5343 for account help, including cancellation.

CBS shows are Sundays 8pm, Wednesdays 8pm, eviction Thursdays 9pm (Global in Canada).

Big Brother After Dark is on POP and airs Monday, Wednesday, Friday, Saturday, Sunday midnight to 3am, Tuesday 11pm to 3am, Thursday 1am to 3am. The aired blocks are recorded earlier on the same night.

HOH's team members had immunity from nomination all week. Unlike HOH, the Roadkill winner could nominate someone from his/her team.

HOH named the renom if veto was used on one of his/her nominees. If the Roadkill nominee came off, Roadkill winner named the renom.

The CBS app (by CBS Interactive) plays BB air shows and other CBS shows, as well as feeds, or you can use your browser to watch feeds on mobile devices. The same All Access link used to subscribe will lead to the feeds viewing page if you're already signed up.

BB18 prizes are the same: $500k for the winner and $50k for 2nd place. Stipend for the others is $1,000 per week again, including pre-show hotel and jury sequester. Siblings might and veterans definitely get more.

The habitat has 87 HD cameras (up seven) and over 100 microphones.

The recorded in-house announcements are the voice of producer Don Wollman. He and Julie Chen are the only staffers who have been there since Big Brother 1.