This site is about the Big Brother 18 feeds and contains spoilers! It isn't necessarily thorough: it's what I catch and/or what interests me. It's about watching hamsters: who's doing what and why. Thanks for encouraging my behavior.
Your pal, dingo







COREY COUNTDOWN


[35] nights without a sleepwalking incident
Last was: 8/3 10.11am (discussed 10.17am, 2.46pm, 2.50pm)







CARE PACKAGE VIEWER VOTE


Who should get a prize or power? One win per hamster
Vote at CBS.com

#1 Never-not Pass
> Natalie
#2 Nullify two votes
> James
#3 1 week immunity + costume
> Nicole
#4 Co-HOH select 1 nominee
> Michelle
#5 $5k to bribe someone
> Corey - given to Victor







BB18 DRINKING GAME


Due to the lack of booze deliveries, you're on your own for now




Watch Australian Survivor
Or BBUK live or archive shows
Or any geoblocked content





QUICK LINKS & BOOKMARKS



-Get the feeds
-Watch the feeds
-Feeds updates by @UGotBronx
-My Twitter - my screencaps
-Amazon portal USA or Canada
purchases help me a bit

-BB Viewer by @liquid8d
Requires All Access

-Hamster Twitters
BB USA - BB Canada

-On The Block with McCrae Olson

-Attwx.com all seasons by @attwx
-Dick at Night with @EvelDick
-Latest alliance chart by @89razorskate20
-Diary tally by @clamperls

-VPN to watch BBUK and other international Big Brother shows

-Big Brother 18 official site
-Live show tickets

-Feeds devices & system req
-Shop Roku or Chromecast







EAST COAST STREAMS



The CanadaTV Roku channel is no longer working

NO DOWNLOADS NEEDED:
1 - 2 - 3 - 4 - 5
6 - 7 - 8 - 9 - 10




Donations via Paypal are gratefully accepted!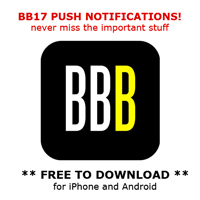 Get Big Brother Buddy app!
Get all the BB18 news plus push notifications of key events as they happen

Watch Big Brother
Seasons 1 thru 18
Plus tons more CBS content






BIG BROTHER SEASONS



CBS All Access
Seasons 1 thru 18

Amazon DVDs BB4 - BB3

Amazon Instant Video
BB18 - BB17
- BB16
- BB15
- BB14
- BB13
- BB12
- BB11
- BB10
- BB9
- BB8
- BB7




>> >> >>

>> >> >> >>

>>





ANY AMAZON.COM PURCHASE CAN BE MADE THROUGH THESE LINKS - NO EXTRA COST TO YOU
Amazon USA
- Amazon Canada

GET THE FEEDS - NO PROMO CODE NEEDED - $5.99 PER MONTH - $9.99 AD FREE
COMPUTER - MOBILE - ROKU - CHROMECAST - APPLE TV - ANDROID TV - FIRE TV - XBOX 1/360
>>> EXCLUSIVE ONLINE SEASON BEGINS SEPTEMBER 28 <<<
FAQ and season stats

Victor is Head of Household
James and Natalie are nominated
Corey won veto/did not use

Nobody is Have-not


Friday: Nominations
Saturday: Veto comp

Remaining shows:
Thursday, September 8 9pm: Live eviction, start HOH comp
Sunday, September 11 8pm: HOH comp, nominations
Tuesday, September 13 8pm: Veto comp, eviction (taped Monday September 12), HOH comp
Wednesday, September 14 8pm: Final veto, live eviction, begin final HOH comp
Friday, September 16 8pm: Season highlights?
Wednesday, September 21 9.30pm: Finale

September 28: New Big Brother season exclusively on All Access


Sunday 8pm, Wednesday 8pm, and live eviction Thursday 9pm on CBS (Global in Canada)


Monday, Wednesday, Friday, Saturday, Sunday midnight to 3am, Tuesday 11pm to 3am, Thursday 1am to 3am on Pop (Slice in Canada)


Nicole; Paulie; Bridgette; Paulie; James; Paul; Victor; Corey; Victor; Natalie/won + Michelle/awarded; Nicole; Victor


Paul; Paulie; Bridgette; Corey; Michelle; Paulie; Paulie; Corey; Victor; Paul; Nicole; Corey


Jozea; Victor; Victor; Victor


Frank; Victor; Frank; Tiffany


Glenn (no vote); Jozea 7-4-0;

Victor 9-1-0;

Bronte 5-4-0; Tiffany 8-0-0; Frank 9-0; Da'Vonne 6-2; Zakiyah 3-2; Bridgette 5-1; Paulie 5-0;

Victor 2-1

; Michelle 3-2


@GLENNNBX, @jossie_flores, @bbbronte18, @TiffanyAlexis04, @Frankeudy



Day 85 - Wednesday, September 7
Day-after block party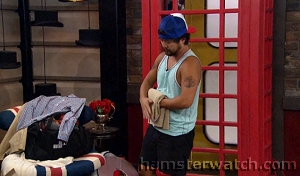 James and Natalie worked out some of their problems last night, but they're far from where they've been with each other all season after last night's events.. they continued to rehash game and talk relationship as they packed.. Natalie did acknowledge that she probably did "throw him under the bus" (I hate that hackneyed phrase) to the others, but she hadn't meant to and she'd meant Nicole regarding the notorious "bad info" comment

There was little to no fallout that I'm aware of about the bullhorn message, but it's possible they're chewing on that individually and it may or may not come up later.. meanwhile CBS site posted a fart story in their BB News section - I wish I was kidding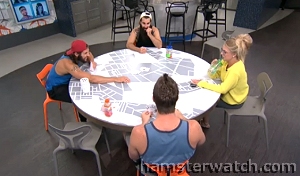 BB took away Victor's dominoes but gave them a deck of cards, so the four spent some time with those trying to come up with a game they all knew and liked.. they cycled through Bullshit, Poker, Gin.. Victor suggested strip poker and that they could go down to undies/bras but Paul said no, he doesn't wear undies.. Corey and Nicole played a round of Old Maid.. Nicole knew Euchre and Victor knew Spades but they didn't try either to discover how similar they are.. Victor and Paul each did some card tricks that flabbergasted Nicole.. eventually they settled for a lengthy game of Blackjack

James and Natalie remained more or less isolated from the rest of them for most of the day, but everyone was civil to each other.. James told Natalie about being molested, twice, when he was young.. Victor and Paul had a major greenlight gigglefest in HOH after they turned in.. they weren't even being that funny but they couldn't stop laughing - it was contagious and great fun, especially compared to the rabies that continue to spread through the fandom.. everyone knows Natalie's going tomorrow, including James and Natalie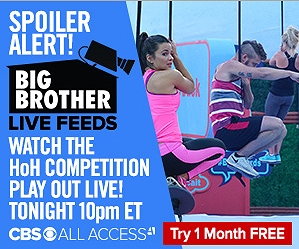 On the good news front, the HOH comp will be on the feeds, and All Access is offering a free month for a limited time!

Sign up now and use promo code FALLACCESS for your first month free.. you can watch Thursday's HOH comp live - I think it'll be the slippy skating/fill a jug one, which is always fun to watch.. you can also watch the rest of this season play out plus Flashback to see anything that's come before, be ready for Big Brother Over The Top premiere September 28, and see any BB episode or a zillion other CBS shows.. free month offer expires September 16

GET YOUR FEEDS so you can watch it unfold for yourself, click Previous Hamsterwatch episode up top to see what's come before, and click Feeds Updates way up top for detailed play-by-play with tons of screencaps by @UGotBronx



Day 84 - Tuesday, September 6
Selfies again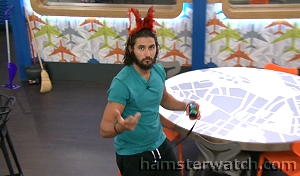 Victor did another round of blog and tweets, but most of them were asleep again when he brought out the camera.. he donned his fox ears and shrugged at us while hunting hamsters to snap

In semi-interesting overnight news, between greenlight rounds of dual creepy couple cuddling, Nicole, Paul and Corey had a discussion about Natalie's alleged background and lifestyle lies.. she's only lying about her NY Jets cheerleading, but the hamsters are at full paranoia now, so anything and everything is suspect.. Natalie joined them and explained away a zillion things, like she does.. James overheard and eavesdropped a bit before returning to his bed, secure that he wasn't being plotted against.. Nicole then made a reference to her $10k x 3 deal with James and how Diary made her recant.. fishies cut her off almost immediately, but it sounded like she was trying to blame that one all on James - Flashback 9/6 2.12am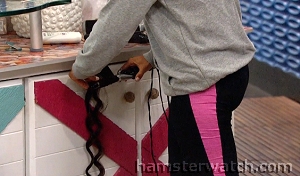 Meanwhile, Natalie and Nicole have been chatting regularly, almost appearing as if they're BFFs (they aren't).. James and Natalie spat/makeup cycles are cycling faster than ever, Nicole and Corey's cuddle/mismatched senses of humor/spat cycles rage on, and Paul and Victor continue having the time of their lives.. Natalie curled her stunt hair to meet Julie, as both she and James have assumed correctly that she's leaving, but I think the others are still maintaining the masquerade that James is

They had a rare but skimpy booze delivery, and they had a fun chat together over drinks for a bit, including a couple mentions of this site (whee).. that didn't last long though, and they scattered to their separate paired corners and back to the status quo - that is until James, Natalie, Paul, Victor heard a bullhorn hollering at them - Flashback 9/7 12.19am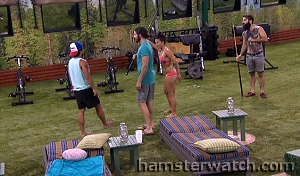 It said "JAMES AND NICOLE, PRE-GAME ALLIANCE" several times.. Corey and Nicole were busy doing their greenlight doo-dah and missed it, and The Powers That Be punished us for it by switching the feeds to fishies, and then to Jeffish for 20 or 25 minutes.. apparently Natalie and James got very upset with each other in that time, hurling accusations as well as tangible items

When feeds came back, Natalie had gone off to bed by herself and later went to Diary, and James was socializing with the other four, talking about wrap parties and the like, but he also said "80 days trying to hold it together, I've had enough" to them.. he basically made it sound to them like Natalie was upset for nothing, and he was over her.. it came out later that he had also blown up at her

James moved into anime room but he and Natalie did have what was supposed to be a quick apology talk before bed, but it turned into another rehash session, plus a lot of relationship talk - all that was missing was the tinkly piano

GET YOUR FEEDS so you can watch it unfold for yourself, click Previous Hamsterwatch episode up top to see what's come before, and click Feeds Updates way up top for detailed play-by-play with tons of screencaps by @UGotBronx



Day 83 - Monday, September 5
Labor Day
As many working Americans honor working Americans and the unofficial end of summer, our hamsters continued not laboring their days away, other than Natalie who worked up her stunt hair for the veto meeting.. Corey did not use his veto on either of them, as expected, and one showmance pair will be separated on Thursday

It's too soon for me to definitively call which of them will go, since they're both campaigning for the other to stay, and I can't listen to Corey and Nicole for more than a few seconds, but I suspect it'll be Natalie.. the others plan on making James and Natalie think James will be going, so that will confuse and complicate matters further.. all will become crystal clear long before the time comes, so stay tuned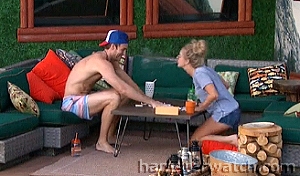 Corey tried a copycat prank on Nicole by adding (a lot of) salt to Nicole's water, but it backfired when she took a swig and immediately spit it out at him, drenching him.. otherwise it was yet another day of not much: they continued to eat and nap, with an occasional game of pool or dominoes, all broken up by occasional James/Natalie or Corey/Nicole spats.. they tried charades but it didn't work out.. the grill remained absent, and The Powers That Be didn't give them any food, booze, flags or decorations to commemorate the day

GET YOUR FEEDS so you can watch it unfold for yourself, click Previous Hamsterwatch episode up top to see what's come before, and click Feeds Updates way up top for detailed play-by-play with tons of screencaps by @UGotBronx



Big Brother fall season, Australian Survivor, BB Australia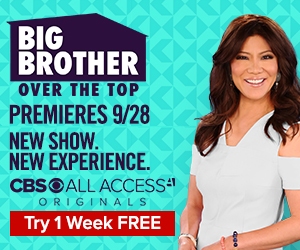 We now have more info on the fall season: it will be called Big Brother Over The Top and it will premiere September 28 at 7pm PT/10pm ET.. the press release says the new hamsters will move in that same day, and promises we'll be able to "see everything play out live, including ceremonies and competitions" and that there will be viewer voting power - that might mean fluff votes or it might be something substantial

Of course it'll have 24/7 live feeds, plus a weekly one-hour episode with live evictions on Wednesdays, hosted by Julie.. it's scheduled to run 10 weeks, grand prize will be $250,000, and it'll be exclusively on All Access.. sign up now and you'll be set to watch the rest of BB18 play out plus Flashback to replay anything on the feeds all season as well as the new fall season, along with zillions of CBS shows including BB1 thru BB18.. reminder, they recently launched a new commercial-free option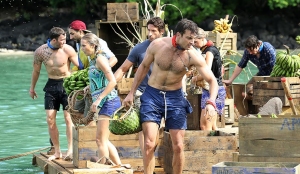 Photo: tenplay.com.au

Australia's premiere season of Survivor is underway, and is getting good reviews and positive comparisons to early USA seasons.. you can watch online at Australian Survivor official site.. outside Australia, use HideMyAss and connect to an Australian server

Unfortunately, Big Brother Australia is on hiatus, possibly permanently, but they used to do the hamsters-in-a-house concept better than most.. their 2013 season is my all-time favorite BB ever, and I can't recommend it highly enough.. here's the premiere to get you

hooked

started.. all episodes are on YouTube but from a few different uploaders.. there is a playlist but it skips a few episodes, so just YouTube search: Big Brother Australia 2013 and remember which ep you're on.. I promise you won't regret it




Ratings - Spirit Animals special edition

In a time-honored Hamsterwatch tradition, ratings are diagnosed by and courtesy of @TheJenge (and his African Shaman)





BAD GOLFERS
Golfers are supposed to yell 'fore' to warn of a badly-struck golf ball. These producers don't. Somehow Big Brother and CBS are firmly on the 18th hole and ready to re-enter the club house despite this social disgrace. The animal stock lineup used to tackle this last (18th) golf hole: 2 Turkeys, 3 Rhino, 5 Chipmunks, 1 Giraffe, 1 Mole, 1 Flamingo, 1 Bull, 1 Human Clone, and the very same Gopher from the Caddyshack movies!






Won: $2,500; Care Package #5 $5k bribe (to Victor); Trip to Atlanta MacGyver set; 1 week patriotard


TEAM FREAKAZOID



WON VETO/DID NOT USE

RHINO
Rhinos are famous defensive creatures that can only attack in straight lines. They are also easily distracted. This rhino doesn't like to tread on the smaller creatures around him and often celebrates his graduation as a bona-fide perch/piece of furniture.






Won: $5,000.25; Care Package #2 nullify 2 votes; Immunity 1st 2 evictions


TEAM UNICORN



NOMINATED

THE CADDYSHACK GOPHER
Pretty much indestructible; genuinely knows how to have a good time both above ground as well as below ground. The Caddyshack movies also had two installments, with the first movie being an absolute classic.






Won: $0.25; Care Package #1: Never-not; Immunity 1st 2 evictions


TEAM UNICORN



NOMINATED

CHIPMUNK
NFL grade chipmunk?! What the hell does that even mean in terms of chipmunk?






Won: $2,507.50; Trip to Anywhere USA; Care Package #3 1 week immunity plus safety costume


TEAM FREAKAZOID




CHIPMUNK
Is reprising a popular role by simply sitting in the habitat. Will haphazardly mix it up with the bigger and tougher animals outside in the garden, but only when the California temperature and humidity is to her liking.






Won: $500; 1 week secret service; Outback dinner (guest)


TEAM BIG SISTER




TURKEY
This specific turkey is well-seasoned, and knows how it wants to be cooked and then served. Don't try and change his method of self-preparation: it's futile.






Won: $5,500*; TV/tablet/phone; 2 Revivals; Immunity 1st 2 evictions
* includes $5k bribe from Corey


TEAM UNICORN



HEAD OF HOUSEHOLD

BULL
If you f**k with the bull, then you will get the horns. Both of them. Are there any questions?






Won: $0.25; Care Package #4 co-HOH; Black Box 30-second bonus; 8 days pixel suit; Outback dinner


TEAM CATEGORY 4




CHIPMUNK
Knows the maze-game and runs it very well. She emits a shrill and long range distress signal/emergency beacon/geo-locator type noise. She doesn't like to share her nuts.






Won: $1,000*; TV/tablet/phone*; Make apple pies (6); 8 days pixel suit; Outback dinner
*Per feeds/not shown on CBS


TEAM CATEGORY 4




TURKEY
Finding the acceptance to heal one's own ruffled feathers can be an unkind process. Un/fortunately, this specific turkey carts around a 'blue ribbon' seal of approval from its 'farm of origin'. They will have to deal with what showed up on your dinner plate.






Won: 8 days pixel suit; Outback dinner


TEAM CATEGORY 4




CHIPMUNK
Plucky and whole. A confident go-getter that likes to swim. Motivated by courage and a sense of true justice.






Won: Outback dinner (guest)


TEAM BIG SISTER




CHIPMUNK
Very coy, she likes to sit in corners and stay warm.






Won: Outback dinner (guest)


TEAM BIG SISTER




RHINO
This rhino will run you over, as well as that horse you rode in on.






Won: 8 days pixel suit; Outback dinner


TEAM CATEGORY 4




RHINO
Needs mud and dirt to keep cool and to stay happy. May become irritable without the dirt and the mud. Did we mention the need for mud and dirt?






Won: $2,500
TEAM FREAKAZOID


GIRAFFE
Giraffes trip over themselves (a lot). Witnessing a giraffe pratfall can cause serious distress and/or hilarity within other animals. The giraffe's super-long neck makes other animals 'fake-paranoid'. It's actually not real paranoia, because giraffes hear and see everything around them (they really do!)






Won: Immunity 1st 2 evictions
TEAM UNICORN


MOLE
Moles spend their entire lives tunneling in gardens in the hope of one day delivering critical intelligence to effect critical change. In big-time power struggles, moles have become both despised and adored, drawing the toast of gypsy poets and the admiration of the elite. Fashion sophisticates adore them for their sensationally dark debonair pelt.






Won: Nothing
TEAM BIG SISTER


FLAMINGO
An outrageous animal that has left a long lasting mark on the world of lawn ornaments.






Won: $2,500
TEAM FREAKAZOID


DR EVIL
When Austin Power's antagonist (Dr Evil) and his miniature twin clone (mini-me) demand another cloned twin, then CBS will offer up Glenn as a possible 'bigi-me' candidate. It's been a hard-knock life for Glenn! It seems the 'big house' just can't hold him.




EXTRACURRICULAR TALLY

Revivals: 2
Victor 7/21
Victor 8/25

Fights: 8
7/14 7.08pm Frank vs Da'Vonne
7/25 4.51am Frank vs Paul
7/25 9.58am Bridgette vs Michelle
7/30 3.05am Paulie vs Zakiyah
8/13 9.32am Paulie vs Paul, Natalie, Michelle, Victor, James
8/19 7.16pm Paul vs Natalie, Michelle
8/20 12.12am Paul vs Nicole plus Corey
8/25 2.08pm Paul vs Michelle, Natalie plus James

House meetings: 3
6/24 8.54pm - Jozea owns the house
7/25 3.11am - Frank's veto plea
8/11 1.46am - Paulie hates Natalie

Paul Secret Service RED ALERTS: 17

Paulie apple pies: 6

Hot tub pee incidents: 1
Paulie 8/8 8.55pm

Nominee speech scorchers: 3
7/14 Tiffany's gassy dictator & Cabbage Patch Kid
8/11 Michelle anti-Paulie on 1st eviction
8/11 Michelle anti-Paulie and Nicole on 2nd eviction

Sex events: 9
Subject to interpretation/selected from among many
7/18 8.47am Corey and Nicole
7/19 3.38am Corey and Nicole
7/25 7.25am Corey and Nicole
7/30 4.04am Corey and Nicole
8/22 3.40am Corey and Nicole
8/1 6.19am Paulie and Zakiyah
8/3 11.02pm Paulie and Zakiyah
plus Corey self-service
8/4 6.22am Paulie and Zakiyah
8/11 4.57am Paulie and Zakiyah

Uncanny coincidences: 1
8/20 12.37am Nicole and Paul say 'jacuzzi' in different rooms at the exact same time

Corey sleepwalk incidents: 2
7/17 3.14am
8/3 10.11am - discussed 10.17am, 2.50pm

Pinkyswears: 7
Pre-feeds/premiere #1: Michelle, Tiffany
Pre-feeds/premiere #2: Corey, Nicole, Tiffany
6/29 8.29pm Natalie, Tiffany
7/8 9.55pm Bridgette, Bronte, Natalie
7/13 show Bridgette, Bronte
7/17 3.23pm Tiffany, Bridgette
7/25 10.01pm Corey, Nicole

Injuries: 9
Paul's head lump from crashing the headboard
Bridgette's sprained ankle celebrating veto win
Paul's nose infected piercing + awning attack
James's nerve trauma from endurance HOH
Paul's welt & bruise from Michelle's thrown apple
Bridgette's sore knee from rolly ball HOH
Victor's cut up hands from hanging spinny HOH
Natalie's pulled neck from showering
Nicole's sliced finger from chopping onions

Deaths: 11
Michelle's laundered stunt hair
2 fishies on Nicole's 1st HOH
1 fishie on Paulie's 1st HOH
1 fishie on Bridgette's HOH
2 fishies on Paulie's 2nd HOH
1 fishie on James's HOH
Ernest the fly
1 fishie on Victor's 1st HOH
1 fishie on Nicole's 2nd HOH

Stuntcasts: 6
Paulie, Tiffany plus Da'Vonne, Frank, James, Nicole

Scandals outside BB world: 2
Corey's old tweets
Corey's goat story 6/25 11.05pm

RIP The Soup



CBS GOOFS

1 Mixed up James and Da'Vonne
2 Highly promoted cast reveal postponed
3 PopTV shows BBAD starting a day early
4 3 days? 4 days? Close enough
5 Whose/who's error
6 Omitted Boogie's winning season BB7
7 Mixed up Michelle and Nicole
8 Wrong dates/links in feeds highlights
9 Tech adjustments on feeds
10 Julie's intern made up a new hamster
11 Wrong show time on Jeffish
12 7/3 3.19pm BB called last year's cast names
13 7/11 Only 1 feed worked for hours (computer)
14 Wrong date for Battle Back show
15 Mixed up Kaysar's name and season
16 Wrong date for Battle Back, again
17 Mixed up Corey and Frank
18 Battle Back was four rounds, not five
19 Julie forgot BB9 Sharon in THR Q&A
20 Another apostrophe problem + typo
21 'All OTEVs' article omitted three
22 Allison forgot BB1 in another THR Q&A
23 Mixed up Frank and Paulie
24 Tweeted 'now' but show's delayed 40 mins
25 Maintenance staffer seen on feeds
26 Voting auto-tweet links go to wrong show
27 Non-other
28 Beefcakes caught swapping tables
29 Beefcakes caught cleaning fishtank again
30 Premature blocked feeds announcement
31 Baseball not basketball, sight not site
32 Fishies on 8/25 CBS show
33 Corey's pic prematurely black/white
34 Care package bribe rules were changed
35 Problems counting to 9
36 Problems trying to fix counting to 9
37 Leaked noms control room prep on feeds
38 #33 again, now posted on CBS main site
39 BB Youtube said begging for beginning
40 Different shoes in Black Box edit







Linking to any page here is fine. Please don't repost content from this site (or any other) without permission, and don't repost or hotlink images.



THE REAL SHOW IS THE FEEDS


NEXT-DAY AIR SHOWS
BB1 THRU BB18 AND LOADS MORE CBS CONTENT


HAMSTERWATCH SWAG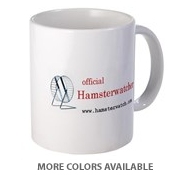 Mugs, shirts, more
Visit my Cafe Press shop





RATINGS WATCH


Wednesday's show placed second for the hour with 1.8 rating, 7 share, 5.97 million viewers, behind Commander in Chief Forum special on NBC with 1.8/7/10.77, and ahead of MasterChef on FOX with 1.4/5/4.29, and two The Goldbergs reruns on ABC with 0.9/4/3.47 and 0.9/4/3.09.









Big Brother 18 FAQ


Day 1 Move-in was June 15
Day 8 CBS premiere was June 22
Day 9 Feeds began June 23
Day 99 Finale is September 21

Feeds are streamed by CBS, and Flashback remains accessible via All Access subscription. Call 888-274-5343 for account help, including cancellation.

CBS shows are Sundays 8pm, Wednesdays 8pm, eviction Thursdays 9pm (Global in Canada).

Big Brother After Dark is on POP and airs Monday, Wednesday, Friday, Saturday, Sunday midnight to 3am, Tuesday 11pm to 3am, Thursday 1am to 3am. The aired blocks are recorded earlier on the same night.

HOH's team members had immunity from nomination all week. Unlike HOH, the Roadkill winner could nominate someone from his/her team.

HOH named the renom if veto was used on one of his/her nominees. If the Roadkill nominee came off, Roadkill winner named the renom.

The CBS app (by CBS Interactive) plays BB air shows and other CBS shows, as well as feeds, or you can use your browser to watch feeds on mobile devices. The same All Access link used to subscribe will lead to the feeds viewing page if you're already signed up.

BB18 prizes are the same: $500k for the winner and $50k for 2nd place. Stipend for the others is $1,000 per week again, including pre-show hotel and jury sequester. Siblings might and veterans definitely get more.

The habitat has 87 HD cameras (up seven) and over 100 microphones.

The recorded in-house announcements are the voice of producer Don Wollman. He and Julie Chen are the only staffers who have been there since Big Brother 1.