This site is about the Big Brother 18 feeds and contains spoilers! It isn't necessarily thorough: it's what I catch and/or what interests me. It's about watching hamsters: who's doing what and why. Thanks for encouraging my behavior.
Your pal, dingo







COREY COUNTDOWN


[0] nights without a sleepwalking incident
Last was: 8/3 10.11am (discussed 10.17am, 2.46pm, 2.50pm)







VIEWER VOTE


Who should get a prize or power? One win per hamster
Vote at CBS.com

#1 Never-not Pass
> Natalie
#2 Nullify two votes
voting closes 8/5 1pm PT
#3 1 week immunity + costume
voting opens 8/7 5pm PT
#4 Co-HOH select 1 nominee
voting opens 8/14 5pm PT
#5 $5k to bribe someone
voting opens 8/21 5pm PT







BB18 DRINKING GAME


Take a swig whenever you switch to another feed to avoid someone




Watch BBUK live or archive shows on Channel 5 & 5Star
Or any geoblocked content





QUICK LINKS & BOOKMARKS



-Get the feeds
-Watch the feeds
-Feeds updates by @UGotBronx
-My Twitter - my screencaps
-Amazon portal USA or Canada
purchases help me a bit

-BB Viewer by @liquid8d
Requires All Access

-Hamster Twitters
BB USA - BB Canada

-On The Block with McCrae Olson

-Attwx.com all seasons by @attwx
-Dick at Night with @EvelDick
-Latest alliance chart by @89razorskate20
-Diary tally by @clamperls

-VPN to watch BBUK and other international Big Brother shows

-Big Brother 18 official site
-Live show tickets

-Feeds devices & system req
-Shop Roku or Chromecast







EAST COAST STREAMS



The CanadaTV Roku channel is no longer working

NO DOWNLOADS NEEDED:
1 - 2 - 3 - 4 - 5
6 - 7 - 8 - 9 - 10




Donations via Paypal are gratefully accepted!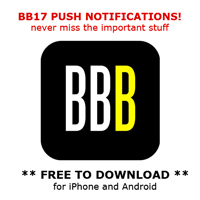 Get Big Brother Buddy app!
Get all the BB18 news plus push notifications of key events as they happen

Watch Big Brother
Seasons 1 thru 18
Plus tons more CBS content






BIG BROTHER SEASONS



CBS All Access
Seasons 1 thru 18

Amazon DVDs BB4 - BB3

Amazon Instant Video
BB17
- BB16
- BB15
- BB14
- BB13
- BB12
- BB11
- BB10
- BB9
- BB8
- BB7




>> >> >>

>> >> >> >>

>>





ANY AMAZON.COM PURCHASE CAN BE MADE THROUGH THESE LINKS - NO EXTRA COST TO YOU
Amazon USA
- Amazon Canada

GET THE FEEDS - NO PROMO CODE NEEDED - $5.99 PER MONTH
COMPUTER - MOBILE - ROKU - CHROMECAST - APPLE TV - ANDROID TV - FIRE TV - XBOX 360
FAQ and season stats

Paul is Head of Household
Paulie won veto/used on self
Bridgette and Da'Vonne are nominated
Corey, Paulie, Zakiyah are Have-not - their supplement is marshmallows and trail mix

Natalie got care package #1 Never-not Pass
Somebody has Round Trip revival ticket - last one to be opened August 18 if not claimed/used before then


Friday: Nominations
Saturday: Care package #2, veto comp

Next show:
Thursday, August 4 9pm: Live eviction, HOH comp?


Sunday 8pm, Wednesday 8pm, and live eviction Thursday 9pm on CBS (Global in Canada)


Monday, Wednesday, Friday, Saturday, Sunday midnight to 3am, Tuesday 11pm to 3am, Thursday 1am to 3am on Pop (Slice in Canada)


Nicole; Paulie; Bridgette; Paulie; James; Paul


Paul; Paulie; Bridgette; Corey; Michelle; Paulie


Frank; Victor; Frank; Tiffany


Glenn (no vote); Jozea 7-4-0;

Victor 9-1-0;

Bronte 5-4-0; Tiffany 8-0-0; Frank 9-0


@GLENNNBX, @jossie_flores, @bbbronte18, @TiffanyAlexis04, @Frankeudy



Day 50 - Wednesday, August 3
Halfway, finally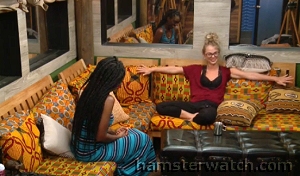 It feels like the season should be winding down but no, we've only hit the halfway point.. they got their party with music and booze behind Jeffish to celebrate the milestone

Earlier, Da'Vonne sat down with Nicole to work her about the vote.. she started by saying they had a strong bond and agreement, but now Day didn't think they'll even be friends after the show - Day knows how to get someone's attention, even if it isn't necessarily her best route to do so.. they rehashed awhile (pointlessly), and finished up with Day asking if everything's good for Thursday, Nicole said yes, and they wrapped with a hug - Flashback 8/3 2.28pm.. Day's in that proverbial rock/hard place, knowing in her gut she's a goner, but unable to put her finger on what she can do to change it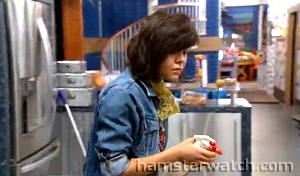 Corey waited outside Diary forever to scare Nicole and douse her with baby powder but when it finally happened, all four feeds were on Zakiyah grooming Paulie - urp.. Michelle wigged out a bit again, saying she wasn't being herself and she's afraid she'll snap on someone.. Natalie reiterated again to James that she'll vote to evict Da'Vonne, but she remained worried because she's promised both of them.. Bridgette waged another assault on the ants, and Da'Vonne continued to avoid landing in #Deathrace2016 by doing more stunt braids maintenance



Messy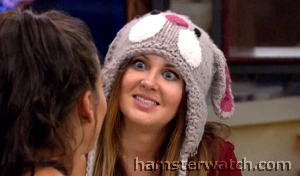 Feeds came back after their party to leftover cake, pizza, and a drunken Paul on the table, and things went downhill from there.. apparently Victor called Corey a douchebag, which upset and confused him, there was another strip show, Zakiyah did a lapdance on Paulie and Victor did one on Michelle, which she retold as him looking at her like he was "deranged".. Zakiyah apologized to Paulie for being tipsy and said she hoped she doesn't embarrass him.. later he told Paul she'd given him a hickey

In the anime room, Corey did a pileup onto Paulie and they were joined by James who did some impromptu DIY chiropracty on them.. Nicole whined at Corey "Will you cuddle me? Will you cuddle me Corey? Whyyyy? Coreeeyyyy" and Zakiyah straddled Paulie while Victor piled onto Paul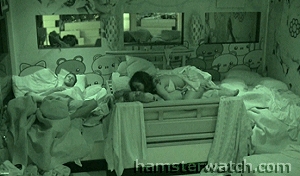 Da'Vonne pulled Zakiyah aside and suggested she put on some pants, pointing at the cameras, and she did so before going back to/on Paulie in anime room.. meanwhile Bridgette was picking at Paul's back in HOH

Next thing you know, Corey and Nicole were doing their whatever-they-do undercovers and Zakiyah was licking Paulie, and a bit later she was grinding on him.. Paulie showed no response whatsoever, but Corey was watching from the next bed and diddling himself - Flashback 8/3 11.02pm.. later Paulie and Zakiyah retired to their bumpercar and got busy doing their whatever-they-do undercovers.. later still, Paulie had a check-in with Paul in HOH, and Nicole joined Corey in his bumpercar

In other news, Corey had his second sleepwalking incident this morning, walking up to HOH and getting into Paul's bed.. later he said he thought/dreamed an HOH lockdown had been called but no, that's tomorrow.. Da'Vonne didn't do much active campaigning other than a few hints and some small, slight guilt seeds dropped here and there, and the rest of them carried on doing what they do, things like Michelle and Natalie wondering again if there could possibly be a boys alliance

GET YOUR FEEDS so you can watch it unfold for yourself, click Previous Hamsterwatch episode up top to see what's come before, and click Feeds Updates way up top for detailed play-by-play with tons of screencaps by @UGotBronx



Day 49 - Tuesday, August 2
BB19 again
First things first, there's a bit more news about the Big Brother 19 fall season.. Reality Blurred, who first broke the news, updated today that it will air exclusively on All Access - and why not? All the infrastructure's in place, and they probably don't like how many subscribers cancel when the BB finale credits run.. The Hollywood Reporter also ran a story about it, which is pretty much 99% confirmation until CBS formally announces, since they're running regular pieces this season with Julie and Allison Grodner (aka partnering with CBS).. see Links of the Day below for more

Update CBS formally announced on Wednesday! BB19 is coming this fall, only on All Access



A James oops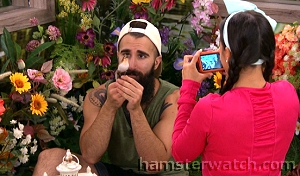 Back in the current habitat, the camera came out for silly poses, like it does.. Paul and Natalie took advantage of the Paris room for some new settings at least.. Paul wrote his blog and tweets, and he proudly announced that all the viewer questions included the word friendship.. he doesn't realize those are just the ones that were picked (or made up?) by The Powers That Be - the replies I saw to official tweets asking for questions weren't complimentary, at all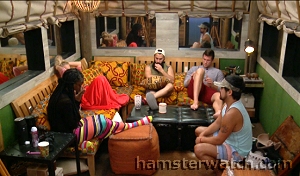 Da'Vonne crashed a Nicole, Paul, Corey, James safari lounge meeting discussing her and their post-Day plans.. when she asked what they were talking about, they did a quickstep and said double eviction, which they had also been discussing (they are expecting one this week but I'm not - Julie always pre-announces those).. but then James slipped when he mentioned putting up Victor and Bridgette if it's a double - oops!

Da'Vonne immediately said "Bridgette won't be here".. later she asked James what they'd been talking about before she came in, and told him that Nicole's face had turned red at his comment.. she asked him if her name had come up for double eviction options and he (truthfully) said no to that.. in my opinion, she knew she was the target Thursday night when they were all fighting to volunteer to go up against Bridgette, but she seems to be believing it more and more with every passing moment.. many times today she sat alone and glaring while others hamstered around her, and she's been talking to us and asking for help several times a day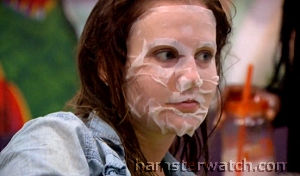 Natalie asked James what she should do since she's promised her vote to both Bridgette and Da'Vonne, and he suggested she ask Paul.. she did, and he pontificated in full volume for way, way too long.. at some point he did tell her to evict Da'Vonne, and when Natalie asked if she should warn her, Paul said no

Michelle (correctly) said the process pictured here would make for great screen captures.. Victor and Corey made cereal box airplanes, Bridgette made a lovely lattice-top apple pie, Natalie cleaned James's marinated Crocs with a toothbrush, Corey griped a whole lot more about being a Have-not, and Zakiyah cried to Nicole that Paulie won't tell her what's going on



Drama and tears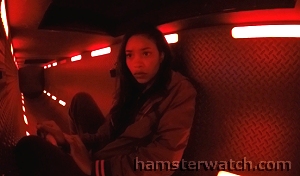 I don't know what set everything off but it went off, and how.. Zakiyah cried to Nicole about how frustrated she was with Paulie, how he doesn't tell her anything game-wise and their personal stuff was messy too.. Nicole said Zakiyah should talk it out with him, and Zakiyah asked Nicole to tell Paulie to meet her in Paris

Nicole eventually did tell Paulie, but first she told Paulie everything Zakiyah said, including the fact that she was crying "but you're not supposed to know that" and together they agreed Zakiyah had to go.. Zakiyah meanwhile was sitting pathetically alone in the REDRUM tunnel to Paris, waiting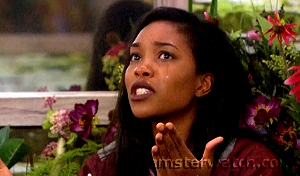 Paulie finally made it to Paris over 20 minutes later, and things went from bad to worse.. Zakiyah tried to explain her confusion and frustration, and Paulie browbeat her about some info she supposedly withheld from him, and that made her "kinda seem phony".. Zakiyah's frustration built and her tears fell, and Paulie's smugness soared to new heights, even for him - Flashback 8/2 8.50pm

Meanwhile Nicole reported both of her convos to Paul, and retells exploded all over when Paulie and Zakiyah finally emerged from Paris.. Paulie revved up his tired old loops, saying Zakiyah is playing like Vanessa (and Tiffany).. meanwhile Da'Vonne's mood lifted visibly as she knows chaos is almost required for possible vote flips, and she told us she can get Zakiyah back and boot Paulie "if" they don't evict her (they will)

Three hours after they parted, Zakiyah was back to HOH, straddling Paulie as he smirked at his reflection.. his empty wheel has been installed below - I'm done

GET YOUR FEEDS so you can watch it unfold for yourself, click Previous Hamsterwatch episode up top to see what's come before, and click Feeds Updates way up top for detailed play-by-play with tons of screencaps by @UGotBronx



Day 48 - Monday, August 1
Da'Vonne makes a plan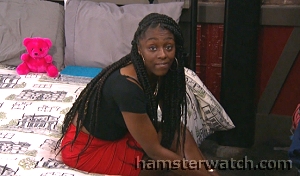 Da'Vonne talked to us while getting ready for the veto meeting, saying it's time for her to win HOH, time to shake the game up, and "people are sitting real comfortable, let's change the game a bit, just a little bit, stay tuned"

Paulie veto'd himself of course and Paul put Day up in his place as planned, so unless she's got the Round Trip ticket, she might not have much chance of putting that plan into action, but we'll see - as she said, stay tuned.. apparently several of them had fits of giggles at the meeting - oops

Meanwhile, Paulie and Zakiyah's on again/off again was on again this morning and they joined Corey and Nicole on the you-figure-out-what-they're-doing sex events tally - Flashback 8/1 6.19am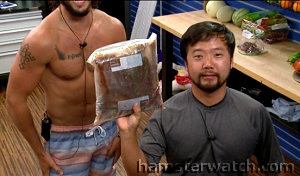 Da'Vonne took her nomination well, on the surface at least, and set to working Paul and others, and talking to us more.. James told the boys club that he and Natalie were kind of fighting, due to some bed kickout incident last night.. they also held a funeral for Ernest the fly, whom Da'Vonne had whacked with a towel.. then James found his marinated frozen Crocs, and declared war on the house, especially Natalie - Flashback 8/1 1.08pm

He wrapped her favorite running shoes and stashed them in the freezer, and then set to wrapping her precious makeup bag.. he used two rolls of foil and two rolls of plastic wrap, and created a brick about a foot long and almost as wide.. she made him heart-shaped eggs, then discovered her shoes were missing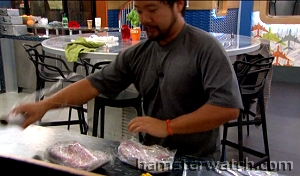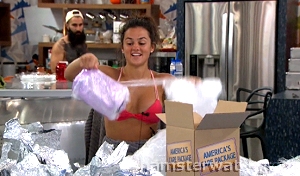 When a backyard lockdown ended, James called out for everyone to come quick, they had a new care package! He'd stashed the makeup bag in Natalie's care package box, and everyone had a good time watching her cut and pull away the yards and yards of wrap.. a very good sport, she had the best time of all, saying she loves presents.. she also got her shoes back from the freezer, not yet solid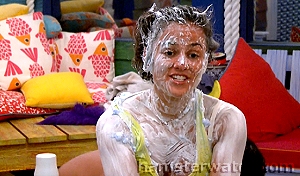 Guys did a tug of war and Paul threw Natalie in the pool but for the most part, James and Natalie continued carrying the entertainment load for all 11 when he chased her around with shaving cream and baby powder.. he got her good and she was once again a good sport about it, and proclaimed him the winner

Have-not Corey grumbled a lot about Victor throwing out loose trail mix when he cleaned the kitchen.. apparently Corey had painstakingly picked out all the raisins he didn't want, and left the rest on the table.. I guess Corey's too busy laying around to pick more raisins out of their many bags of trail mix

Both Da'Vonne and Bridgette are being assured they're safe

GET YOUR FEEDS so you can watch it unfold for yourself, click Previous Hamsterwatch episode up top to see what's come before, and click Feeds Updates way up top for detailed play-by-play with tons of screencaps by @UGotBronx



Celebrity Big Brother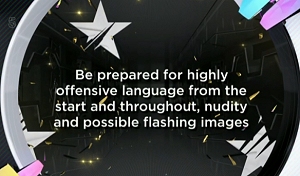 Another celeb series kicked off July 28! Outside UK, use Hide My Ass to watch live or archive shows and clips.. there are loads of other VPNs out there but I use and recommend HMA because it's safe, secure, and easy to use (just select a UK server), available for multiple platforms, plus they have great customer service for questions or problems

You can watch live at Channel 5's online live stream link.. shows are usually daily, plus Bit on the Side talk show and an hour live from the house, but check the air show schedule - remember UK time is 8 hours ahead of Pacific and 5 hours ahead of Eastern.. the official site has archive air shows and talk shows, highlights, previews, and info

As always, most of the cast is controversial or has featured in highly publicized scandals - Google is your friend.. in order of intro/entry:

Christopher Biggins actor/comedian
Saira Khan reality tv
Frankie Grande brother/USA Big Brother 16
Ricky Norwood soap actor
Renee Graziano reality tv
Marnie Simpson reality tv
James Whale radio/tv host
Aubrey O'Day singer/reality tv
Stephen Bear reality tv
Katie Waissel reality tv
Lewis Bloor reality tv
Grant Bovey producer
Chloe Khan Playboy model/reality tv
Colin Newell aka Heavy D reality tv
Samantha Fox former pop star/topless model



LINES OF THE DAY

Wednesday
Nicole: I just wanna have fun!

Da'Vonne: Of course I can't wrap up this conversation without making sure everything's good for Thursday
Nicole: Mm-hmm, tomorrow, yeah
Nicole: I don't want things to be awkward anymore at all.. they don't have to be, now I feel completely comfortable

Paul: I'm getting a friendship tattoo after this, for like a Big Brother memory, on my butt

Zakiyah: Paulie and James are pretty much following the same leader, which is Derrick

Michelle about Paulie: Frickin Derrick, he needs to get Derrick up out of his butt

Nicole: Is a billion just one more than a million?

Tuesday
Corey: The week I went up on the block was a lot easier than being a Have-not

Paul: What I don't get is people sign up for this, and then complain

Corey re care packages: Do you think the voters know what they're giving?

Nicole re Da'Vonne: She always makes me feel like we're doing something wrong
James: We are!

Da'Vonne: I just wish somebody would tell me, just tell me
James: Want me to find out?

Michelle: I thought it was normal to pee in the shower

Paul: Don't kiss her ass
Paulie: I didn't kiss her
Paul: Don't

James: This day has gone to hell in a handbasket

Monday
Paulie to James: Told ya bro, watch out for them Jersey girls

Zakiyah: Frank's not even in this game, but he's still running it.. he did a good job scattering minds before he left

Da'Vonne: I'm going to stay away from Ernesto [new fly] because apparently my hands have blood on them

Natalie: It's okay because I love presents, so this gave me something fun to do

Natalie: The show should be called Fake Brother, the winner is the fakest person



LINKS OF THE DAY

Get the feeds to see the real show

Celebrity Big Brother UK
Hide My Ass to watch from outside UK
Air shows live stream
Air show schedule (UK time)
Archive shows

More on BB19 from Reality Blurred and THR, and CBS announcement

Paul's HOH blog

GinaMarie's boxing

Big Brother 18: The Saga Episode 5 by @WilHeuser

On The Block McCrae with Jason Roy

National parks fabric available at Amazon

Dick at Nite with Evel Dick Donato, new season is underway

Attwx.com all seasons stats, comps, factoids, and fun stuff by @attwx

Differences between BB Canada and USA and Confessions of a BB feed watcher articles by me, for Reality Blurred



Ratings - I'll Try to Be Nice Next Time edition
Ratings are based on entertainment value, give or take




Nicole said something to Corey about how it's hard to lose one's partner in there, because they don't have the support system of parents, siblings, BFFs that they're used to. That made me start thinking about the youthful casts, and how BB should be about BB, and not about young people learning to be adults. I understand they think they have to pander to that 18-25 target audience, but I don't think having inexperienced and emotionally immature hamsters is the best way to do that. It'd be nice if we could have casts with fewer misogynistic guys and catty girls but that's probably asking too much. But hey, they're the experts - I'm just the eejit in the corner shooting rubberbands.






Won: 8 days pixel suit; Outback dinner


TEAM CATEGORY 4



NOMINATED
She expanded her repertoire from cookies to banana bread, peanut brittle, and a lovely apple pie with a lattice top. She also was seen chewing her nails like crazy when the Paulie/Zakiyah drama exploded because reminder, she's also on the block. I'm pulling for her as the underdog here, and the fact that she's the least distasteful of them all is just a bonus.






Won: $2,500


TEAM FREAKAZOID



I don't think he's ever told a story that didn't involve hunting for bars or being 'so drunk with my boys' and that's not entertaining, that's just drunk stories. He's so miserable as a Have-not that I'm hoping he gets it again and again. Call it revenge of the goat.






Won: Outback dinner (guest)


TEAM BIG SISTER



NOMINATED
I want to give her ups for realizing what's going down and starting to work it, but I think it's too little too late, and she's being too quiet about it. Granted, she's mostly going because of the same reason she and others wanted Frank gone - gaming too hard and too soon, and working against their allies while they're perfectly safe - but her particular game of planting poison seeds is more effective than his in-your-face version. She's displaying a sense of entitlement to stay (and win) that isn't attractive, and she's asking feedsters to help her and pray for her far too much. Girl, this vote won't even close till after you meet Julie again. However if she has the Round Trip and boomerangs back in, she will win the nullify two votes power because so many viewers are confused by the timing. That'll be chaos deluxe and everybody better duck. Maybe she won't go out the following week after nullifying votes like she did last year, but she probably would since they have to open their care package in public.






Won: Immunity 1st 2 evictions


TEAM UNICORN



Blunder much? Tuesday's major oops in front of Da'Vonne was comical and dumb, as were all his answers each time she interrogated him about it. His return to pranks Monday was instigated by Natalie ('she started it!') but fortunately it's been awhile since he's jumped out at anyone so it was a good time for a few hours. It wasn't so fun after Natalie instigated again Tuesday night and they pranked each other a few more rounds.. too soon, too soon.






Won: 8 days pixel suit; Outback dinner


TEAM CATEGORY 4



Game-wise she's all over the map and that's whatever it is but hey, she's still there. I'm constantly flabbergasted by the things she blurts out - she's never had and is terrified of getting a Pap smear, she didn't know peeing in the shower isn't normal or acceptable by roommates, and her solo and public tirades about being ugly and fat. She's neither, but some of the things that come out of her mouth are.






Won: Immunity 1st 2 evictions; Never-Not Pass


TEAM UNICORN



I'd give her solid ups for staying upbeat and fun no matter how awful it all gets, but ever since she got her Never-not Pass, she's developed a bad habit of randomly facing the cameras and saying 'hey America!' followed by some Diary-voice comments about what's going on, which we already know about. It doesn't help that James encourages this. Still, she and Bridgette are breaths of fresh air which we very desperately need in that stagnant cesspit. See James: she was a great sport with Monday's pranking, but started it up again too soon Tuesday. It's not her fault he wore out his welcome with that stuff a year before she met him, but we need a break from it.






Won: $2,500


TEAM FREAKAZOID



We talk about hamsters who should have gone on a dating show instead, but Nicole has actually turned Big Brother into her own personal dating show, twice. Her game's a mess, doubly so because I think she really believes she can get away with this strategy cycle of run around, backstab, run around some more and backstab some more. We know and she should know that can't last, but she keeps escalating it anyway. She seems to think she won't get Britney'd by the guys, even though it also happened on her own season to Christine. If she was somewhat fun and entertaining like she was last time, it might be different, but she just lays around with Corey when she isn't backstabbing, and now she's picking the raisins out of his trail mix for him. What? Let's not even talk about what they do when they're laying around, kthx.






Won: Outback dinner (guest)


TEAM BIG SISTER



HEAD OF HOUSEHOLD
He's one YOUR BOY shy of getting his own empty wheel, but I'll give him an extension because his HOHitis is strong but that will come to an end soon, and because once I start spreading the premature empty wheels around, it'll be hard to stop. I do have Paul on ignore most of the time, it just isn't official yet.






Won: 8 days pixel suit; Outback dinner


TEAM CATEGORY 4



WON VETO/USED ON SELF
I've been avoiding him on feeds for quite awhile but after a second nasty emotional battering of Zakiyah, I've had it. He's arrogant, conceited, smug, skeevy, endlessly repetitive, and above all he's boring as hell. He's on ignore type thing.






Won: Revival; immunity 1st 2 evictions


TEAM UNICORN



Dude! You think they're your bros and you're always broing around with them, but they hate you! They're using you for your vote and for fetching their food and drinks, but they hate you! They laugh at you when you leave the room! I wish he'd overhear something and maybe throw his lot in with the girls, but it probably wouldn't help his or their games, so I guess it's just as well he's having a fun and Battle Back-extended summer vacation.






Won: Outback dinner (guest)


TEAM BIG SISTER



I had this all written up about her overall non-game, tempered by Paulie verbally berating and beating her down not once but twice, but just before uploading she went back into his non-loving arms after swearing she wouldn't. If she was gaming/acting that's one thing, but she could pretend to forgive and make up without straddling him. I just wish she could have seen him smirking at his reflection as she was wrapped around him but on second thought, it may not have made a difference. She deserves and should have more respect for herself, game or no game, and I hope she learns that.






Won: 8 days pixel suit; Outback dinner


TEAM CATEGORY 4



He made a rookie mistake by playing too hard and fast, way too early, when he should have laid low and enjoyed the safety that was handed to him. But he played for his life last time, and he was mentored by the sidekick rather than the master. His social game was the best of the bunch till he got in trouble for slapping asses and being mouthy, but he's not a bad guy overall and his exit was a fatal hit for the feeds. Pixels were his third costume, a hamster record. His friendship with Bridgette was fun to watch, with funky movie retells and baking, and every random topic under the sun.






Won: $2,500
TEAM FREAKAZOID

She came in looking and sounding so much like Vanessa it was spooky, but it didn't take long to realize her game was more Audrey-style chaos and sabotage than poker-faced strategy. Paulie's the only one who didn't get that memo but that's Paulie for you. Two weeks in a row she didn't campaign to save herself nearly as much as others campaigned for her, but when she transformed into Free Agent IDGAF Tiffany it was a joy to behold. I'm surprised #They let one of the six stuntcasts go before jury, but it just goes to show the whole thing isn't as rigged as some believe.






Won: Immunity 1st 2 evictions
TEAM UNICORN

She went in saying she'd use behavioral sciences to maneuver her way to the win but she spent most of her time with Bridgette and Natalie who were barely playing BB. Her huge confession to them about being the 'secret nerd' and aspiring mathematician was just silly, and she'll always be remembered for not knowing what 9x9 is. She didn't bring much to the table beyond her abnormally high voice and hair bows, and even the hair bows didn't stick around. She seems like a pleasant enough person but like so many others, she should have gone on a dating show instead.






Won: Nothing
TEAM BIG SISTER

One of the most delusional hamsters ever (and that's saying something), he was convinced he owned the house, he was the messiah of the newbies, the savior, the sanctuary, and the next Mario Lopez. He wore his doggie comp suit for days, but mostly he just wore underpants. His gametalks with Paul and Victor were pure comedy since they had no clue whatsoever how far out of every loop they were, and The Jozea and Paul Talk Show concluded with the two of them roaming the house looking for a camera that worked. Jozea's shtick got old fast for many, but he was feeds gold for trainwreck fans like myself.






Won: $2,500
TEAM FREAKAZOID

I didn't like having to combine an intro with an obit, but that's how the dog biscuit crumbles. He seemed like a fun guy with potential for fun feeds, especially his admission that he'd be 'willing to flirt if necessary' but he also might have gotten into heated political discussions, and BB is not the place for that. He didn't technically get Jodi'd since he got to compete twice, but gone before feeds is never good, and neither is trial by combat. Too bad the token older/regular person/fan got the first boot but young, pretty, hormonal hamsters are all the rage anymore.




EXTRACURRICULAR TALLY

Fights: 4
7/14 7.08pm Frank vs Da'Vonne
7/25 4.51am Frank vs Paul
7/25 9.58am Bridgette vs Michelle
7/30 3.05am Paulie vs Zakiyah

House meetings: 2
6/24 8.54pm - Jozea owns the house
7/25 3.11am - Frank's veto plea

Revivals: 1
Victor 7/21

Nominee speech scorchers: 1
7/14 Tiffany's gassy dictator & Cabbage Patch Kid

Sex events: 5
Subject to interpretation/selected from among many
7/18 8.47am Corey and Nicole
7/19 3.38am Corey and Nicole
7/25 7.25am Corey and Nicole
7/30 4.04am Corey and Nicole
8/1 6.19am Paulie and Zakiyah
8/3 11.02pm Paulie and Zakiyah
plus Corey self-service

Corey sleepwalk incidents: 2
7/17 3.14am
8/3 10.11am - discussed 10.17am, 2.50pm

Pinkyswears: 7
Pre-feeds/premiere #1: Michelle, Tiffany
Pre-feeds/premiere #2: Corey, Nicole, Tiffany
6/29 8.29pm Natalie, Tiffany
7/8 9.55pm Bridgette, Bronte, Natalie
7/13 show Bridgette, Bronte
7/17 3.23pm Tiffany, Bridgette
7/25 10.01pm Corey, Nicole

Injuries: 6
Paul's head lump from crashing the headboard
Bridgette's sprained ankle celebrating veto win
Paul's nose infected piercing + awning attack
James's nerve trauma from endurance HOH
Paul's welt & bruise from Michelle's thrown apple
Bridgette's sore knee from rolly ball HOH

Deaths: 9
Michelle's laundered stunt hair
2 fishies on Nicole's HOH
1 fishie on Paulie's HOH
1 fishie on Bridgette's HOH
2 fishies on Paulie's 2nd HOH
1 fishie on James's HOH
Ernest the fly

Stuntcasts: 6
Paulie, Tiffany plus Da'Vonne, Frank, James, Nicole

Scandals outside BB world: 2
Corey's old tweets
Corey's goat story 6/25 11.05pm

RIP The Soup



CBS GOOFS

1 Mixed up James and Da'Vonne
2 Highly promoted cast reveal postponed
3 PopTV shows BBAD starting a day early
4 3 days? 4 days? Close enough
5 Whose/who's error
6 Omitted Boogie's winning season BB7
7 Mixed up Michelle and Nicole
8 Wrong dates/links in feeds highlights
9 Tech adjustments on feeds
10 Julie's intern made up a new hamster
11 Wrong show time on Jeffish
12 7/3 3.19pm BB called last year's cast names
13 7/11 Only 1 feed worked for hours (computer)
14 Wrong date for Battle Back show
15 Mixed up Kaysar's name and season
16 Wrong date for Battle Back, again
17 Mixed up Corey and Frank
18 Battle Back was four rounds, not five
19 Julie forgot BB9 Sharon in THR Q&A
20 Another apostrophe problem + typo
21 'All OTEVs' article omitted three
22 Allison forgot BB1 in another THR Q&A
23 Mixed up Frank and Paulie
24 Tweeted 'now' but show's delayed 40 mins







Linking to any page here is fine. Please don't repost content from this site (or any other) without permission, and don't repost or hotlink images.



THE REAL SHOW IS THE FEEDS


NEXT-DAY AIR SHOWS
BB1 THRU BB18 AND LOADS MORE CBS CONTENT


HAMSTERWATCH SWAG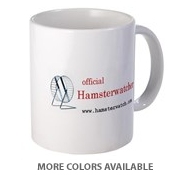 Mugs, shirts, more
Visit my Cafe Press shop





RATINGS WATCH


Wednesday's show led the hour with 1.8 rating, 7 share, 5.78 million viewers, ahead of (but with fewer viewers) than America's Got Talent on NBC with 1.7/7/9.14, MasterChef on FOX with 1.1/4/3.71, and CMA Music Festival on ABC with 1.1/4/5.54.









Big Brother 18 FAQ


Day 1 Move-in was June 15
Day 8 CBS premiere was June 22
Day 9 Feeds began June 23
Day 99 Finale is September 21

Feeds are streamed by CBS, and Flashback remains accessible via All Access subscription. Call 888-274-5343 for account help, including cancellation.

CBS shows are Sundays 8pm, Wednesdays 8pm, eviction Thursdays 9pm (Global in Canada).

Big Brother After Dark is on POP and airs Monday, Wednesday, Friday, Saturday, Sunday midnight to 3am, Tuesday 11pm to 3am, Thursday 1am to 3am. The aired blocks are recorded earlier on the same night.

HOH's team members had immunity from nomination all week. Unlike HOH, the Roadkill winner could nominate someone from his/her team.

HOH named the renom if veto was used on one of his/her nominees. If the Roadkill nominee came off, Roadkill winner named the renom.

The CBS app (by CBS Interactive) plays BB air shows and other CBS shows, as well as feeds, or you can use your browser to watch feeds on mobile devices. The same All Access link used to subscribe will lead to the feeds viewing page if you're already signed up.

BB18 prizes are the same: $500k for the winner and $50k for 2nd place. Stipend for the others is $1,000 per week again, including pre-show hotel and jury sequester. Siblings might and veterans definitely get more.

The habitat has 87 HD cameras (up seven) and over 100 microphones.

The recorded in-house announcements are the voice of producer Don Wollman. He and Julie Chen are the only staffers who have been there since Big Brother 1.