This site is about the Big Brother 18 feeds and contains spoilers! It isn't necessarily thorough: it's what I catch and/or what interests me. It's about watching hamsters: who's doing what and why. Thanks for encouraging my behavior.
Your pal, dingo







COREY COUNTDOWN


[10] nights without a sleepwalking incident
Last was: 7/17 3.14am







BB18 DRINKING GAME


Take a swig whenever you switch to another feed to avoid someone




Watch BBUK live or archive shows on Channel 5 & 5Star
Or any geoblocked content





QUICK LINKS & BOOKMARKS



-Get the feeds
-Watch the feeds
-Feeds updates by @UGotBronx
-My Twitter - my screencaps
-Amazon portal USA or Canada
purchases help me a bit

-BB Viewer by @liquid8d
Requires All Access

-Hamster Twitters
BB USA - BB Canada

-On The Block with McCrae Olson

-Attwx.com all seasons by @attwx
-Dick at Night with @EvelDick
-Latest alliance chart by @89razorskate20
-Diary tally by @clamperls

-VPN to watch BBUK and other international Big Brother shows

-Big Brother 18 official site
-Live show tickets

-Feeds devices & system req
-Shop Roku or Chromecast







EAST COAST STREAMS



The CanadaTV Roku channel is no longer working

NO DOWNLOADS NEEDED:
1 - 2 - 3 - 4 - 5
6 - 7 - 8 - 9 - 10




Donations via Paypal are gratefully accepted!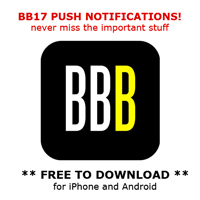 Get Big Brother Buddy app!
Get all the BB18 news plus push notifications of key events as they happen

Watch Big Brother
Seasons 1 thru 18
Plus tons more CBS content






BIG BROTHER SEASONS



CBS All Access
Seasons 1 thru 18

Amazon DVDs BB4 - BB3

Amazon Instant Video
BB17
- BB16
- BB15
- BB14
- BB13
- BB12
- BB11
- BB10
- BB9
- BB8
- BB7




>> >> >>

>> >> >> >>

>>





ANY AMAZON.COM PURCHASE CAN BE MADE THROUGH THESE LINKS - NO EXTRA COST TO YOU
Amazon USA
- Amazon Canada

GET THE FEEDS - NO PROMO CODE NEEDED - $5.99 PER MONTH
COMPUTER - MOBILE - ROKU - CHROMECAST - APPLE TV - ANDROID TV - FIRE TV - XBOX 360
FAQ and season stats

James is Head of Household
Bridgette, Frank are nominated
Michelle won/did not use veto
Nobody is Have-not
Somebody has Round Trip revival ticket - "in play for four weeks"


Next show:
Thursday, July 28 9pm: Secret room hunt/reveal, live eviction, HOH comp start?


Sunday 8pm, Wednesday 8pm, and live eviction Thursday 9pm on CBS (Global in Canada)


Monday, Wednesday, Friday, Saturday, Sunday midnight to 3am, Tuesday 11pm to 3am, Thursday 1am to 3am on Pop (Slice in Canada)


Nicole; Paulie; Bridgette; Paulie; James


Paul; Paulie; Bridgette; Corey; Michelle


Frank; Victor; Frank; Tiffany


Glenn (no vote); Jozea 7-4-0;

Victor 9-1-0;

Bronte 5-4-0; Tiffany 8-0-0


@GLENNNBX, @jossie_flores, @bbbronte18, @TiffanyAlexis04



Day 43 - Wednesday, July 27
Celebrity Big Brother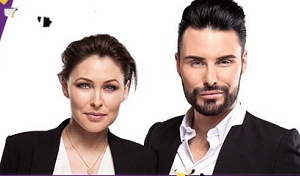 Yep, it's that time again - already! The UK civilian version just wrapped up Tuesday and they're starting another celeb series Thursday

Outside UK, use Hide My Ass to watch live or archive shows and clips.. there are loads of other VPNs out there but I use and recommend HMA because it's safe, secure, and easy to use (just select a UK server), available for multiple platforms, plus they have great customer service for questions or problems

You can watch live at Channel 5's online live stream link.. shows are usually daily but check the air show schedule - remember UK time is 8 hours ahead of Pacific and 5 hours ahead of Eastern.. the official site has archive air shows and talk shows, highlights, previews, and info

Cast rumors include BB16's Frankie Grande, AbFab's Helen Lederer, pop star/topless model Samantha Fox, Mob Wives' Renee Graziano, and Making The Band's Aubrey O'Day along with the usual reality/soap and scandal stars.. Beth "Mrs Dog the Bounty Hunter" Chapman was originally said to be in the cast but her name's been withdrawn from the rumor mill



Baking Star Wars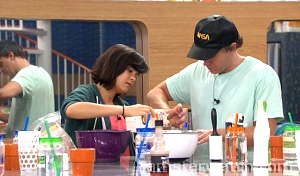 Back in Studio City, the awful talk and nasty gaming carried on, like it does.. we had a brief respite when Frank narrated some more Star Wars to Bridgette while they made cookies on their (probable) last night together.. Frank's movie retells are occasionally faulty (sometimes very faulty), but they're always funny

Nicole touched Paulie's hair and Natalie offered to do his nails, or something, and Zakiyah announced she was going to sleep with Victor.. Paulie said he wasn't bothered, but he told a lot of people in a lot of ways how much he wasn't bothered (he was bothered).. Zakiyah later said she didn't get the rise out of Paulie she was hoping for, so she cancelled her Victor plan and ended up in bed with Paulie again.. just another episode of As The Hamster Wheel Turns

Frank and Bridgette continued chatting about this, that, and every other thing.. Michelle dropped in on them to tell Bridgette that Frank had actually never said anything bad about her, and she gave both Frank and Bridgette a hug(!).. Frank asked her if he's going tomorrow, and she said yes - he thanked her for that.. Frank and Bridgette dug up some stashed wine and had some fun in the safari lounge for his last night - it was a good time, I'll miss him and the two of them together

GET YOUR FEEDS so you can watch it all unfold, click Previous Hamsterwatch episode up top to see what's come before, and click Feeds Updates way up top for detailed play-by-play with tons of screencaps by @UGotBronx



Day 42 - Tuesday, July 26
Feast or famine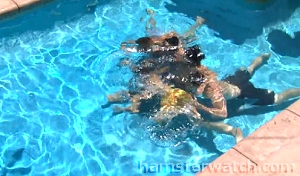 Monday was the feast with feeds on fire from multiple events, and Tuesday the famine, with the dullest feeds since they used to have the two finalists rattling around on their own for days.. I was going to joke that there was a mass drowning but no, just the usual weekly picture-taking

Congrats to Jason Burrill, 45 years old and the newest winner of Big Brother UK! Another edition of Celebrity BB UK starts on Thursday - watch live or archive shows with Hide My Ass, which will also be handy for international Olympics coverage.. there were a couple other bits of interesting news/rumors today, see Links of the Day below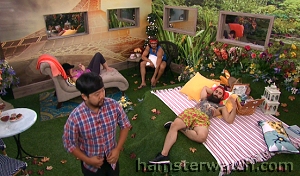 James and Natalie returned to Paris to hang out for awhile overnight, even though they have their own secluded room already, and various others hung out in there for awhile today.. most of them ate or slept most of the day.. Nicole silly-styled Corey's and Victor's hair, and Paul did an everlasting monologue/talk show about his beard and tattoos

Some are complaining about the nocturnal hours of this group, but BB USA has always happened overnight and probably always will.. at least there's Flashback to go back and see what you missed, that wasn't always the case

More of the same followed throughout the evening, with the only notable thing being a big elaborate plot by Paul, Paulie, Da'Vonne to pretend there will be a vote flip, so bear that in mind the next couple days if they go through with that cockamamie plan.. Michelle would rather Bridgette go than Frank, but he's definitely walking the plank this week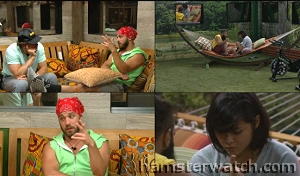 Update Paulie finally cornered Frank, and Paul cornered Bridgette to put this plan in action.. I didn't follow the convo where they planned it out and I can't listen to Paulie's "fuckin-like-you know-like-fuckin-type thing" speed rap whispering, but Paul, who'd spent all day ranting about how Frank's a bully, had Bridgette almost in tears, telling her things like her "narcissism, ego and snootiness went up" since she started hanging with Frank.. it was disgusting - Flashback 7/26 3.15am

GET YOUR FEEDS so you can watch it all unfold, click Previous Hamsterwatch episode up top to see what's come before, and click Feeds Updates way up top for detailed play-by-play with tons of screencaps by @UGotBronx



Day 41 - Monday, July 25
Rooms full of awkward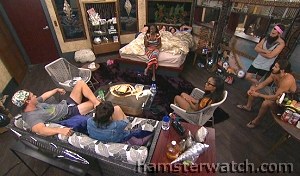 Frank's house meeting finally happened, after much intentional and occasional comedic blocking by Da'Vonne and others.. all of them gathered in HOH as Frank threw out "the topic at hand" at 3.01am.. a whole lot of awkward ensued, and then Paul put it out there again and openly - Flashback 7/25 3.11am.. in short, Frank said he wanted the veto to be used and for Da'Vonne to be put on the block, and he was told that wasn't going to happen

That led to many rehashes in various combos, as you can imagine, culminating in an interesting chat between Bridgette and Da'Vonne, where Bridgette laid out her story including the shunning, the birthday/cake fiasco, and her confusion about Michelle's issues with her.. Da'Vonne listened well and was comforting, and said she didn't know the backstory about the cake(!) and she thought Michelle's issues all stemmed from the alleged eyebrow shaving comment.. that comment/joke has finally surfaced out here, and it turned out to be about Tiffany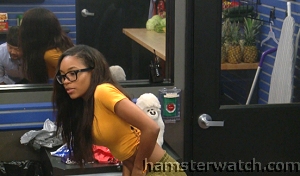 Just when we think we've seen it all, Zakiyah put on a maxi pad in the pantry, with Nicole, Michelle, and James present.. she continued to adjust and explain said adjustments when Paul came in - Flashback 7/25 5.12am.. I think this takes the cake for WHO DOES THAT?!.. in addition, there was no handwashing between that and snacking, and you know how no handwashing gets feedsters riled up

As if that wasn't enough for one morning, Bridgette and Michelle faced off while getting ready for the veto meeting.. Bridgette was basically asking why Michelle's been mean to her, and Michelle was basically saying that's how she is - what? Flashback 7/25 9.58am.. there was also something in there about Michelle being tight with Frank before Bridgette "swooped him away", and Michelle also got stuck on "the appearance thing" - nobody wants to tell her that Paul said she looks like Buzz Lightyear

Michelle did not use her veto.. before and after the meeting she tried to get to the bottom of the whole Buzz Lightyear thing - Paul finally admitted he did call her that, back when he thought she hated him, and he said it's a compliment - what?



REDRUM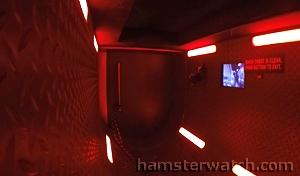 They had a few hours to nap before the feeds revved up again, with the living room monitor scrolling CLUES TO THE SECRET - ARE ALL AROUND YOU - YOU MAY WANT TO KEEP IT TO YOURSELF - Flashback 7/25 4.17pm.. James noticed it as he was walking by with Natalie, and he hollered for everyone to come, before he read the third screen - oops!

They all trickled out and started to search, most of them zeroing in on the travel signs and DEPARTURES board, the upstairs balcony phone booth, and the model plane with the teeny tiny CALL PARIS letters in its windows.. Paul ran around shouting he's almost got it! he's good at puzzles! but he was indeed the first one to dial P-A-R-I-S on the phone, opening the hatch to the Redrum tunnel glimpsed earlier, which opened into the secret room with a garden setting, supposedly the Paris room (if we overlook the huge Eiffel Tower in the kitchen)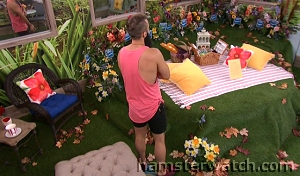 Inside the room Paul read the instruction card aloud, which said there are 12 envelopes, one of which contained a Round Trip.. he could tell others or not, his choice.. whoever ended up with a ticket must keep it sealed to take onstage when evicted, where it would be opened.. the one Round Trip ticket holder would boomerang right back into the house for revival.. reminder, Julie said this power would be in play for four weeks

They all knew Paul had gone in and he kind of rushed to get back out, likely unaware of hamsters occasionally disappearing for hours or overnight for twists or prizes.. he didn't work up his story too well and hemmed and hawed when they asked him what he got.. most of them knew he wasn't being truthful with him and as they were questioning, Victor went through the hatch! The feeds cut to fishies just as Corey punched in the proper code, and when they came back, everyone had been to Paris and gotten their ticket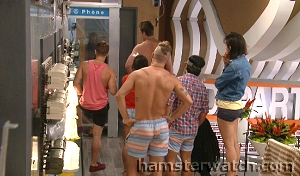 Whispers and gossip erupted here and there about Paul's faulty stories and "rigged for Frank" (even though this was announced before their HOH comp).. Paulie suggested they all open their tickets (they're void if tampered with), and Nicole got upset with Corey because he went in without her but James waited for Natalie.. Nicole got even more upset later when Diary asked Corey about it

Michelle, who was last to start hunting and last to get her ticket, ramped up her Bridgette issues again to anyone who'd listen - that included Da'Vonne, who very subtly encouraged Michelle to not forget about it all.. and Michelle didn't forget, her later retells escalated back to toxic levels

GET YOUR FEEDS so you can watch it all unfold, click Previous Hamsterwatch episode up top to see what's come before, and click Feeds Updates way up top for detailed play-by-play with tons of screencaps by @UGotBronx



LINES OF THE DAY

Wednesday
Michelle Diary: I really liked Frank and I had a little bit of a crush on him in the beginning, and then he went with Bridgette, that made me salty

Paulie: You don't think while I was an athlete, girls didn't pull that shit?

Zakiyah: I said I was going to sleep with Victor to get a rise [from Paulie], it didn't work

Frank: The fuckin frog said 'who'd you have to fuck to get in here?' I asked in the DR if he really said that, they said yep

Frank to Bridgette: I'm a really good liar, I am
[Nicole passes by the door]
Frank: Nicole, your hair looks good

Frank: Mom, fuck I screwed up, maybe.. maybe the odds were against me the whole time.. Ashton, I'm ready to be home

Frank to us: Before I bid you farewell for the summer, eat shit and die.. love ya
Frank to Bridgette: See when I add love ya at the end, they know it's not harsh

Tuesday
Julie re Battle Back: We've never had someone who was evicted so early on get to be back in the house
me: If you don't count BB9 Sharon, also evicted on Day 2 like Glenn

Victor: What's the most difficult part about living in BB house?
Corey: Shit's easy bruh

Victor: I just wanna compete, I don't care about the social game

Monday
Frank: I want the power of veto used and I want Day put up in my spot
Da'Vonne: The veto's not gonna get used
Frank: Is that 100% sure?
Michelle: Who wants Day gone? Say aye now
Frank: Nobody's gonna say when she's in the room right now, I hope

Michelle: I wouldn't deny [saying mean things], I was still pissed, I'm bitter, that's who I am
Bridgette: It feels really personal
Michelle: It's not
Bridgette: I heard I remind you of an ex roommate that you hate
Michelle: Your personality, yes

Bridgette: All I'm hearing is you 'hold a grudge, this is Big Brother, deal with it, I don't like you'
Michelle: What do you want me to say?!

Michelle: I wish there was a sanctuary you could send your kid til they're two years old, I'd do that
Da'Vonne: That's bonding time!



LINKS OF THE DAY

Get the feeds to see the real show

James's HOH blog

BB19 for this fall? by @RealityBlurred.. also see casting notice

CBB rumored cast includes Frankie Grande, Beth 'Mrs Dog the Bounty Hunter' Chapman, mob wife Renee Graziano, singer/reality staple Aubrey O'Day

BB18: The Saga Episode 4 by @WilHeuser

On The Block McCrae with Jason Roy

National parks fabric available at Amazon

Dick at Nite with Evel Dick Donato, new season is underway

Attwx.com all seasons stats, comps, factoids, and fun stuff by @attwx

Differences between BB Canada and USA and Confessions of a BB feed watcher articles by me, for Reality Blurred

Big Brother UK
Hide My Ass to watch from outside UK
Air shows live stream
Air show schedule (UK time)
Archive shows
UK TV for Roku for live air shows, for $1.99 per month



Ratings - 99 Buckets of Slop on the Wall edition
Ratings are based on entertainment value, and they bite




I said early on I thought the clueless and distasteful newbies may have been cast intentionally to make the vets and siblings look good. If that's true, it didn't work. I'm never one to say 'worst season ever' as all seasons have something to enjoy, even if they're kind of flops overall. This one takes the cake though. Worst season ever, and that's just sad considering how much potential for greatness is wasted.






Won: 8 days pixel suit; Outback dinner


TEAM CATEGORY 4



NOMINATED
Ups for calling out Michelle about her issues, and for not backing down even when Michelle had nothing to back up those issues. Sure Bridgette might be a bit bland compared to some, but I'll take that over some of the other horrors we're faced with. Her only crimes are being friends with Frank and making cookies, but you'd think she's evil personified to listen to the rest of them. For that she's been shunned for weeks but she's stayed upbeat anyway, which just ticks them off more.. good on her!






Won: $2,500


TEAM FREAKAZOID



You want to talk bland? This guy's got the personality of a slug.






Won: Outback dinner (guest)


TEAM BIG SISTER



I'm torn. I marvel at her ability to plant poison seeds and it's fascinating to see how easily and quickly they grow and bloom. But that's a dirty game and I'm not the biggest fan of dirty games. It's working for her so far, but how long can she get away with it? Stay tuned. She's finally acknowledged (out loud) that she knows Nicole's working against her.. look out, Nicole.






Won: 8 days pixel suit; Outback dinner


TEAM CATEGORY 4



NOMINATED
He's been the most social of them all but the fight seems to have gone out of him and he seems resigned to go. That's just as well since he's going, but I wonder what'll happen if he gets the Round Trip ticket onstage Thursday night? The BB interwebs will implode, but at least the feeds won't lay down to die completely like they will when he goes home.






Won: Immunity 1st 2 evictions


TEAM UNICORN



HEAD OF HOUSEHOLD
It's cute that he's so enamored of Natalie, especially since it seems mutual, but it's made him go from a sometimes fun guy to a lovesick pup on an extended date. The pranks wore out their welcome (and then some) but a game of Pot Ball or chocolate pelting wouldn't hurt at this point. It doesn't have to be a regular thing (please no) but something, anything, to break up these overlong weeks would help.






Won: 8 days pixel suit; Outback dinner


TEAM CATEGORY 4



WON VETO/DIDN'T USE
Toxic is the only word that comes to mind. She told Bridgette her personality is a problem but said 'it's not personal' in the same breath. She's playing this entire season based on an eyebrow comment that wasn't even about her, and she thinks she's a valuable asset to the vets and power players. Newsflash, she's the first one they'll cut. She let Da'Vonne rev up her Bridgette hate after it was finally waning, and within a few hours it escalated to something worse than it was before. But Michelle was an online hater before she went in there, so there's no reason to expect she'd stop now.






Won: Immunity 1st 2 evictions


TEAM UNICORN



She can be a bit bland but she's almost always pleasant and upbeat, occasionally funny, and she knows more about what's going on than more out here and all in there give her credit for. Her insecurities come out more and more as the days and weeks go on, and like most folks' insecurities, they don't appear to have any basis in reality. But they're real to her, and that's a shame.






Won: $2,500


TEAM FREAKAZOID



I don't care if she swoons for a guy who thinks attempted goat burning is a laugh riot and gay slurs are okay, as that's her business, but all she does is lay around with him and complain. She had huge issues about Corey not sharing the secret room info with her, then huger issues when he told her Diary asked him about it. Hello Nicole, BB16 may have been a fun summer vacation since Derrick played it for everyone, but it's still Big Brother - get out there and play it, or go home.






Won: Outback dinner (guest)


TEAM BIG SISTER



He can't say enough what a genius he is for being the first to figure out all the clues saying call Paris meant to call Paris. His hourlong yack about his beard and tattoos was unbelievably boring, and nothing he hadn't already said 100 times. His latest obsession is how he's going to 'call out Frank' for campaigning to stay (how dare he!) and for joking with Bridgette about her weight. Paul made a good recovery for a couple weeks after they all hated him for being Jozea's best/only friend and for his loud self, but he overstepped and he's on everyone's last nerve again. Well, mine anyway.
Update: After sleeping on it, I've added rare double downs after he browbeat Bridgette late Tuesday night, pointlessly, in the name of anti-bullying, for the sole purpose of breaking up her & Frank's #Friendship.






Won: 8 days pixel suit; Outback dinner


TEAM CATEGORY 4



Nope.






Won: Revival; immunity 1st 2 evictions


TEAM UNICORN



Another one here for summer vacation, he seems happier about his Battle Back championship belt than the fact that winning it let him re-enter the house and game.






Won: Outback dinner (guest)


TEAM BIG SISTER



Like Michelle, she's got some toxic in her, but most of hers is in the form of receiving Da'Vonne's little poison seeds and developing them before passing them on. I thought we'd seen it all on BB, but I'm still in shock about MaxipadGate. She's just lucky this is BB USA - a lot of other countries would put that on the air show edit.






Won: $2,500
TEAM FREAKAZOID

She came in looking and sounding so much like Vanessa it was spooky, but it didn't take long to realize her game was more Audrey-style chaos and sabotage than poker-faced strategy. Paulie's the only one who didn't get that memo but that's Paulie for you. Two weeks in a row she didn't campaign to save herself nearly as much as others campaigned for her, but when she transformed into Free Agent IDGAF Tiffany it was a joy to behold. I'm surprised #They let one of the six stuntcasts go before jury, but it just goes to show the whole thing isn't as rigged as some believe.






Won: Immunity 1st 2 evictions
TEAM UNICORN

She went in saying she'd use behavioral sciences to maneuver her way to the win but she spent most of her time with Bridgette and Natalie who were barely playing BB. Her huge confession to them about being the 'secret nerd' and aspiring mathematician was just silly, and she'll always be remembered for not knowing what 9x9 is. She didn't bring much to the table beyond her abnormally high voice and hair bows, and even the hair bows didn't stick around. She seems like a pleasant enough person but like so many others, she should have gone on a dating show instead.






Won: Nothing
TEAM BIG SISTER

One of the most delusional hamsters ever (and that's saying something), he was convinced he owned the house, he was the messiah of the newbies, the savior, the sanctuary, and the next Mario Lopez. He wore his doggie comp suit for days, but mostly he just wore underpants. His gametalks with Paul and Victor were pure comedy since they had no clue whatsoever how far out of every loop they were, and The Jozea and Paul Talk Show concluded with the two of them roaming the house looking for a camera that worked. Jozea's shtick got old fast for many, but he was feeds gold for trainwreck fans like myself.






Won: $2,500
TEAM FREAKAZOID

I didn't like having to combine an intro with an obit, but that's how the dog biscuit crumbles. He seemed like a fun guy with potential for fun feeds, especially his admission that he'd be 'willing to flirt if necessary' but he also might have gotten into heated political discussions, and BB is not the place for that. He didn't technically get Jodi'd since he got to compete twice, but gone before feeds is never good, and neither is trial by combat. Too bad the token older/regular person/fan got the first boot but young, pretty, hormonal hamsters are all the rage anymore.




EXTRACURRICULAR TALLY

Fights: 3
7/14 7.08pm Frank vs Da'Vonne
7/25 4.51am Frank vs Paul
7/25 9.58am Bridgette vs Michelle

House meetings: 2
6/24 8.54pm - Jozea owns the house
7/25 3.11am - Frank's veto plea

Revivals: 1
Victor 7/21

Nominee speech scorchers: 1
7/14 Tiffany

Sex events: 3
Subject to interpretation, and 3's enough to list
7/18 8.47am Corey and Nicole
7/19 3.38am Corey and Nicole
7/25 7.25am Corey and Nicole

Corey sleepwalk incidents: 1
7/17 3.14am

Pinkyswears: 7
Pre-feeds/premiere #1: Michelle, Tiffany
Pre-feeds/premiere #2: Corey, Nicole, Tiffany
6/29 8.29pm Natalie, Tiffany
7/8 9.55pm Bridgette, Bronte, Natalie
7/13 show Bridgette, Bronte
7/17 3.23pm Tiffany, Bridgette
7/25 10.01pm Corey, Nicole

Injuries: 3
Paul's head lump from crashing the headboard
Bridgette's sprained ankle
Paul's nose (infected piercing + awning attack)

Deaths: 8
Michelle's laundered stunt hair
2 fishies on Nicole's HOH
1 fishie on Paulie's HOH
1 fishie on Bridgette's HOH
2 fishies on Paulie's 2nd HOH
1 fishie on James's HOH

Stuntcasts: 6
Paulie, Tiffany plus Da'Vonne, Frank, James, Nicole

Scandals outside BB world: 1
Corey's old tweets

RIP The Soup



CBS GOOFS

1 Mixed up James and Da'Vonne
2 Highly promoted cast reveal postponed
3 PopTV shows BBAD starting a day early
4 3 days? 4 days? Close enough
5 Whose/who's error
6 Omitted Boogie's winning season BB7
7 Mixed up Michelle and Nicole
8 Wrong dates/links in feeds highlights
9 Tech adjustments on feeds
10 Julie's intern made up a new hamster
11 Wrong show time on Jeffish
12 7/3 3.19pm BB called last year's cast names
13 7/11 Only 1 feed worked for hours (computer)
14 Wrong date for Battle Back show
15 Mixed up Kaysar's name and season
16 Wrong date for Battle Back, again
17 Mixed up Corey and Frank
18 Battle Back was four rounds, not five
19 Julie forgot BB9 Sharon in THR Q&A
20 Another apostrophe problem + typo







Linking to any page here is fine. Please don't repost content from this site (or any other) without permission, and don't repost or hotlink images.



THE REAL SHOW IS THE FEEDS


NEXT-DAY AIR SHOWS
BB1 THRU BB18 AND LOADS MORE CBS CONTENT


HAMSTERWATCH SWAG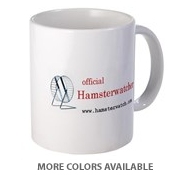 Mugs, shirts, more
Visit my Cafe Press shop





RATINGS WATCH


Wednesday's show fell to second for the hour with 1.6 rating, 7 share, 5.59 million viewers, behind America's Got Talent on NBC with 1.7/7/9.17, and ahead of MasterChef on FOX with 1.0/5/3.34, and two The Goldbergs reruns on ABC with 0.7/3/3.19 and 0.6/3/2.64 respectively.

Sunday's show won the hour with 1.9 rating, 8 share, 6.27 million viewers, ahead of Celebrity Family Feud on ABC with 1.4/6/7.49, The Simpsons and Brooklyn Nine-Nine reruns on FOX with 0.7/3/1.66 and 0.5/2/1.19 respectively, and Hollywood Game Night rerun on NBC with 0.4/2/1.91.









Big Brother 18 FAQ


Day 1 Move-in was June 15
Day 8 CBS premiere was June 22
Day 9 Feeds began June 23
Day 99 Finale is September 21

Feeds are streamed by CBS, and Flashback remains accessible via All Access subscription. Call 888-274-5343 for account help, including cancellation.

CBS shows are Sundays 8pm, Wednesdays 8pm, eviction Thursdays 9pm (Global in Canada).

Big Brother After Dark is on POP and airs Monday, Wednesday, Friday, Saturday, Sunday midnight to 3am, Tuesday 11pm to 3am, Thursday 1am to 3am. The aired blocks are recorded earlier on the same night.

HOH's team members had immunity from nomination all week. Unlike HOH, the Roadkill winner could nominate someone from his/her team.

HOH named the renom if veto was used on one of his/her nominees. If the Roadkill nominee came off, Roadkill winner named the renom.

The CBS app (by CBS Interactive) plays BB air shows and other CBS shows, as well as feeds, or you can use your browser to watch feeds on mobile devices. The same All Access link used to subscribe will lead to the feeds viewing page if you're already signed up.

BB18 prizes are the same: $500k for the winner and $50k for 2nd place. Stipend for the others is $1,000 per week again, including pre-show hotel and jury sequester. Siblings might and veterans definitely get more.

The habitat has 87 HD cameras (up seven) and over 100 microphones.

The recorded in-house announcements are the voice of producer Don Wollman. He and Julie Chen are the only staffers who have been there since Big Brother 1.