This site is about the Big Brother 18 feeds and contains spoilers! It isn't necessarily thorough: it's what I catch and/or what interests me. It's about watching hamsters: who's doing what and why. Thanks for encouraging my behavior.
Your pal, dingo







COREY COUNTDOWN


[28] nights without a sleepwalking incident







BB18 DRINKING GAME


Take a swig whenever Paulie mentions Cody or Tiffany mentions Vanessa




Watch BBUK live or archive shows on Channel 5 & 5Star
Or any geoblocked content





QUICK LINKS & BOOKMARKS



-Get the feeds
-Watch the feeds
-Feeds updates by @UGotBronx
-My Twitter - my screencaps
-Amazon portal USA or Canada
purchases help me a bit

-BB Viewer by @liquid8d
Requires All Access

-Hamster Twitters
BB USA - BB Canada

-On The Block with McCrae Olson
and Spencer Clawson
-Attwx.com all seasons by @attwx
-Dick at Night with @EvelDick
-Latest alliance chart by @89razorskate20
-Diary tally by @clamperls

-VPN to watch BBUK and other international Big Brother shows

-Big Brother 18 official site
-Live show tickets

-Feeds devices & system req
-Shop Roku or Chromecast







EAST COAST STREAMS



CanadaTV on Roku $2/month
Global Toronto - east coast live
Global BC - west coast replay

NO DOWNLOADS NEEDED:
1 - 2 - 3 - 4 - 5 - 6
7 - 8 - 9 - 10 - 11




Donations via Paypal are gratefully accepted!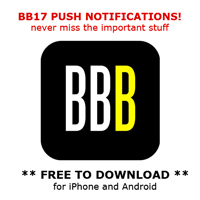 Get Big Brother Buddy app!
Get all the BB18 news plus push notifications of key events as they happen

Watch Big Brother
Seasons 1 thru 18
Plus tons more CBS content






BIG BROTHER SEASONS



CBS All Access
Seasons 1 thru 18

Amazon DVDs BB4 - BB3

Amazon Instant Video
BB17
- BB16
- BB15
- BB14
- BB13
- BB12
- BB11
- BB10
- BB9
- BB8
- BB7




>> >> >>

>> >> >> >>

>>





ANY AMAZON.COM PURCHASE CAN BE MADE THROUGH THESE LINKS - NO EXTRA COST TO YOU
Amazon USA
- Amazon Canada

GET THE FEEDS - NO PROMO CODE NEEDED - $5.99 PER MONTH
COMPUTER - MOBILE - ROKU - CHROMECAST - APPLE TV - ANDROID TV - FIRE TV - XBOX 360
FAQ and season stats

Bridgette is HOH
Frank won Roadkill
Bridgette won/didn't use veto
Bronte*, Paul, Tiffany are nominated (*Roadkill nominee)

Corey, Nicole, Tiffany are Have-not - their supplement is peanuts & popcorn
Frank, Michelle, Paulie have immunity

Teams, in order of original picks:
Category 4: Frank, Michelle, Paulie, Bridgette
Big Sister: Da'Vonne, Paul, Zakiyah, (Jozea)
Unicorn: James, Natalie, (Victor), Bronte
Freakazoids: Nicole, Corey, Tiffany, (Glenn)


Friday: Nominations, Roadkill comp, Bridgette's birthday
Saturday: Veto comp
Monday: Veto meeting

Next show is Thursday, July 14 9pm: Live eviction, HOH comp

July 22 8pm: Battle Back special episode


Sunday 8pm, Wednesday 8pm, and live eviction Thursday 9pm on CBS (Global in Canada)


Monday, Wednesday, Friday, Saturday, Sunday midnight to 3am, Tuesday 11pm to 3am, Thursday 1am to 3am on Pop (Slice in Canada)


Nicole; Paulie; Bridgette


Paul; Paulie; Bridgette


Frank; Victor; Frank


Glenn (no vote); Jozea 7-4-0; Victor 9-1-0



Day 29 - Wednesday, July 13
Smackdown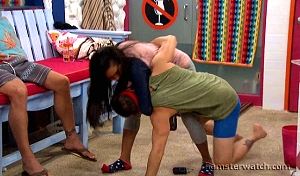 Some prank resulted in Zakiyah effortlessly taking down Paul, and that was the high point of the afternoon, along with Natalie cleaning the kitchen floor

Yesterday's Save Tiffany waffles seem to have come to nothing, like they do, and Tiffany's once again expected to walk the plank.. she continued her awkward social rounds, kind of, and Da'Vonne and others continued to let her think she's safe.. some are saying how unfair and cold-hearted this is, but Tiffany knew what she was getting into more than many of them.. I haven't heard any real campaigning from her, just repeated requests for reassurance - I'd like to see her act on her paranoia and actually fight to stay, but it doesn't seem like that'll be happening

Most of the rest of them have set their sights on Frank and/or Bridgette next week, but Nicole and Corey are still thinking Frank's their best bet to cozy up with, as of now.. Bronte said she'd been planning on seeing a therapist for social anxiety this summer - I hope that was just empty patter, because the BB habitat is a very bizarre place to end up if that's true



Cookiegate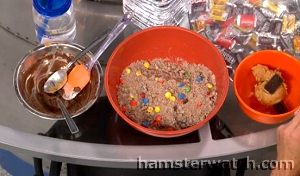 They were shown detailed pictures to memorize for the HOH comp, or so they assumed.. I think it'd be more fun if they were for Roadkill comp - they'd forget a lot of their studies if eviction/HOH/noms come along first.. the pictures had international city themes and featuring Glenn, Jozea, Victor in various scenes and settings.. most of them studied hard amidst the usual gametalk, paranoia, and gossip

Apprentice baker Paul mixed up some cookie concoctions, then stormed off saying Bridgette (his baking mentor) had ruined them by adding too much flour to the dough.. I think the entire lot was thrown out.. that got retold multiple times, as you can imagine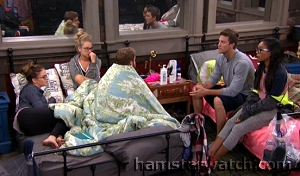 Paul and others told Da'Vonne that Frank said he's going after her, and Corey went around telling people that Da'Vonne is going after Paulie.. Corey also picked up the upstairs balcony phone and left a message saying hi to his family and friends(?).. the tension was pretty thick for awhile but it faded away a bit, like it does.. most of them continued to avoid Tiffany, except when she was helping them study the picture details

I'd have said Tiffany was still going but then Michelle, Nicole, Paulie, Corey, Zakiyah agreed to vote to evict Bronte, and to not tell anyone about it (ha!) - Flashback 7/13 10.01pm.. they told Tiffany

GET YOUR FEEDS so you can watch it all unfold, click Previous Hamsterwatch episode up top to see what's come before, and click Feeds Updates way up top for detailed play-by-play with tons of screencaps by @UGotBronx



Day 28 - Tuesday, July 12
Flips and flops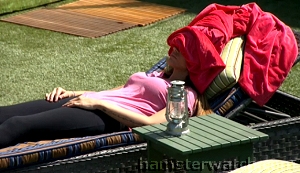 James, Da'Vonne and Michelle discussed possibly flipping things to keep Tiffany, likely in lieu of Paul and mostly to thwart Frank.. James said he could get Natalie's vote but they'd still need one more.. Tiffany joined them and said she didn't understand all the flip-flopping in recent seasons - campaigning clearly isn't her strong suit

Anytime the feeds are slow is a good time to do some shopping but especially today - it's Amazon Prime Day for both USA and Canada! If you use my Amazon portal it helps me a bit and doesn't cost you anything extra.. many thanks!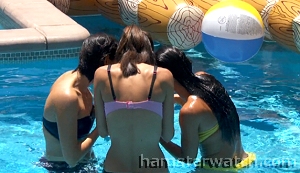 The camera came out while most were asleep, but a few of them went vertical to do their selfies.. Da'Vonne brought the Save Tiffany/Blindside Frank plan to Nicole and Zakiyah, and they seemed to be onboard.. Nicole and Da'Vonne told each other about their F2 deals with Frank - Da'Vonne said he came to her on Day 2, and we saw him go to Nicole on Day 14 (Nicole told Da'Vonne it was earlier)

Zakiyah and Nicole took the plan to Paulie and Corey respectively, but neither liked it much - Paulie because of Vanessa and I don't know what Corey's problem was.. Nicole and James exchanged notes and while each was seemingly onboard earlier, they didn't seem to be able to agree on saving Tiffany or whether to evict Bronte or Paul if they did.. James finally said he'd go along with it if they had enough votes.. Nicole, James, Corey, Michelle, Paulie, Zakiyah had a backyard summit at the hammock, while Frank sat in the kitchen almost certainly aware of it, and HOH Bridgette and the forgotten nominees Bronte and Paul slaved over the stove

James reported that meeting to Da'Vonne who was annoyed because Nicole and Zakiyah "had to run it by" Corey and Paulie, and Nicole later told Corey she doesn't want to piss off Frank, she wants to keep him around, and Da'Vonne's her target.. everyone Tiffany and Paul asked assured each of them they're safe (I didn't see Bronte ask anyone).. basically it was waffles everywhere for them, and lots of popcorn for us

GET YOUR FEEDS so you can watch it all unfold, click Previous Hamsterwatch episode up top to see what's come before, and click Feeds Updates way up top for detailed play-by-play with tons of screencaps by @UGotBronx



Day 27 - Monday, July 11
Getting comfy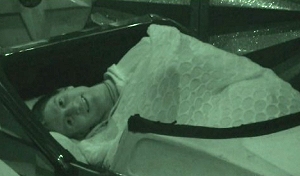 Or not, in Corey's case.. he did some more contortions in the bumper car while flirting with Nicole, as capped by @UGotBronx for Hamsterwatch Forum.. in the morning he got scolded by Big Brother for trying to catch a nap on one of the regular beds.. Corey's been griping about not eating too, and he's only a couple days into his Have-notness.. I was thinking/hoping the sleeping conditions might encourage him to sleepwalk, as he promised us pre-season - that's looking like false advertising at this point, and I've added a countdown to the left sidebar

Bridgette did not use her veto, so Paul, Tiffany, Bronte remain on the block, with Tiffany the target as of now.. after the meeting, Tiffany asked Da'Vonne and Michelle if she should campaign and they basically told her probably not/if she wants to - whether Tiffany hears the alarms going off or not, remains to be seen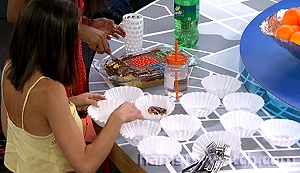 Nicole and Michelle made a cake for Zakiyah's birthday, and Frank told them they shouldn't use vegetable oil in it, and they should wait to frost it when it's cool.. that added more fuel to the Evict Frank Plan, and retells carried on throughout the day.. the cake turned out fine, Zakiyah dished it up into coffee filters, and everyone loved it

I think everyone now knows Frank was the first and third Roadkill, but I don't think Bronte/Natalie and Bridgette have let each other know they know yet.. ditto with the Evict Frank Plan for next week.. also, many of them now think Frank was the hinky vote that Paul cast for his buddy Victor last week, common sense be damned.. meanwhile, Nicole told Corey that she wants to keep Frank around for now so he'll get Da'Vonne out

Zakiyah's birthday celebration carried on, but in a low key, boozeless kind of way.. I shut them off early

GET YOUR FEEDS so you can watch it all unfold, click Previous Hamsterwatch episode up top to see what's come before, and click Feeds Updates way up top for detailed play-by-play with tons of screencaps by @UGotBronx



LINES OF THE DAY


Nicole: I don't freakin' wanna do my hair, I wanna do the electrocuted look

Frank: What that kitchen floor needs is a little controlled burn

Tuesday
James to Michelle, about her tanning efforts and sunburns: When I was 17, I figured out I wasn't gonna be a basketball player

Corey: Who would Bronte put up?
Paulie: She'd probably put up Michelle and somebody else
Corey: Bridgette?

Paulie about his dog: It's half wolf, half Husky, half German shepherd

Monday
Paulie: This house is relaxing
Natalie: It really is

Da'Vonne to Tiffany: If [Frank] was gonna take a shot at me, he should have done it this week

Michelle: I hate everyone, what a shitty cast




LINKS OF THE DAY

Get the feeds to see the real show

Bridgette's HOH blog

On The Block McCrae with Jason Roy and viewer calls

Big Brother 18 The Saga: Episode 3 by @WilHeuser

National parks fabric available at Amazon

Dick at Nite with Evel Dick Donato, new season is underway

Attwx.com all seasons stats, comps, factoids, and fun stuff by @attwx

Canada TV for Roku for Big Brother 18 east coast airings plus west coast replay, for $1.99 per month

Differences between BB Canada and USA and Confessions of a BB feed watcher articles by me, for Reality Blurred

Big Brother UK
Hide My Ass to watch from outside UK
Air shows live stream
Air show schedule (UK time)
Archive shows
UK TV for Roku for live air shows, for $1.99 per month



Ratings - Who Are You? special edition
Ratings are based on entertainment value, kind of




Previously on Biiiiiig Brother! Another crazy twisty-twist turned the house upside down! It's the wildest season ever! Never a dull moment!

PS All kidding aside, kudos for putting #AssSlapGate on Sunday's show, and for doing it timely and accurately. That isn't always the BB way, and it was very much appreciated. Okay, back to the kidding now.






Won: 8 days pixel suit; Outback dinner
TEAM CATEGORY 4

HEAD OF HOUSEHOLD
WON VETO/DIDN'T USE
I'm the sweetest fucking girl you've ever seen and shit, I cuss like a sailor too! I sprained my fucking ankle but I'm okay! I'm a comp beast! Girl power! I trust Frank because he's on my fucking team but I don't really, hell I don't know if I do or not. Want some dried okra?






Won: Immunity 1st 2 evictions
TEAM UNICORN

NOMINATED by Roadkill/Frank
I'm an aspiring mathematician and I'm going to save the NSA from hackers because I'm a secret nerd. It's a secret! But I told my girls because girl power! I'm using behavioral studies to befriend everyone and it's working so well I'm going to win. It doesn't mean anything that they keep nominating me.






Won: $2,500
TEAM FREAKAZOID

Fuck, I'm too big to sleep in these bumper cars. What's this show called again? I'm gonna go take a nap but I literally don't sleep. I used to sleepwalk but let me tell you about my MLB buddy. Where's my boys at? Hey Nicole, what kind of boys do you date? Let me tell you a story about this one time in the baseball house...





Won: Outback dinner (guest)
TEAM BIG SISTER

Frank is gonna go DOWN!






Won: 8 days pixel suit; Outback dinner
TEAM CATEGORY 4

WON ROADKILL
Ashton, my momma and my nana don't care if I thump their butts. My boy Mike Boogie taught me everything I know about Big Brother and I'm running this house, son! Everybody's on my side and they'll do what I want.
[Two weeks later] I dunno Julie, I thought I was going all the way! But you're still my home skillet.






Won: Immunity 1st 2 evictions
TEAM UNICORN

I'll win that Everybody Likes Me money again because I like everybody and everybody likes me. I extra like Natalie so I'll tell her some secrets, right after I tell some gossip about my season. Hold up, it's time to turn off the lights and scare somebody again.






Won: 8 days pixel suit; Outback dinner
TEAM CATEGORY 4

I'm kooky and quirky and edgy, and I know everything about Big Brother. I've made fan accounts, and fought with moms, and I catfished myself with a fake boyfriend. I killed my own fake hair but nobody saw that, did they? What's okra?






Won: Immunity 1st 2 evictions
TEAM UNICORN

Girl power! I'm like a girls' girl and I know how to like handle catty girls. I kinda like James and he kinda likes me so he like tells me secrets but I don't share them with my girls. Girl power! A girl has to win! Let me tell you about my ex.






Won: $2,500
TEAM FREAKAZOID

Oh gee, I dunno. I guess I'm doing okay? I was HOH and nobody nominated me yet. I don't want another BB showmance but Corey's kinda cute? Gee, I dunno. OHMYGOD Jaaaaames stop making me laugh so hard! I peed my pants!!






Won: Outback dinner (guest)
TEAM BIG SISTER

NOMINATED
I'M HERE AND I'M LOUD AND I'M CRAZY! I'VE DONE EVERYTHING ALREADY! BB IS ALL ABOUT FRIENDSHIP! I'M ALL ABOUT FRIENDSHIP! I'M HARDCORE CRAZY MAN! WANT A MUFFIN? I MADE THEM MYSELF!






Won: 8 days pixel suit; Outback dinner
TEAM CATEGORY 4

Fuck man it's like Cody's my bro and Corey's my new bro and Frank's my other new bro but like fuck Frank type thing. One of these days I'm gonna like do my hair and I'll look like Jon Bon Jovi type thing. I don't own any shirts.






Won: $2,500
TEAM FREAKAZOID

NOMINATED
Umm I dunno, like Vanessa's my sister but nobody will know if I don't tell them. I'll tell them anyway so they'll like trust me after I didn't tell them for like two weeks. Umm like this is hard. Solo dolo.






Won: Outback dinner (guest)
TEAM BIG SISTER

Frank called me a slut! He said I looked like a hussy but it's the same thing. He's going DOWN! I want Natalie out of here too and the other thots. You never heard thot? 'That ho over there'.






Won: Immunity 1st 2 evictions
TEAM UNICORN

He wasn't the best and he wasn't the worst, but his roomies decided he had to get gone. He thought being on BB will get him show biz jobs and social media followers, but so are most of them and that's never been a deal-killer in the house before. He was a solid member of The Revolution (buffoons) along with Jozea and Paul, but Paul was the only one who distanced himself from that handicap in time. I don't have much else on Victor since the feeds were almost always on vets or siblings, but he'll get a shot at revival and maybe he'll make it back.






Won: Nothing
TEAM BIG SISTER

One of the most delusional hamsters ever (and that's saying something), he was convinced he owned the house, he was the messiah of the newbies, the savior, the sanctuary, and the next Mario Lopez. He wore his doggie comp suit for days, but mostly he just wore underpants. His gametalks with Paul and Victor were pure comedy since they had no clue whatsoever how far out of every loop they were, and The Jozea and Paul Talk Show concluded with the two of them roaming the house looking for a camera that worked. Jozea's shtick got old fast for many, but he was feeds gold for trainwreck fans like myself.






Won: $2,500
TEAM FREAKAZOID

I didn't like having to combine an intro with an obit, but that's how the dog biscuit crumbles. He seemed like a fun guy with potential for fun feeds, especially his admission that he'd be 'willing to flirt if necessary' but he also might have gotten into heated political discussions, and BB is not the place for that. He didn't technically get Jodi'd since he got to compete, but gone before feeds is never good, and neither is trial by combat. Too bad the token older/regular person/fan got the first boot but young, pretty, hormonal hamsters are all the rage anymore.




EXTRACURRICULAR TALLY

House meetings: 1
6/24 8.54pm - Jozea owns the house

Pinkyswears: 4
Pre-feeds/premiere #1: Michelle, Tiffany
Pre-feeds/premiere #2: Corey, Nicole, Tiffany
6/29 8.29pm Natalie, Tiffany
7/8 9.55pm Bridgette, Bronte, Natalie

Injuries: 1
Bridgette's sprained ankle

Deaths: 5
Michelle's laundered stunt hair
2 fishies on Nicole's HOH
1 fishie on Paulie's HOH
1 fishie on Bridgette's HOH

Stuntcasts: 6
Paulie, Tiffany plus Da'Vonne, Frank, James, Nicole

Scandals outside BB world: 1
Corey's old tweets

RIP The Soup



CBS GOOFS

1 Mixed up James and Da'Vonne
2 Highly promoted cast reveal postponed
3 PopTV shows BBAD starting a day early
4 3 days? 4 days? Close enough
5 Whose/who's error
6 Omitted Boogie's winning season BB7
7 Mixed up Michelle and Nicole
8 Wrong dates/links in feeds highlights
9 Tech adjustments on feeds
10 Julie's intern made up a new hamster
11 Wrong show time on Jeffish
12 7/3 3.19pm BB called last year's cast names
13 7/11 Only one feed functional for computer







Linking to any page here is fine. Please don't repost content from this site (or any other) without permission, and don't repost or hotlink images.



THE REAL SHOW IS THE FEEDS


NEXT-DAY AIR SHOWS
BB1 THRU BB18 AND LOADS MORE CBS CONTENT


HAMSTERWATCH SWAG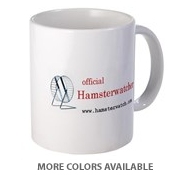 Mugs, shirts, more
Visit my Cafe Press shop





RATINGS WATCH


Wednesday's show placed second with 1.7 rating, 8 share, 5.89 million viewers, well behind America's Got Talent on NBC with 2.3/9/11.44, and ahead of ESPY Awards on ABC with 1.6/7/5.48, and Masterchef on FOX with 1.1/5/3.57.









Big Brother 18 FAQ


Day 1 Move-in was June 15
Day 8 CBS premiere was June 22
Day 9 Feeds began June 23
Day 99 Finale is September 21

Feeds are streamed by CBS, and Flashback remains accessible via All Access subscription. Call 888-274-5343 for account help, including cancellation.

CBS shows are Sundays 8pm, Wednesdays 8pm, eviction Thursdays 9pm (Global in Canada).

Big Brother After Dark is on POP and airs Monday, Wednesday, Friday, Saturday, Sunday midnight to 3am, Tuesday 11pm to 3am, Thursday 1am to 3am. The aired blocks are recorded earlier on the same night.

HOH's team members have immunity from nomination all week. Unlike HOH, the Roadkill winner can nominate someone from his/her team.

HOH names the renom if veto is used on one of his/her nominees. If the Roadkill nominee comes off, Roadkill winner names the renom.

The CBS app (by CBS Interactive) plays BB air shows and other CBS shows, as well as feeds, or you can use your browser to watch feeds on mobile devices. The same All Access link used to subscribe will lead to the feeds viewing page if you're already signed up.

BB18 prizes are the same: $500k for the winner and $50k for 2nd place. Stipend for the others is $1,000 per week again, including pre-show hotel and jury sequester. Siblings might and veterans definitely get more.

The habitat has 87 HD cameras (up seven) and over 100 microphones.

The recorded in-house announcements are the voice of producer Don Wollman. He and Julie Chen are the only staffers who have been there since Big Brother 1.