This site is about the Big Brother 17 feeds and contains spoilers! It isn't necessarily thorough: it's what I catch and/or what interests me. It's about watching hamsters: who's doing what and why. Thanks for encouraging my behavior.
Your pal, dingo







POWER STATUS


Currently Julia is the 'active' twin

Jeff evicted 7-4
Lizia is deposed HOH
She nominated James, Jackie - they won BOB

Shelli is HOH
Jason, John are nominated
Nobody is Have-not







UPCOMING EVENTS


Saturday: Veto comp, Have-nots grunge cake
Monday: Veto meeting, twin switch

Next show: Sunday 8pm
Nominations, BOB comp, assorted drama







BB17 DRINKING GAME


Take a swig whenever someone does a retell - take two if it's Vanessa







QUICK LINKS & BOOKMARKS



-Get/watch the feeds
-Feeds updates by @UGotBronx
-My Twitter - my screencaps
-Hamster Twitters
BB USA - BB Canada
-BB Viewer by @liquid8d
-B3V Viewer by blistering

-Hamsterwatch chatroom
-On The Block with McCrae Olson
and Spencer Clawson

-Amazon portal USA or Canada
purchases help me a bit

-Big Brother 17 official site
-Live show tickets
-Attwx.com all seasons
-Dick at Night with @EvelDick
-Latest alliance chart
by @89razorskate20
-Diary tally by @clamperls

-Feeds devices & system req
-Shop Roku or Chromecast

-East Coast air show streams
1 - 2 - 3 - 4 - 5 - 6 - 7
8 - 9 - 10 - 11 - 12 - 13
NO DOWNLOADS NEEDED




Donations via Paypal are gratefully accepted!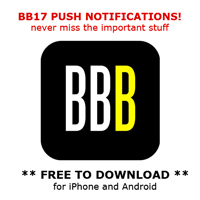 Get Big Brother Buddy app!
Get all the BB17 news plus push notifications of key events as they happen

Watch Big Brother
Seasons 1 thru 16!
Plus tons more CBS content







BIG BROTHER SEASONS



CBS All Access
Seasons 1 thru 16

Amazon DVDs BB4 - BB3

Amazon Instant Video BB16
- BB15
- BB14
- BB13
- BB12
- BB11
- BB10
- BB9
- BB8



>> >> >>
>>
ANY AMAZON.COM PURCHASE CAN BE MADE THROUGH THESE LINKS - NO EXTRA COST TO YOU
Amazon USA
- Amazon Canada
GET THE FEEDS - NO PROMO CODE NEEDED - $5.99 PER MONTH
Day 30 - Friday 7/17
No pinkyswears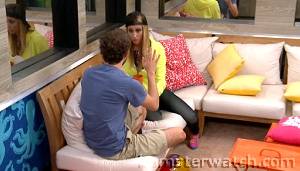 Liz nominated James and Jackie, and Shelli nominated Jason and John.. you'd think they'd calm down a bit having gotten the deed done, but no such luck.. Audrey started on Shelli about why she wasn't invited to the morning pre-noms pow-wow, and Shelli freaked out about that, retelling whoever would listen

Vanessa made Steve swear he wouldn't tell anyone something or other, which he did, along with swearing he has her back "100%" (whew).. lucky for him, these hamsters have forsaken the only valid currency of the BB habitat and there was no pinkyswear.. Julia rotated back in, and proceeded to do a major info exchange with Austin.. she said Liz had told her "no one knows" who cast the hinky votes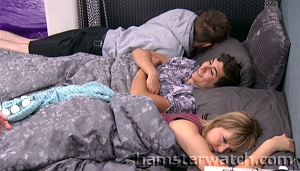 Audrey kept up her anti-Steve campaign, saying he leaves things in rooms intentionally so he can crash convos when he goes back to fetch them (à la Andy Herren), and that "his beard, his hat, his hoodie, it's all bullshit" - well, we know the beard is since he told us about that, so chances are the rest is intentional/strategy also

They all think Audrey's the one spreading BS, so once again she's popping up on radars for telling the truth - they only believe things about her that aren't true.. throw that on top of her totally random stuff and it's like she really is the America's Player they think she is, but an AP who's gone rogue



GrungeBob Go Ants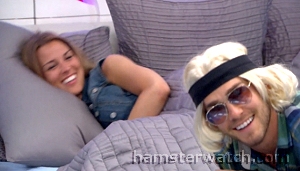 They did their BOB comp, a messy affair hosted by Clay Cobain that included smashing pumpkins to find a key, chained mannequins named Alice, teen spirit, and swimming in mud 'n honey - 90s Week, get it? James and Jackie won, deposing Lizia as HOH

Losers Jason, John and Lizia will get pagers and have to do a Whack Street Boys dance whenever they go off.. (but who are we kidding? The real loser was Jackie, whose pounds of fake hair got clotted with honey, and the real winners were the ants, as always)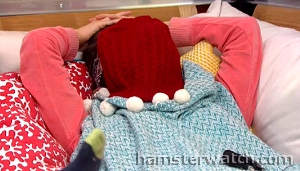 They got to scurrying afterwards, like they do, with James reporting to Shelli that Audrey told him Shelli & friends had pre-planned to put up James, rather than it being the last minute decision Shelli claimed, that it would be insane to work with Shelli, Clay, Austin, and Lizia because they'll all protect each other, and the like

Naturally Shelli didn't like hearing all that (you can imagine!) and she ran manic, frantic, angry loops with Vanessa for what felt like hours.. Clay listened calmly, almost compassionately, to Audrey run "poor me" loops from under her hidey hat, but he also revved up his hamster wheel into overdrive when he reported back upstairs.. the end result was that plans to backdoor Audrey are afoot once again, of course

All in all, it was a grand day for chaos lovers, and an otherwise relatively quiet night since they were all seriously sleep-deprived

More later, maybe

GET YOUR FEEDS to follow all the action! One week free trial - no promo code needed
Remember to click "previous Hamsterwatch episode" at the top of any page for what's come before, and hit the Feeds Updates tab for loads of details and screencaps



Day 29 - Thursday 7/16
90s Week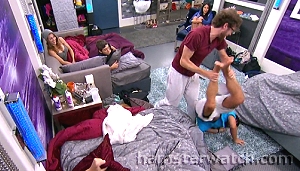 Big Brother USA always happens overnight, and this season is no exception.. along with most of the gaming, that's also shenanigans time.. as an example, last night after most of them had wound down, they suddenly exploded again with huge screamy pillow fights and body pileups.. Steve manhandled James off one of those pileups, picking him up and flopping him onto the floor, surprising everyone and delighting most.. daytime feedsters and those who don't catch up what they missed via Flashback, Twitter, and sites like this are watching a whole different show than the one that's really going on

Thank you to everyone who used my link for Amazon Prime Day shopping! Any Amazon purchase anytime helps me a bit without costing you anything extra, so please bookmark and use my Amazon portal to enter Amazon USA or Amazon Canada anytime

Jeff walked the plank as expected, but on an unexpected 7-4 vote.. Jackie's and John's votes to evict James weren't totally unexpected, but Steve's and Lizia's were, expecially since both twins told Jeff in their farewell moments later how they had to vote him out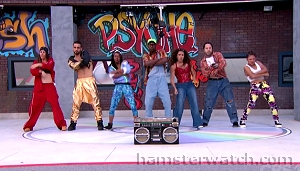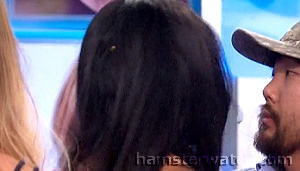 90s Week kicked off with true/false HOH questions about a live dance number, which Shelli and Liz won.. Julie had announced two rounds but they did it in one, so she bantered with the hamsters to fill the extra time.. Jackie had a visible weave bead show up several times on the show, bringing #Deathrace2015 to primetime



A new regime (not really)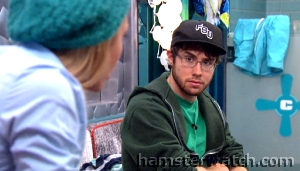 Those two hinky votes set off the chaos again, with Vanessa leading the charge since it meant somebody lied to her <gasp>.. she put Steve on the grill for awhile, and although he held up pretty well, it seemed pretty obvious to anyone who isn't a championship poker player that he was fibbing, but she seemed to buy it

They did their usual HOH ROOM hollering and squealing over pics.. Liz read her letter from her mom, and Shelli read hers from her dog.. Becky was pretty much blamed for one of the votes by the HOH crew of Shelli, Liz, Clay, Austin plus Vanessa (but not openly - yet), and scapegoats for the other one fluctuated between Audrey as America's Player again/still or various other innocent bystanders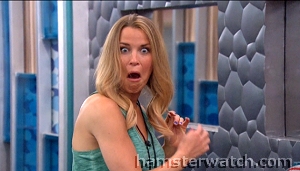 Shelli announced that she's sure she has haters, but her reasoning was because she's with Clay and female viewers are jealous (you really can't make this stuff up).. Audrey told Clay, Shelli, Vanessa, Jason that she thought James was hitting on her, and that he'd been asking how her anatomy worked and what kind of guys she likes

Shelli's HOHitis from the prior week never really cleared up last week, and those two votes kept Vanessa's alive and will likely continue to do so.. it looks like it'll be another fun week of feeds

Pre-nom meetings carried on towards morning, exhausting them and us equally.. Becky figured out both hinky votes but most of them still thought she was one of them.. final HOH meetings were a committee event, of course.. preliminary plans were for Lizia to put up Becky and Jackie, and Shelli to put up Jason and someone else, possibly Steve - definitely keep that in pencil

GET YOUR FEEDS to follow all the action! One week free trial - no promo code needed
Remember to click "previous Hamsterwatch episode" at the top of any page for what's come before, and hit the Feeds Updates tab for loads of details and screencaps



LINES OF THE DAY

Friday
Audrey to Shelli: Why was I excluded from the group when everyone was meeting this morning?

Steve to Vanessa: I have your back 100%

Julia to Austin about 7-4 vote: That's what [Liz] told me, and no one knows who voted for him

Julia to Austin about Liz liking nerdy guys: But not as nerdy as Steve, but not like guys who work out kind of thing

John: I didn't realize Alice would be that hard to unchain

John: We didn't get any choreography done.. it's just like when you start a real band, no one wants to follow through.. that's when you become a solo act

Thursday
Liz: I vote to evict James

Lizia farewell to Jeff:
Julia: Sorry we had to vote you out of the house..
Liz: But you were blowing up our game, so I'll miss flirting with you but..
Both: See you in Florida

Vanessa to Audrey: I'm sure it's Becky, the other one we'll never know.. I know with every fiber of my being that Becky's lying

Audrey to Austin: Am I gonna have to compete this week?

Johnny: THERE WERE NO HAVE-NOTS IN THE 90s!

Audrey to Clay: Why are your fingernails so clean? Like, what is your flaw?

Shelli to Vanessa: I can't focus on anything you're saying right now

@RenegadesMel: Shelli is acting as if her dog really sat down at a desk and wrote this letter



LINKS OF THE DAY

Get the feeds to see the real show

Live like a hamster! Habitat items available from Amazon: Jonathan Adler chess set - Blow-up giraffe - duckie chlorine dispenser - whale pillow

You might also like Crazy Cat Lady action figure and board game

2 Hamsters, 1 Wheel Big Brother 17 (particularly Shelli & Vanessa), as depicted by actual hamsters

On The Block Spencer and McCrae on the status of the game at this point

The Stream TV Post-eviction show with Kevin Zelman, Ryan Allen Carrillo, Jen Johnson

Team Steve shirts family run - proceeds will go to charity

Confessions of a BB feed watcher by me! for Reality Blurred



Ratings - Twist-free edition
Ratings are based on entertainment value
VTE = Voted to evict




There's way too much going on for them to cram into three shows a week, especially since the bulk of those shows are comps and fluff, but they're overlooking most of the meaty stuff that BB fans love in favor of a superfluff agenda.. it makes no sense to me. And they fibbed when they said there'd be a BB Takeover and a twist every week, which also makes no sense to me. Not that I'm complaining about not having cross-promo guests or twists, but I just don't get why they don't let everything develop organically and then portray that on the air shows. They certainly have gold this season but they seem to want to present it as tin. But hey, they get the big bucks so they must know what they're doing.






VTE Jeff
Public Enemy #1 is probably going to skate by another week and that's fine with me. She's still the master of stir-it-up and they keep being taken in by it, even when they say they know better. And she's joking and laughing a lot now, which we didn't see much of in the first weeks.
Update: She stirred them up so much Friday that she might actually be in jeopardy this time (again), but she'll probably skate by again just the same. It is the Audrey way.






VTE Jeff
Dude! Bro! Your game is all but blown up like an A bomb and half the BB interwebs think you're a creepy stalker! CBS didn't help, and neither did Vanessa when she conveniently 'forgot' to tell you that Liz isn't into you like that. Basically Vanessa's got you hoodwinked and you never saw it coming but oh snap, yes you did! You told Big Brother Network that you definitely would not showmance because you know it takes your head out of the game.. le sigh.






VTE Jeff
She just keeps being Becky, and figuring things out at the same time as she's being blamed for them. Plus dog stories and recipes.






VTE Jeff
His entertainment value for me was based on the unintentional humor he keeps dishing up, but it's fading.






VTE James
NOMINATED by Lizia - WON BOB
I'm still not sure why she's there, and she did have a pre-noms gametalk or two, but maybe she'll come out a bit more now that her anchor's gone. Negative rating is neutralized by the single weave bead on the back of her head showing up on the air show so many times.






No vote (nominee)
NOMINATED by Lizia - WON BOB
I've kept an open mind with him and am hoping he'll be a little more palatable now that Jeff's gone. Not that Jeff was such a bad influence on James, since James can be pretty bad, but at least the humor will outshine the inappropriate again like it did in the beginning. I hope.






VTE Jeff
NOMINATED
For a 'superfan' he seems to be doing a lot of things wrong, but he's still there and doesn't seem to be in jeopardy, so I guess it's working. I think he's said his main reason for being here was to be listed in Wikipedia, and that's a given now. Some of his jokes are funny and some aren't, but his reaction faces are priceless when something horrible's going on.






VTE James
NOMINATED
It's all win, all the time with this guy. It's too bad he's not on the feeds more often but laying low is working for him, and familiarity isn't breeding the contempt that most of us are approaching for the more visible ones.






VTE James
DEPOSED HOH
What the hell was that vote about? Was it a mistake or an intentional hinky to mess with everyone? And why doesn't Liz tell Austin she isn't into him that way, since he so obviously is? Julia's scheduled to rotate in on Friday, and that could change everything.






Won: Gronk party cruise
VTE Jeff
Like so many others, she's just there most of the time, usually leaning on something.






VTE Jeff
HEAD OF HOUSEHOLD
Her entertainment value is high, but not in a good way, and it's too soon for another week at the top with her. The state of her hair is all that's keeping me interested at the moment - it's a fascinating hot mess.






VTE James
I can't believe he did a hinky vote but even more so, I can't believe they're buying his innocent over-acted outrage about being questioned about it. I really can't believe Vanessa's bought it, but it seems like she has. Go Steve!






No vote (HOH)
Enough already. Just stop talking for awhile and give us all a rest. Or keep talking and threatening about the hinky votes, and keep them stirred up, but do it on a non-feed and just let us enjoy the fallout.






EVICTED 7-4
Won: Nothing
I haven't given many empty wheels before their time, and I don't think any of those got them as early as he did. But we've never had such a misogynistic, inappropriate, and unfunny pig before. CBS let him get away clean and that's what it is - I'm just glad to see the back of him.






Won: Power to nullify 3 votes
She wasn't afraid to confront people nor to keep fighting to stay, which was good for us, but didn't help her much. She figured out the twins early but didn't leverage that to her advantage soon or well enough. Her pantry rant to us was memorable, especially her catch-phrase 'get your life!' and she was smart, funny, and volatile. #DaVonneHasADaughter was a hashtag too good to be true and to her credit, she didn't let us take full advantage of it.






Won: Nothing
He was like a parody of all the former surf boys we've had, with all the worst qualities of asshat hamsters past rolled into one. He verbally beat up on Steve a few times but the primetime version earned him viewer loathing, even if his actoring was lousy. He ranted, streaked, flipped us off, and mostly talked about himself, but he promised to save us all someday through music.



SEASON STATS
HOHs in order *denotes surviving HOH for BOB weeks
James*/Jason; Becky/Shelli*; Austin/Vanessa*; Shelli*/Lizia

BOB wins in order
Becky/John; Steve/Jason; Meg/Jason; James/Jackie

Veto wins in order
Steve; John; John

Evictions in order
Jace 12-1; Da'Vonne 7-2; Jeff 7-4

Evictee Twitters
@NikolaPoe; @DayDaVonne_bb17; @JeffWeldon21









Linking to any page here is fine. Please don't repost content from this site (or any other) without permission, and don't repost or hotlink images.



THE REAL SHOW IS THE FEEDS


NEXT-DAY AIR SHOWS
BB1 THRU BB17 AND LOADS MORE CBS CONTENT


HAMSTERWATCH SWAG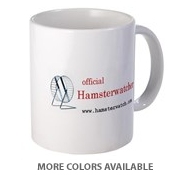 Mugs, shirts, more
Visit my Cafe Press shop





RATINGS WATCH


Thursday's eviction show won the hour with 2.0 rating, 7 share, and 6.00 million viewers, ahead of Dateline rerun on NBC with 1.1/4/5.43, Wayward Pines on FOX with 0.9/3/3.20, and Mistresses on ABC with 0.8/3/3.28.









Big Brother 17 FAQ


June 18 was Day 1 move-in. June 24 was CBS premiere, Day 7. Finale will be September 23, Day 98

Feeds are streamed by CBS, and accessible via All Access subscription. Call 888-274-5343 for account help, including cancellation.

CBS shows are Sundays 8pm, Wednesdays 8pm, eviction Thursdays 9pm (Global in Canada).

Big Brother After Dark is on POP (formerly TVGN). It airs Monday, Tuesday 11pm-2am; Wednesday, Friday, Saturday, Sunday midnight-2am; Thursday 1am-3am. The aired blocks are recorded earlier on the same night.

The CBS app (by CBS Interactive) will play BB air shows and other CBS shows, but not feeds. Use your browser to watch feeds on mobile devices. The same All Access link used to subscribe will lead to the feeds viewing page if you're already signed up.

Liz and Julia have to survive five evictions in order to play separately as individuals. They switch places every few days. They have a limited time in Diary to change clothes, adjust their appearance, and exchange info. The non-playing twin probably stays in hotel sequester.

BB17 prizes are the same: $500k for the winner and $50k for 2nd place. Stipend for the others is $1,000 per week again, including pre-show hotel and jury sequester. Recruits or those with established pre-season fan bases might get more.

The habitat has 80 HD cameras (up four) and over 100 microphones.

The recorded in-house announcements are the voice of producer Don Wollman.