This site is about the Big Brother 16 feeds and contains spoilers! It isn't necessarily thorough: it's what I catch and/or what interests me, and it isn't necessarily about who will win, who should win, who's cute or who's horrid. It's about watching hamsters: who's doing what and why. Thanks for encouraging my behavior.
Your pal, dingo



Ariana's My Everything
Now available from
Amazon USA or Canada





QUICK LINKS & BOOKMARKS



-View or buy BB16 live feeds

-Live feed updates
-Hamsterwatch chatroom
-McCrae Olson videos & blog
-Amazon portal USA or Canada
-VPN for international viewers
-Hamsterwatch Twitter - Twitpic
-BB16 official site
-Hamster Twitters
BB USA - BB Canada
-East Coast air show feeds
1 - 2 - 3 - 4 - 5 - 6 - 7 - 8








POWER STATUS


Frankie is Head of Household
Cody, Victoria are nominated
Frankie won/didn't use veto

Have-nots are over
Derrick, Frankie are Team America (fuck yeah)







UPCOMING EVENTS


Wednesday 9pm: Dick Donato on Couples Therapy, VH1

Next show
Wednesday 8pm: Izzy?, Dan, jury house, live 'eviction'/redo

Remaining shows
Sun 9/14 8pm
Tues 9/16 8pm
Weds 9/17 8pm (eviction?)
Fri 9/19 8pm (season review?)
Weds 9/24 9.30pm (finale)



Save 15% on BB fan gear
Use code BIGBROTHERAFF15





BB16 DRINKING GAME


Take a swig whenever you realize Big Brother 16 is still going




Donations via Paypal are gratefully accepted!






BIG BROTHER SEASONS



Amazon DVDs BB4 - BB3

Amazon Instant Video BB16
- BB15
- BB14
- BB13
- BB12
- BB11
- BB10
- BB9
- BB8





BB16 FAQ


Feeds are streamed by CBS.

Call 877-211-4367 for account help, including password reset or to cancel subscription.

CBS shows are Sundays 8pm, Wednesdays 8pm, eviction Thursdays 9pm (Global in Canada).

Big Brother After Dark is on TVGN (Slice in Canada) three hours Mon/Tues starting 11pm, two hours Wed/Fri/Sat/Sun starting midnight; and two hours Thurs starting 1am.

BB16 prizes are the same: $500k for the winner and $50k for 2nd place. Stipend for the others is $1,000 per week, including pre-show hotel and jury sequester. Frankie might get more.

The habitat has 76 cameras (up 11, and now high def) and 100 microphones (up 2).

The recorded in-house announcements are the voice of producer Don Wollman.





>> >> >>
>>
ALL AMAZON.COM PURCHASES MADE THROUGH THESE LINKS HELP SUPPORT THIS SITE
Amazon USA
- Amazon Canada
Team Izzy (Tuesday 9/9)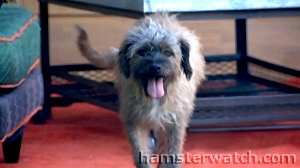 Izzy arrived with a ding-dong at 9.04am, letting herself in with treats and an introduction card, including the fact that feedsters voted her in as opposed to "America" (implying CBS viewers) that all the previous feedster votes said - that was refreshing

Izzy was greeted by shouts and squeals, and she turned out to be quite a little charmer: friendly, sweet, and well trained.. I decided to overlook Caleb's babytalk at her "wanna go catch some hogs?" in favor of Victoria holding her, playing with her, and proclaiming how sweet she is - a nice milestone for someone who's afraid of dogs.. Izzy also starred in the weekly picture-taking sessions, and rightfully so.. all in all this was a perfect treat for Izzy, hamsters, and us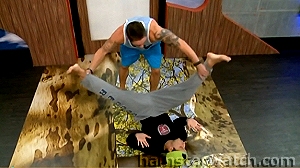 After Izzy left, Victoria did a superb acting job when she performed Derrick's script for Frankie about how much she's disappointed in and doesn't trust Derrick anymore - Flashback 9/9 4.32pm.. the goal being, from how I understand it, that Frankie as tiebreaker would decide to keep Victoria tomorrow as his preferred 2nd place in finals, but of course the real goal is for Victoria to stick around as Derrick's preferred 2nd place.. also there's probably not going to be an eviction tomorrow, so it's all moot, and this subterfuge may or may not come back to bite anyone

The air show confirmed another easy peasy $5k for Derrick & Frankie for their Eeek a Mouse TAFY task, even though it neither "wore down the competition" nor lasted "all night".. it didn't even last the 5 hours CBS said it did - more like half that.. nice work if you can get it

- Click "previous Hamsterwatch episode" up top to see what came before
- Check my Twitter and Twitpic for more of the random bits that I cover
- Check the Updates section for all the rest of it with real-time feeds updates and LOADS of screencaps
- Get the feeds
to watch it unfold for yourself



Observation skills (Monday 9/8)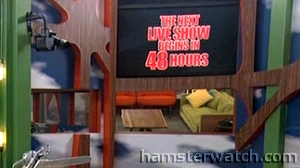 Theirs are sorely lacking, as it took them half an hour to notice the message on their living room screen: THE NEXT LIVE SHOW BEGINS IN 48 HOURS.. the countdown flatscreen in the Have-not/button room didn't make them speculate enough to satisfy The Powers That Be, or something.. they pretty much forgot about their Thursday Night Football promo comp, and leaped to all kinds of wacky conclusions including thinking they reset the entire CBS schedule by pushing their button

If the supposed "superfans" among them were really fans or even semi-observant viewers, they'd know a Wednesday eviction often happens in late season - I wouldn't expect them to know that one's taped on a Tuesday, but that's not the case this week anyway

Cody, Caleb, and Neapolitan Ice Cream Cone wanted to lower the boom on Victoria to tell her she's the next casualty, but Derrick counseled them to hold off on that, while assuring Victoria he's got a plan.. later he told us he was planning to do "his version of Dan's funeral"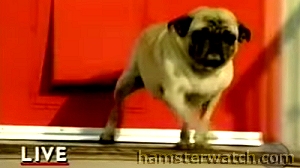 The doggie-for-a-day is scheduled to arrive Tuesday morning, as announced on a scroll on the feeds in an apparent attempt to get a few viewers back.. they called it "the debut of Big Brother's first house pet" - I guess they forgot about the pug, the chickens, the pig, the bearded dragons, the turtles, the tarantulas, the guinea pigs, and all the fishies that have come before.. BB1 pug Chiquita/Pugita was even evicted (banished) on a live show, and left through her own little doggie door.. see Attwx.com for all the pets, all the visitors, and so much more

- Click "previous Hamsterwatch episode" up top to see what came before
- Check my Twitter and Twitpic for more of the random bits that I cover
- Check the Updates section for all the rest of it with real-time feeds updates and LOADS of screencaps
- Get the feeds
to watch it unfold for yourself



Out of titles (Sunday 9/7)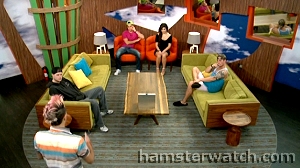 They had their veto meeting, and it was on feeds - veto wasn't used.. it wasn't nearly as fun as the last veto meeting on feeds, when BB5 Drew stared thoughtfully at the photo wall, then asked "should I just keep staring?" and so on.. today's had none of that awkward fun: they only leaked the actual ceremony part that will air on Tuesday's show, yawn.. I've got literally nothing else, sorry

- Click "previous Hamsterwatch episode" up top to see what came before
- Check my Twitter and Twitpic for more of the random bits that I cover
- Check the Updates section for all the rest of it with real-time feeds updates and LOADS of screencaps
- Get the feeds
to watch it unfold for yourself



Still more of the same (Saturday 9/6)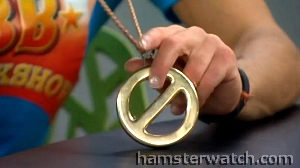 The veto comp was the faces puzzle formerly known as Morph-o-Matic, and it ran into BBAD yet again.. they ran it separately, so we were treated to Caleb shouting at us from the beehive, Derrick talking to us from the fire room, Victoria sorting towels and snacking in the pantry, and Neapolitan Ice Cream Cone talking himself up in HOH.. eventually they all finished, and Frankie had won

The Eeek a Mouse TAFY task began at 3.22am, with Frankie cussing up a storm to accompany his overacting.. they'd already planned to stay up til dawn (which they often do anyway), and Derrick said they'd been told 3am to 6am would suffice - that's hardly "all night" in my book.. this one should be a fail, but who cares.. Cody and Victoria saved things somewhat: he jumped onto a chair and she made a gummy bear & honey trap

- Click "previous Hamsterwatch episode" up top to see what came before
- Check my Twitter and Twitpic for more of the random bits that I cover
- Check the Updates section for all the rest of it with real-time feeds updates and LOADS of screencaps
- Get the feeds
to watch it unfold for yourself




Get a free trial of the live feeds to see it all as it happens

Ratings - All About Izzy edition
Ratings aren't much, but there's not much to work with




The reasons don't matter, however transparent they may or may not be, but bringing Izzy in for a few hours was exactly what was needed.






Won: $5,000, shaved head, 48 hr Adam & Eve with Victoria, football trip

He enjoyed the dog, even if he did make hog hunting jokes and got louder and squeakier as the day went on. Still, he's a dog guy and he was good to Izzy.






Won: 24 hrs kicking self, 1 week dinosaur

NOMINATED
I don't know when or why he started shouting all the time, but it didn't help when he kept doing it to and around Izzy. Still, he had fun with her and was definitely affectionate with her.






Won: $25,000, 5,000 hollas
TEAM AMERICA

He too enjoyed Izzy and even got a bit choked up when she left, and while he took time to play with and scritch Izzy, he also had a nice relaxed attitude around her. He's a dog person too, with a pug and a boxer - that's a nearly perfect combo.






Won: $20,000, football trip
TEAM AMERICA

HEAD OF HOUSEHOLD
Won/didn't use veto
Still on ignore






Won: 48 hr Adam & Eve with Caleb

NOMINATED
She's made many comments about not having been around or liking animals, and has even said she's afraid of dogs. But she warmed up to Izzy and patted her, held her, fed her, and played with her, and that was a huge win in every way.






Won: Football trip

She was the non-actormodel and longtime fan we always hope for, but many hated her anyway. I didn't mind her at all, despite her constantly saying this or that was 'the most disgusting thing/person on the planet' - many of us do the same. She laughed a lot, always a good thing, and she petted Cody too much. Her hubby Tim was one of the best relatives we've ever had, taking on haters like a superhero swatting away mosquitoes.






Won: 1 week frog, 1 week Germitard, revival

She was ingenuous without being cliche, refreshing and adorable, and she wore both costumes equally well. She was flattered & surprised to be a flirting target, and her game and/or guts were praised by Ian Terry, Dick Donato, Andy Herren, and Dan Gheesling, which is pretty high praise. Despite some very stiff competition, Nicole is easily the winner of Deathrace 2014, and she'll be missed.






Won: $15,000
TEAM AMERICA

One of the most likable hamsters ever, complete with ongoing Lines of the Day contributions, a rare combo. He had a nasty side but didn't often let it show, so he got an angelic edit once they stopped painting him as a backwoods buffoon. He went to bed early and missed nearly all of the gaming, and he complained about nobody ever coming to talk to him. I missed most of his morning shows and he lost me when he refused a TAFY task, but he was still the one to watch, at least when Zach was asleep, and he'd be fun to hang out with.






Won: Germany trip
A kooky combo of erratic, volatile, and endearing, he was unique in every way. He slept much of the time but when he was awake he was as unpredictable as they get, a rare and valuable hamster quality. He'll be remembered for

his

Victoria's ever-present pink hat, cuddling with Frankie, for being the TAFY 'escape goat', and most of all for playing a pretty crappy game yet ending up a huge fan favorite anyway.






Won: Nothing
He was the nice guy they all liked, and it's always rough to lose that guy early. Slightly immature with no shame, he was extremely good-natured and responsible for most of the just-for-fun activities and spontaneous silliness. He was cute with Nicole and a perfect combo of Jackass and hamster. He brought a lightness to the feeds that was missed when he left.






Won: Nothing
She didn't bring the holy wars I feared but she did speak in tongues. She cried a lot but she also laughed a lot, and she did great Diaries. She'll be remembered for her bow ties, her choir robe/portable changing room, and most of all her judgemental, IDGAF, side-eye, and the hell you say expressions.






Won: Nothing
A stunningly gorgeous model, she lasted longer than the hamster in that slot usually does, but she exited on another unanimous vote, and before jury. She wanted to play a clean game and that usually doesn't work out so well on this show. She was a good sport about pranks, including the antiquing shown here, but she'll mostly be remembered as the object of Caleb's dreams, and I do mean dreams.






Won: 2400 goals
She was the rawest recruit we've had in awhile and she didn't do much homework, which worked against her in a big way. She seemed to have pretty good game instincts and may have done some real damage if she'd been better prepared. She'll be remembered for her high bun as well as the few times her hair escaped it and landed her in Deathrace 2014 hall of fame, and for sticking with and completing that brutal soccer task when she didn't have to.






Won: Nothing
He has a daughter.

PS He easily wins the Best Evictee Award with this.






Won: Nothing
I kept hoping for the spitfire she plays on Twitter & Instagram to show up but it didn't until the veto meeting blowup. She was well on her way to being a perma-pawn but she stressed about not being able to win comps, and then Devin happened and out she went. She had a lot of entertainment potential and while we were robbed of most of it by her early exit, we'll always have CALTORU.






TEAM AMERICA FAIL
Won: Nothing
She blew up her game prematurely and spectacularly, and then her alter ego Alex and his 'big ass balls' sealed the deal. Supposedly she beat someone with 500k Twitter followers (plus 15 million backup) in a public vote, but that went splat just like BB12's saboteur Annie. Joey was lively and personable, a worthy member of the first out club, and she easily leads the pack of hamsters with unnatural hair colors.







Linking to any page here is fine. Please don't repost content from this site (or any other) without permission, and don't repost or hotlink images.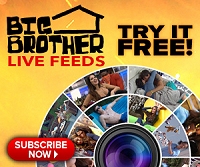 The real show is on the feeds





TEAM AMERICA VOTE


-Wear down the competition by convincing everyone there's a rodent in the house and keep them up all night trying to catch it
Voting is closed
Recap of tasks & outcomes







FEEDSTER VOTE


What pet should they get for a day?
> Dog (78%)
Bunny (22%)
Voting is closed







RATINGS WATCH


Final, adjusted for football.
Sunday's show placed second for the hour with 2.4 rating, 7 share, and 7.07 million viewers, well behind football pre-show and game on NBC with 4.7/15/14.03 and 9.0/26/23.69 respectively, and ahead of Utopia premiere on FOX with 2.0/6/4.63, and Wipeout on ABC with 0.9/3/2.74.








Twitpic is probably closing - see my Twitter feed for feeds caps


SEASON STATS
HOHs in order, *indicates the surviving HOH
Frankie/Caleb*, Amber/Devin*, Nicole/Derrick*, Cody*/Frankie, Frankie*/Zach, Nicole*/Donny, Caleb, Nicole/Christine*, Derrick/Frankie*, Cody, Caleb, Derrick, Frankie

BOB wins in order
Brittany/Victoria, Hayden/Nicole, Amber/Donny, Amber/Jocasta, Christine/Nicole, Caleb/Victoria, (none), Frankie/(Caleb), Donny/Christine

Veto wins in order
Donny, Devin, Donny, Victoria, Hayden, Christine, Donny, Zach, Frankie, Cody, Christine, Frankie, Frankie

Evictions in order
Joey 13-0; Paola 10-2; Devin 11-0; Brittany 10-0; Amber 9-0; Jocasta 6-2; Hayden 5-2; Nicole 6-0 (revived a week later); Zach 5-0; Donny 5-0; Nicole 4-0; Christine 3-0

Evictees on Twitter: @JoeyVanPelt1, @paolashea, @devinshepbb16, @britt4skin, @aborzotra



BBQ Smackdown Scorecard

- Big Brother 16 -
Round 1: BBQ 1, Frankie 0
Round 2: BBQ 1, Frankie 0, Derrick 0
Round 3: BBQ 1, Frankie 0

- Big Brother 15 -
Round 1: BBQ 1, Helen 1, Jessie 0
Round 2: BBQ 1, Helen 0, Jessie 0
Round 3: BBQ 1, Spencer 0
Round 4: BBQ 1, Spencer ½, Judd 0, McCrae 0

- Big Brother 14 -
Round 1: BBQ ½, Dan 0

- Big Brother 13 -
Round 1: BBQ ½, Adam ½, Rachel 0
Round 2: BBQ ½, Adam 0
Round 3: BBQ 1, Rachel 0

- Big Brother 12 -
Round 1: BBQ ½, Brendon 0
Round 2: BBQ 2, Britney 0, Lane 0
Round 3: BBQ 1, Lane 0, CBS 0

- Big Brother 11 -
Round 1: BBQ 0, Jeff 0
Round 2: BBQ 0, Jeff ½
Round 3: BBQ ½, Kevin 0, Michele 0


- Big Brother 10 -
No title events

- Big Brother 9 Winter Edition -
Round 1: BBQ ½, Ryan 0
Round 2: BBQ ½, Adam 0
Round 3: BBQ ½, Ryan 0

- Big Brother 8 -
Round 1: BBQ 1, Dick 0
Round 2: BBQ ½, Zach 0
Round 3: BBQ 0, Dick 1

- Big Brother 7 All-Stars -
BBQ training sabbatical

- Big Brother 6 -
Round 1: BBQ 1, Ivette 0
Round 2: BBQ 0, Howie 0

- Big Brother 5 -
Round 1: BBQ 1, Cowboy 1, Drew 0
Round 2: BBQ 1, Drew 0, Diane ½
Round 3: BBQ 1, Cowboy 1, CBS 0, Nakomis 0



EXTRACURRICULAR TALLY
House meetings - 6
First eight, on premiere #1
Joey's, semi-formal 6/28 5.56pm
Devin's 7/2 11.18pm
Devin's Bomb Squad 7/5 5.47pm
Derrick's re Victoria 8/10 2.45am
TAFY missing items 8/17 5.55pm

Fights - 5
Devin vs Brittany 6/29 12.21am
Devin vs Caleb 7/5 3.06am
Zach vs Paola 7/7 3.10pm
Zach Cody Derrick Hayden plus Caleb Frankie 7/29 8.22pm
Zach vs Frankie 8/8 9.50pm

Hamster revivals - 1
Nicole

Makeout pairings - 1
Hayden & Nicole

Sex events - 4
-Hayden self service (retells)
7/25 6.57pm, 8/02 1.50am
-Zach self service (retell)
7/28 10.37pm
-Christine self service
8/12 2.16pm
-Cody self service (retell)
8/19 8.23pm

Blindside evictions - 4
Brittany
Amber
Jocasta
Christine

Nom speech scorchers - 3
Zach putting up Nicole & Christine
Zach when Frankie put up Amber
Christine putting up Nicole

Backstory mysteries - 2
Victoria's hair loss
Amber's past relationship(s)

Pinkyswears - 17
Paola & Devin 6/29 1.35pm
Paola & Devin 7/4 12.15am
Paola & Donny 7/4 8.06pm
Devin & Victoria 7/6 10.49am
Jocasta & Amber 7/10 7.57pm
Derrick & Victoria 7/12 8.37pm
Nicole & Christine 7/13 1.24am
Nicole & Hayden 7/15 12.07am
Nicole & Christine 7/15 11.05pm
Jocasta & Amber 7/22 6.27pm
Zach & Victoria 7/24 9.00pm
Nicole & Hayden 7/25 5.32pm
Amber & Christine 7/29 11.15pm
Nicole & Christine 8/9 12.19am
Cody & Christine 8/9 1.28am
Nicole & Victoria 8/31 6.26pm
Derrick & Victoria 9/4 show

The Soup mentions - 6
-Donny's smarts
-Donny's America + Devin/Caleb cuddling
-Egg puns + Jocasta's tongues
-Frankie's solo BOB
-Frankie coming out + Zach's teary DR
-Scorpion show reactions

Almost literal asshats - 1
Zach 7/5 6.08am

CBS goofs - 29
- Happends
- Jill, for the 2nd year
- Premiere 2 wasn't live
- Misspelled Jocasta 6/29 show
- Flashback calendar's off
- Joey left before trackers came but got 1st place anyway
- Forgot TA results 7/10 show
- Pointless edit amputated Caleb's toes 7/10 show
- Misspelled Jeff 7/10 show
- Live show tweet on Saturday
- #BattleoftheBlcok
- Faulty status updates
- Arithmetic is hard
- Ignored feedster poll - they got both
- Flashback highlight time error
- Week-old comp on feeds
- Staffer caught on feeds
- 8/2 Trifecta: BBAD ran 1+ hour while feeds remained blocked, production comp audio leaks on BBAD, fishies on BBAD
- More faulty status updates
- Misspelled Donny 8/10 show
- Forgot TA 8/10 show
- Flashback highlight a week late
- Staffer caught on feeds again
- Nicole evicted 8/14 but in a group shot on 8/21 show
- Discrete/discreet error
- Bad info given to cable guides
- Misspelled apple (really)
- Staffer on feeds yet again
- Flashback highlight flub again