This site is about the Big Brother 16 feeds and contains spoilers! It isn't necessarily thorough: it's what I catch and/or what interests me, and it isn't necessarily about who will win, who should win, who's cute or who's horrid. It's about watching hamsters: who's doing what and why. Thanks for encouraging my behavior.
Your pal, dingo







QUICK LINKS & BOOKMARKS



-View or buy BB16 live feeds

-Live feed updates
-Hamsterwatch chatroom
-McCrae Olson videos & blog
-Amazon portal USA or Canada
-VPN for international viewers
-Hamsterwatch Twitter - Twitpic
-BB16 official site
-Hamster Twitters
BB USA - BB Canada
-East Coast air show feeds
1 - 2 - 3 - 4 - 5 - 6 - 7 - 8







POWER STATUS


Frankie is Head of Household
Caleb, Cody are nominated
Frankie holds veto
Christine, Victoria are Have-not

Donny, Derrick, Frankie are Team America (fuck yeah)







UPCOMING EVENTS


Saturday: Zingbot visit & veto comp
Sunday: Photobooth
Monday: Veto meeting

Next show
Sunday 8pm: Nominations, BOB comp

Finale is Sept 24 at 9.30pm



Save 15% on BB fan gear
Use code BIGBROTHERAFF15





BB16 DRINKING GAME


Literally take a swig whenever someone says literally.. good luck




Donations via Paypal are gratefully accepted!






BIG BROTHER SEASONS



Amazon DVDs BB4 - BB3

Amazon Instant Video BB16
- BB15
- BB14
- BB13
- BB12
- BB11
- BB10
- BB9
- BB8





BB16 FAQ


Feeds are streamed by CBS.

Call 877-211-4367 for account help, including password reset or to cancel subscription.

CBS shows are Sundays 8pm, Wednesdays 8pm, eviction Thursdays 9pm (Global in Canada).

Big Brother After Dark is on TVGN (Slice in Canada) three hours Mon/Tues starting 11pm, two hours Wed/Fri/Sat/Sun starting midnight; and two hours Thurs starting 1am.

BB16 prizes are the same: $500k for the winner and $50k for 2nd place. Stipend for the others is $1,000 per week, including pre-show hotel and jury sequester. Frankie might get more.

The habitat has 76 cameras (up 11, and now high def) and 100 microphones (up 2).

The recorded in-house announcements are the voice of producer Don Wollman.





>> >> >>
>>
ALL AMAZON.COM PURCHASES MADE THROUGH THESE LINKS HELP SUPPORT THIS SITE
Amazon USA
- Amazon Canada
TAFY thievery and fallout (Sunday 8/17)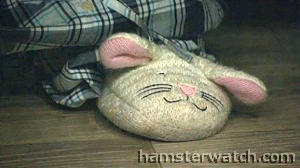 The three Team America (fuck yeah) guys completed the first part of their task, having hidden something from everyone in the recycling bin: Victoria's robe, Christine's stuffed tiger, Caleb's boots, Cody's hat, and Zach's gator shirt, plus their own stuff consisting of Donny's visor, Derrick's hat from home, and Frankie's glitter.. never mind that the bear and glitter aren't items of clothing

They wanted to get the bunny slippers but claimed they couldn't.. by the way, the bunnies aren't looking too good these days.. TAFY had planned to post a message about the missing items Monday morning, and blame Zach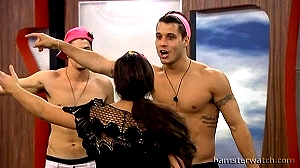 But as often happens in there, things got ahead of themselves: Cody discovered his blue hat was missing, and he went berserk while the CBS show was airing.. the rest of them started discovering they were missing things too, and a house meeting ensued - Flashback 8/27 5.55pm for the first of three parts.. from there it was a two solid hours of chaos, shenanigans, ridiculousness, hilarity, and rising tempers as they hunted all over the habitat.. mining hats came out(!) and Zach and Victoria were alternately blamed

Victoria still wasn't aware her hair/makeup coverup robe was gone so one of the TAFY guys took a favorite necklace, and Christine was still on the wrong track about missing pants until she realized her stuffed tiger was gone.. despite the tragedy of all fingers pointing at Zach (and logically so, when reasons were laid out), it was hilarious overall, culminating with Zach "confessing" to having taken everything and then stealing the cue ball from the pool table.. eventually Cody & Caleb looked in the recycle bin and found the hidden stash - Flashback 8/17 8.06pm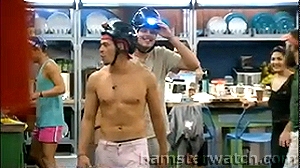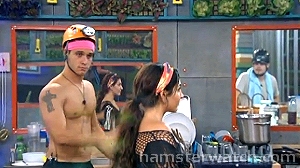 The HOH crew had planned to warn Zach he'd be going up and out at some point tonight, but he beat them to the punch and confronted Frankie about it, who confirmed.. Zach acknowledged it'd be better for Frankie's game to get him out rather than Victoria, and said how lucky he's been to have been here at all plus made it to jury.. Twitter exploded however, with #RenomRule trending #1 worldwide - never mind the fact that the rule telling nominees they'd go up has been broken most weeks, or that the two HOHs aren't allowed to reveal their noms to each other.. even Ariana and Momma Grande got in on it - oops

- Click "previous Hamsterwatch episode" up top to see what came before
- Check my Twitter and Twitpic for more of the random bits that I cover
- Check the Updates section for all the rest of it with real-time feeds updates and LOADS of screencaps
- Get the feeds
to watch it unfold for yourself



Zingtonium (Saturday 8/16)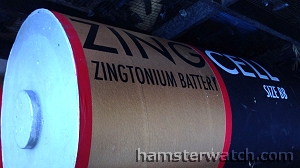 The Zingbot veto comp is always memorable because of the zings.. they tend to run from silly to lame, but sometimes Zingbot scores a direct hit that has as many repercussions as the comp outcome

Thanks to this exclusive pic, we know there will be ZingCell batteries involved - whether as integral comp parts or decor, we'll find out.. "Size BB" is a nice touch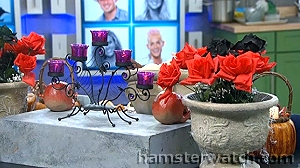 In a major milestone, they got the middle-size table for eight.. it came loaded with a nice spread including candles and flowers, and Transylvanian goulash, which turned out to be blood sausage, canned pumpkin, and onions.. Frankie named Christine & Victoria as Have-nots, and proceeded to start calling it Tranny goulash



Family dinner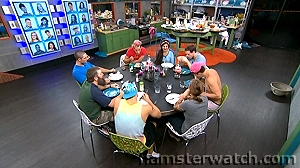 They got their zings plus a visit from Kathy Griffin who also delivered some, and Frankie won the veto.. it sounds Zingbot came in giving props, and had to be rewired in a build or puzzle affair where they had to light up lights

Frankie was zinged about living in his sister's shadow, Victoria's were about always looking in mirrors plus not playing the game, Derrick had one about his looks(?), Christine was zinged about her tattoos, her glasses, and being attached to Cody, Zach's was about wearing pink and cuddling with men, and of course Caleb got one about Amber

They had planned to talk over all the zings at family dinner but they got sidetracked by Ariana and Kathy, and that led to storytime starring a poop tale from Cody, a dog-licking hubby story from Christine, and an extended ass waxing story from Caleb, so those are all the zings I got

The TAFY task got underway prior to all that, with Victoria's robe being lifted and stashed in the recycle bin.. more later, maybe

The plan as of now is for Frankie to veto Caleb and put up Zach to send him

home

to jury, but it's only Saturday.. also they aren't expecting Revive-a-Hamster on Thursday

- Click "previous Hamsterwatch episode" up top to see what came before
- Check my Twitter and Twitpic for more of the random bits that I cover
- Check the Updates section for all the rest of it with real-time feeds updates and LOADS of screencaps
- Get the feeds
to watch it unfold for yourself




Get a free trial of the live feeds to see it all as it happens

Ratings - Dwarfs edition
Ratings are based on a 77-year-old movie




This one's a given, right? When there's a blame game going, a witch is usually involved.






Won: $5,000, shaved head, 48 hr Adam & Eve with Victoria, football trip

NOMINATED
Dopey to a fault.






Won: Football trip

Of course she's Happy - it's that laugh.






Won: 24 hrs kicking self

NOMINATED
Sneezy because there isn't one called Snorty or Farty.






Won: $10,000
TEAM AMERICA

Doc, the one who knows what's going on and nudges the rest of them into doing what they're supposed to do.






Won: $10,000
TEAM AMERICA

Grumpy doesn't really fit (although he can get salty), but that beard.






Won: $10,000, football trip
TEAM AMERICA

HEAD OF HOUSEHOLD
HOLDS VETO
Still on ignore.






Won: 48 hr Adam & Eve with Caleb

Bashful of course, the one people tend to forget.






Won: Germany trip

Sleepy because that's what he does most, and because there isn't one called Volatility or Unpredictably.






Won: 1 wk frog, 1 wk Germitard
EVICTED 6-0
She was ingenuous without being cliche, refreshing and adorable, and she wore both costumes equally well. She was flattered & surprised to be a flirting target, and her game and/or guts were praised by Ian Terry, Dick Donato, Andy Herren, and Dan Gheesling, which is pretty high praise. Despite some very stiff competition, Nicole is easily the winner of Deathrace 2014, and she'll be missed.






Won: Nothing
He was the nice guy they all liked, and it's always rough to lose that guy early. Slightly immature with no shame, he was extremely good-natured and responsible for most of the just-for-fun activities and spontaneous silliness. He was cute with Nicole and a perfect combo of Jackass and hamster. He brought a lightness to the feeds that was missed when he left.






Won: Nothing
She didn't bring the holy wars I feared but she did speak in tongues. She cried a lot but she also laughed a lot, and she did great Diaries. She'll be remembered for her bow ties, her choir robe/portable changing room, and most of all her judgemental, IDGAF, side-eye, and the hell you say expressions.






Won: Nothing
A stunningly gorgeous model, she lasted longer than the hamster in that slot usually does, but she exited on another unanimous vote, and before jury. She wanted to play a clean game and that usually doesn't work out so well on this show. She was a good sport about pranks, including the antiquing shown here, but she'll mostly be remembered as the object of Caleb's dreams, and I do mean dreams.






Won: 2400 goals
She was the rawest recruit we've had in awhile and she didn't do much homework, which worked against her in a big way. She seemed to have pretty good game instincts and may have done some real damage if she'd been better prepared. She'll be remembered for her high bun as well as the few times her hair escaped it and landed her in Deathrace 2014 hall of fame, and for sticking with and completing that brutal soccer task when she didn't have to.






Won: Nothing
He has a daughter.

PS He easily wins the Best Evictee Award with this.






Won: Nothing
I kept hoping for the spitfire she plays on Twitter & Instagram to show up but it didn't until the veto meeting blowup. She was well on her way to being a perma-pawn but she stressed about not being able to win comps, and then Devin happened and out she went. She had a lot of entertainment potential and while we were robbed of most of it by her early exit, we'll always have CALTORU.






TEAM AMERICA FAIL
Won: Nothing
She blew up her game prematurely and spectacularly, and then her alter ego Alex and his 'big ass balls' sealed the deal. Supposedly she beat someone with 500k Twitter followers (plus 15 million backup) in a public vote, but that went splat just like BB12's saboteur Annie. Joey was lively and personable, a worthy member of the first out club, and she easily leads the pack of hamsters with unnatural hair colors.







Linking to any page here is fine. Please don't repost content from this site (or any other) without permission, and don't repost or hotlink images.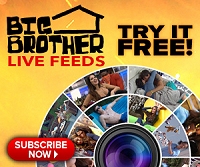 The real show is on the feeds





TEAM AMERICA VOTE


> Create a distraction by hiding a favorite piece of clothing from each Houseguest then organize a neighborhood watch program to keep it from happening again
All tasks & outcomes recap







FEEDSTER VOTE


What supplement should Have-nots get?
> Transylvanian goulash (62%)
Frankenstew (38%)







RATINGS WATCH


Thursday's live show won the hour with 2.2 rating, 7 share, and 6.39 million viewers, ahead of Last Comic Standing on NBC with 1.4/5/4.87, Rookie Blue on ABC with 1.0/3/5.06, and Gang Related on FOX with 0.7/2/2.36.








Clicky: caps sorted by day - all caps

SEASON STATS
HOHs in order, *indicates the surviving HOH
Frankie/Caleb*, Amber/Devin*, Nicole/Derrick*, Cody*/Frankie, Frankie*/Zach, Nicole*/Donny, Caleb, Nicole/Christine*, Derrick/Frankie*

BOB wins in order
Brittany/Victoria, Hayden/Nicole, Amber/Donny, Amber/Jocasta, Christine/Nicole, Caleb/Victoria, (none), Frankie/(Caleb), Donny/Christine

Veto wins in order
Donny, Devin, Donny, Victoria, Hayden, Christine, Donny, Zach, Frankie

Evictions in order
Joey 13-0; Paola 10-2; Devin 11-0; Brittany 10-0; Amber 9-0; Jocasta 6-2; Hayden 5-2; Nicole 6-0

Evictees on Twitter: @JoeyVanPelt1, @paolashea, @devinshepbb16, @britt4skin, @aborzotra



BBQ Smackdown Scorecard

- Big Brother 16 -
Round 1: BBQ 1, Frankie 0
Round 2: BBQ 1, Frankie 0, Derrick 0

- Big Brother 15 -
Round 1: BBQ 1, Helen 1, Jessie 0
Round 2: BBQ 1, Helen 0, Jessie 0
Round 3: BBQ 1, Spencer 0
Round 4: BBQ 1, Spencer ½, Judd 0, McCrae 0

- Big Brother 14 -
Round 1: BBQ ½, Dan 0

- Big Brother 13 -
Round 1: BBQ ½, Adam ½, Rachel 0
Round 2: BBQ ½, Adam 0
Round 3: BBQ 1, Rachel 0

- Big Brother 12 -
Round 1: BBQ ½, Brendon 0
Round 2: BBQ 2, Britney 0, Lane 0
Round 3: BBQ 1, Lane 0, CBS 0

- Big Brother 11 -
Round 1: BBQ 0, Jeff 0
Round 2: BBQ 0, Jeff ½
Round 3: BBQ ½, Kevin 0, Michele 0


- Big Brother 10 -
No title events

- Big Brother 9 Winter Edition -
Round 1: BBQ ½, Ryan 0
Round 2: BBQ ½, Adam 0
Round 3: BBQ ½, Ryan 0

- Big Brother 8 -
Round 1: BBQ 1, Dick 0
Round 2: BBQ ½, Zach 0
Round 3: BBQ 0, Dick 1

- Big Brother 7 All-Stars -
BBQ training sabbatical

- Big Brother 6 -
Round 1: BBQ 1, Ivette 0
Round 2: BBQ 0, Howie 0

- Big Brother 5 -
Round 1: BBQ 1, Cowboy 1, Drew 0
Round 2: BBQ 1, Drew 0, Diane ½
Round 3: BBQ 1, Cowboy 1, CBS 0, Nakomis 0



EXTRACURRICULAR TALLY
House meetings - 6
First eight, on premiere #1
Joey's, semi-formal 6/28 5.56pm
Devin's 7/2 11.18pm
Devin's Bomb Squad 7/5 5.47pm
Derrick's re Victoria 8/10 2.45am
TAFY missing items 8/17 5.55pm

Fights - 5
Devin vs Brittany 6/29 12.21am
Devin vs Caleb 7/5 3.06am
Zach vs Paola 7/7 3.10pm
Zach Cody Derrick Hayden plus Caleb Frankie 7/29 8.22pm
Zach vs Frankie 8/8 9.50pm

Makeout pairings - 1
Hayden & Nicole

Sex events - 3
-Hayden self service (retells)
7/25 6.57pm, 8/02 1.50am
-Zach self service (retell)
7/28 10.37pm
-Christine self service
8/12 2.16pm

Blindside evictions - 3
Brittany
Amber
Jocasta

Nom speech scorchers - 3
Zach putting up Nicole & Christine
Zach when Frankie put up Amber
Christine putting up Nicole

Backstory mysteries - 2
Victoria's hair loss
Amber's past relationship(s)

Pinkyswears - 15
Paola & Devin 6/29 1.35pm
Paola & Devin 7/4 12.15am
Paola & Donny 7/4 8.06pm
Devin & Victoria 7/6 10.49am
Jocasta & Amber 7/10 7.57pm
Derrick & Victoria 7/12 8.37pm
Nicole & Christine 7/13 1.24am
Nicole & Hayden 7/15 12.07am
Nicole & Christine 7/15 11.05pm
Jocasta & Amber 7/22 6.27pm
Zach & Victoria 7/24 9.00pm
Nicole & Hayden 7/25 5.32pm
Amber & Christine 7/29 11.15pm
Nicole & Christine 8/9 12.19am
Cody & Christine 8/9 1.28am

The Soup mentions - 4
-Donny's smarts
-Donny's America + Devin/Caleb cuddling
-Egg puns + Jocasta's tongues
-Frankie's solo BOB

Almost literal asshats - 1
Zach 7/5 6.08am

CBS goofs - 23
- Happends
- Jill, for the 2nd year
- Premiere 2 wasn't live
- Misspelled Jocasta 6/29 show
- Flashback calendar's off
- Joey left before trackers came but got 1st place anyway
- Forgot TA results 7/10 show
- Pointless edit amputated Caleb's toes 7/10 show
- Misspelled Jeff 7/10 show
- Live show tweet on Saturday
- #BattleoftheBlcok
- Faulty status updates
- Arithmetic is hard
- Ignored feedster poll - they got both
- Flashback highlight time error
- Week-old comp on feeds
- Staffer caught on feeds
- 8/2 Trifecta: BBAD ran 1+ hour while feeds remained blocked, production comp audio leaks on BBAD, fishies on BBAD
- More faulty status updates
- Misspelled Donny 8/10 show
- Forgot TA 8/10 show
- Flashback highlight a week late
- Staffer caught on feeds again