This site is about the Big Brother 15 feeds and contains spoilers! It isn't necessarily thorough: it's what I catch and/or what interests me, and it isn't necessarily about who will win, who should win, who's cute or who's horrid. It's about watching hamsters: who's doing what and why. If they aren't entertaining, get rid of 'em! Thanks for encouraging my behavior. Your pal, dingo







POWER STATUS


GinaMarie is Head of Household
Candice, Amanda, Spencer are nominated
Candice is in clownitard 1 week
Nobody is Have-not







UPCOMING EVENTS


Next show Thursday 9pm: Live eviction, HOH comp, noms, veto comp, 2nd eviction, plus RESET in there somewhere
east coast feed - another

Thursday post-show: 2nd HOH comp
Friday: Nominations, Have-not or food comp?
Saturday: Veto comp







BB DRINKING GAME


Take a swig whenever one of the girls snipes at another - take two when it's to their face









BIG BROTHER SEASONS



Amazon DVDs BB4 - BB3

Amazon Instant Video BB15
- BB14
- BB13
- BB12
- BB11
- BB10
- BB9
- BB8


iTunes BB15 -
BB14
- BB13
- BB12
- BB11
- BB10
- BB9
- BB7 All-Stars





BB15 FAQ


Feeds are streamed by CBS - sign up today


Call 877-211-4367 for account help including password reset or to cancel subscription.

CBS shows are Sundays 8pm, Wednesdays 8pm, eviction Thursdays 9pm (changed from Tuesdays, live Wednesdays, Sundays).

Big Brother After Dark is on TVGN for two hours every night starting at midnight/9pm BB time (1 hour later Thursdays), and is censored. Beginning July 19, BBAD runs three hours on Fridays.

Canada runs the TV episodes on Global, and After Dark on Slice, uncensored.

Weeks 1, 2, 3: The MVP (Elissa) selected the third nominee, privately, and she didn't have to tell anyone she was MVP. If the MVP's nominee won veto, MVP selected the replacement.

Weeks 4, 5, 6: The MVP vote was to name the third nominee directly. If the viewer pick was HOH or and HOH nominee, the third nominee spot went to next highest vote getter.

BB15 prizes are the same: $500k for the winner and $50k for 2nd place. Stipend for the others is $1,000 per week (up from $750), including pre-show hotel and jury sequester. Recruits may get more.

The habitat has 65 cameras (up 12) and 98 microphones (same).

The recorded in-house announcements are the voice of producer Don Wollman.






>> >> >>
>>
ALL AMAZON.COM PURCHASES MADE THROUGH THIS LINK HELP SUPPORT THIS SITE
Prepare for RESET (Wednesday 8/7)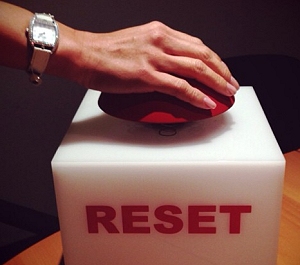 Gamewise, CBS announced that jury begins this week so it will likely be a jury of nine (or possibly eight with three finalists and quickie public vote to break a tie, if needed).. it also means all our remainders will get full pay which will make them happy, and none will be out in the wild until after the finale.. they don't know about this yet, and perhaps the farewell messages they recorded for each of the three nominees this week will have some juicy mistakes, considering

Julie posted the famous RESET button on her Instagram, with a cryptic but relatively transparent caption indicating MVP is probably over.. last year's RESET had nobody evicted, but that would contradict the CBS tweet "Jury begins this week with both evicted Houseguests from the Double Eviction"

They got a rolly ball teeter-totter apparatus to practice for either of Thursday's HOH comps or veto in the double eviction extravaganza, and they figured out from the instructions that it'll probably be a double since GinaMarie as HOH was told to practice.. they may as well have gone all the way and said Candice needn't bother practicing, except they included her "America, please give me a coup d'etat" on the Wednesday show edit, which was an extremely interesting phrase to include on the show out of all the things she may have said about her clown outfit



Halfway, plus three days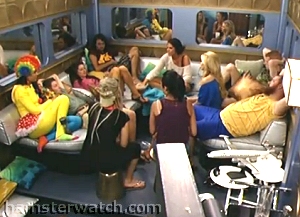 They had their halfway party and the fishies swam for that since they had music, along with stacks of pizzas, photo cake, and booze.. afterwards all 11 of them were packed like hamster sardines in the lounge chatting amiably, even Candice, so there were no party fights this time, but reports surfaced of Jessie dancing on the table, and Aaryn walking in on McCrae & Amanda taking advantage of no feeds to do something sexy in the photo booth

Last night's condom-on-a-cucumber prank also surfaced, and GinaMarie deep-throated it before breaking it in half, putting the halves on her eyes, and joking about "cucumber slices on my eyes".. Amanda & Aaryn had another little snipe, and Amanda had another little hissy-fit after Aaryn left, to which McCrae said Amanda had to stop being so paranoid, again.. she yelled at him to stop yelling at her, and then he laughed - oops, kiss of death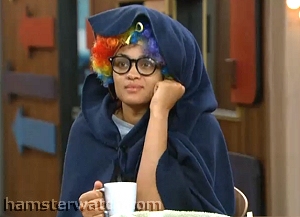 Things almost heated up as McCrae & Amanda retired to the HOH/honeymoon suite.. a crowd gathered, like they do, and GinaMarie and Aaryn had a slight blowup over something going all the way back to Jeremy.. unfortunately for us, GinaMarie's fight threats are worse than her confrontations, and her peacemaking abilities smoothed this one over without a fight.. eventually all the guests left and went back to their psst pssting, and Amanda & McCrae got down to business of a sort, as did Spencer more or less

They're all expecting the double eviction tomorrow along with the end of MVP - will Julie tell them viewers were the MVP the last three weeks, and how will Amanda take that? And will it salvage Judd's reputation? Tune in Thursday for more As the Hamster Wheel Turns.. all signs still point to Candice walking the plank, barring any RESET coup d'etats saving her somehow



Daily rabies report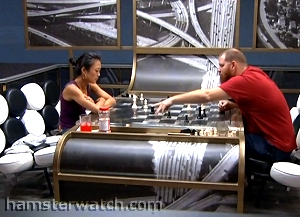 Spencer's pedophile joke, discussed here on Monday's rabies report, was reported to his employer Union Pacific, who alerted local law enforcement.. they looked into the matter and said "At this time, we haven't found that any criminal act was committed".. TMZ ran the story but got one big detail wrong: they said "Spencer has just learned a valuable lesson" - he probably won't find out about any of this until after the finale.. their story and a statement from UP are in Links of the Day, way down below

Clearly the whole thing was a joke, complete with setup, obviously a very poor one he should never have said, as this will now follow him the rest of his life - being tagged a pedophile is something that never goes away, even when false.. I've been called a "Sandusky protector" for suggesting viewers lighten up the hating a bit.. more pie, anyone?

In another follow-up, GinaMarie's blog was posted, also linked below, and it isn't nearly as bad as she made it sound - sure, it has some spelling & grammar faux pas and the expected Nick stuff, but otherwise it's on par with many HOH blogs past, and better than some.. I was glad to see that



Cone couture (Tuesday 8/6)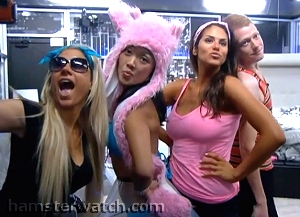 GinaMarie wrote her blog and when she was kicked out of HOH so they could remove the lappy, she came crying down the stairs about how stupid it made her feel that she can't spell, and how everyone will think she's stupid - more on this in the daily rabies report below, which I guess might have to become a regular feature here.. she went to the lounge, Amanda came to check on her, Helen & Andy joined, and they (mostly Helen) consoled her about it.. later Helen included in her retells that GinaMarie doesn't have any credit cards, and she made that sound equivalent to living without clean drinking water

But GinaMarie bounced back, like she does, and the camera came out and they struck their silly poses, like they do.. today's photo shoot was not cut short by a house meeting like last week's.. the cone of shame and the spare were put to extra good use as Helen and GinaMarie wore them as skirts.. it took the fashion world by storm and a trend was born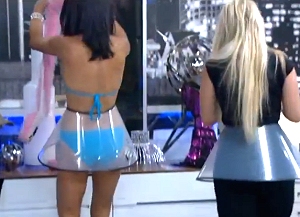 The feeds were broken for an hour, which was actually a nice break (sorry).. Amanda added "playing tent" to her & McCrae's laying around in bed repertoire.. Andy burrowed in with them, and then Spencer threatened, attacked, and ripped off the covers - it was good fun with some much needed laughter, but of course some took it as an opportunity to add peeping Tom to Spencer's rap sheet

As always, you don't have to take my word for any of this: get the feeds
to watch everything unfold as it happens.. remember to click "previous Hamsterwatch episode" at the top of any page to see what came before, and feel free to click the Amazon.com banner up there for any of your Amazon purchases anytime



Bachelorette party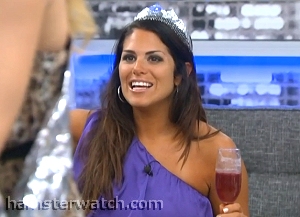 The sniping rounds carried on, resulting in Helen winding up Aaryn & GinaMarie about Jessie as they made tinfoil outfits for the party, and Elissa winding up Candice about GinaMarie as she pouted in her bed.. Spencer fired up the grill and made steaks, even though they all thought it was off limits - it was not a scored round in the official BBQ Smackdown

The party kicked off at 10.30pm with booze, cake, failed penis cookies, tinfoil pageant sashes and a tinfoil tiara with flowing toilet paper for Amanda.. the sashes were kaiboshed by production, probably for being too shiny for tv.. Candice stayed in bed but Andy joined (he'd been invited), and the rest of the guys were asked up after the first few toasts.. they got 18 minutes into it before orchestrated Helen activities took over: a quiz for McCrae, followed by that old favorite Pin the Bandaids on the Bride-to-Be's Boobies, and then they took it outside.. the planned limbo was forgotten in favor of a lengthy game of Telephone - ironic since this whisper 'n tattle group has been playing Telephone for 47 days now, but this time it was the X-rated version



Daily rabies report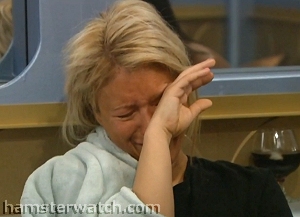 GinaMarie's pain over writing her blog was palpable and very real, and showed that there are a lot of folks who find functional illiteracy humorous.. I don't know if these are the same folks who wanted Spencer added to the national database of sex offenders for making a tasteless pedophilia joke or not, but maybe there's a sliding scale

I never like to see any of them truly hurting and GinaMarie truly was.. she added that Nick was the first guy who didn't make her feel stupid.. sure we can jump on the stale stalker jokes, and we can also start to understand a bit more why she's so obsessed with her appearance, her hair, her weight.. she confessed to Nick early on that she's bulimic, and her eating habits and a few specific stealth visits to the bathroom here & there have backed that up

I'm the first to poke fun at them but even I have a line I don't like to cross, and deep-seated emotional damage is one of them.. I don't like to highlight or dwell on such things here, I don't like to come off as holier-than-thou, and I really don't like to fan the hate flames for the ones who are easy targets, but there's a point when we have to ask how some of these fragile girls - it's always the girls - end up on this show, and how they'll possibly be able to handle the backlash when they get out

I was thinking her blog would be a good time to do GinaMarie ratings here, but I probably won't after that - I'll see how it looks when it's posted.. I don't like it when I start to feel protective toward them, but that's a personal problem.. I'll try to stick with the hair jokes and goofy activities, but I may start self-editing more than I already am with this oh-so-touchy season



Ratings - Quickies edition plus guest Spirit Animals
Ratings are Tuesday's for now, based on entertainment value, but @TheJenge has made African Safari Spirit Animals very, very special guest edition to supplement and to pay tribute to Joe Schmo, making my day in a huge way! Do be sure to click it



So far they've been streamlining the various feuds and complex alliances in favor of easy to understand soap opera plots and scapegoating Aaryn for the sins of several, but I'm hoping they'll start to focus more on the round robin girl-on-girl-on-girl conniving going on. They really need to do a montage of pop-up Andy with his patented 'Hi guys, what's up?' and I'm hoping they show the Impersonate GinaMarie contest as it was hilarious and showed what a great sport she is. Alternately if her blog is as bad as she fears it is, I hope they don't post it. But it'll probably be up by the time most of you read this.






She's had a relatively low profile lately and I don't think she's happy in that position. She's been sniping a lot about her only true ally GinaMarie to anyone who'd listen, and Helen and particularly Elissa now snipe about Aaryn almost to her face. Things are heating up and I can almost guarantee they won't end well.






Won: 50 shades of orange
NOMINATED
Kudos for being a gracious bachelorette even though she didn't particularly want to go. But she loves being the center of attention (as do most of them), and she played the part of the blushing bride-to-be-who-already-got-BB-married as well as anyone could in a tinfoil tiara with toilet paper veil.






He's become a parody of himself, joking about how he pops up into every convo, and that's the kind of putting it on the table that makes him easy for them to overlook. His social game is superb, but his double- and triple-dipping might come back to bite him. Meanwhile we've always got more Drunken Andy and #AndyHoldingThings to look forward to to keep things fun.






Won: $5,000, 1 week clown suit
NOMINATED
She was doing great with her clown, being a good sport about it and being cute about it, but today she went down in the dumps again and brought out the bitchy again. Would it have killed her to attend a party for someone she doesn't like? No it wouldn't have.. most of us have done it and survived.






Won: Sit out 1 veto comp
Ever since I decided not to take anything she says seriously and just look at her as comic relief, it's been a lot easier to watch her and a lot funnier as well. Plus she's also a good stirrer-upper. I'd really like to see what she's like on her own without Helen puppeteering her, and I hope we get there. Mmmm-hmmm.






Won: 48 hour cone of shame
HEAD OF HOUSEHOLD
She's one of the most comical hamsters ever, but it comes at a cost. Today's meltdown over her blog tied it all together. I think the girl's got an incredibly good bravado cover for having absolutely zero self-esteem, and that's sad. She does have a lot of good qualities and I hope she can learn to be proud of the valuable inner ones as well as the shallow outer ones.






Won: 2 night curfew, BBQ party
Bachelorette party was going along just fine til her structured activities started up, but they got back at her for it with Dirty Telephone. Now she knows about teabagging as well as all the dental dams knowledge she gained yesterday. Somebody just needs to tell her they're used in dentristry too.






She keeps contributing to her own demise by endlessly stirring things up, and a stirred up habitat is an entertaining habitat.






Won: $5,000, 24 hour solitary
He's laying around more than he should but let's face it, the guys are all sitting back while the girls slug it out, and wisely so.






Won: $5,000
This whole layaround thing is one of the surefire ways to get on my bad side, and he keeps doing it. He did perk up for the bachelorette party though, so that's something.






Won: 24 hour megaphone, Bahamas trip
NOMINATED
I'm sticking to my analogy of the drunken uncle at Thanksgiving who invariably goes too far once he gets going, and we're all still stuck eating our pie in awkward silence.






Won: Nothing
He was eloquent and animated in Diary but we didn't get that guy on the feeds. Instead he mostly laid around with Candice, held Bible study in the coach seats, and prayed in the photo booth. He isolated Candice and himself, killing both of their games, and their combined lack of awareness foiled any chance for his 11th hour save plan to succeed. He gave sudden speeches that few understood, but he wore Candice's tassel earrings and Judd's crown equally well.
My pre-season prediction:
Most likely to parannoy, eventually
Fail - others freaked out for no reason more than he did






Won: Nothing
She was a caboose for the mean girl train and when she wasn't straddling Jeremy, she was laying around making out with him, including in her bestie's HOH bed whenever Aaryn stepped away. She took being widowed better than GinaMarie, but she had several days to prepare for it and seemed almost proud of making 'Big Brother history' by using her veto. Otherwise she brought eyebrow adventures, and apologies when she mouthed off, which is more than some.
My pre-season prediction:
Most likely to be intimidated, taken advantage of, and blindsided
Fail, although Jeremy's eviction did blindside her. Taken advantage of is subjective.






Won: Permanent Have-not pass
He claimed 1/16 Cherokee but he besmirched that heritage regularly, along with many others. He caused and starred in the big Winegate fight, smooched with Kaitlin while laying his hand on Aaryn's leg, wore a diaper, and mistakenly boasted he'd win every comp. He was a boy in a man's body, but his tattoos were nicer looking than most heavily tatted hamsters' have been. He'll be most remembered for being the asshat of BB15.
My pre-season prediction:
Most likely to get in a fight
Check.





Won: Nothing
He came in saying he hoped for stardom but it probably won't happen as a result of this show. Overnighters got to know his blue hoodie & cap well, and he was usually the last one to go to bed. That's usually good strategy but it didn't help him. The over-the-top character he played in pre-season interviews gave him a rough start with most, but he didn't stick long enough for us (me anyway) to get to know what he's really about.
My pre-season prediction:
Most likely to namedrop and be generally annoying
Subjective, but I'll take it.





Won: Nothing
He didn't bring much to the feeds and he seemed oblivious about how the show works, but those types are the ones who get blindsided and we always like to see that. The Aaryn & David Comedy Show was fun for a minute but all the controversy she fed took the fun out of that, so it's just as well he got gone early. Back to the beach and watching BB on the couch with mom.
My pre-season prediction:
Most likely to climb on stuff and be told 'Stop that!'
Check, first night of feeds.







Linking to any page here is fine but please do not repost any content from this site (or any other) without permission, and do not repost or hotlink to any images


!! THIS MEANS YOU !!




Feed signups help me
keep this site going
Thank you!






VIEWER VOTE


MVP polls are closed

What supplement should Have-nots get?
Mung beans & mackerel
Parsnips & pumpernickel
Figs & falafel
Polls are closed - did they forget this one?







RATINGS WATCH


Wednesday's show led the timeslot with 2.1 rating, 7 share, and 6.10 million viewers, ahead of America's Got Talent rerun on NBC with 1.5/5/6.34, MasterChef rerun on FOX with 1.0/4/2.78, and The Middle and Last Man Standing reruns on ABC with 0.9/3/3.71 and 0.8/3/3.32 respectively.





I can't recommend this show highly enough

Click for exclusive interview with executive producer
J Holland Moore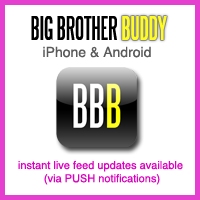 Big Brother Buddy mobile app
Available for Android or iPhone/iPad



Clicky: caps sorted by day - all caps







NEWS & UPDATES
HOHs: McCrae, Aaryn, Helen, Judd, Aaryn, GinaMarie
MVPs: Elissa, Elissa, Elissa, viewers, viewers, viewers
Veto wins: McCrae, Jeremy, Kaitlin, Elissa, Spencer, Jessie
Evictions: David 7-5-0; Nick 7-4-0; Jeremy 9-1-0; Kaitlin 9-0-0; Howard 7-1-0

CBS announced on Twitter that jury begins with the August 8 double eviction, implying a nine-member jury (or possibly eight jurors and three finalists, with a quickie public vote if a tie.)

Evictee Twitters: @davidgirton2, @nickuhas, @JeremyDMcG1, @twitRless_kb, @RealHOverbyBB15

Feeds are open for USA and Canada! Sign up now
to get up to date before things get even crazier! All subscriptions include flashback and mobile access for most smartphones and some tablets, including iPads.

Bigotgate oozed farther beyond our insulated BB world more than any prior scandal, going all the way to TMZ, CNN, The New York Times, and international news & media outlets. Aaryn Gries and GinaMarie Zimmerman were fired from real world jobs as a result of bigoted remarks on the BB15 feeds, Aaryn from a modeling contract and GinaMarie from her pageant company. Spencer was investigated by local law enforcement, and his employer Union Pacific issued two statements about him. (Spencer is a union employee.)

Evel Dick Donato's Dick at Night show is back this summer on Vimeo, and he'll have special guests, former hamsters, plus a Catladies Corner segment with @Clio_the_Leo and @Catvanzyl!

Jeff Schroeder will be on The Bold and the Beautiful on August 27. Hayden Moss is on the next Survivor, and Rachel & Brendon will return to The Amazing Race.

Big Brother Australia started up again July 29, and Big Brother UK kicked off June 13.



Donations via Paypal are gratefully accepted!

If the button doesn't work, Paypal to hamster (at) neonpages (dot com)

Thanks for your support!



BBQ Smackdown Scorecard

Big Brother 15
Round 1: BBQ 1, Helen 1, Jessie 0
Round 2: BBQ 1, Helen 0, Jessie 0

Big Brother 14
Round 1: BBQ ½, Dan 0

Big Brother 13
Round 1: BBQ ½, Adam ½, Rachel 0
Round 2: BBQ ½, Adam 0
Round 3: BBQ 1, Rachel 0

Big Brother 12
Round 1: BBQ ½, Brendon 0
Round 2: BBQ 2, Britney 0, Lane 0
Round 3: BBQ 1, Lane 0, CBS 0

Big Brother 11
Round 1: BBQ 0, Jeff 0
Round 2: BBQ 0, Jeff ½
Round 3: BBQ ½, Kevin 0, Michele 0


Big Brother 10
No title events

Big Brother 9 Winter Edition
Round 1: BBQ ½, Ryan 0
Round 2, BBQ ½, Adam 0
Round 3, BBQ ½, Ryan 0

Big Brother 8
Round 1: BBQ 1, Dick 0
Round 2: BBQ ½, Zach 0
Round 3: BBQ 0, Dick 1

Big Brother 7 All-Stars
BBQ training sabbatical

Big Brother 6
Round 1: BBQ 1, Ivette 0
Round 2: BBQ 0, Howie 0

Big Brother 5
Round 1: BBQ 1, Cowboy 1, Drew 0
Round 2: BBQ 1, Drew 0, Diane ½
Round 3: BBQ 1, Cowboy 1, CBS 0, Nakomis 0



EXTRACURRICULAR TALLY
Major fights - 5
-7/1 12.22am Jeremy vs Have-nots, Jeremy vs Amanda, Jeremy vs Kaitlin, Jeremy vs Candice, Aaryn vs Candice
-7/11 9.20pm GinaMarie vs Jessie, Jessie vs Kaitlin/Aaryn, Amanda vs most
-7/30 12.30pm Amanda vs Spencer
-8/2 12.29am, 1.16am, 1.55am Amanda vs Jessie, Amanda vs Candice, Helen vs Candice, mega Amanda vs Jessie
-8/3 Amanda vs Candice veto comp (not on feeds)

House meetings - 4
-7/24 8.00pm
-7/26 11.26pm
-7/30 2.55pm
-7/31 12.15am

Blindside evictions - 2
David
Nick

Beyond BB scandals - 1
BigotGate

Literal asshats - 1
Jeremy 7/2 6.55pm

Makeout pairings - 5
Jeremy & Kaitlin
McCrae & Amanda
David & Aaryn
Howard & Candice
Judd & Jessie

Sex events - 11+
(some subject to interpretation)
Jeremy & Kaitlin 6/28 3.21am
McCrae & Amanda 6/29 5.40am
McCrae & Amanda 6/30 1.11am
Jeremy & Kaitlin 7/3 1.20am
Jeremy & Kaitlin 7/8 12.01am
Jeremy & Kaitlin 7/9 11.15pm
McCrae & Amanda 7/18 2.55am and 3.40am
McCrae & Amanda 7/21 off feeds
McCrae & Amanda 8/4 2.05am
McCrae & Amanda 8/8 12.50am
Spencer (funny) 8/8 1.07am
Too many more to count

Pinkyswears - 12
GinaMarie & Andy 6/30 2:43am
GinaMarie & Nick 7/2 9.57pm
GinaMarie, Jeremy, Nick 7/5 1.02am
GinaMarie & Nick 7/5 8.16pm
GinaMarie & Aaryn 7/7 8.25pm
GinaMarie & Nick 7/8 approx 8pm
GinaMarie & Andy 7/9 6.47pm
GinaMarie & Nick 7/10 3.37am
Andy & Candice 7/11 11.28am
McCrae & Amanda 7/12 1.26am
GinaMarie & Helen 7/12 5.04pm
Judd & Elissa 7/29 2.19pm

Dingoisms used by McCrae - 9
- Feedsters
- HOHitis (on CBS)
- Fishies (on CBS)
- This is Big Brother, I'm here for the entertainment
- Slurpydurp
- BBQ Smackdown
- Willie's key-hos & corn-ho
- The parlor
- Revive-a-Hamster

The Soup mentions
- 7/3 Veto guest sarcasm plus McCrae about Howard on premiere
- 7/10 BigotGate
- 7/17 GinaMarie funeral plus Jeremy Diary rant
- 7/24 GinaMarie's froyo

CBS goofs - 28
- BB site shows two premiere times
- Jill? on feeds signup page
- Misspelled Judd's last name
- Feeds launch Y2K type midnight problem
- Peculiar trivia goof
- Misspelled Kaitlin
- Omitted GinaMarie
- Included GinaMarie, wrongly
- Wrong show time on trivia
- Forgot to update vote dates
- Julie said Helen's Chinese on The Talk racism segment
- Wrong show teaser pics
- Your/you're error
- Wrong day on MVP vote
- Typo in Help scroll
- Interesting grammar
- Still wrong day on MVP vote
- Wonky timestamps
- Help scroll still unresoved
- STILL wrong day on MVP vote
- No signal for 40 minutes 7/27
- Whose/who's error
- Forgot to update after Wednesday show
- 8/1 show: Julie's team forgot to tell her McCrae/Amanda got BB engaged (and BB married)
- Forgot to update after Thursday show
- Update fail
- No signal for 60 minutes 8/6
- Menu on F3