This site is about the Big Brother 15 feeds and contains spoilers! It isn't necessarily thorough: it's what I catch and/or what interests me, and it isn't necessarily about who will win, who should win, who's cute or who's horrid. It's about watching hamsters: who's doing what and why. If they aren't entertaining, get rid of 'em! Thanks for encouraging my behavior. Your pal, dingo







POWER STATUS


-GinaMarie is Head of Household
-Jessie used veto on herself
-Candice, Amanda, Spencer are nominated
-Candice clownitard 1 week
-GinaMarie cone of shame and Amanda spray tans are over
-Nobody is Have-not







UPCOMING EVENTS


Next show Wednesday 8pm:
MVP nom, veto comp & repercussions, veto meeting, GinaMarie contest? BBQ party? - east coast feed

Tuesday: HOH pics, blog, tweets, bachelorette party?







BB DRINKING GAME


Take a swig whenever GinaMarie's cone makes doing something awkward. Take two whenever Candice squeaks her nose. Take three when Amanda gets sprayed.









BIG BROTHER SEASONS



Amazon DVDs BB4 - BB3

Amazon Instant Video BB15
- BB14
- BB13
- BB12
- BB11
- BB10
- BB9
- BB8


iTunes BB15 -
BB14
- BB13
- BB12
- BB11
- BB10
- BB9
- BB7 All-Stars





BB15 FAQ


Feeds are streamed by CBS - sign up today


Call 877-211-4367 for account help including password reset or to cancel subscription.

CBS shows are Sundays 8pm, Wednesdays 8pm, eviction Thursdays 9pm (changed from Tuesdays, live Wednesdays, Sundays).

Big Brother After Dark is on TVGN for two hours every night starting at midnight/9pm BB time (1 hour later Thursdays), and is censored. Beginning July 19, BBAD runs three hours on Fridays.

Canada runs the TV episodes on Global, and After Dark on Slice, uncensored.

Weeks 1, 2, 3: The MVP (Elissa) selected the third nominee, privately, and she didn't have to tell anyone she was MVP. If the MVP's nominee won veto, MVP selected the replacement.

Weeks 4, 5, 6: The MVP vote was to name the third nominee directly. If the viewer pick was HOH or and HOH nominee, the third nominee spot went to next highest vote getter.

BB15 prizes are the same: $500k for the winner and $50k for 2nd place. Stipend for the others is $1,000 per week (up from $750), including pre-show hotel and jury sequester. Recruits may get more.

The habitat has 65 cameras (up 12) and 98 microphones (same).

The recorded in-house announcements are the voice of producer Don Wollman.






>> >> >>
>>
ALL AMAZON.COM PURCHASES MADE THROUGH THIS LINK HELP SUPPORT THIS SITE
Shenanigans (Monday 8/5)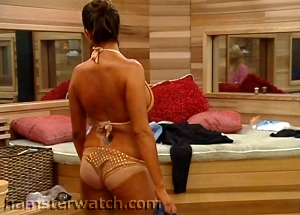 They got their veto meeting out of the way early: Jessie took herself off the block and GinaMarie put up Spencer in her place, as planned.. Jessie and Amanda had a chat afterwards that was fairly cordial, mostly accusation-free and only a bit snippy, but I can't see that lasting forever with those two.. Judd continued his rounds, telling Aaryn about his Helen/Elissa concerns and Jessie sHOwmance.. I figure he might be telling everyone but Andy to confirm that's where the leak is, and I wonder how long it'll be til all that gets back to Helen and/or Jessie

Then they all got down to the kind of frolics that are remembered long after most of the gametalks are forgotten.. Amanda's sprayings were interrupted last night by Judd's marathon adventure, and they had her make up for it today.. the guys went out to dance whenever the music played, and she got oranger and darker with every dip.. she pulled off her bikini top for one round, like she does, as her orange lines were getting so bad.. the booth malfunctioned a time or two, but they had her go three times in fairly rapid succession towards the end of her 48 hours and by the end, she looked utterly stick-a-fork-in-her done.. Andy got smeared after one round and rushed to scrub it off, Elissa kept begging for a turn in the booth, and GinaMarie dabbed her face all over Amanda after the last round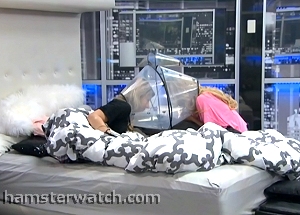 GinaMarie's cone of shame came to an end with great fanfare, but not before she and Aaryn got the spare and wondered if McCrae & Amanda would be able to kiss if they'd had to wear them.. Candice's clown is the only veto repercussion still in place - she'll wear it until Friday (or after she leaves Julie's boudoir on Thursday, if she's evicted)

Helen learned all about dental dams in an afternoon comedy segment, and the guys spent a good amount of time thinking of pranks for whichever of them was napping, including antiquing Spencer (alas, the pantry was locked so they couldn't get flour and that was put on hold), dropping a dental dam next to sleeping McCrae and a condom next to sleeping Judd



Plot twist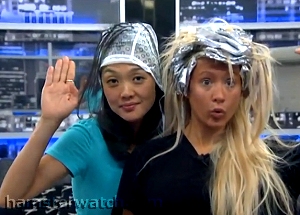 Then came the big event: repairing GinaMarie's roots.. Elissa did the honors and seemed to know what she was doing as she turned GinaMarie's little black beanie into a multi-layered tinfoil hat with countless sticky-outy bits.. Deathrace 2013 fans had been worried the pace-setter would forfeit her spot with new hair but instead were thrilled with the silvery look, and shocked when Helen made a rookie appearance - she was just wanting to know how the highlights cap works, she didn't get any color.. Elissa did touch up her color, but she used the tried 'n true but boring glop-on method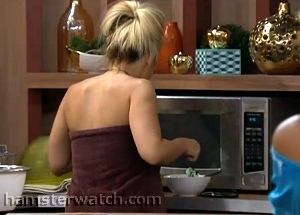 When the tinfoil came out and GinaMarie washed and dried her hair, it turned out pretty good.. the roots area was a touch darker than the rest and there's a visible line if you look for it, but she was thrilled with it and ran the habitat in just a towel to show it off to everyone.. she said it came out better than the pricey pro jobs she usually gets, but I don't know about that - when the cinnabon went up, the back didn't look much different than before

The bachelorette party was postponed once again, and the booze delivery along with it, so late night fell back into gametalk, paranoia, and the various girls sniping at and about each other.. once again, I went a little nuts posting caps from today's events - please to enjoy



Daily rabies report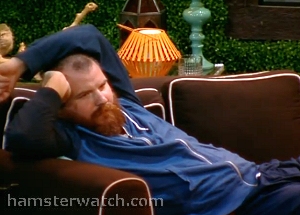 The scandal du jour featured Spencer, for making a joke about pedophilia.. the froth flew again and notable formers took stands ranging from BB4 winner Jun Song saying she's done with this season now to BB14 winner Ian Terry saying viewers should lighten up - both are in Links of the Day below

As for me, I'm not condoning or defending Spencer for this one and I'm not repeating it either, but anyone who's been paying any attention at all knows that Spencer occasionally crosses the line with a tasteless joke among his many funny ones, and this one had a very clear setup establishing it as a joke - he was speaking into McCrae's mic so it would "reflect" on him - again poor judgment, but the joke intent was very clear.. pro comedians and many hit movies are almost all tasteless jokes and taboo topics anymore, and that's fine with most

Hamsters say bad things sometimes, they always have and they always will, it's part of the package, and if it revs someone up enough to raise their blood pressure or worse, perhaps it's time to step away from the feeds for awhile.. alternately, it was all fine with most when BB8 Eric "he's playing for YOU America!" Stein repeatedly said Dick & Daniele Donato were incestuous, but everyone wasn't all connected and watching & reacting together back then.. there's a certain amount of angry mob logistics at work now contributing to the frenzy



BBQ Smackdown Round 2: Ignition (Sunday 8/4)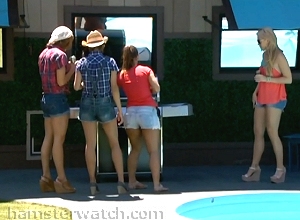 Fresh off its absentee season debut, the grill made its formal entry into the season today for Helen's BBQ party.. attendees were Jessie, Elissa and Aaryn, and none of them knew how to grill - flashback 8/4 2.29pm

They were given a lavish spread with steaks, sausage, chicken, burgers, corn, eggplant, fresh fruit & veg, and beer, and the metal monster wasted no time in exerting its dominance over its new victims.. it took four of them and an instruction card to get it lit, and Smackdown fans clapped their hands with glee as the inevitable amateur WHOOMP pop of propane made them all scream and jump back in fear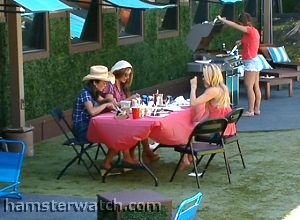 Things went downhill from there as an eggplant and a sausage fell into the fiery hell, but the clanking contraption isn't going to be content with passive victories this season: it lunged out aggressively to singe both Jessie and Helen.. pretty soon food was burned, squash was dropped, and forks were on the ground.. Jessie took control and may eventually become a worthy adversary but it was too late for this match - it was a massacre

Final score: BBQ 1, Helen 0, Jessie 0

Aterwards McCrae explained BBQ Smackdown to the new initiates, and Andy in particular seemed to catch on.. if you're confused by all this, flashback 8/4 3.54pm - McCrae explained it better than I can, but like BB13 Adam Poch, he mistakenly thinks the hamsters have much chance to score



Back to our story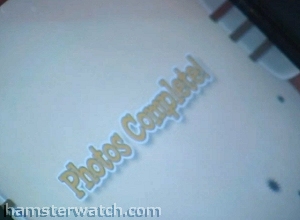 They did their photo booth event, and the kooky costume punishments added a new spin to that.. the oranging of Amanda proceeded with a few more sprays - GinaMarie tried to catch some stray mist from the afternoon session, and McCrae streaked his face while Amanda's paint was still wet

Gametalk carried on and on, like it does.. I'll never understand why hamsters constantly agree on something, set it in stone, and then second guess themselves for hours on end, but that's also how flips and blindsides can come about, so it's all good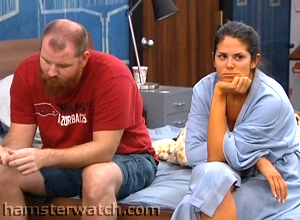 The whisperings to evict Amanda spread a little further and gained a bit of ground, made their way back to Amanda in record time, thanks to Helen via Andy, and Amanda started another round of paranoia, made comical by her orangeness.. the buzz also made it to HOH, where GinaMarie held a few rush meetings to ensure Candice will still go no matter what, all from within her cone of shame.. it was the kind of gametalk I can get behind since it was all so funny, and it kept revving up and repeating over and over and over

The bachelorette party was delayed til tomorrow night when Amanda will be finished with her spraying, GinaMarie will be released from her cone, and the veto meeting's behind them.. as of now, it still looks like Spencer will replace Jessie on the block, but it's a very long time til Thursday, and we'll probably have a tug-of-war til then to decide who actually goes



Adventures with Judd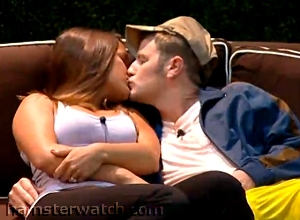 Jessie had a long convo with Judd, trying to get him to come over to Team Evict Amanda - nothing unusual there, except that after their usual parting hug and cheek peck, they had a quick mouth kiss - a first, I think.. then Judd did not tell Amanda, McCrae, Andy about that chat when they had a check-in later and asked what's up with Jessie.. later Judd & Jessie had a sudden but short makeout session in the backyard, adding them to my already packed Extracurricular Tally - flashback 8/5 2.59am

Judd then pitched a proposal to Spencer to buddy up for the rest of the game, saying "I'm starting to figure it out" and "I know who I want to work with, I'll work with you, McCrae, Andy, that's it - Jessie's just flirt," and they both agreed Helen & Elissa were dangerous.. still later, Judd finally told Amanda & McCrae about his chat with Jessie, and Amanda swore on her life she wouldn't say anything about any of it (good luck).. Judd talked for a long time about what Helen & Elissa have been up to and that they have to go, and he said he'll sHOwmance the hell out of Jessie as needed.. afterwards Amanda told McCrae she didn't necessarily believe any of it, so we're right back where we started from, except that Spencer seems happy to have a game buddy again

As always, you don't have to take my word for any of this: get the feeds
to watch everything unfold as it happens.. remember to click "previous Hamsterwatch episode" at the top of any page to see what came before, and feel free to click the Amazon.com banner up there for any of your Amazon purchases anytime



Ratings - Bitch Stole My Look special edition
Ratings probably won't be updated today, I'm fried - the pics are fun though.. free neutrals for all for now



To follow






To follow






Won: 50 shades of orange
NOMINATED
To follow






To follow






Won: $5,000, 1 week clown suit
NOMINATED
To follow






Won: Sit out 1 veto comp
To follow






Won: 48 hour cone of shame
HEAD OF HOUSEHOLD
To follow






Won: 2 night curfew, BBQ party
To follow






USED VETO ON SELF
To follow






Won: $5,000, 24 hour solitary
To follow






Won: $5,000
To follow






Won: 24 hour megaphone, Bahamas trip
NOMINATED
To follow






Won: Nothing
He was eloquent and animated in Diary but we didn't get that guy on the feeds. Instead he mostly laid around with Candice, held Bible study in the coach seats, and prayed in the photo booth. He isolated Candice and himself, killing both of their games, and their combined lack of awareness foiled any chance for his 11th hour save plan to succeed. He gave sudden speeches that few understood, but he wore Candice's tassel earrings and Judd's crown equally well.
My pre-season prediction:
Most likely to parannoy, eventually
Fail - others freaked out for no reason more than he did






Won: Nothing
She was a caboose for the mean girl train and when she wasn't straddling Jeremy, she was laying around making out with him, including in her bestie's HOH bed whenever Aaryn stepped away. She took being widowed better than GinaMarie, but she had several days to prepare for it and seemed almost proud of making 'Big Brother history' by using her veto. Otherwise she brought eyebrow adventures, and apologies when she mouthed off, which is more than some.
My pre-season prediction:
Most likely to be intimidated, taken advantage of, and blindsided
Fail, although Jeremy's eviction did blindside her. Taken advantage of is subjective.






Won: Permanent Have-not pass
He claimed 1/16 Cherokee but he besmirched that heritage regularly, along with many others. He caused and starred in the big Winegate fight, smooched with Kaitlin while laying his hand on Aaryn's leg, wore a diaper, and mistakenly boasted he'd win every comp. He was a boy in a man's body, but his tattoos were nicer looking than most heavily tatted hamsters' have been. He'll be most remembered for being the asshat of BB15.
My pre-season prediction:
Most likely to get in a fight
Check.





Won: Nothing
He came in saying he hoped for stardom but it probably won't happen as a result of this show. Overnighters got to know his blue hoodie & cap well, and he was usually the last one to go to bed. That's usually good strategy but it didn't help him. The over-the-top character he played in pre-season interviews gave him a rough start with most, but he didn't stick long enough for us (me anyway) to get to know what he's really about.
My pre-season prediction:
Most likely to namedrop and be generally annoying
Subjective, but I'll take it.





Won: Nothing
He didn't bring much to the feeds and he seemed oblivious about how the show works, but those types are the ones who get blindsided and we always like to see that. The Aaryn & David Comedy Show was fun for a minute but all the controversy she fed took the fun out of that, so it's just as well he got gone early. Back to the beach and watching BB on the couch with mom.
My pre-season prediction:
Most likely to climb on stuff and be told 'Stop that!'
Check, first night of feeds.







Linking to any page here is fine but please do not repost any content from this site (or any other) without permission, and do not repost or hotlink to any images


!! THIS MEANS YOU !!




Feed signups help me
keep this site going
Thank you!






VIEWER VOTE


MVP polls are closed

What supplement should Have-nots get?
Mung beans & mackerel
Parsnips & pumpernickel
Figs & falafel
Polls are closed







RATINGS WATCH


Sunday's show placed second for the hour with 2.2 rating, 7 share, and 6.78 million viewers, behind football on NBC with 3.4/11/9.97, and ahead of The Simpsons and Bob's Burgers reruns on FOX with 1.3/4/2.70 and 1.2/4/2.45 respectively, and Secret Millionaire premiere on ABC with 1.2/4/5.02.





I can't recommend this show highly enough

Click for exclusive interview with executive producer
J Holland Moore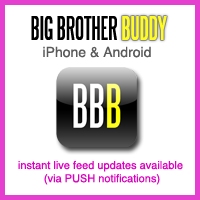 Big Brother Buddy mobile app
Available for Android or iPhone/iPad



Clicky: caps sorted by day - all caps







NEWS & UPDATES
HOHs: McCrae, Aaryn, Helen, Judd, Aaryn, GinaMarie
MVPs: Elissa, Elissa, Elissa, viewers, viewers, viewers
Veto wins: McCrae, Jeremy, Kaitlin, Elissa, Spencer, Jessie
Evictions: David 7-5-0; Nick 7-4-0; Jeremy 9-1-0; Kaitlin 9-0-0; Howard 7-1-0

Evictee Twitters: @davidgirton2, @nickuhas, @JeremyDMcG1, @twitRless_kb, @RealHOverbyBB15

Congrats to BB11 Natalie (Martinez) Majeran & hubby on the August 1 birth of their son Christian Scott!

Feeds are open for USA and Canada! Sign up now
to get up to date before things get even crazier! All subscriptions include flashback and mobile access for most smartphones and some tablets, including iPads.

Jeff Schroeder will be on The Bold and the Beautiful on August 27. Hayden Moss is on the next Survivor, and Rachel & Brendon will return to The Amazing Race.

Bigotgate oozed farther beyond our insulated BB world more than any prior scandal, going all the way to TMZ, CNN, The New York Times, and international news & media outlets. Aaryn Gries and GinaMarie Zimmerman were fired from real world jobs as a result of bigoted remarks on the BB15 feeds, Aaryn from a modeling contract and GinaMarie from her pageant company. Spencer's employer, Union Pacific, issued a statement about not condoning some of his remarks (he is a union employee).

Evel Dick Donato's Dick at Night show is back this summer on Vimeo, and he'll have special guests, former hamsters, plus a Catladies Corner segment with @Clio_the_Leo and @Catvanzyl!

Big Brother Australia started up again July 29, and Big Brother UK kicked off June 13.



Donations via Paypal are gratefully accepted!

If the button doesn't work, Paypal to hamster (at) neonpages (dot com)

Thanks for your support!



BBQ Smackdown Scorecard

Big Brother 15
Round 1: BBQ 1, Helen 1, Jessie 0
Round 2: BBQ 1, Helen 0, Jessie 0

Big Brother 14
Round 1: BBQ ½, Dan 0

Big Brother 13
Round 1: BBQ ½, Adam ½, Rachel 0
Round 2: BBQ ½, Adam 0
Round 3: BBQ 1, Rachel 0

Big Brother 12
Round 1: BBQ ½, Brendon 0
Round 2: BBQ 2, Britney 0, Lane 0
Round 3: BBQ 1, Lane 0, CBS 0

Big Brother 11
Round 1: BBQ 0, Jeff 0
Round 2: BBQ 0, Jeff ½
Round 3: BBQ ½, Kevin 0, Michele 0


Big Brother 10
No title events

Big Brother 9 Winter Edition
Round 1: BBQ ½, Ryan 0
Round 2, BBQ ½, Adam 0
Round 3, BBQ ½, Ryan 0

Big Brother 8
Round 1: BBQ 1, Dick 0
Round 2: BBQ ½, Zach 0
Round 3: BBQ 0, Dick 1

Big Brother 7 All-Stars
BBQ training sabbatical

Big Brother 6
Round 1: BBQ 1, Ivette 0
Round 2: BBQ 0, Howie 0

Big Brother 5
Round 1: BBQ 1, Cowboy 1, Drew 0
Round 2: BBQ 1, Drew 0, Diane ½
Round 3: BBQ 1, Cowboy 1, CBS 0, Nakomis 0



EXTRACURRICULAR TALLY
Major fights - 5
-7/1 12.22am Jeremy vs Have-nots, Jeremy vs Amanda, Jeremy vs Kaitlin, Jeremy vs Candice, Aaryn vs Candice
-7/11 9.20pm GinaMarie vs Jessie, Jessie vs Kaitlin/Aaryn, Amanda vs most
-7/30 12.30pm Amanda vs Spencer
-8/2 12.29am, 1.16am, 1.55am Amanda vs Jessie, Amanda vs Candice, Helen vs Candice, mega Amanda vs Jessie
-8/3 Amanda vs Candice veto comp (not on feeds)

House meetings - 4
-7/24 8.00pm
-7/26 11.26pm
-7/30 2.55pm
-7/31 12.15am

Blindside evictions - 2
David
Nick

Beyond BB scandals - 1
BigotGate

Literal asshats - 1
Jeremy 7/2 6.55pm

Makeout pairings - 5
Jeremy & Kaitlin
McCrae & Amanda
David & Aaryn
Howard & Candice
Judd & Jessie

Sex events - 9+
(some subject to interpretation)
Jeremy & Kaitlin 6/28 3.21am
McCrae & Amanda 6/29 5.40am
McCrae & Amanda 6/30 1.11am
Jeremy & Kaitlin 7/3 1.20am
Jeremy & Kaitlin 7/8 12.01am
Jeremy & Kaitlin 7/9 11.15pm
McCrae & Amanda 7/18 2.55am and 3.40am
McCrae & Amanda 7/21 off feeds
McCrae & Amanda 8/4 2.05am
Too many more to count

Pinkyswears - 12
GinaMarie & Andy 6/30 2:43am
GinaMarie & Nick 7/2 9.57pm
GinaMarie, Jeremy, Nick 7/5 1.02am
GinaMarie & Nick 7/5 8.16pm
GinaMarie & Aaryn 7/7 8.25pm
GinaMarie & Nick 7/8 approx 8pm
GinaMarie & Andy 7/9 6.47pm
GinaMarie & Nick 7/10 3.37am
Andy & Candice 7/11 11.28am
McCrae & Amanda 7/12 1.26am
GinaMarie & Helen 7/12 5.04pm
Judd & Elissa 7/29 2.19pm

Dingoisms used by McCrae - 9
- Feedsters
- HOHitis (on CBS)
- Fishies (on CBS)
- This is Big Brother, I'm here for the entertainment
- Slurpydurp
- BBQ Smackdown
- Willie's key-hos & corn-ho
- The parlor
- Revive-a-Hamster

The Soup mentions
- 7/3 Veto guest sarcasm plus McCrae about Howard on premiere
- 7/10 BigotGate
- 7/17 GinaMarie funeral plus Jeremy Diary rant
- 7/24 GinaMarie's froyo

CBS goofs - 26
- BB site shows two premiere times
- Jill? on feeds signup page
- Misspelled Judd's last name
- Feeds launch Y2K type midnight problem
- Peculiar trivia goof
- Misspelled Kaitlin
- Omitted GinaMarie
- Included GinaMarie, wrongly
- Wrong show time on trivia
- Forgot to update vote dates
- Julie said Helen's Chinese on The Talk racism segment
- Wrong show teaser pics
- Your/you're error
- Wrong day on MVP vote
- Typo in Help scroll
- Interesting grammar
- Still wrong day on MVP vote
- Wonky timestamps
- Help scroll still unresoved
- STILL wrong day on MVP vote
- No signal for 40 minutes 7/27
- Whose/who's error
- Forgot to update after Wednesday show
- 8/1 show: Julie's team forgot to tell her McCrae/Amanda got BB engaged (and BB married)
- Forgot to update after Thursday show
- Update fail