This site is about the Big Brother 15 feeds and contains spoilers! It isn't necessarily thorough: it's what I catch and/or what interests me, and it isn't necessarily about who will win, who should win, who's cute or who's horrid. It's about watching hamsters: who's doing what and why. If they aren't entertaining, get rid of 'em! Thanks for encouraging my behavior. Your pal, dingo







POWER STATUS


Helen is Head of Household
Kaitlin veto'd herself
Aaryn, Spencer, Jeremy are nominated
Jessie, Judd, Amanda, McCrae are Have-not







UPCOMING EVENTS


Next show Thursday 9pm:
Live eviction, HOH comp, Helen's talk show if they want to avoid having to edit what happened - east coast feed

Thursday: Have-not ends at midnight
Friday: Nominations, Nick's memorial service (hopefully)
Friday: TVGN begins 3 hours BBAD Fridays
Friday: TVGN marathon beginning at noon
Saturday: Veto comp
Sunday: McCrae's 24th birthday







BB DRINKING GAME


Take a swig whenever Elissa complains about someone and/or spreads or revives some gossip









BIG BROTHER SEASONS



Amazon DVDs BB4 - BB3

Amazon Instant Video BB15
- BB14
- BB13
- BB12
- BB11
- BB10
- BB9
- BB8


iTunes BB15 -
BB14
- BB13
- BB12
- BB11
- BB10
- BB9
- BB7 All-Stars





BB15 FAQ


Feeds are streamed by CBS - sign up today


Call 877-211-4367 for account help including password reset or to cancel subscription.

CBS shows are Sundays 8pm, Wednesdays 8pm, eviction Thursdays 9pm (changed from Tuesdays, live Wednesdays, Sundays).

Big Brother After Dark is on TVGN for two hours every night starting at midnight/9pm BB time (1 hour later Thursdays), and is censored. Beginning July 19, BBAD runs three hours on Fridays.

Canada runs the TV episodes on Global, and After Dark on Slice, uncensored.

The MVP selects the third nominee, privately, and he or she doesn't have to tell anyone they are MVP. If the MVP's nominee wins veto, MVP selects the replacement.

Jeremy's tattoo says 'Great spirits have always encountered violent opposition from mediocre minds' (Einstein).

BB15 prizes are the same: $500k for the winner and $50k for 2nd place. Stipend for the others is $1,000 per week (up from $750), including pre-show hotel and jury sequester. Recruits may get more.

The habitat has 65 cameras (up 12) and 98 microphones (same).

The recorded in-house announcements are the voice of producer Don Wollman.






>> >> >>
>>
ALL AMAZON.COM PURCHASES MADE THROUGH THIS LINK HELP SUPPORT THIS SITE
Helen's talk show (Wednesday 7/17)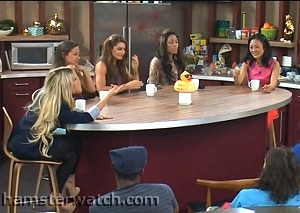 Yes, it's a three-fer Hamsterwatch episode, my doubled-up days piled on top of each other somehow.. there wasn't much to report from Wednesday anyway other than more of the same, plus lots of activity plans

Along with Nick's memorial, date night for McCrae & Amanda has evolved into an engagement and/or wedding (including a rather snazzy homemade ring), and Helen's talk show actually happened.. it had more preparations than most network TV shows probably do, including this one - the fake hair prep alone took on staggering proportions, as documented in the ever-evolving Deathrace 2013 official records

The appointed hour finally arrived - flashback 7/17 9.28pm and go quads.. it started with Helen introducing herself as Helen Chenbot (no) in a The Talk/The View clone, and progressed through fashion, weather, nutrition, and sports segments, plus a commercial.. GinaMarie in particular really fit the "wacky character" slot in those shows, if you don't count her overuse of "muthafuckn"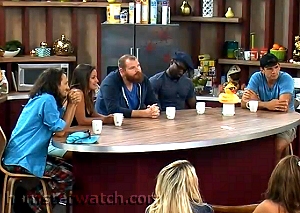 Then came the hard-hitting investigative piece, an in-depth look at the rise and fall of the Moving Company (Nick was duly represented by his hat and shades), followed by Showmance Showdown, in which McCrae & Amanda got every answer wrong

A good time was had by most, and it was just this side of professional really, something different almost, until you realize that it was very much like their Thursday live show and Diary "on" personalities.. the BB feeds talk show bar was set in BB12 with Just The Tip, and while Helen's debut show was a noble effort, it didn't reach the entertainment value of the original.. the premiere Just The Tip episode is in Links of the Day below, along with a number of other goodies

I don't know what the count will be, but I'm still pretty confident that Jeremy will walk the plank to Julie's boudoir tomorrow.. that could open a new dynamic with Kaitlin since we don't know what she'll be like without him - she might become a power player, or she might go into mourning like GinaMarie.. HOH comp will be QA based on the "royal titles" poll they ran Wednesday, and fallout from that could be fun after the adrenalin wears off and they realize how their public images are shaping up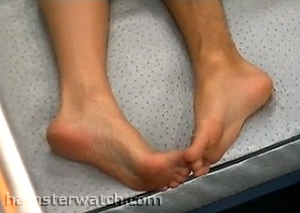 Update: I'd all but abandoned the sex events tally here since I can't keep up (and it's hard to tell exactly what goes on undercovers sometimes), but McCrae & Amanda notched themselves back onto it tonight, and this time it wasn't guesswork.. my crack Undercovers Research Team and I decided she definitely completed a self-service with his assistance, and a bit later it was his turn.. no I'm not proud of watching, analyzing, or reporting this kind of thing, but your inquiring minds want to know whether you admit it or not.. this sort of thing is especially weird since McCrae used to be on said Research Team



Duckface time (Tuesday 7/16)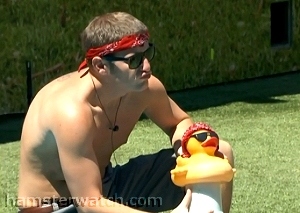 The camera came out, like it does, and they dutifully stood around duckfacing in artificial poses.. Judd made the duckface part doubly literal, with a friend.. last night's high comedy promised a memorial for Nick and his things today, but as of now it's been delayed until Friday - boo

Get the feeds
to watch everything as it unfolds, now open to Canadians too! And remember to click "previous Hamsterwatch episode" at the top of any page to see what came before.. feel free to click the Amazon.com banner up there for any of your Amazon purchases anytime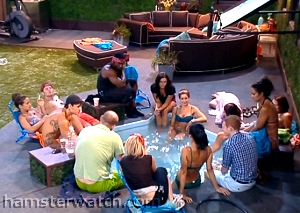 Jeremy went on a campaign marathon around the habitat, winding up in HOH and yapping to Helen & Elissa forever about how great he is and why he must stay.. some new feedsters thought the moms were wavering, but it's just the usual midweek waffle.. Aaryn & Kaitlin got busy gametalk-wise too, but I didn't follow

Apparently the hot tub was fixed, so most of them gathered in and around it for awhile.. McCrae & Amanda continued having the slop blahs and Judd continued being slop snippy.. a late booze delivery brought fun Drunken Andy back to us, and also brought more campaigning from Jeremy by way of childhood horror stories.. later he and Spencer tag-teamed Aaryn in targeted sexual chat.. she kept saying "eww" but she also laughed and giggled more than I'd seen before - maybe she enjoyed the attention.. she said at one point "we're the sexiest people on the block ever"



The backdoor is open (Monday 7/15)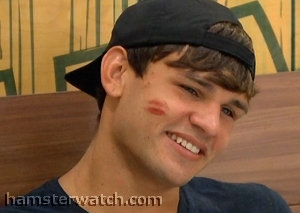 They held their veto meeting and of course Kaitlin used her veto on herself despite much chatter to the possible contrary.. Helen put up Jeremy in her place, and the feeds came back to him wearing a cartoony lipstick kiss on his cheek - better than wearing a diaper I suppose

Candice and Jeremy had a spat at the pool about Week 1 events, with Candice getting heated and Jeremy being flippant - flashback 7/15 12.33pm.. if you'll recall, Moving Company set things up back then for Candice to be blamed as the hinky vote - it worked and is still working, as the retells ensued.. if Jeremy wanted to blow things up on his way out and/or help Kaitlin, he could out that whole plan before he goes, but he probably won't think of doing that unless "someone" nudges him.. in a blatant display of irony, Aaryn & Amanda followed up with a discussion about how their memories have been hurt by long-term Adderall use (but Aaryn's replies were correct when Candice asked for backup about what happened earlier)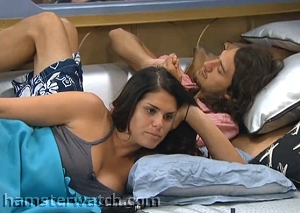 Aaryn provided some decent and intentional comedy, but her pulverized reputation makes it hard to acknowledge such things.. Amanda, McCrae & Judd agree to team up, and they named themselves the Goof Troop for the sheer lunacy of it.. they brought Andy in on it but they'd also said they'll need to bring in "fake members" at times - I don't know if he falls into that category or not.. my dog got her first shoutout on feeds thanks to McCrae, and Judd mistakenly said I probably have MVP polls posted here

Incidentally, last night's pre-bed cuddle hour with McCrae & Amanda was odd and awkward: he was out of sorts but couldn't or wouldn't say why, and she kept pushing him to do so.. much slurpydurp and bump 'n grind alternated with the back and forth awkward.. it may have just been moods or slop, but that showmance could be showing cracks - we'll see



Helen's nail party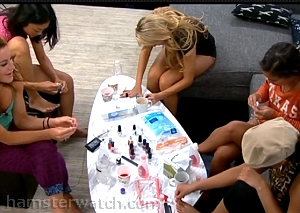 Helen built it up all day with invitations and preparations, including directions for everyone to bring all their nail supplies upstairs (rather than hold the party downstairs where all their stuff is kept).. when the appointed hour arrived, the girls trickled in one by one and got to work, after a speech by Helen

Andy joined them (he had an invitation and had RSVPd), and Jeremy joined them as well - he actually put a shirt on for the event.. eventually the other guys went up too, and everyone was in HOH except Amanda & McCrae: they were both feeling punky and stayed in the hammock.. for a good while, all four feeds stayed on them in the hammock, even though all the others were upstairs.. then they started trickling back down, with Jessie and then Elissa complaining about Jeremy's nail party behavior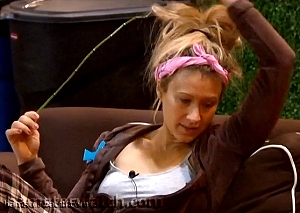 All in all, it was a peculiar affair but there wasn't much else of note, other than a short, loud and spontaneous round of volleyball that could have been a drunken game but they didn't have a booze delivery - maybe all the nail product fumes got to them.. Helen took the third shift of talking to Aaryn and may have made a bit more progress there, even though Aaryn kept her arms folded throughout

Later, GinaMarie went after her hair with a stick and it got stuck, thus setting a whole new bar for the ongoing Deathrace 2013 hair disasters race.. some hysteria, laughter, and prankdom erupted later, involving dental dams and GinaMarie's Nick memorabilia - flashback 7/16 1.20am for the setup and 2.30am for the discovery, and stick with it for big LOLs.. Howard had a towel mishap in the night - flashback 7/16 2.29am



Ratings - Game of Keys special edition
Ratings are based on Game of Thrones - relationships not included. Raise your banners for House Dingo



Some might see them more as Tywin Lannister or even Walder Frey, but they're more the vehicle than any single player, so I've given them the coveted and swordsy seat of power over Studiociteros. If anything, they're the George R.R. Martin of our little adventure, controlling fates and lives of the main characters as well as the cast of thousands that includes us, but any author will tell you their characters run amok sometimes and take over their own destinies. When you play the game of keys, you win or you die.. at least until the finale reunion. Or until Revive-a-Hamster comes along.
PS Rachel is coming.






NOMINATED
Of couse she's Cersei Lannister, the appointed female villain of our story. She's far from the only female villain, but she's the one who gets all the press.





Amanda isn't Arya Stark in age but she is in attitude. She's got more sense than the rest of them put together, and she shows up to kick ass when needed. She also knows to stick 'em with the pointy end.





Andy's a bit of Lord Varys the Spider, the way he's plugged in everywhere, but I think he's more of a Rickon Stark, the little guy who's always around but nobody's quite sure what his role is.





I'm not saying she's all Melisandre, but they do share a talent for showing up when there's trouble, and for seeming to take a perverse delight in furthering it. Also both are considered integral characters by some but fringe characters by others, who may or may not belong on a different show.





She's an easy fit for the Sansa Stark role: much ballyhooed and central to many plot twists, but in the end, she's kind of a drip personality-wise who doesn't really contribute much at all.





I know what you're thinking but oddly enough, GinaMarie and Daenerys Targaryen do have a lot in common. They're both starring in a parallel but totally separate side story, both of their worlds have more fantasy elements than the main plot, and both were widowed early.





HEAD OF HOUSEHOLD
Of course she gets the Catelyn Stark mom role, trying to look after her family while causing all kinds of global problems instead. We'll know soon enough if Helen's fall from HOH will turn her into Lady Stoneheart or not.





Howard's our resident Eddard Stark, a good man with solid values and morals, ever trying to take the high road while constantly surrounded by slop. Howard will probably die early too.





Won: Permanent Have-not pass
NOMINATED
Easily Joffrey Baratheon, the asshat boy king everyone loves to hate. Both are proud of heritage that isn't exactly their own, and love being betrothed to hot girls. Jeremy's about to make a premature exit, and with that, I'll pause my usual habit of posting spoilers.





She came in saying she's the prettiest girl, much like Margaery Tyrell, and she allegedly tried to hook up with most of the guys in there before the feeds started. That's her reputation in the habitat anyway, but despite a series of engagements and marriages, she's still a virgin. Allegedly.





Prejudged for his background and appearance, he's turned out to be very much like Tyrion Lannister. Like the Imp, Judd is a font of wisdom, common sense, and above all, wit. Against all odds, these two guys have become widely beloved and favorite characters of their respective sagas.





USED VETO ON SELF
I'm not saying Kaitlin's a whore, but she and Shae do have some things in common. She's made her hookup with Jeremy the only focus of her experience in there, and when she isn't straddling or sucking face with him, she's sleeping. 'Camp follower' Shae is rarely seen doing anything else either.





Similar to Jon Snow, McCrae took the black when he transitioned from feedster to hamster. He went to The Wall and hooked up with a wildling, and his hair's always in the way. If Amanda was a GoT fan, she'd surely be telling him 'You know nothing, McCrae Olson' every chance she got.





NOMINATED
I know you'll think I'm crazy for assigning Jaime Lannister for him but think about it: you're never sure if he's a good guy or a bad guy, and you can't decide if you love him or hate him. Aside from the missing hand thingy, they're almost the same person.





Won: Nothing
I rarely include evictees in theme days, but he's so perfect as Petyr Baelish, I had to this time. Our own Littlefinger is just as shady, sketchy, and mercenary as the original, and there's almost a physical resemblance too, which is more than most of these comparisons have going for them.





Won: Nothing
Hodor? Hodor.







Linking to any page here is fine but please do not repost any content from this site (or any other) without permission, and do not repost or hotlink to any images


!! THIS MEANS YOU !!




Feed signups help me
keep this site going
Thank you!





VIEWER VOTE


Pick royal titles for Thursday's HOH comp
Polls are closed

MVP polls are closed

What supplement should Have-nots get?
Artichokes and anchovies
Macaroni and mangoes
Sauerkraut and seaweed
Polls are closed

Currently: Grapefruit and guacamole







RATINGS WATCH


Wednesday's show won the hour with 2.1 rating, 8 share, and 6.31 million viewers, ahead of America's Got Talent rerun on NBC with 1.8/7/7.68, Masterchef rerun on FOX with 1.1/4/3.23, and The Middle and Suborgatory reruns on ABC with 0.6/2/3.16 and 0.5/2/2.30 respectively.





I can't recommend this show highly enough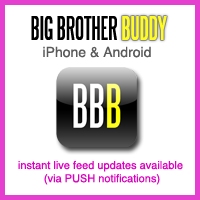 Big Brother Buddy mobile app
Available for Android or iPhone/iPad



Clicky: caps sorted by day - all caps







NEWS & UPDATES
HOHs: McCrae, Aaryn, Helen
MVPs: Elissa, Elissa, Elissa
Veto wins: McCrae, Jeremy, Kaitlin
Evictions: David 7-5-0; Nick 7-4-0

Congratulations to Britney Haynes and hubby Ryan on the birth of a healthy baby girl! Tilly Elizabeth was welcomed to the world July 13, weighing in at 8 pounds, 3 ounces.

Brenchel edition of My Fair Wedding is running on WE this week - check your local listings

BB12 Kristen Bitting will be on The Perfect Score dating show, premiering on the CW July 16.

Feeds were opened for Canada on July 10! Sign up now
to get up to date before things get even crazier! All subscriptions include flashback and mobile access for most smartphones and some tablets, including iPads.

Bigotgate oozed farther beyond our insulated BB world more than any prior scandal, going all the way to TMZ, CNN, The New York Times, and international news & media outlets. Aaryn Gries and GinaMarie Zimmerman were fired from real world jobs as a result of bigoted remarks on the BB15 feeds, Aaryn from a modeling contract and GinaMarie from her pageant company. Spencer's employer, Union Pacific, issued a statement about not condoning some of his remarks (he is a union employee).

Evel Dick Donato's Dick at Night show is back this summer on Vimeo, and he'll have special guests, former hamsters, plus a Catladies Corner segment with @Clio_the_Leo and @Catvanzyl!

BB12 Hayden Moss is back from playing/taping the next season of Survivor, and Brenchel will show up on a future Amazing Race season, again.

Big Brother Australia starts up again July 28.

Big Brother UK kicked off June 13 with Emma Willis hosting. This year has twins playing as one, a mother/daughter playing separately, and an actor/mole who's only there to mess with the hamsters. Watch on YouTube.

Big Brother Africa is also underway - the official site has lots of video highlight clips.



Donations via Paypal are gratefully accepted!

If the button doesn't work, Paypal to hamster (at) neonpages (dot com)

Thanks for your support!



BBQ Smackdown Scorecard

Big Brother 14
Round 1: BBQ ½, Dan 0

Big Brother 13
Round 1: BBQ ½, Adam ½, Rachel 0
Round 2: BBQ ½, Adam 0
Round 3: BBQ 1, Rachel 0

Big Brother 12
Round 1: BBQ ½, Brendon 0
Round 2: BBQ 2, Britney 0, Lane 0
Round 3: BBQ 1, Lane 0, CBS 0

Big Brother 11
Round 1: BBQ 0, Jeff 0
Round 2: BBQ 0, Jeff ½
Round 3: BBQ ½, Kevin 0, Michele 0

Big Brother 10
No title events


Big Brother 9 Winter Edition
Round 1: BBQ ½, Ryan 0
Round 2, BBQ ½, Adam 0
Round 3, BBQ ½, Ryan 0

Big Brother 8
Round 1: BBQ 1, Dick 0
Round 2: BBQ ½, Zach 0
Round 3: BBQ 0, Dick 1

Big Brother 7 All-Stars
BBQ training sabbatical

Big Brother 6
Round 1: BBQ 1, Ivette 0
Round 2: BBQ 0, Howie 0

Big Brother 5
Round 1: BBQ 1, Cowboy 1, Drew 0
Round 2: BBQ 1, Drew 0, Diane ½
Round 3: BBQ 1, Cowboy 1, CBS 0, Nakomis 0



EXTRACURRICULAR TALLY
Major fights - 2
-7/1 12.22am Jeremy vs Have-nots, Jeremy vs Amanda, Jeremy vs Kaitlin, Jeremy vs Candice, Aaryn vs Candice
-7/11 9.20pm GinaMarie vs Jessie, Jessie vs Kaitlin/Aaryn, Amanda vs most

Blindside evictions - 2
David
Nick

Beyond BB scandals - 1
BigotGate

Literal asshats - 1
Jeremy 7/2 6.55pm

Makeout pairings - 4
Jeremy & Kaitlin
McCrae & Amanda
David & Aaryn
Howard & Candice

Sex events - 7+
(some subject to interpretation)
Jeremy & Kaitlin 6/28 3.21am
McCrae & Amanda 6/29 5.40am
McCrae & Amanda 6/30 1.11am
Jeremy & Kaitlin 7/3 1.20am
Jeremy & Kaitlin 7/8 12.01am
Jeremy & Kaitlin 7/9 11.15pm
McCrae & Amanda 7/18 2.55am and 3.40am
Too many more to count

Pinkyswears - 11
GinaMarie & Andy 6/30 2:43am
GinaMarie & Nick 7/2 9.57pm
GinaMarie, Jeremy, Nick 7/5 1.02am
GinaMarie & Nick 7/5 8.16pm
GinaMarie & Aaryn 7/7 8.25pm
GinaMarie & Nick 7/8 approx 8pm
GinaMarie & Andy 7/9 6.47pm
GinaMarie & Nick 7/10 3.37am
Andy & Candice 7/11 11.28am
McCrae & Amanda 7/12 1.26am
GinaMarie & Helen 7/12 5.04pm

Dingoisms used by McCrae - 9
- Feedsters
- HOHitis (on CBS)
- Fishies (on CBS)
- This is Big Brother, I'm here for the entertainment
- Slurpydurp
- BBQ Smackdown
- Willie's key-hos & corn-ho
- The parlor
- Revive-a-Hamster

The Soup mentions - 3
- 7/3 Veto guest sarcasm plus McCrae about Howard on premiere
- 7/10 BigotGate
- 7/17 GinaMarie funeral plus Jeremy Diary rant

CBS goofs - 16
- BB site shows two premiere times
- Jill? on feeds signup page
- Misspelled Judd's last name
- Feeds launch Y2K type midnight problem
- Peculiar trivia goof
- Misspelled Kaitlin
- Omitted GinaMarie
- Included GinaMarie, wrongly
- Wrong show time on trivia
- Forgot to update vote dates
- Julie said Helen's Chinese on The Talk racism segment
- Wrong show teaser pics
- Your/you're error
- Wrong day on MVP vote
- Typo in Help scroll
- Interesting grammar