This site is about the Big Brother 15 feeds and contains spoilers! It isn't necessarily thorough: it's what I catch and/or what interests me, and it isn't necessarily about who will win, who should win, who's cute or who's horrid. It's about watching hamsters: who's doing what and why. If they aren't entertaining, get rid of 'em! Thanks for encouraging my behavior. Your pal, dingo







POWER STATUS


Helen is Head of Household
Elissa is MVP
Aaryn & Kaitlin, Spencer are nominated
Kaitlin won veto
Jessie, Judd, Amanda, McCrae are Have-not







UPCOMING EVENTS


Next show Wednesday 8pm:
Veto comp, veto meeting, assorted dramas - east coast feed

Monday: Veto meeting







BB DRINKING GAME


Take a swig whenever someone cries (real or fake)









BIG BROTHER SEASONS



Amazon DVDs BB4 - BB3

Amazon Instant Video BB15
- BB14
- BB13
- BB12
- BB11
- BB10
- BB9
- BB8


iTunes BB15 -
BB14
- BB13
- BB12
- BB11
- BB10
- BB9
- BB7 All-Stars





BB15 FAQ


Feeds are streamed by CBS - sign up today


Call 877-211-4367 for account help including password reset or to cancel subscription.

CBS shows are Sundays 8pm, Wednesdays 8pm, eviction Thursdays 9pm (changed from Tuesday 9pm, live Wednesday 8pm, Sundays 8pm).

Big Brother After Dark is on TVGN for two hours every night starting at midnight (9pm BB time), and is censored.

Canada runs the TV episodes on Global, and After Dark on Slice, uncensored.

The MVP selects the third nominee, privately, and he or she doesn't have to tell anyone they are MVP. If the MVP's nominee wins veto, MVP selects the replacement.

Some of them are calling Candice 'Reptar'.

Jeremy's tattoo says 'Great spirits have always encountered violent opposition from mediocre minds' (Einstein).

BB15 winner's prize is the same: $500k for the winner, so I assume 2nd still gets $50k. Stipend for the others is $1,000 per week (up from $750), including pre-show hotel and jury sequester. Recruits may get more.

The habitat has 65 cameras (up 12) and 98 microphones (same).

The recorded in-house announcements are the voice of producer Don Wollman.






>> >> >>
>>
ALL AMAZON.COM PURCHASES MADE THROUGH THIS LINK HELP SUPPORT THIS SITE
Gingercize (Sunday 7/14)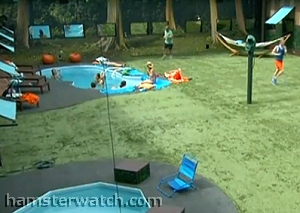 The habitat has been reset to a very low simmer as the long wait between veto comp and eviction kicked in.. Helen's HOHitis is nearly out of control, ranging from extremely high volume fight retells to making "be careful or I'll backdoor you! ha ha!" jokes way too often, but she did descend from her ivory tower to join the commoners at the pool for awhile, as Andy & Spencer ran laps

Quiet convos have extended beyond gametalk here and there, making them interesting, especially the ones including Judd.. many of them are all perturbed that Howard swore on a Bible - maybe they haven't heard of Dan Gheesling.. I'm stunned they haven't wondered or decided that's Andy's a mole/plant/America's Player, the way he's everywhere and on every side, and sharing info right and left.. they had another photobooth event - some participated more eagerly than others, as usual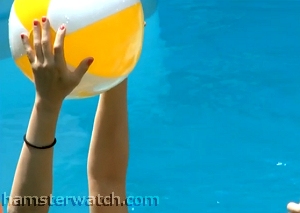 Easily the best part of the afternoon feeds was that Judd was on them a lot: he participated in gametalks and made astute observations about the cast, the season, and former seasons, and talked about current hot topics like the rampant and inaccurate use of the word "bullying".. his understated but quick wit permeated all of it, keeping the laughs coming.. some have criticized Judd for infiltrating and/or sucking up to the HOH regime each week so far but I see it more as an art: he's bringing the word "floater" back to its original meaning, and doing it well.. it's a valid and often successful social game tactic, and harder to pull off than it appears - have you ever been caught in the middle between two feuding friends, or tried to stay friendly with both halves of a splitting couple? It's not nearly as easy as it looks

Evening brought a skit with Helen, GinaMarie and Elissa trashed up as "Jersey girls" - it was short.. Jeremy showed up in a diaper and baby bonnet and proceeded to campaign with whoever would listen.. later Kaitlin was back to saying she wouldn't use her veto on herself, but of course she will.. there was a small booze delivery but the feeds stayed mostly on the Have-nots and gametalkers rather than the drinkers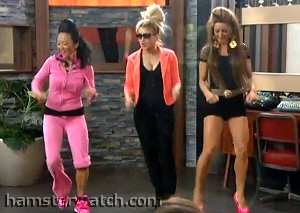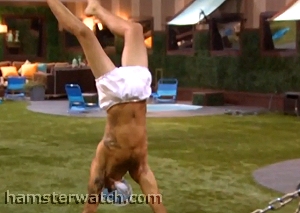 Trampolines! (Saturday 7/13)
They were warned about being woken up early and sure enough, BB got them up and out of bed by 6.30am - not all complied right away.. they putzed around until the trivia took them away for the veto comp around 1pm, with Spencer being officially nominated via Elissa's MVP.. Candice & GinaMarie were also picked to play veto, and Judd hosted.. feeds returned after five hours(!), and Kaitlin had won the veto in a timed comp involving trampoline jumping, faces/image recognition, and memory.. they all agreed it was a fun comp

Evening finally brought the eagerly awaited re-opening of the backyard but alas, it did not bring the more eagerly awaited return of booze deliveries.. they pretty much sat around psst pssting, conniving, confessing, and snacking instead of drinking and/or fighting.. GinaMarie continued through her stages of grief, sometimes joking and laughing but then relapsing back into mourning temporarily.. Jeremy & Kaitlin had a dedicated feed for hours as they discussed him leaving and whatever else, with lots of straddling and slurpydurp.. Jeremy's been told he's being backdoored, but he's also been guaranteed safety - I don't know which he believes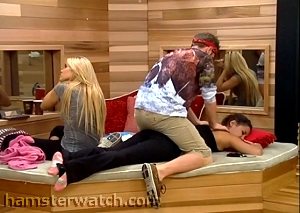 Helen continued to hold court upstairs and down, and she's starting to sound like her HOH reign will be permanent til the finale - hers is a textbook case of HOHitis.. Spencer attempted talking sense to Aaryn, much like Amanda did yesterday - he may have made a tiny bit more leeway, but it will be a long process regardless.. she broke down a couple times so even if she's not admitting anything yet, there may be a couple chinks in her self-protect armor.. baby steps

Get the feeds
to watch everything as it unfolds, and remember to click "previous Hamsterwatch episode" at the top of any page to see what came before.. feel free to click the Amazon.com banner up there for any of your Amazon purchases anytime



Ratings - Flaming Flotilla edition
Ratings are based on entertainment value



They took some liberties with the game stuff but they laid out Bedgate 2 (or was it Bedgate 3?) as accurately as anything they've ever aired, so kudos and ups for that. It's not like they had much choice since TMZ had already put out the video, but they could have soft-soaped it or edited for added sensationalism, and they didn't. Bonus points for today's excursion through the camera runs, especially with the glimpse of the grill stashed away in there, rattling and clanking, impatient to get out and wreak some damage.






NOMINATED
She's still on Hamsterwatch ignore. I really wanted her to be my special study project this season but like Danielle last year, she went way too far to be any fun at all to poke at.





See McCrae.





Even I'm starting to suspect he's a plant, a big joke on them and us, an anti-Joe Schmo. Nothing else can explain his uncanny ability to pop up and into every game conversation, and to get everyone to reveal their secrets to him. And he does it all in little boy clothes - what's that about?





This girl has more tragic and unfortunate life stories than anyone, and that's about all she ever talks about. Unless it's talking graphic sex with Howard, but I don't think he likes hearing that so much.





MVP
She's 'won' the MVP award three times and for what? She's been nominated twice, she's nominated whoever the HOH (and/or Diary) wanted three times, and she's barely on feeds. We found out Friday night that she can't act and we found out tonight she can't dance, so what is her role in there, other than to have arguably better fake hair and to keep dredging up and picking at the scabs of the various scandals? Out of our 14 remainders, she's in a three-way tie at the bottom as far as being valuable, influential, interesting, or visible.





Maybe entertaining isn't the right word, but she's definitely a unique spectacle. I'm glad CBS didn't dwell on her mourning more than they did, as it went beyond comedy into some scary territory. Like many hamsters before her, she's far more cute and likable when she's not buried under layers of heavy makeup, but her hair is the real star of the show. I'm eagerly waiting for the inevitable montage of her kooky extensions arrangements to show up on CBS.





HEAD OF HOUSEHOLD
HOHitis much? She's planned out the rest of the season and given everyone their orders.. like that'll mean anything after a new regime takes over Thursday.





He's clearly taking the high road at every opportunity but I don't think that's really working here. There's a time and place for that (life, for instance) but reality tv tends to live on the winding back roads and dark alleys.





Won: Permanent Have-not pass
The diaper was unexpected but didn't help his stock any, especially wearing it and the giant baby bonnet to campaign in earnest, and before he's even nominated. Juggling and walking on his hands are good parlor tricks though and he did both well, so he remains neutral.





Who?





I've covered his positive traits above and he's almost got a permanent spot in Lines of the Day. I just wish we had more of him on feeds.





NOMINATED - HOLDS VETO
I'd love it if she didn't use her veto and went home, but that won't happen. I need her and Jeremy to disengage their mouths and pelvises from each other one way or another, since the feedmasters seem to think their slurpydurp has to have a dedicated feed at all times. It doesn't. Here's hoping one of them goes no matter what.





He wanted to be a Have-not so he threw the food comp, but slop's turning him into a layaround, and that's never a good thing (and he knows better). By the way, when he told Amanda she's 'his queen', most took it as a sappy aww kind of thing, forgetting that the game of Big Brother is a chess analogy. The queen is all-powerful, but will sacrifice herself to protect the king if necessary.





NOMINATED
He's been pretty fun and funny lately, and hasn't been as offensive as we know he can be. Using the sliding scale we have this season, that's enough for ups.





Won: Nothing
He came in saying he hoped for stardom but it probably won't happen as a result of this show. Overnighters got to know his blue hoodie & cap well, and he was usually the last one to go to bed. That's usually good strategy but it didn't help him. The over-the-top character he played in pre-season interviews gave him a rough start with most, but he didn't stick long enough for us (me anyway) to get to know what he's really about.





Won: Nothing
He didn't bring much to the feeds and he seemed oblivious about how the show works, but those types are the ones who get blindsided and we always like to see that. The Aaryn & David Comedy Show was fun for a minute but all the controversy she fed took the fun out of that, so it's just as well he got gone early. Back to the beach and watching BB on the couch with mom.







Linking to any page here is fine but please do not repost any content from this site (or any other) without permission, and do not repost or hotlink to any images


!! THIS MEANS YOU !!




Feed signups help me
keep this site going
Thank you!

I can't recommend this show highly enough







VIEWER VOTE


MVP polls are closed

What supplement should Have-nots get?
Artichokes and anchovies
Macaroni and mangoes
Sauerkraut and seaweed
Polls close Monday 6pm PT

Currently: Grapefruit and guacamole







RATINGS WATCH


Sunday's show won the hour with 1.9 rating, 6 share, and 6.69 million viewers, ahead of Celebrity Wife Swap on ABC with 1.2/4/3.55, The Simpsons and Bob's Burgers reruns on FOX with 1.2/4/2.74 and 1.0/3/2.36 respectively, and America's Got Talent rerun on NBC with 0.8/3/4.08.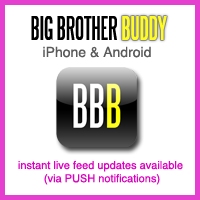 Big Brother Buddy mobile app
Available for Android or iPhone/iPad



Clicky: caps sorted by day - all caps







NEWS & UPDATES
HOHs: McCrae, Aaryn, Helen
MVPs: Elissa, Elissa, Elissa
Veto wins: McCrae, Jeremy, Kaitlin
Evictions: David 7-5-0; Nick 7-4-0

Feeds were opened for Canada on July 10! Sign up now
to get up to date before things get even crazier! All subscriptions include flashback and mobile access for most smartphones and some tablets, including iPads.

Bigotgate oozed farther beyond our insulated BB world more than any prior scandal, going all the way to TMZ, CNN, The New York Times, and international news & media outlets. Aaryn Gries and GinaMarie Zimmerman were fired from real world jobs as a result of bigoted remarks on the BB15 feeds, Aaryn from a modeling contract and GinaMarie from her pageant company. Spencer's employer, Union Pacific, issued a statement about not condoning some of his remarks (he is a union employee).

A disclaimer about CBS not condoning prejudices appeared on the feeds and BBAD July 12, and on the CBS show July 14.

Evel Dick Donato's Dick at Night show is back this summer on Vimeo, and he'll have special guests, former hamsters, plus a Catladies Corner segment with @Clio_the_Leo and @Catvanzyl!

BB12 Kristen Bitting will be on The Perfect Score dating show, premiering on the CW July 16.

BB12 Hayden Moss is back from playing/taping the next season of Survivor, and Brenchel will show up on a future Amazing Race season, again.

Big Brother Australia starts up again July 28.

Big Brother UK kicked off June 13 with Emma Willis hosting. This year has twins playing as one, a mother/daughter playing separately, and an actor/mole who's only there to mess with the hamsters. Watch on YouTube.

Big Brother Africa is also underway - the official site has lots of video highlight clips.



Donations via Paypal are gratefully accepted!

If the button doesn't work, Paypal to hamster (at) neonpages (dot com)

Thanks for your support!



BBQ Smackdown Scorecard

Big Brother 14
Round 1: BBQ ½, Dan 0

Big Brother 13
Round 1: BBQ ½, Adam ½, Rachel 0
Round 2: BBQ ½, Adam 0
Round 3: BBQ 1, Rachel 0

Big Brother 12
Round 1: BBQ ½, Brendon 0
Round 2: BBQ 2, Britney 0, Lane 0
Round 3: BBQ 1, Lane 0, CBS 0

Big Brother 11
Round 1: BBQ 0, Jeff 0
Round 2: BBQ 0, Jeff ½
Round 3: BBQ ½, Kevin 0, Michele 0

Big Brother 10
No title events


Big Brother 9 Winter Edition
Round 1: BBQ ½, Ryan 0
Round 2, BBQ ½, Adam 0
Round 3, BBQ ½, Ryan 0

Big Brother 8
Round 1: BBQ 1, Dick 0
Round 2: BBQ ½, Zach 0
Round 3: BBQ 0, Dick 1

Big Brother 7 All-Stars
BBQ training sabbatical

Big Brother 6
Round 1: BBQ 1, Ivette 0
Round 2: BBQ 0, Howie 0

Big Brother 5
Round 1: BBQ 1, Cowboy 1, Drew 0
Round 2: BBQ 1, Drew 0, Diane ½
Round 3: BBQ 1, Cowboy 1, CBS 0, Nakomis 0



EXTRACURRICULAR TALLY
Major fights - 2
-7/1 12.22am Jeremy vs Have-nots, Jeremy vs Amanda, Jeremy vs Kaitlin, Jeremy vs Candice, Aaryn vs Candice
-7/11 9.20pm GinaMarie vs Jessie, Jessie vs Kaitlin/Aaryn, Amanda vs most

Blindside evictions - 2
David
Nick

Beyond BB scandals - 1
BigotGate

Literal asshats - 1
Jeremy 7/2 6.55pm

Makeout pairings - 4
Jeremy & Kaitlin
McCrae & Amanda
David & Aaryn
Howard & Candice

Sex events - 6
Jeremy & Kaitlin 6/28 3.21am
McCrae & Amanda 6/29 5.40am
McCrae & Amanda 6/30 1.11am
Jeremy & Kaitlin 7/3 1.20am
Jeremy & Kaitlin 7/8 12.01am
Jeremy & Kaitlin 7/9 11.15pm

Pinkyswears - 11
GinaMarie & Andy 6/30 2:43am
GinaMarie & Nick 7/2 9.57pm
GinaMarie, Jeremy, Nick 7/5 1.02am
GinaMarie & Nick 7/5 8.16pm
GinaMarie & Aaryn 7/7 8.25pm
GinaMarie & Nick 7/8 approx 8pm
GinaMarie & Andy 7/9 6.47pm
GinaMarie & Nick 7/10 3.37am
Andy & Candice 7/11 11.28am
McCrae & Amanda 7/12 1.26am
GinaMarie & Helen 7/12 5.04pm

McCrae Dingoism mentions - 8
- Feedsters
- HOHitis (on CBS)
- Fishies (on CBS)
- This is Big Brother, I'm here for the entertainment
- Slurpydurp
- BBQ Smackdown
- Willie's key-hos & corn-ho
- The parlor

The Soup mentions - 2
- 7/3 Veto guest sarcasm plus McCrae about Howard on premiere
- 7/10 BigotGate

CBS goofs - 15
- BB site shows two premiere times
- Jill? on feeds signup page
- Misspelled Judd's last name
- Feeds launch Y2K type midnight problem
- Peculiar trivia goof
- Misspelled Kaitlin
- Omitted GinaMarie
- Included GinaMarie, wrongly
- Wrong show time on trivia
- Forgot to update vote dates
- Julie said Helen's Chinese on The Talk racism segment
- Wrong show teaser pics
- Your/you're error
- Wrong day on MVP vote
- Typo in Help scroll