This site is about the Big Brother 15 feeds and contains spoilers! It isn't necessarily thorough: it's what I catch and/or what interests me, and it isn't necessarily about who will win, who should win, who's cute or who's horrid. It's about watching hamsters: who's doing what and why. If they aren't entertaining, get rid of 'em! Thanks for encouraging my behavior. Your pal, dingo







POWER STATUS


Aaryn is Head of Household
Elissa is MVP
Elissa & Helen are HOH nominees
Jeremy is MVP nominee
Jeremy won veto
Andy, Candice, Helen, Elissa are Have-not







UPCOMING EVENTS


Friday: Noms
Saturday: Veto comp

Next show Sunday 8pm: HOH comp, nominations - east coast feed

Beginning next week, CBS schedule changes to Sundays 8pm, Wednesdays 8pm, eviction Thursdays 9pm







BB DRINKING GAME


Take a swig whenever Andy inserts himself into a convo









BIG BROTHER PAST SEASONS



Amazon DVDs BB4 - BB3

Amazon Instant View BB14
- BB13
BB12
- BB11
- BB10
- BB9
- BB8


iTunes BB14
- BB13
- BB12
- BB11
BB10
- BB9
- BB7 All-Stars





BB15 FAQ


Feeds are streamed by CBS - sign up today


Big Brother After Dark is on TVGN for two hours every night starting at midnight (9pm BB time), and is censored

CBS shows are Tuesday 9pm, live Wednesday 8pm, and Sundays 8pm; changing to Sundays 8pm, Wednesdays 8pm, eviction Thursdays 9pm beginning July 11.

Canada runs the TV episodes on Global, and After Dark on Slice, uncensored.

The MVP selects the third nominee, privately, and he or she doesn't have to tell anyone they are MVP.

Some of them are calling Candice 'Reptar'

Jeremy's tattoo says 'Great spirits have always encountered violent opposition from mediocre minds' (Einstein).

BB15 winner's prize is the same: $500k for the winner, so I assume 2nd still gets $50k. Stipend for the others is $750 or $1,000 per week (to be confirmed), including pre-show hotel and jury sequester. Recruits may get more.

The habitat has 65 cameras (up 12) and 98 microphones (same).

The recorded in-house announcements are the voice of producer Don Wollman.






>> >> >>
>>
ALL AMAZON.COM PURCHASES MADE THROUGH THIS LINK HELP SUPPORT THIS SITE
Assume the position (Saturday 7/6)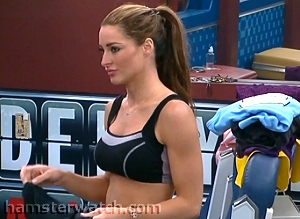 Elissa put up Jeremy as her MVP nom, as planned, and Nick and Amanda were picked to play for veto along with Aaryn and the three nominees.. before the trivia took them away, Aaryn had a hissy-fit at Elissa and about talking about her medical condition and Adderall use to others, but Aaryn talks about it a lot, and she also talked a lot about Elissa's poopy problem yesterday.. pot/kettle carries on

Jeremy won the veto, so drama and slurpydurp and asshatting will stick around for awhile, and Elissa will pick the renom since she put up Jeremy.. Kaitlin climbed onto him in straddle position as soon as the feeds returned - she's becoming a permanent fixture on his front lately.. Jeremy wore his veto necklace until nighttime (who does that?).. the rest of the day and night was mostly gametalk, bandanaball, gametalk, random slurs, and more gametalk

Meanwhile BigotGate continues to fester and ooze through the mainstream: Spencer's employer Union Pacific has issued a statement that doesn't really say a lot, but it's rather a big deal for a company like that to publicly acknowledge this kind of thing, and international news outlets have picked it up in various countries



Going banomza (Friday 7/5)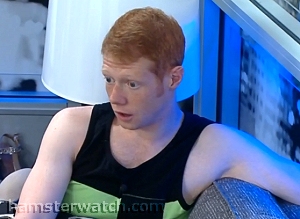 That's an Aarynism, one of the non-inflammatory ones (I hope) - I don't know what it means but I think it applies.. Jeremy presided at her pre-nomination meetings with them all, which is fair enough since they both won the HOH comp.. by the way, I've addressed the alleged cheating here previously, and I'm surprised but not surprised that it's become as big a concern for some as the open bigotry in there

The HOH crew's paranoia is growing daily: they're convinced some of the others are actors, and their villification of Elissa is on a par with the BB6 Nerd Herd: just swap Janelle's name with Elissa's and it's a rerun script.. apparently there's yet another F4 deal now with Jeremy, Aaryn, Amanda, and McCrae (no Kaitlin - uh oh), and yet another GinaMarie pinkyswear, this one with Nick & Jeremy.. Have-nots got liver and lima beans as their slop supplement.. Andy inspired the new Hamsterwatch drinking game - my apologies for any cases of alcohol poisoning.. Elissa can't poop and Kaitlin's still having pee problems, for those keeping track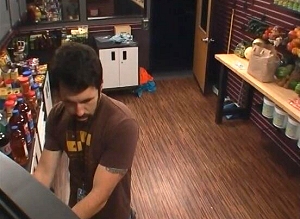 Aaryn nominated Elissa and Helen as originally planned, so all the waffling and meetings were pointless, as usual.. despite demands by many to dump this cast and start over again, this guy isn't a new hamster, just one of the staff folks restocking the pantry - kudos to @IHateBigBrother for catching the cap

Remember to click "previous Hamsterwatch episode" at the top of any page to see what came before, and feel free to click the Amazon.com banner up there for any of your Amazon purchases anytime.. get the feeds
to watch everything in the habitat unfold as it happens, before the editors whittle it down into bite-size and sometimes misleading pieces for TV



Tangled weaves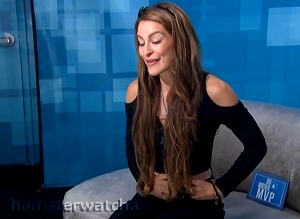 They threw us a bone with a quick peek of Elissa getting her MVP card.. she later told Helen and said she had two hours to name her victim, and they agreed Jeremy would be the best choice.. it wasn't clear if she made it official with Diary or not

They got a booze delivery behind fishies, so it was a surprise when Amanda and Jessie had a spat about McCrae during Aaryn's bubblebath.. Amanda later pursued it with McCrae, who then talked to us while a drunken dance party was going on with most of the others - flashback 7/6 12.33am for the start of the dancers, and 12.52am for McCrae to us



Ratings - Rachel Ratings special edition
Ratings are based on Rachel



OMG I LOOOVVEEEEE THIS SHOW! its my favorite i was on it twice and I wON!!! and I was in pandora too and i almost forgot I met my BUKI on it!!! We got married on a show that was my favorite show too ecxept the end they shouldnt have showed that but I had fun I AM VEGAS!!! and Studio City. See me on The Amazing Race and dont believe what other teams say about me its NEVER TRUE. haters.






HEAD OF HOUSEHOLD
WHY???? why does she hate my sister so much??? nobody can hate my sister she's perfect! she looks just like me. who is this girl and how did she win a competition??? I WIN THE COMPETITIONS AROUND HERE ask anyone





She's loud and she's bossy and she has great big boobies. if she could win competitions I'd like her! but she can't.





He's really really cute! I want to just put him in my pocket. BUTT he better not say anything about ooey gooey cookies or i'll cut him.





I dont know who she is. Did she win a competition??





He didn't bring much to the feeds and he seemed oblivious about how the show works, but those types are the ones who get blindsided and we always like to see that. The Aaryn & David Comedy Show was fun for a minute but all the controversy she fed took the fun out of that, so it's just as well he got gone early. Back to the beach and watching BB on the couch with mom.





MVP - NOMINATED
Of course she is MPV she's the BEST! SHE'S MY SISTER and she's taking my place on my favorite show this summer!! because I'm married now and Brendon won't let me do a show anymore unless he does a show too so that's why we're doig AMAZIN GRACE and not BIGBOTHER because he wont do big brother anymore. I dont know why either. MY SISTER IS THE STAR THIS TIME ITS HER SHOW and all those racist people were put there to make her look good. I LOOVVVVEEEE HER!!!





Those clothes! That mouth!! That hair!!! She should use clipon hair like I do it works better. hers is just eww. and she says mean things about people and she hangs on the Nick guy like their married. they arent married I AM MARREID did you see my weeding show??





NOMINATED
She likes my sister ELLISSA so I like her a lot!! she's almost my favorite. Also she's smart and I like smart people. Im a chemist! and my HUSBAND Brennon has a PHD!! well almost. he would have a phd a long time ago but we have to keep doing teevee shows! our fans want to see us!!!! and we cant let them down. HEY where's the arrow? i cant make the arrow work!!!





HOTT STUFF YEEAAAHHHHH!!!! oops I forgot Im married now sorry Brendon





Won: Permanent Have-not pass
NOMINATED - HOLDS VETO
I get them mixed up which one is he? Is he the one who took MY sister's hat and did nasty something with it?? dont even let him near me at the FAN EVENTS he's an asshat.





Jessie's back!!! He's like me, we both get to keep coming back on BIIIIIIG BROTHER!!! every year. I heart pandora boxes.





I liked him ok in Oklahoma where the wind comes rushing down the plains but it was sad when he died, poor Judd.





floozy hoochie momma! I mean who goes on a NATIONAL TEEVEE SHOW and almost has sex in front of everybody with all those slurpydurp noises??? oh wait





He's kind of cute but he's kind of weirdo, I dont understand weirdos? Anyway he goes on that site that makes fun of me with something called RACHEL ragings I never raged about anyone! not very often anyway. hi Ragan. hi Britney. hi Brendon.





The blue hat and hoodie need some SEQUINS!!! and he's weasely.





What? I dont get it why is he on the show? He doesnt look like MY HUSBAND not even close. I should be mad at him for saying I look like an ostritch but I looveeeee the little mermaid part!! she's cute like me. IS he real?? I think I saw him on Dynasty Ducks







Linking to any page here is fine but please do not repost any content from this site (or any other) without permission, and do not repost or hotlink to any images


!! THIS MEANS YOU !!




Feed signups help me
keep this site going
Thank you!

I can't recommend this show highly enough







VIEWER VOTE


What supplement should Have-nots get?
> Liver and lima beans

MVP polls are closed







RATINGS WATCH


Wednesday's live show placed first for the hour with a 1.6 rating, 6 share, and 5.35 million viewers, ahead of America's Got Talent rerun on NBC with 1.1/4/5.20, Masterchef rerun on FOX with 1.0/4/2.78, and The Middle rerun on ABC with 0.7/3/3.12.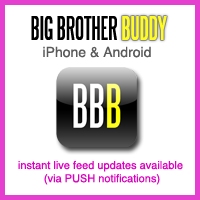 Big Brother Buddy mobile app
Available for Android or iPhone/iPad



Clicky: caps sorted by day - all caps







NEWS & UPDATES
HOHs: McCrae, Aaryn
MVPs: Elissa, Elissa
Veto wins: McCrae, Jeremy
Evictions: David 7-5-0

Aaryn Gries and GinaMarie Zimmerman were fired from real world jobs as a result of bigoted remarks on the BB15 feeds, Aaryn from a modeling contract and GinaMarie from her pageant company.

BB12 Hayden Moss is back from playing/taping the next season of Survivor, and Brenchel will show up on a future Amazing Race season, again.

Evel Dick Donato's Dick at Night show is back this summer on Vimeo, and he'll have special guests, former hamsters, plus a Catladies Corner segment with @Clio_the_Leo and @Catvanzyl!

BB12 Kristen Bitting will be on The Perfect Score dating show, premiering on the CW July 16.

Big Brother Australia starts up again July 29.

Big Brother UK kicked off June 13 with Emma Willis hosting. This year has twins playing as one, a mother/daughter playing separately, and an actor/mole who's only there to mess with the hamsters. Watch live (no downloads required!) or on YouTube.

Big Brother Africa is also underway - the official site has lots of video highlight clips.



Donations via Paypal are gratefully accepted!

If the button doesn't work, Paypal to hamster (at) neonpages (dot com)

Thanks for your support!



BBQ Smackdown Scorecard

Big Brother 14
Round 1: BBQ ½, Dan 0

Big Brother 13
Round 1: BBQ ½, Adam ½, Rachel 0
Round 2: BBQ ½, Adam 0
Round 3: BBQ 1, Rachel 0

Big Brother 12
Round 1: BBQ ½, Brendon 0
Round 2: BBQ 2, Britney 0, Lane 0
Round 3: BBQ 1, Lane 0, CBS 0

Big Brother 11
Round 1: BBQ 0, Jeff 0
Round 2: BBQ 0, Jeff ½
Round 3: BBQ ½, Kevin 0, Michele 0

Big Brother 10
No title events


Big Brother 9 Winter Edition
Round 1: BBQ ½, Ryan 0
Round 2, BBQ ½, Adam 0
Round 3, BBQ ½, Ryan 0

Big Brother 8
Round 1: BBQ 1, Dick 0
Round 2: BBQ ½, Zach 0
Round 3: BBQ 0, Dick 1

Big Brother 7 All-Stars
BBQ training sabbatical

Big Brother 6
Round 1: BBQ 1, Ivette 0
Round 2: BBQ 0, Howie 0

Big Brother 5
Round 1: BBQ 1, Cowboy 1, Drew 0
Round 2: BBQ 1, Drew 0, Diane ½
Round 3: BBQ 1, Cowboy 1, CBS 0, Nakomis 0



EXTRACURRICULAR TALLY
Major fights - 1
7/1 12.22am Jeremy vs Have-nots, Jeremy vs Amanda, Jeremy vs Kaitlin, Jeremy vs Candice, Aaryn vs Candice

Blindside evictions - 1
David

Beyond BB scandals - 1
BigotGate

Literal asshats - 1
Jeremy 7/2 6.55pm

Makeout pairings - 3
Jeremy & Kaitlin
McCrae & Amanda
David & Aaryn

Sex events - 4
Jeremy & Kaitlin 6/28 3.21am
McCrae & Amanda 6/29 5.40am
McCrae & Amanda 6/30 1.11am
Jeremy & Kaitlin 7/3 1.20am

Pinkyswears - 3
GinaMarie & Andy 6/30 2:43am
GinaMarie & Nick 7/2 9.57pm
GinaMarie & Nick 7/5 8.16pm

McCrae Dingoism mentions - 5
- Feedsters
- HOHitis (on CBS)
- Fishies (on CBS)
- This is Big Brother, I'm here for the entertainment
- Slurpydurp

The Soup mentions - 1
- 7/3 Veto guest sarcasm plus McCrae about Howard on premiere

CBS goofs - 9
- BB site shows two premiere times
- Jill? on feeds signup page
- Misspelled Judd's last name
- Feeds launch Y2K type midnight problem
- Peculiar trivia goof
- Misspelled Kaitlin
- Omitted GinaMarie
- Included GinaMarie, wrongly
- Wrong show time on trivia