This site is about the Big Brother 15 feeds and contains spoilers! It isn't necessarily thorough: it's what I catch and/or what interests me, and it isn't necessarily about who will win, who should win, who's cute or who's horrid. It's about watching hamsters: who's doing what and why. If they aren't entertaining, get rid of 'em! Thanks for encouraging my behavior. Your pal, dingo







POWER STATUS


David evicted 7-5-0
Jeremy/Aaryn won the comp
Aaryn is Head of Household
Nobody is MVP
Nobody is nominated
Andy, Candice, Helen, Elissa are Have-not







UPCOMING EVENTS


Friday: Noms
Saturday: Veto comp

Next show Sunday 8pm: HOH comp, nominations - east coast feed

Beginning next week, CBS schedule changes to Sundays 8pm, Wednesdays 8pm, eviction Thursdays 9pm







BB DRINKING GAME


Take a swig whenever BB15 hits the news









BIG BROTHER PAST SEASONS



Amazon DVDs BB4 - BB3

Amazon Instant View BB14
- BB13
BB12
- BB11
- BB10
- BB9
- BB8


iTunes BB14
- BB13
- BB12
- BB11
BB10
- BB9
- BB7 All-Stars





BB15 FAQ


Feeds are streamed by CBS - sign up today


Big Brother After Dark is on TVGN for two hours every night starting at midnight (9pm BB time), and is censored

CBS shows are Tuesday 9pm, live Wednesday 8pm, and Sundays 8pm; changing to Sundays 8pm, Wednesdays 8pm, eviction Thursdays 9pm beginning July 11.

Canada runs the TV episodes on Global, and After Dark on Slice, uncensored.

The MVP selects the third nominee, privately, and he or she doesn't have to tell anyone they are MVP.

Some of them are calling Candice 'Reptar'

Jeremy's tattoo says 'Great spirits have always encountered violent opposition from mediocre minds' (Einstein).

BB15 winner's prize is the same: $500k for the winner, so I assume 2nd still gets $50k. Stipend for the others is $750 or $1,000 per week (to be confirmed), including pre-show hotel and jury sequester. Recruits may get more.

The habitat has 65 cameras (up 12) and 98 microphones (same).

The recorded in-house announcements are the voice of producer Don Wollman.






>> >> >>
>>
ALL AMAZON.COM PURCHASES MADE THROUGH THIS LINK HELP SUPPORT THIS SITE
Deathrace 2013 (Thursday 7/4)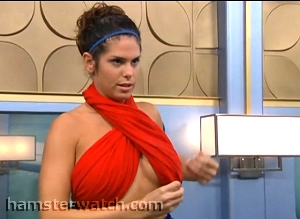 Bigotgate keeps oozing, hitting EW and CNN websites and TMZ web and tv shows now among other places, and Aaryn was fired from another job.. it seems they were given a talking-to about their vocabulary (but probably not why) - some choice words continue to slip out of their mouths anyway

The backyard was open all day despite the nearby festivities, and the hamsters were given a 4th of July party before BBAD - we weren't invited, we got the trivia-set-to-music loop instead.. most of them got dressed up for it, a few saying "because it'll probably be on tv".. Have-nots got to eat, and feeds came back to various gossiping, bitching, and tears, and a fireworks show on their plasma screen

Apparently Kaitlin saw the medic for blood in her pee, and was told it was probably due to too many Advils last night (four).. Amanda painted an eyeshadow US flag on McCrae's face that came out pretty good, and later she arranged a patriotic outfit for the party.. Candice was upset by the hinky vote being blamed on her (so that plan worked) - Helen talked her off the ledge, for now.. Aaryn & friends stayed in HOH most of the day, griping about Elissa and complaining how hot it was up there.. later Helen took Aaryn aside to say Aaryn wasn't her target, she didn't know where that was coming from, and she would be okay with being nominated - we'll see where that leads, if anywhere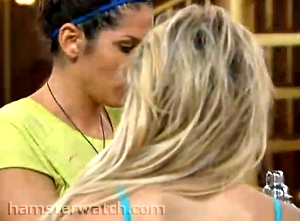 The big story though is the deathrace between Aaryn's and GinaMarie's roots and extensions - GinaMarie won that one today by a mile (or lost, depending on your perspective).. Elissa's are hanging in there for now but we might have a three-way race before long



Shit, meet fan (Wednesday 7/3)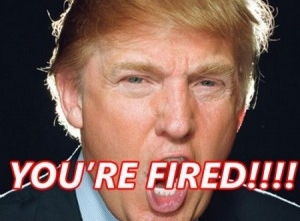 Not that we need this guy's mug showing up since he's one of the poster boys for hateful comments, but his catchphrase has suddenly become relevant to our little program as well as his own

As reported here last night, Aaryn has now been fired from a modeling contract and GinaMarie has been let go from her pageant company, so real world consequences have begun and they might not be over yet.. and no, they won't be told about this while they're in the habitat

I don't like to get preachy here but it's always nice to be part of a solution rather than just bitching endlessly about a bad situation, so I'm urging you all to watch A Class Divided, then tell someone else to watch it.. it's not your average racism documentary: it's compelling, eye-opening, and unforgettable.. Jane Elliott went on to become the mother of diversity training for the workplace

The feeds went to a five-minute delay last night, if the timestamps are accurate, so TPTB may be attempting to do some damage control with us as well as their bigger PR fiasco.. once again, get the feeds
to watch everything unfold - the CBS air shows never tell the full story, even for the hamsters and events that aren't hitting the national news, and things always leak out that shouldn't

As always on live show days, I'll update Power Status on left sidebar as things happen, and will catch up the main section later



Another sticky mess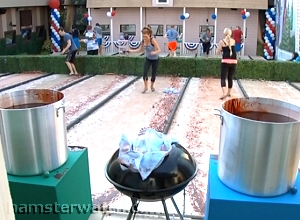 David was evicted in a nice blindside that made most of us very happy, with 7 votes.. Elissa got 5 and Jessie got away clean with zero

The HOH comp was the skating in Crisco relay race, and it was a true relay this time: they were matched up in pairs "by random drawing", and I believe the winning pair had to pick which of them would be the HOH between themselves.. Jeremy & Aaryn won, and she's the new HOH - goodie?

As if we need another controversy in this hot mess, a lot of cheating allegations were flying around afterwards, but if you flashback 7/3 8.52pm you'll hear Aaryn, Jeremy, Kaitlin talking about it and a "penalty" is mentioned.. it's possible this issue was dealt with behind a post-comp fishies block.. it's a done deal either way, so let's move on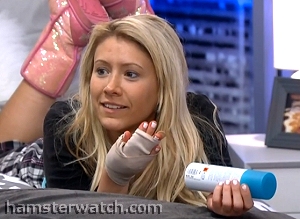 Aaryn picked the Have-nots, selecting her enemies Elissa, Candice, Helen, and Andy - it's just lucky for her that she didn't include Howard.. apparently McCrae volunteered for the coach class room, but was denied

The blindside vote was discussed in various frenzies and several of the blindsidees figured it out, but they don't know for sure that they did.. there were allegations of somebody calling somebody else a whore "on national television" but nobody out here heard it.. Andy got banged up pretty bad in the comp, GinaMarie hurt her hand, and Kaitlin had a migraine complete with puking

Diary personnel was heard reminding Aaryn to say "who wants to see my HOH room," which she dutifully did, and she read her letter that was probably written before the events of this week - flashback 7/3 10.57pm.. there's a huge 4th of July community event on the CBS lot all day Thursday, so I expect they'll be on indoor lockdown

I'm strongly endorsing McCrae for your MVP votes - he's a fellow feedster and Hamsterwatcher, and I think he'll do the right thing with it



Ratings - Random ostrich edition
Ratings might be updated eventually - I just don't have much, sorry. I changed a few new pics though.
VTE = voted to evict



To follow






VTE Elissa
HEAD OF HOUSEHOLD
To follow





VTE David
To follow





VTE David
To follow





VTE Elissa
To follow





He didn't bring much to the feeds and he seemed oblivious about how the show works, but those types are the ones who get blindsided and we always like to see that. The Aaryn & David Comedy Show was fun for a minute but all the controversy she fed took the fun out of that, so it's just as well he got gone early. Back to the beach and watching BB on the couch with mom.





No vote (nominee)
To follow





VTE Elissa
To follow





VTE David
To follow





VTE David
To follow





Won: Permanent Have-not pass
VTE Elissa
To follow





No vote (nominee)
To follow





VTE David
To follow





VTE Elissa
To follow





No vote (HOH)
To follow





VTE David
To follow





VTE David
To follow







Linking to any page here is fine but please do not repost any content from this site (or any other) without permission, and do not repost or hotlink to any images


!! THIS MEANS YOU !!




Feed signups help me
keep this site going
Thank you!

I can't recommend this show highly enough







VIEWER VOTE


Bologna and blue cheese
Oysters and okra
> Liver and lima beans
Polls are closed

MVP polls are closed







RATINGS WATCH


Wednesday's live show placed first for the hour with a 1.6 rating, 6 share, and 5.35 million viewers, ahead of America's Got Talent rerun on NBC with 1.1/4/5.20, Masterchef rerun on FOX with 1.0/4/2.78, and The Middle rerun on ABC with 0.7/3/3.12.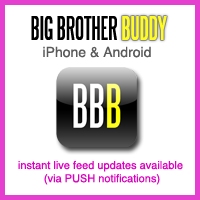 Big Brother Buddy mobile app
Available for Android or iPhone/iPad



Clicky: caps sorted by day - all caps







NEWS & UPDATES
HOHs: McCrae - Aaryn
MVPs: Elissa
Veto wins: McCrae
Evictions: David 7-5-0

Aaryn Gries and GinaMarie Zimmerman were fired from real world jobs as a result of bigoted remarks on the BB15 feeds, Aaryn from a modeling contract and GinaMarie from her pageant company.

BB12/13 Rachel Reilly will be on The Bold and the Beautiful on July 4.

BB12 Hayden Moss is back from playing/taping the next season of Survivor, and Brenchel will show up on a future Amazing Race season, again.

Evel Dick Donato's Dick at Night show is back this summer on Vimeo, and he'll have special guests, former hamsters, plus a Catladies Corner segment with @Clio_the_Leo and @Catvanzyl!

BB12 Kristen Bitting will be on The Perfect Score dating show, premiering on the CW July 16.

Big Brother UK kicked off June 13 with Emma Willis hosting. This year has twins playing as one, a mother/daughter playing separately, and an actor/mole who's only there to mess with the hamsters. Watch live (no downloads required!) or on YouTube.

Big Brother Africa is also underway - the official site has lots of video highlight clips.



Donations via Paypal are gratefully accepted!

If the button doesn't work, Paypal to hamster (at) neonpages (dot com)

Thanks for your support!



BBQ Smackdown Scorecard

Big Brother 14
Round 1: BBQ ½, Dan 0

Big Brother 13
Round 1: BBQ ½, Adam ½, Rachel 0
Round 2: BBQ ½, Adam 0
Round 3: BBQ 1, Rachel 0

Big Brother 12
Round 1: BBQ ½, Brendon 0
Round 2: BBQ 2, Britney 0, Lane 0
Round 3: BBQ 1, Lane 0, CBS 0

Big Brother 11
Round 1: BBQ 0, Jeff 0
Round 2: BBQ 0, Jeff ½
Round 3: BBQ ½, Kevin 0, Michele 0

Big Brother 10
No title events


Big Brother 9 Winter Edition
Round 1: BBQ ½, Ryan 0
Round 2, BBQ ½, Adam 0
Round 3, BBQ ½, Ryan 0

Big Brother 8
Round 1: BBQ 1, Dick 0
Round 2: BBQ ½, Zach 0
Round 3: BBQ 0, Dick 1

Big Brother 7 All-Stars
BBQ training sabbatical

Big Brother 6
Round 1: BBQ 1, Ivette 0
Round 2: BBQ 0, Howie 0

Big Brother 5
Round 1: BBQ 1, Cowboy 1, Drew 0
Round 2: BBQ 1, Drew 0, Diane ½
Round 3: BBQ 1, Cowboy 1, CBS 0, Nakomis 0



EXTRACURRICULAR TALLY
Major fights - 1
7/1 12.22am Jeremy vs Have-nots, Jeremy vs Amanda, Jeremy vs Kaitlin, Jeremy vs Candice, Aaryn vs Candice

Blindside evictions - 1
David

Beyond BB scandals - 1
BigotGate

Literal asshats - 1
Jeremy 7/2 6.55pm

Makeout pairings - 3
Jeremy & Kaitlin
McCrae & Amanda
David & Aaryn

Sex events - 4
Jeremy & Kaitlin 6/28 3.21am
McCrae & Amanda 6/29 5.40am
McCrae & Amanda 6/30 1.11am
Jeremy & Kaitlin 7/3 1.20am

Pinkyswears - 2
GinaMarie & Andy 6/30 2:43am
GinaMarie & Nick 7/2 9.57pm

McCrae Dingoism mentions - 5
- Feedsters
- HOHitis (on CBS)
- Fishies (on CBS)
- This is Big Brother, I'm here for the entertainment
- Slurpydurp

The Soup mentions - 1
- 7/3 Veto guest sarcasm plus McCrae about Howard on premiere

CBS goofs - 9
- BB site shows two premiere times
- Jill? on feeds signup page
- Misspelled Judd's last name
- Feeds launch Y2K type midnight problem
- Peculiar trivia goof
- Misspelled Kaitlin
- Omitted GinaMarie
- Included GinaMarie, wrongly
- Wrong show time on trivia