This site is about the Big Brother 15 feeds and contains spoilers! It isn't necessarily thorough: it's what I catch and/or what interests me, and it isn't necessarily about who will win, who should win, who's cute or who's horrid. It's about watching hamsters: who's doing what and why. If they aren't entertaining, get rid of 'em! Thanks for encouraging my behavior. Your pal, dingo







POWER STATUS


Aaryn is Head of Household
Elissa is MVP
Elissa & Helen are HOH nominees
Jeremy used veto on himself
Nick is MVP renom
Andy, Candice, Helen, Elissa are Have-not







UPCOMING EVENTS


Monday: Veto meeting
Tuesday: HOH pictures, blog, tweets

Next show Wednesday 8pm: Veto comp, veto meeting, special guest - east coast feed

CBS schedule is now Sundays 8pm, Wednesdays 8pm, eviction Thursdays 9pm







BB DRINKING GAME


Take a swig whenever someone says shadyfuck









BIG BROTHER PAST SEASONS



Amazon DVDs BB4 - BB3

Amazon Instant View BB14
- BB13
BB12
- BB11
- BB10
- BB9
- BB8


iTunes BB14
- BB13
- BB12
- BB11
BB10
- BB9
- BB7 All-Stars





BB15 FAQ


Feeds are streamed by CBS - sign up today


Big Brother After Dark is on TVGN for two hours every night starting at midnight (9pm BB time), and is censored

CBS shows are Tuesday 9pm, live Wednesday 8pm, and Sundays 8pm; changing to Sundays 8pm, Wednesdays 8pm, eviction Thursdays 9pm beginning July 11.

Canada runs the TV episodes on Global, and After Dark on Slice, uncensored.

The MVP selects the third nominee, privately, and he or she doesn't have to tell anyone they are MVP.

Some of them are calling Candice 'Reptar'

Jeremy's tattoo says 'Great spirits have always encountered violent opposition from mediocre minds' (Einstein).

BB15 winner's prize is the same: $500k for the winner, so I assume 2nd still gets $50k. Stipend for the others is $1,000 per week (up from $750), including pre-show hotel and jury sequester. Recruits may get more.

The habitat has 65 cameras (up 12) and 98 microphones (same).

The recorded in-house announcements are the voice of producer Don Wollman.






>> >> >>
>>
ALL AMAZON.COM PURCHASES MADE THROUGH THIS LINK HELP SUPPORT THIS SITE
A Class Divided (Monday 7/8)
I really don't like to veer away from the fun that is Big Brother feeds here, but the fun this year has been taken over by the ugly speech that continues to come out of the mouths of some of them, especially Aaryn, Jeremy, and GinaMarie

I've linked to the A Class Divided Frontline piece before (and I'm keeping it in my Links of the Day), but today I'm making it my featured item in hopes that a few more of you watch it and then share it with someone else - it's a very simple way to be "part of the solution"

Jane Elliott, the teacher in the program and creator of the brown eyes/blue eyes exercise, went on to become the mother of workplace diversity training, and she still holds workshops.. my greatest wish would be for The Powers That Be to bring her into the habitat for a day to run the exercise with this group.. it's obviously more than appropriate at this point, and I think they could turn this whole thing into one of the greatest hours of reality TV of all time if they did.. but I rarely get my wishes where BB is concerned

After Sunday's show aired some of the racist & homophobic comments, our festering mess oozed even further into the mainstream media, all the way to The New York Times.. The Talk also covered it in a serious discussion segment in which Julie mistakenly referred to Helen as being Chinese - oops, Helen's Korean.. also, David did his interviews, dude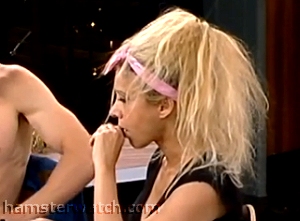 There's not much else going on in there: Jeremy took himself off the block and Nick went up as Elissa's MVP replacement.. other than that, it's pretty much just gametalk, gossiping, eating, making out, and more gametalk.. the only thing really keeping my interest is the ongoing fake hair disasters - and I've been criticized for focusing on them too - go figure

More later, maybe

Remember to click "previous Hamsterwatch episode" at the top of any page to see what came before, and feel free to click the Amazon.com banner up there for any of your Amazon purchases anytime.. get the feeds
to watch everything in the habitat unfold as it happens, before the editors whittle it down into bite-size and sometimes misleading pieces for TV



On we go (Sunday 7/7)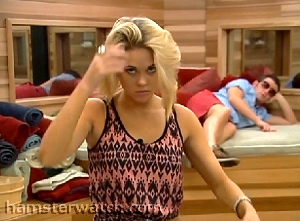 CBS finally ran a segment featuring some of the more glaring soundbytes of Bigotgate on Sunday's show - see Links of the Day below if you missed it.. Aaryn took the brunt of it but GinaMarie was in there too.. whether TPTB caved to pressure from the ever-growing ooze or simply because this was the first show it would fit into doesn't really matter: it needed airing and they finally aired it

Jessie joined the ranks of Bigotgate tonight with a comment about Amanda and Jews, see Lines of the Day below, bringing my count of language offenders to eight: Aaryn, Kaitlin, GinaMarie, David, Jeremy, Spencer, Amanda, and now Jessie

Gametalk is still running rampant in there and I just don't/can't keep it with it all.. veto meeting is probably Monday and that's when the real gametalk begins, but waffling will carry on through Wednesday as usual - that's when I count votes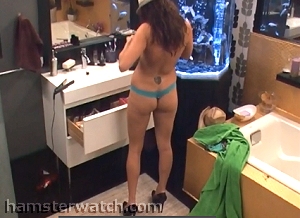 Nighttime brought a booze delivery, much trashing of Kaitlin and Jeremy by their bedmate and former bestie Aaryn, and a doozy of a show: Amanda stripped down to bandaid pasties and thong, and got GinaMarie to do a strip show of sorts with her.. Aaryn and Jessie stripped down to lingerie, and even Helen participated a bit.. it was almost a flashback to the strip show that preceded the infamous BB9 pool party - flashback 7/7 11.14pm

Most of the guys whooped and hollered, especially Spencer.. GinaMarie danced up against Howard and Nick, making each visibly uncomfortable, and Amanda stayed in her bandaids for almost an hour afterwards

Fans of Deathrace 2013 can now follow the deterioration of ratty extensions and dark roots on its own Twitpic events page without all the gametalk and racism interfering.. it's something to tide us over till the grill arrives anyway



Ratings - How Did This Happen? edition
Ratings are based on entertainment value, give or take



Kudos for airing the racism segment on Sunday's show. It was far from comprehensive and made Aaryn the poster girl of the situation when others are also guilty, but it was due.






HEAD OF HOUSEHOLD
She's on Hamsterwatch ignore for now, possibly permanently.





She knows something's up that she doesn't know about, but she can't quite figure out what. She and McCrae have been getting into a tug-of-war over whether to keep Elissa or give her the boot, and some of the Moving Company boys want to pull her in with them to ensure she doesn't blow everything up. But all that stuff will fall by the wayside soon enough: her bandaid boobies won't soon be forgotten.





Ups simply for the comedy of how inhumanly talented he is for popping into every game convo all day long. The real gametalk really starts after he's gone to bed and it's finally safe to talk without him showing up. He's caused me to invent yet another new word: feedsbomb, the BB equivalent of a photobomb.





I still barely see her for more than a few minutes at a time.





Won: nothing
He didn't bring much to the feeds and he seemed oblivious about how the show works, but those types are the ones who get blindsided and we always like to see that. The Aaryn & David Comedy Show was fun for a minute but all the controversy she fed took the fun out of that, so it's just as well he got gone early. Back to the beach and watching BB on the couch with mom.





MVP - NOMINATED
She's often been the voice of reason so far, but she's not really done much but be there and do her yoga. While I have nothing against her, I'd still prefer she get gone this week since I don't like the whole stunt-casting thing in principle. I hate to agree with Aaryn & Jeremy but they're correct on this one: Elissa has an unfair advantage over the others with the MVP vote. She'll continue to win it as long as she's there, giving her a free nomination each week (or two, as happened this week), simply for being Rachel's sister.





A resounding negative arrow is upgraded to neutral thanks to her hair, or whatever that is on her head, and the many impossible formations it forms in the course of a day.





NOMINATED
She's way too gametalky for my liking, but I have to laugh at the way she breaks into spontaneous workouts in random places.
P.S. I wouldn't be laughing if I was doing them with her - I'd be crying. Elissa might have the fitness rep and websites, but Helen is a workout beast!





Ups for a very smooth game so far, and for going about it in a classy way. Sure, he could mouth off to the bigots in there, but he'd like to win $500k like the rest of them, and that wouldn't help him do that. His understated eloquence as the 'spokesman' of sorts on the CBS segment was perfect.





Won: Permanent Have-not pass
NOMINATED - USED VETO ON SELF
This asshat is one step away from permanent ignore.





She became the 8th hamster to join the very non-exclusive BB15 BigotGate club with her comments about Jews, bringing the total offenders count to one half of the cast.





A dedicated, around-the-clock feed on him would be very, very welcome, partly to keep some of the ugly at bay, but mostly because nearly everything that comes out of his mouth is hilarious.





She keeps saying she doesn't want to 'look like a whore on national TV' and she keeps straddling Jeremy and doing the sexy with him. Lack of self-awareness is a typical hamster trait, but she takes it to a new level. Just a few days ago, she and Aaryn were BFFs but now that Kaitlin's all but surgically attached to Jeremy, she's moved to the top of Aaryn's hit list.





I'm still pulling for him like I've pulled for no hamster before, but I wish he'd distance himself from Amanda a bit and get his head back in the game.





NOMINATED
To use an overused habitat word of this summer, I think he's 'sketchy' but I can't put my finger on why. I do like seeing it when GinaMarie starts her mooning and crying at him, making him clearly uncomfortable. I guess that's my cruel streak showing.





I remain on the fence about him. Yes he says some vile things and tells some highly inappropriate jokes, but he's also playing a smooth game and can be very funny, notwithstanding the raunchy and sexist humor he seems to prefer.







Linking to any page here is fine but please do not repost any content from this site (or any other) without permission, and do not repost or hotlink to any images


!! THIS MEANS YOU !!




Feed signups help me
keep this site going
Thank you!

I can't recommend this show highly enough







VIEWER VOTE


What supplement should Have-nots get?
Coconuts and cabbage
Grapefruit and guacamole
Mincemeat and marshmallows
Polls are closed

Currently: Liver and lima beans

MVP polls are closed







RATINGS WATCH


Sunday's show show placed first for the hour with a 2.1 rating, 6 share, and 6.25 million viewers, ahead of America's Got Talent rerun on NBC with 1.0/3/4.12, The Simpsons and Bob's Burgers reruns on FOX with 1.4/5/3.09 and 1.3/4/2.68 respectively, and Celebrity Wife Swap on ABC with 0.9/3/2.89.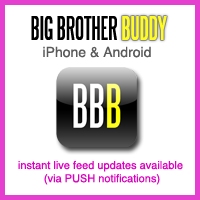 Big Brother Buddy mobile app
Available for Android or iPhone/iPad



Clicky: caps sorted by day - all caps







NEWS & UPDATES
HOHs: McCrae, Aaryn
MVPs: Elissa, Elissa
Veto wins: McCrae, Jeremy
Evictions: David 7-5-0

Aaryn Gries and GinaMarie Zimmerman were fired from real world jobs as a result of bigoted remarks on the BB15 feeds, Aaryn from a modeling contract and GinaMarie from her pageant company.

BB12 Hayden Moss is back from playing/taping the next season of Survivor, and Brenchel will show up on a future Amazing Race season, again.

Evel Dick Donato's Dick at Night show is back this summer on Vimeo, and he'll have special guests, former hamsters, plus a Catladies Corner segment with @Clio_the_Leo and @Catvanzyl!

BB12 Kristen Bitting will be on The Perfect Score dating show, premiering on the CW July 16.

Big Brother Australia starts up again July 29.

Big Brother UK kicked off June 13 with Emma Willis hosting. This year has twins playing as one, a mother/daughter playing separately, and an actor/mole who's only there to mess with the hamsters. Watch live (no downloads required!) or on YouTube.

Big Brother Africa is also underway - the official site has lots of video highlight clips.



Donations via Paypal are gratefully accepted!

If the button doesn't work, Paypal to hamster (at) neonpages (dot com)

Thanks for your support!



BBQ Smackdown Scorecard

Big Brother 14
Round 1: BBQ ½, Dan 0

Big Brother 13
Round 1: BBQ ½, Adam ½, Rachel 0
Round 2: BBQ ½, Adam 0
Round 3: BBQ 1, Rachel 0

Big Brother 12
Round 1: BBQ ½, Brendon 0
Round 2: BBQ 2, Britney 0, Lane 0
Round 3: BBQ 1, Lane 0, CBS 0

Big Brother 11
Round 1: BBQ 0, Jeff 0
Round 2: BBQ 0, Jeff ½
Round 3: BBQ ½, Kevin 0, Michele 0

Big Brother 10
No title events


Big Brother 9 Winter Edition
Round 1: BBQ ½, Ryan 0
Round 2, BBQ ½, Adam 0
Round 3, BBQ ½, Ryan 0

Big Brother 8
Round 1: BBQ 1, Dick 0
Round 2: BBQ ½, Zach 0
Round 3: BBQ 0, Dick 1

Big Brother 7 All-Stars
BBQ training sabbatical

Big Brother 6
Round 1: BBQ 1, Ivette 0
Round 2: BBQ 0, Howie 0

Big Brother 5
Round 1: BBQ 1, Cowboy 1, Drew 0
Round 2: BBQ 1, Drew 0, Diane ½
Round 3: BBQ 1, Cowboy 1, CBS 0, Nakomis 0



EXTRACURRICULAR TALLY
Major fights - 1
7/1 12.22am Jeremy vs Have-nots, Jeremy vs Amanda, Jeremy vs Kaitlin, Jeremy vs Candice, Aaryn vs Candice

Blindside evictions - 1
David

Beyond BB scandals - 1
BigotGate

Literal asshats - 1
Jeremy 7/2 6.55pm

Makeout pairings - 3
Jeremy & Kaitlin
McCrae & Amanda
David & Aaryn

Sex events - 5
Jeremy & Kaitlin 6/28 3.21am
McCrae & Amanda 6/29 5.40am
McCrae & Amanda 6/30 1.11am
Jeremy & Kaitlin 7/3 1.20am
Jeremy & Kaitlin 7/8 12.01am

Pinkyswears - 5
GinaMarie & Andy 6/30 2:43am
GinaMarie & Nick 7/2 9.57pm
GinaMarie & Nick 7/5 8.16pm
GinaMarie & Aaryn 7/7 8.25pm
GinaMarie & Nick 7/8 approx 8pm

McCrae Dingoism mentions - 5
- Feedsters
- HOHitis (on CBS)
- Fishies (on CBS)
- This is Big Brother, I'm here for the entertainment
- Slurpydurp

The Soup mentions - 1
- 7/3 Veto guest sarcasm plus McCrae about Howard on premiere

CBS goofs - 11
- BB site shows two premiere times
- Jill? on feeds signup page
- Misspelled Judd's last name
- Feeds launch Y2K type midnight problem
- Peculiar trivia goof
- Misspelled Kaitlin
- Omitted GinaMarie
- Included GinaMarie, wrongly
- Wrong show time on trivia
- Forgot to update vote dates
- Julie mistakenly says Helen's Chinese on The Talk racism segment