This site is about the Big Brother 14 feeds and contains spoilers! It isn't necessarily thorough: it's what I catch and/or what interests me, and it isn't necessarily about who will win, who should win, who's cute or who's horrid. It's about watching hamsters: who's doing what and why. If they aren't entertaining, get rid of 'em! Thanks for encouraging my behavior. Your pal, dingo







POWER STATUS


Hamsters moved into the habitat July 7
Somebody is HOH
Nobody is nominated







BB14 PRE-GAME DRINKING GAME


Take a swig whenever someone says they do or don't want to see a particular veteran again.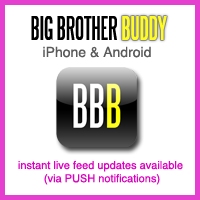 Get the Big Brother Buddy mobile app!
Available for Android or iPhone/iPad


Big Brother 13 at iTunes

BB7 All-Stars and seasons 9 through 12 are also available







BB14 FAQ


The Glass House winner will get $250,000 - half the usual BB winning amount.

Apparently the glass hamsters go into hotel sequester on weekends - no, I don't know why.

CBS shows will air Sundays and Wednesdays at 8pm, and live eviction Thursdays at 9pm.

Big Brother After Dark will be back midnight to 3am on Showtime (SHO2) in USA and Slice in Canada. It will probably run 1am to 4am on premiere night and eviction Thursdays.

Big Brother Canada premieres February 2013.

The habitat has 53 cameras (up one) and 97 microphones (up two).

The recorded Big Brother in-house announcements are the voice of producer Don Wollman.

All feeds stay on one 'scene' when someone's in Diary.



Get Team USA Olympics gear
Use code USABDAY for free shipping on orders over $50


>> >> >>
>>
ALL AMAZON.COM PURCHASES MADE THROUGH THIS LINK HELP SUPPORT THIS SITE
They're in! (Saturday 7/7)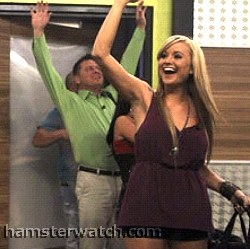 The new hamsters moved into the habitat tonight, making this Day 1 of the new season calendar, with Kara the first one in by the looks of it.. they've tricked us before by posting a second or third group and making us believe it was the first, but if this is legit and Kara was first in, her odds aren't good for winning BB14.. if you're familiar with Attwx.com (and why wouldn't you be?) you'll know that no first enterer has won in 13 seasons

By now they'll have taken their pics in front of the house (FOTH for you old-timers) with their little bags, had a champagne toast with get-to-know-you small talk, and held their first HOH comp, which is usually a combination of endurance and humilation themes (toilet seats, hot dogs, etc).. we usually hear who that first HOH is before the premiere, but the rumors have been so chaotic over the last week, a grain of salt might be needed when the news comes out.. tomorrow they'll strip down for the backyard group bikini pics the media outlets love so much, and the scheming will begin - alas, without us

Time's running out fast to get the full season's feeds for just $29.99 - after Wednesday, they'll be $10 more.. links are all over this page to get yours but here's another
to save you having to look for one

A quick note on mobile feeds: they are not active yet! Repeat, they are not active yet! So don't panic if you can't see anything on your phone or tablet before the feeds begin Thursday.. you can get ready though: iPhone & iPad users should upgrade to the latest iOS version available for your iThing, and Android users should be sure you have Adobe Flash 11.1 - check by going to Settings>Applications>Manage Applications.. if it doesn't show 11.1 there, upgrade Adobe Flash at Google Play, and then check that path again to confirm.. don't worry that Google Play says it's giving you Flash 11 as long as you recheck that path and it shows 11.1 on your device (isn't technology wonderful?)



Still in "Greece" (Friday 7/6)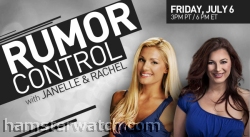 Today's Rumor Control show was meant to have Janelle & Rachel but Chelsia said Janelle was "still in Greece" and without Internet (in her five-star hotel), which surprised absolutely nobody who's been paying attention.. I'm disappointed she's not able to do her first impressions post for me again this year, but it'll be fun having her on the feeds again, and in the competitions

Rachel did Skype in and proceeded to talk all about the new hamsters, which confirms* that she's not going to be back again this year (although I wouldn't be surprised to see her host a comp).. she also mentioned Janelle, Dan, Boogie and Britney so many times The Powers That Be must have been having conniption fits.. coincidentally (cough), SuperPass sent out a promotional email today showing those same four, but Chelsia said it was sheer coincidence, and now they're rotating pics of the potentials pool of 14 - Dick & Natalie were greyed out today

In the other habitat, Kevin & Ashley have moved to limbo - those glass hamsters sure are fickle! They haven't had a repeat nom yet.. also today a

probable

possible explanation for Jacob's quick exit turned up in the shape of gay porn - see my adults page for that - not safe for work, kids, or delicate sensibilities.. remember, ABC is owned by Disney

My own first impressions of the new kids & companion arrows will be posted here this weekend as they move into the habitat, along with a guest poster or two!

*

Nothing is ever truly confirmed until Julie says so





We got hamsters! (Weds-Thurs 7/4-5)
CBS ads started running Wednesday morning showing quick glimpses of some the new blood, and the full cast was revealed on Thursday.. below are their basics per CBS, with additional links & dirt being added as it turns up - follow me on Twitter and keep checking back here

CBS confirmed four returning has-beens, Allison Grodner announced none of them would be from last season, and Dick Donato confirmed they'd be mentors to teams.. he also practically confirmed they will be Janelle, Dan, Boogie, and either Rachel or Danielle Reyes - as reported below - which leaves us with BB3 Dani after Grodner's announcement.. most of the formers stay in touch with production and each other, and they do know what's going on with The Powers That Be - especially Dick.. and remember once again, nothing's official until Julie says so

CBS also kicked off my goofs tally with not one but three blunders - see below

Update CBS posted an opinion poll listing a pool of 16 formers, four of which will return, and Danielle Reyes was not on the list, so I guess I'll go out on a limb and call our fourth as BB12 Britney Haynes? She'd be fun anyway.. I suppose it could be BB11 Natalie Martinez since she was more "successful" at BB than the remaining options, but I kind of hope not.. if Rachel or even Daniele D do show up after Allison said "nobody from last year," an angry mob will be after her with pitchforks, nevermind that she might have made that quote a week ago

Meanwhile, start getting to know our new hamsters from their individual links below (getting udpated as we go) and the following:
Official CBS bios
SuperPass interviews - sign up for SuperPass to view

We Love Big Brother interviews
Big Brother Network interviews
Jun Song rankings (text) - first impressions (video)



Ashley Iocco, 26, single, mobile spray tanner, alleged feedster, West Hollywood, CA via Pittsburgh, PA
Twitter - Twitpic - Facebook - Instagram @ashleyiocco - (her Model Mayhem was deleted)
Bronzique tanning (owner) - actormodel demo reel - promo video - Guide to Muslims satire video - photo shoot - another photo shoot



Danielle Murphree, 23, single, nurse, Tuscaloosa, AL via Grant, AL
Twitter - LinkedIn - nursing resume
Explore Talent - dating site - charity event with Miss Alabama USA



Frank Eudy, 28, single, unemployed, alleged BB superfan, Naples, FL via Marion, AR
Son of wrestler Sid Vicious (aka Sid Justice, aka Psycho Sid)
Twitter - MySpace pic with dad



Ian Terry, 21, single, Tulane engineering student, alleged BB superfan, New Orleans via Pitsburgh, PA
Facebook - possible Tulane NORML officer - probable post about past BBs



Jenn Arroyo, 37, single/new relationship - gay/bi possible, musician, Brooklyn, NY
Vocals/guitar for JENNCiTY, bassist for Suicide City, former bassist for Kittie and Spine
Twitter - Twitpic - Facebook - another Facebook - YouTube - MySpace music page - Instagram @jenncity



Jodi Rollins, 42, married (Rodney), 5 stepkids, restaurant server, alleged superfan, Calipatria, CA via Englewood, CO
Twitter - Facebook



Joe Arvin, 41, married (Sarah), chef, Schererville, IN via Lexington, KY
Twitter - LinkedIn - YouTube
CBS interview - Mad Love Cooking - SmashMouth Burgers (owner) - pic & profile with wife - YouTube profile



JoJo (Josephine) Spatafora, 26, single, bartender, alleged BB superfan, Staten Island, NY
Twitter - Model Mayhem
Rock Show Girl of the Month October 2011 - boxing ring girl - piloxing



Kara Monaco, 29, single, model, Los Angeles, CA via Orlando, FL
Playboy Playmate of the Year 2006
Appeared on Girls Next Door, CSI Miami, Passions, Keeping Up with the Kardashians
Twitter (our first verified) - Twitpic - Facebook official fan page - IMDb - Instagram @KaraMonaco - Google images
Party Hardy strip - Rag Doll strip - Playboy montage - Making of 2009 swimsuit calendar - Red carpet interview
WPIX interview - Zap2It interview



Shane Meaney, 26, single, house flipper, Bennington, VT
Twitter - Twitpic - LinkedIn - Tumblr - Ask Me Anything - YouTube
On Display Men - Be Mine - Cosmo 2010 Bachelor Blowout - Explore Talent - modeling pic - Makeup shoot - Prom shoot - Catwalk for Kidneys - more Catwalk for Kidneys - with Mr Catwalk for Kidneys



Wil Heuser, 24, single/gay, Louisville, KY, marketing consultant
Appeared on American Idol (weirdos segment) and Big Gay Sketch Comedy Show
website - YouTube - MySpace music page
American Idol appearance - Still hot at the mall



Willie Hantz, 34, single/girlfriend, tankerman, Dayton, TX via Vinton, LA
Survivor Russell & Flipped Off Shawn's brother, Survivor Brendan's uncle
WPIX interview - Zap2It interview



Mike, sailing instructor
We lost Mike between the July 4 TV ads and July 5 cast reveal



Get your feeds now and save $10
The early bird discount for Big Brother 14 feeds is on now: you can get a three-month membership for just $29.99 - that's 25% off the regular price! This special price is good through July 11 - after that, SuperPass will be $39.99 for three months or $14.99 per month - still a good price for a whole lot of cheap entertainment

There's always a three-day free trial with SuperPass, and all subscriptions include $10 worth of free music every month.. this year your subscription will include mobile feeds for iPhone, iPad or Android phones at no extra charge, and they have lots of Big Brother talk shows, features and interviews, as well as other reality content

Your feeds signup benefits whichever site you get them through, so a big Hamsterwatch thank you in advance for getting them through me! It's the only way I can do this all summer.. click here between June 18 and July 11 to get your Big Brother 14 feeds for 25% off the regular price

Cast reveal is coming soon (Tuesday 7/3)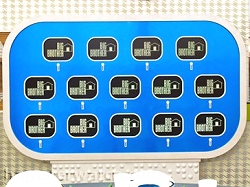 Some have questioned 14 frames on the photo wall combined with CBS's promise of the "biggest cast ever" but they have shuffled the number of frames and table settings between house pics and cast reveal in the past, so neither necessarily means anything

We'll find out who the new hamsters are on Thursday, but I kind of doubt if we'll also learn about the returnees then - last year they held that info until the premiere (but we already knew who they were)

Several sources are indicating four teams of four new hamsters this year, and each will have a veteran as a "mentor" or coach, for a total of 20.. those mentors are thought to be BB6/7 Janelle Pierzina, BB10 Dan Gheesling, BB2/7 Mike Boogie Malin, plus one more.. possibles for that remaining spot include BB3/7 Danielle Reyes or BB8/13 Daniele Donato.. many think BB12/13 Rachel Reilly will be back for a third round but I'm not buying that one.. I've also not written off BB9 Chelsia Hart or BB11 Ronnie Talbott but I don't really have any reliable info to believe either of them will be involved - call it a hunch

Janelle had agreed to give her first impressions of the new cast for this site again this year, so if she is indeed going to be on the show, she was either a late add or she was putting up a smokescreen.. if this is all a load of hooey and she is really in Greece, then we can look forward to her post soon.. I've also got a couple other guest posters lined up for your reading enjoyment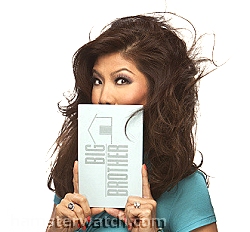 It sounds like the mentors are getting $25k to show up, but they will not be eligible for the $500k winner's prize.. a mentor will be evicted automatically when the last newbie on their team goes home, taking care of several of the double evictions they'll need to pull this off.. however, if one of their team wins BB14, they'll get a nice $100k payday instead.. I don't yet know if mentors will compete in HOH and veto comps, but I'd hope so since Janelle & Daniele D in particular are such monster competitors.. none of the rumored mentors was particularly good at strategy in the past other than Danielle R (I give credit to Dr Will for Boogie's win, to Dick for Daniele's 2nd place, and to Diary for Dan's), so if all this is true, these are some interesting choices

All of this explains the "biggest cast ever," "four huge surprises" and "one shocking game-changer" that are being touted in the ads but remember, none of this is confirmed, and nothing is ever official until Julie says so! Meanwhile the new hamsters have been interviewed by the various media outlets and will be introduced to us on July 5, and then the fun begins



And in the other habitat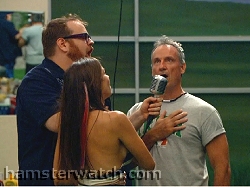 The Glass House really started heating up on Monday night's feed, with a lot of snippy bitching and a few face-to-face confrontations between the orchestrated activities.. they were called to

Diary

Confessional individually at various points on the feed to answer questions, but the producers often kept them waiting in there in order to show us some of the gossip and arguments that were going on - well played, ABC!

Apollo was kicked out, and Erica & Robin aka "Cray Cray" were sent to limbo.. we learned that Stephanie's husband died, and Gene gave us a tearful tale of his best friend's death - a bit too tearful in my opinion.. perhaps it's true, but he seemed to be playing it up a bit too much, considering they're relying on public votes to keep them there

Tension continues between gay Jeffrey and Mormon Andrea, as do the viewer questions to them both about their issues with each other.. my problem with all these Q&A sessions is they all keep giving the kind of answers they think people want to hear, and all the orchestration reminds them constantly that they're on camera.. the moments we've seen of them being themselves are getting pretty good, but they're still too few and far between for my liking







Linking to any page here is fine but please do not repost any content from this site (or any other) without permission, and do not repost or hotlink to any images


!! THIS MEANS YOU !!








UPCOMING EVENTS


Early Bird discount is back! Save $10 on Big Brother feeds by signing up early
! A three-month season pass is just $39.99 through July 11

The Glass House airs on ABC Mondays at 10pm. Glass House feeds are 11pm-3am ET (8pm-midnight PT) Mondays, and 3pm-4pm ET (noon-1pm PT) Tuesdays through Thursdays. Watch free at the ABC site

July 10: Daniele Donato & Rachel Reilly live Rumor Control show on SuperPass 3pm PT/6pm ET

July 12: The Talk segment of Julie & her co-hosts in the habitat

July 12: Big Brother 14 premieres Thursday at 9pm - Feeds will kick on that night at 10pm PT/1am ET

July 17: Adam Poch & Matt Hoffman live Rants & Roars show on SuperPass 3pm PT/6pm ET



THE REAL SHOW IS THE LIVE FEEDS

Includes Flashback, video clips, live talk shows, interviews, $10 of free music every month and more!
Sign up for a free trial





RATINGS WATCH


Monday's Glass House placed second with 3.32 million viewers, 1.2 rating and 3 share, behind America's Got Talent on NBC and ahead of Hawaii Five-0 rerun on CBS.







Clicky: caps sorted by day - all caps