This site is about the Big Brother 14 feeds and contains spoilers! It isn't necessarily thorough: it's what I catch and/or what interests me, and it isn't necessarily about who will win, who should win, who's cute or who's horrid. It's about watching hamsters: who's doing what and why. If they aren't entertaining, get rid of 'em! Thanks for encouraging my behavior. Your pal, dingo







POWER STATUS


BB14 finalists have probably been chosen and notified. We'll find out who our hamsters are around July 5, give or take.







BB14 PRE-GAME DRINKING GAME


Take a swig whenever someone says they can't wait for BB14 to start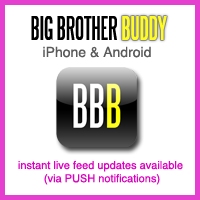 Get the Big Brother Buddy mobile app!
Available for Android or iPhone/iPad


Big Brother 13 at iTunes

BB7 All-Stars and seasons 9 through 12 are also available







BB14 FAQ


The Glass House winner will get $250,000 - half the usual BB winning amount.

Apparently the glass hamsters go into hotel sequester on weekends - no, I don't know why.

CBS shows will air Sundays and Wednesdays at 8pm, and live eviction Thursdays at 9pm.

Big Brother After Dark will be back midnight to 3am on Showtime (SHO2) in USA and Global Reality in Canada. It will probably run 1am to 4am on premiere night and eviction Thursdays.

The habitat has 52 cameras and 95 microphones.

The recorded Big Brother in-house announcements are the voice of producer Don Wollman.

All feeds stay on one 'scene' when someone's in Diary.



$25 off! Use code GetSummerFit

>> >> >>
>>
ALL AMAZON.COM PURCHASES MADE THROUGH THIS LINK HELP SUPPORT THIS SITE
It's back!
The early bird discount for Big Brother 14 feeds is on now: you can get a three-month membership for just $29.99 - that's 25% off the regular price! This special price is good through July 11 - after that, SuperPass will be $39.99 for three months or $14.99 per month - still a good price for a whole lot of cheap entertainment

There's always a three-day free trial with SuperPass, and all subscriptions include $10 worth of free music every month.. this year your subscription will include mobile feeds for iPhone, iPad or Android phones at no extra charge, and mobile

will

might include Flashback for the first time - apparently there have been some problems with that.. but there are lots of Big Brother talk shows, features and interviews, as well as other reality content

Your feeds signup benefits whichever site you get them through, so a big Hamsterwatch thank you in advance for getting them through me! It's the only way I can do this all summer.. click here between June 18 and July 11 to get your Big Brother 14 feeds for 25% off the regular price

The Glass House heats up & cools down (Tues-Weds-Thurs 6/26-27-28)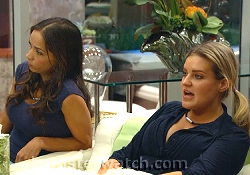 Tuesday's feed got off to another slow start with the same old boring Q&A nobody cares about, but then Oracle tossed the gay marriage/Proposition 8 issue at them

Andrea seemed to be doing a slow burn as the others spouted their support of equal rights to marry, and then she blew.. her cheeks turned red and she fought angry tears as she repeated her conservative stance, leading to Jeffrey telling her "It's my right to never talk to you again about it - you're an idiot".. he later apologized for the idiot part

Joy ran to comfort Andrea (since that was where the attention was), and kept it up later for our few bonus minutes of feed after they thought the cameras were turned off.. Andrea was mad at herself for crying, and upset about the set-up situation and the "baited question" - it was nice to get some drama at last out of this dull premise

Meanwhile, CBS lost yet another round of Glass House legal action Tuesday, and Big Brother 14's latest ad threatens "one game-changing shocker"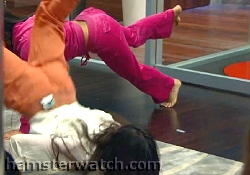 Wednesday we learned that Apollo is history and Holly returned to the feed.. she seems grateful as she was a lot livelier than she'd been in the past.. Kevin, on the other hand, seems to be over it all

The day's activities were of the fluff type again: they spent most of the hour doing assigned dance styles in 2s and 3s, and telling more "my wildest story about ______".. today's were about their craziest work story but it was the same old junk: most of the girls' stories revolved around somebody hitting on them, and Robin's was especially "cray-cray" as usual, according to her anyway.. refer to her her sex blog for more

They were given two juicers and crates of fruit & veg for some reason, and they proceeded to juice their little hearts out.. at first I thought the Glass House feeds would be a nice prelude to BB starting up, but the weekday blocks are turning out to be less interesting than watching our CBS hamsters eat and nap

Thursday's feed was more of the same, sans the juicing.. they did some of their Q&A individually in the glass version of Diary but none of the answers were especially surprising or even interesting.. as @Foxytw put it, these feeds are starting to feel like a constant job interview, as they all keep giving predictable answers that they think will sound good



Tinfoil costumes (Monday 6/25)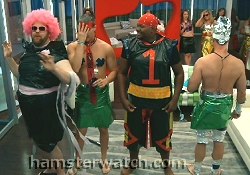 Monday's Glass House feed was orchestrated for almost the entire four hours unfortunately, but they did some fun stuff which included drinking (lots of) wine from baby bottles and making & wearing costumes out of tinfoil, duct tape and and mylar wrapping paper.. unlike Big Brother, they were instructed to keep their undies on, and they blocked a nip slip or two during changing time.. I have a feeling they weren't given the task & supplies for the first time when Oracle announced it, as most of them put together rather elaborate outfits in a very short amount of time

Gene won best costume for the guys (and he started a half hour later than the others) with Jeffrey's fabulous trashbag drag coming in second, and Joy's sexy nurse getup beat out Andrea's demure trashbag peasant blouse for the girls - I don't think she realized it was almost see-through.. Gene then won overall and Joy put on a good front, but I think she was disappointed.. later she was thrilled to win best weird talent by tying a shoe with her toes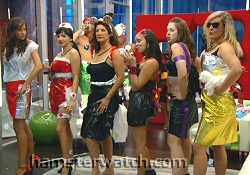 They did the usual round after round of Q&A, with most of the questions submitted via Twitter from people with very few followers, for whatever that's worth, if anything.. the best part of the night came at the end of the four hours when we got a bonus eight minutes of unorchestrated feeds when they thought they were on their own - wow, did things change! Kevin & Mike were on their own complaining about how someone likes to steal the spotlight - I'm not sure who, and life of the party Joy was already in bed being miserable.. she remained the center of attention though: Gene came along to pep-talk her and rub her back, and Ashley brought in some lasagna and spoon-fed it to her! I kid you not.. this is the stuff we want to see much more of

Oh yeah, Alex was kicked off, and Apollo & Holly went to limbo - now I have two unwatched episodes on my DVR, and might keep it that way



Big Baboon House is a winner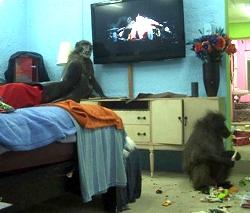 Three episodes of this Big Brother parody/nature documentary ran on Nat Geo Wild Saturday, and they were terrific! Baboon experts and former BB producer Jon Kroll joined forces to study what happens when the primates break into a house like they do regularly in the town of Pringle Bay, South Africa

This show had everything we expect from our summer viewing including competitions, fights, a Top Banana room with extra perks, voice-overs and storylines - it even had uncensored sex and a committed gay couple.. we also caught a glimpse of production staff in the house as they cleaned up between segments and boy, did they have a lot to clean up

I highly recommend this show if you can find it on repeats or elsewhere: it's a top notch BB parody on its own but also a fascinating look at these creatures, and it will make you feel for the residents of Pringle Bay, especially those who forget to lock their home or car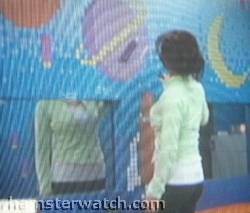 Interestingly, Big Baboon House was a LOT closer to Big Brother than Glass House is, but apparently CBS isn't suing about it (yet?)

Meanwhile, BB14 rumors continue to swirl but nothing's confirmed yet.. The Talk showed the first glimpse of the new habitat on Monday with a quick flash of Julie in what looks like the bathroom or one of the bedrooms.. it has a nice planet motif on the wall, possibly a mosaic - see it full size on my Instagram - please pardon the low quality phone pic



Media day (Friday 6/22)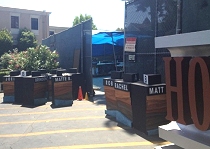 This was the day journalists did a mini season in the habitat with mock comps and the like, both for publicity purposes and as a rehearsal of sorts for the techies to get everything.. this photo leaked out, showing an HOH comp setup with player podiums, leading to rumors gone wild since two of the podiums are clearly marked RACHEL and BRENDON, along with some of the known journalists' names - click to see the full size pic

Nobody knows what that means yet, if anything, and we won't know for awhile: the journalists are gagged until July 2, when all hell starts breaking loose with real news, which inevitably leads to more rumors, and rewind, repeat.. fun times ahead of us, Hamsterwatchers!

Among those who (probably) participated today are Matt Whitfield of Yahoo! Entertainment, Rob Moynihan of TV Guide, Matt Maynard of We Love Big Brother, Matte Babel of ET Canada, and Patrick Gomez of People Magazine.. there's also a nameplate there that looks like it might say Joel? Let me know if you find out who that is, or any others who aren't listed here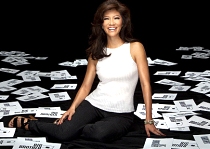 There is some buzz but nothing's confirmed yet about our upcoming season (nor will be until Julie says so) but adding up what we've got to go on so far, I'm starting to think we might have some fresh meat hamsters as well as a few has-beens like we did last year, but maybe there will be some sort of team dynamic going on? If that's true (and how it'll all work if so) will become known in time - that time is usually before the CBS premiere

Meanwhile we've got a full week ahead with probably very little hard news and then all the news will start coming fast, so get everything done that you need to do before your attention is demanded by the feeds - Julie's getting all her cards ready.. you can also warm up your SuperPass by watching last season's best moments thanks to DogDave - see Links of the Day below



Show me the money (Tues-Weds-Thurs 6/19-20-21)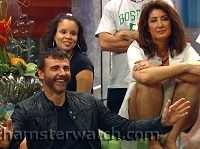 Tuesday's Glass House feed hour doesn't really warrant its own section: they had a spelling bee, followed by a topical topics discussion which was actually kind of interesting in that it went on long enough to feel genuine, and wrapped up with Oracle reading baseball scores to them - yep, really.. meanwhile, the press reviews for Monday's premiere were not glowing

On Wednesday they had a visitor: a Tom Cruise impersonator came up through the floor and dropped lines from all his movies, which led to the others doing various impersonations (with Oracle's direction, of course) - some of them weren't bad, but most feedsters won't be happy till they show them just hanging out and being themselves

Speaking of being themselves, see Links of the Day below for one of Joy's Playboy videos: there's more to her than the single mom routine she talks about all the time.. you'll also find a link there to CBS's official retort to Glass House and losing their bid for a restraining order: it's funny, but it's a bit sour grapey too.. I wonder if they'll also sue and/or slam National Geographic when Big Baboon House premieres on Saturday

Thursday's feed had them drawing on glass (and explaining their drawings in turn, of course) and that's that until Monday



Cakes and booze (Monday 6/18)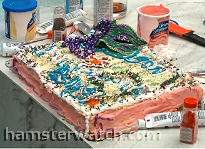 The Glass House kicked off formally Monday night with what was by all accounts a confusing hour on ABC (I haven't watched it yet), one glass hamster walking out (Jacob), another not knowing the difference between "villain" and "ass" (Alex), and what really matters: four hours of live feeds

They started off with the same orchestrated Q&A polls and assignments to talk about this subject or that - I'm pretty sure now that at least some of them are making up these stories, especially Mike, who may or may not be a baby bunny killer.. late addition Holly gave a pageant speech privately to us about how she should win so she can donate a chunk of cash to cancer research.. Playboy Cybergirl Joy is pushing her mom angle over her naked angle.. Erica's still dragging her stuffed cat everywhere.. it was Ashley's birthday so they had a team cake decorating contest, and the Oracle was officially christened the Oracle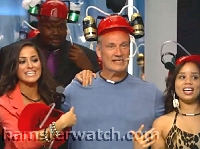 They got a booze delivery which was promising, and they were given beer hats to drink it with, but the best part was when Oracle said there was plenty more beer - NOW you're talking, ABC! A few of them got a bit sippy and for the second two hours, they were more or less left on their own to just be hamsters, as they should be.. they were told one of the two guys in limbo had quit - apparently the equivalent of nominees, Alex and Jacob, are sequestered elsewhere - but not which one, which led to some speculating and parannoying (© BB5 Diane) at last.. then they were assigned some political discussions including Rodney King, which was semi interesting since one of them (Kevin) is a cop.. Gene, the only black glass hamster, stayed mostly quiet though that

It was just the first night and most BBers weren't amused one bit by it all, but many of the complainers will be complaining about Big Brother in a month too.. I agree with @Danthebbfan in that it's a nice appetizer for our upcoming summer.. we learned they are shooting in California, and they don't seem to have a clock.. we also learned the show's in high definition, which Big Brother (still) is not







Linking to any page here is fine but please do not repost any content from this site (or any other) without permission, and do not repost or hotlink to any images


!! THIS MEANS YOU !!








UPCOMING EVENTS


Early Bird discount is back! Save $10 on Big Brother feeds by signing up early
! A three-month season pass is just $39.99 through July 11

The Glass House airs on ABC Mondays at 10pm. Glass House feeds are 11pm-3am ET (8pm-midnight PT) Mondays, and 3pm-4pm ET (noon-1pm PT) Tuesdays through Thursdays. Watch free at the ABC site

June 28: Jeff & Jordan live chat

July 2: House pics from Matt Whitfield of Yahoo! and house tour on SuperPass with @spicypants at midnight PT/3am ET, with others to follow

July 2: Media day reports. Cast & twistage will likely be revealed July 2 thru 5.

July 2 & 10: Daniele Donato & Rachel Reilly live Rumor Control show on SuperPass 3pm PT/6pm ET

July 4: Julie on The Late Show with David Letterman (rerun from May)

July 6: Janelle Pierzina & Rachel Reilly live Rumor Control show on SuperPass 3pm PT/6pm ET

July 12: The Talk segment of Julie & her co-hosts in the habitat

July 12: Big Brother 14 premieres Thursday at 9pm - Feeds will kick on that night at 10pm PT/1am ET

July 17: Adam Poch & Matt Hoffman live Rants & Roars show on SuperPass 3pm PT/6pm ET



THE REAL SHOW IS THE LIVE FEEDS

Includes Flashback, video clips, live talk shows, interviews, $10 of free music every month and more!
Sign up for a free trial





RATINGS WATCH


Monday's Glass House remained in third place with 3.33 million viewers, 1.2 rating and 3 share, behind American Ninja Warrior on NBC and Hawaii Five-0 repeat on CBS.







Clicky: caps sorted by day - all caps