This site is about the Big Brother 14 feeds and contains spoilers! It isn't necessarily thorough: it's what I catch and/or what interests me, and it isn't necessarily about who will win, who should win, who's cute or who's horrid. It's about watching hamsters: who's doing what and why. If they aren't entertaining, get rid of 'em! Thanks for encouraging my behavior. Your pal, dingo







POWER STATUS


BB14 semifinalists have been chosen and notified. We'll find out who our hamsters are in early July.







BB14 PRE-GAME DRINKING GAME


Take a swig whenever someone says they can't wait for BB14 to start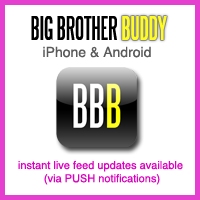 Get the Big Brother Buddy mobile app!
Available for Android or iPhone/iPad


Big Brother 13 at iTunes

Season Pass or individual episodes







BB14 FAQ


CBS shows will air Sundays and Wednesdays at 8pm, and live eviction Thursdays at 9pm.

Big Brother After Dark will probably air 1-4am Thursdays and 12-3am other nights, on Showtime (SHO2) in USA and Global Reality in Canada.

The habitat has 52 cameras and 95 microphones.

The recorded Big Brother in-house announcements are the voice of producer Don Wollman.

All feeds stay on one 'scene' when someone's in Diary.




>> >> >>
>>
ALL AMAZON.COM PURCHASES MADE THROUGH THIS LINK HELP SUPPORT THIS SITE
Sexy yoga (Thursday 6/14)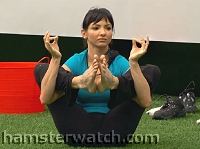 After a few minutes of Oracle-orchestrated dodgeball with stuffies and toilet paper, a yoga teacher rose up through the floor of the Glass House to give the glass hamsters "sexy yoga" lessons, supposedly due to viewer votes

It was hard for me to get past how much the yoga lady sounded like Beavis & Butthead's teacher, it went on far too long, and it wasn't very sexy, but hey, they have a lawsuit to win and everything that happened in these three hours of feeds this week should help them do that.. most viewers are griping up a storm about the orchestration and boredom, but I figure it's an improvement over watching hamsters sleep, eat, lay around, and wash dishes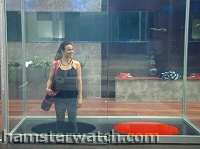 Reality Blurred reports some interesting things, notably that there's a hearing Friday morning about CBS's request for a restraining order to kill Glass House, and that the glass hamsters will be in hotel sequester every weekend - what's up with that? Yakkity Yaks also reports some interesting rumors about possible BB14 twistage

I admit I'm baffled by this week's feeds, but it's early and we haven't even seen the actual show yet.. my chief complaint about Glass House so far is that they're running the four-hour Monday feeds block when the premiere ends in the East, once again catering to the EDT timezone, while us Westies have to balance watching the show & feeds together or tape one for later

Update CBS lost its bid to shut down Glass House, possibly in part due to the laughable evidence supplied by their "copyright expert" - see Lines and Links of the Day below



Glass hamsters and baby bunnies (Wednesday 6/13)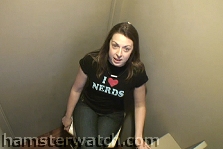 The second day of Glass House feeds was a bit better than the first, although they gave us more orchestrated junk - they really should save that stuff for TV, and give us hamsters just being hamsters.. however, they are listening to us: today they (repeatedly) referred to us as viewers rather than fans like they did yesterday, and they even acknowledged the change via Oracle, so that's a plus

Wednesday's setup was for them to confess their biggest regret, which most did individually (although at least one spilled/rehearsed to another before his allotted turn).. several did so from an isolated area of the habitat, which was "the Twitter Booth" for some of them, and they talked to the camera - another plus for their side of the lawsuit.. many of them gave PC and/or pageant answers and stories of exes and the like, but Mike stood himself out by talking about how he accidentally ran over a rabbit once.. when he got out of the car to see if it was dead, he discovered several baby bunnies nearby, so he ran over them too so they wouldn't be motherless.. no really, that's what he said - to a camera, for a television show.. animal lovers are aghast, and PETA's probably already on the case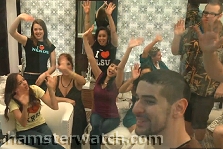 Then they played a bit of Draw Something/Pictionary using viewer suggestions of what to draw.. the best part of the feed was the final two or three minutes after they waved good-bye and reverted back to themselves from their bubbly on-camera personas, and chatted a bit about the questions and each other - more of that please!

We did learn that the winner gets $250,000 - half the BB bounty, that the two teams have already been selected and/or assigned, and that they are indeed sending their own tweets - @GlassHouseABC is flooding timelines of whoever follows them by retweeting those, which will hopefully end as the individuals gain followers.. our good buddy DogDave has all the glass hamsters' tweets in one place as well as feed replay links.. it's a good bet the Twitter Booth is run like @BigBrotherHOH in that they can't see incoming tweets

We also learned that the Oracle voice is live rather than recorded - she was interacting with them and responding somewhat today between instructions - and the viewers now have the task of renaming her.. my vote is to call her Turn Left in 800 Yards, because that's what she sounds like



The Glass House kicks off (Tuesday 6/12)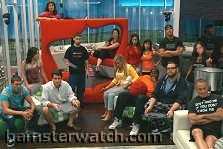 The first 4-hour Monday feed was originally scheduled for June 11 but was cancelled; however, they came online right on time at noon Pacific on the 12th for the allotted hour, and most out here are scratching their heads, or worse

Bright-eyed and eager would be an understatement: these hamsters were raring to go, obviously having been pumped up by the staff to be at their perkiest and chattiest.. unfortunately, The Powers That Be in this habitat got yet another wrong end of the stick: they spent the entire hour doing chatroom type polls.. a robotic female voice (dubbed "the Oracle") asked one fluff question after another, the hamsters wrote their answers on chalkboards, then read them aloud, and were then sent to various parts of the house according to how they answered - I think it was all based on online votes to the same questions, or something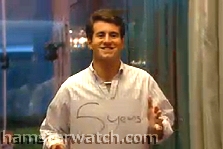 I know, right? What the hell was that about? We still have no clear idea of who they are or what they're about, let alone what the point of this silly exercise was.. I suppose it's good for ABC's side of the lawsuit, since at least this first hour of feeds was NOTHING like Big Brother

If Twitter's anything to go by (and it usually is), most of the viewers were savvy, hardcore BB feedsters, and very few were amused by this exercise, so maybe they'll take note and do it right next time.. only two things are necessary for good feeds: a good cast and a rolling camera.. and even without the first, we'll still watch - as evidenced many summers

I'm giving them the benefit of the doubt though, being their first day and having this lawsuit hanging over their heads.. if you want to give it a try, you can watch for free on the ABC Glass House site 3pm to 4pm Eastern (noon to 1pm Pacific) Tuesdays through Thursdays, and 11pm to 3am Eastern (8pm to midnight Pacific) Mondays - that extended Monday block sounds even better after Tuesday's debut.. the ABC premiere is June 18



Big Brother 14 starts July 12, but first...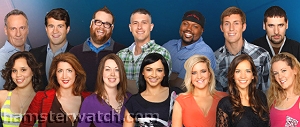 BB 14 premieres Thursday, July 12 but this year we're getting a warmup from ABC with The Glass House, which premieres June 18 with this group of 14 fresh-faced

actormodels

hamsters.. they'll have limited live feeds beginning June 12 but they'll be free, with viewer voting beginning June 9

CBS has already filed a lawsuit against ABC claiming they copied the BB format (with help from the 19 former BB staffers they've hired) but logic dictates otherwise since there isn't much originality in reality TV to start with, and anyway, isn't CBS's The Talk pretty much the same format at ABC's The View?

Some years back ABC bought the rights to De Gouden Kooi (The Golden Cage) from Endemol, the originators and licensors of Big Brother.. if Glass House is what they did with that license, then CBS really doesn't have a leg to stand on: if the owner of the two properties consider them different enough to grant separate licenses, then enough said, right? At any rate, Glass House promises viewer votes will decide everything from what they wear & where they sleep to who stays & who goes - Big Brother USA hasn't run like that since BB1.. also, Glass House will be played with teams, so maybe they should sue on behalf of Survivor too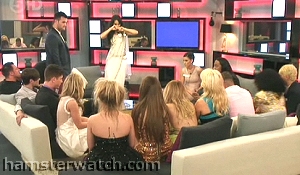 Meanwhile, new installments of Big Brother continue around the globe, including the other English language versions: BB UK's 13th season, pictured left at first noms (minutes after they all entered the habitat), began June 4 - see links below to watch, and Australia will start later this summer after the Olympics wrap up

Details will follow here for our little American program as they become known - until then, rumors will go wild, like they do.. one thing that is confirmed is that SuperPass will once again carry the feeds, mobile feeds will be available at no additional cost to SuperPass subscribers, and I'll once again be offering an Early Bird discount for signups before the premiere date - stay tuned for details on that

Most of my site links aren't working yet, but they will







Linking to any page here is fine but please do not repost any content from this site (or any other) without permission, and do not repost or hotlink to any images


!! THIS MEANS YOU !!








UPCOMING EVENTS


Early Bird discount is back June 18 - save $10 for Big Brother feeds by signing up early
! Three month season pass is just $39.99 through July 11.

The Glass House premiere is June 18 at 10pm on ABC.

The Glass House feeds are 11pm-3am ET (8pm-midnight PT) Mondays, and 3pm-4pm ET (noon-1pm PT) Tuesdays through Thursdays. Watch free at the ABC site.

July 2 is BB Media Day - journalists go into the habitat and do a mini season with comps, ceremonies, etc - expect their reports a day or two later.

Julie & The Talk ladies in the habitat on their July 12 episode.

Big Brother 14 premieres Thursday, July 12 at 9pm. Feeds will kick on that night at 7pm PT/10pm ET.



THE REAL SHOW IS THE LIVE FEEDS

Includes Flashback, video clips, live talk shows, interviews, $10 of free music every month and more!
Sign up for a free trial




Clicky: caps sorted by day - all caps