This site is about the Big Brother 14 feeds and contains spoilers! It isn't necessarily thorough: it's what I catch and/or what interests me, and it isn't necessarily about who will win, who should win, who's cute or who's horrid. It's about watching hamsters: who's doing what and why. If they aren't entertaining, get rid of 'em! Thanks for encouraging my behavior. Your pal, dingo







POWER STATUS


Dan won Part 1
Ian won Part 2
Have-nots & HOH room are over







BB14 DRINKING GAME


Take a swig whenever someone says 'mist'

If you're on the wagon, try this Healthy alternative by @Staciedertinger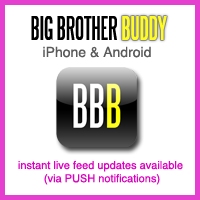 Get the Big Brother Buddy mobile app!
Available for Android or iPhone/iPad






BIG BROTHER PAST SEASONS



Amazon DVDs BB4 - BB3

Amazon Instant View BB14
- BB13
BB12
- BB11
- BB10
- BB9
- BB8


iTunes BB14
- BB13
- BB12
- BB11
BB10
- BB9
- BB7 All-Stars





BB14 FAQ


If you have SuperPass, access mobile feeds by going to real.com/bigbrother on your mobile device's browser. Log in (upper right), select Big Brother, and select Live Feeds from the drop menu. There is no app.

The BB14 untwist resulted in no eviction, and all coaches entering the game. Boogie was the only one who didn't vote to enter. If all had said no, there would have been a hamster revival.

Willie was ejected for head-butting Joe. Threats & verbal attacks are legal - aggressive physical contact is not.

They're calling pre-show sequester 'convention' or 'knitting convention', and they're calling Diary 'the wizard' or 'dairy queen'.

Ashley revealed they wear earpieces for nominations, at least early on.

CBS shows are Sundays and Wednesdays at 8pm, and live eviction Thursdays at 9pm.

Big Brother After Dark airs midnight to 3am nightly (1am to 4am Thursdays) on Showtime (SHO2) in USA, and on Slice in Canada at various times - check your local listings.

BB14 prizes are the same: $500k for the winner and $50k for 2nd place. The others still earn $750 a week including pre-show hotel and jury sequester. Kara and Jenn may have gotten more.

The coach of the winner would have gotten $100k without the untwist. Returning veterans got $20k to show up, and/or a higher stipend after the untwist.

The habitat has 53 cameras (up one) and 98 microphones (up three).

The recorded in-house announcements are the voice of producer Don Wollman.

All feeds stay on one 'scene' when someone's in Diary.

The Glass House premiered June 18 on ABC and ran for 10 episodes. The winner got $250,000 - half the usual BB winning amount. The glass hamsters went into hotel sequester on weekends.

Big Brother Canada premieres February 2013.



Get Team USA Olympics gear
Use code USABDAY for free shipping on orders over $50


>> >> >>
>>
ALL AMAZON.COM PURCHASES MADE THROUGH THIS LINK HELP SUPPORT THIS SITE
Justice, BB style (Saturday 9/15)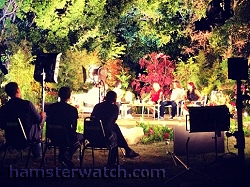 As they've done the last few seasons, the jury deliberated early, without knowing who will go up against whom, and without one of its members: whoever goes out in third place on Wednesday will have missed all the juicy discussion that fills in their blanks, and will have a question handed to him or her to read to the finalists, whether or not it's the kind of thing he or she wants to ask.. that 7th jury member will then cast a vote along with the others a few minutes later, based on a severe lack of perspective that the other six enjoyed

Aren't we glad the courts system doesn't operate this way? I really think BB should use a different word for it - this is not how juries work.. but this isn't real life, it's just a TV show, it's "just a game" - but I figure half a million dollars is serious business any way you look at.. I also miss the days when all seven of them deliberated and questioned the two finalists.. while only two hamsters ratting around made for dull final days on feeds, their angry fallout after jury Q&A was always one of the highlights of the season


Back in the habitat, the ants upped their game and caused Dan & Danielle to go on a full-out kitchen cleaning frenzy, and corpses were strewn everywhere.. a lot of the ongoing BB ant problem is due to sloppy hamsters, but the gallons of corn syrup they pour into the backyard for comps might be a contributing factor too.. personally, I'm always rooting for Team Ants

Meanwhile, they were surprised by a Diary call or two - maybe the editors had to fill in some gaps based on topics the jury discussed that they'd previously overlooked.. they got a delivery of In-n-Out burgers, and some new games



Aftermath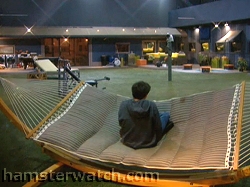 They did the Part 2 comp between dusk and Showtime, and Ian won.. as Dan & Danielle planned last night and as mentioned here below (way down there now), Danielle did a big fake anger scene which greatly upset Ian, and Dan did big private celebratory scenes with him.. we've waited all season for fireworks but alas, fake fights don't count for my tally.. what Dan probably realizes and Danielle probably doesn't is that the jury has already deliberated, and she'll have no time to "taint" them if she's evicted Wednesday night - Dan should but may not realize that Ian probably knows that too.. the comp sounds like a complex climbing arrangement, putting who-what-when in order, with clouds of sooty dust - Ian said it was a cool challenge

Danielle came out of Diary and went right to bed, seriously crying for a long time and perhaps dosed.. maybe she figured out in there with or without their help that the fake fight plan was not in her best interests after all and/or that she is now seriously facing a good chance at the dreaded third place finish - she literally cried herself to sleep.. Dan turned in after a few rounds of joy with Ian, but Ian waited up.. he finally got back to his hammock around 1.35am, and as the hammock revved up a new repertoire, he started to spill all the mutterings he's had to keep bottled up for days.. he seems fairly confident of winning $50k now.. The Powers That Be threw us a very nice bone by adding a dedicated rear-view hammock cam, complete with Ian's view of the yard - he saw most of the season from that vantage point



What it takes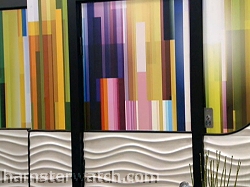 I get some flak for being whiny or bitchy during BB season but considering what goes into it, I think I do pretty well.. I've never done this before, but I thought I'd let you know what goes into being Hamsterwatch.com.. "but first", a bit of background

I started this site July 27, 2004 for Big Brother 5, mostly to amuse myself, and because there wasn't a day-by-day recap site among the fledgling BB interwebs at the time.. the site has always been about the feeds, with a sprinkling of highlighting CBS discrepancies and busting production for sleazy maneuvers - yes, their sleazy is nothing new.. at first, I was both more and less thorough: I used more caps, more convos, and often more words per page (some days had two-page episodes), but at first it was less a narrative of what happened on a given day, and more reactions about it.. Hamsterwatch was always meant to be a supplement for the feeds, and a place for me to spout a few opinions and analysis of how I saw things

The site took off during Big Brother 6 and 7 and became rather popular.. I started using Twitter for Big Brother 8 (I was the first BB site to do so), although I actually stopped posting daily episodes about halfway thru that season.. I've covered every season since in full - well, I say in full: I gradually started using Twitter and Twitpic more and more to flesh out what my site covered, since they're real-time and I usually finalize my page at the end of the night.. I know that most of you read me over morning coffee, so that worked out well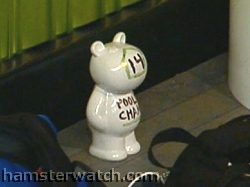 So all that means I've had the feeds on virtually 24/7 for ten seasons, even when I sleep, in case something comes up in the morning.. it's a given that not very much happens most of the time in there, especially in later seasons, but it's all about you never know when something might happen, so it's mostly a constant monitoring thing.. I've had uncanny luck during those ten seasons and have rarely missed any major events, which was especially handy before Flashback came along.. people often ask when I sleep: BB almost always happens overnight so I don't know how or why daytimers keep up.. I sleep when they do, early to mid morning usually - I prefer keeping vampire hours anyway, BB or no BB

I only post what I consider are good screencaps, and I tweak them all to boost brightness/contrast if needed, and to watermark them - people do steal them, and there is an art to it, as any good capper will tell you.. I sort all my Twitpics by day (as Twitpic "events") for later use/reference, and I resize the ones I use on the site.. I post caps on Twitter and Facebook throughout the day & night plus whatever's going on, quotes, and so forth, and I try to answer as many questions as I can in both places - and I get a lot! I'm always on the hunt for Links of the Day, and have run some fabulous ones involving a lot of hard work and creativity by some very special people, along with some utterly hilarious items, news about former hamsters, etc

I try to write sections for the site as I go through a day but it's often midnight before I get started, especially on a busy day or early in the season.. I usually just focus on incidents that strike my fancy but of course I have to include basic game moves as we go too.. I refer to notes I've taken through the day and try to build a narrative that's informative and entertaining, while always reminding myself that it's not my job to watch the feeds for those who won't buy them - I've fallen into that trap more than once, and always kick myself when I do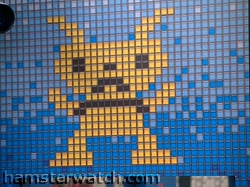 The daily ratings are my real sandbox where I can poke at the hamsters and give my own opinions, poke at the haters out here a bit when it seems appropriate, or just have a little fun of the kind I really like on theme days.. unfortunately, ratings are the last thing I do and it's often dawn before I'm finished, so I've not done them on a daily basis this year - I mean come on, we started with 15 of them and still had 12 on Day 34 - that's a lot of ratings to write at 3am for a full month! I also have to get a good clear cap of each of them for each day's rating, preferably a closeup, with hopefully a good expression or something kooky.. sure I could stockpile and repeat pics, but for probably 99% of the ten seasons I've done, ratings caps are from the day I use them.. it's easily the biggest job I do here, believe it or not

So combine all that, and somehow it fills 16 to 20 hours a day when Big Brother is underway, including the week or two before each season's CBS premiere.. of course I enjoy some time spent in conversations on Twitter or in my chatroom, but I'm usually multi-tasking and always listening to the feeds.. that's ten seasons of no days off and not going anywhere all summer (plus one winter/spring season), not doing anything, not reading or even watching any tv or movies - yes, I realize that's utterly pathetic.. it's also exhausting, and that's why I get a bit stabby when some people think I want to hear about how much they hate this or that hamster, why I shouldn't like the ones I like, and assorted other inanities

This site's been hacked offline multiple times, I've been trashed on a couple other BB sites, I've had a cat, two computers, a car, and a stepmother die during BB (err yes, those are listed in order of personal importance, sorry), and one year I lived at my dad's kitchen table to do it all while I was looking after him during an illness - and no, he never did understand what it was about lol!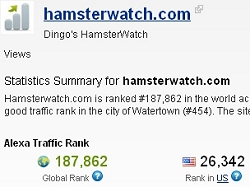 I try to keep Big Brother light and fun, but when I lapse into whiny or bitchy, maybe all this will help provide some insight as to why.. I am always floored by the numbers that visit the site and follow me on Twitter, and while ranking #26,342 in the USA or #187,862 in the world doesn't sound like it's much to crow about for most things, it's pretty awesome for websites.. figures are per Alexa.com, and it looks like I owe a special shoutout to Watertown

I don't clamor for interviews or suck up to the hamsters when they get out, and I don't attend their events since I have to get back to work ASAP to start trying to make up some of the income I lose by doing this.. I do it because I can feel like a writer a few months a year, I think I combine the various aspects well, and I do it for you guys: I'm ever grateful to Hamsterwatchers and regular readers for visiting and reading, especially those who have let me know they got a chuckle or perhaps a different perspective on something here or there.. you guys rock, and I'd never have lasted this long without you!



Zombies (Friday 9/14)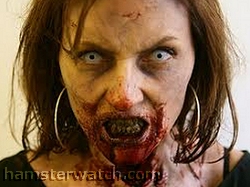 Between naps, they had some power cuts and a camera went wonky, prompting Ian to start asking if there was an apocalypse going on that they didn't know about (and they went to fishies a couple times for that - apparently an apocalypse is also a production secret).. he didn't ask about zombies but that's what it turned out to be: they were seen in the area and it's just a matter of time til they break into their insulated habitat, and mine, and yours

This happened once at the UK Big Brother house and it was a mess.. even Davina McCall, their former version of Julie, succumbed.. apologies to the squeamish for her pic but I figure most of the squeamish have long since moved on

Actually this is not true and I hate that I have to say that, but that's what it's come to.. however, UK television did make a fictional miniseries using the superb premise of a zombie apocalypse revolving around Big Brother - see Links of the Day below to watch it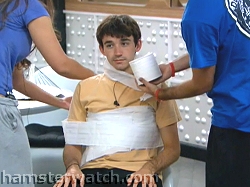 Back to our own three zombies, they got out of bed long enough to have prompted & guided conversation about the season over champagne breakfast for Sunday's show, and they got cards - admit it, zombies are a better story

Nighttime brought many rounds of Dan Q&A, Dan throwing things off the balcony, Dan boxing up his competition, and Ian getting TPd.. I expect they'll play Part 2 tomorrow, and then the negotiations and whispery assassination plans will really get fierce.. Dan & Danielle are planning a fake Dan/Ian celebration and Danielle angry scene if Ian wins Part 2



Ratings - No edition
Ratings will return before we're done - really, there's nothing to say right now







Linking to any page here is fine but please do not repost any content from this site (or any other) without permission, and do not repost or hotlink to any images


!! THIS MEANS YOU !!








UPCOMING EVENTS


Probable remaining schedule:
9/15: Part 2
9/16: CBS 8 or 8.30pm: Thursday's blindside fallout, season review
9/19: CBS 9.30pm: 90-minute finale with Parts 1 & 2, live Part 3, final eviction, evictees reunion, jurors, winner, viewer favorite
9/19: SuperPass 8pm PT/11pm ET backyard interviews
9/20: SuperPass 8pm PT/11pm ET wrap party

Get the feeds
! CBS is bending reality more than ever - see how it really unfolds

SuperPass shows:
Tuesdays 3pm PT/6pm ET: Rants & Roars with Matt Hoffman & Adam Poch
Thursdays 3pm PT/6pm ET: Happy Hour with Ellen, Missy & Spicy
Mon-Wed-Fri 10am PT/1pm ET: Fan Recap



THE REAL SHOW IS THE LIVE FEEDS

Includes Flashback, video clips, live talk shows, interviews, $10 of free music every month and more!
Sign up for a free trial





AMERICA'S VOTE


Which hamster should win $25k? I strongly urge you do not vote! Even free online voting makes money for CBS

However if you must, Hamsterwatch endorses Ian! If he ends up in finals, vote Jodi! Yes I'm serious







RATINGS WATCH


Thursday's live show remained in third place with 5.774 million viewers, 2.0 rating and 5 share, behind America's Got Talent on NBC with 10.512/2.4/7 and Glee on FOX with 8.087/3.3/9, and ahead of Grey's Anatomy rerun on ABC.







Clicky: caps sorted by day - all caps







NEWS & UPDATES
Along with your $1 text votes and the ability to increase ad rates across CBS.com due to increased traffic from your free online votes, CBS now has an extra $100k that was previously announced as the winning coach's prize. PLEASE STOP VOTING ON THEIR POINTLESS POLLS. Don't even get me started on their idiotic Flock to Unlock traffic and Twitter spam generator.

Producers will award the $25k viewer favorite to their choice - your free online votes just up their traffic so they can charge higher advertising rates across all of CBS.com. However if you must vote on this poll, I fully endorse Ian! If Ian should make it into the Final Two, I fully endorse Jodi! She got royally screwed by BB but has been a great sport about it, and very funny and personable on Twitter. Frank is the only other fan applicant this season, but Jodi's dreams of hamsterdom were shattered before she even had a chance to start.

BB Australia began August 12 and is still underway. Like UK BB and UK Celeb BB, it doesn't have feeds anymore, but see Links of the Day for quick videos of air shows and related talk shows for all of them.

Evictee/ejectee Twitters are @WilHeuser, @JanellePierzina, @JoJoDoll1, @HantzBB, @KaraMonaco, @Jodisbox. Imposters are out there - these are the real ones. See my Linkage tab above or my Twitter list for more former hamster Twitters from all seasons.

You can still rewatch the BB13 feeds and Flashback on SuperPass, plus they continue to generate lots of original Big Brother and other reality content. A three-month subscription is $39.99 (or $14.99 for a montly subscription) and includes Flashback, mobile for iPhone, iPad, and Android phones, and $10 worth of free music every month: sign up now
so you don't miss a thing!



Donations via Paypal are gratefully accepted!

If the button doesn't work, Paypal to hamster (at) neonpages (dot com)

Thanks for your support!



BBQ Smackdown Scorecard

Big Brother 14
Round 1: BBQ ½, Dan 0

Big Brother 13
Round 1: BBQ ½, Adam ½, Rachel 0
Round 2: BBQ ½, Adam 0
Round 3: BBQ 1, Rachel 0

Big Brother 12
Round 1: BBQ ½, Brendon 0
Round 2: BBQ 2, Britney 0, Lane 0
Round 3: BBQ 1, Lane 0, CBS 0

Big Brother 11
Round 1: BBQ 0, Jeff 0
Round 2: BBQ 0, Jeff ½
Round 3: BBQ ½, Kevin 0, Michele 0

Big Brother 10
No title events


Big Brother 9 Winter Edition
Round 1: BBQ ½, Ryan 0
Round 2, BBQ ½, Adam 0
Round 3, BBQ ½, Ryan 0

Big Brother 8
Round 1: BBQ 1, Dick 0
Round 2: BBQ ½, Zach 0
Round 3: BBQ 0, Dick 1

Big Brother 7 All-Stars
BBQ training sabbatical

Big Brother 6
Round 1: BBQ 1, Ivette 0
Round 2: BBQ 0, Howie 0

Big Brother 5
Round 1: BBQ 1, Cowboy 1, Drew 0
Round 2: BBQ 1, Drew 0, Diane ½
Round 3: BBQ 1, Cowboy 1, CBS 0, Nakomis 0



EXTRACURRICULAR TALLY
Pointless HOH weeks: 1½
1 Shane due to untwist
½ Willie self-evicting the day after his

Messy lawsuits: 2
CBS vs ABC
Anthony Marini vs Ashley

Major fights: 2
7/17 10.25pm Willie vs Frank + Boogie
8/27 12.35pm + 12.57pm Ian vs Frank

House meetings: 2
7/17 10.54am Willie & newbies
8/26 7.50pm Dan's funeral

Excessive feeds blackouts: 4
7/20 Almost 4 hours - Hurricane Willie
8/18 Almost 7 hours - Veto comp
9/8 3.5 hours - 10 minute veto comp
9/11-9/12 33 hours - Jenn's eviction

Diary leak scandals: 1
8/9 10.08am

Wild sushi makeout/streak parties: 1
7/28 9.50pm

Additional makeout pairings: 2
8/15 12.15am Frank/Ashley
9/13 3.22am Shane/Danielle

Pinkyswears: 10
7/29 CBS Shane/Danielle
8/8 8.28pm Wil/Janelle
8/14 9.36pm Wil/Danielle
8/17 2.14am Shane/Danielle
8/27 11.54pm Shane/Danielle
8/28 11.45pm Ian/Britney
9/2 1.15am Dan/Danielle
9/3 1.01pm Shane/Danielle
9/6 7.08pm Dan/Ian
9/10 12.08pm Shane/Jenn

Premature exits: 3
Mike, Jodi, Willie

Sleazy pasts uncovered: 1 Ashley

New mug shots: 2
BB5 winner Drew
BB14 ejectee Willie

Editing logistics problems: 1
Jodi's in the group bikini pic

'The Soup' mentions: 5
Wil getting his

key

invitation
Danielle & Ashley about Shane
Wil about lemon/lime humping
Ashley's eviction speech
Joe's greenlight Dan/Shane oops

CBS goofs: 23
- Matt wasn't around to evict Britney
- Invented a new word: choses
- Mistook Joe for Frank
- Missing/bad URL
- Forgot an important instruction
- Julie's intern polling about something they didn't air
- Staff seen building veto comp
- Old news + a blatant lie
- Mixing up alliance names
- August 8 CBS daytime ad had Willie HOH and Kara/Frank nominees
- Wrong trivia loop
- Another staffer caught on feeds
- Omitting a very important key word
- Calling Shane's shun 'flirting'
- Misspelled Britney
- Fuzzy math
- Staffer caught with the Hamburglar
- Wrong time on CBS main site
- 'Every day' on vets poll skipped 2 days
- Wrong seasons for Howie & Jeff
- 'Biggest cast ever' = same as BB9
- Sailing instructor Mike disappeared
- Their copyright expert used illegal videos to make his Glass House case