This site is about the Big Brother 14 feeds and contains spoilers! It isn't necessarily thorough: it's what I catch and/or what interests me, and it isn't necessarily about who will win, who should win, who's cute or who's horrid. It's about watching hamsters: who's doing what and why. If they aren't entertaining, get rid of 'em! Thanks for encouraging my behavior. Your pal, dingo







POWER STATUS


Janelle evicted 8-1
Frank is Head of Household
Wil and Joe are nominated
Frank won veto
Britney, Joe, Shane, Danielle are Have-not







BB14 DRINKING GAME


Take a swig whenever someone in there or out here says "Janelle"

If you're on the wagon, try this Healthy alternative by @Staciedertinger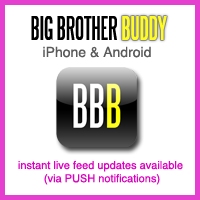 Get the Big Brother Buddy mobile app!
Available for Android or iPhone/iPad






BIG BROTHER PAST SEASONS



Amazon DVDs BB4 - BB3

Amazon Instant View BB14
- BB13
BB12
- BB11
- BB10
- BB9
- BB8


iTunes BB14
- BB13
- BB12
- BB11
BB10
- BB9
- BB7 All-Stars





BB14 FAQ


If you have SuperPass, access mobile feeds by going to real.com/bigbrother on your mobile device's browser. Log in (upper right), select Big Brother, and select Live Feeds from the drop menu. There is no app.

The untwist resulted in no eviction, and all coaches entering the game. Boogie was the only one who didn't vote to enter. If all had said no, there would have been a hamster revival.

Willie was ejected for head-butting Joe. Threats & verbal attacks are legal - aggressive physical contact is not.

They're calling pre-show sequester 'convention' or 'knitting convention', and they're calling Diary 'the wizard' or 'dairy queen'.

Ashley revealed they wear earpieces for nominations, at least early on.

CBS shows are Sundays and Wednesdays at 8pm, and live eviction Thursdays at 9pm.

Big Brother After Dark airs midnight to 3am nightly (1am to 4am Thursdays) on Showtime (SHO2) in USA, and on Slice in Canada at various times - check your local listings.

BB14 prizes are the same: $500k for the winner and $50k for 2nd place. The others still earn $750 a week including pre-show hotel and jury sequester.

The coach of the winner would have gotten $100k without the untwist. Returning veterans got $20k to show up.

The habitat has 53 cameras (up one) and 98 microphones (up three).

The recorded in-house announcements are the voice of producer Don Wollman.

All feeds stay on one 'scene' when someone's in Diary.

The Glass House premiered June 18 on ABC and will run for 10 episodes. The winner will get $250,000 - half the usual BB winning amount.

The glass hamsters go into hotel sequester on weekends.

Big Brother Canada premieres February 2013.



Get Team USA Olympics gear
Use code USABDAY for free shipping on orders over $50


>> >> >>
>>
ALL AMAZON.COM PURCHASES MADE THROUGH THIS LINK HELP SUPPORT THIS SITE
Well done, Hamsterwatchers (Sunday 8/12)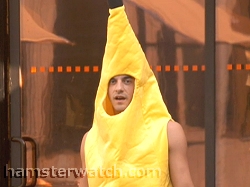 I don't know for a fact but I suspect our message was heard by The Powers That Be, thanks to all the solidarity and support from you lovely people.. we'll see how the numbers come in on Monday, but they seemed to ease up on the excessive fishies for a couple hours before the show hit the Eastern timezone, and there's no way they weren't aware of all the #bbstrike tweets.. I thank and salute you all, and don't ease up on them if they slide backward rather than upward

I'll end my strike now and resume daily episodes here Monday, but I don't think I'll have much to work with: this remains a very dull group, and As Danielle's World Turns has been all but cancelled by the Zingbot.. nothing much happened Sunday, other than Joe continues to make salsa from anything & everything, and Dan showed up in a banana suit for a bit - I don't know why.. he was trying to hoax them about Pandora's Box and Boogie said he'd brought it in with him

On the other hand, weren't those Olympics closing ceremonies something? London knows how to do pageantry and it knows how to rock.. RIP Freddie



CALL TO ACTION (Saturday 8/11)
There's a lot of problems with this season, but the most immediate is the constant fishies and the constant rule-breaking by the hamsters that cause them, which punish us rather than them - it is worse than ever this year.. if you're fed up with watching the aquarium, let them know by not watching or DVRing Sunday's show on CBS

We're a small percentage of total viewers but the numbers have dropped enough this season (even before Olympics) that we could make a dent, and get their attention in the only way they listen: RATINGS

Pass the word along and use hashtags #bbstrike and #bb14.. you won't miss a thing: it'll be Janelle's eviction recap; Britney, Joe, Shane, Danielle losing the Have-not comp; Frank ditching his costume; and Wil and Joe being nominated.. if you still need another reason to speak out via your TV set about the total lack of integrity of this show, Flashback 8/7 11.38am to hear Boogie say how BB producer Don Wollman has been a mentor of his for 11 years - that's really the straw that broke my camel's back, and then Thursday's Diary leak on top of it



Strike bulletin #2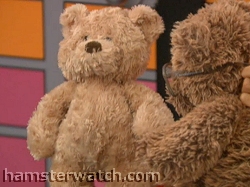 Even if the site wasn't on strike, I'd have nothing to post.. even with 11 of them at this late date, the feeds are as dull as they get for Final Four or Three, and they continue to be riddled with fishies for the most ridiculous things including talk of prior hamsters, prior seasons, pre-show sequester, and "I did my DR earlier".. they even waited til after Showtime last night for Frank to strip off his catsuit, and they blocked that from the feeds

All this puts myself and all BB sites who sell the feeds in a very awkward position, but a reminder is in order: the blocks aren't SuperPass's fault - Ms Grodner and her minions control what goes out on the feeds.. it also makes it hard for us who cover this thing to keep going when things are so dull - again, that's down to Ms Grodner and her minions who did the casting and came up with the twist/untwist

I've realized I should have demands to keep this strike going.. feeds without fishies seems reasonable but unlikely - maybe I should hold out for the grill

Daily facts update: Frank, Joe, Wil were joined by Boogie, Ashley, Jenn for the veto comp, plus Shane and his magic ticket, Ian hosted, and Frank won.. Zingbot showed up around 6.50pm but of course was blocked from the feeds - apparently he collapsed from the heat during or after the comp



The Producer's New Show
And now, a story - inspired by and with apologies to Hans Christian Andersen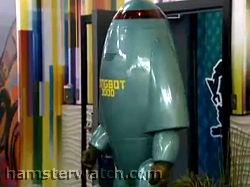 Many years ago there lived a Producer who was so fond of her show that she spent all her PR on it in order for it to be highly rated. She did not care about her cast, her staff or her audience; she only liked to show off her show. She had a competition for every day of the week; and just as they say of a king, 'He is in the council-chamber,' they always said here, 'The Producer is in the pantry.'

In the great studio city in which she lived there was always something going on; every day many feedsters came there. One day some scoundrels arrived who billed themselves as writers, and said that they knew how to manufacture the most beautiful show imaginable. Not only were the cast and twists uncommonly beautiful, but a show made of the stuff possessed this wonderful property that producer manipulation was invisible to anyone who was not fit for his feeds, or who was unpardonably stupid.

'That must indeed be a splendid show,' thought the Producer. 'If I had it on I could find out which viewers in my audience are unfit for the feeds they hold; I could distinguish the wise from the stupid! Yes, this show must be made for me at once.' And she gave the writers much money, so that they might begin their work.

They placed two writers' desks, and began to do as if they were writing, but they had not the least thing on the desks. They also demanded the finest benefits and the best bonuses, which they put in their pockets, and worked at the empty desks till late into the night.



'I should like very much to know how far they have got on with the show,' thought the Producer. But she remembered when she thought about it that whoever was stupid or not fit for her show would not be able to see it. Now she certainly believed that she had nothing to fear for herself, but she wanted first to send somebody else in order to see how she stood with regard to her show. Everybody in the whole audience knew what a wonderful power the show had, and they were all curious to see how bad or how stupid their neighbour was.

'I will send my old and honoured co-producer to the writers,' thought the Producer. 'He can judge best what the show is like, for he has intellect, and no one understands his office better than he.'

Now the good old co-producer went into the hall where the two impostors sat working at the empty desk. 'Dear me!' thought the old co-producer, opening his eyes wide, 'I can see nothing!' But he did not say so.

Both the impostors begged him to be so kind as to step closer, and asked him if it were not a beautiful cast and lovely twists. They pointed to the empty desk, and the poor old co-producer went forward rubbing his eyes; but he could see nothing, for there was nothing there.

'Dear, dear!' thought he, 'can I be stupid? I have never thought that, and nobody must know it! Can I be not fit for my office? No, I must certainly not say that I cannot see the show!'

'Have you nothing to say about it?' asked one of the writers. 'Oh, it is lovely, most lovely!' answered the old co-producer, looking through his spectacles. 'What a cast! What competitions! Yes, I will tell the Producer that it pleases me very much.'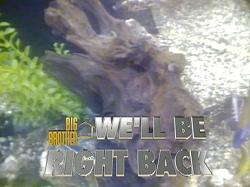 'Now we are delighted at that,' said both the writers, and thereupon they named the competitions and explained the nature of the twist and its later untwisting.

The old co-producer paid great attention, so that he could tell the same to the Producer when he came back to her, which he did.

The impostors now wanted more money, more benefits, and more bonuses for their writing. They put it all in their own pockets, and there came no storylines on the desks, but they went on as they had done before, working at the empty desks. The Producer soon sent another worthy co-producer to see how the writing was getting on, and whether the show would soon be finished. It was the same with him as the first one; he looked and looked, but because there was nothing on the empty desk he could see nothing.

'Is it not a beautiful show?' asked the two impostors, and they pointed to and described the splendid show which was not there.

'Stupid I am not!' thought the man, 'so it must be my good office for which I am not fitted. It is strange, certainly, but no one must be allowed to notice it.' And so he praised the show which he did not see, and expressed to them his delight at the beautiful veterans and the splendid recruits. 'Yes, it is quite beautiful,' he said to the Producer.

Everybody in the audience was talking of the magnificent show.



Now the Producer wanted to see it herself while it was still on the desk. With a great crowd of select followers, amongst whom were both the worthy co-producers who had already been there before, she went to the cunning impostors, who were now writing with all their might, but without paper, ink, or word processing software.

'Is it not splendid!' said both the old co-producers who had already been there. 'See, your Majesty, what a twist! What a cast!' And then they pointed to the empty desk, for they believed that the others could see the show quite well.

'What!' thought the Producer, 'I can see nothing! This is indeed horrible! Am I stupid? Am I not fit to be Producer? That would be the most dreadful thing that could happen to me. Oh, it is very beautiful,' she said. 'It has my gracious approval.' And then she nodded pleasantly, and examined the empty desk, for she would not say that she could see nothing.

Her whole Court round her looked and looked, and saw no more than the others; but they said like the Producer, 'Oh! it is beautiful!' And they advised her to air this new and magnificent show for the first time at the great premiere which was soon to take place. 'Splendid! Lovely! Most beautiful!' went from mouth to mouth; everyone seemed delighted over it, and the Producer gave to the impostors the title of Staff Writers to the Producer.

Throughout the whole of the day before the night on which the premiere was to take place, the impostors were working by the sound of the early pre-season buzz. The feedsters could see that they were very busy making the Producer's new show ready. They pretended they were taking the show from the desk, allowing huge leaks on the internet, editing segments without monitors, and then said at last, 'Now the show is finished!'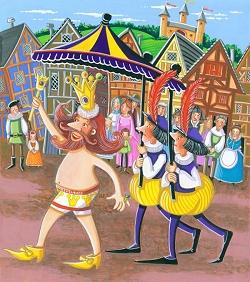 The Producer came herself with her most distinguished minions, and each impostor held up his arm just as if he were holding something, and said, 'See! here are the ads! Here is the twist! Here the coaches!' and so on.

'Spun storylines are so believable that one would imagine one had no show at all; but that is the beauty of it!'

'Yes,' said all the minions, but they could see nothing, for there was nothing there.

'Will it please your Majesty graciously to forget last season,' said the impostors, 'then we will put on the new season, here before the staff meeting.'

The Producer filed away all last season's ratings, and the impostors placed themselves before her as if they were putting on each part of her new show which was ready, and the Producer turned and bent herself in front of the monitor.

'How beautiful it looks! How well it plays!' said everybody. 'What twists! What recruits! It is a gorgeous show!'

'They are waiting outside with the SuperPass which your Majesty is wont to have borne over you after the premiere,' announced the Lovely Chenbot.

'Look, I am ready,' said the Producer. 'Doesn't it play well!' And she turned herself again to the monitor to see if her finery was edited all right.

The feedmasters who were used to carry the feeds put their hands near the knobs as if they were firing up the feeds; then they did as if they were doing something in the air. They would not have it noticed that they could see nothing.

So the Producer went along with the premiere before the splendid SuperPass, and all the feedsters in the streets and at the windows said, 'How matchless is the Producer's new show! That twist fastened to her cast, how beautifully it plays!'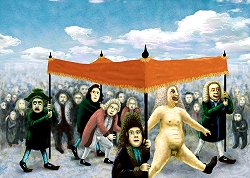 No one wished it to be noticed that he could see nothing, for then he would have been unfit for his feeds, or else very stupid. None of the Producer's shows had met with such approval as this had.

'But she has nothing on!' said a little feedster at last.

'Just listen to the innocent child!' said the subscribing parent, and each one whispered to his neighbour what the child had said.

'But she has nothing on!' the whole of the feedsters called out at last.

This struck the Producer, for it seemed to her as if they were right; but she thought to herself, 'I must go on with the season now.' And the feedmasters walked along still more uprightly, holding up the feeds which were not there at all.

Strike bulletin #1 (Friday 8/10)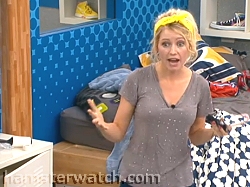 When word reached the habitat about my Hamsterwatch strike, they were as shocked and dismayed as many of you.. Britney took it especially hard

I'm not sure how to go about this strike thing - my manual turned out to be just a pamphlet, and a Chinese take-out menu at that.. I gather I'm supposed to have demands, but expecting an end to fishies will never fly, let alone expecting a game with integrity or a TV edit that reflects reality.. I'd settle for fun feeds, or even dull feeds that stayed on more than 10 minutes without fishies, but hopes there are slim as well

However, since they chose this day - one riddled with more fishies than we've had since the first week - to tweet "Sign up 4 the live feeds &don't miss a minute of the action!" (sic) along with a now-stale clip of Ian's dog day, I feel I must stay on the picket line a bit longer.. they also responded to Reality Blurred about the leaky, using words and tone that caused even those casually following the scandal to say they "doth protest too much".. personally, I'm shocked they openly admitted they've got people working 19-hour shifts.. also I'm still stuck on Boogie's statement Tuesday: "Don Wollman's been a mentor of mine, 11 years together"

I am still tweeting (I can't go cold turkey off this crack) but with more snarky than updates - it IS supposed to be fun, right?.. I'm truly touched by the support and solidarity from all who have reached out to me, and I sincerely thank you all for that

Thus, as a small concession and token of good faith, the basic facts since I hit the picket line are as follows: Janelle was evicted 8-1 with the 1 being Joe, and Frank won the Head of Household Q&A.. Britney, Danielle, Shane, Joe are Have-nots, with candy canes and cod (where do you get caseloads of candy canes in August?), and Frank nominated Wil and Joe, despite saying last night he'd take up Shane's offer to be pawned



Hamsterwatch is on strike (Thursday 8/9)
I've been saying all week that the only thing that would prevent Janelle from meeting Julie again would be a public outing of Dan's many dealings and/or a last minute Coup de Pandora.. The Powers That Be went ahead and did both this morning

Around 10.08am, Dan was called to Diary.. a minute or so later, the Diary guy could be heard greeting him - that happens now & then and they usually cut the feeds quickly when it does.. however this time, that greet could be heard in some rooms in the habitat - that's a first, I think? Those in the kitchen and dining area didn't react, but Ian was heard saying "Whoa whoa whoa dude! DR!" and Boogie got up and left the bedroom he was in, possibly to let them know (even though control room sees & hears everything in there), and then the feeds went to fishies

Just a glitch perhaps? Perhaps not.. Joe later said "after I heard his DR this morning, we had to talk," and "that's quite the DR you had going there, Dan".. Boogie later complained about "that fucking blasting the Diaries" and others chuckled, with Jenn contributing "get your buttons in order".. still later, Janelle asked that Joe please not call a house meeting about that? or something else.. I don't know

This season was a shambles before it started and it's gone downhill fast since.. most of the attention for last week's Reset fiasco has been focused on the coaches entering the game, and many have forgotten or overlooked the fact that Frank's certain eviction conveniently didn't happen - why? They usually drop twists and untwists after they give someone the boot, since a week has just been spent making the boot happen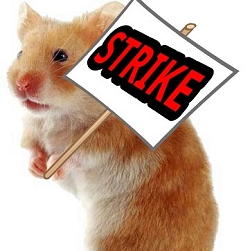 So I'm on strike for a bit, since I love the concept of the show and the feeds, but something was leaked to some of them that could affect another certain eviction, and that's beyond wrong.. personally I don't really care if this does or doesn't affect tonight's outcome, but if a technical problem let them hear a Diary session in the habitat, especially Dan's, they knew it and would have stopped the session unless they wanted it to be heard

I'm tired of being part of the free publicity machine that fuels this show and getting nothing from them for doing so - just a bit of recognition from them to acknowledge the many, many sites that keep the interest alive would be a nice gesture.. I invite my fellow BB sites to join me in a strike but will understand if others don't

I'm also personally shocked, offended and hurt that of my 23,000+ Twitter followers, nobody thought to @ me and let me know about it - I do have to sleep sometimes, and I can't scroll through thousands of timelines to see if I missed anything while catching a nap.. I get hundreds of questions (which I try to answer when I can) and hundreds of tweets with choice words about how much people love or hate this one or that one, but not a single "@hamsterwatch hey they heard Dan's Diary in the house this morning! check around 10am" or similar.. so call me bitter (I am, a bit) but I'm taking a little break from watching the feeds for people - that's not my job and it was never my intent.. I'll tweet what I want like everyone else for awhile, or not

Update: The leak didn't affect the outcome, but that was never my point

One more update: This wasn't a first - there was a short leak to the habitat in BB10 - also with Dan - the coincidences just keep coming.. thanks @RochesterGuy for that, and thanks @MissCleoBB14 for the graphic



Ratings - Strike edition
Sorry, nothing to see here







Linking to any page here is fine but please do not repost any content from this site (or any other) without permission, and do not repost or hotlink to any images


!! THIS MEANS YOU !!








THE NEWEST HAMSTERWATCHER


Big ups and hearty congratulations to @smellykelley and Mr Smelly on the birth of their new baby girl, and welcome to the world, Ellie Jade!







UPCOMING EVENTS


8/13: Veto meeting
8/14: Cheesy photo posing, Frank's tweets & blog
8/15: CBS 8pm: Veto comp, Zingbot, veto meeting

Fridays 7pm PT/10pm ET: Lance Bass Pop Ten BB show on Sirius Radio XM108 - call-in 866-305-6887

Get the feeds
! CBS is bending reality more than ever - see how it really unfolds

SuperPass shows:
Tuesdays 3pm PT/6pm ET: Rants & Roars with Matt Hoffman & Adam Poch
Thursdays 3pm PT/6pm ET: Happy Hour with Ellen, Missy & Spicy
Mon-Wed-Fri 10am PT/1pm ET: Fan Recap

Finale is Wednesday September 19

The Glass House airs on ABC Mondays at 10pm. Feeds are 11pm-3am ET (8pm-midnight PT) Mondays, 3-4pm ET (noon-1pm PT), 9pm-midnight ET (6-9pm PT) Tuesdays & Wednesdays, and 3pm-4pm ET (noon-1pm PT) Thursdays. Watch free at the ABC site



THE REAL SHOW IS THE LIVE FEEDS

Includes Flashback, video clips, live talk shows, interviews, $10 of free music every month and more!
Sign up for a free trial





AMERICA'S VOTE


Which supplement should Have-nots get?
> Candy canes and cod







RATINGS WATCH


Sunday's show ran late due to golf: numbers are shown for first and second half-hours. BB remained in second place with 5.646 million viewers, 1.9 rating and 6 share (3.565/1.0/3), still behind Olympics on NBC with 20.839/5.7/18 (30.569/9.1/23), and ahead of The Simpsons, Cleveland Show and Family Guy reruns on FOX, and Secret Millionaire and Extreme Makeover Weight Loss Edition on ABC.

Thursday's eviction show remained in second place with 6.22 million viewers (up from recent shows), 2.1 rating and 6 share, still far behind Olympics on NBC with 22.40/6.8/20, and ahead of Wipeout on ABC and Glee rerun on FOX.

Monday's 8/6 Glass House remained in third place with 1.64 million viewers, 0.6 rating and 2 share, behind Olympics on NBC and Hawaii Five-0 rerun on ABC.







Clicky: caps sorted by day - all caps