March 1, 2008 - Day 23 (or 24)





>>

Joshuah & Sharon are Heads of Household - Ryan & Allison and Matt & Natalie are nominated

<<

>>

Matt & Natalie hold veto

<<



Dear producers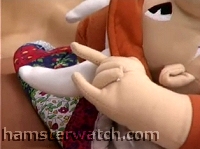 Yep it's me again, with more requests

We know you've never much cared about us feedsters - we are after all a drop in the bucket compared to CBS viewers, but it is the feeds that make "Big Brother" unique, and make it what it is.. it's also no secret that the ratings tank this season, so maybe you could throw us a bone this time and in return we'll enjoy the great feeds of this season even more, create more buzz, and bring you some more viewers

I'm not asking for anything major here, just a few simple items:

1) Please turn down the volume of the damn flames music.. this has always been a problem, yet it continues

2) Please give us the hamstercam rather than flames, at least once in awhile? Feed blocks haven't been the same since the fishies swam away

3) Fix the problem of one feed's audio bleeding into another - this is new this season and very annoying

4) This is the third season for the same stale trivia and there wasn't enough of it to start with.. in theory, trivia's handy to know when a comp or live show is going on versus regular feed censoring, but it usually lingers on a few couple hours afterwards anyway so that's pointless

5) Please don't block the feeds so much on live show days.. we know you're doing rehearsals etc and those would be fun to see, but you're also blocking tons of game-important convos on those days from us, your paying customers

Thanks in advance

Meanwhile in the habitat it's a slow day so far.. Sheila & Natalie had a long convo that included non-game, conversational topics (wow!).. Allison came along and tried to confront Sheila about why she's mad at her, or something.. she made a not-so-subtle dig about how most of them had tried to get onto the show for years and Sheila was a last minute add, but Sheila threw that right back at her.. they went on & on, denying trashing each other amid choruses of "I adore you".. Natalie stayed and did her nails and Sharon eavesdropped from the hall, but they both got bored and left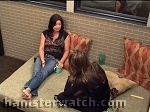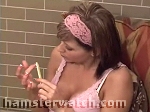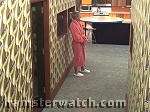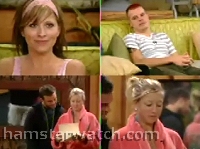 Wait, something happened! They were all gathered and posed in the living room and Sharon read an announcement saying they'd hear an air raid type sound "in the coming weeks" and must gather in the living room

The paper also said "expect the unexpected" (ironic? They were just told what to expect).. also ironic, Adam reread the announcement and his rendition was clearer than Sharon's



Boner party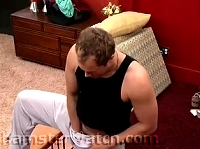 Adam displayed his charm once again, this time for Chelsia and for us, and it was an action show this time.. James was charming Chelsia from the other side - see more caps by ABT

This followed James harassing Chelsia downstairs as Adam harassed Sheila.. then they joined forces and sandwich harassed her.. just another day in the habitat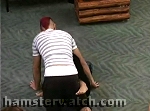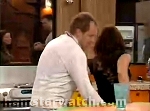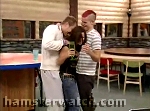 Most of them have entered that phase where pretty much all they do is sit around and trash each other.. and they've started cocooning® already



Yoo look mahvelous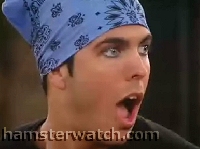 Chelsia got out her makeup arsenal and worked over Matt and James

It's true, Matt's baby blues really do *pop* now

I couldn't tell whether Ryan was fascinated or repulsed by the new James.. maybe both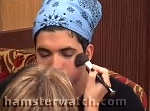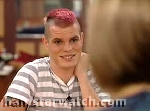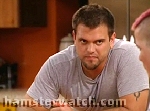 James batted his eyes and tried to kiss first Natalie, then Sharon, who was making a rare downstairs appearance.. both of them backed away at the same angle.. meanwhile Joshuah had a short but intense solitary sob upstairs, claiming homesickness when Sharon returned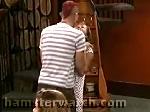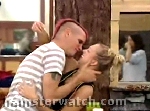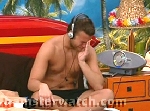 Saturday night, and half of them were in bed by 10pm.. it's criminal



Night night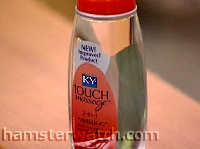 A few of them chatted another hour or two.. Natalie heard James, Chelsia & Allison talking about sex and then saw Allison go to wash her hands, so she told everyone they must have been doing hand jobs for votes

Matt, Ryan, Sheila & Natalie talked about their families awhile.. Matt & Ryan are both momma's boys.. it was sweet

Joshuah prayed aloud in the hot tub, saying he'd broken all the commandments in there, and asked for HOHs, a flat stomach (six pack not required), and a good night's sleep.. he also prayed to win the game and said if he does, he'll go to church, and tithe

I still don't think God is too bothered about reality tv shows.. I hope not anyway



Daily videos






Air raid announcement; Sharon says Matt tried to kiss her; Boner party with Bible; and Joshuah sobs are posted in the forum and at Veoh, linked top & bottom of every page



Daily ratings - Premature cocoon® edition






Ratings are based on entertainment value



Well, they're sticking to the lie about the day count, despite a dozen contradictory voices who would know these things. Typically for this season, Wednesday's show did not hold a candle to what's been happening on the feeds it's supposedly culled from. Julie said 'the house was rocked to the core' by something or other, but they're still overlooking the real rocking going on in there, and Natalie. She also said 'It was certain Alex & Amanda would be going' and I'd like to know where she got that from: this group waffles like no other! They got some more mileage out of the EMT visitors and made James look like a choirboy in his outside life.. umm okay. All in all, it was interchangeable with most any other eviction show, save for the now-expected surprise of which of our non-expendable hamsters would be expended. I was looking forward to hearing Julie pronounce Goethe but she never did; instead she smugly corrected Sharon (who got Goethe right) when she murdered Dostoevsky's name. Julie's parting announcement about next week is posted in the sidebar and that's all anyone knows at this point, so stop asking.




Paired with Sheila

He's pretty much surpassing every hamster of all time with his crudeness and vulgarity, and that's saying something. Even BB6/7 Howie went into his jack shack to stroke it, but this guy does it in the open and in the face of whoever's around. When he's not rubbing his junk, he's either talking about it or laying around. Usually both.



NOMINATED
Paired with Ryan

She went into trash everyone else mode early and is mostly past it now since she's desperate for votes that aren't coming. Now most everything she says is Allison-centric: she still does more than her fair share of trashing but only as it (supposedly) affects her. She claims to be shocked by the amount of lies & deceit going on, yet in the same sentence says she watched BB8. That's how things work in the delusional world that is Allison's.





Paired with James

Her teakettle is starting to whistle and I think she's going to blow soon. Today her mini pressure release was about Natalie and how she's driving Chelsia crazy. I'm not sure why and it doesn't really matter as long as the threat to go off on her and/or anyone else comes to fruition. She lays around a lot, usually with James nuzzling her.





Paired with Chelsia

He offered Allison a vote for a week's pay ($750) and a carton of cigs, yet she still doesn't connect the dots and realize she's a goner. He goes so far out of his way to appear shocking but other than his moments of 'Look at me!' behavior and altruistic goals, he seems to me to be pretty much your average mixed up kid who thinks he has all the answers.. but who doesn't at 21? He's pretty energetic but he lays around a lot since Chelsia does.





Co-HEAD OF HOUSEHOLD
Paired with

Neil

Sharon

He erupted in sobs looking at his pics from home, but Sharon suggested his CD might be contributing to his blues. He can be funny, nasty, catty, mean and confrontational, but he hibernates in HOH way too much. We need more of the other stuff and far less laying around around.





NOMINATED - HOLDS VETO
Paired with Natalie

He's been assured safety over & over but a second week being nominated seems to be getting to him, even though he won't stay nom'd this time. He laid around with Sharon some more but I don't think they lip-locked this time. His energy seems sapped.. I don't think he'll hold up well at all if he ends up a permanent nominee like BB8 Jen or Kail or BB5 Marvin.





NOMINATED - HOLDS VETO
Paired with Matt

Lots of them are complaining about her but I think they're just jealous of her perpetual sunny disposition and relatively low amount of game and trash talk. Not only does she rarely lay around (unless she's in her sauna), I'm not even sure she sleeps. She does occasionally yawn in the face of whoever's nonstop yacking at her though.





NOMINATED
Jen's boyfriend/Paired with Allison

He lays around a lot but you can't blame him. He's been saddled with two of the worst scenarios of the season.. if they have hamster revivals and switch up the couples and pair him with Amanda, his trifecta would be complete.





Co-HEAD OF HOUSEHOLD
Paired with

Jacob (her ex)

Joshuah

She lays around almost around the clock and is now trashing the rest of them continually. I realize this is what passes for playing the game to a lot of people, but her strategy was more impressive to me when it was about predicting & changing votes, and pitting the rest of them against each other.





Paired with Adam

She used great style against Allison's jabs today and I hope to see more of that. She didn't get over-excited, she defended appropriately, and she called shenanigans whenever Allison started going off on one of her illogical tangents. Sheila doesn't lay around much either, but she goes to bed way too early.





Paired with Amanda

He started out looking like he was on board with Matt's showmance plan and CBS picked up that angle, but then we got to know a bright, charismatic, and goofy guy who had everything going for him in there except his partner. His diplomacy was remarkable and he might have gone the distance, but he went out as another casualty of 'Til Death Do You Part'.





Paired with Alex

She began with hysterics & drama and was at the center of the biggest BB fight ever, but she went out with more of a whimper than a bang. Her moods dropped as fast as her blood sugar but to her credit, she rebounded just as fast. She & Allison had dual 911 events, but Amanda's collapse brought unexpected (and uniformed) guests into the habitat and onto the air.





Won: $5k
Ryan's girlfriend/Paired with Parker

She & Ryan could have gone far if she hadn't opened her mouth in the first days. She made loads of enemies in a short time and took Parker down with her. She'll be remembered for super-quickie sex in the bathroom and a rash on her backside.. hmm, coincidence?





Won: $5k
Paired with Jen

He was good watching at first til he gave up and went on strike. He bounced back a bit at the end but his doom came early when partner Jen couldn't keep her trap shut about her & Ryan. She had to go, and he was just the innocent bystander casualty. 'I'm sick of people's dumbass assinine ass comments' might be Line of the Season.





Paired with Joshuah

He left suddenly and mysteriously but wrote on his MySpace that he didn't leave for health reasons and that he won't be back. He seems like a good guy and I wish him well.. he's probably lucky he got out when he did, unscathed.





Paired with Sharon (his ex)

Gone before the feeds kicked in: he didn't even make an appearance. All that potential for rehashing their breakup and/or a jealous rage up in smoke. To make it worse, he & Sharon didn't even get an exit interview in Julie's boudoir - how rude!



Please do not repost any content from this site (or any other) without permission, and do not repost or hotlink to any images
!! THIS MEANS YOU !!

BEST FEEDS EVER, SO FAR
TWO WEEK FREE TRIAL

This year for the first time, you can sign up for monthly renewal
or save with a three month subscription
- both come with a 14 day free trial



LATEST TWITTER


posted :
""

Get free Hamsterwatch updates to your cell phone! Text 'follow hamsterwatch' to 40404 to sign up (21212 in Canada). Click for more info






UPCOMING EVENTS


Veto meeting is Sunday
Plotting, scheming, waffling, backstabbing, and drastic mood changes






POWER STATUS


Joshuah/Sharon are HOH
Ryan/Allison and Matt/Natalie are nominated
Matt/Natalie hold veto






FAQ


Per Julie: next week 'the evicted couple will get a surprise that no one will see coming, and a new chapter will begin for this season of Big Brother'

Nobody's on slop - they have no bread

HOH comp consequences:
No washing machine for 2 weeks
No hot water for 72 hours - done
Margarita party - done
Females wear bikinis 24 hours - done
No drinking cups 1 week - done
Females cook dinner 1 week - done

Finale is April 29 but 'subject to change' - Joshuah said March 25 but he may have been speculating

None of the evictees have done 'Housecalls' or 'Early Show'.. they are likely sequestered to rotate back in later

Nobody knows when or if they'll play solo at some point, but CBS has announced it will be a full season

First place earns $500k, second gets $50k. The others earn $750 a week, including jury sequester weeks for those that go there






RATINGS WATCH


Wednesday's eviction show remained in third place with a 3.7 rating and 6 share, behind 'American Idol' on Fox with 15.2/23 and 'Deal or No Deal' on NBC with 6.0/9.







NEXT SHOW


Sunday, March 2 at 8pm: nominations, food comp, assorted dramas






EXTRACURRICULAR TALLY


Sex: 3 (Jen/Ryan)
Oral: 2 (Natalie/Matt)
Self-service: 1 (James)
Makeout session pairings: 4
(Jen/Ryan, James/Chelsia,
Alex/Sharon, Matt/Sharon)
Nekkid makeout pool orgy: 1
Nekkid party favor: 3
(Natalie, James, Chelsia)
Nekkid party trick: 2 (James, Natalie)
Ambulance rides: 2 (Amanda, Allison)
Major fights: too many to count

See it all with a monthly
or quarterly
feeds subscription. Both include a two week free trial with no obligation to buy.









LINKAGE


Click to see my full list of BB9 links. These are some of my favorites.

24/7 feeds - 14 day free trial
see everything that happens before it gets edited into something else for tv

No time-out feed links including set-up how-to, plus Real contact info

Hamsterwatch Chatroom

Hamsterwatch Forum

BB9 adult/explicit links

CBS Big Brother 9 the official site

DogDave BB9 by any name, still the first to find big news, all the edgy stuff & the best mini-recaps in town

Attw x's houseguest tributes all seasons fun & reference by BB's number one fan

BuddyTV - Big Brother 9 TV supersite with news, articles, discussions

Sir LinksALot Big Brother 9 all the links
Sir LinksALot Big Brother 10 all the links, once again

Reality TV Links - Big Brother 9 emphasis on individual hamsters' sites










THANKS FOR VISITING


Donations are gratefully accepted through Paypal using the button below or direct by email. Please support other BB9 sites that you like, too. Many thanks!




This site isn't necessarily thorough: it's what I catch and/or what interests me. It also isn't necessarily about who should win, who will win, who I'd be friends with or who is cute. It's about watching hamsters: which ones are doing what and why, which are fun and which are dull. If they aren't entertaining, get rid of 'em! Thanks for encouraging my behavior.