March 2, 2008 - Day 24 (or 25)





>>

Joshuah & Sharon are Heads of Household - Ryan & Allison and Adam & Sheila are nominated

<<

>>

Matt & Natalie used the veto

<<



Morning sunshine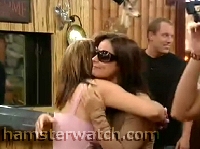 I missed it, but apparently Allison & Sheila had another big blowout this morning, just before the veto meeting.. not the best timing by either, even though everything was already planned

Matt & Natalie veto'd themselves off the block of course, and Adam & Sheila went up in their place.. hugs all around

RealPlayer's BB9 tagline still says "Surprise Twist: Will evicted couple Alex and Amanda return to the Big Brother 9 house?".. it doesn't seem likely they'd even mention Revive-a-Hamster if it wasn't going to happen.. then again, this is the same spot that referred to Matt & Natalie as "Power Couple" the other day

I'm waiting to see what kind of surprise they're going to spring that "no one will see coming" - pretty much every theory seems to have been mentioned by all of them, and by all of us



"Out, damn'd spot"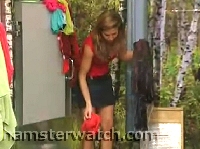 Lady MacBeth has nothing on Allison

She had quite a monologue with herself while doing still more laundry, lecturing herself to stop talking, and repeating Joshuah's taunts of several days ago to herself

This was after she told Ryan he has to "really get out there and save me - us".. Ryan went back to sleep

Allison's "don't talk" instructions to self fell on deaf ears though, as she worked on Adam, Chelsia & James, and most of all Ryan.. poor Ryan seems ready to toss in the towel - and who can blame him?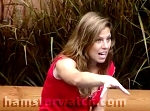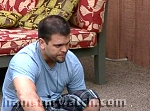 Prayers answered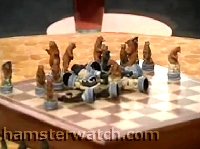 Booze arrived, and Allison said she'd been praying for wine tonight

Natalie hid some beer and/or someone (Chelsia, I think) said she shouldn't get as much as the others since her tolerance is so low.. that set off Natalie and she had hissy fits instead of strip shows, then she moved on to game and religion

Allison got a little sippy and lost at chess to her student Ryan again.. she kept saying she can't win anything in there: chess, comps, arguments, etc.. she was just a little slurry, saying things like "vocabulawalary"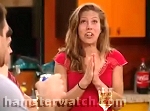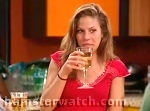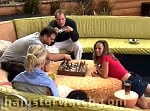 Ryan & Matt discussed the subliminal art on a Camel pack before Sharon joined to tell marathon stories about Jacob and other things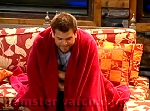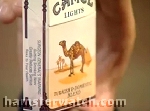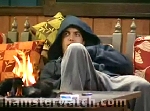 All in all a quiet night, considering how much potential for flare-ups they have in there.. they need more booze in these deliveries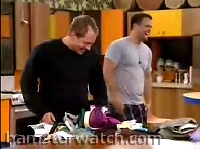 Overnight update: Matt, Adam, James & Ryan were up late, talking guy chat and assorted crudenesses, and laughing a lot.. Adam said he'd seen skidmarks on a pair of Allison's shorts early on, and guess who got up just about then?

The other guys (and anyone watching) were rolling as Adam tried to sidestep, saying no, he hadn't said they were hers.. Allison said she's never pooped her pants in her life and brought out all of her clothes to prove they were pristine and shartless



Daily videos






Allison bashing; Allison talks to herself; and Guy chat plus Allison in three parts are posted in the forum and at Veoh, linked top & bottom of every page



Daily ratings - Special anger management edition






Ratings are based on entertainment value



Anyone notice they've been using the same crescent moon for almost a month now? Sunday's show was another installment of their fictional alternate to the feeds and reality, 'Big Brother: Lesbian House'. They did include Joshuah versus Allison and her subsequent meltdown(s) but they left out the best bit, the five foot restraining order. Still, it was a good fight as was the Ryan versus Allison follow-up, and deserving of first ups of the season. They wasted valuable Diary time with tiara comments and omitted the BJ heard round the world, but we all know what went on before the aired Matt/Natalie footage. Asparagus comp was another excuse to put the girls in catsuits (although James had the most fun wearing one) but I ask again how are they defining carbs? They've not had bread for breakfast but otherwise they've all been chowing down on crackers, pizza, cookies and popcorn since the comp. Natalie got Diary, drawing, and 'damn skippy' time but she's still pretty much AWOL from CBS. I don't know how they're overlooking her: nobody else can. Finally, why did the show end 7 minutes early, and does anyone care?




NOMINATED
Paired with Sheila

He talks a lot with Matt but Sheila's doing all the work for their team. I'm still trying to figure out how he got in there. I don't like hearing that he's friends with casting director Robyn Kass, but I'm not sure how much weight to give that story.. it's kind of hard to believe he'd have any female friends. Overnight upgrade from neutral for dancing his way through the Allison's sharted shorts event, and doing it with a straight face - almost.



NOMINATED
Paired with Ryan

It was fun seeing her tipsy again - it's been ages! I'm sure I'll get real tired of her again before Wednesday, but her lecture to herself while doing laundry goes down as one of the all-time funniest BB moments in my book. She's got to go but when she does, most of the remaining drama and resulting laughs will go with her.





Paired with James

She keeps threatening to blow but she keeps holding it back. Feedmasters are still cutting away most of the time when she & James go at it.. what's up with that?





Paired with Chelsia

He's getting sly, saying to Chelsia they'll need to break Natalie if she & Matt vote to keep Allison, but he doesn't realize Matt's saying the same thing about him. Funny thing with all these guys though: they talk big but so far anyway, this season's been driven entirely by the women.





Co-HEAD OF HOUSEHOLD
Paired with

Neil

Sharon

Seeing his tirades at and to Allison on the show tonight pointed out how dull he's become since he cooled off. He still talks big, but lately it's all talk. Then again, King Dustin was much the same with his HOH and look what happened there.. this is starting to feel like a rerun.





USED VETO
Paired with Natalie

He's a real big talker as we all know and he'll likely decide his team's vote, but Natalie's getting pushed, pulled, and wooed by everyone else while he sits outside and smokes. Slim pickings for Line of the Day today, but he gets it for late night chat with the boys. Flames kept cutting them off for talking about production, laughter from the walls during masturbation moments, and so forth. Matt said into the air: 'We can talk about [CBS] episodes, right? We're in 'em.'





USED VETO
Paired with Matt

She's usually the life of the party when it's a booze party, but she got pissy instead of pissed tonight and everyone lost out. Coincidentally (or not) both Allison and Sheila came to her 'rescue' but Sheila stuck a whole lot longer.





NOMINATED
Jen's boyfriend/Paired with Allison

Ups by default for being the third guy in a row to find himself in a no-win position through no fault of his own, and for continuing to beat Allison at chess.. well played, Grasshopper! He looked kinda sad and small in his red blankie tonight with Matt, but when Sharon came out to talk their ears off I felt bad for them both.





Co-HEAD OF HOUSEHOLD
Paired with

Jacob (her ex)

Joshuah

She let slip today that she'd overheard Allison during the casting process talking about how manipulative she planned to be, so Sharon's had her eye on her since the start. As much as I didn't like it when she was being too quiet, I think that was preferable to her over-long and over-loud stories now that she's come out, especially when accompanied by her loud screechy laugh.





NOMINATED
Paired with Adam

She's getting antsy about the vote even though everybody knows she's a pawn, including her. If history repeats itself, this group will probably look like they're ready to flip to getting rid of her & Adam before Wednesday (with or without Diary's 'help'), but never fear: Allison is toast and Ryan will have no choice but to walk the plank with her.





Paired with Amanda

He started out looking like he was on board with Matt's showmance plan and CBS picked up that angle, but then we got to know a bright, charismatic, and goofy guy who had everything going for him in there except his partner. His diplomacy was remarkable and he might have gone the distance, but he went out as another casualty of 'Til Death Do You Part'.





Paired with Alex

She began with hysterics & drama and was at the center of the biggest BB fight ever, but she went out with more of a whimper than a bang. Her moods dropped as fast as her blood sugar but to her credit, she rebounded just as fast. She & Allison had dual 911 events, but Amanda's collapse brought unexpected (and uniformed) guests into the habitat and onto the air.





Won: $5k
Ryan's girlfriend/Paired with Parker

She & Ryan could have gone far if she hadn't opened her mouth in the first days. She made loads of enemies in a short time and took Parker down with her. She'll be remembered for super-quickie sex in the bathroom and a rash on her backside.. hmm, coincidence?





Won: $5k
Paired with Jen

He was good watching at first til he gave up and went on strike. He bounced back a bit at the end but his doom came early when partner Jen couldn't keep her trap shut about her & Ryan. She had to go, and he was just the innocent bystander casualty. 'I'm sick of people's dumbass assinine ass comments' might be Line of the Season.





Paired with Joshuah

He left suddenly and mysteriously but wrote on his MySpace that he didn't leave for health reasons and that he won't be back. He seems like a good guy and I wish him well.. he's probably lucky he got out when he did, unscathed.





Paired with Sharon (his ex)

Gone before the feeds kicked in: he didn't even make an appearance. All that potential for rehashing their breakup and/or a jealous rage up in smoke. To make it worse, he & Sharon didn't even get an exit interview in Julie's boudoir - how rude!



Please do not repost any content from this site (or any other) without permission, and do not repost or hotlink to any images
!! THIS MEANS YOU !!

BEST FEEDS EVER, SO FAR
TWO WEEK FREE TRIAL

This year for the first time, you can sign up for monthly renewal
or save with a three month subscription
- both come with a 14 day free trial



LATEST TWITTER


posted :
""

Get free Hamsterwatch updates to your cell phone! Text 'follow hamsterwatch' to 40404 to sign up (21212 in Canada). Click for more info






UPCOMING EVENTS


They're to gather in the living room when they hear the air raid siren






POWER STATUS


Joshuah/Sharon are HOH
Ryan/Allison and Adam/Sheila are nominated






FAQ


Per Julie: Wednesday 'the evicted couple will get a surprise that no one will see coming, and a new chapter will begin for this season of Big Brother'

Nobody's on slop - they have no bread

HOH comp consequences:
No washing machine for 2 weeks
No hot water for 72 hours - done
Margarita party - done
Females wear bikinis 24 hours - done
No drinking cups 1 week - done
Females cook dinner 1 week - done

Finale is April 29 but 'subject to change' - Joshuah said March 25 but he may have been speculating

None of the evictees have done 'Housecalls' or 'Early Show'.. they are likely sequestered to rotate back in later

Nobody knows when or if they'll play solo at some point, but CBS has announced it will be a full season

First place earns $500k, second gets $50k. The others earn $750 a week, including jury sequester weeks for those that go there






RATINGS WATCH


Sunday's show dropped back to fourth place with a 3.9 rating and 6 share, behind 'Extreme Makeover: Home Edition' on ABC with 8.4/13, NASCAR/'The Simpsons' on Fox with 6.1/9, and 'Dateline' on NBC with 5.9/9.







NEXT SHOW


Tuesday, March 4 at 9pm: veto comp, veto meeting, assorted dramas






EXTRACURRICULAR TALLY


Sex: 3 (Jen/Ryan)
Oral: 2 (Natalie/Matt)
Self-service: 3 (James, Adam, Matt)
Makeout session pairings: 4
(Jen/Ryan, James/Chelsia,
Alex/Sharon, Matt/Sharon)
Nekkid makeout pool orgy: 1
Nekkid party favor: 3
(Natalie, James, Chelsia)
Nekkid party trick: 2 (James, Natalie)
Ambulance rides: 2 (Amanda, Allison)
Major fights: too many to count

See it all with a monthly
or quarterly
feeds subscription. Both include a two week free trial with no obligation to buy.









LINKAGE


Click to see my full list of BB9 links. These are some of my favorites.

24/7 feeds - 14 day free trial
see everything that happens before it gets edited into something else for tv

No time-out feed links including set-up how-to, plus Real contact info

Hamsterwatch Chatroom

Hamsterwatch Forum

BB9 adult/explicit links

CBS Big Brother 9 the official site

DogDave BB9 by any name, still the first to find big news, all the edgy stuff & the best mini-recaps in town

Attw x's houseguest tributes all seasons fun & reference by BB's number one fan

BuddyTV - Big Brother 9 TV supersite with news, articles, discussions

Sir LinksALot Big Brother 9 all the links
Sir LinksALot Big Brother 10 all the links, once again

Reality TV Links - Big Brother 9 emphasis on individual hamsters' sites










THANKS FOR VISITING


Donations are gratefully accepted through Paypal using the button below or direct by email. Please support other BB9 sites that you like, too. Many thanks!




This site isn't necessarily thorough: it's what I catch and/or what interests me. It also isn't necessarily about who should win, who will win, who I'd be friends with or who is cute. It's about watching hamsters: which ones are doing what and why, which are fun and which are dull. If they aren't entertaining, get rid of 'em! Thanks for encouraging my behavior.