February 29, 2008 - Day 22 (or 23)





>>

Joshuah & Sharon are Heads of Household - Ryan & Allison and Matt & Natalie are nominated

<<

>>

Matt & Natalie won veto

<<



Leap Day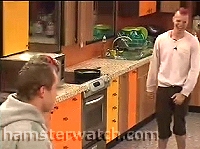 James continues to grab his junk at every opportunity.. CBS edits have been favoring him but I have to think that's just damage control.. if he ends up in there at or near the end, I have a sneaky feeling he won't do them proud

I heard Showtime ran a crawl that they lost carbs in the food comp, but that seems to be all they're eating - cookies, chips, popcorn, pizza.. I think they lost breads and some fitness crazer hastily synonymized the two.. we'll find out on Sunday's show

In typical fashion, Big Brother got them up at 10am and made them wait around for the veto comp til 4pm.. in keeping with the season's lovey-dovey theme, maybe it'll be a girls-choose-boys comp to commemorate the reverse-gender marriage proposal tradition of Leap Year Day.. (trivia experts and/or a quick Google will point out that February 29 isn't Sadie Hawkins Day - that's November 15)

Adam & Sheila were drawn to play along with the HOHers and nominees, with James hosting.. Allison remains cocky and confident, pumping up Ryan to hang in there at any cost.. he stretched while listening in to Natalie & Sheila having a quick veto prayer before the stale trivia took them away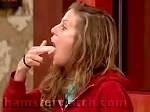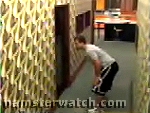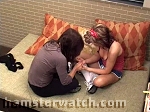 Natalie saves the day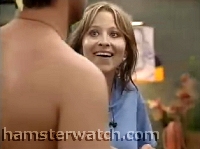 Feeds returned to Matt chanting "Matty's off the block! Matty's off the block!" but everyone including him seemed to be giving Natalie credit for their win

It was a puzzle comp with magnetic pieces, and Allison came close to winning.. Natalie dropped a piece and it sounds like there's some question about whether she got an unfair advantage to replace it? Also, somebody's cable broke, and Allison complained the directions weren't clear.. she might request a redo but past history has set a dozen precedents against that happening.. either way, she probably won't be a happy camper for the next few days

Mandanas came out in force.. Adam tried to style a rosary like one but it wouldn't fit over his head.. quads let a flash of the crew tearing down the apparatus leak through.. Allison looked forlorn for a minute but regrouped and came out with confident bravado.. Joshuah encouraged Chelsia to let Allison think she's safe: he's chomping at the bit to send her to her doom on live tv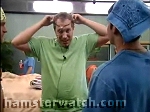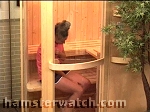 Finally.. booze!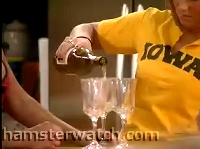 And none too soon

Libations arrived during family dinner (has any season still been doing those every night at this point?).. Adam's sharing more every day: his dinner convo was about how he'd jerked it at work - twice - inspired by the 'smoking hot receptionist'.. later he told the smokers corner he'd had a 'percs' habit (percodan/percoset: opiates) for three years, til he got in there

Natalie lactated again for those who hadn't caught her act, at Matt's urging.. she said she thought he didn't want her whipping them out anymore but he told her to go ahead.. he tried too but came up dry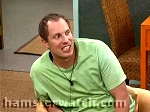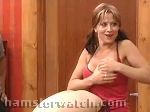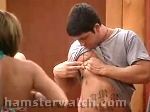 They discussed doing a circle jerk but Matt said "We're not allowed to do things before Showtime".. Chelsia responded "And we're not allowed to say that either".. no worries, we all know how that works

Then Showtime time came and bikinis with it of course.. Chelsia planted a big wet one on Allison, and James moved in for a three-way.. Allison giggled but went deadpan just after.. her mood's fluctuating rapidly between high horse smug and poor me tears, and back again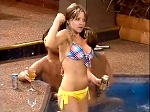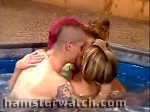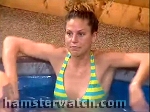 America's playa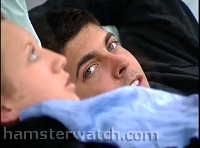 Matt & Sharon were shmoozing each other in HOH, talking Matt and talking game, fondling hands and denying blow jobs

I'm not sure but I think he jumped on her without warning

She didn't seem to mind, or push him off.. her tongue didn't seem to mind either.. see more caps in the forum, thanks to ABT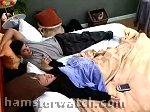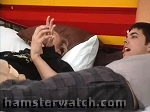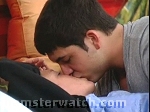 They flew off each other when Joshuah came in.. he said Natalie was looking for Matt



Daily videos






Matt & Sharon makeout is posted in the forum and at Veoh, linked top & bottom of every page



Daily ratings - Nutritional information edition






Ratings are based on entertainment value



Well, they're sticking to the lie about the day count, despite a dozen contradictory voices who would know these things. Typically for this season, Wednesday's show did not hold a candle to what's been happening on the feeds it's supposedly culled from. Julie said 'the house was rocked to the core' by something or other, but they're still overlooking the real rocking going on in there, and Natalie. She also said 'It was certain Alex & Amanda would be going' and I'd like to know where she got that from: this group waffles like no other! They got some more mileage out of the EMT visitors and made James look like a choirboy in his outside life.. umm okay. All in all, it was interchangeable with most any other eviction show, save for the now-expected surprise of which of our non-expendable hamsters would be expended. I was looking forward to hearing Julie pronounce Goethe but she never did; instead she smugly corrected Sharon (who got Goethe right) when she murdered Dostoevsky's name. Julie's parting announcement about next week is posted in the sidebar and that's all anyone knows at this point, so stop asking.




Paired with Sheila

If he hadn't already been fired from his job for his 'retards' remark, talking about doing himself at work while thinking about the receptionist might have done it.



NOMINATED
Paired with Ryan

I don't like to admit it but I am enjoying her new fall from grace. She's still not convinced whether they love her or hate her, but she's pretty sure they're all scared of her intellectual and strategic superpowers. In recognition of the latter delusion of hers, it's a symbolic Line of the Day award today, presented during yet another chess lesson in which she - the chess teacher, mind you - said 'The bishop makes the L shape'. (For non-players, it's the horsies that make the L shape.) She also admitted today that she's bought pre-made dinners, served them to friends, and said she cooked them.





Paired with James

She might be working up another spitfire moment like she had with Amanda, and it can't come soon enough. She keeps having little hissy fits over things like Allison washing her towels without permission and we can only hope her collection of irritating items will build up into something major.





Paired with Chelsia

More video of him has surfaced, this time he's cavorting sloshy-drunk with his buddies in a Steve-O wannabe kind of way. James has the starring role as he poops on a Sarasota beach, vomits, and jumps off a bridge (linked on the adult links page). I realize his pic doesn't match the day's theme but I didn't catch a cap of him eating today. I was going to stick one here with his finger down his throat from the newfound videos, but thought better of it.





Co-HEAD OF HOUSEHOLD
Paired with

Neil

Sharon

His Allison routine is really mean and it'll probably be his undoing - especially if he happens to land in the final two - but it's also really funny when he gets going.





NOMINATED - HOLDS VETO
Paired with Natalie

He took one more step in his strategy of tonguing his way through the game tonight and he probably thinks he's The Man for nailing Sharon, but he might not know that she's playing him right back. Well, that's sheer speculation from here, but shortly afterward Sharon & her cronies came up with a plan for a hinky vote to split up Matt & Adam.





NOMINATED - HOLDS VETO
Paired with Matt

Big ups for winning the veto after everyone's been saying she's useless, for a reprisal of her dairy maid routine, and for a spontaneous and surprising 'Damn skippy' - always a good thing to hear on the feeds.





NOMINATED
Jen's boyfriend/Paired with Allison

His fate is all but sealed thanks to his loony 'soulmate' but he knows it and he's left her team too. When James was attacking Allison with an ice cube, she screamed 'Ryan, help me! You're my partner!' He responded 'Nope, I'm chilling." Cheers for that one. Ryan's presence in there is the only thing preventing Matt (the pig) from being the classiest guy in there.





Co-HEAD OF HOUSEHOLD
Paired with

Jacob (her ex)

Joshuah

Another veto, another Sharon kissyface session.. coincidence? She said Adam/Sheila and Ryan/Allison are floaters since they haven't won anything.. I always thought floaters were unaligned players and/or floated from one alliance to another. No matter: she said that before the comp when she was sure she'd win so maybe she'll ease up on that one. She's getting a little cocky and while she has reason to be, it was still good to see her and all of them lose to Natalie, since they all thought she was useless til now. I get tired of Sharon being so serious all the time, but I can't deal with her loud screechy laugh either: it doesn't go with her voice at all, which alternates eerily between Kathy Griffin and Winona Ryder.





Paired with Adam

Another day, another half dozen Sheila flare-ups - none were noteworthy though. Everyone's getting a little tired of hearing about her book, her son, and her ideal man.. she needs some new material.





Paired with Amanda

He started out looking like he was on board with Matt's showmance plan and CBS picked up that angle, but then we got to know a bright, charismatic, and goofy guy who had everything going for him in there except his partner. His diplomacy was remarkable and he might have gone the distance, but he went out as another casualty of 'Til Death Do You Part'.





Paired with Alex

She began with hysterics & drama and was at the center of the biggest BB fight ever, but she went out with more of a whimper than a bang. Her moods dropped as fast as her blood sugar but to her credit, she rebounded just as fast. She & Allison had dual 911 events, but Amanda's collapse brought unexpected (and uniformed) guests into the habitat and onto the air.





Won: $5k
Ryan's girlfriend/Paired with Parker

She & Ryan could have gone far if she hadn't opened her mouth in the first days. She made loads of enemies in a short time and took Parker down with her. She'll be remembered for super-quickie sex in the bathroom and a rash on her backside.. hmm, coincidence?





Won: $5k
Paired with Jen

He was good watching at first til he gave up and went on strike. He bounced back a bit at the end but his doom came early when partner Jen couldn't keep her trap shut about her & Ryan. She had to go, and he was just the innocent bystander casualty. 'I'm sick of people's dumbass assinine ass comments' might be Line of the Season.





Paired with Joshuah

He left suddenly and mysteriously but wrote on his MySpace that he didn't leave for health reasons and that he won't be back. He seems like a good guy and I wish him well.. he's probably lucky he got out when he did, unscathed.





Paired with Sharon (his ex)

Gone before the feeds kicked in: he didn't even make an appearance. All that potential for rehashing their breakup and/or a jealous rage up in smoke. To make it worse, he & Sharon didn't even get an exit interview in Julie's boudoir - how rude!



Please do not repost any content from this site (or any other) without permission, and do not repost or hotlink to any images
!! THIS MEANS YOU !!

BEST FEEDS EVER, SO FAR
TWO WEEK FREE TRIAL

This year for the first time, you can sign up for monthly renewal
or save with a three month subscription
- both come with a 14 day free trial



LATEST TWITTER


posted :
""

Get free Hamsterwatch updates to your cell phone! Text 'follow hamsterwatch' to 40404 to sign up (21212 in Canada). Click for more info






HAPPY BIRTHDAY, LEAPERS


Special greetings to those who only get a true birthday once every four years!






UPCOMING EVENTS


Veto meeting is probably Monday - plotting, scheming, waffling, backstabbing, and drastic mood changes til then






POWER STATUS


Joshuah/Sharon are HOH
Ryan/Allison and Matt/Natalie are nominated
Matt/Natalie hold veto






FAQ


Per Julie: next week 'the evicted couple will get a surprise that no one will see coming, and a new chapter will begin for this season of Big Brother'

Nobody's on slop - they have no bread

HOH comp consequences:
No washing machine for 2 weeks
No hot water for 72 hours - done
Margarita party - done
Females wear bikinis 24 hours - done
No drinking cups 1 week - done
Females cook dinner 1 week - done

Finale is April 29 but 'subject to change'

None of the evictees have done 'Housecalls' or 'Early Show'.. they are likely sequestered to rotate back in later

Nobody knows when or if they'll play solo at some point, but CBS has announced it will be a full season






RATINGS WATCH


Wednesday's eviction show remained in third place with a 3.7 rating and 6 share, behind 'American Idol' on Fox with 15.2/23 and 'Deal or No Deal' on NBC with 6.0/9.







NEXT SHOW


Sunday, March 2 at 8pm: nominations, food comp, assorted dramas






EXTRACURRICULAR TALLY


Sex: 3 (Jen/Ryan)
Oral: 2 (Natalie/Matt)
Self-service: 1 (James)
Makeout session pairings: 4
(Jen/Ryan, James/Chelsia,
Alex/Sharon, Matt/Sharon)
Nekkid makeout pool orgy: 1
Nekkid party favor: 3
(Natalie, James, Chelsia)
Nekkid party trick: 2 (James, Natalie)
Ambulance rides: 2 (Amanda, Allison)
Major fights: too many to count

See it all with a monthly
or quarterly
feeds subscription. Both include a two week free trial with no obligation to buy.









LINKAGE


Click to see my full list of BB9 links. These are some of my favorites.

24/7 feeds - 14 day free trial
see everything that happens before it gets edited into something else for tv

No time-out feed links including set-up how-to, plus Real contact info

Hamsterwatch Chatroom

Hamsterwatch Forum

BB9 adult/explicit links

CBS Big Brother 9 the official site

DogDave BB9 by any name, still the first to find big news, all the edgy stuff & the best mini-recaps in town

Attw x's houseguest tributes all seasons fun & reference by BB's number one fan

BuddyTV - Big Brother 9 TV supersite with news, articles, discussions

Sir LinksALot Big Brother 9 all the links
Sir LinksALot Big Brother 10 all the links, once again

Reality TV Links - Big Brother 9 emphasis on individual hamsters' sites










THANKS FOR VISITING


Donations are gratefully accepted through Paypal using the button below or direct by email. Please support other BB9 sites that you like, too. Many thanks!




This site isn't necessarily thorough: it's what I catch and/or what interests me. It also isn't necessarily about who should win, who will win, who I'd be friends with or who is cute. It's about watching hamsters: which ones are doing what and why, which are fun and which are dull. If they aren't entertaining, get rid of 'em! Thanks for encouraging my behavior.