7/30/05 - Day 28



>> to the future >> to the past >> daily index
>> latest HamsterWatch episode >> linkage

>>

Maggie is Head of Household - James & Kaysar are nominated - Sarah won veto

<<



Dangerously close to a pinky swear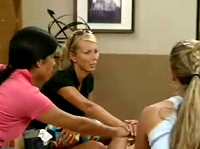 Sarah wins the veto and the crone alliance makes BB5 fans shudder as they make yet another pact and rehearse their lines for the next few days

They agree they'll send Kaysar packing.. Maggie will break a tie if needed to seal his fate

April & Maggie take turns leading the chants

Beau & Jennifer listen to keep up and/or take notes.. Ivette boggles the mind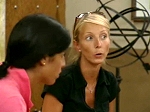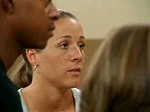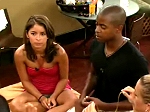 April: Be sure to say it right, I always get confused in there.. don't say 'I vote for Kaysar', say 'I vote to EVICT Kaysar'
everyone: I vote to EVICT Kaysar
April: And don't tell them what we're doing
someone: What do you want us to say when they ask how we're voting Maggie?
Maggie: 'That we don't talk about'
everyone: That we don't talk about
....
Ivette: They are on cloud fucking nine right now

It's the same story in the pimp room but from a different perspective.. Kaysar gives Janelle a pep talk and strategy advice for her upcoming career as a solo act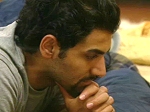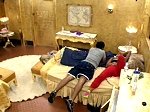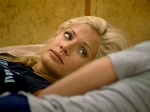 Kaysar: I'm done, Janelle - I lost fair and square

Rachel checks in here & there, like she does.. Sarah hopes the anti-Kaysar rumor is true so she won't be separated from James yet.. she doesn't get many kudos for winning the balls game, even from James - he's already strategizing into next year





Sarah: You know we've got the biggest targets on us now
James: Once Maggie's gone they're all gonna be scared to nominate me

Rachel tries to curry favor with the Good Housekeeping alliance but it's too late, they don't need help, thanks anyway.. Kaysar confronts April about her long and glorious tattletale career.. he tries to appeal to her conscience and makes some direct hits.. she swears on her life so many times about so many lies it makes your head spin





Kaysar: I already know I'm going home
April: That is not a given
Kaysar: I just need to know, when you guys hang out upstairs are they talking trash?
April: I swear on my life, it's all strategy, it's not personal.. I swear on my life
Kaysar: Okay.. I'm trying to separate the good people from the bad.. there's just one person who's really bad and that's Ivette
April: I love her to death.. I know you don't like her
Kaysar: She doesn't like certain people until they have power.. what's that? You just float from here to there, going with the vote?
April: That's not it at all.. I can see where people think that
Kaysar: I don't respect people who are followers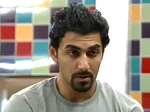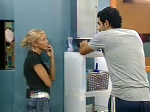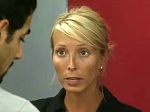 Outside the Supersneaky Snitch aliance meets in the hammock, sharing what they've just overheard between Kaysar & April, and everyone else.. Maggie joins them and they almost figure out we're watching them.. another figure of speech gets slaughtered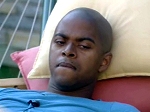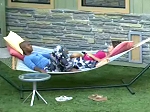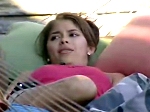 Jennifer: I can play innocent real good, that's what I do in the outside world
....
Maggie: They told me I could say happy birthday to Dave tonight and it'll be on the internet
Beau: Really? We can send messages home?
Maggie: We can't just do constant shots out, but I can say happy birthday
Jennifer: Shots out?
Beau: I think she means shout outs


Lozengers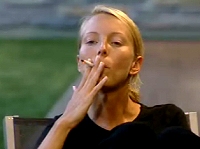 April begins to plan and/or panic about her upcoming last smoke, coming soon

This group also has trouble understanding the bigger concept of 24/7 cameras and internet fans, just like they do every year

Why don't any of them read their contracts?

Rachel starts fixing her hair and adjusting her clothes during this convo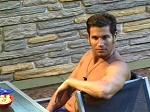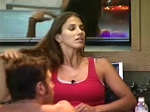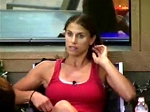 Rachel: Think they'll give you a patch or something?
April: I have some lozengers
....
Howie: What about night time on the internet?
Rachel: I don't know
Howie: Maybe they use night vision
James: No way

April & Jennifer adopt a new and strange cocoon style while April tells about her long convo with Kaysar, edited April-style of course






Apparently this inspires Jennifer to make some rounds of her own.. she dons her best assertive stance to confront Howie in the gym for not being as attentive to her as he used to be.. she phrases it with things like "sometimes I just don't want to be touched".. it's like Michael all over again except Howie plays it better.. he's been playing this one all along






Janelle comes in to work out.. Howie tells her "we're making amends" and Jennifer scurries on to her next stop, pausing to wave to the spyscreen

She approaches Kaysar in the kitchen, this time using a femme fatale stance right out of film noir to box him in.. but he's not falling for it anymore than Howie did.. he strings her along, doubles back, and by the end he's got her eating out of his hand, telling him about school experiences and past social failures






Everyone in HOH: What the hell is she doing?
Ivette: I'm fired up now!
Maggie to April: That's your partner.. get her away from him
April: Me??
April: Jennifer knows how to get out of these situations.. maybe she's getting some good information
....
Ivette to April: Janelle's so fake, I'd rather be natural than like her, 100% plastic
....
Jennifer: What's wrong Kaysar?
Kaysar: What do you mean?
Jennifer: I'm going around the house making amends
Kaysar: Huh?
Jennifer: I'm going around the house making sure everyone feels good
....
Kaysar: I thought you were genuine, I trusted you and April
Jennifer: It wasn't us.. I wouldn't say we're on their side

Maggie decides to run interference herself, feeling outdone by her mini-est minion.. she goes into her newfound tough guy mode but she's clearly nervous.. her stance, her voice and her words all betray her defensiveness and Kaysar's no fool.. he tells her the same things he told April and Jennifer: he wants to know how much they're trash talking upstairs, and that he wanted a clean game but he realizes it's over for him




Just about everyone in the house passes through the kitchen during this convo - there's never been so much kitchen traffic before - back upstairs they compare Kaysar convos and are shocked that everyone's version matches (since none of them ever says the same things to different people).. Jennifer's version is especially dramatic.. later she answers the doorbell and not-too-subtly prevents Sarah from actually coming in to say good night





Who touched my thing?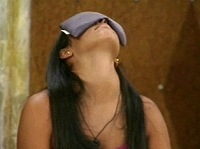 Apparently Maggie has a purple thing, with herbs or potpourri in it, and somebody wrecked it

Ivette is all cozied up to her during this Q&A with her head buried in Maggie's side.. she pops her head up now & then to answer in babytalk

It's a disturbing exchange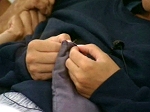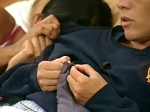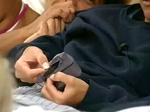 Maggie: Who touched my thing?
Maggie: Who unzipped this? Who unzipped it? I've had this for seven years!
Maggie: Who unzipped it? It's ripped now
Ivette (popping head up): It was me
Maggie: Why didn't you tell me?
Ivette (popping head up): I just wanted to know what was inside it but you told us not to
Ivette (popping head up): I'm sorry I just wanted to see what's inside it
Maggie: You're not touching it again
Jennifer: I can fix it
Maggie: You're NOT touching it again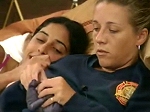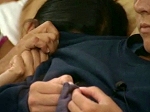 Back to the fun people and the high point of most days.. Janelle does her thing(s)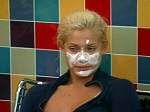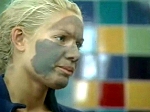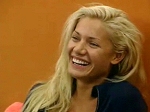 Howie wants to know all about it, to taste it.. Kaysar laughs from the shower





Howie joins him after dropping a dollop of lotion on Janelle - the camera crew goes nuts with close-ups of that one.. Rachel comes stumbling through, half asleep.. Kaysar, Howie & Janelle goof in the kitchen for a long time, it's fun & funny, they're like 3 stoners with the munchies.. things take a bad turn suddenly when Janelle starts choking






She's coughing & sputtering.. the guys don't know if she's ok or not and neither do we.. she bends over the sink and hurls, then off to the bathroom for more (the dollop crew leaves her mic on).. when she comes back she says it's not a good idea to be eating, drinking and laughing at the same time - the orange juice comes out your nose

Kaysar & Howie remember Ashlea before bed.. Kaysar gets up later, paces for awhile, then does a Coasters art project like Eric did the other night, but better.. Jennifer gets up, uses the bathroom, takes a pill, then goes to bed in the big room.. she later claims she was up every hour on the hour with diarrhea (it was once, Jenn)






Kaysar: Can't see her boobies in this picture
Howie: They were right here

Beau-watch update
JennyJenJen reports he's in a new ep of MTV's "Made" telling a girl in a store to "dare to wear it and make it work" (it's a lifestle makeover theme show).. Jokers caught him on 'The Cut' the other night



He's a namedropper but he gets around.. Hilton sister parties, club openings, Lizzie Grubman parties.. pic from WireImage - see more, search Beau Beasley.. thanks to Sherri for the tip
Yesterday's pic with Paris from the Mansion's site was actually at Opium Garden, a nearby club owned by the same people, at a Hilton sisters/Nicole Richie party per WireImage - thanks to XDA Z for the correction - Janelle works at the Mansion

I'm not writing off the secondary pairs theory just yet - the two clubs are near each other, same owners, and Beau & Janelle run in the same celeb scene, if not the same social circles.. it seems more than likely they would have at least seen each other before last month.. thanks for the tips!



Linkage




Today's must-click special: Australian BB videos look how much more fun than ours - check out weekly challenges like Master/slave and Learn to Tap Dance, fight videos too

CBS Big Brother 6 the official site
House Calls weekdays live 10am BB/1pm ET on BB main page - show archives
Live feeds signup - No timeout feed links
BB6 Park by TD listed on Hamsterwatch daily index
Hamsterwatch on Youtube BB6 & BB7 videos off the feeds
Hamsterwatch Big Brother 8 here we go again
Hamsterwatch Big Brother 7 All-stars in the house - from me, that dingo person
Hamsterwatch Big Brother 5 Dailies, Cowboyisms & Hollyisms - also from me
Aldav has all of the edgier stuff & the best mini-recaps in town
BB Chatter feed updates, screencaps, and fun boards - easy to use and functional!
Screencaps refresh site is back, from bbfan
Reality TV Links - Big Brother 6 emphasis on individual hamsters' sites
Sir LinksALot Big Brother 6 all the links
Big Brother Link news, info, caps, forums, and links
Big Brother Fanatics chat, updates, caps, news, and links
Big Brother 6 Keyhole peruse various BB sites in the same window, feeds too
Joker's Updates Big Brother Grins can't do BB Park this year
2005 or 2006 Kaysar calendars by BBVoyeur - pdf format
C=Venus BB6 chops new site full of really great work
BB6 Houseguest Fun play Mr. Potato Head, mess up their faces, send cards
Destroy a houseguest fun for fishies times by johnbb
Patrick's Place one-man BB show - 15 streaming cams including his car, turn his lights on/off
YAYsports! snarky stuff for sports fans from the creator of Michael's Blog
another 2 cents quasi-intellectual sleaze & radical gumbo aka blog

Please read before linking to pics, 'borrowing' or stealing any content from this site - this means you, thieving yahoo groups CBS_BigBrother_6 and BareBones-BB6

Thievery update update: Not only are they still at it, now they've got some hack making noise claiming I don't have the copyright for my site, my writing, my graphics, or my code - all of which they steal as a package - and accusing me of making 'many many complaints' and 'cyberstalking'.. let's see, the wizardofozmom cow who started all this and seems to want to keep it going sent two emails full of excuses and whines (but no apology), I replied once, and that's been my only contact with her. Give it a rest, kids. Do the right thing and stop stealing my work.

The eejit claiming to be a lawyer is in effect giving them permission to continue thieving and reposting as their own.. I'm pretty sure Yahoo's TOS doesn't smile on that. Want to address stealing my bandwidth next, ya putz?

Thievery update: the abovementioned yahoo groups are still at it, whining & making excuses for stealing and reposting my stuff as theirs. The posts remain, and now there's a note on their homepage demonstrating their ignorance.. a simple 'sorry' and removal would have sufficed, but if they want to play hardball that's ok with me.. I've got some of their names & addresses and I understand DMCA better than they do. Thanks again for all the support Hamsterwatchers, you guys are the best.

Don't miss the BB6 segment on 'Best Week Ever' reruns all weekend on VH1
'Someone tell these guys to put their shirts on - they all think they're Taye Diggs'






Saturday's show was decent but lackluster, and the CBS Fireman Hero Campaign is still at it with all the crones crying over him and no info given at all as to why the other guys hate him cuz their reasons are valid.. CBS must be afraid of offending firefighter honor everywhere (either that or it is Eric's relative who works on 'Amazing Race'). James is the new teacher's pet and Diary star with 'putrid little rats' and 'poor Sarah, she's somewhat talented' plus 'Eric's watching from home' twice - an obvious CBS attempt at damage control about sequestered evictees leaks. 'One of the summer's biggest secrets was confirmed' was laughably pathetic - just give up the dopey twists already. The food comp was silly as usual but it was simple enough that Sarah, Jennifer & Rachel got some on-screen Diary time explaining it. I missed Safecracking 101 graduation so it was fun watching them fumble even with the combo - I wish they'd happened it open before the sandwiches were put in that day. I see they're taking my cue again for what's notable on the human interest side with Ivette's bird feeder and Beau/Howie's first date among other items highlighted here first.






She was nowhere near as goony today as yesterday, but I think she'll be the focal point in a day or two. She's counting her remaining cigs but it's ok, she's got 'lozengers'. Minutes after the coven decided they would say nothing to the other team she had a 2 hour convo with Kaysar, then of course spun it all around when reporting back to headquarters. Tension's building between April & Ivette - it's only surprising that it took this long considering how irritating each of them can be.






More dirt was uncovered today about the walking stereotype thanks to loyal Hamsterwatchers, see today's postscript (on the way). He was his usually snitchiness today but he gets a courtesy neutral for saying how jazzed he was as a kid the year he got to go to the same summer camp two years in a row (he was an Army brat) - that was kinda sad.






Ups for the day just cuz he's Howie, and for the way he's got Jennifer on the run, making her think he's lost all interest in her. Too bad she used that Sexual Harassment card prematurely when the last guy lost interest in her - she would have gotten more mileage using it on Howie. He had another nice boobies segment on Saturday's show - even CBS knows he's the only fun they got in there.






She's bad when she's losing but even worse when she's winning. She's prolly the best chance we have at salvaging this week - she's already getting snippy with April - but I'm afraid she's all bitch and no slap. She's either the most hateful, spiteful, and vicious-for-no-reason bitch on earth, or she's Janelle's secret secondary partner.. they 'discovered' they live within blocks of each other awhile back, and look how close their workplaces are:
Ivette - Janelle






NOMINATED
He's all but officially off the hot seat now that his 'poor Sarah' won his salvation today and that means he's back to being no fun at all. If only she knew he'd let her walk the plank in a second if given the opportunity, maybe she wouldn't be so blindly loyal to this bum. There's always hope she'll wise up before Monday but don't count on it.. even his 'the last thing I want to see when I get out is her father' today barely phased the self-described daddy's girl.






It's not looking good for our Janey. She's about to get nominated again, lose a partner again, have a solid alliance crumble again, and she's about ready to give up. But if Kaysar does go she needs to stay and fight, and realize that she outlasted the two powerhouse players plus her bedmate, and it wasn't cuz she's been under anyone's radar. She had a little choking problem late tonight.. I was half hoping they'd have to wake up Nurse Maggie to administer a heimlich - she'd eat it up and prolly wouldn't nominate Janelle if she heroically saved her life.. do it again!






The true whack job of the season was at it again today, trying to nudge her way back into the spotlight by confronting first Howie then Kaysar, using every bit of body language she's got (she's prolly practiced Man Confronting long hours in front of her mirror). It didn't get her far though - instead of returning to the coven a heroine she was scolded for fraternising with the enemy. Anyway both guys were just playing (along although she doesn't know that). With nothing left in her self-centered arsenal she claimed she had a migraine, to which Maggie snapped immediately 'you do NOT have a migraine.' They're all getting tired of her antics, but I'm not.






NOMINATED
He knows he's doomed and he's taking it well, giving pep talks to Janelle & Howie to carry on after he's gone, but he's also bummed by that good ol' karma boomerang. He's savvy about human nature but not an altogether accurate judge of character since he still seems to think James is on his team. His ultimate downfall is going to be his not understanding the dynamics at play within the girl group upstairs.. he could still be here in a week if he knew how easy it would be to have them at each other's throats. He's up and pacing, twirling his hair and thinking at 4.30am.. maybe he'll come up with something.






HEAD of HOUSEHOLD
In a movie, book, tv show, or perfect world she'd wake up from her fog and realize she's hanging with nasty, nasty people who are gonna turn on her at the drop of a union hat, and she'd join the forces of good downstairs in the nick of time.. but this is only a hamster habitat so it isn't gonna happen. She thinks she's being oh-so-smart but she has to ask the crones what to do at every turn and she's using the kind of one-move non-strategy that she used to lose the Knights game. It's even harder to watch her ugly character than her sister nasties cuz we don't expect it from her type.






Every day she fails to entertain or impress, but it was kinda fun seeing her subconsciously primp when she caught on that we might be watching. It was a bit fun (if a bit evil) to watch her scuff into the bathroom grumpy from mid-sleep while Howie-Kaysar-Janelle were having their nightly party in there.






HOLDS VETO
She ruined the season for many feedsters today by winning that veto, which she's sure to use to save her slimy guy from leaving her behind. But she sealed her own fate by doing it - she wasn't even able to get in the door when she tried to pay a social call on the coven - they're done with her now (unless they need her again in the future, of course.)








Maybe the poorest loser in BB history but he gave us the best fight sequence. He said it nonstop but he never understood that 'it's just a game'.








Not blameless but not the villain they made him out to be either. He had funny voices, 'The Continental' and Janelle - plus the best hoax of the season.








There's never much to say about the first out except they're gone. She blabbed too much so she wouldn't have lasted long but she was fun while she was there.



I love keeping tabs on the feeds during summer, and wish I didn't have to do this.. but the reality is it takes a ton of time that I can't really afford to give away. If you like the site and would like to help support it, please visit my sponsor links by clicking on the banners, or make a Paypal donation here. Please support other BB6 fan sites that you like, too - many many thanks!



This site isn't necessarily about who should win, who will win, who I'd be friends with, or who is cute. It's about watching hamsters: which ones are doing what and why, which are fun and which are dull. If they aren't entertaining, get rid of 'em! Thanks for encouraging my behavior..

that dingo