This site is about the Big Brother 18 feeds and contains spoilers! It isn't necessarily thorough: it's what I catch and/or what interests me. It's about watching hamsters: who's doing what and why. Thanks for encouraging my behavior.
Your pal, dingo







COREY COUNTDOWN


[4] nights without a sleepwalking incident
Last was: 7/17 3.14am







BB18 DRINKING GAME


Take a swig whenever you're watching feeds, it'll help




Watch BBUK live or archive shows on Channel 5 & 5Star
Or any geoblocked content





QUICK LINKS & BOOKMARKS



-Get the feeds
-Watch the feeds
-Feeds updates by @UGotBronx
-My Twitter - my screencaps
-Amazon portal USA or Canada
purchases help me a bit

-BB Viewer by @liquid8d
Requires All Access

-Hamster Twitters
BB USA - BB Canada

-On The Block with McCrae Olson
and Spencer Clawson
-Attwx.com all seasons by @attwx
-Dick at Night with @EvelDick
-Latest alliance chart by @89razorskate20
-Diary tally by @clamperls

-VPN to watch BBUK and other international Big Brother shows

-Big Brother 18 official site
-Live show tickets

-Feeds devices & system req
-Shop Roku or Chromecast







EAST COAST STREAMS



The CanadaTV Roku channel is no longer working

NO DOWNLOADS NEEDED:
1 - 2 - 3 - 4 - 5
6 - 7 - 8 - 9 - 10




Donations via Paypal are gratefully accepted!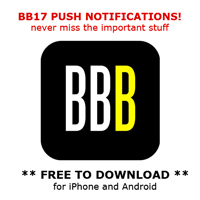 Get Big Brother Buddy app!
Get all the BB18 news plus push notifications of key events as they happen

Watch Big Brother
Seasons 1 thru 18
Plus tons more CBS content






BIG BROTHER SEASONS



CBS All Access
Seasons 1 thru 18

Amazon DVDs BB4 - BB3

Amazon Instant Video
BB17
- BB16
- BB15
- BB14
- BB13
- BB12
- BB11
- BB10
- BB9
- BB8
- BB7




>> >> >>

>> >> >> >>

>>





ANY AMAZON.COM PURCHASE CAN BE MADE THROUGH THESE LINKS - NO EXTRA COST TO YOU
Amazon USA
- Amazon Canada

GET THE FEEDS - NO PROMO CODE NEEDED - $5.99 PER MONTH
COMPUTER - MOBILE - ROKU - CHROMECAST - APPLE TV - ANDROID TV - FIRE TV - XBOX 360
FAQ and season stats

Paulie is HOH
Corey won veto/used on self
Da'Vonne*, Natalie, Tiffany are nominated (*Roadkill nominee)
Tiffany won Roadkill

James, Natalie are Have-not - their supplement is baked beans, baguettes, basil
Bridgette, Frank, Michelle have immunity for the week

Teams, in order of original picks:
Category 4: Frank, Michelle, Paulie, Bridgette
Big Sister: Da'Vonne, Paul, Zakiyah, (Jozea)
Unicorn: James, Natalie, (Victor), (Bronte)
Freakazoids: Nicole, Corey, Tiffany, (Glenn)


"Feeds will be down longer than usual later this week"
That could mean Thursday afternoon until after Friday's show airs

Next shows:
Thursday, July 21 9pm: Live eviction
Friday, July 22 8pm: Battle Back


Sunday 8pm, Wednesday 8pm, and live eviction Thursday 9pm on CBS (Global in Canada)


Monday, Wednesday, Friday, Saturday, Sunday midnight to 3am, Tuesday 11pm to 3am, Thursday 1am to 3am on Pop (Slice in Canada)


Nicole; Paulie; Bridgette; Paulie


Paul; Paulie; Bridgette; Corey


Frank; Victor; Frank; Tiffany


Glenn (no vote); Jozea 7-4-0; Victor 9-1-0; Bronte 5-4-0



Day 36 - Wednesday, July 20
Frankly speaking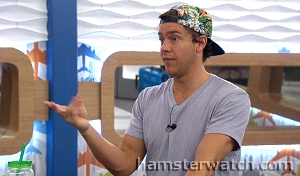 Frank's ongoing campaign to boot Da'Vonne rather than Tiffany may be picking up steam.. thus far, most of them have been going along with him to his face while really planning to evict Tiffany.. Nicole's been targeting Da'Vonne for awhile but doesn't want to vote against her if she ends up staying, and apparently James heard Da'Vonne say something about going after the couples.. as of now, I'm waiting for Nicole and James to meet to see what they really plan to do

Da'Vonne had a teary talk with Nicole, saying she thinks Nicole's getting closer to Zakiyah than herself.. Zakiyah told Nicole she used a fake nightmare ploy to get Paulie to cuddle up to her, and it worked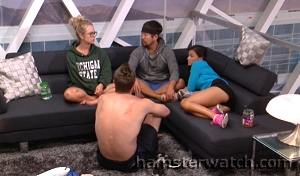 It took all day but Nicole and James finally had their meeting - Flashback 7/21 12.09am.. Natalie offered to leave but they let her stay - James said later it was to show she could be trusted.. they went back and forth between Tiffany and Da'Vonne a few times, Corey joined, and they went back and forth a few more times.. they ended up deciding to keep Da'Vonne because they figured she can't win comps and they didn't want to miss another chance to boot Tiffany, and they said they'll get Da'Vonne out in the next week or two

Nicole and Corey took that to Frank, Tiffany talked to Paulie about breaking a tie, and various others talked in various combinations but it's pretty much a done deal now/again/still that Tiffany will go (and possibly boomerang right back in, depending what Battle Back entails)

In other news, James did an arts & crafts project in the bathroom with pads and tampons, Natalie and Michelle left a bunch of condom'd vegetables in Paul's bed, Michelle hid in a box in the Have-not room and scared James - he finally got got, and Frank let Nicole and Corey know they were being loud doing their "cuddling" by answering a question one of them asked the other

GET YOUR FEEDS so you can watch it all unfold, click Previous Hamsterwatch episode up top to see what's come before, and click Feeds Updates way up top for detailed play-by-play with tons of screencaps by @UGotBronx



Day 35 - Tuesday, July 19
Dearly departed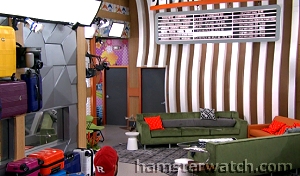 One of the destination slats fell off the DEPARTURES sign and landed on the coffee table.. they wondered if it was a clue for something but it's probably just faulty construction or bad glue.. Nicole and Corey got busy again overnight, and added another sex event to the tally below.. exactly what they did is up for debate - I don't know and don't particularly want to

The camera came out and they did their posing.. an announcement said feeds will be down longer than usual later this week, but it hasn't been specified when or for how long


Most of them slept most of the day, like they do, and many of them went back to bed during primetime - it's like final weeks when we're only one-third of the way through.. Da'Vonne and Natalie had a long heart-to-heart, as did Nicole and Zakiyah, and Frank ran a few more Save Tiffany/Evict Da'Vonne loops.. I have a feeling the first Battle Back rounds have been taping in the backyard, but who knows

They came alive again for late night, and joined together for food and socializing with all of them together.. that led to a game of hide and seek that was kind of fun - Flashback 7/20 1.10am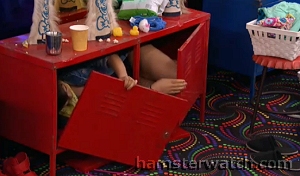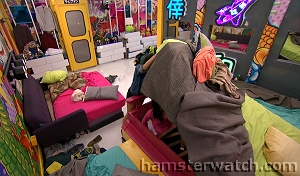 GET YOUR FEEDS so you can watch it all unfold, click Previous Hamsterwatch episode up top to see what's come before, and click Feeds Updates way up top for detailed play-by-play with tons of screencaps by @UGotBronx



Day 34 - Monday, July 18
Don Paulie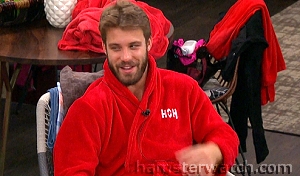 On Sunday night Michelle asked Paulie why he wasn't wearing the HOH robe.. he said he didn't know if it'd be the right thing to do or not, and she replied she'd wear it 24/7 if/when she wins HOH.. later with his boys, Paulie did put it on, and it added the perfect finishing touch to his raging case of HOHitis

Nicole and Corey got handsy this morning and yet another Extracurricuar Tally item was launched for the season - Flashback 7/18 8.47am.. kind of peculiar for the girl who didn't even want to kiss her last showmance on camera, but that's hamsters for you

Corey used his veto on himself, and Tiffany put up Da'Vonne as her Roadkill renom.. Tiffany said Da'Vonne whipped her hair at her and said "hair's not long enough, bitch," as well as "don't we look beautiful up here?" to Natalie.. it's on

Apparently James said something either directly to Michelle or several of them that they shouldn't shun Tiffany or anyone in there.. Michelle had a little meltdown and said Tiffany had betrayed them, James was mean and self-righteous, and she didn't want to be around either of them.. James and Michelle patched that up okay, but he and Natalie had some problem as well, I don't know what that was about



A party and a kidnap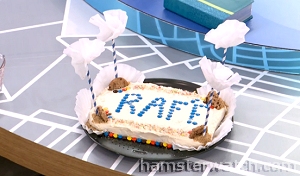 Giraffe party plans carried on with a nice cake by Zakiyah.. she said yesterday it was the cake mix sent in for Bridgette's birthday, which was Friday - upside, Bridgette's likely to enjoy a stuffed animal party more than most

And so she did, most of them did.. they attached little tinfoil hats to the stuffies and gathered them round for stir-fry, cake and Happy Birthday song.. Da'Vonne had hidden Tiffany's gorilla so she went back to Have-not isolation grouching about it all.. Da'Vonne laughed about Tiffany looking for the gorilla with Michelle and Paul, and later with Zakiyah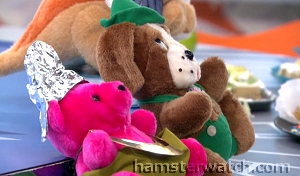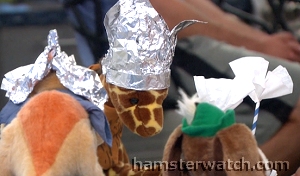 Natalie and James had a round of tension again and made up again.. Frank campaigned to various and sundry about booting Da'Vonne instead of Tiffany.. he believed Paul when he said he's onboard and Michelle when she said maybe (neither is onboard), and Frank brought that to Nicole who said she'll go along if the numbers are there

They were told they'll be locked in at 6am Tuesday, which made them think a huge HOH comp apparatus is coming.. it could be that and/or it could be Battle Back being taped for Friday's show

GET YOUR FEEDS so you can watch it all unfold, click Previous Hamsterwatch episode up top to see what's come before, and click Feeds Updates way up top for detailed play-by-play with tons of screencaps by @UGotBronx



LINES OF THE DAY

Wednesday
Nicole: I honestly didn't even think you were cute until like Day 3
Corey: Seriously?

Paulie: There was never a time I napped in here in a fuckin bumper car - when I came in here and napped in a bumper car I slept by myself

Nicole: Why are you not okay with sending [Day] home next week?
Frank: I don't want her in jury
Frank: She's influential

Corey: My buddy Matt, his fingers are so fat, he has to pick his nose with his pinky

Paul: I'M SHY AS FUCK!

Tuesday
Nicole to Zakiyah: That was my line - no matter what, my dream man can be right there and I will say no, I'm here to play.. and now look

Natalie: Whose red shoes are these?
James: Jozea's
Natalie: He left a lot of stuff here
James: He thought he was staying

Monday
Michelle to Da'Vonne, about her braids: Does that hurt to get hit by those?

James: Nobody should be segregated in this house like they got black plague

James: I'm a nice person
Michelle: So I'm a mean person, you always pick on me.. this isn't a nice game!

Zakiyah: I made a whole cake while you were sleeping
Paul: At least Homegirl [Bridgette] won't have it

Frank to Tiffany, Bridgette: If you don't have haters, you ain't doing something right

Bridgette to Tiffany, about being shunned: You haven't been picked on your whole life, just smile harder



LINKS OF THE DAY

Get the feeds to see the real show

Paulie's HOH blog

Paulie's thoughts flowchart by @Jeriah_BB

You're So Delusional Jozea tribute by @BB11HouseRodent

On The Block McCrae with Jason Roy and viewer calls

National parks fabric available at Amazon

Dick at Nite with Evel Dick Donato, new season is underway

Attwx.com all seasons stats, comps, factoids, and fun stuff by @attwx

Differences between BB Canada and USA and Confessions of a BB feed watcher articles by me, for Reality Blurred

Big Brother UK
Hide My Ass to watch from outside UK
Air shows live stream
Air show schedule (UK time)
Archive shows
UK TV for Roku for live air shows, for $1.99 per month



Ratings - A Gif is Worth 1,000 Words special edition
Ratings are loosely based on entertainment value






Ms Nikki Grahame is undisputed BB royalty, and her recent turn on Big Brother Canada only added to her status. She speaks for us all.

PS What's up with blocking Paulie's Roadkill rant at Tiffany from the feeds, and omitting it from the show as well? We're watching you, Big Brother.






Won: 8 days pixel suit; Outback dinner
TEAM CATEGORY 4





She's as cute and perky as My Little Pony, but winning an HOH and veto in the same week everyone decided her teamie Frank was Public Enemy #1 gave her the right to rim-shot.






Won: $2,500
TEAM FREAKAZOID

WON VETO/USED ON SELF



He usually ruins his own unintentional comedy value by saying something he shouldn't, making us all cringe like Jason Roy.






Won: Outback dinner (guest)
TEAM BIG SISTER

NOMINATED by Roadkill/Tiffany




She speaks for herself, but her iconic phrase also speaks for her own game this season.






Won: 8 days pixel suit; Outback dinner
TEAM CATEGORY 4





Walter White couldn't be stopped and neither can Frank.






Won: Immunity 1st 2 evictions
TEAM UNICORN





Like Fawlty Towers' Manuel, he's often the comic relief, and even though he often features in events, he easily convinces the others he knows nothing.






Won: 8 days pixel suit; Outback dinner
TEAM CATEGORY 4




With her random comments and pop-up getaround game, she could be a designated saboteur and we'd never know it.






Won: Immunity 1st 2 evictions
TEAM UNICORN

NOMINATED



She's cute, she's nice, she isn't taking it too seriously, and she's having a wonderful summer.






Won: $2,500
TEAM FREAKAZOID





Wut? applies to Nicole's game as well as her hair. I really should do all Nikki Grahame ratings sometime.






Won: Outback dinner (guest)
TEAM BIG SISTER





You know he's the 'more cowbell' guy.






Won: 8 days pixel suit; Outback dinner
TEAM CATEGORY 4

HEAD OF HOUSEHOLD



I overused the stomping angry-but-ineffectual mouse for BB Canada's Phil Paquette, but he ended up co-winning the season with his brother Nick.






Won: $2,500
TEAM FREAKAZOID

NOMINATED - WON ROADKILL




Free Agent Doesn't Give a Fuck Tiffany is in the house.






Won: Outback dinner (guest)
TEAM BIG SISTER





She's gorgeous, very entertaining when she gets going, and she's not playing the game too hard - yet? And she does a Murphree-esque mirror routine.






Won: Immunity 1st 2 evictions
TEAM UNICORN

She went in saying she'd use behavioral sciences to maneuver her way to the win but she spent most of her time with Bridgette and Natalie who were barely playing BB. Her huge confession to them about being the 'secret nerd' and aspiring mathematician was just silly, and she'll always be remembered for not knowing what 9x9 is. She didn't bring much to the table beyond her abnormally high voice and hair bows, and even the hair bows didn't stick around. She seems like a pleasant enough person but like so many others, she should have gone on a dating show instead.






Won: Immunity 1st 2 evictions
TEAM UNICORN

He wasn't the best and he wasn't the worst, but his roomies decided he had to get gone. He thought being on BB will get him show biz jobs and social media followers, but so are most of them and that's never been a deal-killer in the house before. He was a solid member of The Revolution (buffoons) along with Jozea and Paul, but Paul was the only one who distanced himself from that handicap in time. I don't have much else on Victor since the feeds were almost always on vets or siblings, but he'll get a shot at revival and maybe he'll make it back.






Won: Nothing
TEAM BIG SISTER

One of the most delusional hamsters ever (and that's saying something), he was convinced he owned the house, he was the messiah of the newbies, the savior, the sanctuary, and the next Mario Lopez. He wore his doggie comp suit for days, but mostly he just wore underpants. His gametalks with Paul and Victor were pure comedy since they had no clue whatsoever how far out of every loop they were, and The Jozea and Paul Talk Show concluded with the two of them roaming the house looking for a camera that worked. Jozea's shtick got old fast for many, but he was feeds gold for trainwreck fans like myself.






Won: $2,500
TEAM FREAKAZOID

I didn't like having to combine an intro with an obit, but that's how the dog biscuit crumbles. He seemed like a fun guy with potential for fun feeds, especially his admission that he'd be 'willing to flirt if necessary' but he also might have gotten into heated political discussions, and BB is not the place for that. He didn't technically get Jodi'd since he got to compete, but gone before feeds is never good, and neither is trial by combat. Too bad the token older/regular person/fan got the first boot but young, pretty, hormonal hamsters are all the rage anymore.




EXTRACURRICULAR TALLY

Fights: 1
7/14 7.08pm Frank vs Da'Vonne

Sex events: 2
7/18 8.47am Corey and Nicole
7/19 3.38am Corey and Nicole

House meetings: 1
6/24 8.54pm - Jozea owns the house

Nominee speech scorchers: 1
7/14 Tiffany

Corey sleepwalk incidents: 1
7/17 3.14am

Pinkyswears: 6
Pre-feeds/premiere #1: Michelle, Tiffany
Pre-feeds/premiere #2: Corey, Nicole, Tiffany
6/29 8.29pm Natalie, Tiffany
7/8 9.55pm Bridgette, Bronte, Natalie
7/13 show Bridgette, Bronte
7/17 3.23pm Tiffany, Bridgette

Injuries: 3
Paul's head lump from crashing the headboard
Bridgette's sprained ankle
Paul's nose (infected piercing + awning attack)

Deaths: 7
Michelle's laundered stunt hair
2 fishies on Nicole's HOH
1 fishie on Paulie's HOH
1 fishie on Bridgette's HOH
2 fishies on Paulie's 2nd HOH

Stuntcasts: 6
Paulie, Tiffany plus Da'Vonne, Frank, James, Nicole

Scandals outside BB world: 1
Corey's old tweets

RIP The Soup



CBS GOOFS

1 Mixed up James and Da'Vonne
2 Highly promoted cast reveal postponed
3 PopTV shows BBAD starting a day early
4 3 days? 4 days? Close enough
5 Whose/who's error
6 Omitted Boogie's winning season BB7
7 Mixed up Michelle and Nicole
8 Wrong dates/links in feeds highlights
9 Tech adjustments on feeds
10 Julie's intern made up a new hamster
11 Wrong show time on Jeffish
12 7/3 3.19pm BB called last year's cast names
13 7/11 Only 1 feed worked for hours (computer)
14 Wrong date for Battle Back show
15 Mixed up Kaysar's name and season







Linking to any page here is fine. Please don't repost content from this site (or any other) without permission, and don't repost or hotlink images.



THE REAL SHOW IS THE FEEDS


NEXT-DAY AIR SHOWS
BB1 THRU BB18 AND LOADS MORE CBS CONTENT


HAMSTERWATCH SWAG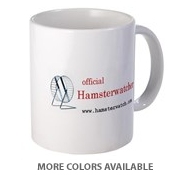 Mugs, shirts, more
Visit my Cafe Press shop





RATINGS WATCH


Wednesday's show dropped to second with 1.7 rating, 7 share, 5.47 million viewers, behind America's Got Talent on NBC with 2.2/9/10.22, and ahead of Masterchef on FOX with 1.2/5/3.80, and two The Goldbergs reruns on ABC with 0.6/3/2.89 and 0.6/2/2.52.









Big Brother 18 FAQ


Day 1 Move-in was June 15
Day 8 CBS premiere was June 22
Day 9 Feeds began June 23
Day 99 Finale is September 21

Feeds are streamed by CBS, and Flashback remains accessible via All Access subscription. Call 888-274-5343 for account help, including cancellation.

CBS shows are Sundays 8pm, Wednesdays 8pm, eviction Thursdays 9pm (Global in Canada).

Big Brother After Dark is on POP and airs Monday, Wednesday, Friday, Saturday, Sunday midnight to 3am, Tuesday 11pm to 3am, Thursday 1am to 3am. The aired blocks are recorded earlier on the same night.

HOH's team members have immunity from nomination all week. Unlike HOH, the Roadkill winner can nominate someone from his/her team.

HOH names the renom if veto is used on one of his/her nominees. If the Roadkill nominee comes off, Roadkill winner names the renom.

The CBS app (by CBS Interactive) plays BB air shows and other CBS shows, as well as feeds, or you can use your browser to watch feeds on mobile devices. The same All Access link used to subscribe will lead to the feeds viewing page if you're already signed up.

BB18 prizes are the same: $500k for the winner and $50k for 2nd place. Stipend for the others is $1,000 per week again, including pre-show hotel and jury sequester. Siblings might and veterans definitely get more.

The habitat has 87 HD cameras (up seven) and over 100 microphones.

The recorded in-house announcements are the voice of producer Don Wollman. He and Julie Chen are the only staffers who have been there since Big Brother 1.