This site is about the Big Brother 15 feeds and contains spoilers! It isn't necessarily thorough: it's what I catch and/or what interests me, and it isn't necessarily about who will win, who should win, who's cute or who's horrid. It's about watching hamsters: who's doing what and why. If they aren't entertaining, get rid of 'em! Thanks for encouraging my behavior. Your pal, dingo







POWER STATUS


McCrae is HOH
Elissa is MVP
Candice & Jessie are HOH noms
David is MVP nom
McCrae holds veto
Andy, Helen, Howard, Elissa, Judd are Have-nots







UPCOMING EVENTS


June 27: MVP nom, veto comp
June 30: CBS 8pm Have-not comp, noms, extended intros







BB DRINKING GAME


Take a swig whenever someone says they're lost - I'll start









BIG BROTHER PAST SEASONS



Amazon DVDs BB4 - BB3

Amazon Instant View BB14
- BB13
BB12
- BB11
- BB10
- BB9
- BB8


iTunes BB14
- BB13
- BB12
- BB11
BB10
- BB9
- BB7 All-Stars





BB15 FAQ


Feeds will not be on SuperPass this year. They'll be streamed by CBS - sign up today!


Big Brother After Dark will be on TVGN for two hours every night starting at midnight (9pm BB time).

CBS shows are Tuesday 9pm, live Wednesday 8pm, and Sundays 8pm.

Canada will run the TV episodes on Global, and After Dark on Slice

The MVP will select the third nominee, privately, and he or she doesn't have to tell anyone they are MVP

Jeremy's tattoo says 'Great spirits have always encountered violent opposition from mediocre minds' (Einstein)

BB15 winner's prize is the same: $500k for the winner, so I assume 2nd still gets $50k. Stipend for the others will leak out on the feeds - likely still $750 a week including pre-show hotel and jury sequester.

The habitat has 65 cameras (up 12) and 98 microphones (same).

The recorded in-house announcements are the voice of producer Don Wollman.






>> >> >>
>>
ALL AMAZON.COM PURCHASES MADE THROUGH THIS LINK HELP SUPPORT THIS SITE
4, 3, 2, 1 (Friday, 6/28)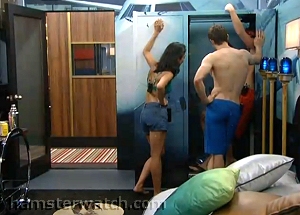 The backyard finally opened and Bikini Hour 2013 kicked off.. the photo booth also came into play: one or more of them would sit and pose while Big Brother counted down to the flash.. some had fun with it and did a few skits, others ridiculed it from afar.. I don't know what the snaps are for but I'd guess some scheme to get retweets or bring traffic to the CBS site - we'll find out

Some (false) stories spread that there were secret pairs (like they've spread out here) and paranoia ensued, like it does, leading to many whispery group meetings all over, and Jeremy confronting Aaryn about spreading the (false) stories when she wasn't supposed to.. Jeremy told some of the guys about "hooking up" with Kaitlin and she found out, but they were back to slurpydurp by night-time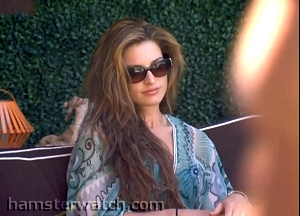 Elissa had pretty much laid down to die yesterday but she came back guns blazing today, campaigning quietly in pairs and joining group chats.. the current plan is to keep her and boot David, maybe guided by Diary or maybe not.. most of them are expecting a unanimous vote but Nick & McCrae have a further secret plan to split the vote at the last minute in order to cause problems among the various sub-alliances.. Nick was excited and made it all secret squirrel, saying they need to go "radio silent" until the last minute and their code to meet will be to rub their eye

Yes, it's complicated and then some, and I'm pretty much lost pretty much of the time, and we're still very far from eviction night, but it's looking like Elissa might actually stick around - she's not so bad

The entire habitat was at a simmer but they didn't get booze again to make it pay off.. Day Amanda talked all day again but didn't turn into Night Amanda, so maybe there isn't a pattern there after all (but she still talked all night anyway).. she stuck to McCrae like glue again, and everyone's waiting to see if that's because he's McCrae or because he's HOH.. Spencer & Andy did a short but hilarious comedy show in the hammock, GinaMarie deep-throated a weenie, and Have-not Andy finally took a shower



Who's on first? (Thursday, 6/27)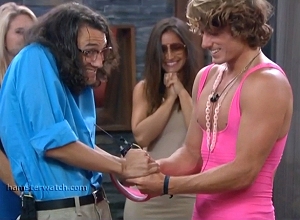 I know I speak for many if not most of us when I say WHAT THE HELL'S GOING ON? But this happens every season: it takes awhile to sort out the dotted lines between them, who's crushing, who's hating, who's playing and who's being played - chances are good most of them aren't even sure yet who they're really siding with, but all will become clear in time

We do know that Elissa won the MVP vote, surprising absolutely nobody, and she told McCrae, who told Amanda.. she used her power to nominate David.. speculation is rampant as far as what happens with veto replacement but it's all speculation until The Powers That Be (or the hamsters via Diary) explain a little more about it.. my guess is the power is to name a third pre-veto nominee only: since Elissa doesn't have to tell anyone she is MVP, there's no built-in protection for her or anyone other than McCrae as HOH.. whether she can name a re-nom or not remains to be seen

By the way, the pic is from last night's fashion show ("no, it's a pageant") to commemorate the first double nip slip of the season.. it was a good time as group activities go but time will tell if that was a first night special or if they really are going to do fun stuff along with all the bitching, bickering, and backstabbing



Chumlord's on a roll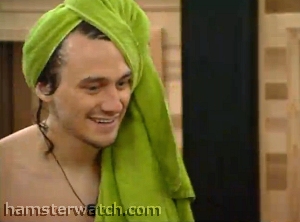 McCrae, aka Chumlord, won the veto in a messy spelling comp involving bees, honey and bubbles.. Howard and Elissa played along with three nominees, and GinaMarie hosted.. the amount of gaming going on at this early stage is mind-boggling, but it's how they play the game these days... we have an early alliance diagram to help untangle the mess - see Links of the Day below

Tidbits of the day include Elissa stressing about her edit, since she joked that Gisele Bündchen is her sister, and she brought out the bully word when confronting Jeremy about GiseleGate.. Aaryn spent an hour or so telling David he'd screwed up by talking to Elissa after she'd told him not to.. McCrae almost forgot to feed the fishies and they've already had casualties in the tank, so Julie was wrong about no floaters

Amanda kept a much lower profile than last night, and Judd is an early contender for the hamster most in need of a Daily Sighting cap, but he's got competition with Andy and a few others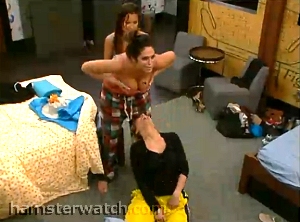 Hold up, scratch that bit about a low profile for Amanda: she exploded again at night, reviving her flight attendant skit from last night, carousing with GinaMarie, screeching like a dolphin, and doing a "milk the cow" routine, among other bizarre behaviors.. maybe there are meds involved here? I don't know but she brings a very literal meaning to "different as night and day," or at least she has in our comparatively short time with her

Aaryn and Jessie had a bubble bath for BBAD (do they get a bonus for doing that?).. a crowd gathered and Jeremy joined them for a bit.. later Aaryn and David snuggled for awhile and whispered sweet nothing clichés, so I guess that honeymoon's back on - again, watch for patterns

As of 4.30am, the backyard still hasn't been opened - they'd like to get out, the smokers would like to smoke, and we'd like to see the new furniture.. in the greenlight, Jeremy & Kaitlin landed not once on my Extracurricular Tally but twice with a makeout that then went undercovers with a lot of heavy breathing and maneuvering.. afterward she said she felt bad about her dad, and he said "sorry, daddy"

Remember to hit "previous Hamsterwatch episode" or "BB15 directory" links at the top of each page if you missed a day and want to catch up

If you're late to the party, get the feeds now
before you miss anything else - I'm not doing a very good job of covering everything yet



Ratings - Sorry Daddy edition
Ratings are Thursday's, based on entertainment value - sorry to rerun already



The quality of the feeds looks good and they load easy (for most, most of the time anyway), but they take up way too much screen space. I think we have a winning cast this time for the most part, and I'm ever grateful they didn't throw reruns at us again. They don't need footage for the air shows with so many of them and introductions still underway, but a booze delivery wouldn't hurt anyone. Ulterior motives like creating content for TV seems to be what brings libations to the pantry, but they should cut the hamsters and us some slack and do it just for fun more often. The fishies and trivia for today's MVP and picking players didn't run too long, and they got the veto comp done in two hours, so that was an improvement over the all day outages last year. The fishies still swim for hamster rule infractions and lesser offenses but again, without vets there telling them they can break the rules without consequences, the new kids might learn to toe the line for all our sakes.






She's already being compared to BB14 Danielle Murphree for haranguing David like she did today, but that's a bit of a reach. It was something though, and quite comical to watch her follow him from room to room and repeat the same loops over and over. Things like that will get old if they happen often, but for this debut show it was hilarious. Later they cuddled in bed in the greenlight like it never happened, but I don't think it'll be forgotten.





I don't know what's going on here, but something seems to be. I can't take much of her when she's doing her manic thing (whatever it's about), and when she's being 'normal' she still talks too much. She's interesting though, and we'll see where this goes. Speaking of BB14 Danielle, she spent an hour or more talking in bed with McCrae, telling him he looks like Jim Morrison, and scootching his way, while he kept scootching away.





We don't see much of him on the feeds but when we do, he seems like a fun and friendly guy. That's good enough for now, and I'm looking forward to getting to know him better in the weeks ahead.





NOMINATED
She's another one I don't see often and I don't really know what to make of her yet.





NOMINATED BY MVP
You have to hand it to him for keeping his cool when Aaryn wouldn't. He tried to counter a few times but mostly he just let her keep going till she ran out of gas after an hour or more. When they finally hugged a truce, he said 'Can we kiss this out?' She didn't go for that, but it was a superb line considering what he'd just gone through. Later he got shot down cold when comparing sports with Nick, who said bluntly 'I don't know shit about surfing' - burn.





MVP
Most of the girls hate her and most all of them want her gone whether it's because she's Rachel's sister, because she tried to hide it, or because she's just an easy first scapegoat is hard to say. But the shun has been effective: she's been mostly quiet, sniffly and hiding out, and she seems ready to give up. I don't even really know what she's about yet, but she's the polar opposite of Rachel whenever she felt threatened by eviction.





From tampons in her nose to announcing she's not wearing undies to putting on loud bawdy skits for all of them, I'm stumped.





I rarely see her on feeds so far but she seems to know everything that's going on. I hope they let us spend some more time with her so she can explain it to us.





One-liners about roadkill cuisine, 'nuff said.





Won: Permanent Have-not pass
He got in a spat with Elissa and went on to launch the new season's Extracurricular Tally with Kaitlin, and it's only the second day of feeds.





NOMINATED
I really don't know what she's about either, but she spent a huge amount of time sweeping a small area of the kitchen while jonesing for a cigarette, and for whatever reason it struck me funny. It was doubly funny because she had to sweep around Nick who just sat there, and who detests smoking. I know a lot of you are fans of the BBAD bubble baths and she delivered there as well.





We need more face time with this guy.





A BBAD bubble bath and a sex event of some sort, topped with an apology to her dad: she's the kind of girl who keeps herself occupied.





HEAD OF HOUSEHOLD
HOLDS VETO
I wasn't expecting him to be a comp monster, especially this early, but he's 2 for 2. He had said he'd throw the veto and he downplayed his win a lot afterward, but it's what it is and he's definitely making his mark. He seems to be allied with pretty much everyone but it's hard to tell since they all suck up to the HOH until it's safe to stop. Amanda's all but stapled to him and I'm a little worried about that, but we'll see how things unfold.





Remember that crazed manic in-yer-face guy in the pre interviews? He's not in there. But ups for shooting down David so easily with such a smooth and effortless direct hit.





I don't recall seeing squirrels in the backyard before but if one should show up, he and Howard might cook it up for dinner.







Linking to any page here is fine but please do not repost any content from this site (or any other) without permission, and do not repost or hotlink to any images


!! THIS MEANS YOU !!





I can't recommend this show highly enough







VIEWER VOTE


MVP polls are closed







RATINGS WATCH


Thursday's premiere won the timeslot, barely, with 2.1 rating, 7 share, and 6.31 million viewers, ahead of MasterChef on FOX with 2.1/7/5.36, Dateline rerun on NBC with 1.2/4/5.48, and The Middle rerun on ABC with 0.8/3/3.61.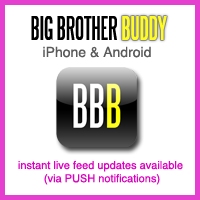 Big Brother Buddy mobile app
Available for Android or iPhone/iPad



Clicky: caps sorted by day - all caps







NEWS & UPDATES
HOHs: McCrae
MVPs: Elissa
Veto wins: McCrae
Evictions:

Big Brother UK kicked off June 13 with Emma Willis hosting. This year has twins playing as one, a mother/daughter playing separately, and an actor/mole who's only there to mess with the hamsters. Watch live (no downloads required!) or on YouTube.

Big Brother Africa is also underway - the official site has lots of video highlight clips.

Evel Dick Donato's Dick at Night show will return this summer on Vimeo, and he'll have special guests, former hamsters, plus a segment with @Clio_the_Leo!

BB12 Kristen Bitting will be on The Perfect Score dating show, premiering on the CW July 16.

Big Brother Canada has been renewed for a second season on Slice.

The Glass House will not be returning to ABC. It started a few weeks earlier than Big Brother last year, and I've wondered if the threat of a second season may have been why CBS moved up the BB15 premiere, but that's just an uninformed guess which is now moot anyway.



Donations via Paypal are gratefully accepted!

If the button doesn't work, Paypal to hamster (at) neonpages (dot com)

Thanks for your support!



BBQ Smackdown Scorecard

Big Brother 14
Round 1: BBQ ½, Dan 0

Big Brother 13
Round 1: BBQ ½, Adam ½, Rachel 0
Round 2: BBQ ½, Adam 0
Round 3: BBQ 1, Rachel 0

Big Brother 12
Round 1: BBQ ½, Brendon 0
Round 2: BBQ 2, Britney 0, Lane 0
Round 3: BBQ 1, Lane 0, CBS 0

Big Brother 11
Round 1: BBQ 0, Jeff 0
Round 2: BBQ 0, Jeff ½
Round 3: BBQ ½, Kevin 0, Michele 0

Big Brother 10
No title events


Big Brother 9 Winter Edition
Round 1: BBQ ½, Ryan 0
Round 2, BBQ ½, Adam 0
Round 3, BBQ ½, Ryan 0

Big Brother 8
Round 1: BBQ 1, Dick 0
Round 2: BBQ ½, Zach 0
Round 3: BBQ 0, Dick 1

Big Brother 7 All-Stars
BBQ training sabbatical

Big Brother 6
Round 1: BBQ 1, Ivette 0
Round 2: BBQ 0, Howie 0

Big Brother 5
Round 1: BBQ 1, Cowboy 1, Drew 0
Round 2: BBQ 1, Drew 0, Diane ½
Round 3: BBQ 1, Cowboy 1, CBS 0, Nakomis 0



EXTRACURRICULAR TALLY
Makeout pairings - 1
Jeremy & Kaitlin

Sex events - 1
Jeremy & Kaitlin 6/28 3.21am

CBS goofs - 5
- BB site shows two premiere times
- Jill? on feeds signup page
- Misspelled Judd's last name
- Feeds launch Y2K type midnight problem
- Peculiar trivia goof